Indulge in homemade Caramel Crumb Bars, featuring a buttery shortbread base topped with rich salted caramel sauce and a crumbly topping. A perfect blend of sweetness and texture!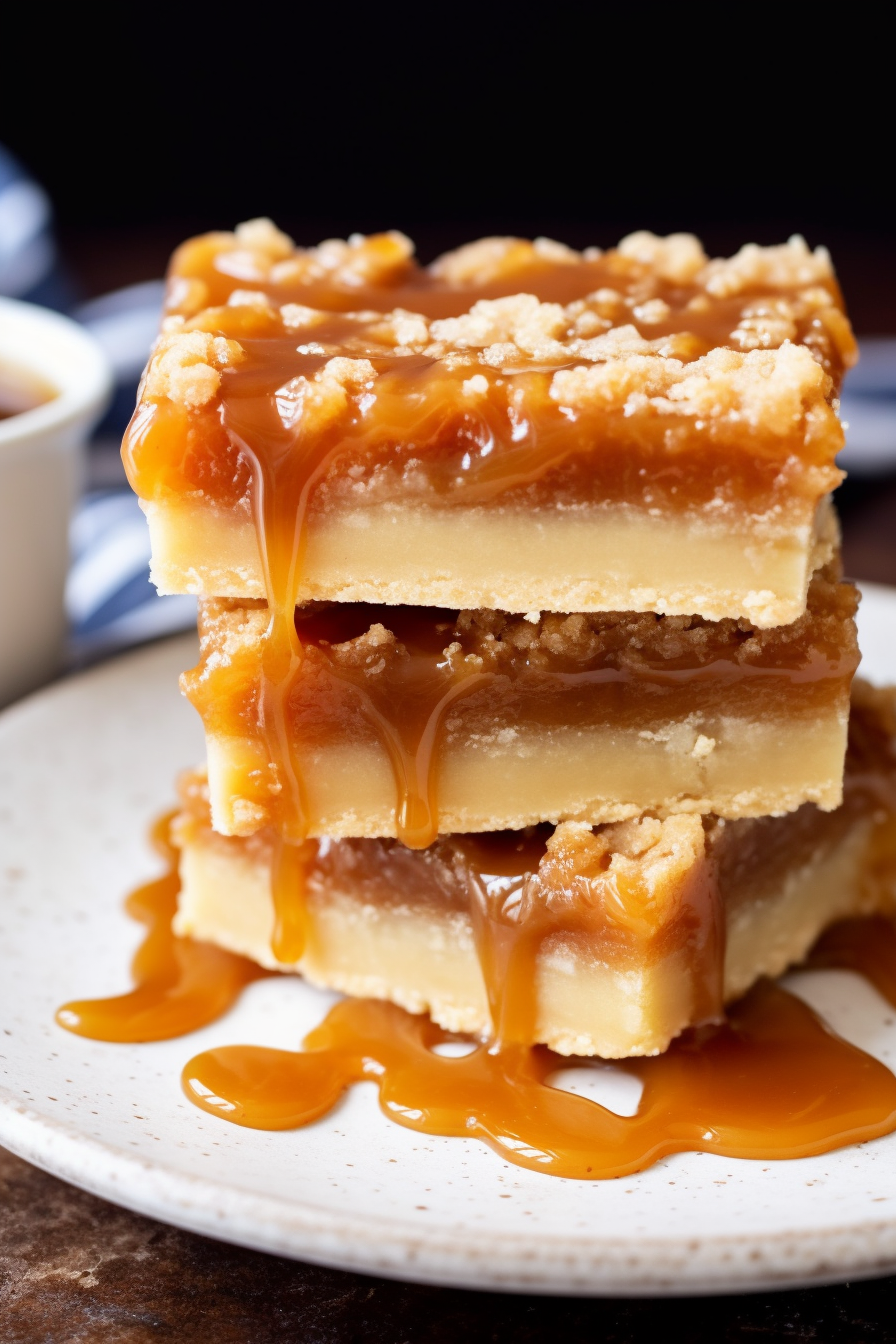 Once upon a time, in a cozy kitchen filled with the aroma of freshly baked treats, I stumbled upon the magic of Caramel Crumb Bars. It all started as a happy accident when I was trying to salvage a failed caramel sauce attempt. Rather than tossing it away, I decided to repurpose it as a layer in a dessert bar. Combining it with a shortbread recipe I had been perfecting, these Caramel Crumb Bars were born. Each bite took me back to childhood memories of warm, comforting flavors at my grandma's house. Now, whenever I need a touch of nostalgia or want to spread some sweet joy, these bars are my go-to treat, always reminding me that sometimes the best recipes are born from happy accidents and cherished memories.
Why You'll Love Caramel Crumb Bars
Homemade Salted Caramel Sauce: This recipe features a from-scratch caramel sauce, adding a gourmet touch and a deeper, more authentic flavor than store-bought versions.
Perfect Texture Balance: The buttery, crumbly shortbread base paired with the gooey, rich caramel offers an irresistible contrast of textures.
Versatility: Ideal for various occasions, from casual get-togethers to fancy dessert tables, these bars are versatile and crowd-pleasing.
Customizable: Easily adaptable, you can tweak the recipe to suit different tastes, such as adding nuts or chocolate chips for an extra flavor dimension.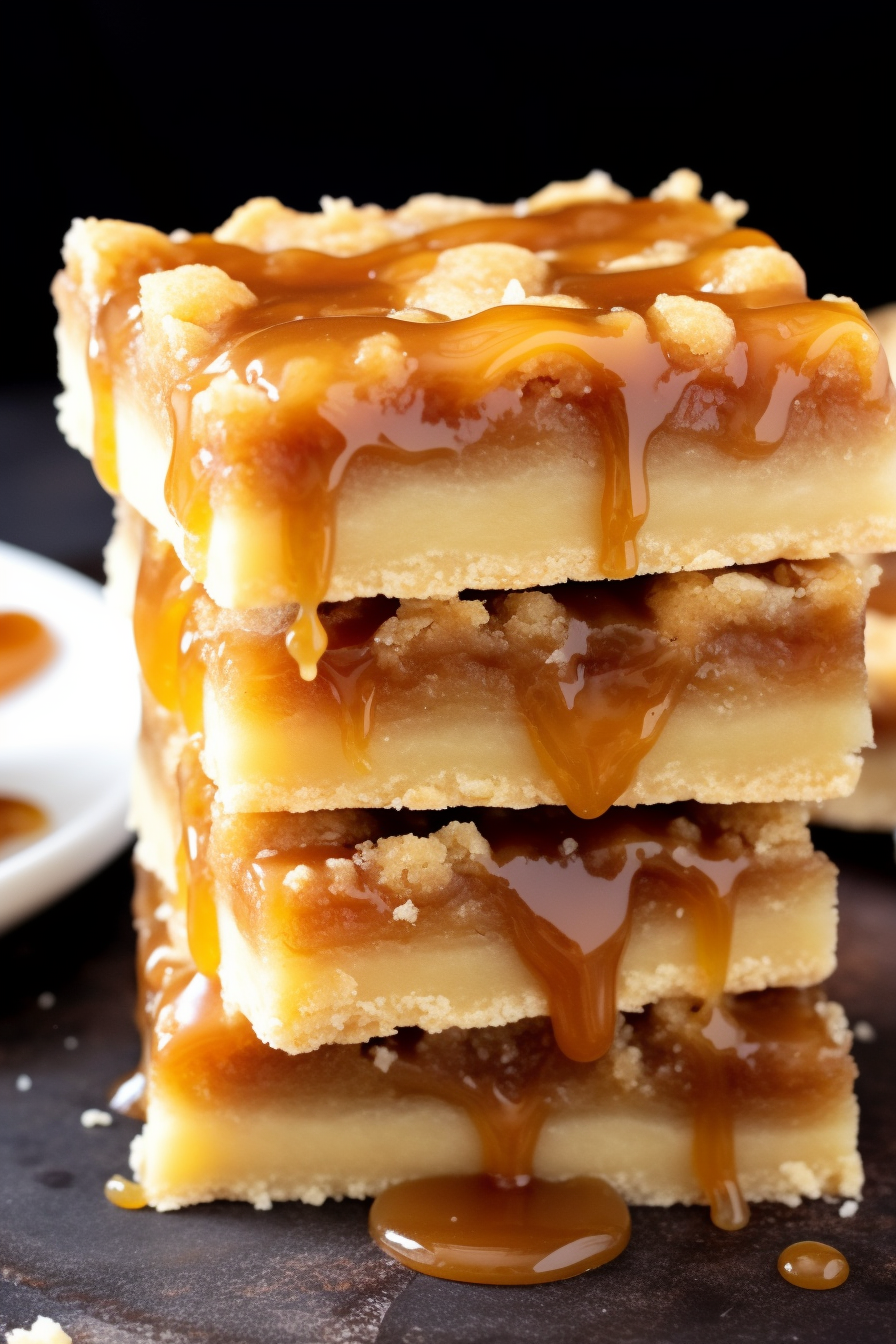 Ingredients Notes For Caramel Crumb Bars
Welcome to the world of Caramel Crumb Bars, where the symphony of simple ingredients creates a decadent treat! Let's break down what you'll need:
Granulated Sugar: The star in your caramel sauce, it transforms into a beautiful amber liquid, setting the stage for that classic caramel flavor.
Unsalted Butter: Used in both the caramel and the shortbread, it provides a rich, creamy base. Remember, quality matters, so opt for a good brand!
Heavy Cream: This brings luxurious creaminess to your caramel, making it smooth and luscious.
Coarse Salt: It's not just about balancing sweetness; it's about adding a subtle kick that elevates the caramel to new heights.
All-Purpose Flour & Cornstarch: These combine to form the perfect crumbly yet tender shortbread base. The cornstarch is our little secret for that extra tender crumb!
Brown Sugar: This adds a hint of molasses goodness to the crumble topping, creating a delightful flavor contrast.
How To Make Caramel Crumb Bars
Ready to embark on a culinary adventure that leads to the ultimate Caramel Crumb Bars? Here's a detailed guide to making these heavenly treats:
Caramel Sauce Creation: Start by gently melting the granulated sugar in a saucepan, stirring occasionally. As it turns into a golden liquid, stir in the butter, then add the cream, creating a smooth, velvety caramel. A pinch of salt completes the sauce, which you then set aside to cool.
Shortbread Base: Mix melted butter with granulated sugar, then blend in flour, cornstarch, and salt. The result is a thick, crumbly dough. Press most of it into a lined baking pan, saving the rest for later.
Baking the Base: Bake until it's just starting to turn golden. This partially cooks the base, ensuring it holds up to the caramel.
Adding the Caramel: Once the base is slightly cooled, spread your homemade caramel over it. The contrast between the warm base and cool caramel is delightful.
Crumble Topping: Add brown sugar to the remaining dough, creating a crumbly mixture. Scatter this over the caramel for a rustic, crunchy top layer.
Final Bake: Bake until the crumble is golden and the caramel is bubbling – a sight to behold! This step melds all the layers into a cohesive, flavor-packed bar.
Cooling is Crucial: Patience is key. Allow the bars to cool completely in the pan. This waiting time ensures everything sets perfectly for clean slicing.
Slicing and Serving: Lift the bars out using the parchment paper, then slice with a sharp knife for perfect pieces. Each slice is a testament to your baking prowess!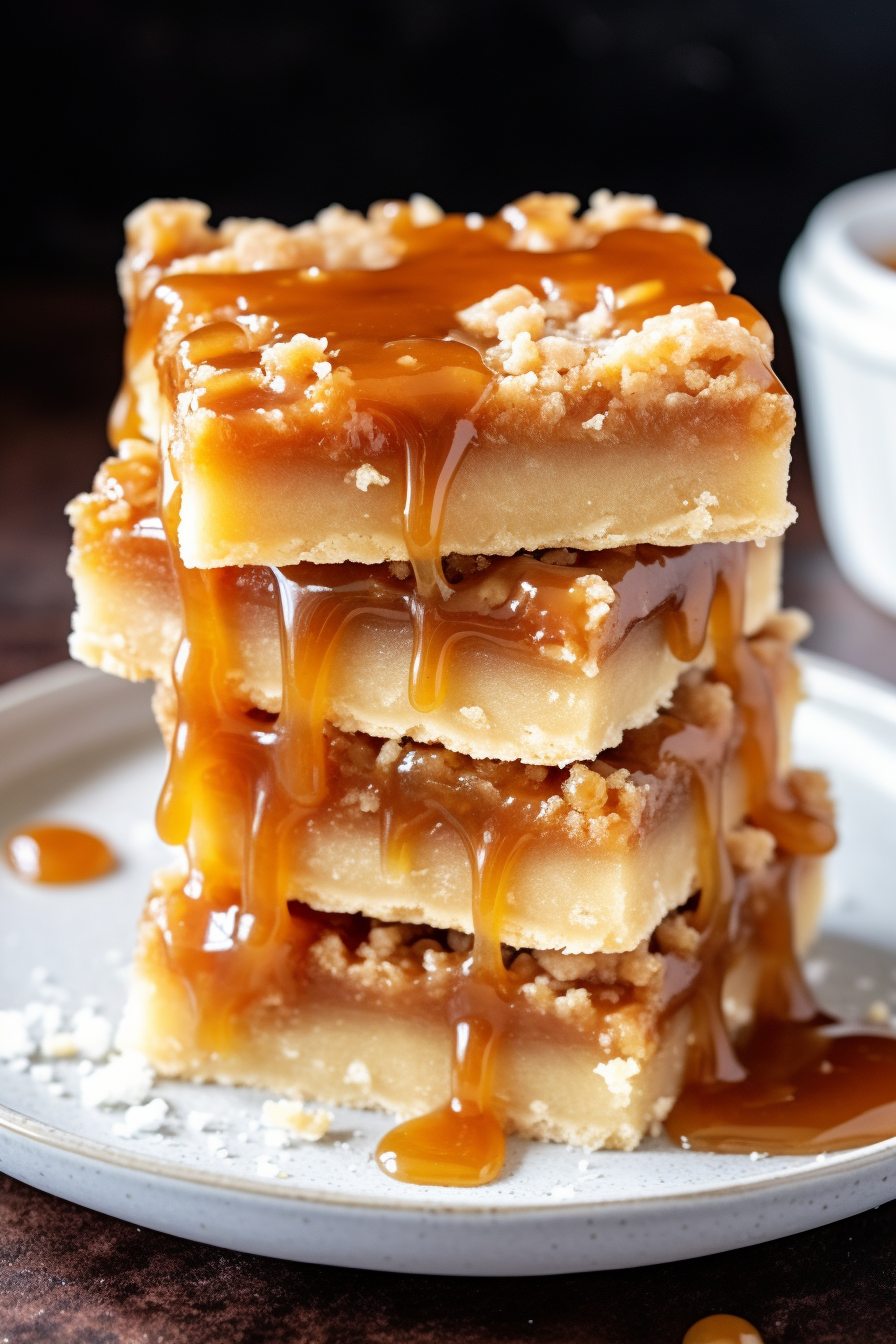 Storage Options
Caramel Crumb Bars are not just a treat for now; they're a gift for future you! Here's how to keep them:
Room Temperature: Store them in an airtight container for up to 5 days. They remain deliciously firm yet tender.
Refrigeration: For a firmer texture, refrigerate them for up to 10 days. The cold enhances the caramel's chewiness, a delightful twist!
Freezing: For long-term indulgence, freeze the bars for up to 3 months. Thaw them at room temperature for a spontaneous treat!
Variations and Substitutions
Feel like a culinary explorer and want to tweak the recipe? Here are some ideas:
Different Sugars: Swap granulated sugar with brown sugar in the shortbread for a deeper, molasses-like flavor.
Add-ins: Stir in chopped nuts or chocolate chips to the crumble topping for an extra crunch or a chocolatey twist.
Flavor Twists: Experiment with adding spices like cinnamon or nutmeg to the shortbread for a warm, spiced version.
Dairy-Free Options: Use plant-based butter and cream for a dairy-free alternative that doesn't compromise on taste.
Gluten-Free Adaptation: Substitute all-purpose flour with a gluten-free blend to cater to those with dietary restrictions.
Embrace these variations and make this recipe truly your own!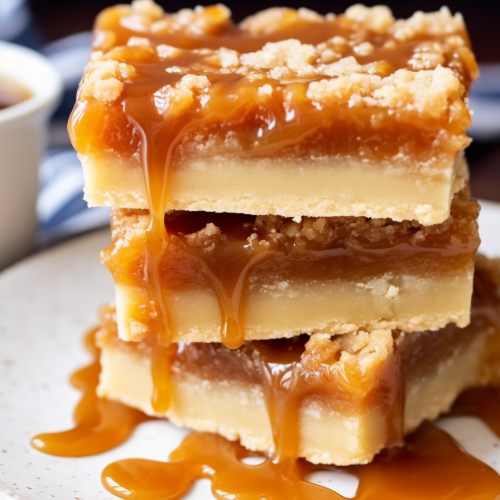 Caramel Crumb Bars
Indulge in homemade Caramel Crumb Bars, featuring a buttery shortbread base topped with rich salted caramel sauce and a crumbly topping. A perfect blend of sweetness and texture!
Print
Pin
Rate
Ingredients
For the Salted Caramel Sauce (Alternatively, a pre-made sauce may be used):
1

cup

200 grams Granulated Sugar

6

tablespoons

84 grams Unsalted Butter, cut into pieces

½

cup

120 ml Heavy Cream

½

teaspoon

Coarse Salt
For the Shortbread Base and Crumb Topping:
¾

cup

168 grams Unsalted Butter, melted

¾

cup

150 grams Granulated Sugar

1 ¾

cups

219 grams All-Purpose Flour

3

tablespoons

22.5 grams Cornstarch (referred to as cornflour in Australia)

¼

teaspoon

Salt

2

tablespoons

Light Brown Sugar
For the Caramel Layer:
⅔

cup

160 ml Salted Caramel Sauce
Instructions
Preparing the Caramel Sauce:
In a medium saucepan, heat the granulated sugar over medium heat. Stir the sugar occasionally with a rubber spatula until it forms clumps and subsequently melts into an amber-colored liquid.

Once the sugar has fully melted and there are no lumps, carefully add the butter to the saucepan. The mixture will vigorously boil; continue stirring until the butter is mostly integrated into the mixture.

Reduce the heat to low and incorporate the heavy cream into the mixture, whisking until the sauce becomes smooth and uniform.

Remove the saucepan from the heat, stir in the coarse salt, and set aside to cool completely.
Making the Caramel Crumb Bars:
Preheat the oven to 325°F (160°C). Prepare an 8×8 inch (20×20 cm) baking pan by lining it with parchment paper, ensuring an overhang on the edges for easy removal of the bars.

In a medium-sized bowl, combine the melted unsalted butter with the granulated sugar.

Gradually add the all-purpose flour, cornstarch, and salt to the butter and sugar mixture, ensuring that there are no lumps. The dough should be thick and crumbly.

Firmly press slightly more than half of this dough into the bottom of the prepared baking pan. Refrigerate the remaining dough.

Bake the base layer for approximately 20-25 minutes, or until the surface is set and begins to turn golden. Maintain the oven temperature after removing the base layer.

Allow the base layer to cool for 20-30 minutes, which is essential for the subsequent layers.

Spread ⅔ cup of the salted caramel sauce evenly over the cooled base. If using the prepared caramel sauce from this recipe, note that not all of it may be required.

Add the light brown sugar to the remaining dough, mixing until it achieves a crumbly texture. Evenly sprinkle this crumbly mixture over the caramel layer, allowing some caramel to remain visible.

Return the pan to the oven and bake for an additional 25-30 minutes, or until the crumble topping is golden and the caramel layer visibly bubbles.

Remove the baking pan from the oven and allow the bars to cool completely in the pan, which will take at least 3 hours. For quicker cooling, the pan may be placed in the refrigerator.

To serve, lift the bars out of the pan using the overhanging parchment paper, transfer to a cutting board, and slice into desired portions using a sharp knife.