Savor the homemade goodness of Amish Onion Fritters, a delightful blend of chopped onions, half and half, flour, cornmeal, and a touch of sweetness. Perfect as a unique side dish!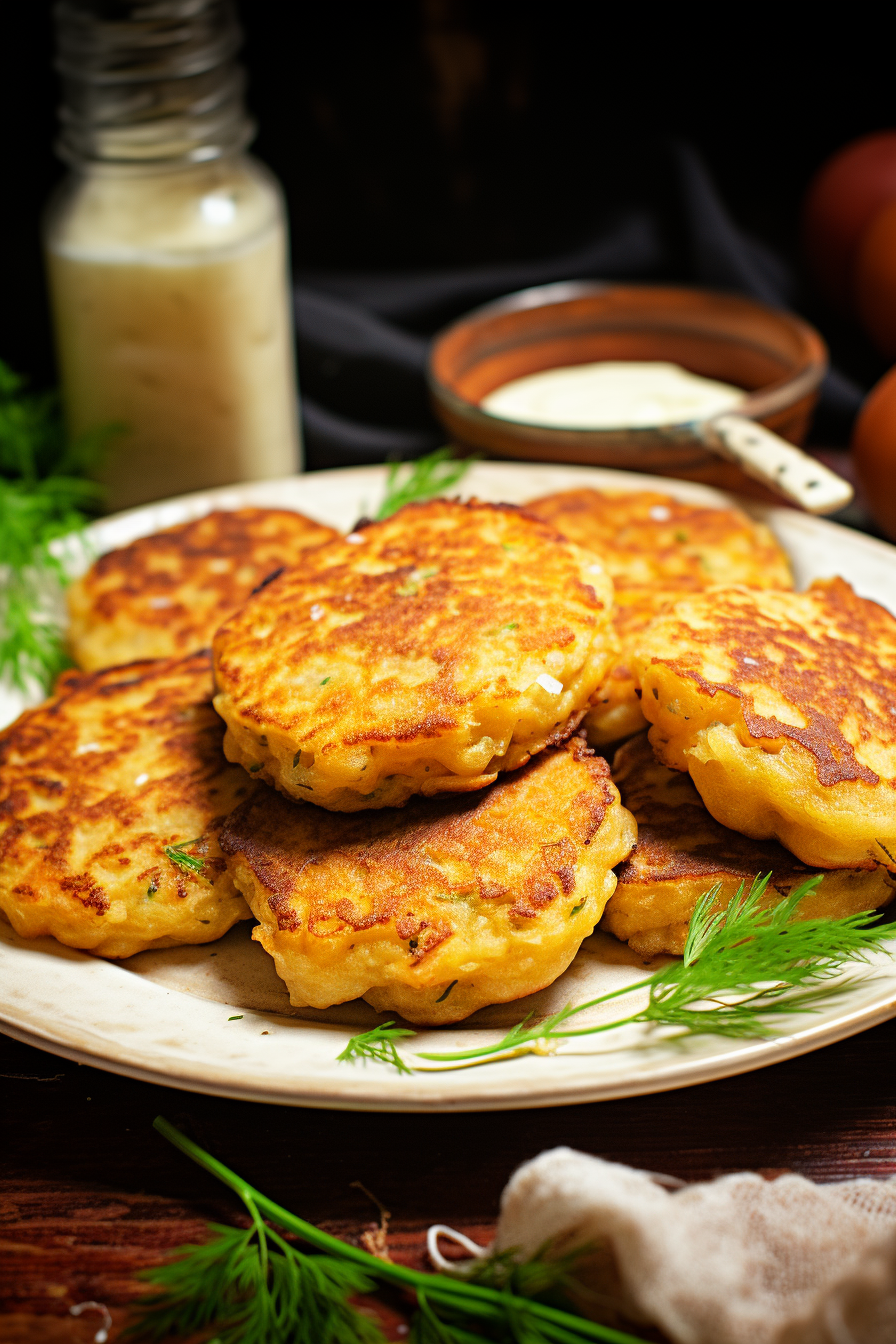 Growing up, our family kitchen was a melting pot of culinary traditions, but it was my grandmother's Amish Onion Fritters that always brought everyone together. Every Sunday, the aroma of frying onions would waft through the house, a signal that a family feast was underway. These fritters weren't just a recipe; they were a legacy, handed down from my Amish great-grandmother. It was more than the taste—it was the laughter, the stories, and the love that enveloped our kitchen as we all took turns learning the art of the perfect fritter. These fritters became a symbol of home, warmth, and the unbreakable bonds of family.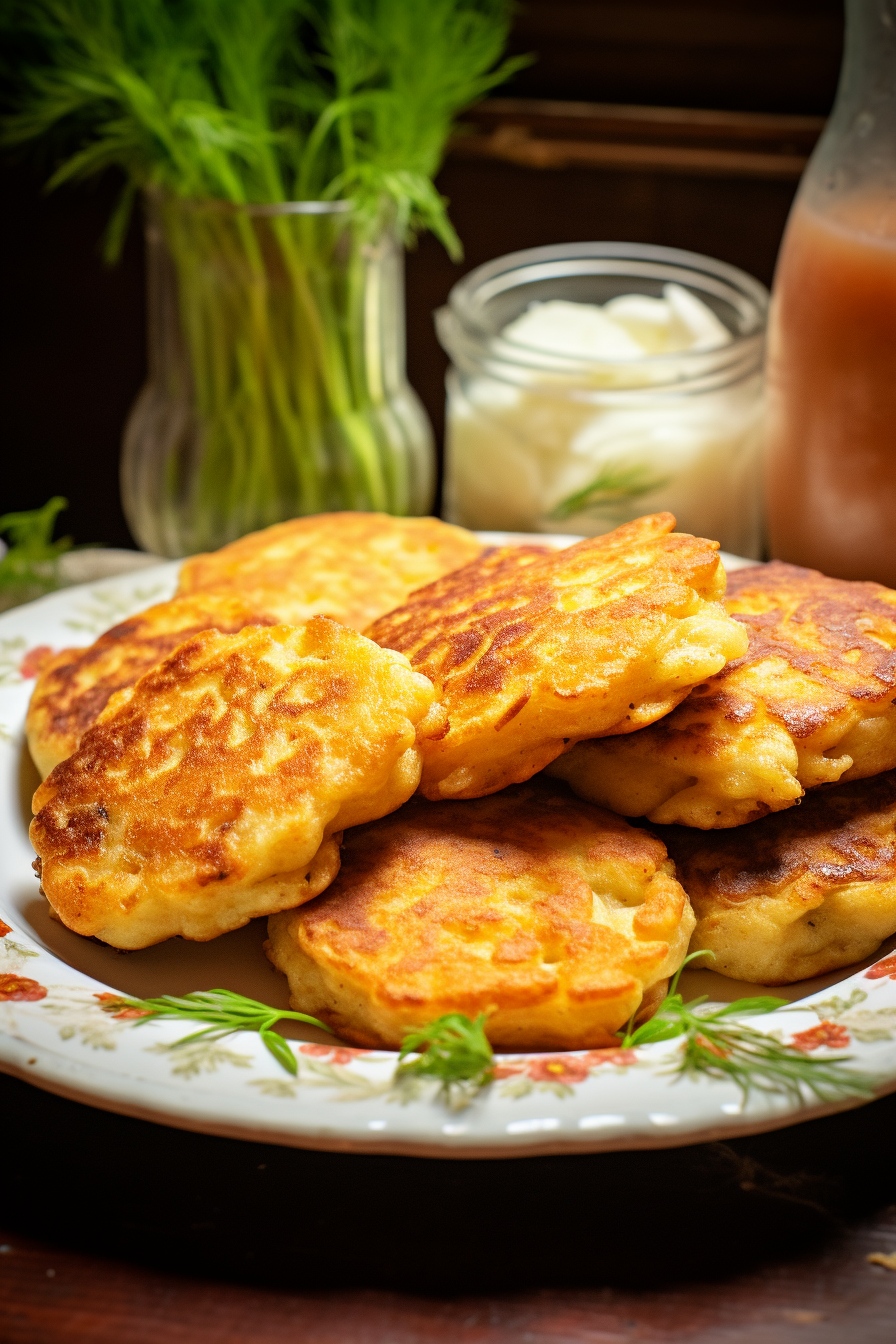 Why You'll Love Amish Onion Fritters
The Amish Onion Fritters recipe stands out for several reasons.
Firstly, its simplicity and frugality make it accessible to everyone. You don't need to be a gourmet chef to whip up this delicious side dish.
Secondly, the use of everyday ingredients like onions, flour, and cornmeal, transformed with a hint of sweetness and the rich flavor of half and half, creates a comforting, homestyle dish. These fritters have a unique texture, crispy on the outside and tender on the inside, making them irresistible.
Lastly, their versatility as a side dish for various meals adds to their appeal. Whether it's a family dinner or a special occasion, these fritters are sure to be a hit!
Ingredients Notes For Amish Onion Fritters
Introduction: Embrace the homely charm of Amish Onion Fritters with a few simple, yet flavorful ingredients. Each component plays a crucial role in creating the perfect balance of texture and taste.
Large Onions: The star of the show, providing a sweet and savory depth.
Half and Half: Adds creaminess to the batter, ensuring a tender interior.
All-Purpose Flour & Cornmeal: These work together to give the fritters their structure and a slight crunch.
Cornstarch: A secret ingredient for extra crispiness.
Sugar: Just enough to subtly enhance the natural sweetness of the onions.
Salt and Pepper: For that essential seasoning.
Oil for Frying: Choose a neutral oil with a high smoke point to achieve golden perfection.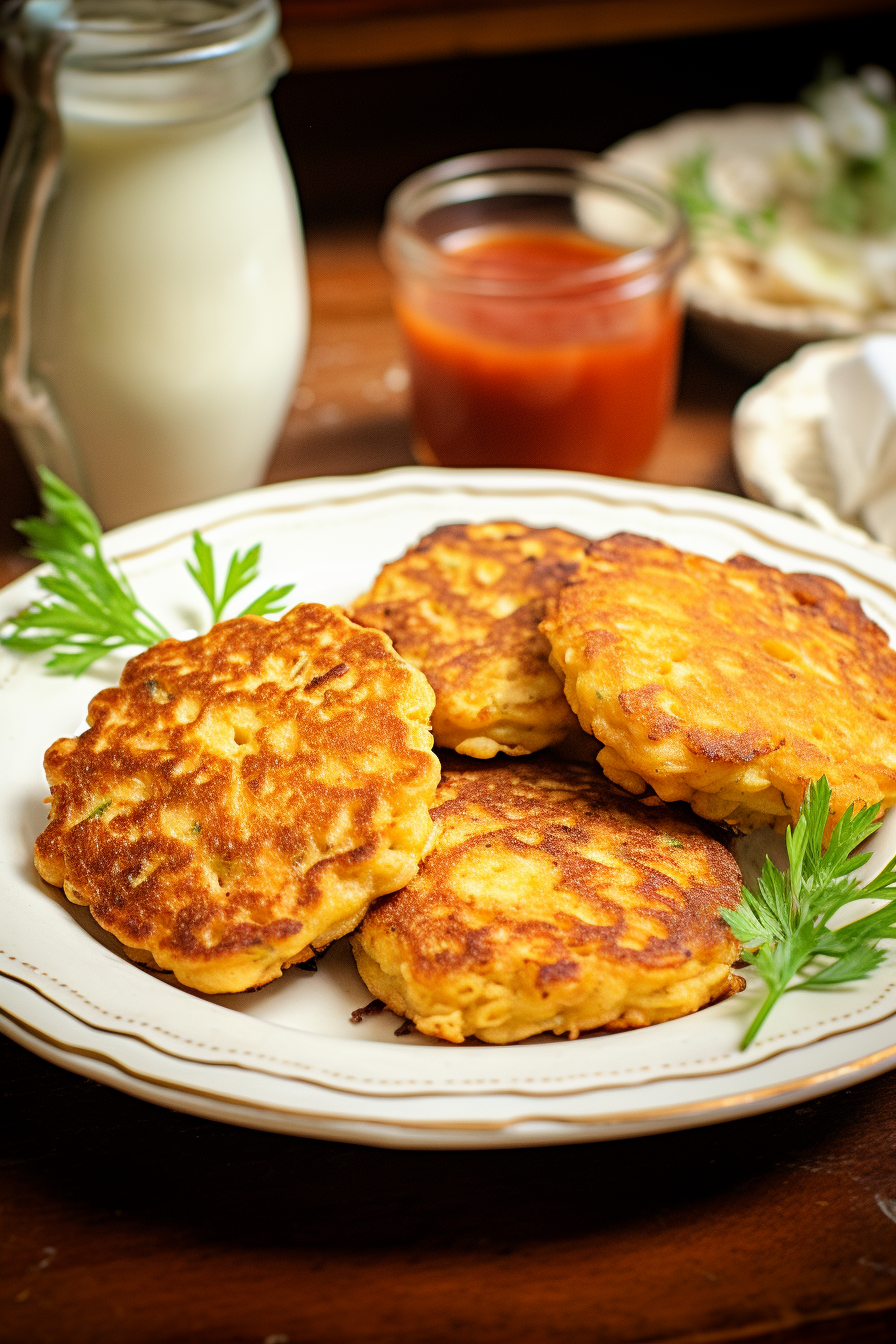 How To Make Amish Onion Fritters
Let's dive into the heartwarming world of Amish Onion Fritters, where each step brings you closer to a crispy, comforting treat.
Preparing the Batter: Start by combining the onions, half and half, flour, cornmeal, cornstarch, sugar, salt, and pepper in a mixing bowl. This step is crucial for ensuring that each ingredient is evenly distributed, creating a cohesive batter. Let the mixture rest for 5 minutes, allowing it to thicken slightly and the flavors to meld together.
Heating the Oil: Pour enough oil into a skillet to cover the bottom and heat it over medium-high heat. The key here is to get the oil hot enough so that when the batter is dropped in, it sizzles and starts frying immediately, creating that desirable crispy exterior.
Frying the Fritters: Carefully drop the batter by the tablespoon into the hot oil. Fry them until they are evenly golden brown on both sides. This step is all about timing and ensuring each fritter is cooked to perfection.
Draining: Once fried, transfer the fritters to a plate lined with paper towels. This helps to remove any excess oil, keeping your fritters crispy and not greasy.
Storage Options
Amish Onion Fritters are best enjoyed fresh, but if you find yourself with leftovers, fear not! They can be stored in the refrigerator for up to three days. To keep them crispy, place them in an airtight container with a paper towel to absorb any moisture. When you're ready to enjoy them again, simply reheat in an oven or toaster oven at 350°F until they're warm and crispy. While you can freeze them, bear in mind that the texture might change slightly upon reheating.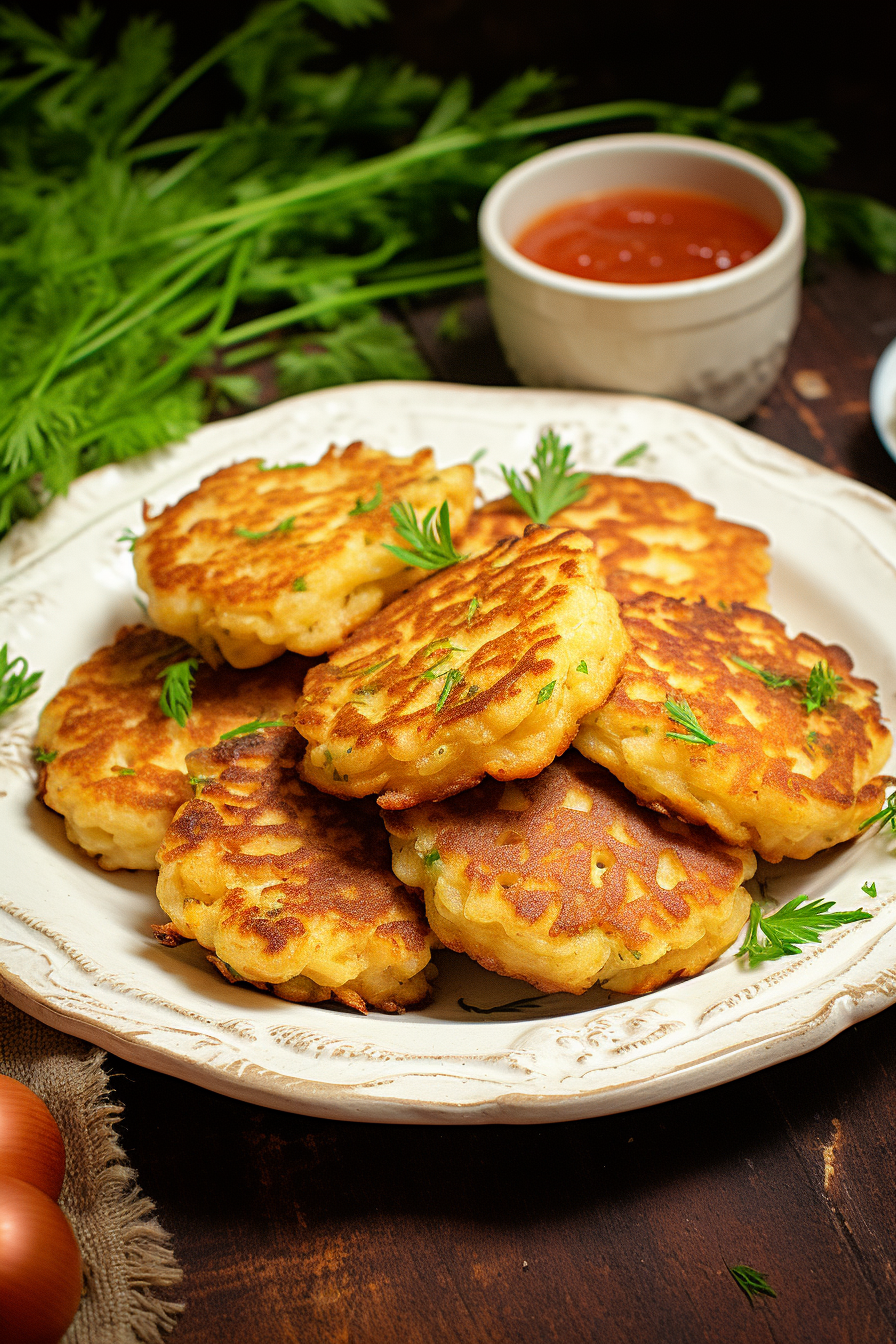 Variations and Substitutions
Flexibility is the spice of life, and this Amish Onion Fritters recipe offers plenty of room for creative twists!
Onions: Try different types of onions like red or sweet onions for a flavor variation.
Milk Alternatives: If you're out of half and half, whole milk or a dairy-free alternative can work in a pinch.
Gluten-Free: Swap out the all-purpose flour with a gluten-free blend and use gluten-free cornmeal to cater to dietary needs.
Add-ins: Feel free to mix in herbs like parsley or chives for an herby touch, or a pinch of cayenne pepper for a bit of heat.
Sugar Substitutes: If you're watching your sugar intake, use a sugar alternative or simply reduce the amount.
Oil Options: Depending on your taste preference or what's in your pantry, different oils like vegetable, canola, or even coconut oil can be used for frying.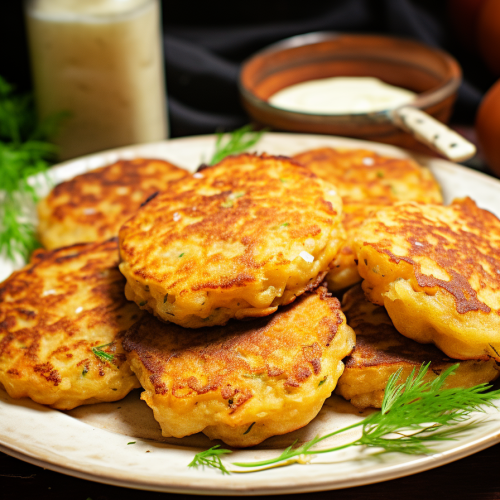 Amish Onion Fritters
Savor the homemade goodness of Amish Onion Fritters, a delightful blend of chopped onions, half and half, flour, cornmeal, and a touch of sweetness. Perfect as a unique side dish!
Print
Pin
Rate
Ingredients
2

Large Onions

finely chopped

1

cup

Half-and-Half Cream

1

cup

All-Purpose Flour

¼

cup

Cornmeal

2

Tablespoons

Cornstarch

2

Tablespoons

Granulated Sugar

Salt and Black Pepper

to taste

Cooking Oil

sufficient for frying
Instructions
Batter Preparation: In a large mixing bowl, combine the chopped onions, half-and-half cream, all-purpose flour, cornmeal, cornstarch, sugar, salt, and black pepper. Stir the ingredients thoroughly until the mixture is well-integrated. Allow this mixture to stand for approximately five minutes, facilitating a slight thickening and the melding of flavors.

Heating the Oil: Pour cooking oil into a skillet to a depth sufficient for shallow frying. Place the skillet over a medium-high heat source. The oil must reach a temperature that allows immediate sizzling upon the introduction of the batter, but not so hot as to cause burning.

Frying the Fritters: Using a tablespoon, carefully spoon the batter into the hot oil. Fry the fritters, ensuring they are evenly browned on both sides. This process requires close attention to achieve a golden-brown coloration without overcooking.

Draining the Fritters: Once the fritters have reached the desired level of crispiness and color, remove them from the skillet. Place them on a plate lined with paper towels, which will absorb any excess oil. Serve the fritters while they are warm for optimal texture and flavor.