Now that the weather is a bit cooler, I have been craving lots of hearty soups. Just last week I made a creamy Slow Cooker Chicken Tortellini Soup. It was the perfect one-pot wonder to kick off the fall season.
This Slow Cooker Chicken Parmesan Soup is more waist-friendly than the tortellini soup, but is still packed with flavor. Chicken Parmigiana is usually made by baking breaded chicken with cheese and tomato sauce. It's delicious, but quite a heavy dish. Diced tomatoes and slow cooked chicken replace the heavy tomato sauce and fried chicken in this soup.
My biggest tip for this recipe is to use a really good Parmesan cheese. Buying Parmesan cheese with a nice, strong flavor will make this soup just that much better.
I also always grate lots of fresh Parmesan over the bowls just before serving. I just can't get enough.
If you prefer stuffed pasta like tortellini, feel free to substitute it for the shell pasta. For slow cooker dishes like this, I usually just use whatever ingredients I can find in the pantry. For example, I always have a variety of dry pastas and diced tomato flavors. For this particular recipe, I used Italian Style diced tomatoes, but the other varieties should work just as well. Sometimes it's nice to add a chipotle or roasted pepper flavor to your soup!
Next time, I may even add beans and vegetables to the soup and serve it alongside some crusty bread and wine.
This soup also freezes well to make wonderful leftovers. However, if I don't freeze it right away, the leftovers disappear quickly in the fridge.
That's okay with me though. It's the sign of a good dish.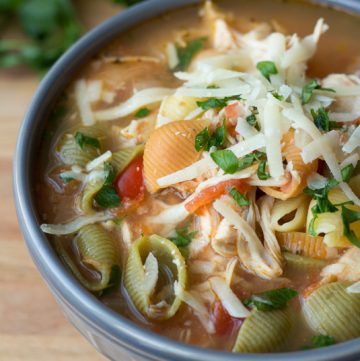 Slow Cooker Chicken Parmesan Soup
Ingredients
1½

lbs

boneless, skinless chicken breasts

3½

cups

low-sodium chicken broth

1 (15 oz)

can

diced tomatoes

1

tsp

minced garlic

1

red bell pepper, chopped

½

red onion, chopped

½

cup

Parmesan cheese, grated

2

tsp

dried Italian seasoning

¼

tsp

red pepper flakes (optional)

6

oz

dry shell pasta

salt and pepper, to taste

chopped flat leaf parsley, for garnish

grated parmesan, for serving
Instructions
Add the chicken, chicken broth, tomatoes, garlic, bell pepper, onion, Parmesan cheese, dried Italian seasoning, red pepper flakes, salt, and pepper to a slow cooker and cook on high for 3-4 hours.

About 30 minutes before serving, add the dry pasta. Once the pasta is cooked to your liking, serve with extra grated Parmesan cheese and chopped flat leaf parsley.