Dive into a delightful dessert with key ingredients like flaky pie crust, zesty cinnamon-sugared apples, and a luscious caramel drizzle, making our Apple Crisp Pizza the showstopper you need.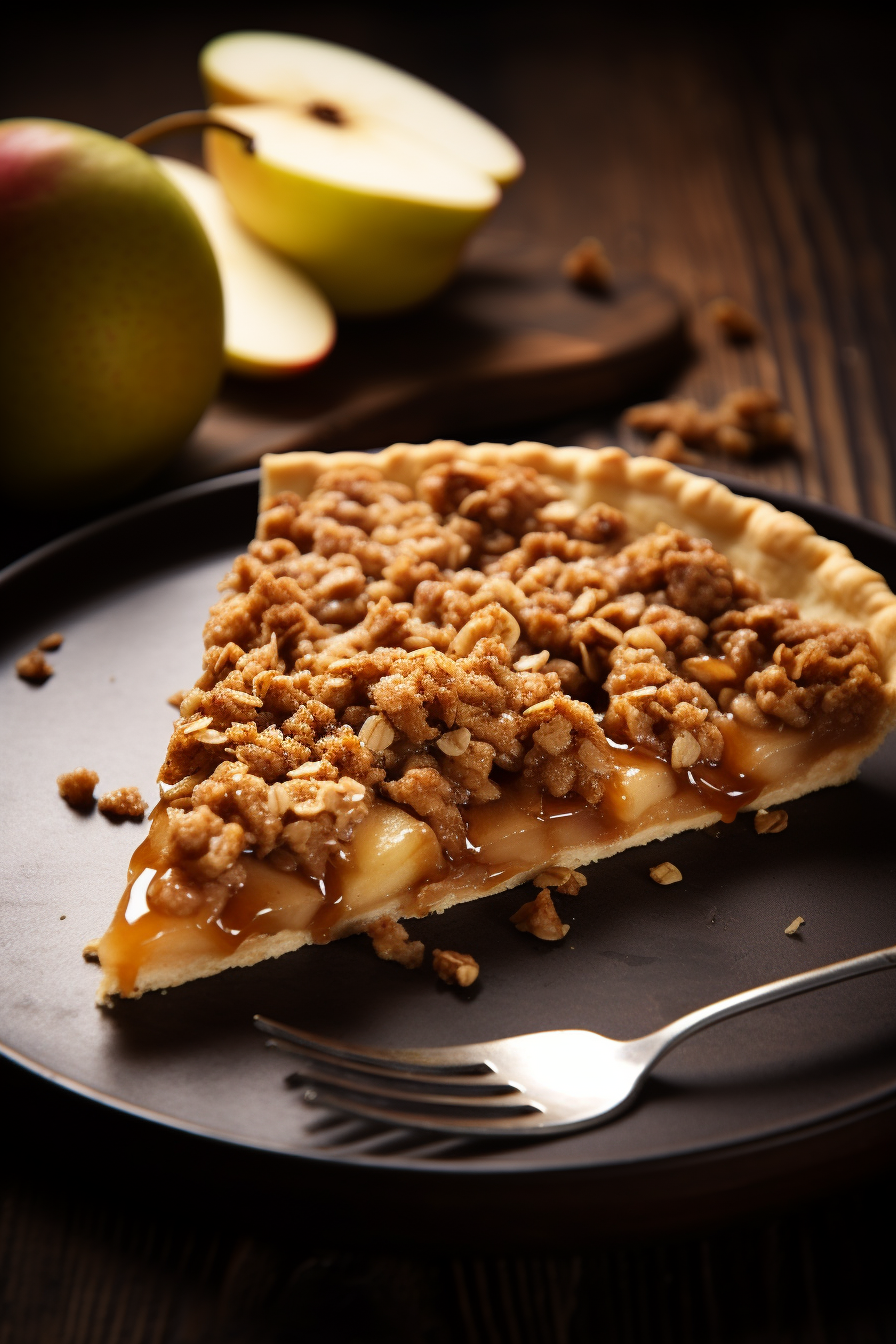 Remember those childhood days of staring through the bakery window, wondering what magic made those desserts so delicious? My granny had a saying, "Why wonder when you can create?" So, one balmy Saturday afternoon, inspired by our family's love for pizzas and apple pies, I tried to fuse the two. After a few culinary misadventures (let's not talk about the burnt crust incident), I finally stumbled upon the perfect marriage of flavors: Apple Crisp Pizza! It's nostalgia on a plate – every bite takes me back to my Granny's orchard, picking fresh apples, with the promise of a tasty reward.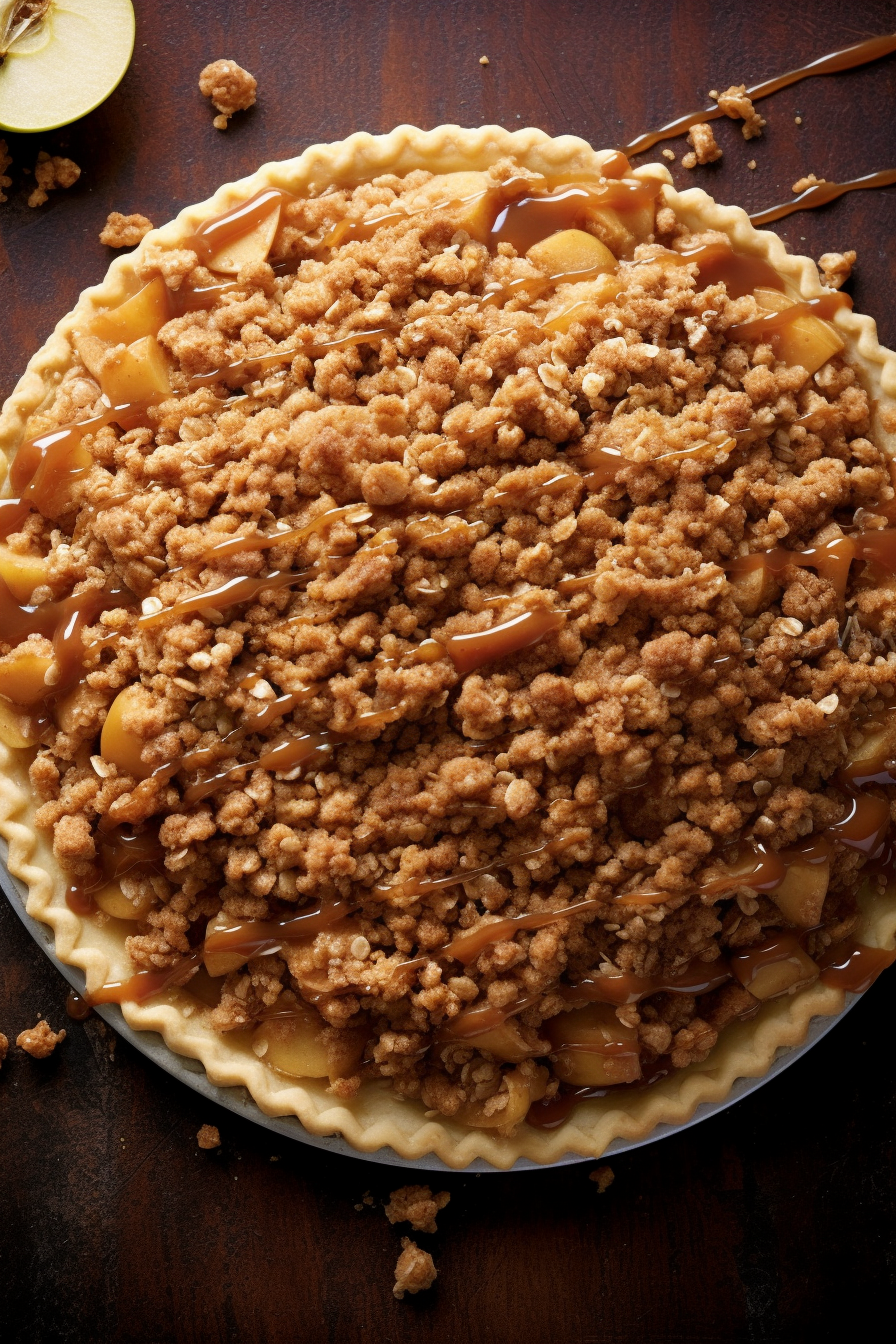 Why You'll Love Apple Crisp Pizza:
Ever had a dilemma choosing between a pie and a pizza? Look no further! Our Apple Crisp Pizza is the dreamy fusion of flaky pie crust topped with tender, cinnamon-spiced apples. The old-fashioned rolled oats give it a rustic charm, while the caramel drizzle adds a layer of opulence. It's comfort food that wears a crown!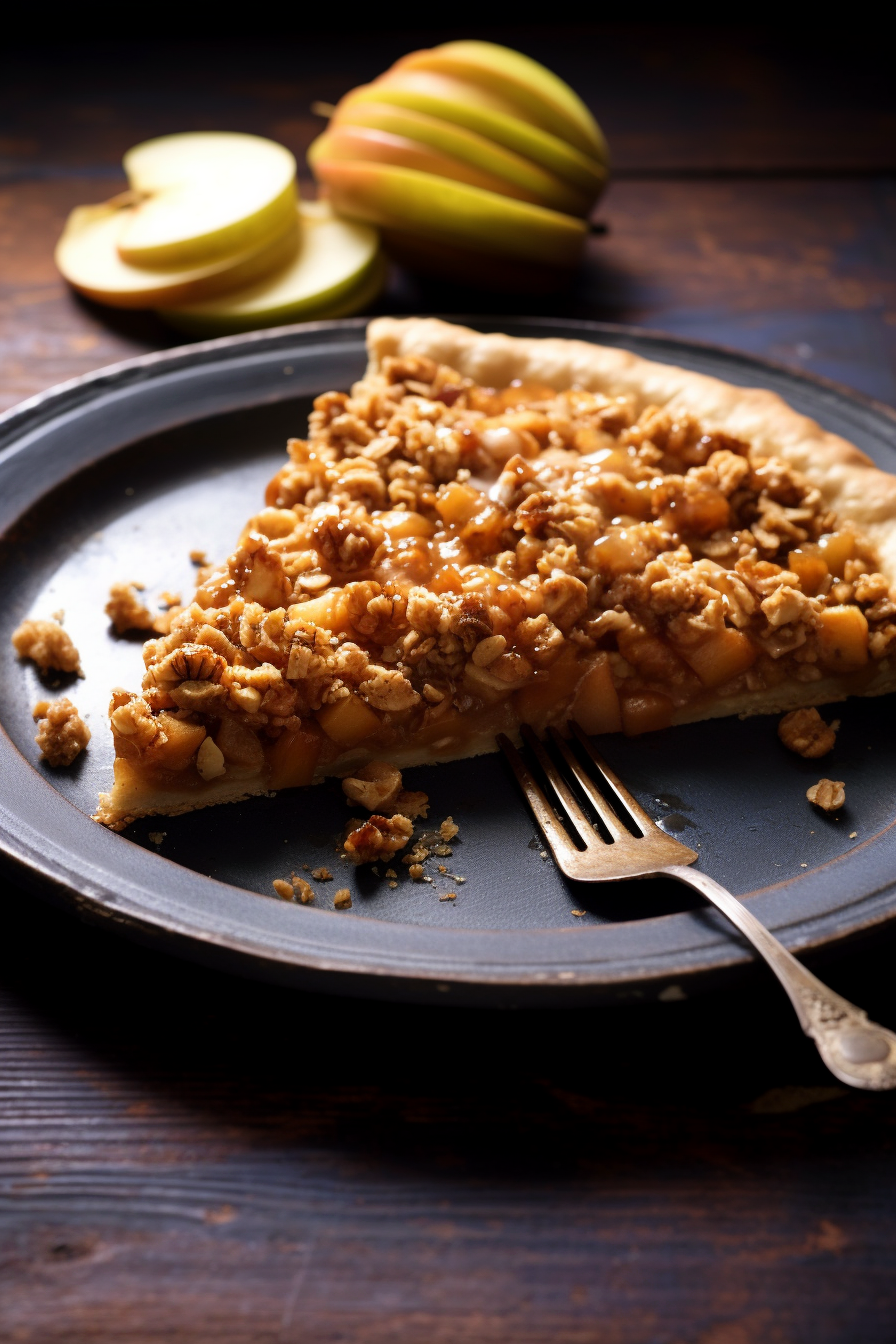 Ingredients Notes For Apple Crisp Pizza:
Firstly, when selecting apples, you want to go for those with a nice balance of sweet and tart – Gala, Fiji, Braeburn, or Empire are splendid choices. If you're going store-bought with your pie crust, opt for a trusted brand, but nothing beats a homemade crust – the love shows! As for that caramel topping, quality matters; go for one that's rich and thick. And, oh, a small footnote about the butter in the topping; "softened" means it should be spreadable but not melting – it's about keeping our crisp, well, crisp!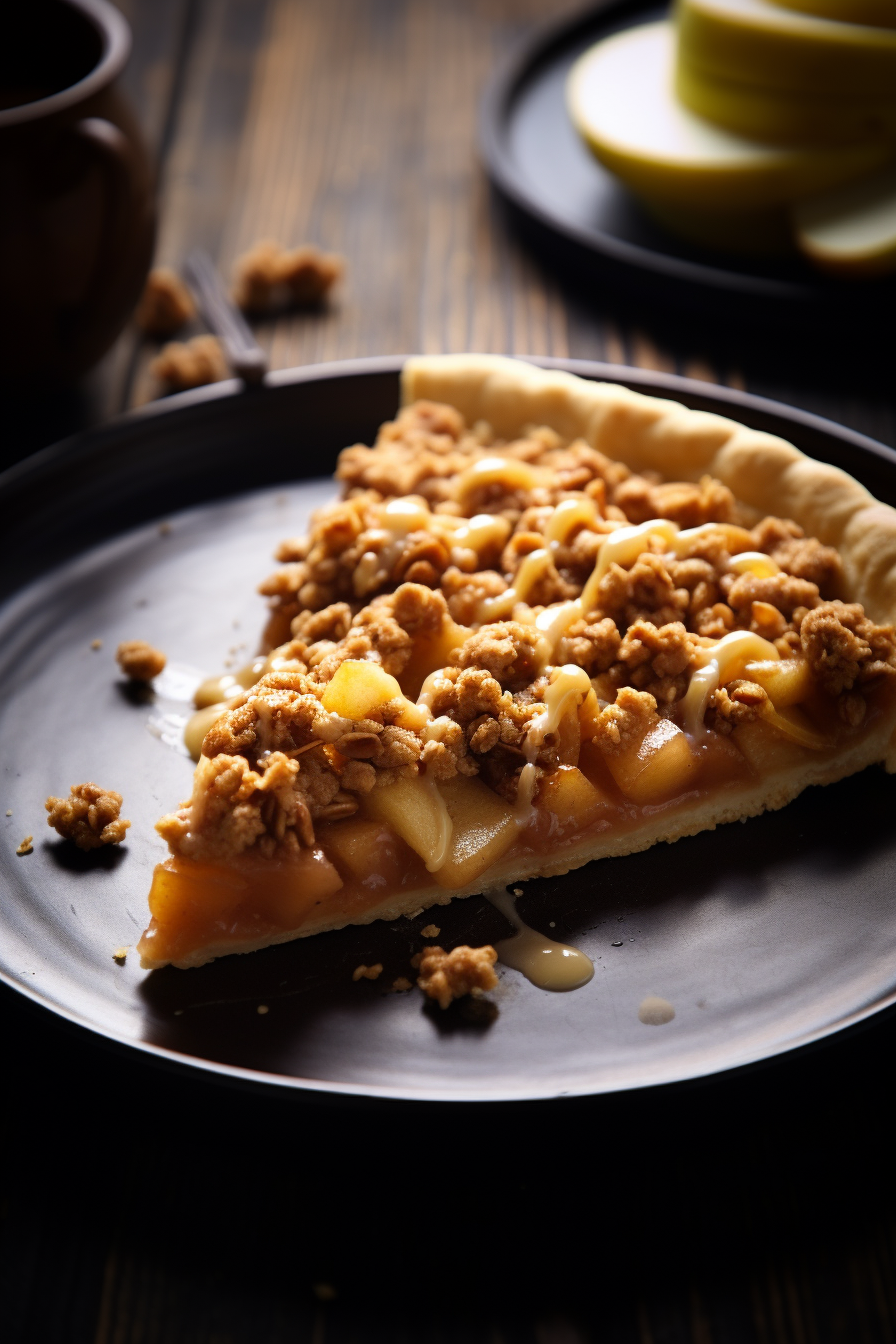 How To Make Apple Crisp Pizza:
Prepping the Oven: Start by setting the mood – preheat your oven to 350°F, letting it get all warm and cozy.
Crust Layout: Unroll that pie crust and gently stretch it to fit snugly on a 12-inch pizza pan. You want to fold the edges under a bit; think of it as creating a crusty pillow edge for our apple toppings.
Apple Layering: Mix sugar, flour, and cinnamon in a bowl – this trio is the charm spell for our apples. Toss in your diced apples, ensuring they get a good coating. Now, lay these beauties on the crust, making sure they're evenly spread.
Crispy Topping: Time for some hands-on fun! For the topping, blend flour, brown sugar, oats, cinnamon, and butter. The right texture here is akin to wet sand. Don't be shy; sprinkle it generously over our apple layer.
Baking Time: Into the oven it goes for 35-40 minutes. You'll know it's ready when the air is filled with an irresistible aroma and the apples are tender and inviting.
Finishing Touch: The crowning glory? Drizzle the caramel topping lavishly over the pizza. Slice it up, and voilà, culinary perfection!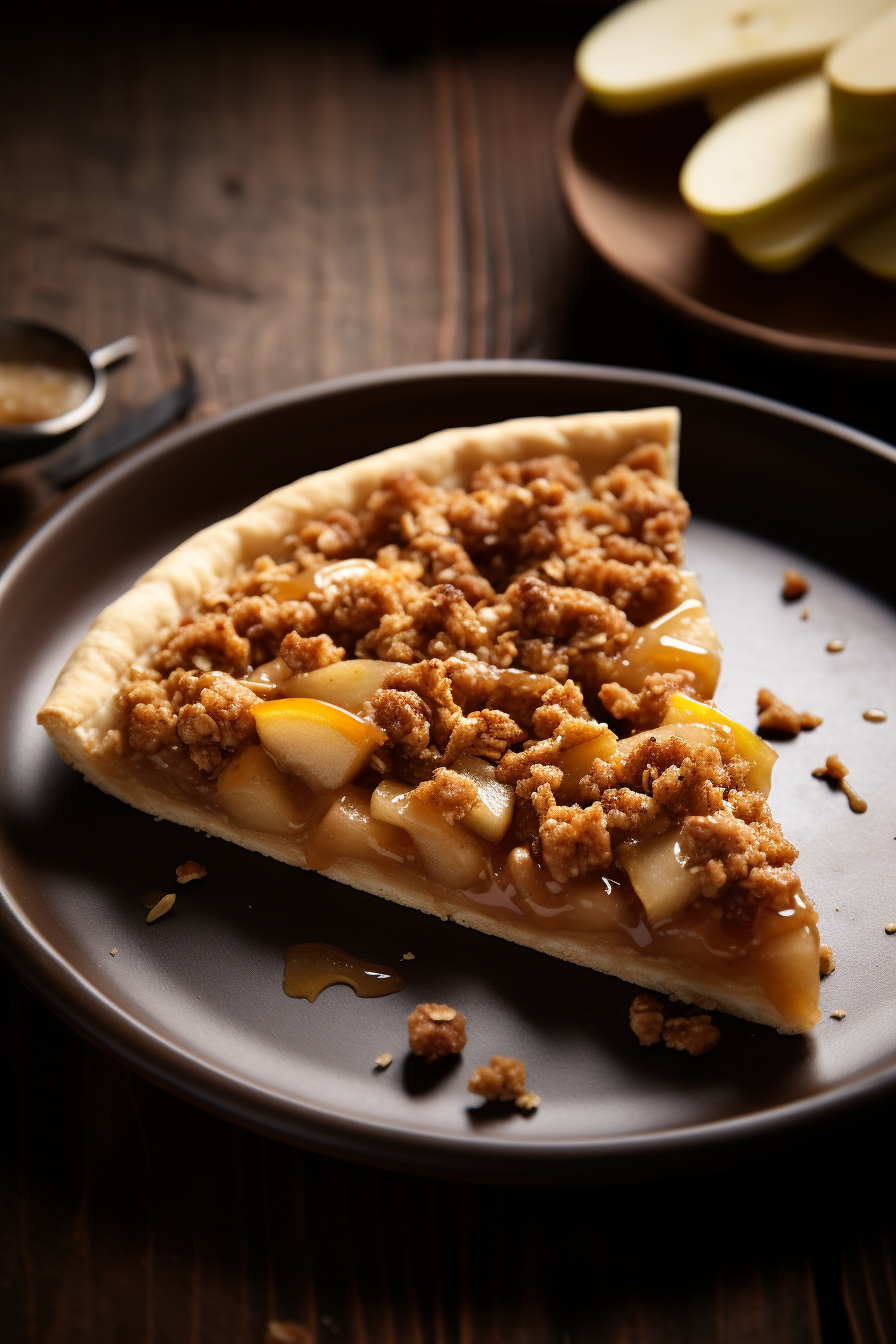 Storage Options:
Enjoyed the pizza but have leftovers? Store slices in an airtight container in the refrigerator for up to 3 days. For longer storage, wrap individual slices in plastic wrap, pop them in a zip-lock bag, and freeze. Just remember to let them thaw and warm slightly in the oven before indulging again.
Variations and Substitutions:
Feeling peachy? Swap apples for peaches or even a mix of summer berries. If oats aren't your jam, try using crushed graham crackers for the topping. On a vegan journey? Substitute the butter with coconut oil and opt for a vegan caramel sauce. And for those with a nutty side, a sprinkle of toasted pecans or almonds before baking might just be the twist you need.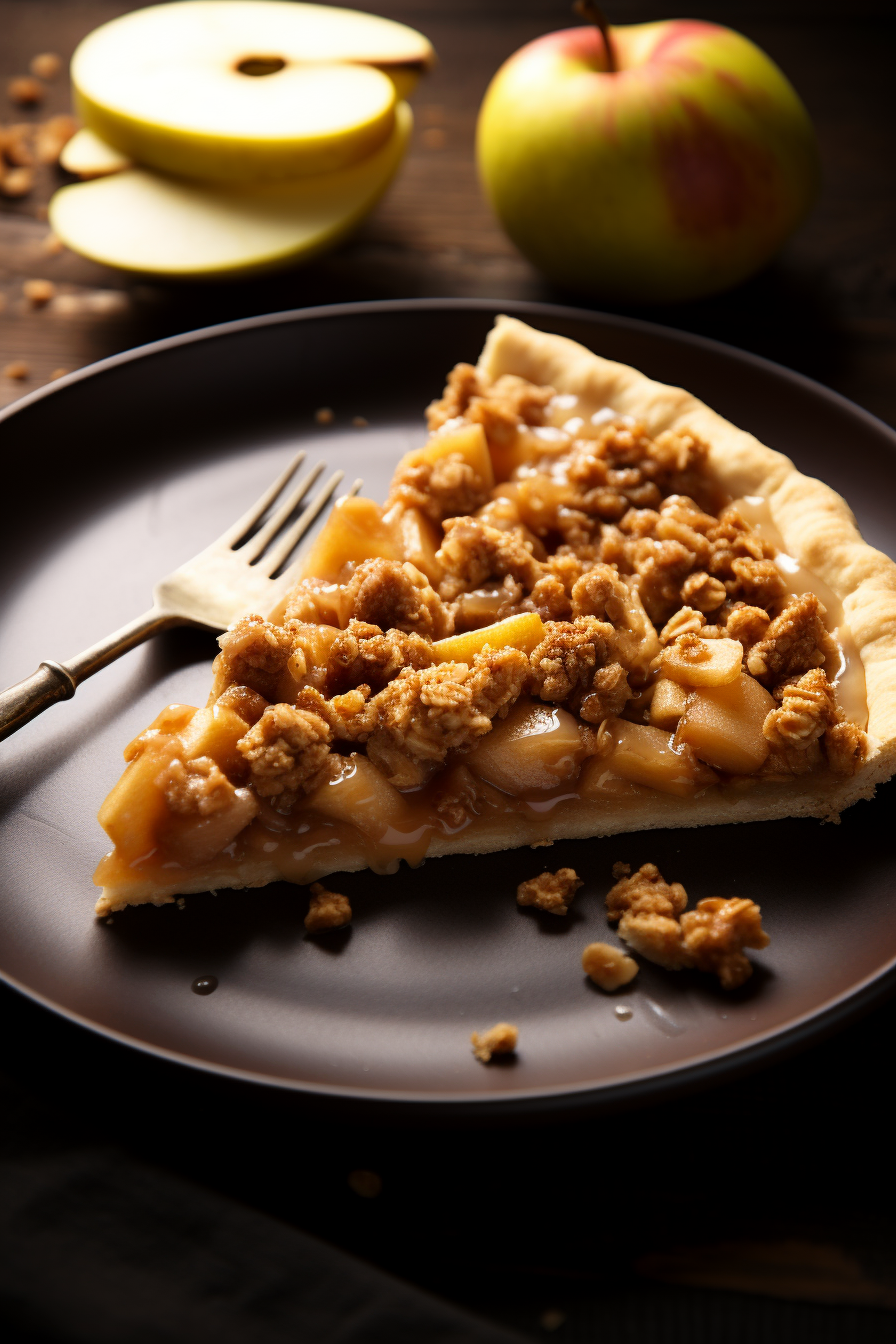 In essence, my dear food adventurers, this Apple Crisp Pizza isn't just a dessert; it's a sweet sojourn, a delightful dalliance of flavors. So, why wait? Let's get baking and make some memories! 🍏🍕🍰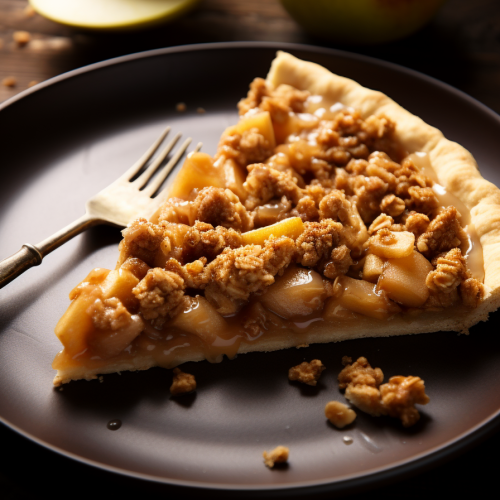 Apple Crisp Pizza
Dive into a delightful dessert with key ingredients like flaky pie crust, zesty cinnamon-sugared apples, and a luscious caramel drizzle, making our Apple Crisp Pizza the showstopper you need.
Print
Pin
Rate
Ingredients
One 9-inch pie crust

either prepared at home or procured from a reputable commercial source

2/3

cup

granulated sugar

3

tablespoons

all-purpose flour

1

teaspoon

ground cinnamon

4

cups

of apples

preferably of the Gala, Fiji, Braeburn, or Empire variety peeled, diced to a 1/4 inch thickness (approximately 4 apples in quantity)
For the Topping:
1/2

cup

all-purpose flour

1/3

cup

densely packed brown sugar

1/2

cup

old-fashioned rolled oats

1

teaspoon

ground cinnamon

1/4

cup

salted butter

brought to a soft consistency (refer to notes for further elucidation)
For the Drizzle:
1/2

cup

of premium caramel sauce
Instructions
Oven Preparation: Initiate by preheating the oven to a temperature of 350 degrees Fahrenheit.

Crust Arrangement: Delicately extend the pie crust to adequately cover a 12-inch pizza pan. Fold the periphery under to ensure the crust exhibits a slightly elevated border.

Apple Preparation: In a medium-sized mixing bowl, amalgamate granulated sugar, flour, and ground cinnamon. Subsequently, introduce the peeled and diced apples, ensuring they are uniformly coated with the mixture. Systematically place the apples over the pie crust to achieve comprehensive coverage.

Topping Configuration: In a separate mixing bowl, integrate the flour, brown sugar, rolled oats, ground cinnamon, and softened butter. It is imperative to achieve a homogeneous mixture with a texture akin to coarse sand. Distribute this mixture over the layered apples, ensuring even coverage.

Baking Process: Place the prepared arrangement in the preheated oven. Allow it to bake for a duration ranging between 35 to 40 minutes, or until the apples attain a soft texture.

Final Touch: Upon removal from the oven, uniformly drizzle the premium caramel sauce over the pizza. It is recommended to serve the dessert in individual slices, preferably warm, complemented with a choice of accompaniment such as ice cream. This recipe is crafted to serve approximately 12 individuals.