Dive into a loaf bursting with the flavors of sweet sugar, aromatic cinnamon, and tangy buttermilk. This Amish Cinnamon Bread is the comfort food you never knew you needed!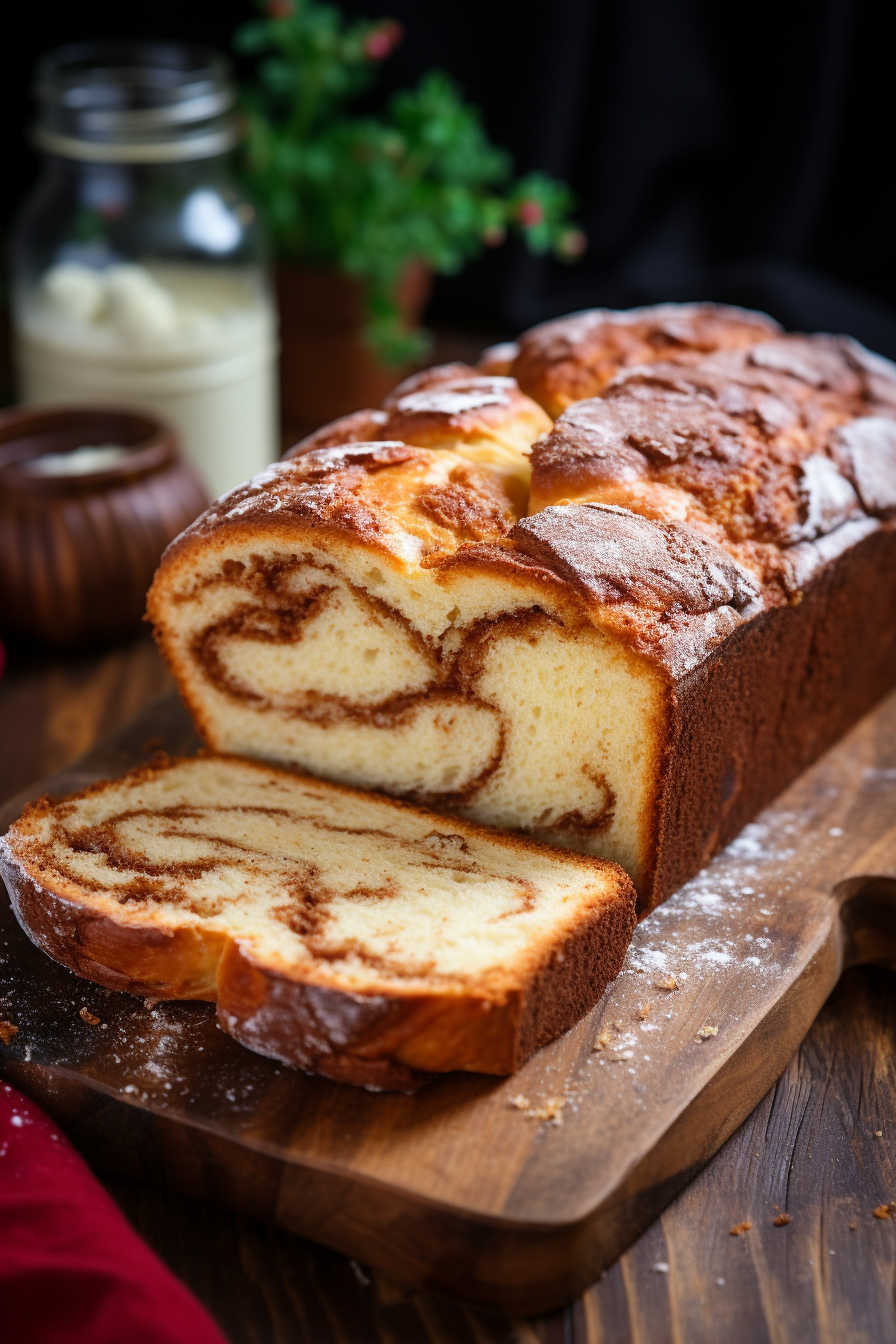 Once upon a nostalgic Saturday morning, while rummaging through my Grandma Elsie's worn-out recipe book, I stumbled upon this delightful Amish Cinnamon Bread recipe. The last time I tasted it, I was but a kid, with crumbs all over my face, seeking refuge under her dining table from the pretend monsters I had conjured up. The real magic, however, was always on that table, especially her cinnamon bread. With each bite, I was transported back to those carefree days, the scent of cinnamon wafting through the air, mixing with the laughter and stories of my family. Sharing this recipe feels like sharing a slice of my childhood, minus the make-believe monsters, of course!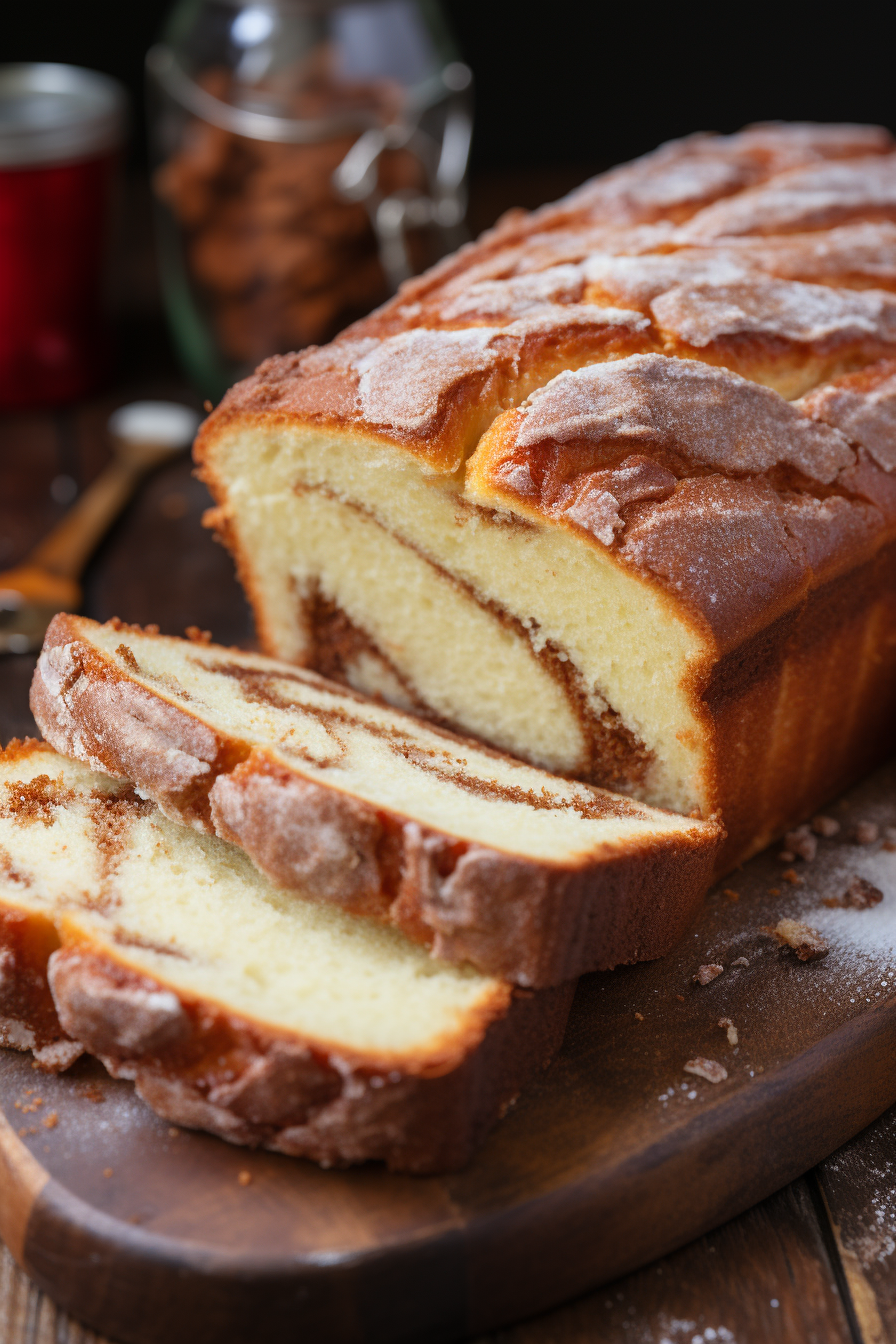 Why You'll Love Amish Cinnamon Bread:
Here's the 'scoop', dear readers! Our Amish Cinnamon Bread:
Doesn't require a starter. Yup, forget the hassle!
Uses buttermilk, giving it that unparalleled softness and a hint of tang.
Has a dreamy cinnamon sugar swirl inside and out. Hello, double trouble!
Is rooted in Amish traditions, offering a taste that's both comforting and time-honored.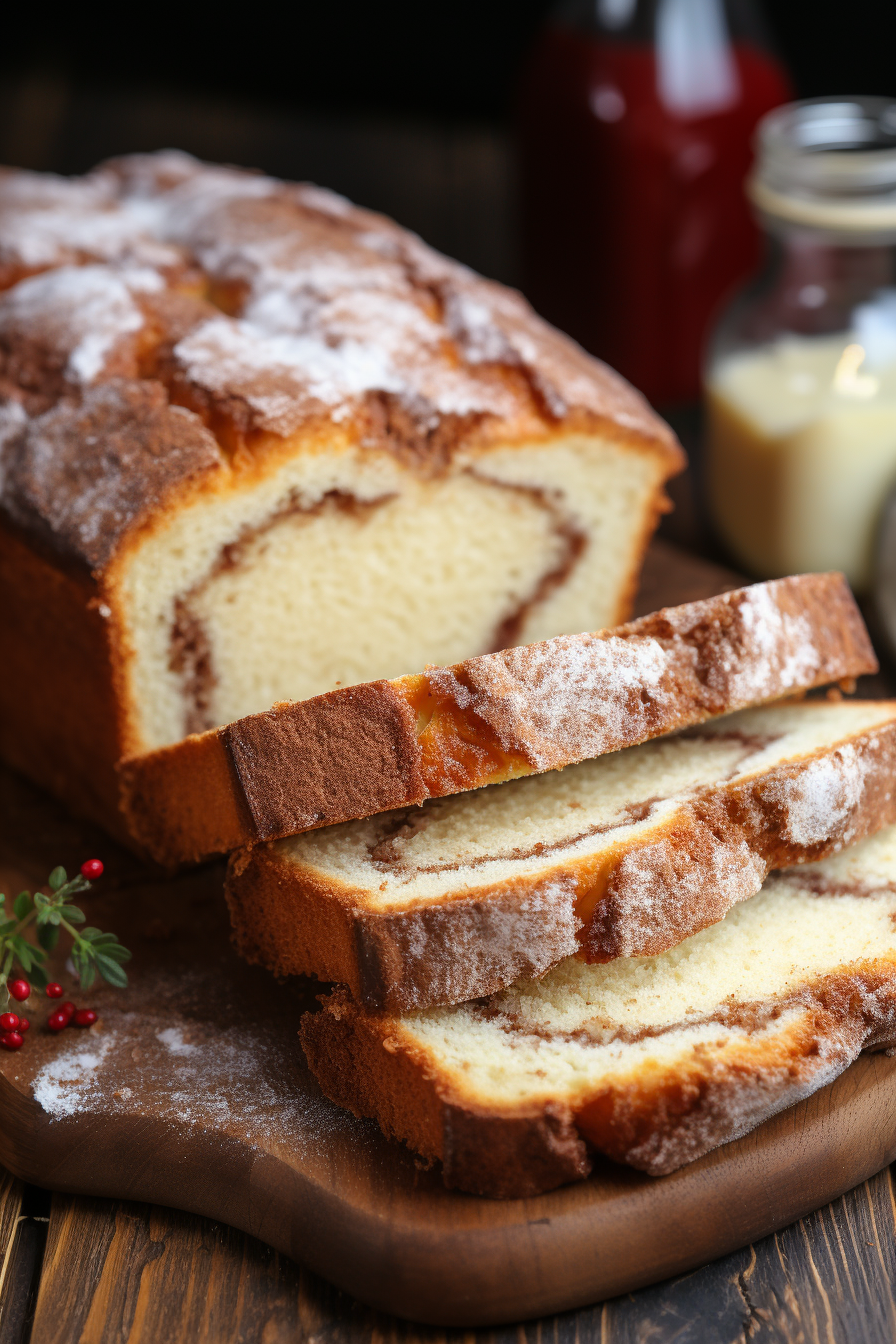 Ingredient For Amish Cinnamon Bread:
Sugar: The main sweetener, and trust me, life's sweeter with it!
Butter: Make sure it's softened. It's like giving your bread a comforting buttery blanket.
Buttermilk: Adds moisture, tang, and a softer crumb. If you're out of buttermilk, add a tablespoon of lemon juice or white vinegar to a cup of regular milk and let it sit for 5 minutes.
Cinnamon: That warming spice that no cinnamon bread can do without. Freshly ground? Even better!
Baking Soda: Our leavening agent. It ensures your bread rises to the occasion.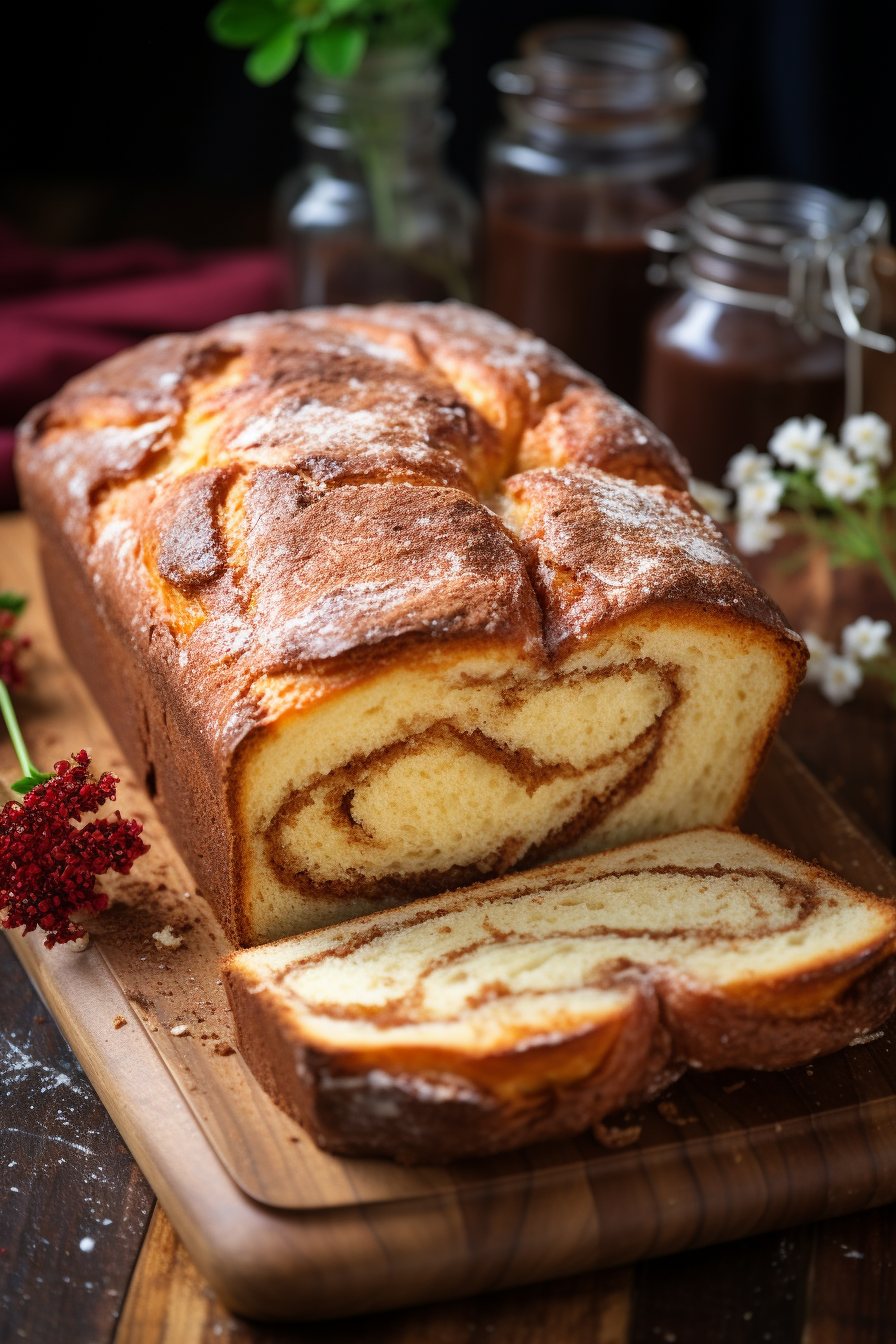 How To Make Amish Cinnamon Bread:
Step 1: First off, grab a small bowl. Mix your sugar and cinnamon together like they're old pals at a reunion. Once combined, set it aside for its moment of glory later.
Step 2: It's creaming time! In a larger bowl, combine the butter, sugar, and eggs. Cream them together till they're smooth and well-acquainted. Now, gracefully introduce the buttermilk, flour, and baking soda. No rushing – we're making memories here.
Step 3: Alright, divide half of that glorious batter between two greased loaf pans (each should get about a 1/4). Now, for the fun part! Sprinkle the cinnamon sugar mixture on top, but, and this is important, keep about a ¼ of it in reserve.
Step 4: Pour the remaining batter over your sugared layers. Sprinkle with the remaining cinnamon sugar for that final touch of magic.
Step 5: Pop those babies into an oven preheated to 350 degrees and bake for 45-50 minutes. Let them cool for about 20 minutes (if you can resist), then enjoy the fruits (or bread) of your labor!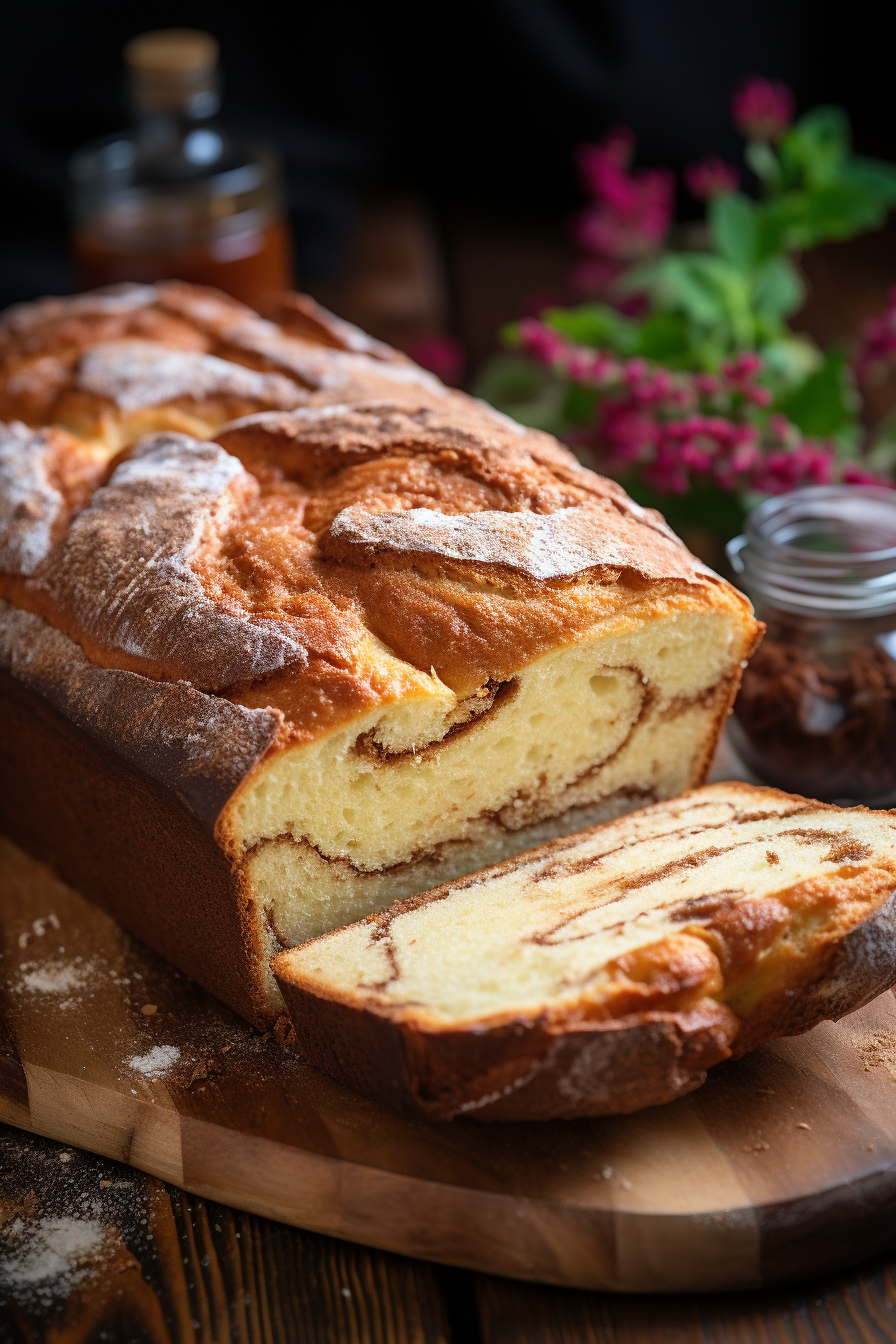 Storage Options:
Now, if by some miracle, you have leftovers, here's the drill. Wrap your bread in plastic wrap or aluminum foil and store at room temperature for up to 4 days. For longer storage, you can freeze it. Just make sure it's wrapped tight and sealed in a freezer bag. Whenever the craving strikes, defrost at room temperature, and it's as good as fresh!
Variations and Substitutions:
Want to jazz things up a bit? Here you go:
Milk Substitute: No buttermilk? No problem. Use regular milk with a splash of lemon juice or vinegar to get a similar tang.
Spice It Up: Fancy nutmeg or cardamom? Add it to your cinnamon sugar mix for a delightful twist.
Nuts About Nuts: Feel free to fold in some chopped walnuts or pecans into the batter. They'll add a lovely crunch to the soft bread.
Remember, bread-making is a journey. Enjoy every moment and every bite! 🍞❤️😋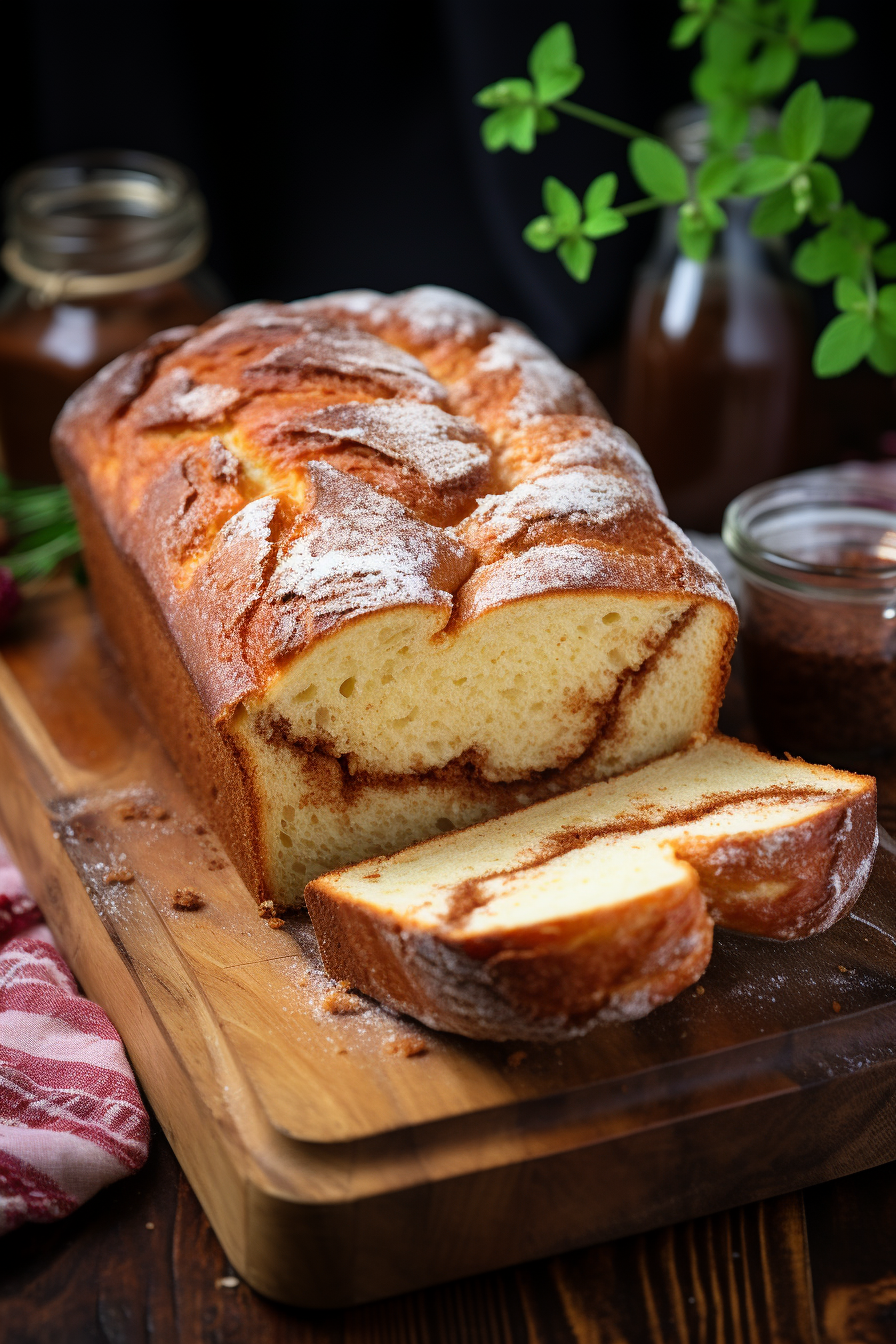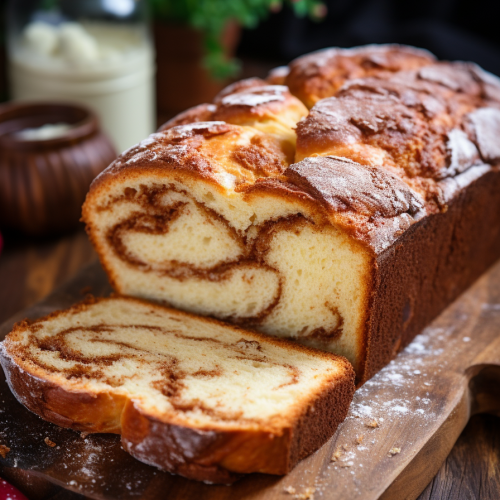 Amish Cinnamon Bread
Dive into a loaf bursting with the flavors of sweet sugar, aromatic cinnamon, and tangy buttermilk. This Amish Cinnamon Bread is the comfort food you never knew you needed!
Print
Pin
Rate
Ingredients
For the Bread:
Granulated sugar: 2 cups

Softened unsalted butter: 1 cup

Eggs: 2

Buttermilk: 2 cups

All-purpose flour: 4 cups

Baking soda: 2 tsp
For the Cinnamon Sugar Mixture:
Granulated sugar: 2/3 cups

Ground cinnamon: 3 tsp
Instructions
Cinnamon Sugar Preparation: In a modest-sized mixing bowl, combine the granulated sugar and ground cinnamon. Once adequately mixed, set it aside for subsequent use.

Batter Preparation: In a separate, larger mixing bowl, initiate by creaming the softened unsalted butter, granulated sugar, and eggs until the mixture achieves a consistent and smooth texture. Subsequently, incorporate the buttermilk, all-purpose flour, and baking soda. Ensure thorough mixing to achieve a consistent batter.

Loaf Pan Layering: Segregate approximately half of the prepared batter, distributing it equally between two adequately greased loaf pans. Generously sprinkle the aforementioned cinnamon sugar mixture over the batter in both pans. However, retain approximately a quarter of this mixture for final garnishing.

Final Layering: Dispense the remaining batter into the two loaf pans, ensuring an even spread. Finish by sprinkling the reserved cinnamon sugar mixture atop each loaf.

Baking: Position the loaf pans in an oven preheated to 350°F (175°C). Allow the bread to bake for a duration ranging from 45 to 50 minutes, or until a skewer inserted into the center emerges clean.

Cooling: Post baking, it is imperative to allow the bread to cool for a minimum duration of 20 minutes prior to extraction from the pans. Serve thereafter.