Dive into a heavenly cake infused with butter pecan, drenched in coconut pecan frosting, and oozing sweet condensed milk sauce with crunchy pecan bits. The ultimate sticky-sweet delight!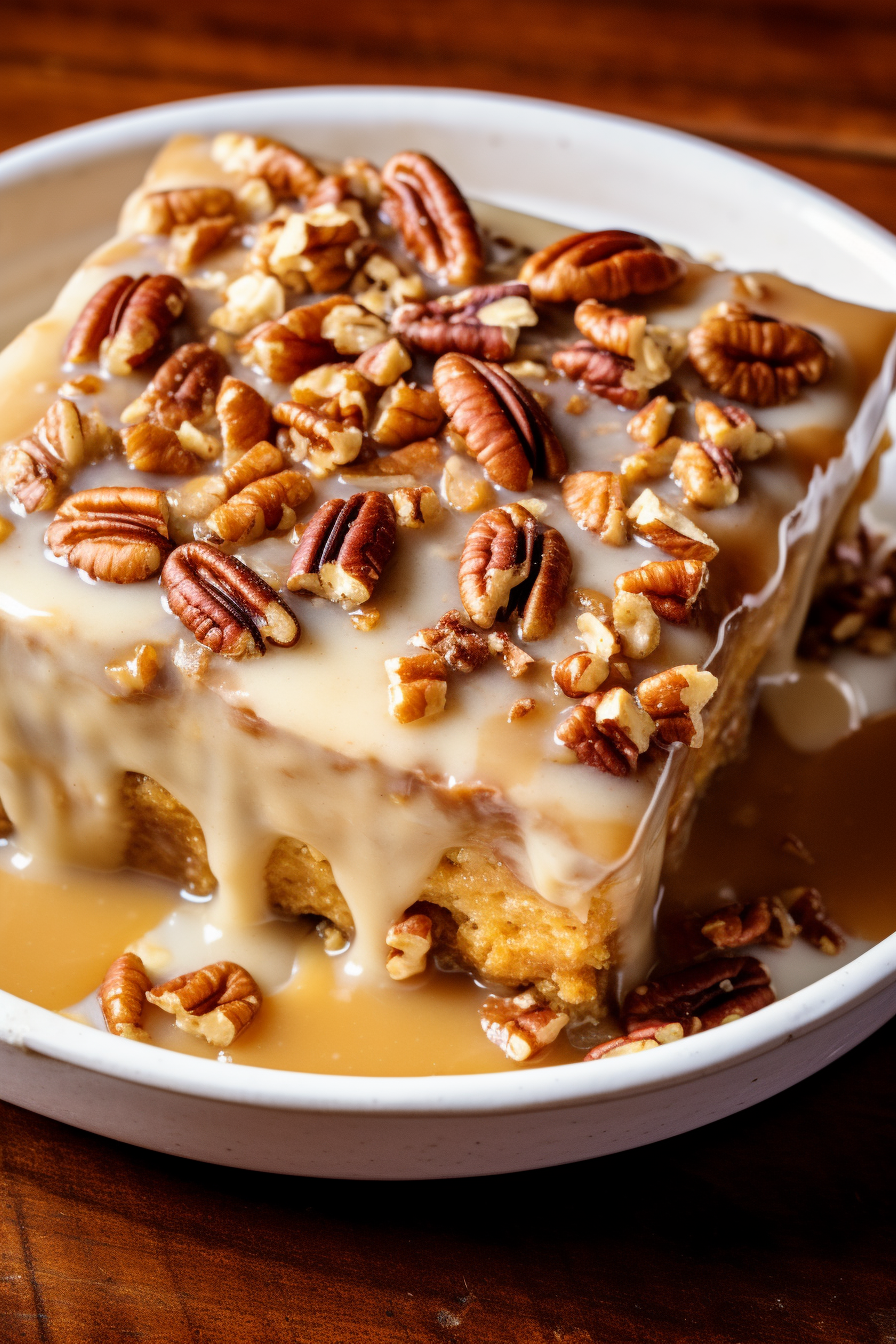 Ah, memories! You know, every time I see pecans, I'm reminded of my childhood summers spent at Grandma's quaint little farmhouse. Sunlit mornings, chirping birds, and the sweet aroma of her famous Butter Pecan Praline Cake wafting from the kitchen. Grandma always said that the secret to her cake was the "poke." It allowed all the goodness to seep deep into the cake's soul, much like how her stories found their way into our hearts. This recipe? It's my ode to those golden days. A humble attempt to capture a fragment of that nostalgic magic. So, when you're savoring each bite, know that it's infused with love, memories, and a pinch of grandma's magic!
Why You'll Love Butter Pecan Praline Poke Cake:
What makes our Butter Pecan Praline Poke Cake so irresistibly mouth-watering? First, it's a poke cake – and who can resist the fun and flavors that come from every delightful poke? Those little holes allow for an even distribution of our finger-licking sauce. Plus, it combines the decadence of butter pecan with a gooey praline glaze, delivering a powerful flavor punch. Still not convinced? It's a dessert that whispers tales of home, comfort, and nostalgia in every bite. And the best part? It's a breeze to whip up, thanks to some clever kitchen shortcuts. You get maximum yumminess with minimal fuss!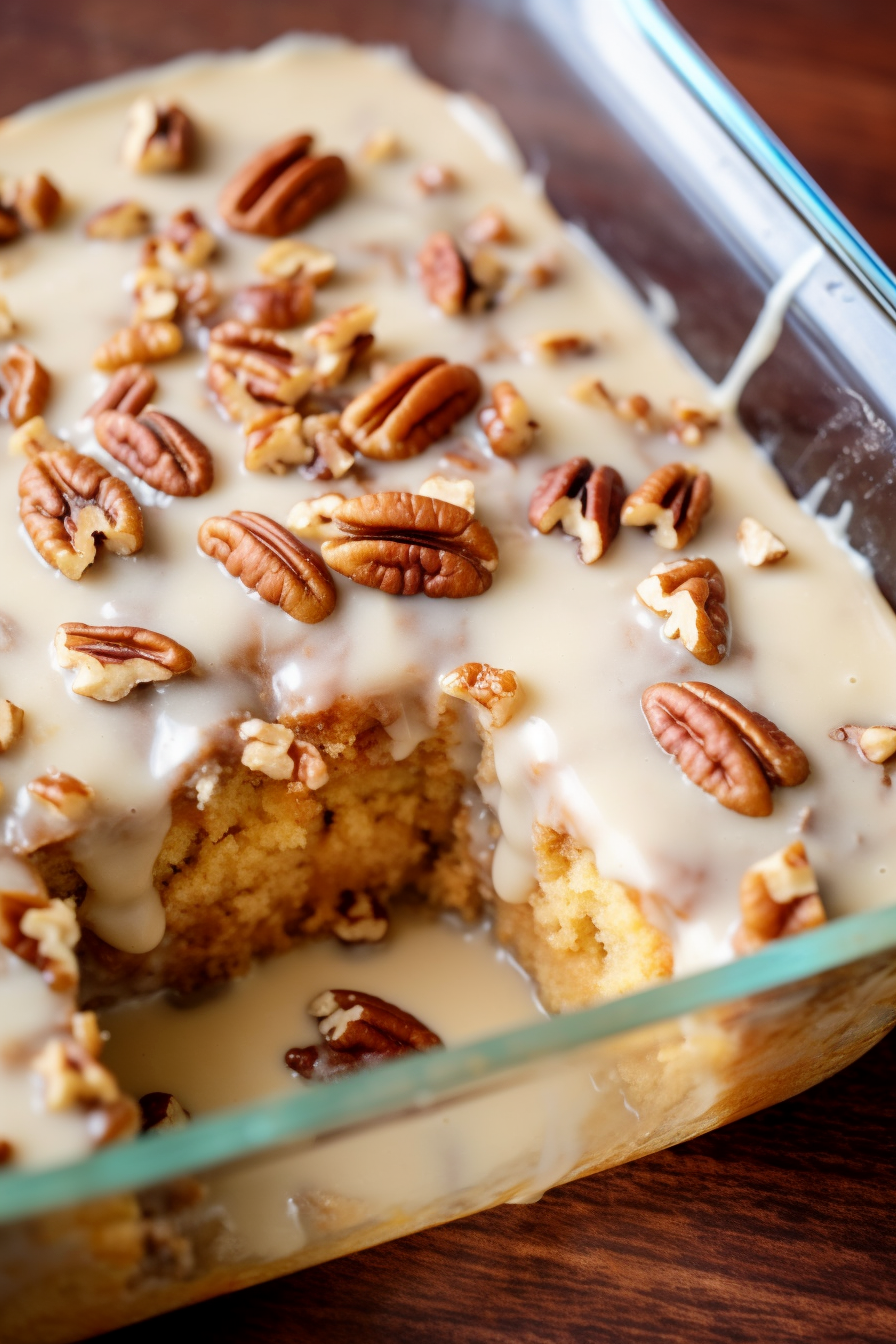 Ingredients Notes For Butter Pecan Praline Poke Cake:
Butter Pecan Cake Mix: Using a ready-made mix as the base ensures consistent results and simplifies the process. If you're feeling adventurous, you can try making your cake from scratch, but hey, why fix what isn't broken?
Coconut Pecan Frosting: This adds a delightful twist, introducing a tropical coconut hint to our nutty delight.
Eggs, Oil & Milk: The holy trinity that ensures our cake is moist, fluffy, and oh-so-delicious.
Pecans: Don't skimp on these. They add that delightful crunch and authenticity to the cake. If you're a true nut enthusiast, feel free to sprinkle some extra on top!
For the Sauce: Sweetened condensed milk mixed with butter and pecans? It's the gooey, sweet river of dreams that makes our cake unforgettable.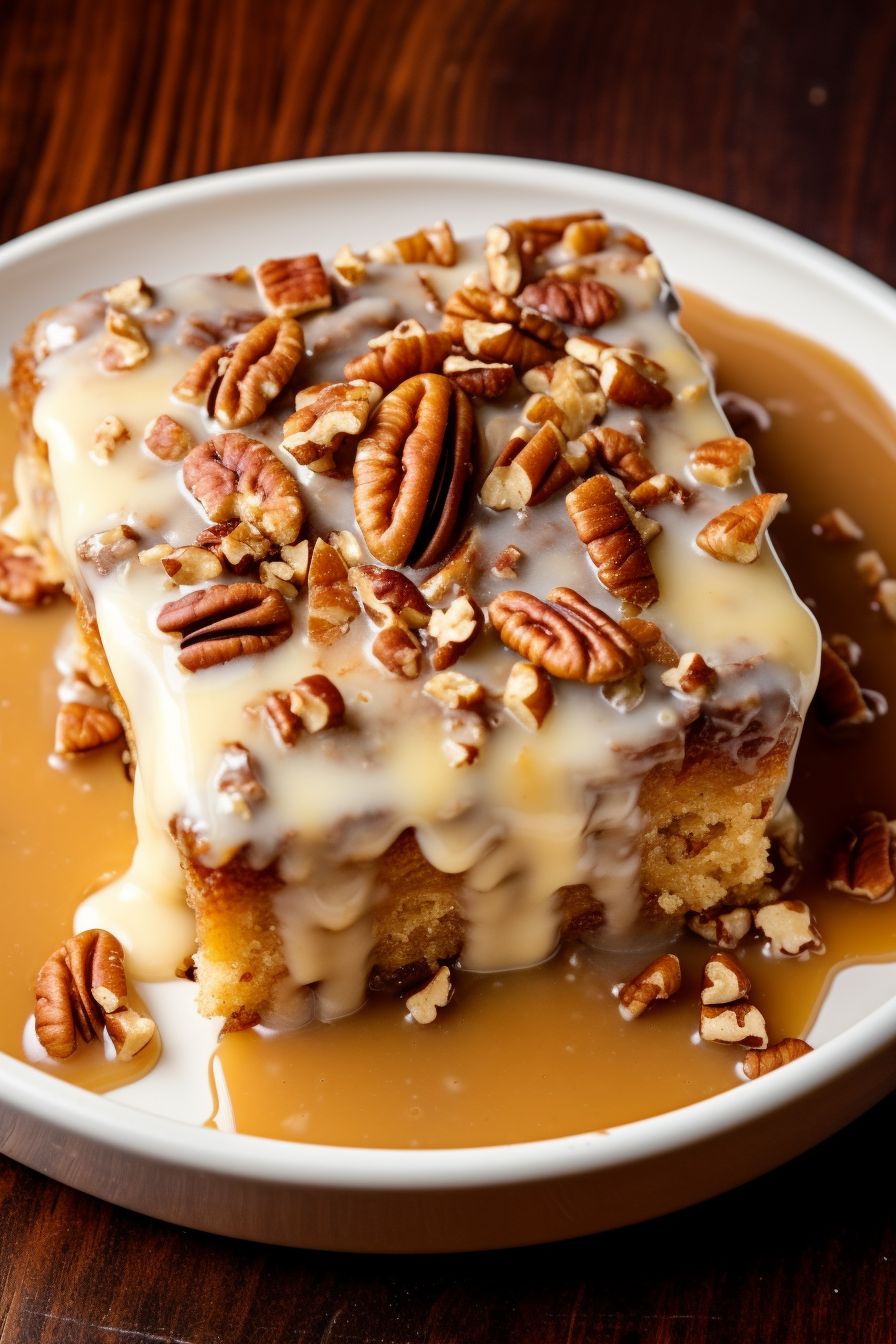 How To Make Butter Pecan Praline Poke Cake:
Getting Started:
Preheat your trusty oven to 350°F. While it's getting all warm and toasty, grease your 9×13-inch baking dish with love and butter (or oil, your call!).
Cake Magic:
Grab a spacious bowl, and pour in that butter pecan cake mix. Now, for a tropical twist, stir in the coconut pecan frosting. Crack open those eggs and add them to the mix. Pour in the vegetable or canola oil and milk.
Channel your inner rockstar and beat that batter with an electric mixer until it's smooth and creamy. Once you're satisfied with its velvety texture, fold in those crunchy pecans. Pour this beauty into your baking dish.
Baking Time:
Slide the dish into the oven. Let it bake until it passes the 'toothpick test'. This means, if you poke the cake with a toothpick, and it comes out clean (around 30-40 minutes), you're golden!
Poke, Poke, Poke!:
After your cake masterpiece is out of the oven, it's poke time. Using the handle end of a wooden spoon, channel your inner artist and poke holes all over the cake. Make sure they're evenly spread so every bite is oozing with flavor.
Saucy Delight:
On a stovetop, melt butter in a saucepan. As it melts and starts whispering tales of deliciousness, pour in the sweetened condensed milk. Stir it well and let them mingle. Once they're simmering happily, add the chopped pecans. With the sauce ready, drench your cake in it. Let it ooze into those poked holes and sides.
Patience is a Virtue:
Allow the cake to cool down, letting the sauce seep in deeper. Once cooled, slice, serve, and let the praises roll in!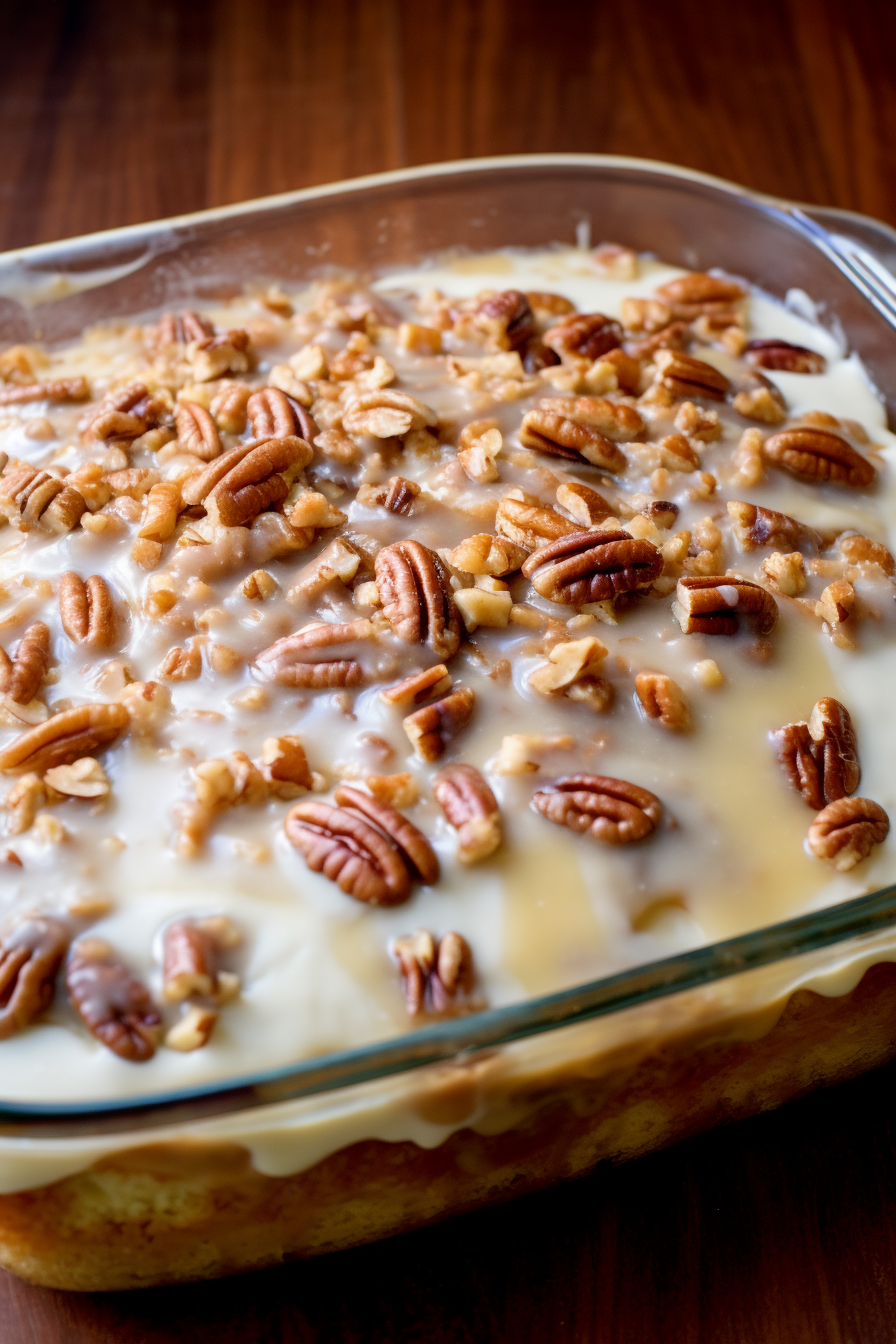 Storage Options:
While I'd be genuinely surprised if there's any of this cake left (I mean, come on, it's butter pecan praline!), if you find yourself in such a situation, wrap it tightly in plastic wrap or place it in an airtight container. Store it in the refrigerator for up to 3 days. Want to enjoy it for longer? Freeze individual slices, and when the craving hits, just defrost and relish!
Variations & Substitutions:
Feeling experimental? Here are some fun twists and turns:
Cake Base: Try a vanilla or caramel cake mix if you want a different flavor profile.
Nutty Affair: Walnuts can stand in for pecans, offering a slightly different crunch.
Saucy Subs: For a richer sauce, consider adding a dash of bourbon or rum. For a lighter sauce, substitute half the sweetened condensed milk with regular milk or cream.
Toppings Galore: Drizzle some caramel or sprinkle sea salt on top for an extra layer of flavor. You can also add a dollop of whipped cream or a scoop of vanilla ice cream for a luxurious treat.
P.S. If you find any pecans mysteriously missing while baking, it's probably the kitchen elves. They're nuts about nuts! 😉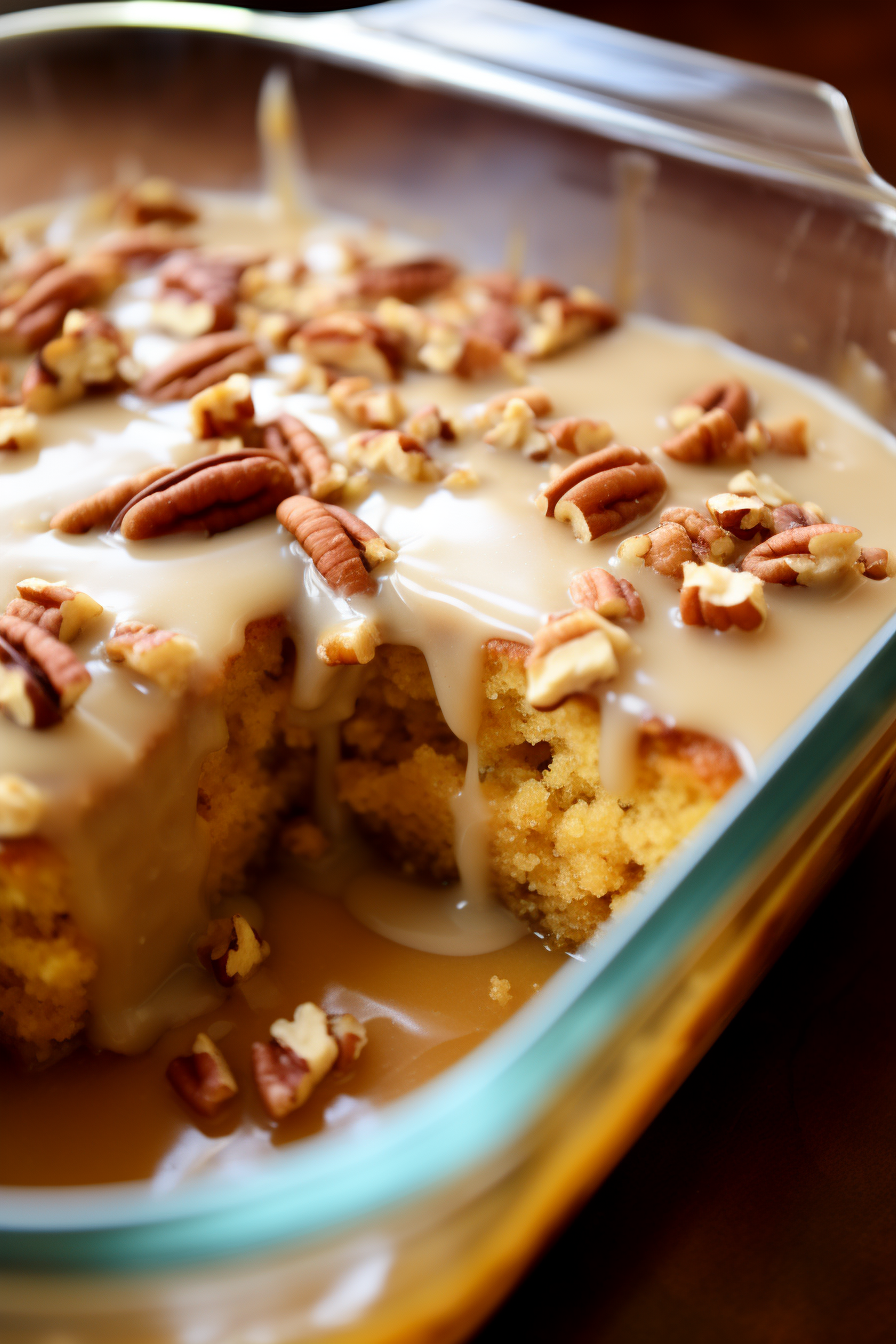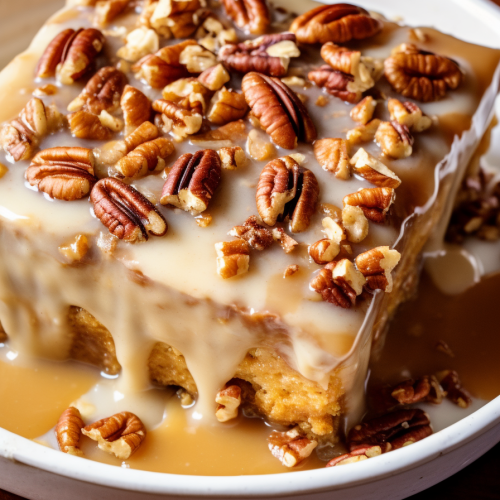 Butter Pecan Praline Poke Cake
Dive into a heavenly cake infused with butter pecan, drenched in coconut pecan frosting, and oozing sweet condensed milk sauce with crunchy pecan bits. The ultimate sticky-sweet delight!
Print
Pin
Rate
Ingredients
1

15 oz box of butter pecan cake mix

1

16 oz can of coconut pecan frosting

4

large eggs

3/4

cup

of vegetable or canola oil

1

cup

of milk

1/2

cup

of finely chopped pecans
For the Sauce:
1

14 oz can of sweetened condensed milk

1/4

cup

of unsalted butter

1/2

cup

of finely chopped pecans
Instructions
Begin by preheating the oven to a temperature of 350°F. Concurrently, ensure that a 9×13-inch baking dish is appropriately greased to prevent sticking.

In a large mixing bowl, combine the butter pecan cake mix, coconut pecan frosting, eggs, oil, and milk. Using an electric mixer, blend the mixture until it achieves a smooth consistency.

Incorporate the chopped pecans into the mixture by gently folding them in.

Transfer the mixture to the previously greased baking dish.

Place the baking dish in the preheated oven and bake for approximately 30-40 minutes. To ascertain the cake's readiness, insert a toothpick into the center. If it emerges clean, the cake is adequately baked.

Once removed from the oven, utilize the handle end of a wooden spoon to methodically poke holes throughout the entirety of the cake. Set the cake aside momentarily.

For the sauce, use a medium saucepan. Place it over medium heat and melt the unsalted butter. Subsequently, introduce the sweetened condensed milk to the pan, ensuring it's stirred thoroughly.

When the mixture achieves a simmering point, fold in the chopped pecans.

Remove the sauce from the heat source. Proceed to pour it uniformly over the cake, ensuring it permeates the holes and flows along the sides.

Allow the cake to cool to room temperature prior to serving.