Dive into a plateful of Cheesy Garlic Roasted Asparagus. Think: Fresh asparagus spears, kissed with garlic and olive oil, all under a blanket of melted mozzarella. It's the side dish your main course has been dreaming of.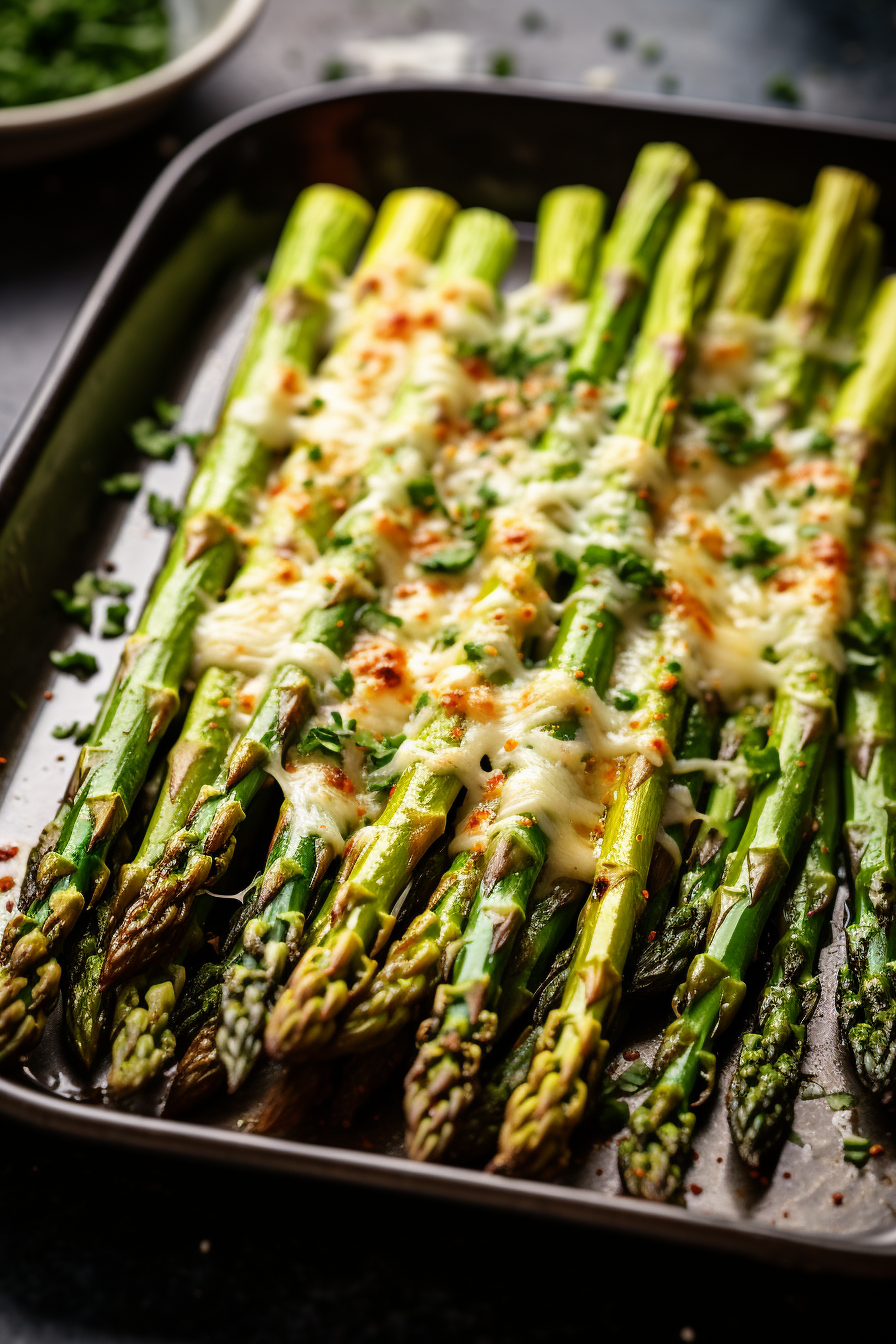 Ah, asparagus. For years, my household was divided. Half of us hailed it as the crowned vegetable of spring, while the others? Let's just say they didn't share the sentiment. That is, until I whipped up this Cheesy Garlic Roasted Asparagus. The story behind this is actually quite funny. It started as a sneaky move on my part to make the vegetable more "kid-friendly." You know, a little cheese here, some garlic there. But, to my surprise, it wasn't just the kids who were reaching for seconds; it was the entire clan! Now, this asparagus dish is our little household secret weapon. A unanimous favorite, and a testament to the power of cheese and garlic!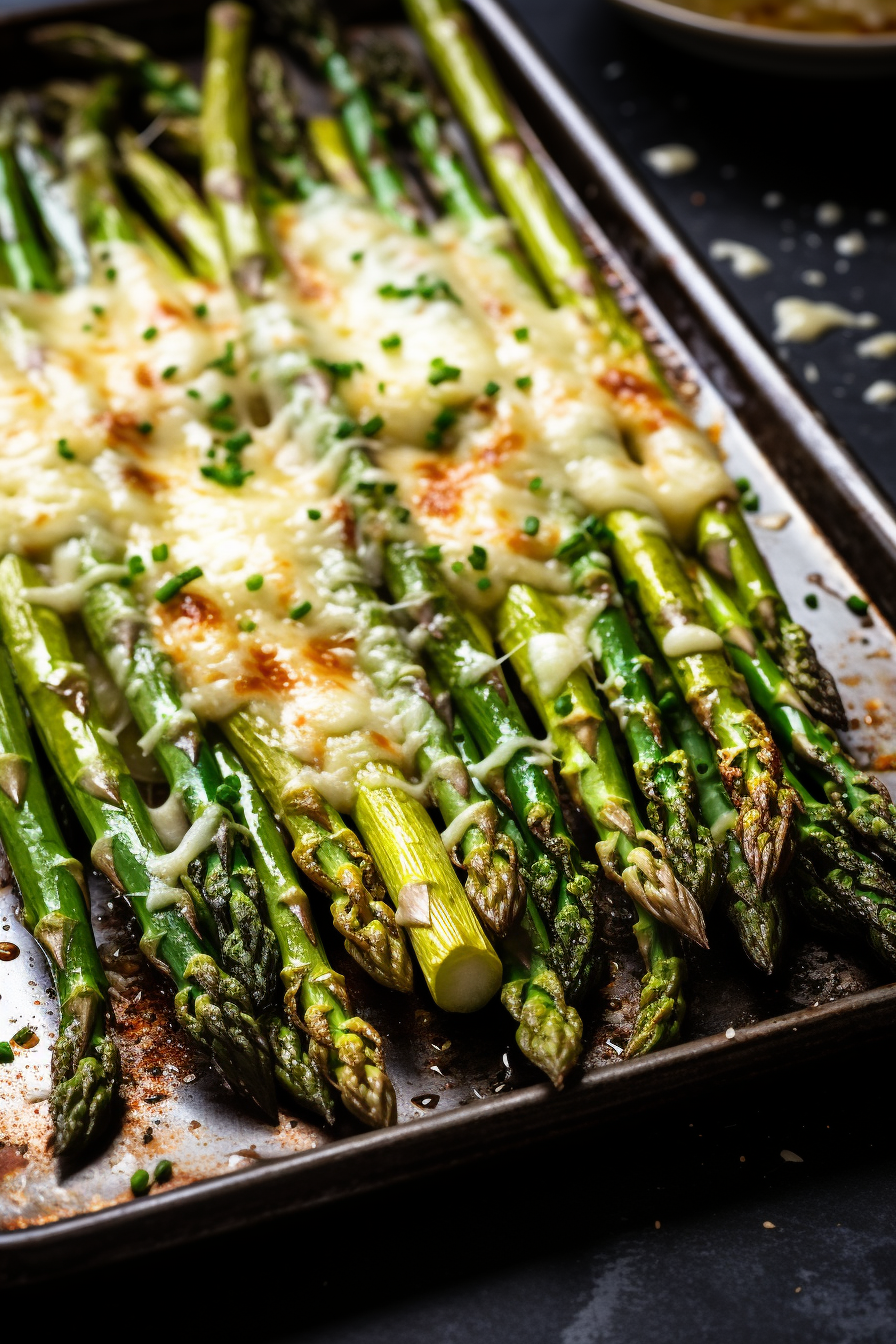 Why You'll Love Cheesy Garlic Roasted Asparagus:
So, why should this asparagus make a star appearance on your dinner table? First, it's low-carb and keto-friendly. Winning, right? Secondly, even the staunchest asparagus naysayers will be converted. Yes, that includes your picky eater cousin, too. And let's not forget, it's a dish that's both gourmet and quick. We're talking 20 minutes from the fridge to the table. Your taste buds, waistline, and wristwatch will all thank you!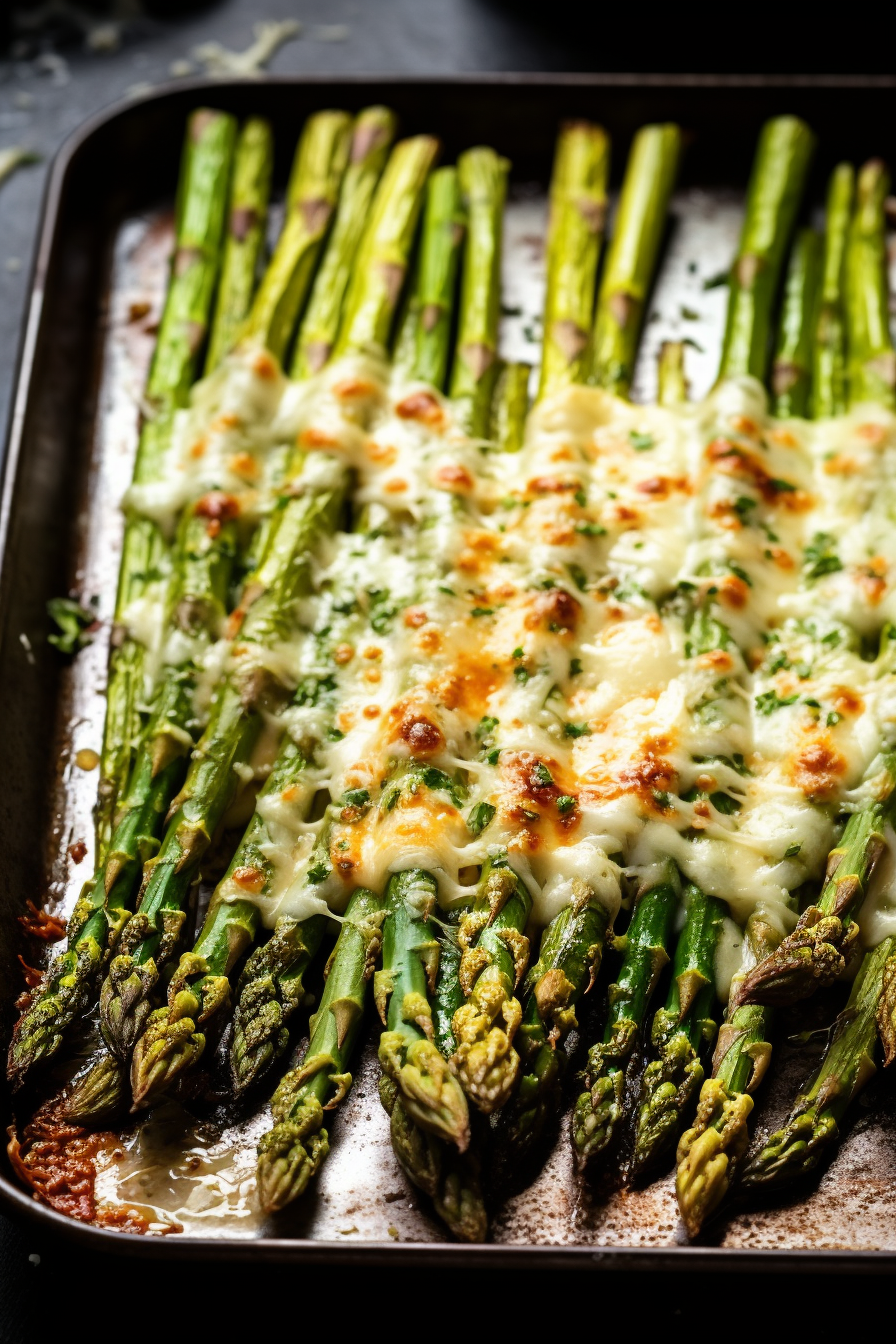 Ingredients For Cheesy Garlic Roasted Asparagus:
Asparagus: Always go for the fresh and firm ones. The bright green ones with a slight purple tint at the top are the best. And remember, the thicker the spear, the older the asparagus, which means it might be woodier.
Olive Oil: A good quality extra-virgin olive oil can elevate the flavor profile of this dish.
Minced Garlic: Fresh is always the best, but if you're really pressed for time, the pre-minced bottled variety works too. Just ensure it's not past its prime.
Mozzarella Cheese: Opt for the freshly shredded kind. It melts more evenly compared to the pre-packaged variety.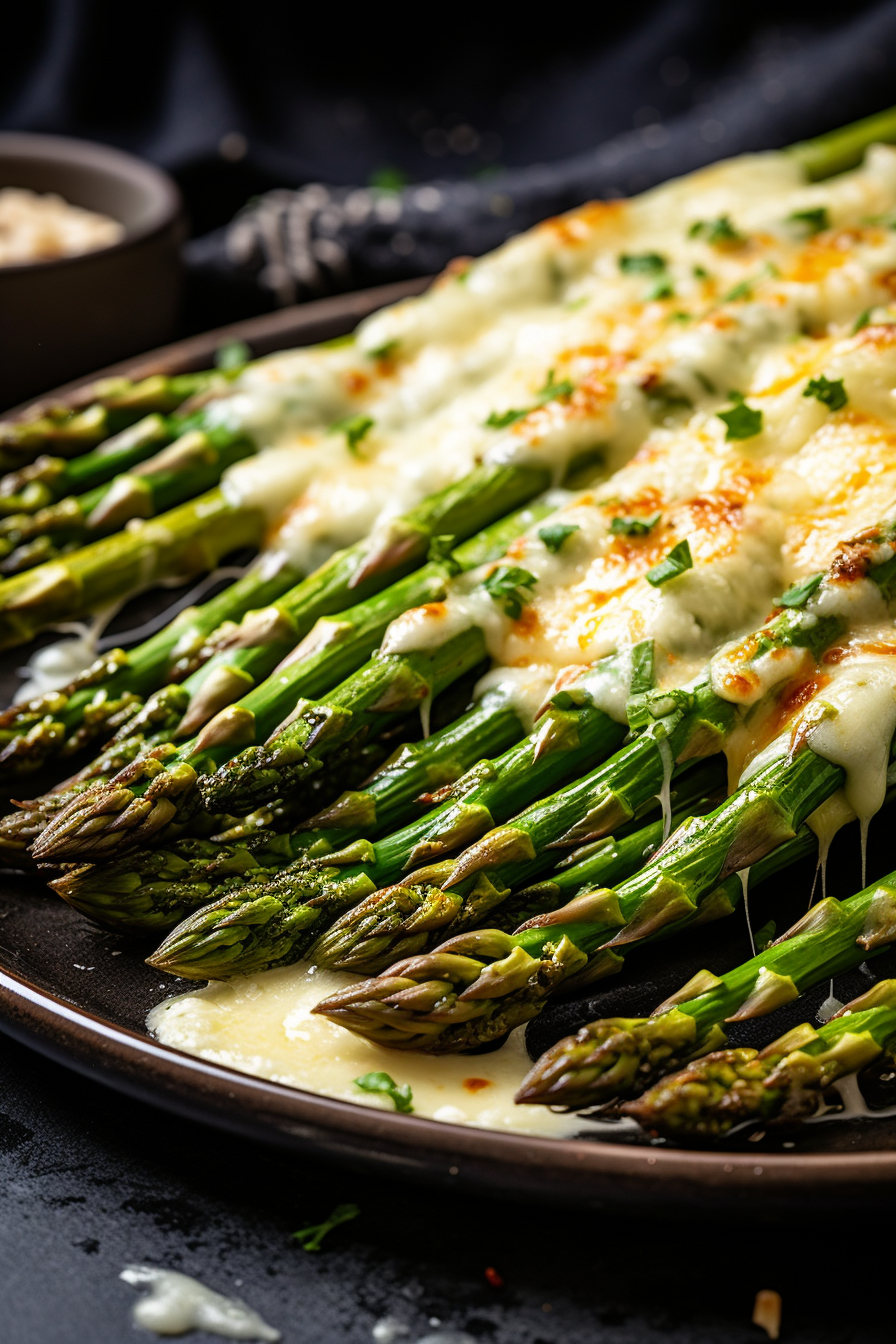 How To Make Cheesy Garlic Roasted Asparagus:
Step 1: Preheat that oven! 425°F (220°C) is the magic number. And oh, give your baking sheet a slight misting with non-stick spray.
Step 2: Asparagus spears go onto the baking sheet. Line 'em up like little green soldiers waiting for their cheesy promotion.
Step 3: Mix your olive oil, garlic, salt, and pepper in a bowl. Drizzle this golden concoction over the asparagus. Toss them a bit to ensure they're all well-coated and feeling the love.
Step 4: Into the oven they go! 10-15 minutes is the sweet spot. You want them vibrant, slightly tender, and still singing, "We're fresh!"
Step 5: Ah, cheese time. Sprinkle that mozzarella generously and pop them back in. Switch to broil or grill mode and let them sizzle until the cheese is bubbly and golden.
Step 6: A final sprinkle of salt and pepper for the discerning palate and voilà! Serve immediately, preferably with some dramatic flair.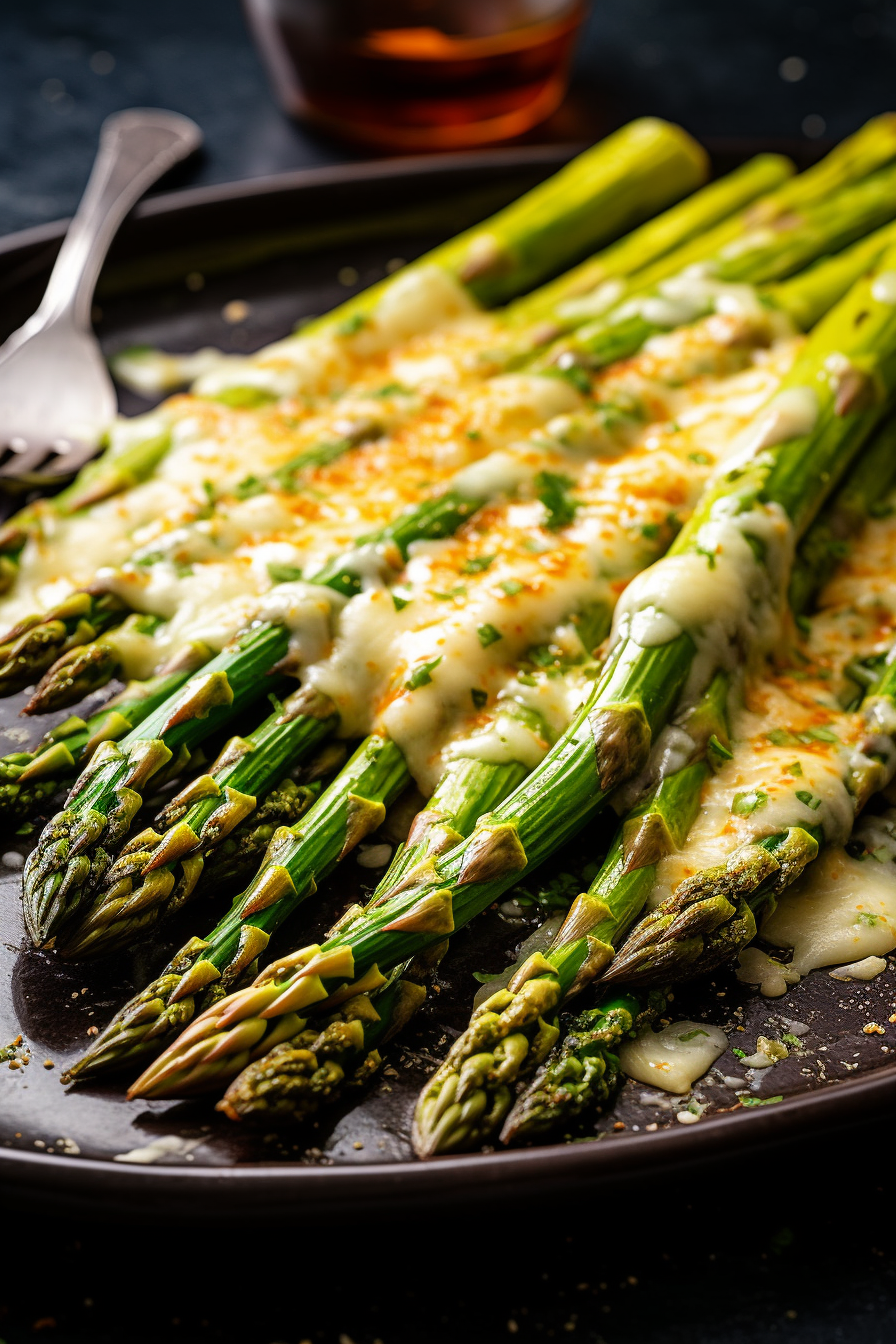 Storage Options:
Leftovers? If by some miracle you have some, pop them into an airtight container and refrigerate. They'll keep for a couple of days. To reheat, you can use the oven or microwave, but be gentle – you don't want mushy asparagus.
Variations and Substitutions:
Cheese: Fancy a change? Parmesan, cheddar, or even feta can add a different twist.
Seasonings: Feel free to add chili flakes for some heat or toss in some herbs of choice.
Veggies: Why stop at asparagus? The cheesy garlic treatment is kind to broccoli, beans, and even Brussels sprouts!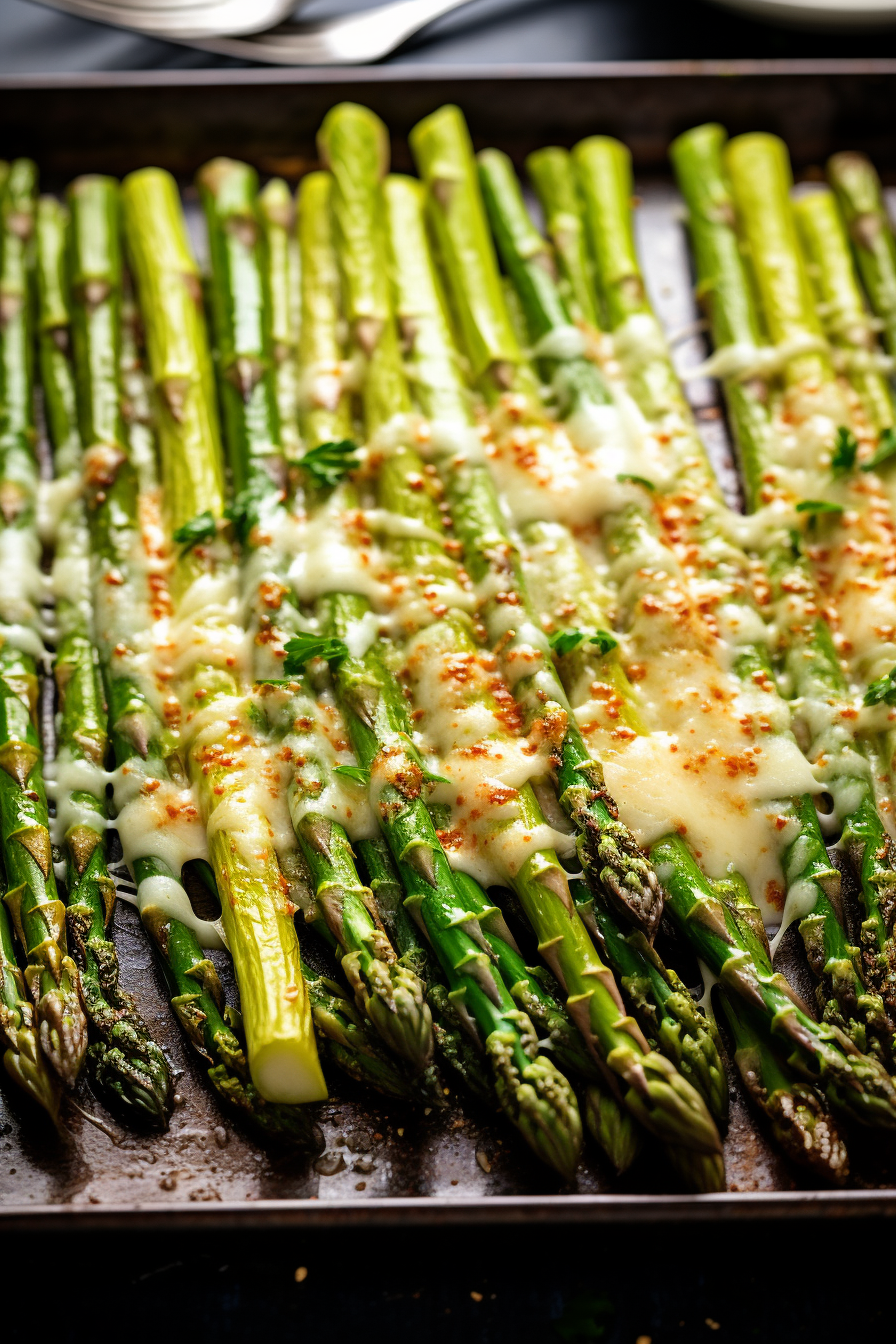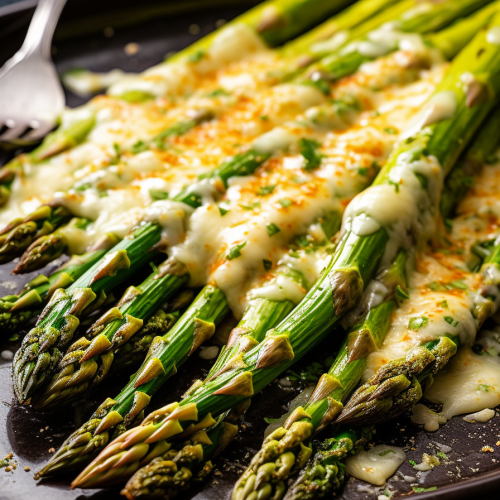 Cheesy Garlic Roasted Asparagus
Dive into a plateful of Cheesy Garlic Roasted Asparagus. Think: Fresh asparagus spears, kissed with garlic and olive oil, all under a blanket of melted mozzarella. It's the side dish your main course has been dreaming of.
Print
Pin
Rate
Ingredients
Asparagus: 1 pound

500 g, with woody ends professionally removed.

Olive Oil: 3 tablespoons of premium quality.

Garlic: 1 tablespoon

finely minced (equivalent to 4 cloves of garlic).

Salt: 3/4 teaspoon

Kosher variety recommended.

Black Pepper: 1/4 teaspoon

freshly cracked.

Mozzarella Cheese: 1 1/4 cups

finely shredded.
Instructions
Begin by preheating the oven to an exact temperature of 425°F (220°C). Subsequently, apply a thin coating of nonstick cooking oil spray to a baking sheet to prevent any sticking.

Position the asparagus spears uniformly on the previously prepared baking sheet. Once done, set aside momentarily.

Proceed to combine the olive oil, finely minced garlic, salt, and freshly cracked black pepper in a small mixing bowl. Ensure they are blended thoroughly.

Delicately drizzle the aforementioned mixture over the asparagus, ensuring that each spear is uniformly coated.

Insert the baking sheet into the oven, allowing the asparagus to roast for a duration of 10-15 minutes. One should monitor the asparagus until it adopts a vibrant hue and reaches the precipice of tenderness.

Upon removal from the oven, garnish the asparagus with the finely shredded mozzarella cheese. Following this, place it back into the oven, utilizing the broil or grill setting. The goal is to witness the cheese undergoing a melting process until it obtains a golden appearance, typically within 4-5 minutes.

After the cooking process, one may adjust the salt and pepper seasoning to their precise preference. It is imperative to serve the dish promptly to maintain optimum taste and texture.