Delight in a homemade pie bursting with rich butterscotch custard, enveloped in a flaky crust, and topped with an irresistible orange meringue. Made with all-purpose flour, butter, brown sugar, eggs, whole milk, and a hint of orange!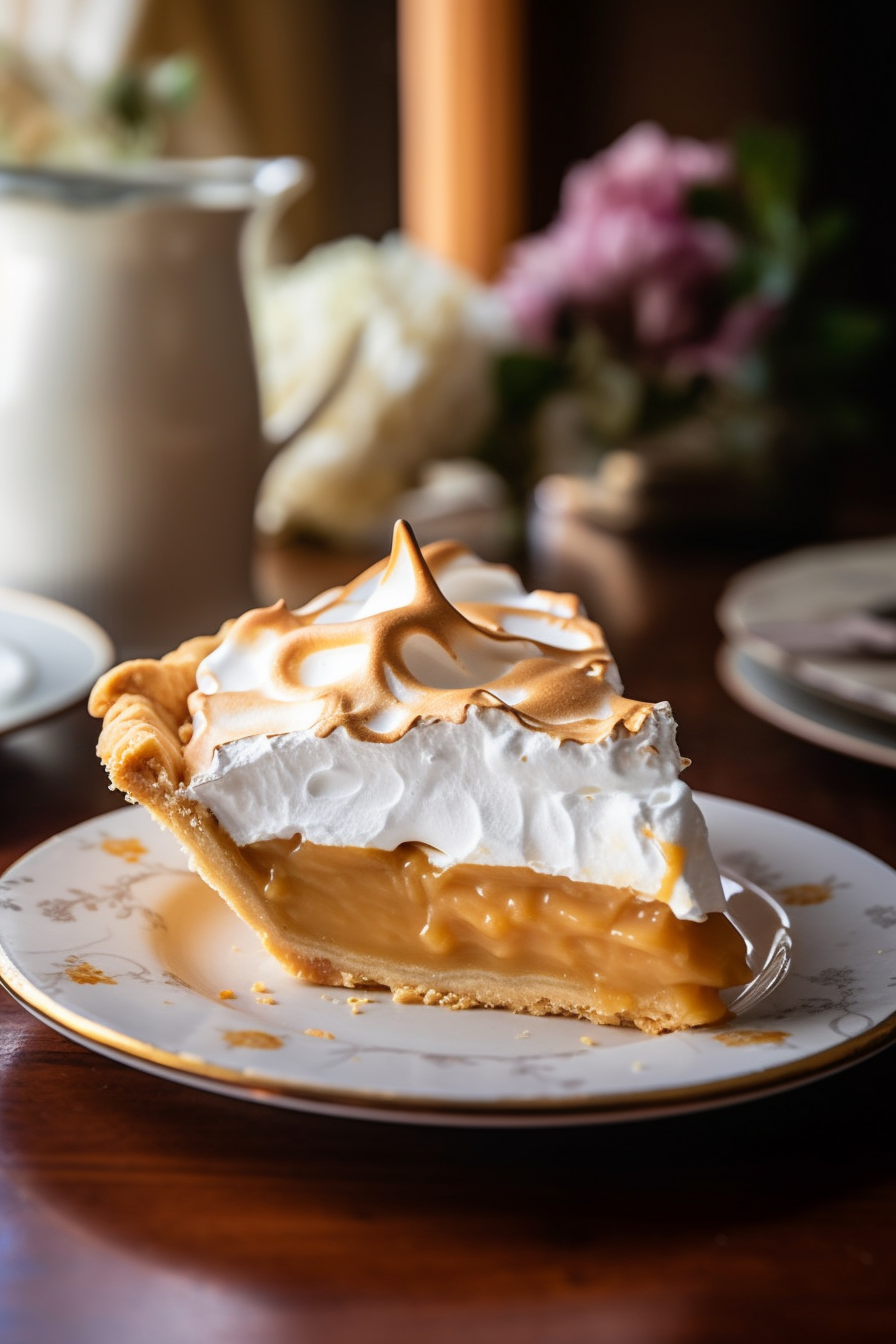 Alright, pie enthusiasts, gather 'round, 'cause I'm about to spill some family tea. Every summer, as a kid, I'd visit my grandmother's countryside cottage. I remember the whimsical aroma of something baking, wafting in from the kitchen. One summer, I dared to ask Granny her secret behind the heavenly pie. With a twinkle in her eye, she introduced me to this Creamy Homemade Butterscotch Pie recipe. She'd tell tales of how this pie saved gatherings, was a peace offering during family feuds, and might even have been responsible for a marriage proposal or two (wink!). And today, I'm sharing a slice of my family's history with all of you. So, tighten those apron strings, 'cause we're diving deep into butterscotch territory!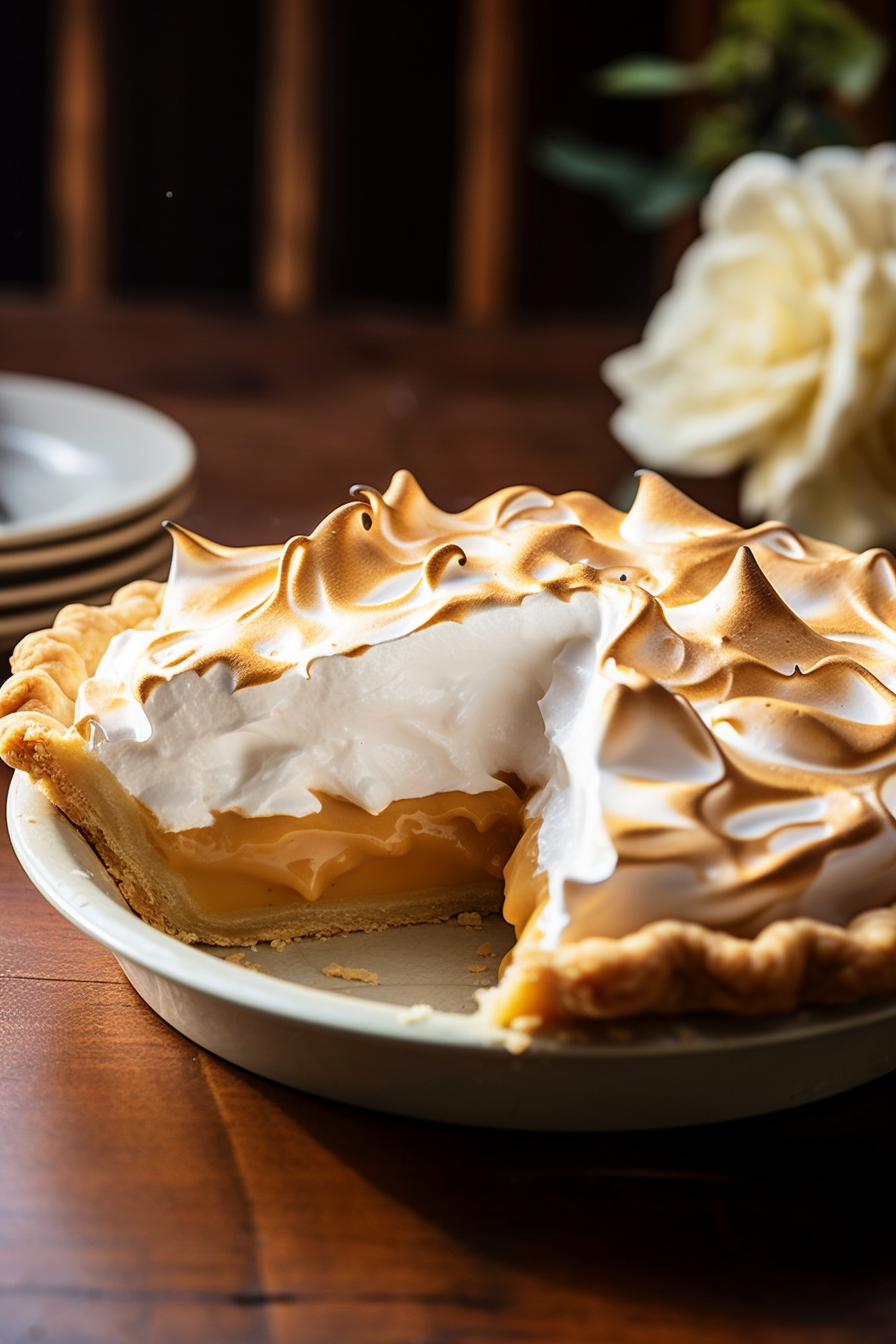 Creamy Homemade Butterscotch Pie
Now, why is this Creamy Homemade Butterscotch Pie worth your time and effort? First, it's a TRULY homemade pie; no shortcuts, folks! We're making that butterscotch from scratch, so say goodbye to store-bought pudding and hello to authentic, buttery goodness. Second, that orange meringue isn't just there for show. It adds a refreshing citrus zing that makes this pie stand out from the generic butterscotch crowd. Lastly, this isn't just a dessert; it's a trip down memory lane. Each bite carries a legacy, wrapped in rich flavors that transport you to a simpler, sweeter time.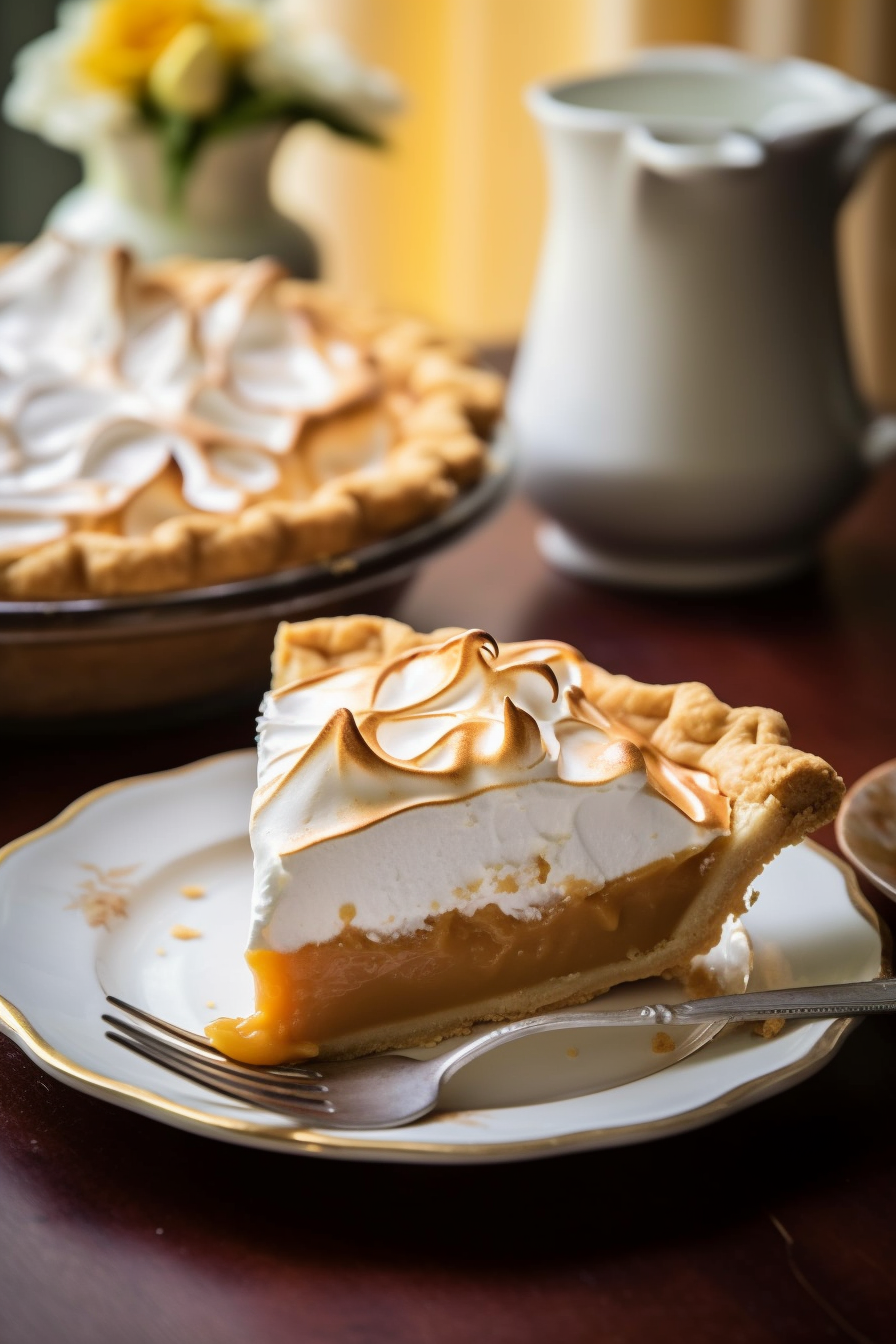 Ingredients For Creamy Homemade Butterscotch Pie:
For the uninitiated in the pie-making realm, let's break down some ingredient wizardry. The pie crust calls for very cold butter; this ensures a flaky crust rather than a dense one (because who wants to bite into a brick?). Make sure to cube the butter uniformly for even distribution. Regarding the filling, browning the sugar is crucial. This step enriches the butterscotch flavor, making it distinct and delectable. As for the orange meringue, don't be tempted to skip the orange extract. Trust me; it's the game-changer. It's like adding a plot twist in the final act of a play. Absolute show-stopper!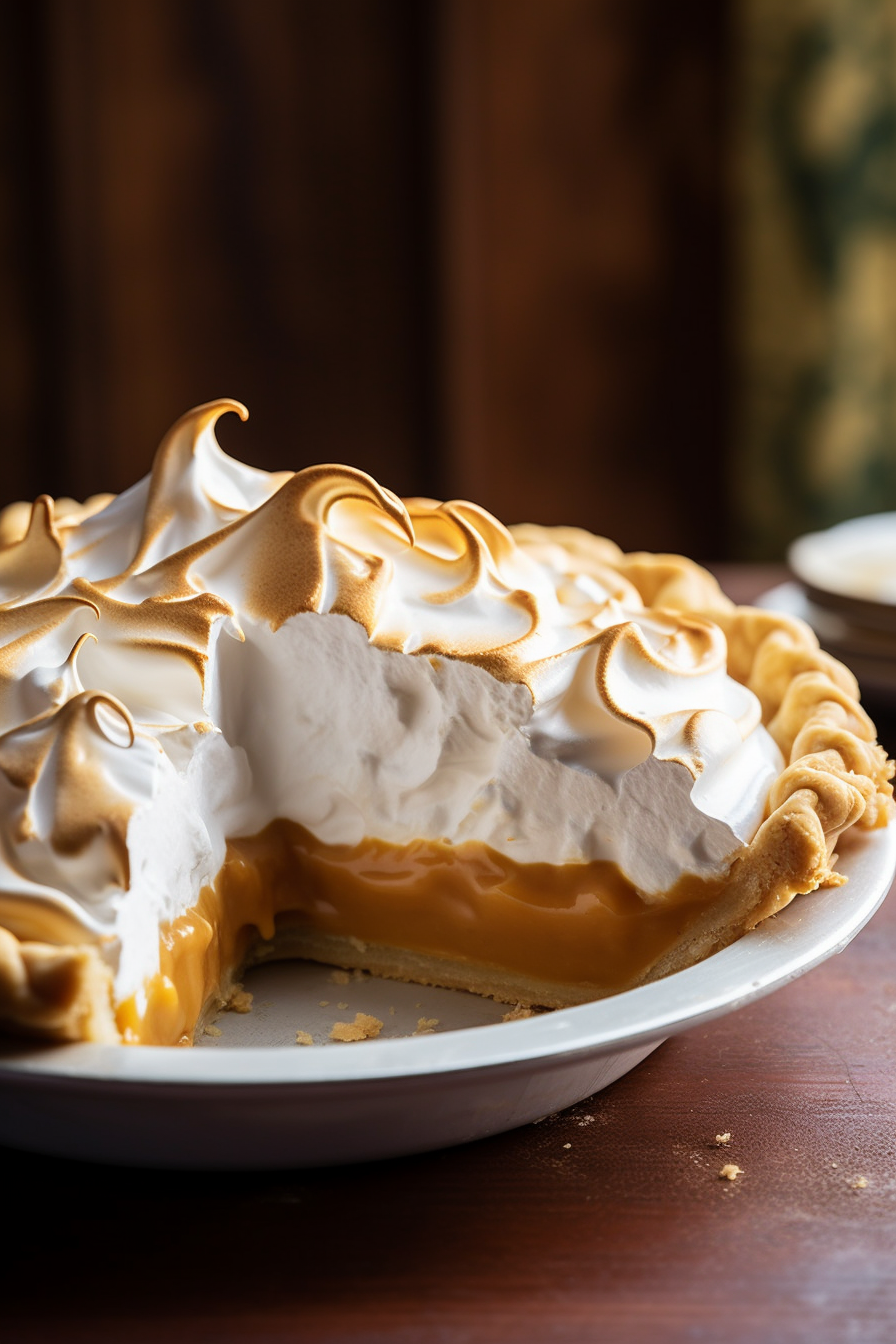 How To Creamy Homemade Butterscotch Pie:
For the Crust:
Begin by whisking together flour, sugar, and salt in a medium-sized bowl. Add those buttery cubes and, channeling your inner baker, employ a pastry cutter to create a crumbly mix. Gradually introduce cold water until a dough ball forms. Refrigerate this masterpiece for a tad under an hour.
For the Filling:
Kick things off by marrying half the brown sugar with flour. Whisk in eggs, milk, and set aside. Now, brown the remaining sugar, letting it melt like a dream. Add hot water and the egg-milk concoction, stirring until you achieve a luscious thickness. Kill the heat, and introduce vanilla and butter to the mix.
To Assemble:
Roll out your rested dough on a floured surface, lay it in a pie plate, and bake with pie weights after lining with parchment. Once baked, introduce your filling and bake again till perfection.
For the Meringue:
Here's where the magic happens! Use a simmering pot of water as your base and whisk in all meringue ingredients. When the mixture hits 160 F, whip it till you spot medium peaks. Crown your pie with this meringue glory, and toast if desired.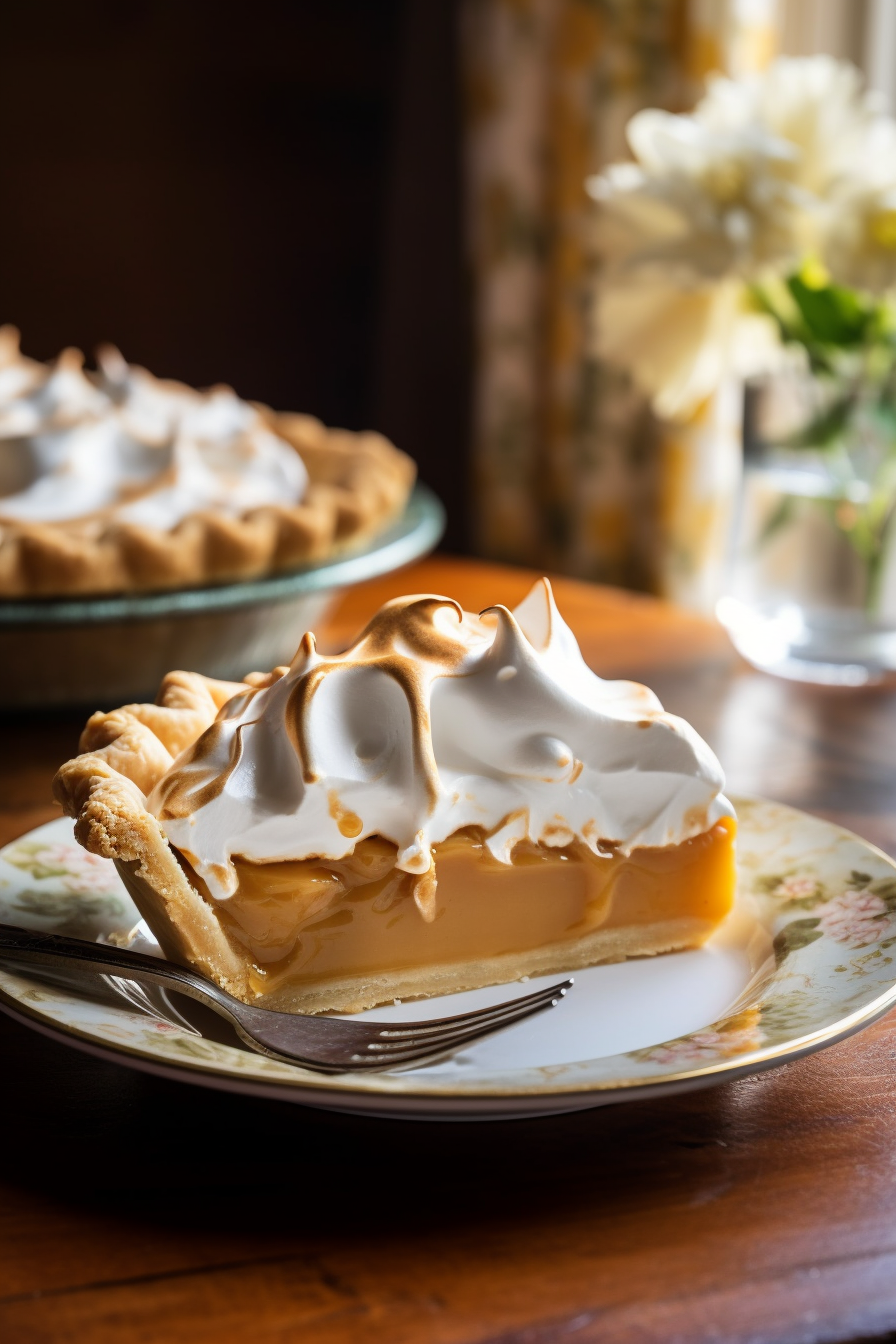 Storage Options:
Ah, storage. If by some miracle you've got leftovers (I rarely do, thanks to my sweet tooth!), tightly cover your pie with plastic wrap or aluminum foil. Pop it into the fridge, and it should keep beautifully for up to 4 days. Planning to impress guests later? You can also freeze this beauty. Just ensure it's well-protected from freezer fiends (ice crystals).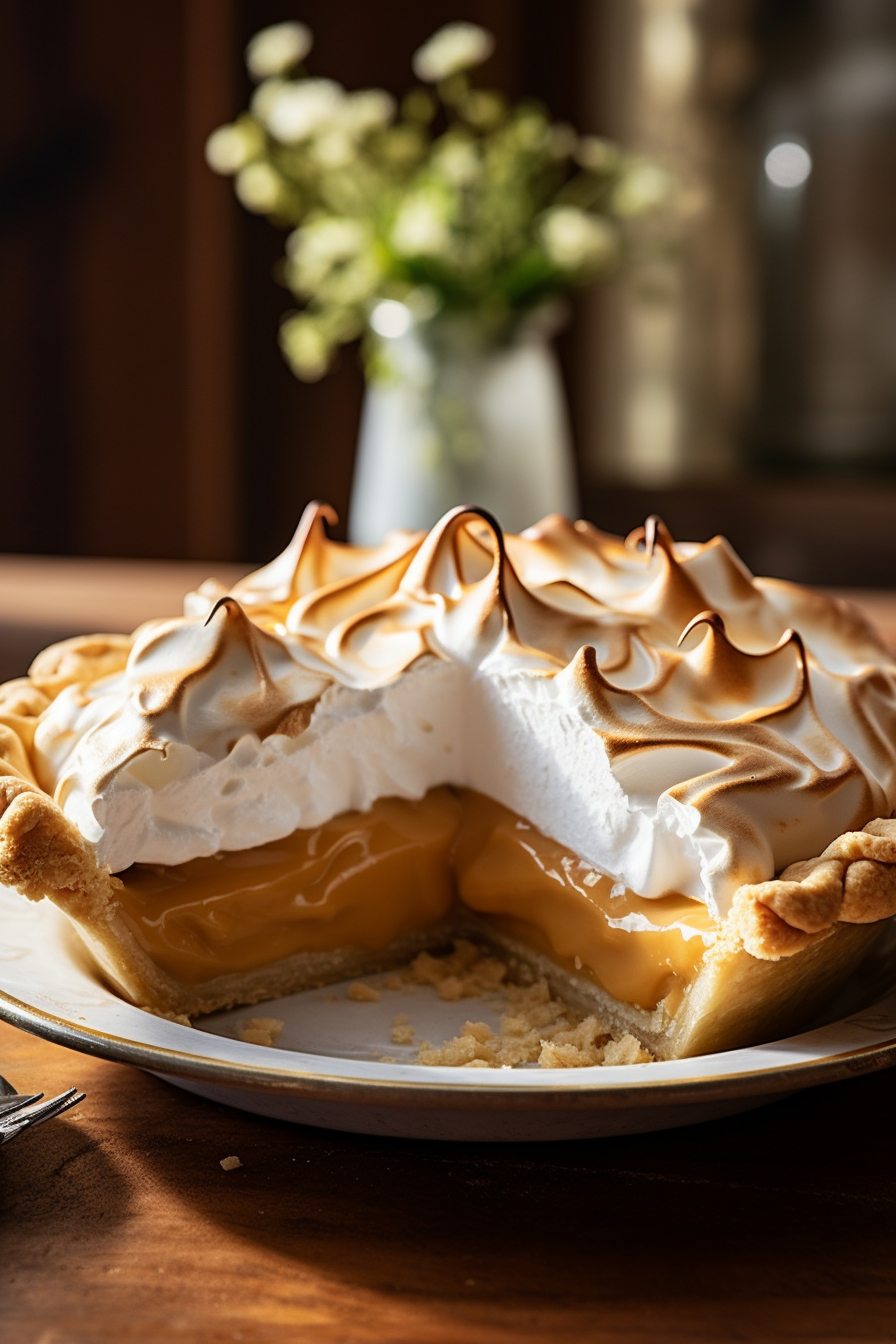 Variations and Substitutions:
Let's jazz it up! For those adventurous souls, swap out orange extract for lemon or lime for a tangy twist in the meringue. If you're not an orange enthusiast, simply up the vanilla extract. Craving a richer crust? Consider blending in some ground pecans or walnuts for a nutty boost. If you're watching your sugar intake, coconut sugar is a fabulous substitute for brown sugar. And for the dairy-conscious folks, coconut milk can stand in for whole milk, giving a tropical flair to your butterscotch adventure!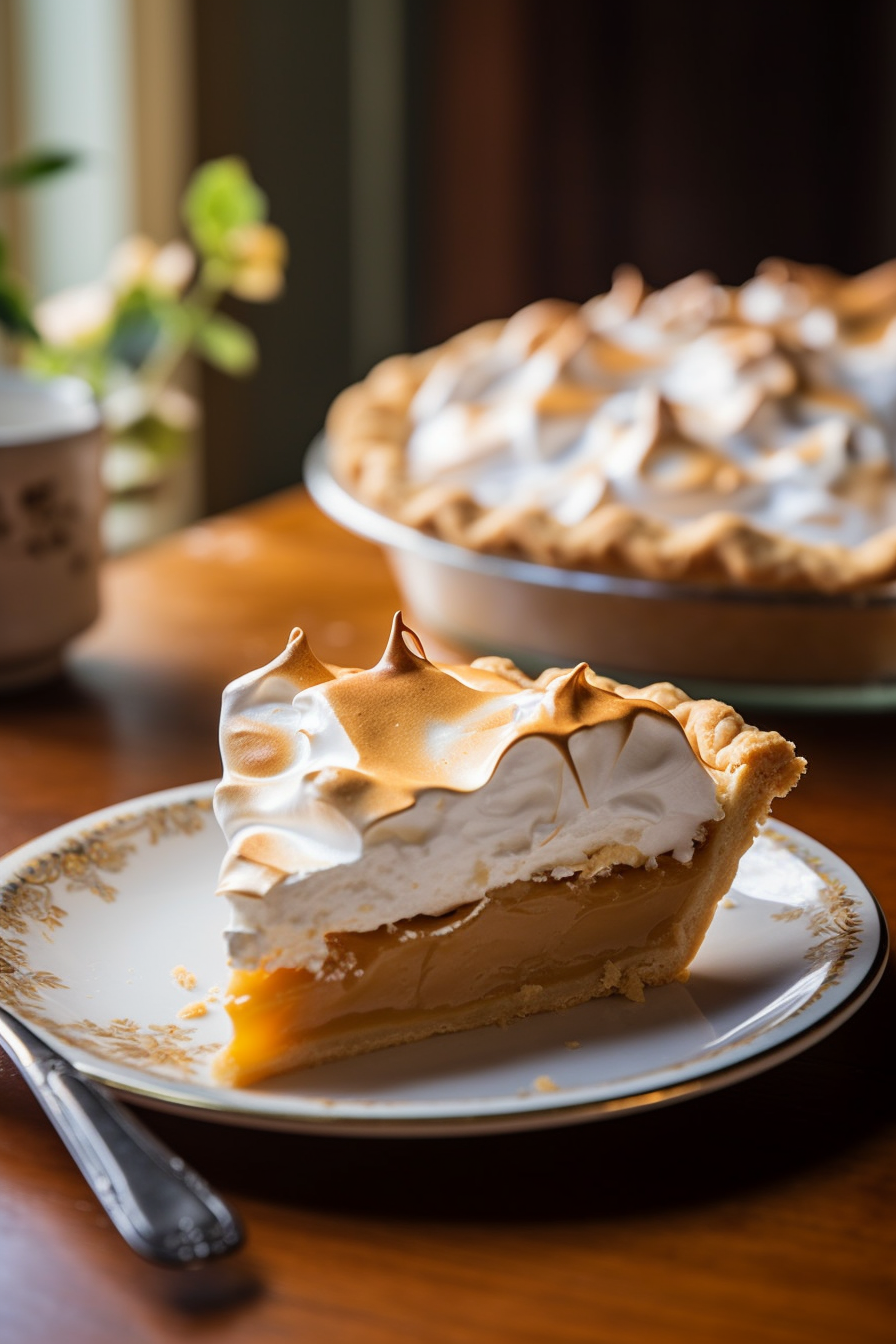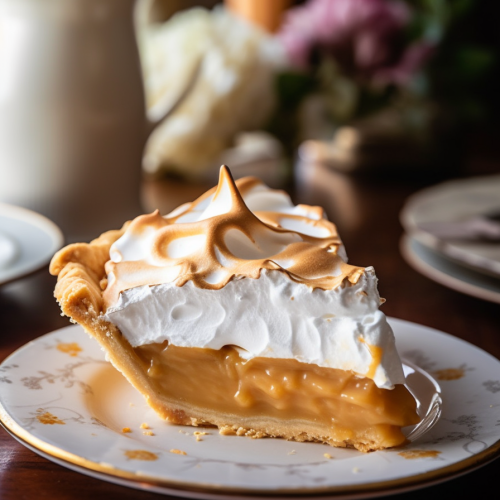 Creamy Homemade Butterscotch Pie
Delight in a homemade pie bursting with rich butterscotch custard, enveloped in a flaky crust, and topped with an irresistible orange meringue. Made with all-purpose flour, butter, brown sugar, eggs, whole milk, and a hint of orange!
Print
Pin
Rate
Ingredients
For the Pie Crust:
1 1/4

cup

All-purpose flour

1

teaspoon

Granulated sugar

1/2

teaspoon

Salt

1/2

cup

Unsalted butter

cold and cubed

1/4 to 1/3

cup

Cold water
For the Filling:
1

cup

Brown sugar

divided

1

tablespoon

All-purpose flour

1

large Egg

2

large Egg yolks

1 1/4

cup

Whole milk

2

teaspoon

Vanilla extract

1

tablespoon

Salted butter
For the Orange Meringue:
4

large Egg whites

1/2

teaspoon

Cream of tartar

1

cup

Granulated sugar

A pinch of fine sea salt

1

teaspoon

Pure vanilla extract

2

teaspoons

Orange extract
Instructions
For the Crust:
In a medium-sized mixing bowl, combine flour, sugar, and salt.

Introduce the cold butter cubes to the flour mixture. Utilize a pastry cutter to integrate the butter until a crumbly texture is achieved.

Gradually add cold water to the mixture, starting with 1/4 cup, and adding more if required, until dough formation.

Shape the dough into a ball, encase with plastic wrap, and refrigerate for approximately 50 minutes.
For the Filling:
In a separate bowl, blend ½ cup of brown sugar with the flour. Incorporate the egg, egg yolks, and milk into the mixture, ensuring a smooth consistency.

In a heavy pan over medium heat, dissolve the remaining brown sugar until it acquires a golden hue.

Carefully add 1 tablespoon of hot water to the dissolved sugar, consistently whisking. Gradually blend in the egg-milk mixture and continue to cook until the filling thickens.

Once removed from the heat source, incorporate vanilla extract and butter.
Assembly:
Preheat the oven to 425°F (220°C).

On a floured surface, roll out the refrigerated dough to a thickness of approximately 1/4 to 1/3 inch. Position in a pie plate.

Line the formed crust with parchment paper, introduce pie weights, and bake for approximately 15-20 minutes.

Upon completion, reduce the oven temperature to 350°F (175°C).

Pour the prepared filling into the pre-baked crust and return to the oven for an additional 15-20 minutes. Allow the pie to cool upon removal.
For the Meringue:
Simultaneously heat a medium pot filled with 2 inches of water and position a medium bowl atop. To the bowl, add the listed ingredients for the meringue.

Whisk the contents consistently, ensuring the mixture reaches a temperature of 160°F (71°C).

Transfer the heated mixture to a mixer and whisk on medium-high speed until medium peaks form.

Gently apply the prepared meringue atop the cooled pie. Optionally, utilize a kitchen torch to toast the meringue to preference.
Nutrition
Calories:
450
kcal
|
Carbohydrates:
70
g
|
Protein:
7
g
|
Fat:
16
g
|
Saturated Fat:
10
g
|
Polyunsaturated Fat:
1
g
|
Monounsaturated Fat:
4
g
|
Trans Fat:
1
g
|
Cholesterol:
108
mg
|
Sodium:
232
mg
|
Potassium:
193
mg
|
Fiber:
1
g
|
Sugar:
54
g
|
Vitamin A:
555
IU
|
Calcium:
88
mg
|
Iron:
1
mg