Meta Description: Dive into this classic Old Fashioned Buttermilk Pie recipe, bringing together fresh eggs, creamy buttermilk, and a hint of vanilla in a flaky pie crust. Sweet simplicity!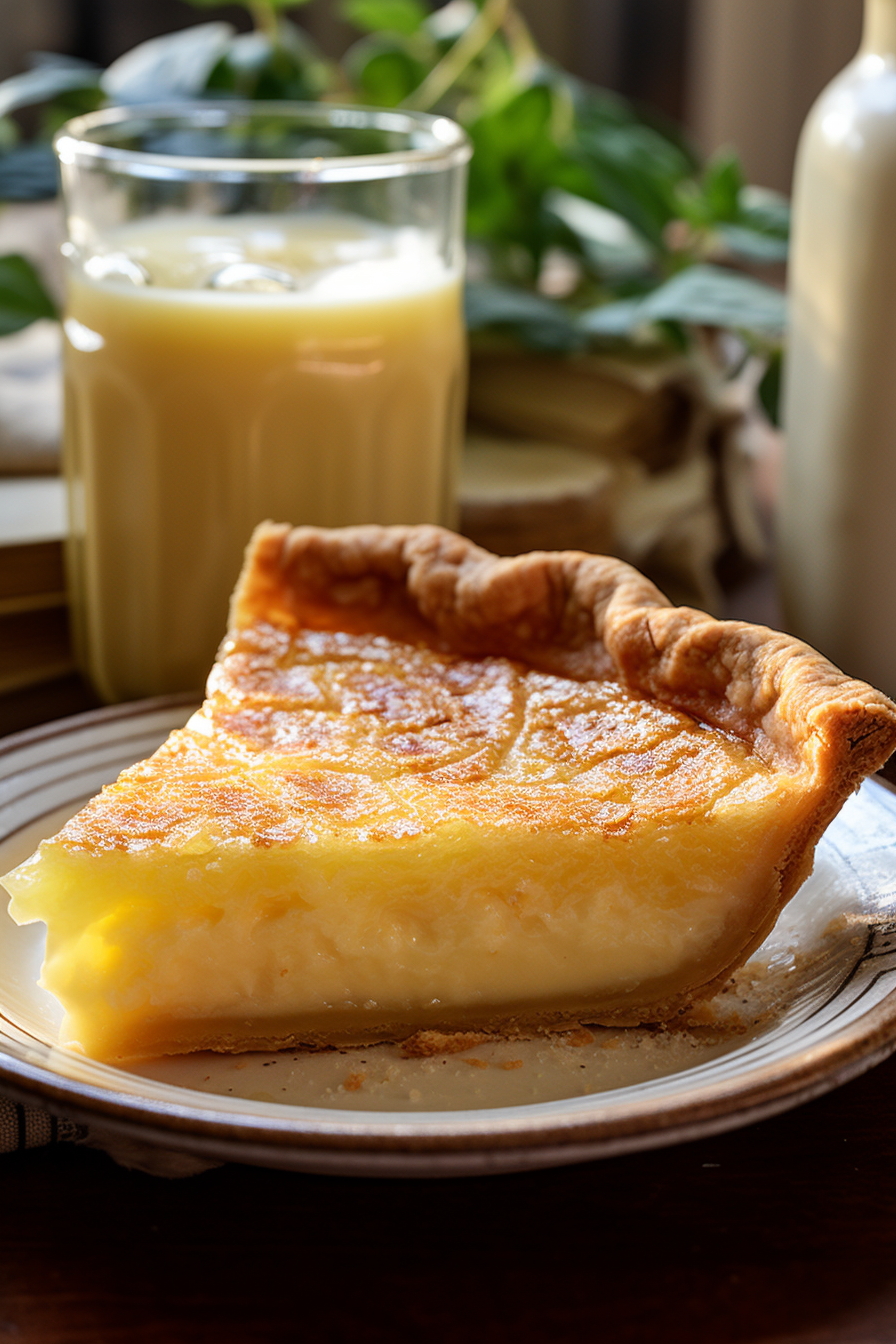 Ah, the Old Fashioned Buttermilk Pie. Just the name brings back nostalgic memories of summers spent at my Grandma Elsie's farmhouse. Every Sunday after church, you could always count on Grandma, with her signature apron and hairnet, whipping up this treat. It was her go-to pie, her claim to fame in our family. I remember sneaking into the kitchen, trying to get a finger swipe of the custard-like filling, only to be chased out with a playful warning of "It's not ready yet, kiddo!" But oh, the wait was always worth it! Every bite felt like a warm embrace from Grandma. Today, I'm sharing her sacred recipe with you, hoping it brings as much joy to your family as it did to mine.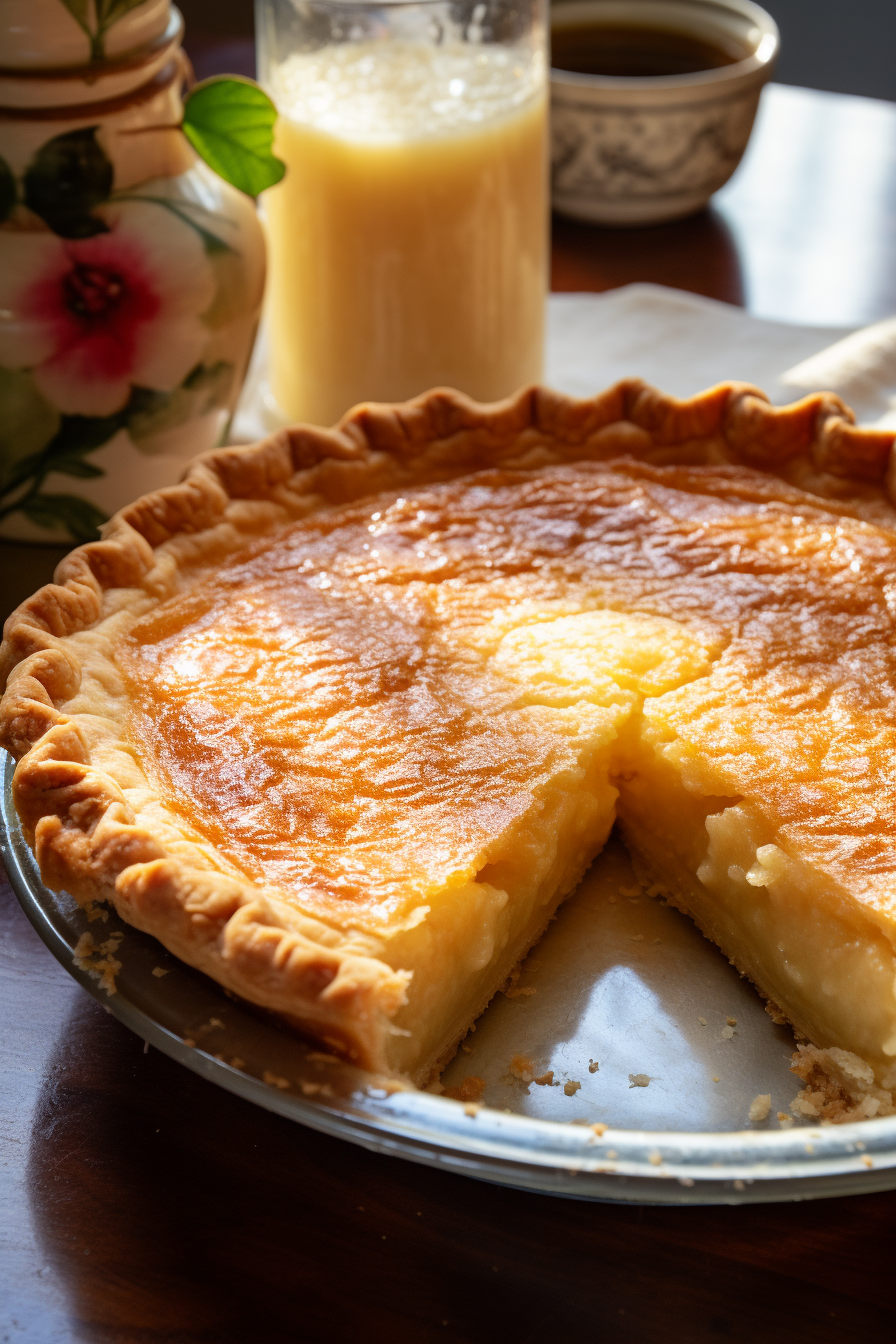 Old Fashioned Buttermilk Pie:
Firstly, simplicity is key! With minimal prep time and basic pantry ingredients, this pie is a breeze to whip up. No fancy techniques or pricey ingredients. Secondly, it's versatility. Serve it chilled on a hot day or warm it slightly for a winter treat – it's a pie for all seasons. Lastly, it's a conversation starter. Its rich history as a Southern classic makes it perfect for dinner parties, where you can wow guests with both its flavor and its tale!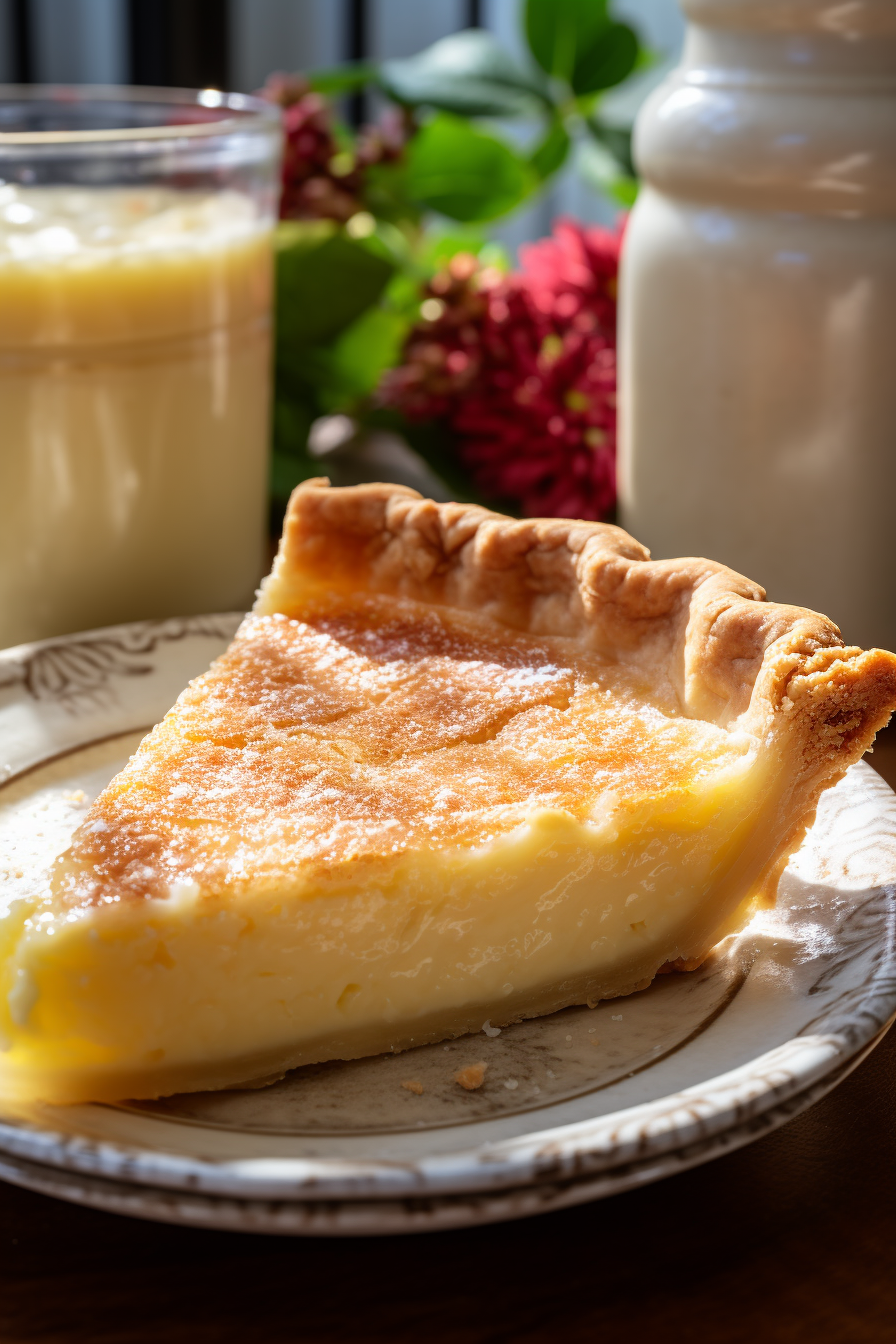 Ingredients For Old Fashioned Buttermilk Pie:
When choosing your eggs, fresh farm eggs can make a difference in the depth of flavor. As for the buttermilk, low-fat helps maintain that creamy consistency without making it overly rich. If you're feeling adventurous, try making your own homemade pie crust; if not, a store-bought one will do just fine. And always remember: melted butter is better when it's cooled – you don't want scrambled eggs in your pie!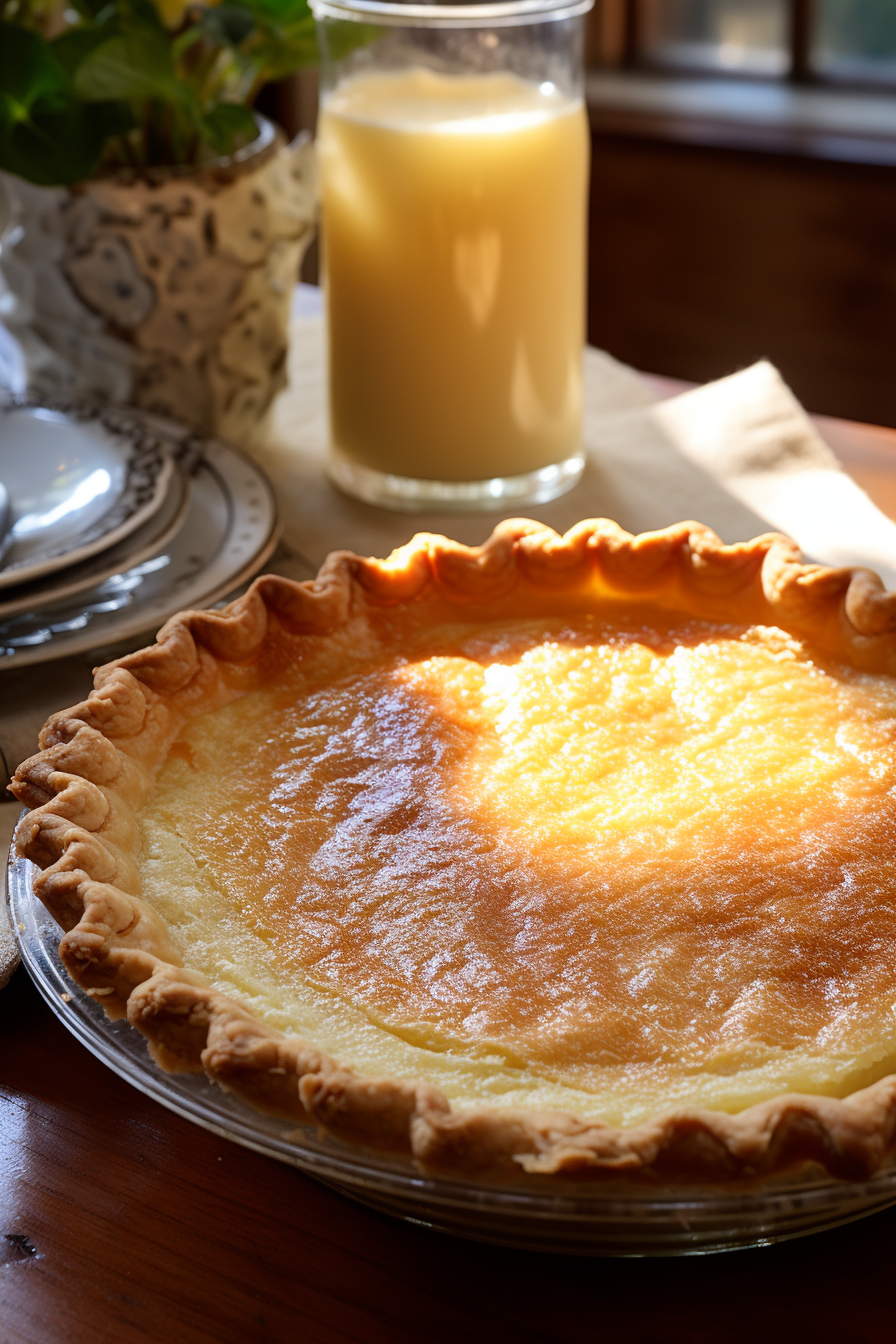 How To Make Old Fashioned Buttermilk Pie:
Step 1: Begin by preheating your oven. 350 degrees F is the magic number, ensuring your pie cooks evenly and perfectly.
Step 2: Grab a spacious bowl. Whisk your eggs, buttermilk, and vanilla together. You're looking for a thick, but smooth consistency. This is the backbone of our pie.
Step 3: In a separate bowl, it's time for the sweet stuff! Mix together the sugar, that beautifully cooled melted butter, cornstarch, and a pinch of salt. This concoction gives our pie its delectable sweetness.
Step 4: It's marriage time! Combine both mixtures and give them a good whisking. You want them thoroughly blended, no streaks allowed!
Step 5: Now, pour this golden liquid into your awaiting pie crust. Picture it as a bed waiting for a fluffy duvet.
Step 6: Into the oven it goes. Baking can vary based on your oven, so keep an eye on it. Golden brown is what we're aiming for.
Step 7: The hardest part – waiting. Allow your masterpiece to cool to room temperature, letting it set and intensifying in flavor.
Step 8: And finally, the moment you've been waiting for: devouring time! Whether you're team chilled or team room temp, dig in and enjoy.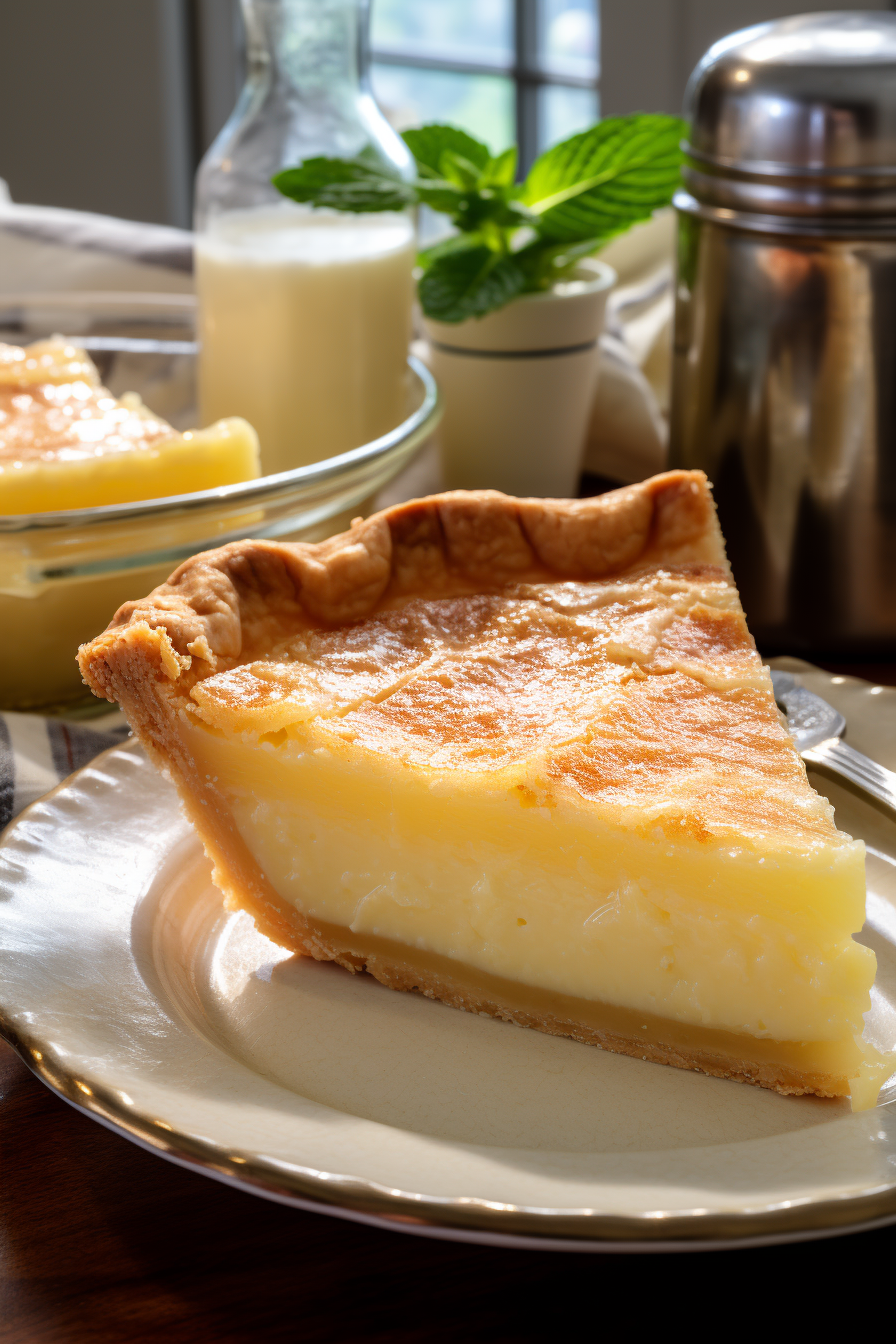 Storage Options:
Once cooled, you can keep the pie in the fridge for up to 5 days, covered tightly in cling film or foil. For longer storage, slice it up, wrap each slice individually, and freeze for up to 2 months. When you're ready for a piece of pie heaven, just thaw it in the fridge overnight.
Variations and Substitutions:
Dairy-Free? Substitute the buttermilk with a dairy-free alternative and add a squeeze of lemon juice for that tangy kick.
Less Sugar: Feel free to reduce the sugar or use a sugar substitute to meet your dietary needs.
Spice it up!: A pinch of nutmeg or cinnamon can add a warming depth of flavor to this classic pie.
Crust Choices: If you're looking to mix things up, try a graham cracker or Oreo crust for a twist.
And there you have it, folks! Grandma Elsie's renowned Old Fashioned Buttermilk Pie with a sprinkle of modern-day twists. Happy baking and even happier eating! 😉🥧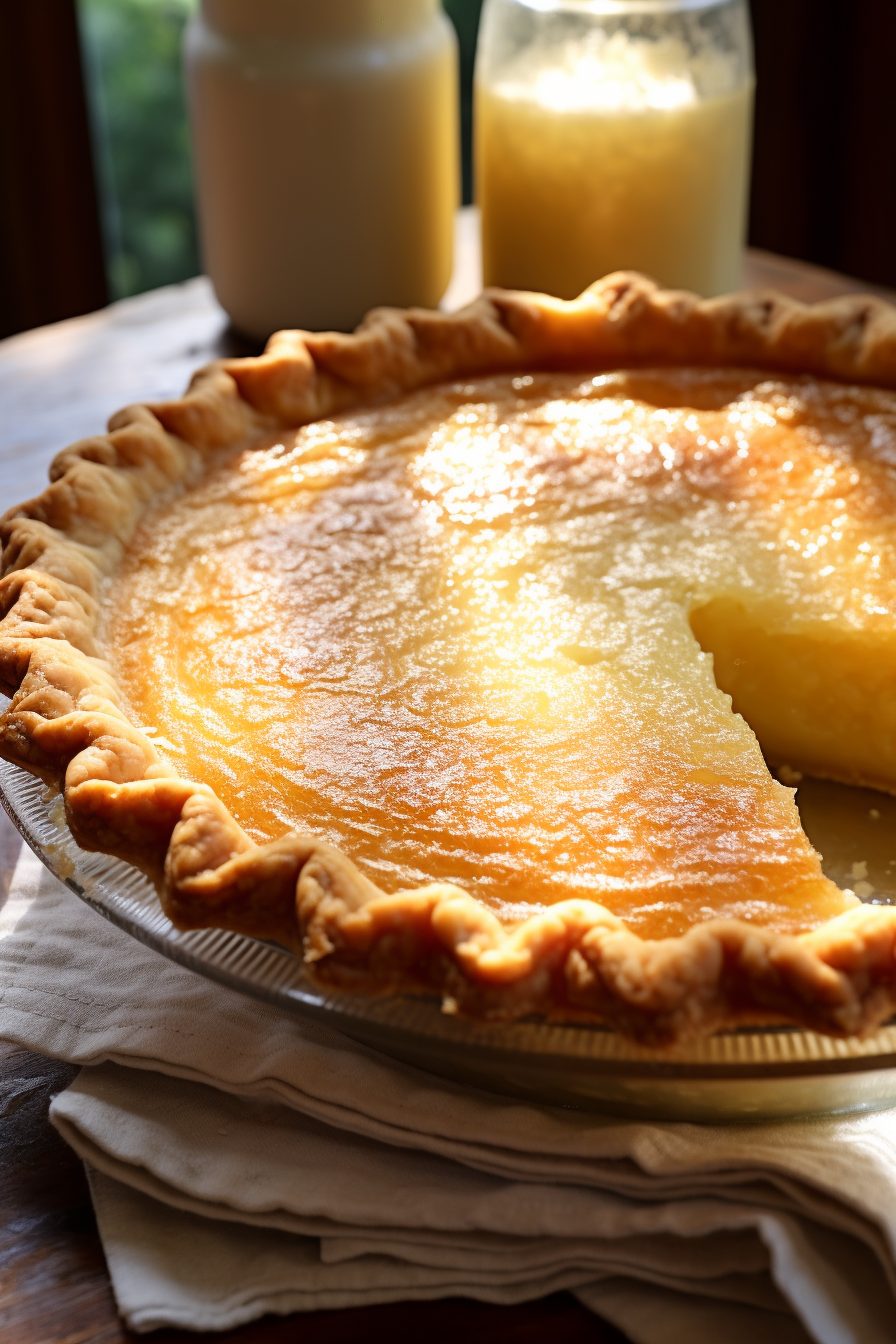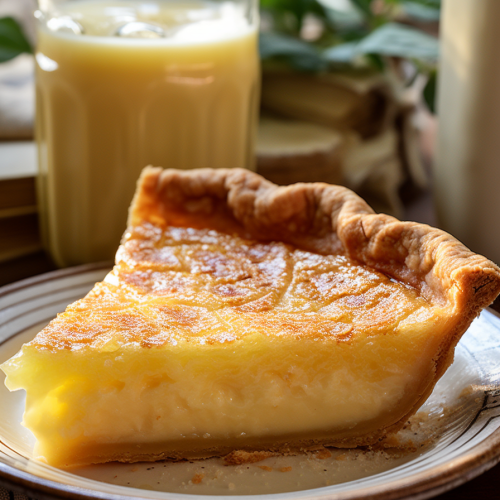 Old Fashioned Buttermilk Pie
Dive into this classic Old Fashioned Buttermilk Pie recipe, bringing together fresh eggs, creamy buttermilk, and a hint of vanilla in a flaky pie crust. Sweet simplicity!
Print
Pin
Rate
Ingredients
3

farm-fresh eggs

thoroughly beaten

1/2

cup

premium low-fat buttermilk

1

tsp

pure vanilla extract

1

cup

refined granulated white sugar

1

Tbs

high-grade cornstarch

1/2

tsp

fine salt

1/2

cup

unsalted butter

melted and brought to room temperature

1

standard 9-inch pie crust

unbaked
Instructions
Set the oven's temperature to precisely 350 degrees Fahrenheit and allow it to attain the set temperature.

In a large, sterile mixing bowl, diligently whisk the eggs, buttermilk, and vanilla extract together until the mixture reaches a consistent and thick texture.

In a separate mixing bowl, systematically combine the granulated sugar, room-temperature melted butter, cornstarch, and salt, ensuring an even distribution of all components.

Meticulously merge the two prepared mixtures, whisking continuously to achieve a seamless blend.

Carefully pour the resulting mixture into the unbaked pie crust, ensuring an even spread.

Place the pie in the preheated oven and allow it to bake for approximately 55 minutes. However, be vigilant, as the exact duration may vary based on oven specifications.

Once baked to perfection, remove the pie and set it aside to cool to room temperature.

For optimal enjoyment, serve the pie either chilled or maintained at room temperature.
Nutrition
Calories:
348
kcal
|
Carbohydrates:
39
g
|
Protein:
4
g
|
Fat:
20
g
|
Cholesterol:
92
mg
|
Sodium:
388
mg
|
Potassium:
70
mg
|
Fiber:
1
g
|
Sugar:
26
g
|
Vitamin A:
451
IU
|
Vitamin C:
1
mg
|
Calcium:
35
mg
|
Iron:
1
mg