Dive into the divine world of fudgy brownies with a surprising twist – a generous layer of creamy peanut butter! Indulge in a mix of semisweet chocolate, velvety butter, and the undeniable charm of peanut butter. For those with a sweet tooth that knows no bounds!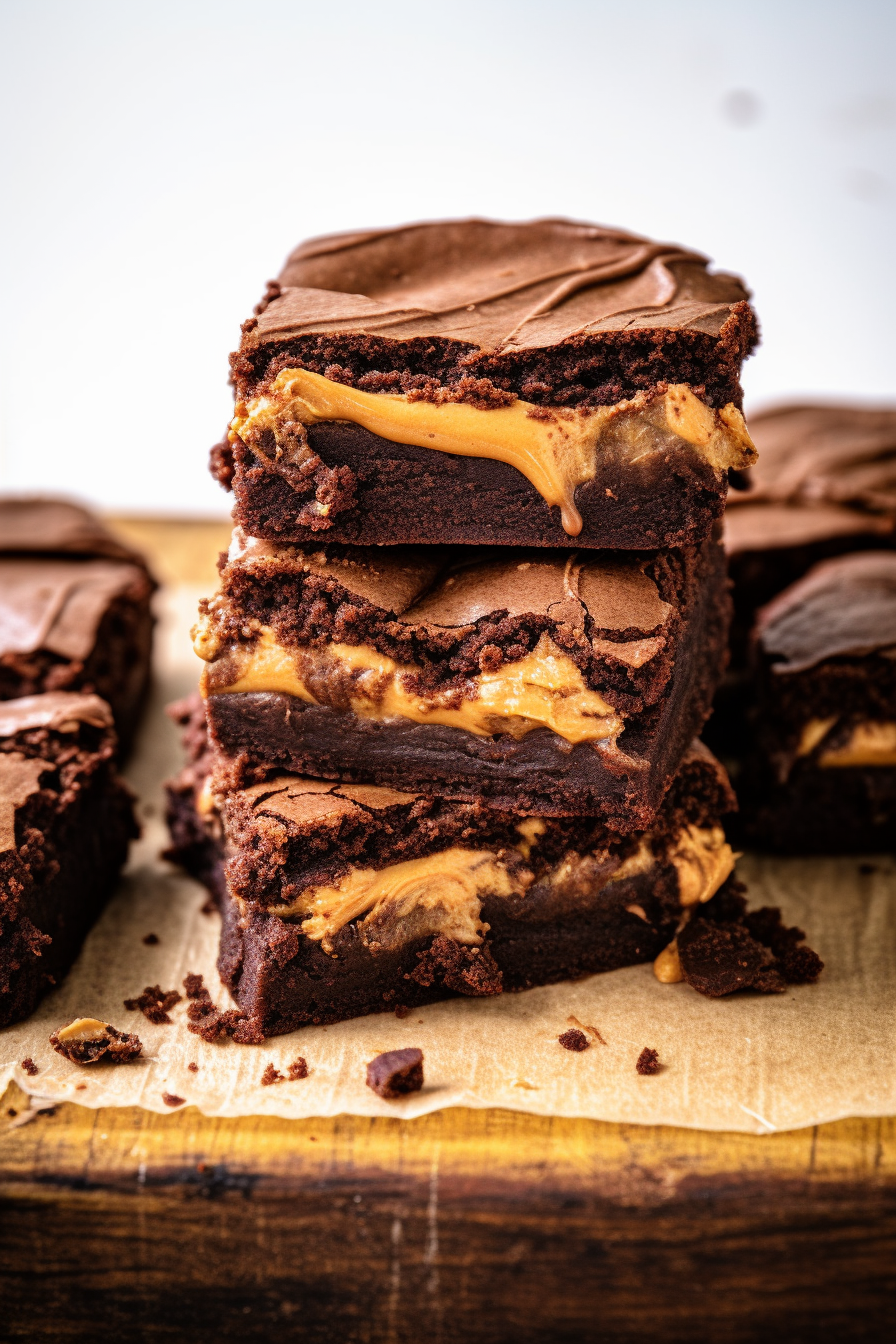 Oh boy, do I have a tale for you! Once upon a time, I was trapped in a serious love triangle – torn between my two culinary crushes, chocolate and peanut butter. I mean, choosing one over the other is like asking someone to pick their favourite child. Impossible, right? That's when the eureka moment happened! Why not bring them together in a union so beautiful, it'd bring tears of joy to anyone with functioning taste buds? After some sweet and nutty experimentation, these Peanut Butter Stuffed Brownies were born. And let me tell you, the first time I bit into that rich brownie with its secretive peanut butter heart, I knew I had created something monumental. Pure dessert magic!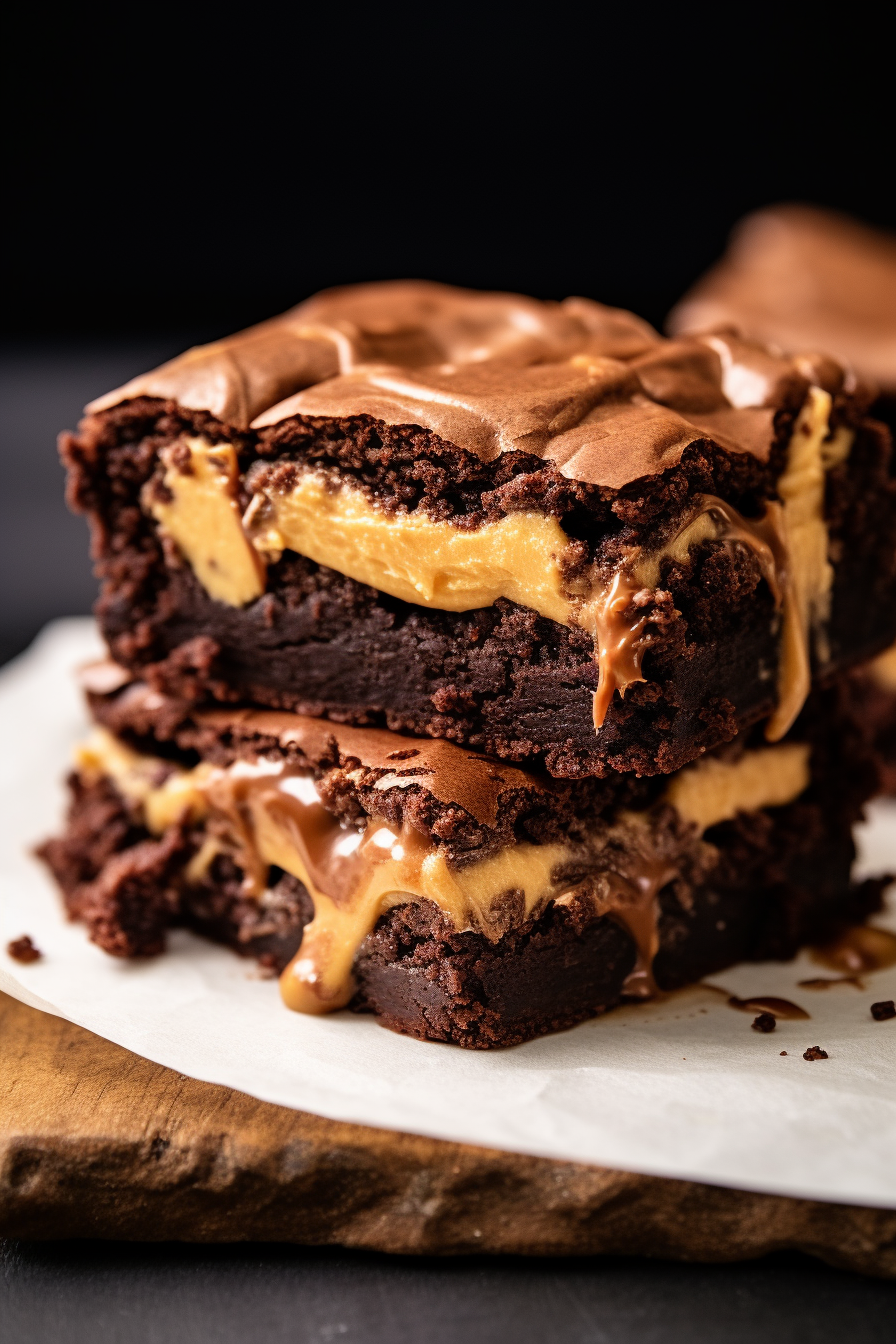 The best Peanut Butter Stuffed Brownies:
Wondering why you should jump aboard the Peanut Butter Stuffed Brownies train? First off, this isn't just any brownie; it's a celebration of chocolate and peanut butter in their most glorious form. The union of a fudgy brownie with a generous peanut butter stuffing is a match made in heaven. Also, let's talk about that texture! The contrast between the creamy peanut butter and the dense brownie is pure bliss. And hey, can we appreciate the sheer surprise factor? Because who expects a hidden layer of peanut butter in their brownie? It's like stumbling upon a treasure chest in your backyard!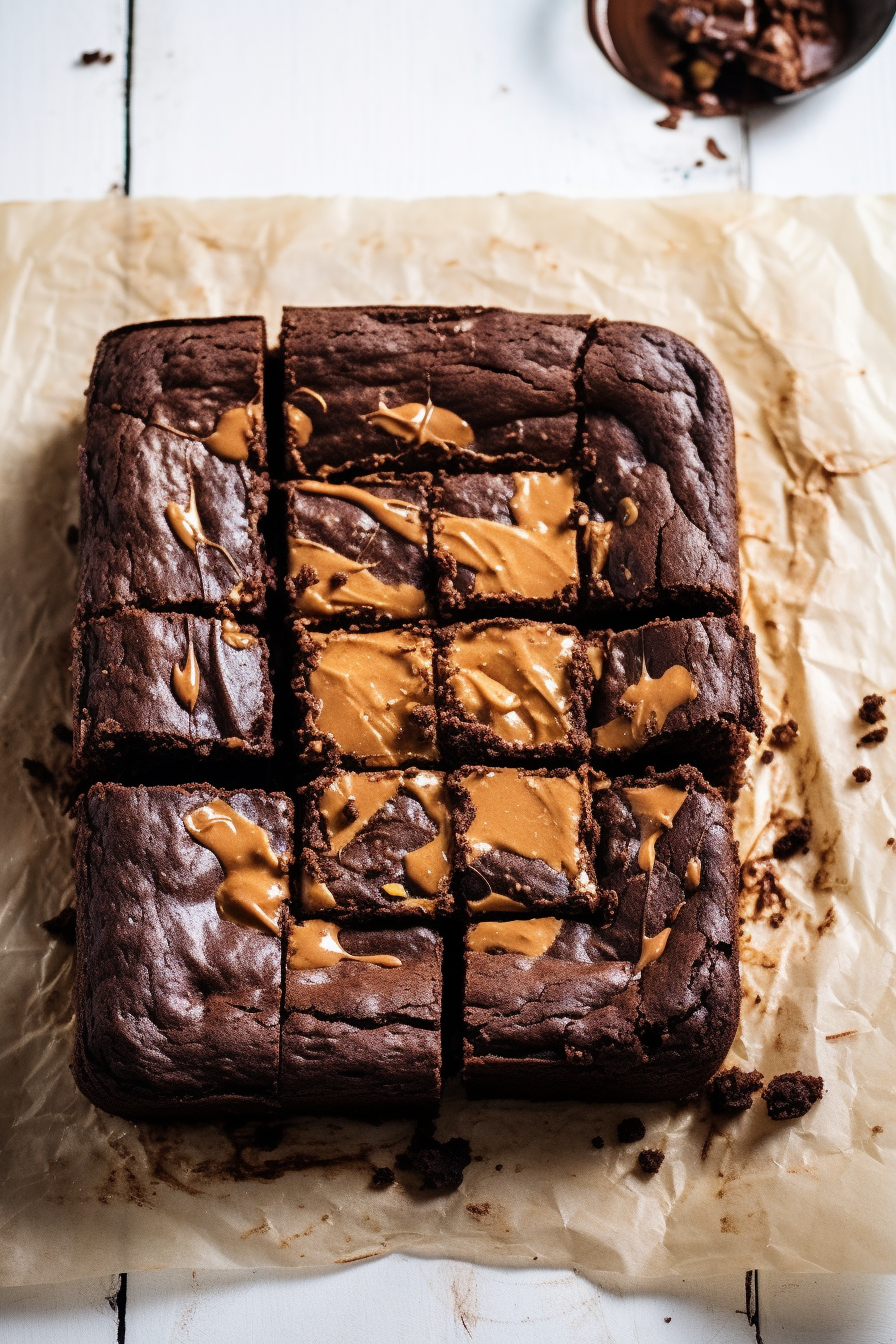 Ingredients used in Peanut Butter Stuffed Brownies:
When setting out on this culinary adventure, remember a few key pointers. Opt for conventional peanut butter and save that 'natural' jar for your morning toast. Trust me; it makes a difference. As for the chocolate, go for semisweet baking bars; it's a brownie's best friend. And always sift your cocoa powder! Nobody wants unexpected lumps while journeying through brownie paradise. Lastly, salt isn't just there for kicks; it accentuates the chocolate flavor, making it bolder and more robust.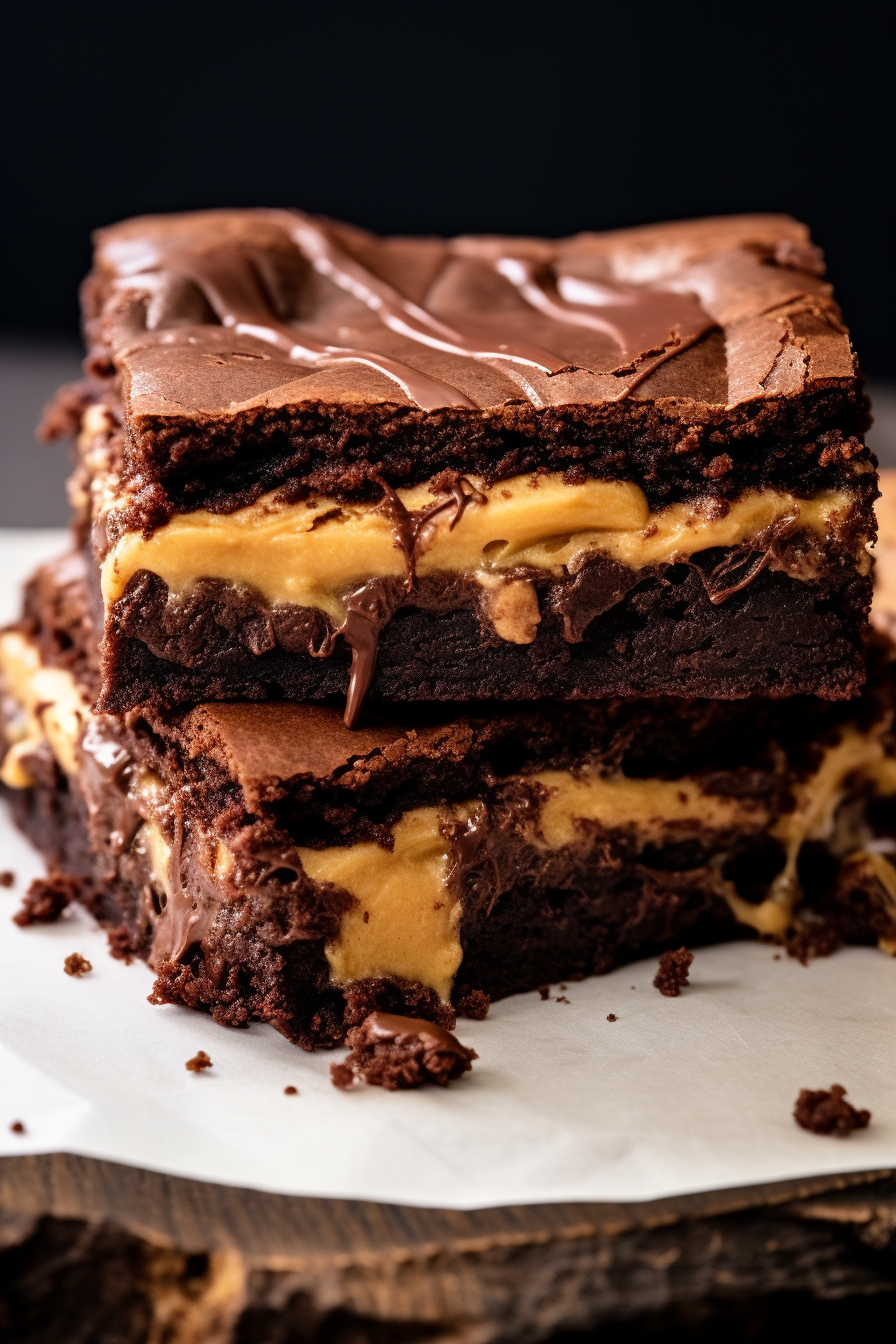 How To Make Peanut Butter Stuffed Brownies:
Peanut Butter Magic:
Start with our star: the peanut butter. Heat it slightly, so it's pourable but not scalding. Remember, it's peanut butter, not lava.Get that metal square pan ready! Line it with parchment paper, ensuring some overhang for easy removal. Now pour in the peanut butter, spreading it evenly, and pop it into the freezer. Let it become a solid slab of deliciousness while you tackle the brownie.
Brownie Delight:
Warm up the oven to 350°F. Prep your square pan similarly with that handy parchment paper.
Now, the chocolaty dance! In a spacious bowl, melt butter and chocolate together. Microwave magic, 30-second intervals, stirring in between. You're aiming for a silky, smooth blend.
Once you have that molten mixture, in goes the sugar. Vigorous whisking is key! Cool it down just a tad, so you don't scramble the eggs.
Speaking of eggs, throw them in, along with the vanilla. A minute of whisking to blend them nicely.
Now, gently mix in the flour, sifted cocoa powder, and salt. No overmixing, or you'll ruin the fun!
Half of this lovely batter goes into your prepared pan. Then comes our frozen peanut butter sheet. Place it right on top and pour the remaining batter, ensuring it's all covered.
Time to bake! 30 minutes should do the trick, with the center being a tad gooey. Let it cool down a bit before diving in.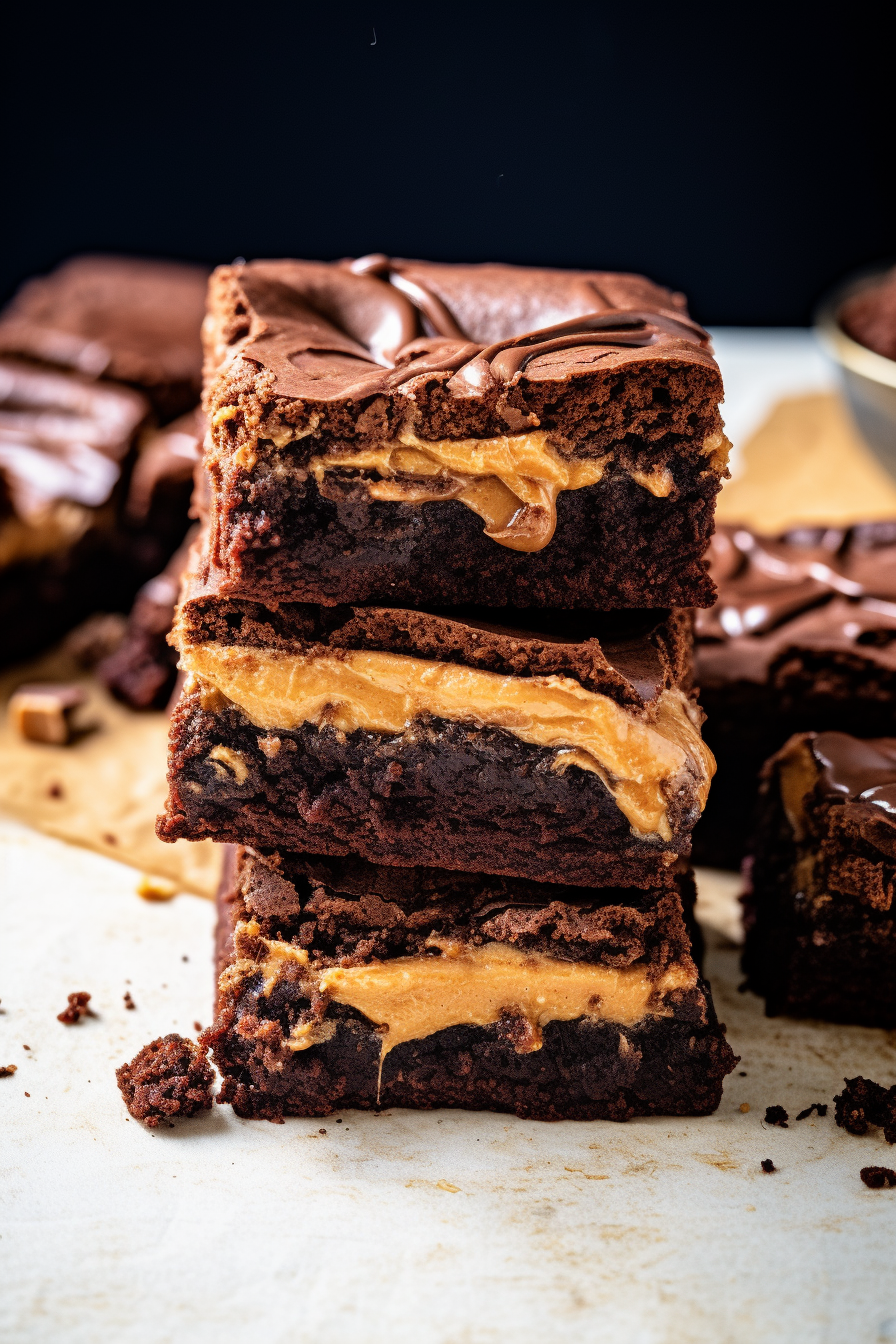 Storing leftovers:
Alright, you overachiever! If you have leftovers (which would be shocking), keep these beauties in an airtight container. They're happy at room temperature for 3 days. But if you adore that extra fudginess, refrigerate them! They can chill out in the fridge for up to 5 days. Cold brownie, hot coffee, and maybe a rom-com? Sounds like a plan!
Variations & Substitutions:
Variety's the spice of life! If you're feeling adventurous or perhaps ran out of an ingredient, here are some fun swaps and additions:
Nutty: Try almond butter or cashew butter instead of peanut butter.
Choco-Overload: Throw in some chocolate chips or chunks into your brownie batter.
Vegan Magic: Use vegan chocolate, butter, and an egg substitute like flax eggs. Ensure your peanut butter is vegan too!
Fruity Twist: Add some raspberry or strawberry jam on top of the peanut butter layer. Chocolate, peanut butter, and fruit? Heaven!
Remember, the kitchen is your playground. Dive in with enthusiasm and a dash of humor, and you'll whip up something unforgettable!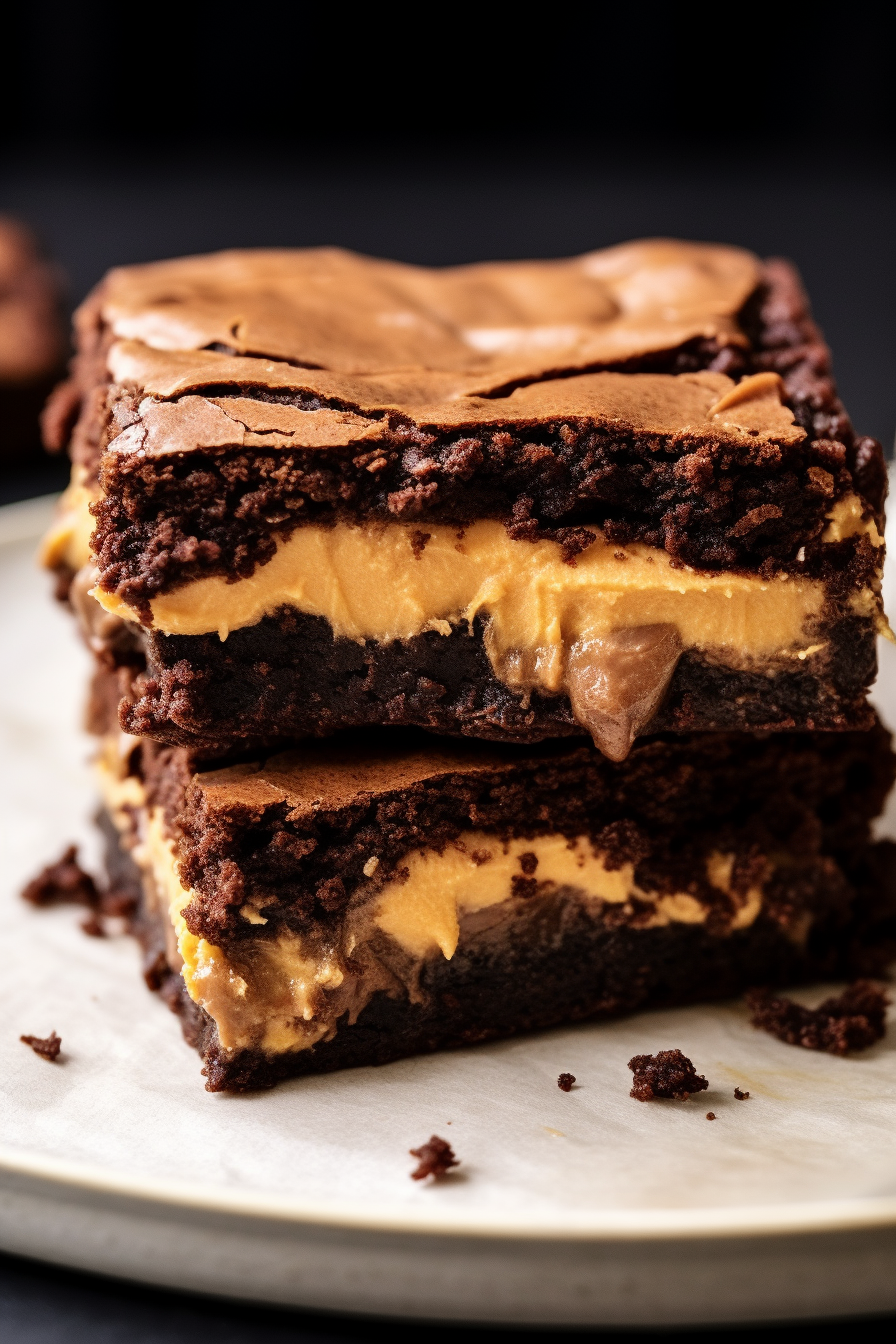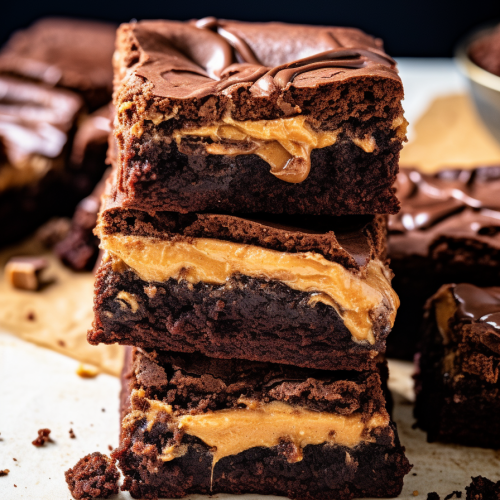 Peanut Butter Stuffed Brownies
Dive into the divine world of fudgy brownies with a surprising twist – a generous layer of creamy peanut butter! Indulge in a mix of semisweet chocolate, velvety butter, and the undeniable charm of peanut butter. For those with a sweet tooth that knows no bounds!
Print
Pin
Rate
Servings:
9
Large Brownies
Ingredients
For the Peanut Butter Filling:
1 1/4

cups

336 grams creamy conventional peanut butter (Avoid 'natural' varieties for optimal consistency.)
For the Brownies:
10

tablespoons

142 grams unsalted butter

4

ounces

113 grams semisweet baking chocolate, finely chopped

1

cup

200 grams granulated sugar

2

whole eggs and 1 egg yolk

1

teaspoon

vanilla extract

1/2

cup

64 grams all-purpose flour

1/4

cup

25 grams unsweetened cocoa powder (Ensure it's sifted to eliminate lumps.)

1/4

teaspoon

fine salt
Instructions
Preparing the Peanut Butter Filling:
In a heat-resistant bowl, slightly warm the peanut butter in a microwave for approximately 20-30 seconds until it reaches a pourable consistency. Ensure it remains moderately warm and not overheated.

Line an 8-inch square metal pan with parchment paper, ensuring there's excess parchment on the sides for easier extraction. Evenly distribute the warmed peanut butter across the base. Transfer the pan to the freezer and allow the peanut butter to solidify for one hour. Upon solidification, carefully lift the peanut butter sheet using the parchment overhangs and place it back in the freezer.
Preparing the Brownies:
Preheat the oven to 350°F (177°C). Re-line the 8-inch square pan with fresh parchment paper, again ensuring overhangs for later use.

In a large, microwave-safe bowl, amalgamate the unsalted butter and finely chopped semisweet baking chocolate. Employ the microwave in 30-second intervals, mixing thoroughly after each interval, until the two ingredients meld seamlessly.

Introduce the granulated sugar into the melted butter-chocolate mixture. Whisk diligently to achieve a homogeneous blend. Set aside and allow to reach a slightly cooled temperature.

Subsequently, incorporate the eggs, additional egg yolk, and vanilla extract. Whisk for approximately one minute until fully integrated.

Gradually fold in the all-purpose flour, sifted unsweetened cocoa powder, and fine salt, taking care not to overmix.

Dispense half of the resultant brownie batter into the prepared pan, leveling it out. Gently place the previously frozen peanut butter sheet atop this layer. Cover this with the remaining brownie batter, ensuring the peanut butter layer is entirely concealed.

Place the pan in the preheated oven and bake for roughly 30 minutes. The brownies should be thoroughly cooked, retaining a slight moisture at the center. Once baked, allow the brownies to cool in the pan for half an hour. Afterward, employ the parchment overhangs to extract the brownie from the pan and let it cool further for an additional 30 minutes. Subsequent to this cooling period, the brownie can be divided into portions and served.