Dive into a tropical Christmas with our Pineapple Christmas Balls, fusing cream cheese, crushed pineapple, coconut, graham crumbs, and a burst of pineapple jello! 🍍🎄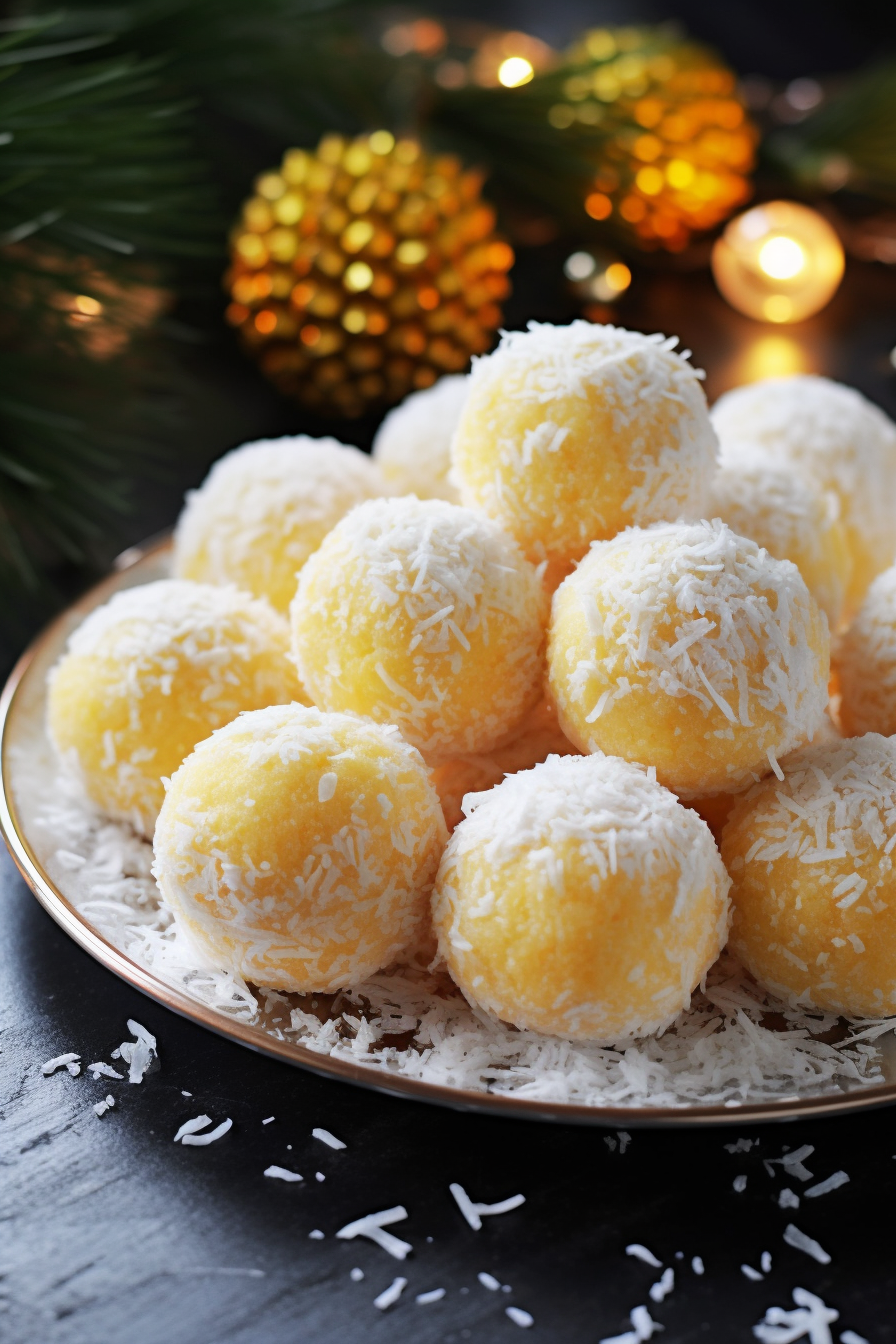 Ah, the age-old debate: White Christmas versus Sunny Christmas. Now, while I absolutely adore the image of snowflakes gently falling on evergreen trees, I grew up in a place where the sun was our winter's guest of honour. Our Christmases were more sunscreen than snow boots! My grandmother, the genius she was, decided that if the sun was going to crash our Christmas party, we may as well invite it to the dessert table. Hence, the inception of these Pineapple Christmas Balls. Every bite took us on a journey from the snowy dreams of winter wonderlands to the sun-kissed beaches of our hometown.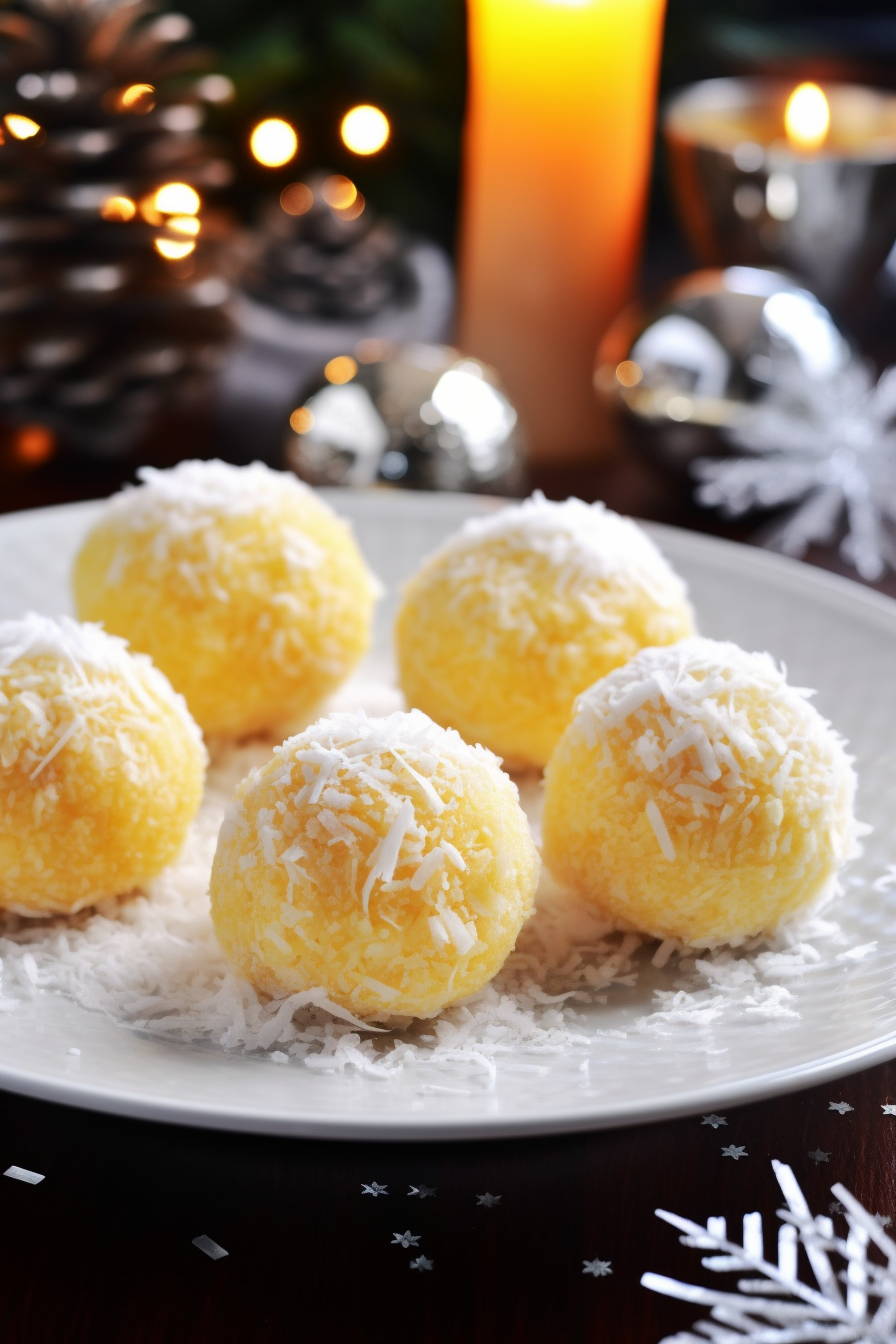 Why You'll Love Pineapple Christmas Balls:
Let's talk unique, shall we? 🎉
Tropical Meets Traditional: Where else do you find the tropical tang of pineapple jazzing up the classic festive flavour profile?
Quick and Easy: 10 minutes of prep? That's less time than it takes me to untangle my Christmas lights!
No-Bake Wonder: No oven jostling required. This is a stir, chill, and roll kind of affair. Perfect for last-minute festive gatherings!
Adaptable: Vegetarian friendly and easily adaptable to be vegan or gluten-free. A treat everyone can enjoy!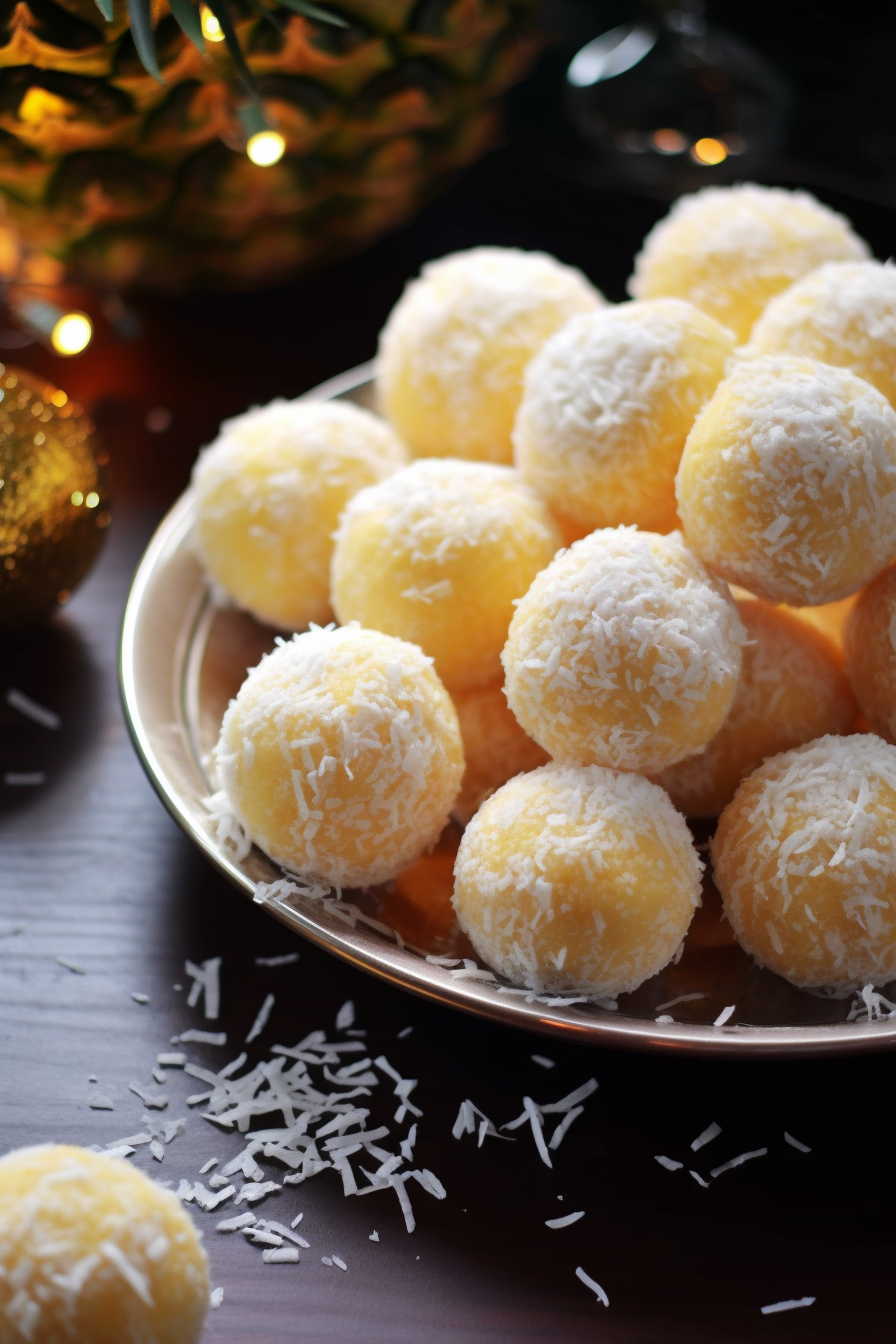 Ingredients Notes For Pineapple Christmas Balls:
Canned Crushed Pineapple: Ensure it's very well drained. We want the tropical taste, not the tropical rain!
Cream Cheese: Room temperature is best. Cold cream cheese just won't mingle as easily with the other ingredients.
Desiccated Coconut: Unsweetened is preferred to balance the sweetness of the other ingredients. Plus, it gives our balls that snowy Christmas look.
Graham Crumbs: This is the secret binder. It's like the glue that holds a gingerbread house together, but way tastier.
Pineapple Jello: You'll be using just the powder, so no need to prep it. It's the magic that gives our balls that extra pineapple punch!
FULL RECIPE CARD BELOW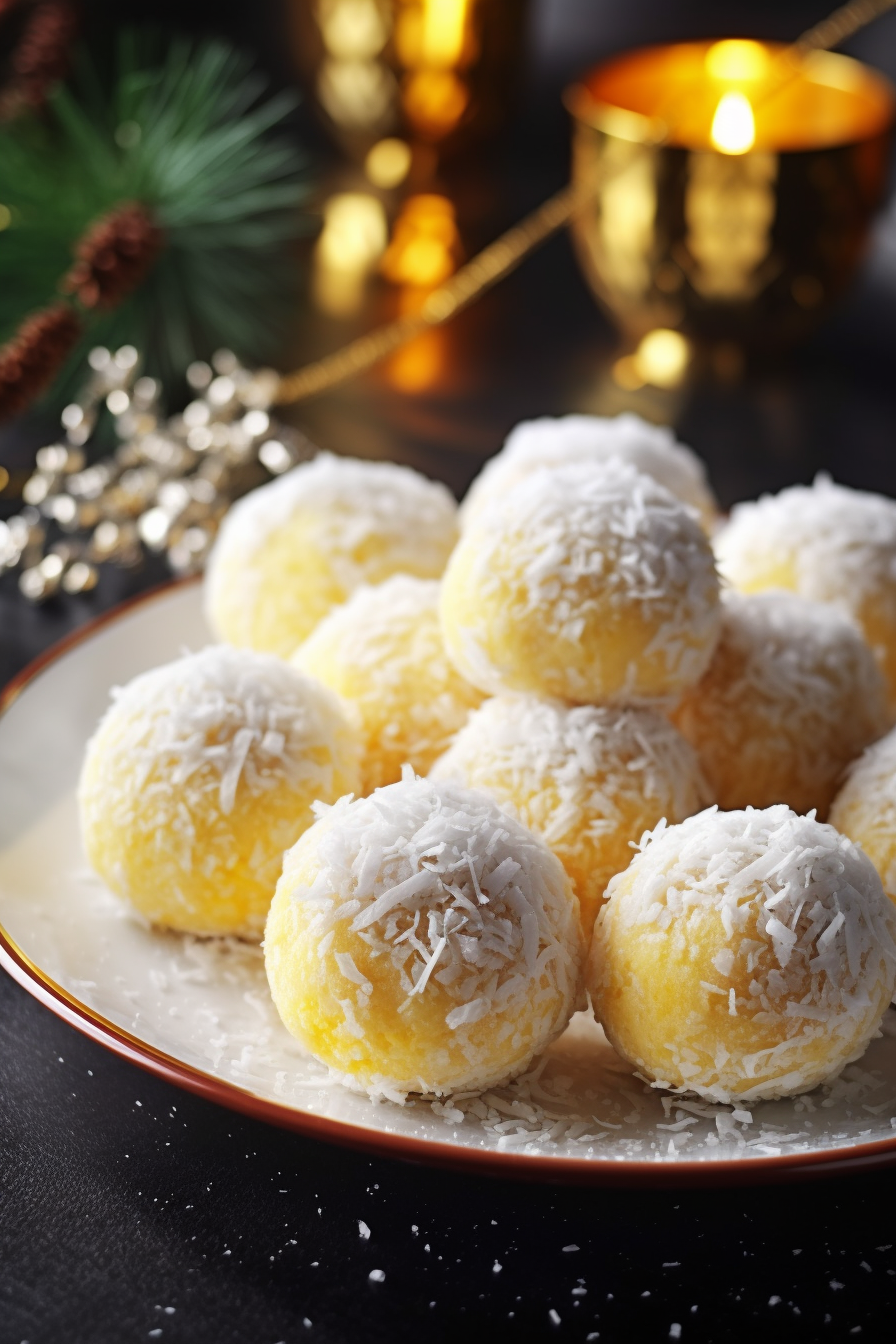 Recipe Breakdown:
Cream Cheese Softening: Start with the cream cheese in a large bowl. Using a mixer, beat it well to get rid of any lumps and make it nice and smooth. This is like giving the cream cheese a little warm-up before the big game.
Add the Good Stuff: Toss in the pineapple, a cup of coconut, the graham crumbs, and yes, the pineapple jello powder. Remember, don't make the jello; we just need its flavour-packed punch.
Mix It Up: Get those ingredients to know each other. Mix them thoroughly till they're inseparable.
Chill Session: Pop that bowl into the fridge. It needs an hour, sort of like our version of a power nap.
Roll With It: Once chilled, scoop out tablespoons of the mixture, and craft them into delightful balls. Give them a lovely coconut snow coat by rolling each ball in the remaining coconut.
Store & Serve: Place your Pineapple Christmas Balls into a food-safe container and keep them cool in the fridge till you're ready to dazzle your guests!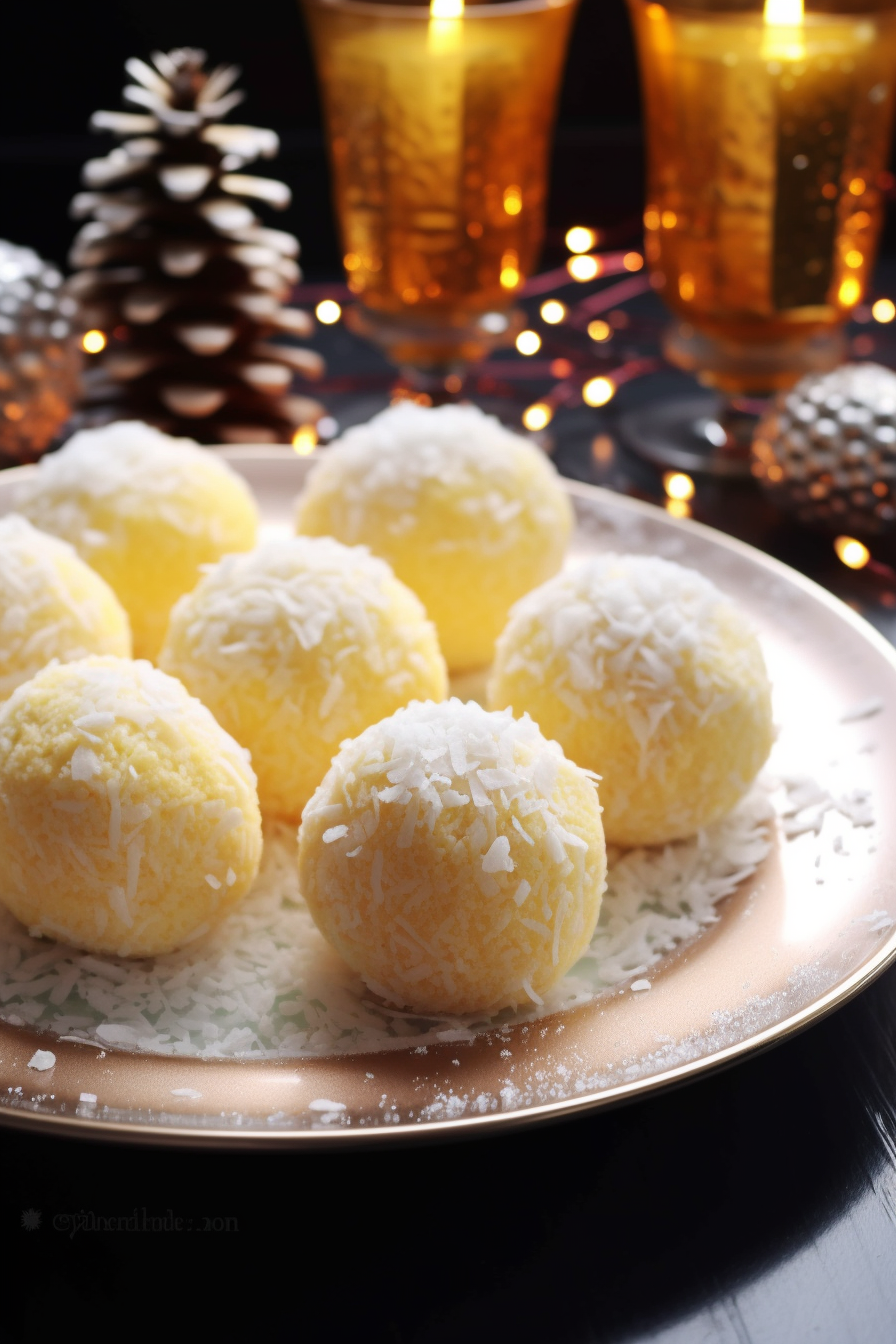 Storage Options:
For best results, store these tropical treasures in an airtight container in the fridge. They'll last for about a week, but between you and me, they'll probably be devoured long before then! Planning to make them ahead? They freeze beautifully for up to a month. Just ensure they're well-covered to avoid any frosty encounters.
Variations & Substitutions:
Vegan Switch: Swap the cream cheese for a vegan alternative and ensure your jello is vegan-friendly.
Gluten-Free: Simply use gluten-free graham crumbs.
Tropical Twist: Fancy a change? Swap pineapple jello for mango or passionfruit for an exotic variation.
Nutty Idea: Add a handful of crushed toasted almonds or macadamia nuts to the mix for a delightful crunch.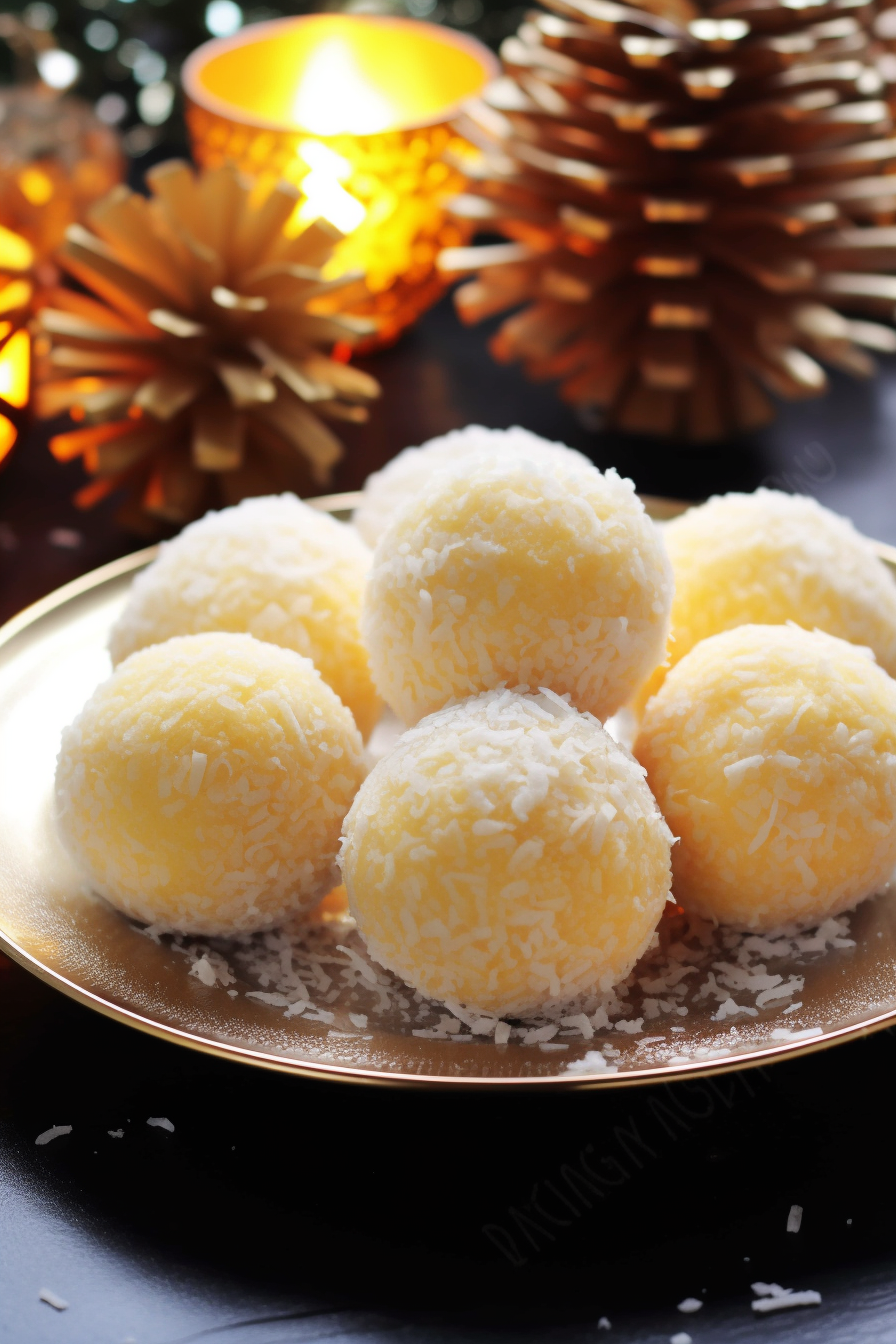 Hope you enjoy this tropical twist on a festive treat! Remember, while snowflakes are delightful, nothing warms the heart quite like memories, love, and a good dessert. Happy eating! 🍍🎅🎄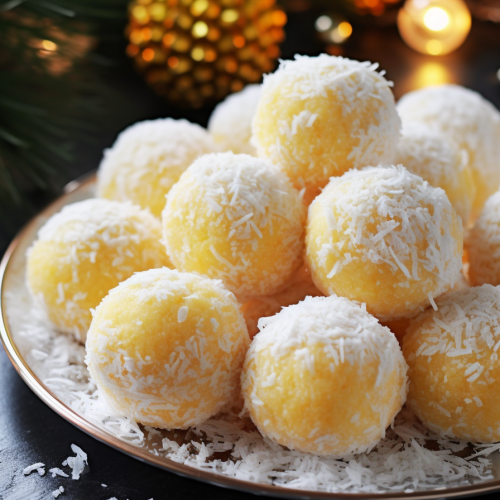 Pineapple Christmas Balls
Dive into a tropical Christmas with our Pineapple Christmas Balls, fusing cream cheese, crushed pineapple, coconut, graham crumbs, and a burst of pineapple jello! 🍍🎄
Print
Pin
Rate
Ingredients
398

mL

of canned crushed pineapple

drained meticulously.

8

ounces

of cream cheese

brought to room temperature.

2

cups

of unsweetened fine desiccated coconut.

1/2

cup

of graham crumbs.

3

ounces

of pineapple jello powder.
Instructions
In a sizable mixing bowl, place the cream cheese, ensuring it's at room temperature. Utilizing an electric mixer, proceed to beat the cream cheese until its consistency is smooth, ensuring no lumps remain.

Incorporate the drained crushed pineapple, one cup of the desiccated coconut, graham crumbs, and the pineapple jello powder into the bowl. Note: There's no necessity to prepare the jello; use the powder directly.

Combine all ingredients diligently until a homogeneous mixture is achieved.

Transfer the bowl to a refrigerator and allow it to set for a duration of one hour.

Upon removal from the refrigerator, extract the mixture in tablespoon portions. Shape each portion into a spherical configuration and subsequently roll each sphere in the remaining desiccated coconut.

Arrange the completed Pineapple Christmas Balls in a suitable food-safe container and store them in a refrigerated environment until they are to be served.