Indulge in the ultimate fusion of fall flavors with Pumpkin Pie Cheesecake Enchiladas! Crispy cinnamon-sugar tortillas bursting with a rich pumpkin cheesecake center. It's pumpkin pie and cheesecake rolled into one heavenly dessert!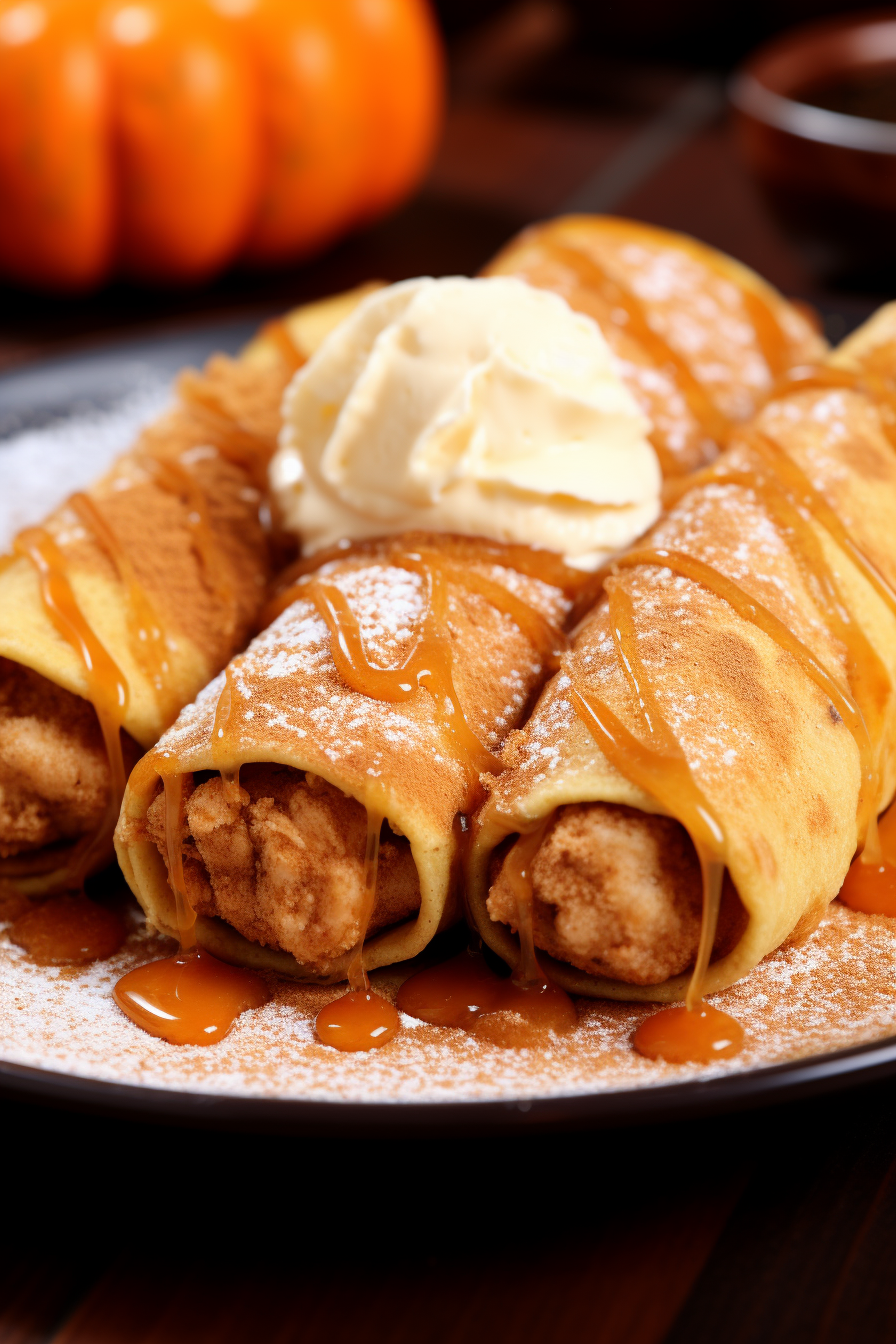 Every year, my family eagerly anticipates the arrival of pumpkin season. The subtle aroma of freshly baked pumpkin pies fills our home, leaving behind tales of warmth, comfort, and our infamous Thanksgiving mishap (let's just say the dog and the pie had an intimate encounter). This particular recipe was born out of my two loves: the smoothness of cheesecake and the spicy allure of pumpkin pie. On a fateful evening, after a light-hearted debate between team cheesecake and team pie, the idea of "Pumpkin Pie Cheesecake Enchiladas" popped up. A dessert that would end the pie versus cheesecake battle for good. The fusion was magical – bringing together two worlds in the most delightful way. And oh, the surprise of discovering a cheesecake in an enchilada – it's like finding a $20 bill in your old jeans!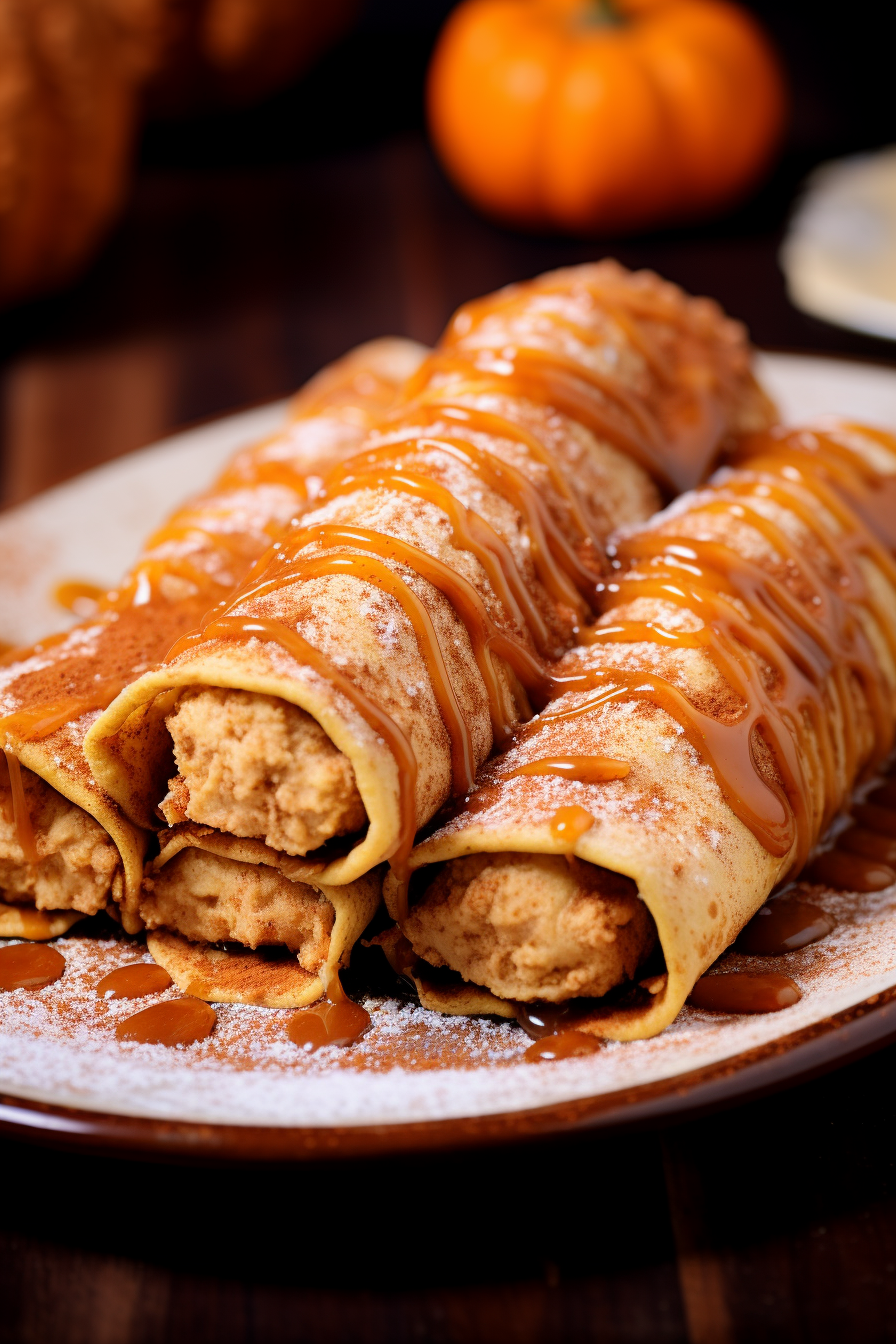 Why You'll Love This Pumpkin Pie Cheesecake Enchiladas:
These Pumpkin Pie Cheesecake Enchiladas aren't just another pumpkin-themed dessert, oh no. We're talking a harmonious blend of creamy cheesecake, and classic pumpkin pie, wrapped up in a crispy cinnamon-sugar tortilla.
The whimsical twist of merging classic American dessert with a Mexican dish format will surely have your guests raising their eyebrows in curiosity before taking that first bite, and trust me, they'll be back for seconds!
It's quick, with just a 25-minute total prep and cook time, making it an excellent choice for last-minute dessert emergencies.
Ingredients Notes for the Pumpkin Pie Cheesecake Enchiladas:
Alright, ingredient sleuths, let's break it down.
The heavy cream and powdered sugar combo gives you that lush whipped texture, so don't skip it.
Now, for the cream cheese – it's imperative to have it softened. I mean, unless you're aiming for a workout trying to blend it.
For the pumpkin puree, ensure you're using pure pumpkin, not pumpkin pie filling. There's a difference!
Opt for the smaller 6-inch tortillas for this dessert; the bigger ones might be too overwhelming.
And the caramel sauce – homemade or store-bought, it doesn't matter. But let's be real, everything's better with caramel.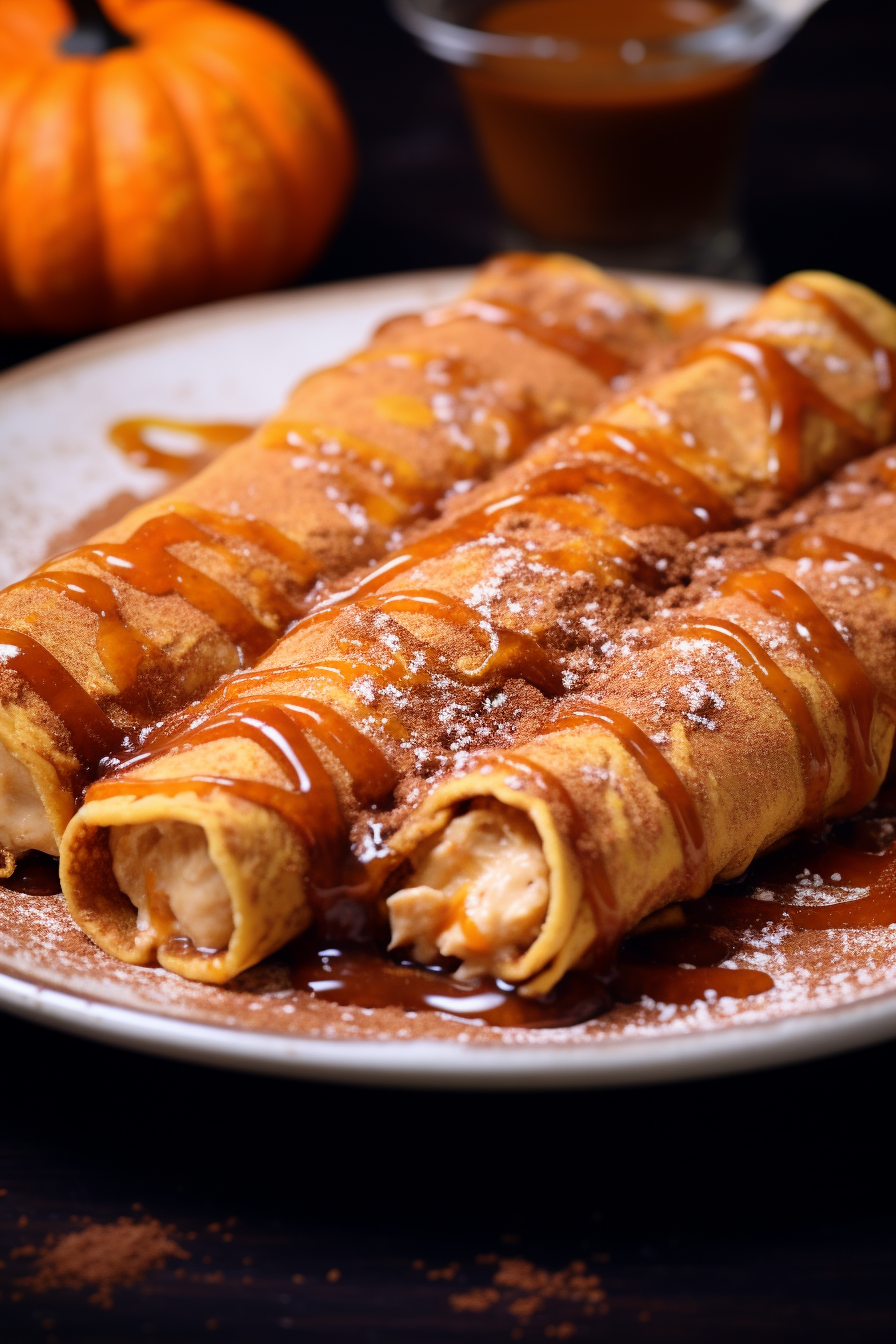 How To Make Pumpkin Pie Cheesecake Enchiladas:
Let's get down to business, folks:
Start off by beating the heavy cream in a bowl until it thickens up like your favorite TV plot. Toss in the powdered sugar and whip till you've got stiff peaks that stand tall and proud.
In another mixing bowl, let the cream cheese, pumpkin, sugar, vanilla, and that iconic pumpkin pie spice come together like old college buddies. Gently marry this with the whipped cream you prepared earlier.
Patience is a virtue! Let the cheesecake mixture chill in the refrigerator for about an hour. While that's setting, combine your sugar and cinnamon on a plate. Consider this your enchilada spa treatment.
Now for the fun part. Lay out your tortillas, spread about 1/4 cup of the cheesecake mixture on each, and roll 'em up like cozy blankets.
Melt that butter in a skillet over medium to medium-high heat, and place your enchiladas seam-side down. Give them a crisp golden tan on each side – we're talking 1-2 minutes max.
Finally, roll your freshly fried enchiladas in the cinnamon-sugar mix and drizzle with caramel sauce. Voila! You're now the proud creator of dessert magic.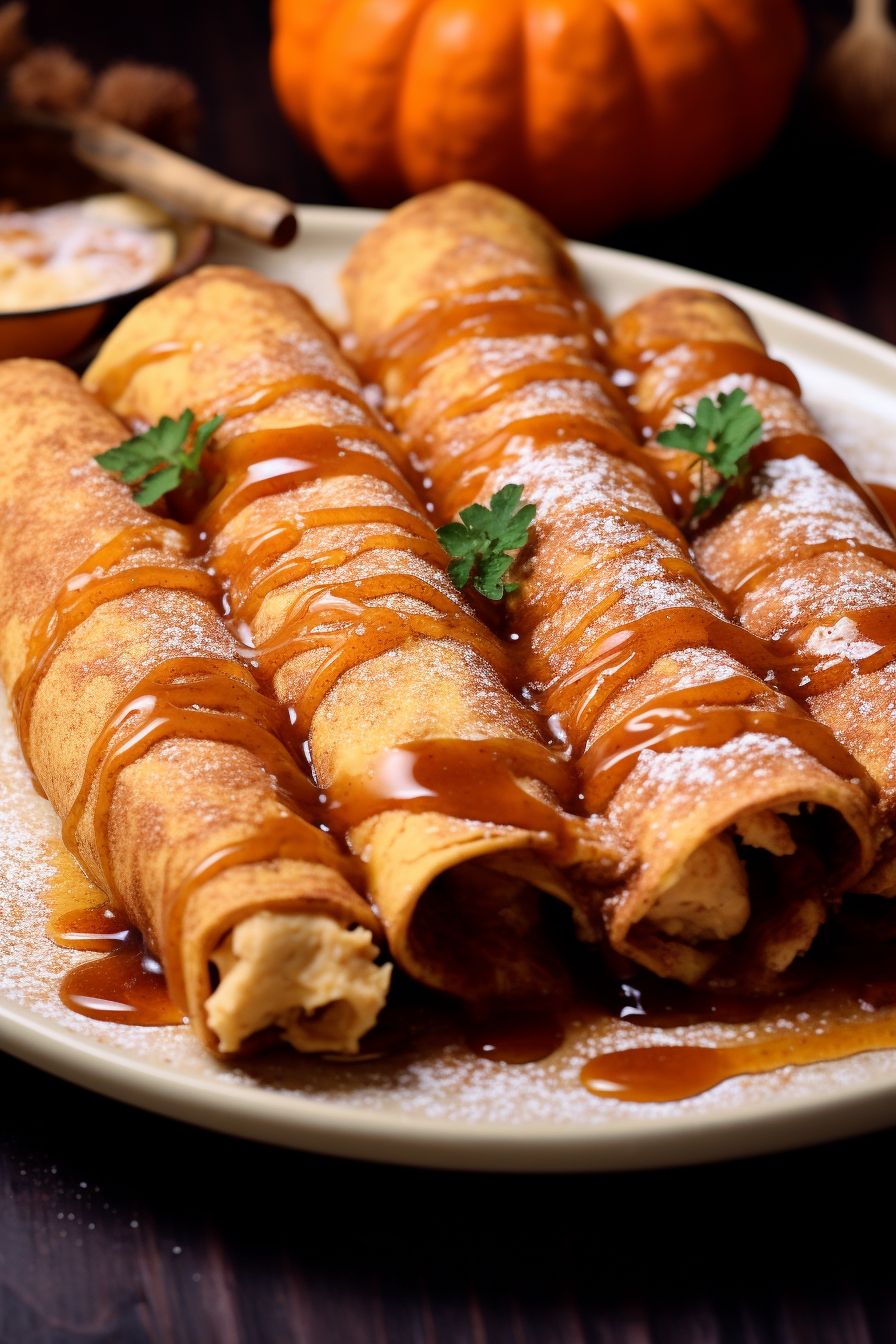 Storage Options for the Pumpkin Pie Cheesecake Enchiladas:
If by some act of sheer willpower you have leftovers, these enchiladas can be stored in an airtight container in the refrigerator for up to 2 days. Though, between you and me, I'd be surprised if they last that long! To reheat, give them a quick warm-up in the oven to revive the crispy tortilla texture. Microwaving might make them a tad soggy.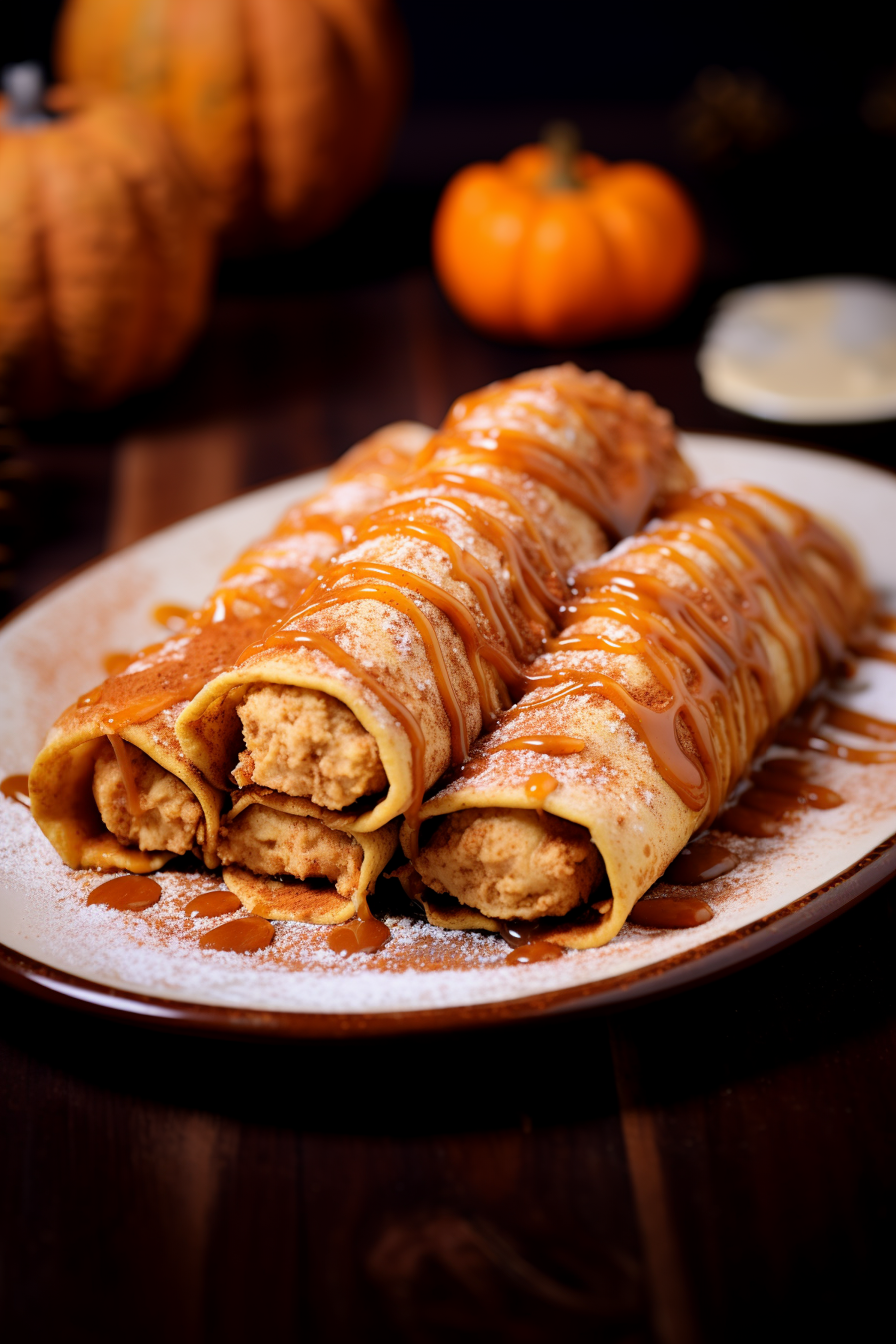 Variations and Substitutions for the Recipe:
Feeling a little adventurous? You can swap out the pumpkin puree for sweet potato or butternut squash puree.
If you're dairy-free, go ahead and use coconut cream in place of heavy cream, and a dairy-free cream cheese alternative.
For our gluten-sensitive friends, gluten-free tortillas are your best pals.
And if you want to amp up the festive factor, sprinkle some chopped pecans or drizzle a bit of chocolate sauce on top. The world is your enchilada, darling!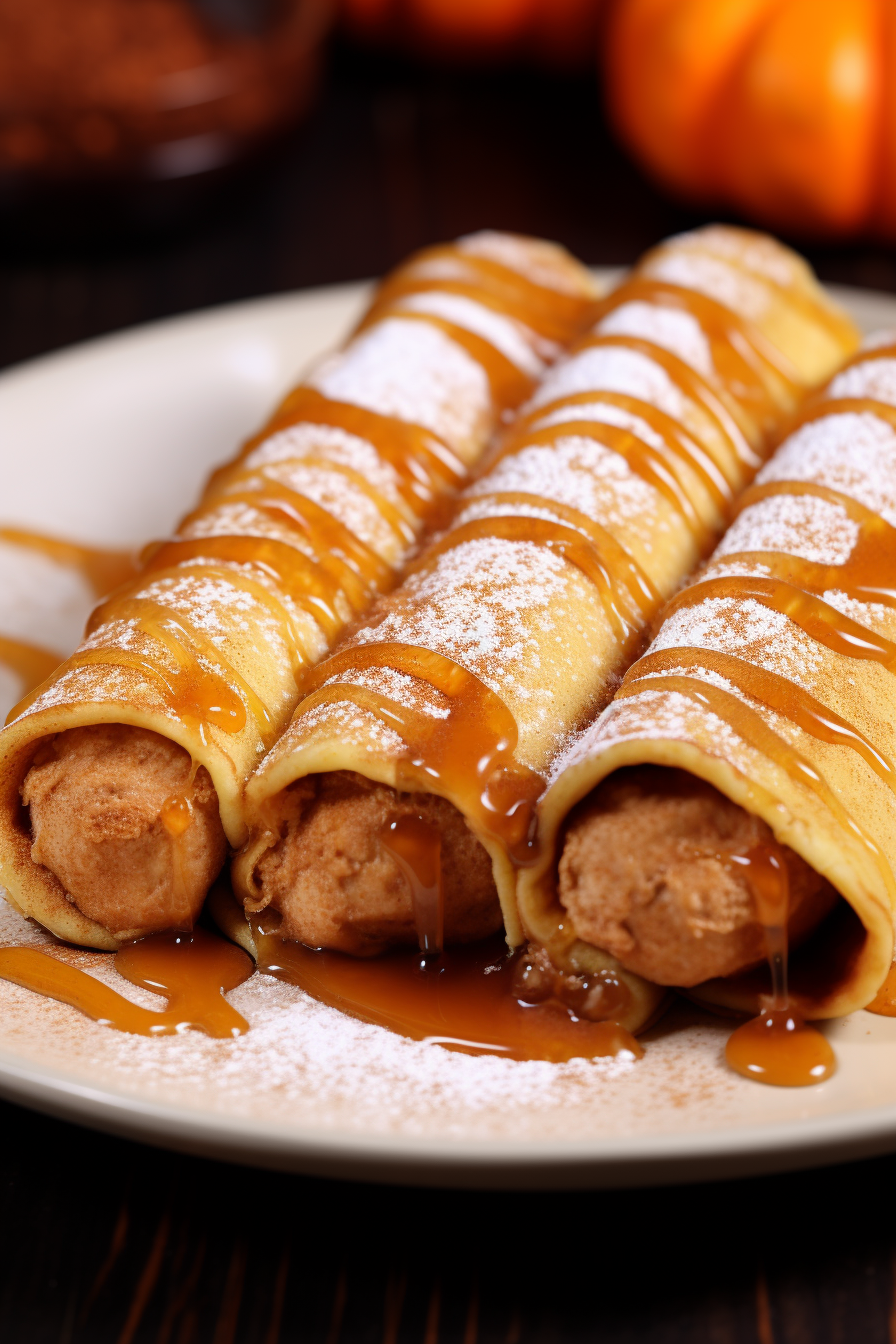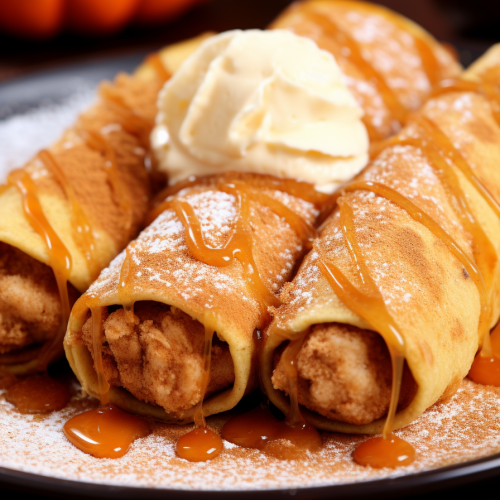 Pumpkin Pie Cheesecake Enchiladas
Indulge in the ultimate fusion of fall flavors with Pumpkin Pie Cheesecake Enchiladas! Crispy cinnamon-sugar tortillas bursting with a rich pumpkin cheesecake center. It's pumpkin pie and cheesecake rolled into one heavenly dessert!
Print
Pin
Rate
Ingredients
1/4

cup

heavy whipping cream

1

teaspoon

confectioners' sugar

4

ounces

cream cheese

at room temperature

1/4

cup

granulated sugar

1/2

teaspoon

pure vanilla extract

1/2

cup

pumpkin puree

1/2

teaspoon

pumpkin pie seasoning

5-6

flour tortillas

6-inch in diameter

2

tablespoons

unsalted butter

1/2

cup

granulated sugar

for coating

1

tablespoon

ground cinnamon

for coating

Caramel sauce

optional, for garnishing
Instructions
Begin by whisking the heavy whipping cream in a mixing bowl until it starts to show thickness. Introduce the confectioners' sugar and continue whisking until the mixture forms stiff peaks. Place aside.

In a separate bowl, combine the cream cheese, pumpkin puree, granulated sugar, vanilla extract, and pumpkin pie seasoning. Ensure the mixture is smooth and well-blended. Subsequently, incorporate the previously prepared whipped cream into this mixture, using a gentle folding technique.

Allow the resultant cheesecake mixture to refrigerate for approximately 60 minutes or until it attains firmness. Concurrently, in a shallow dish, mix the 1/2 cup granulated sugar and ground cinnamon. This will be reserved for the coating process.

Upon removal from the refrigerator, spread an approximate measure of 1/4 cup of the cheesecake mixture across the surface of each tortilla. Ensure it is placed towards the bottom third section of the tortilla. Subsequently, roll each tortilla to form a cylindrical shape.

In a skillet of suitable size, melt the unsalted butter over a medium to high heat setting. Once the butter is completely melted and slightly foamy, place the rolled tortillas into the skillet with the seam facing downwards. Allow each side to fry for 1-2 minutes or until a golden hue is achieved.

Promptly remove the fried tortillas from the skillet and roll them in the reserved cinnamon-sugar mixture, ensuring an even coat. For enhanced flavor and presentation, an optional drizzle of caramel sauce may be applied prior to serving.