Indulge in the autumnal magic with bite-sized Pumpkin Spice Cheesecake Bites! Crafted with a tantalizing spice cake mix, rich cream cheese, authentic pumpkin puree, and drizzled in creamy white chocolate – every morsel screams fall.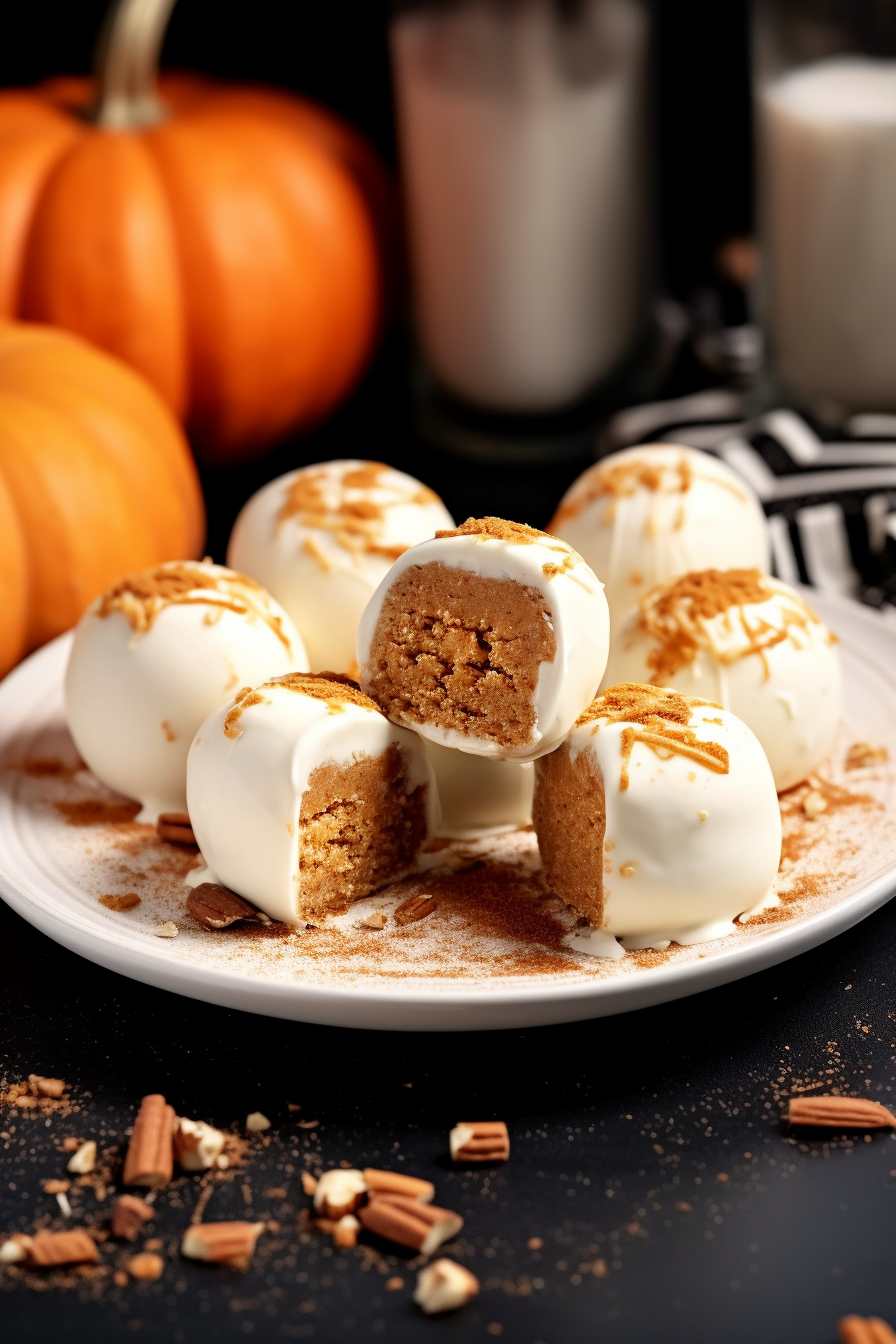 Ah, fall! A time of cozy sweaters, changing leaves, and all things pumpkin spice. The inspiration for these Pumpkin Spice Cheesecake Bites came from my childhood memories of munching on pumpkin pies while snuggling with my grandmother under a quilt. We'd chat about everything and nothing, but the one thing we agreed upon without fail was our love for pumpkin-flavored desserts. One year, I decided to surprise her with a bite-sized twist to our traditional pumpkin pie. These bites were an instant hit, not just with grandma, but with everyone who sampled them. They became our little secret – our fall bonding ritual. And today, I'm sharing that secret with you. Welcome to the family!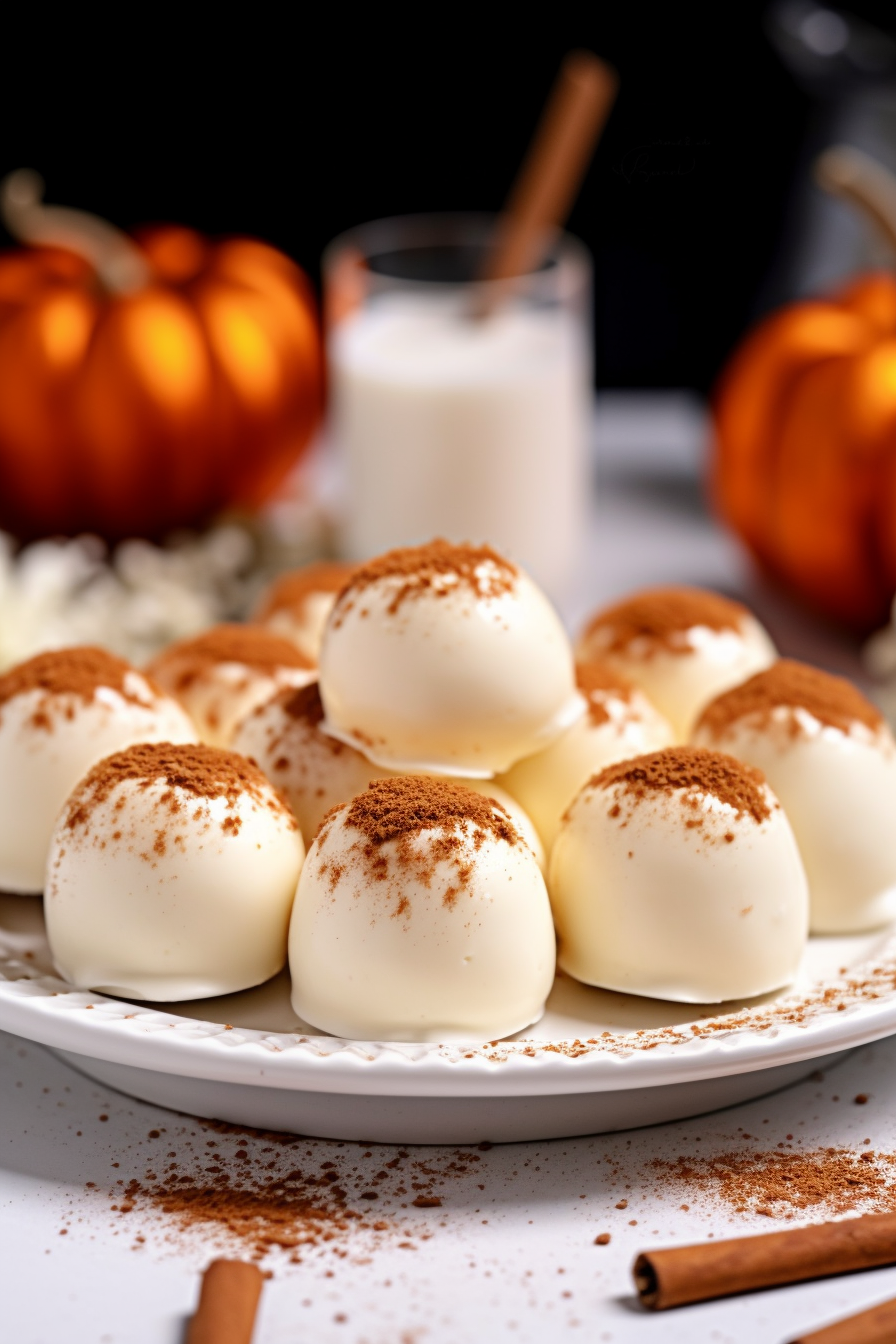 Why You'll Love Pumpkin Spice Cheesecake Bites:
These Pumpkin Spice Cheesecake Bites are a revolution in the world of desserts. Firstly, no oven, no fuss! We're making decadence simpler than ever. Secondly, these treats combine the warmth of the classic pumpkin spice with the irresistible creaminess of cheesecake, all wrapped up in a glossy white chocolate shell. Finally, they're perfectly portioned. Say goodbye to that guilt of eating "just one more slice" and enjoy bite after delightful bite.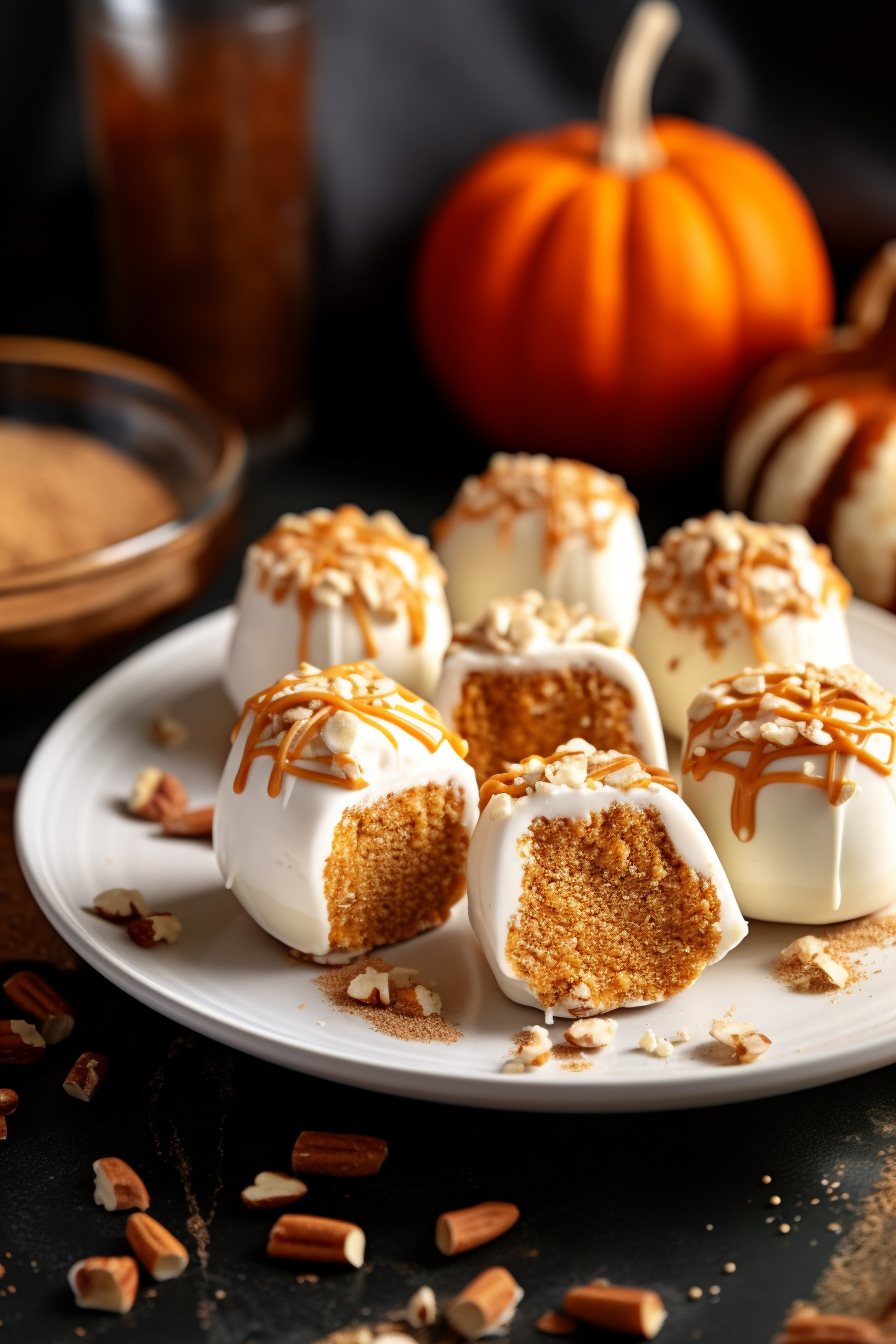 Ingredients Notes For Pumpkin Spice Cheesecake Bites:
Spice Cake Mix (Duncan Hines brand): This brand offers a beautiful blend of spices that balance well with the cheesecake, but feel free to use your favorite.
Full fat cream cheese: Always go full fat for the creamiest texture. Ensure it's softened for a smoother blend.
Pumpkin puree (Libby's brand): This brand is known for its pure, unadulterated pumpkin flavor. Ensure it's not pumpkin pie filling.
White chocolate almond bark: This provides a luscious coating. Opt for a good quality brand for a decadent finish.
Pumpkin pie spice: It's for garnish, but it's also that extra touch of fall on top!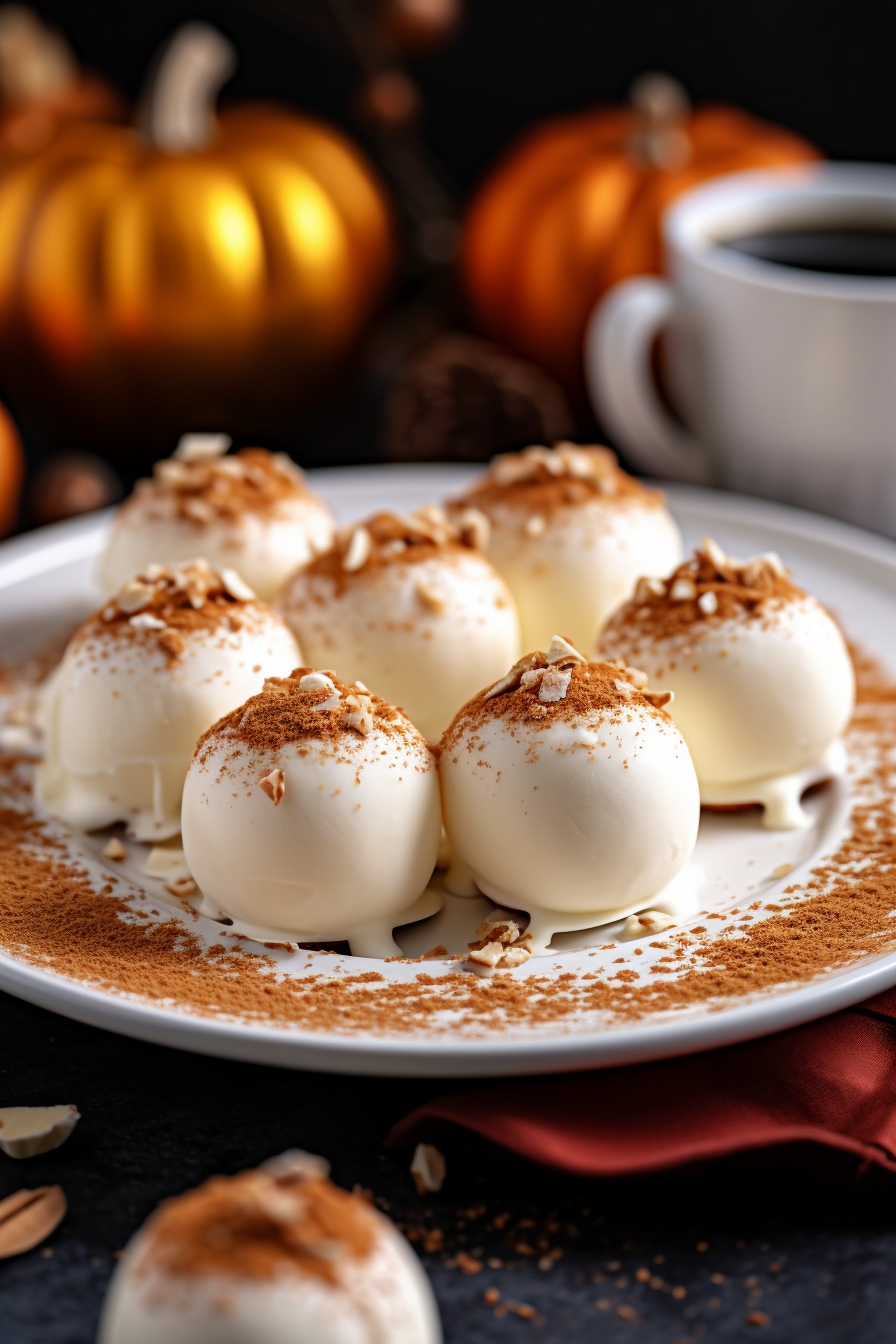 Clear, Easy-to-Follow Steps To Make Pumpkin Spice Cheesecake Bites:
Preliminary: Start by treating your dry spice cake mix. Spread it out in a heatproof bowl and microwave it in two 30-second intervals, stirring in between. This is crucial for food safety and to intensify the flavors. Let it cool entirely.
The Creamy Mixture: Grab another bowl and blend your softened cream cheese and pumpkin puree using a handheld mixer. Aim for a velvety consistency, and then introduce your cooled spice cake mix. Mix it up until you get a thick, uniform batter. Now, let this batter chill in the refrigerator for about 2 hours.
Formation Time: Paper up two baking trays. One for your freshly rolled cheesecake bites and the other for after they take a white chocolate bath. Use a tablespoon to scoop out the batter, roll it smoothly, and place it on the tray.
Chocolate Coating Magic: Melt the white chocolate almond bark in the microwave. Remember, patience is key. Use 30-second bursts and stir in between until silky smooth. Now, gently dunk each cheesecake ball into this white heaven. Ensure it's uniformly coated and then place it on the second tray.
Final Touch: A little sprinkle of pumpkin pie spice on top while the chocolate's still wet will make these bites not only taste but also look like fall!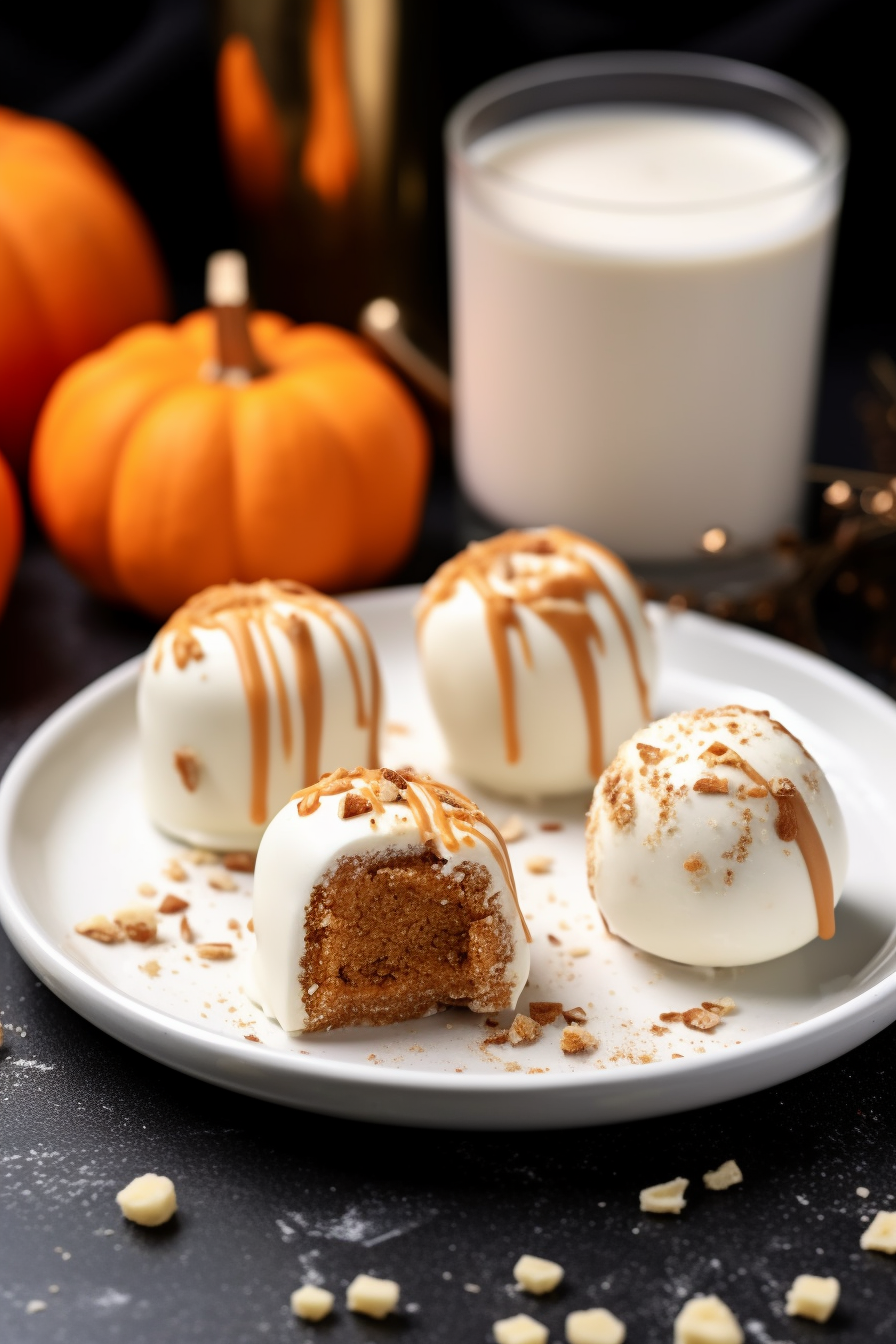 Storage Options:
Keep your Pumpkin Spice Cheesecake Bites in an airtight container in the refrigerator for up to a week. They taste even more heavenly when chilled! For a longer stash, you can freeze them. Just ensure they're separated by parchment paper layers to avoid them sticking together. When the pumpkin craving strikes, thaw them in the fridge.
Variations and Substitutions:
Feeling adventurous?
Swap out white chocolate for dark or milk chocolate for a twist.
For a nuttier profile, try adding crushed pecans or walnuts to the batter.
Not a fan of spice cake mix? Go with a vanilla or butter cake mix and amp up the pumpkin pie spice a bit.
Dairy-free? There are excellent vegan cream cheese options available in stores now. Likewise, opt for dairy-free chocolate for coating.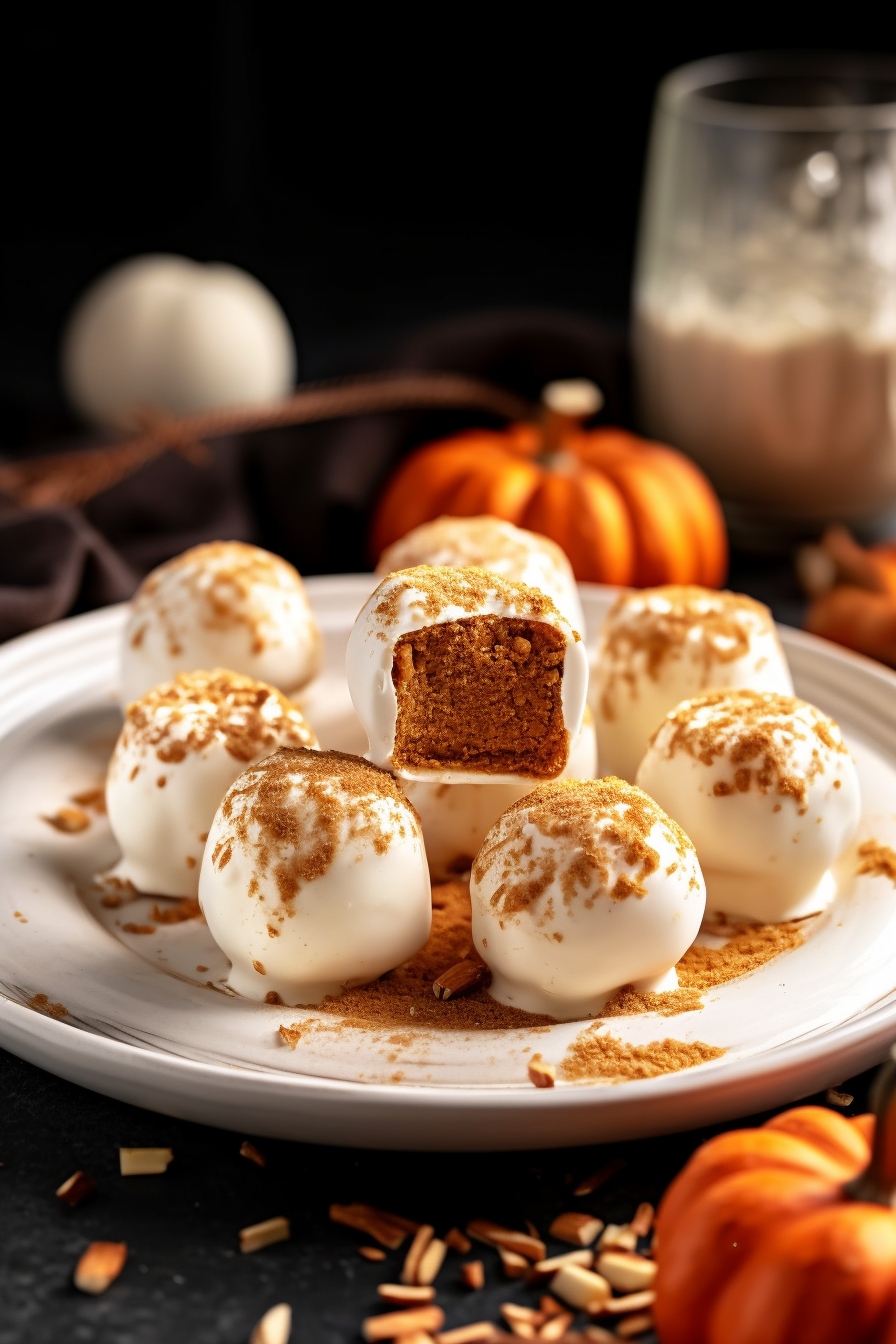 Remember, the heart of this recipe lies in the pumpkin spice. Everything else? It's your canvas. Paint it as you like! 😉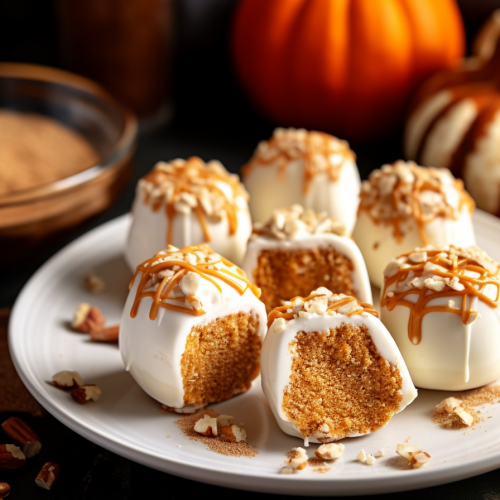 Pumpkin Spice Cheesecake Bites
Indulge in the autumnal magic with bite-sized Pumpkin Spice Cheesecake Bites! Crafted with a tantalizing spice cake mix, rich cream cheese, authentic pumpkin puree, and drizzled in creamy white chocolate – every morsel screams fall.
Print
Pin
Rate
Ingredients
15.25

ounces

of Duncan Hines Spice Cake Mix

6

ounces

of full-fat cream cheese

brought to room temperature

¼

cup

of Libby's brand pumpkin puree

10

ounces

of vanilla-flavored white chocolate almond bark

1

teaspoon

of pumpkin pie spice

intended for garnishing purposes
Instructions
Prior to integrating the spice cake mix into the cream cheese amalgamation, it is imperative to heat treat the dry cake mix. This can be accomplished by dispersing the mix into a medium-sized, heat-resistant bowl and subjecting it to microwaving in two intervals of 30 seconds each. After each interval, stir the mixture. Once done, allow the mix to reach room temperature before proceeding.

In a secondary medium-sized mixing vessel, combine the cream cheese that has been softened to room temperature with the pumpkin puree. Utilize a handheld electric mixer and mix at a medium-high velocity for approximately 1-2 minutes, ensuring a smooth and homogenized consistency.

To the aforementioned mixture, introduce the now cooled spice cake mix. Continue to blend on a medium-high speed until all components are thoroughly integrated. It should be noted that the resulting mixture will exhibit a thick consistency.

Cover the resultant mixture and refrigerate for a period of 2 hours.

Prepare two extensive baking trays by lining them with parchment paper.

With the aid of a 1-tablespoon measure, extract uniform amounts of the refrigerated mixture and shape them into spheres by rolling between the palms. Place these on one of the pre-prepared trays. Continue this process until all the mixture has been utilized.

For the coating, the white chocolate almond bark should be placed in a microwave-safe container and subjected to heat in intervals of 30 seconds. It's essential to stir the mixture between each heating phase until the chocolate has completely liquefied and exhibits a smooth texture. Alternatively, one may adhere to the specific melting guidelines provided on the packaging of the selected white chocolate almond bark.

Retrieve the tray with the shaped mixture from the refrigerator. Employing a fork, immerse each spherical shape into the molten white chocolate almond bark, ensuring a uniform coating. Once coated, allow the excess to drip off by tapping the fork gently against the bowl's rim.

Carefully transfer the coated entities onto the second parchment-lined tray. If required, a toothpick can assist in positioning the coated bites onto the tray.

While the white chocolate coating remains in a semi-liquid state, garnish each bite with a measured amount of pumpkin pie spice.

Allow sufficient time for the Pumpkin Spice Cheesecake Bites to solidify before serving or storing.