Experience the rich decadence of Snickers in a fudge format! Dive into a blend of semi-sweet chocolate chips, peanut butter, and caramels, highlighted by crunchy peanuts and a touch of marshmallow cream.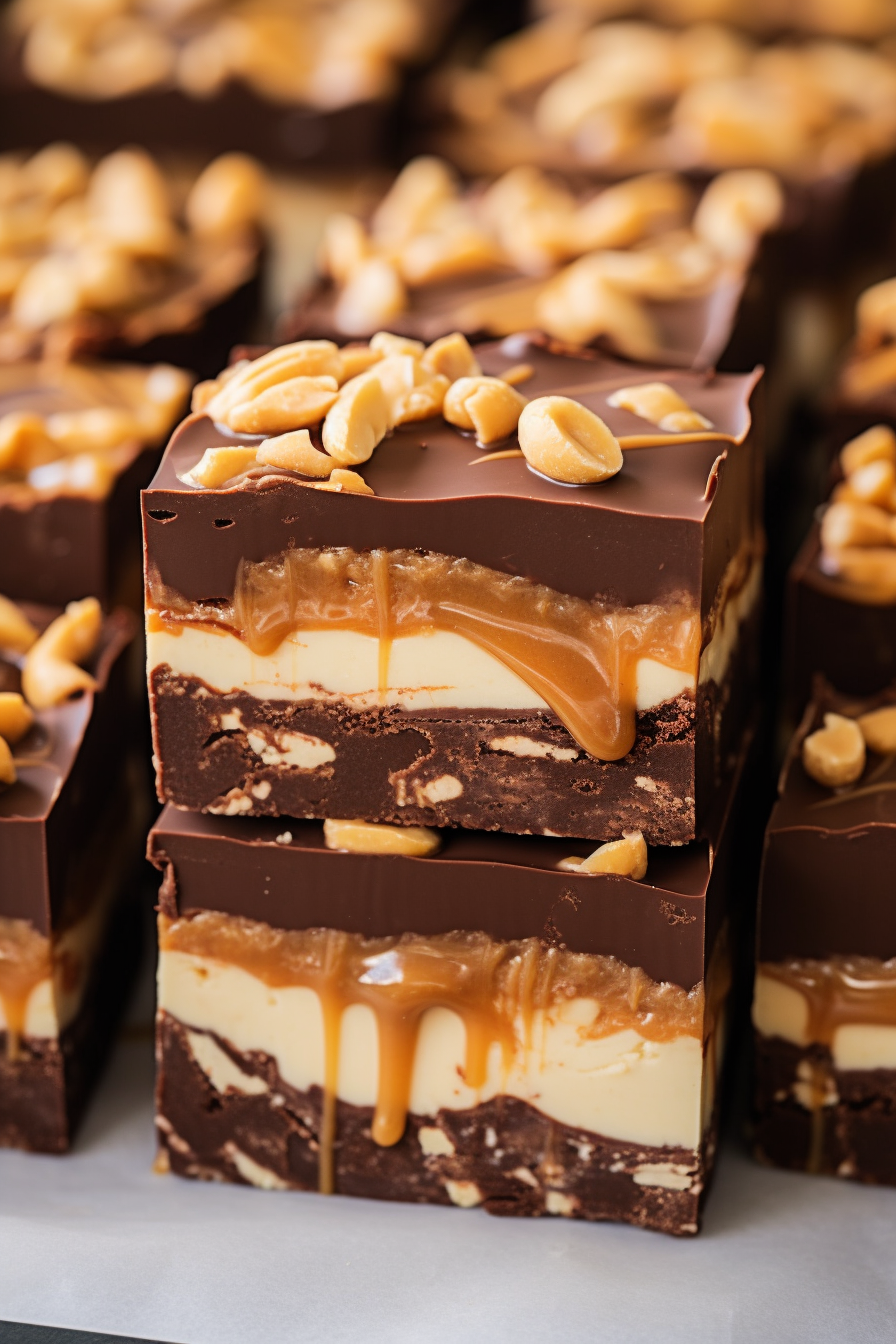 Let me paint you a picture: a young me, pocket money in hand, heading to the nearest candy store, eager for that singular treat – a Snickers bar. My childhood love for Snickers never waned. So you can imagine my unadulterated joy when I stumbled upon a way to morph my beloved candy bar into a sumptuous fudge! The first bite was nothing short of a nostalgic rollercoaster. It was the classic Snickers flavor, but richer, creamier, and oh so homemade. This recipe is more than just a sweet treat; it's a throwback to all those moments when a simple candy bar meant pure happiness.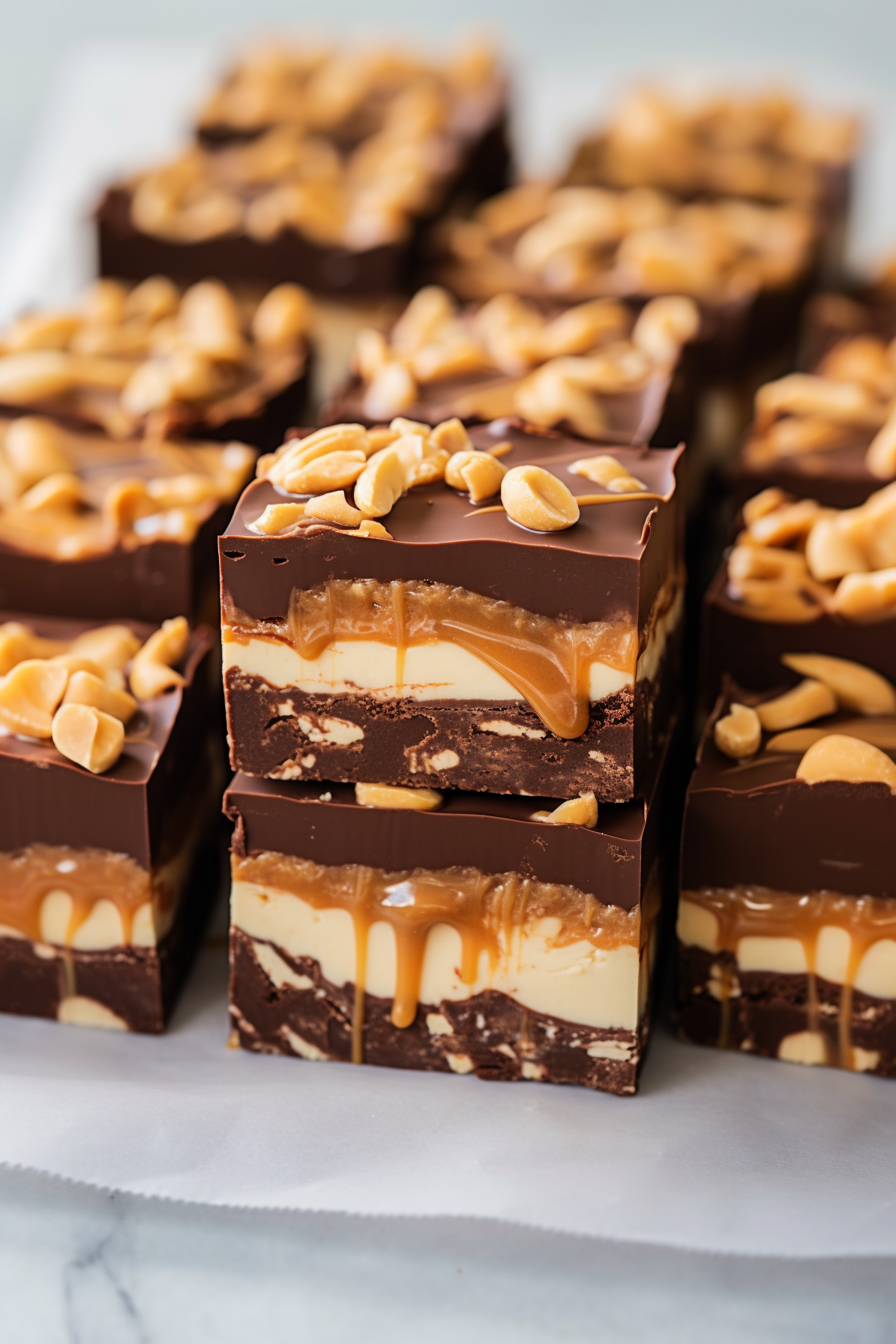 Why You'll Love Snickers Fudge:
Our Snickers Fudge is not your run-of-the-mill fudge. Here's why:
Decadently Snickers: It's almost as if the classic candy bar and fudge had a delicious baby!
Layered Delight: Each layer offers a different texture and taste explosion, from smooth chocolate to chewy caramel.
Homemade Goodness: No preservatives here! Just wholesome ingredients mixed with lots of love.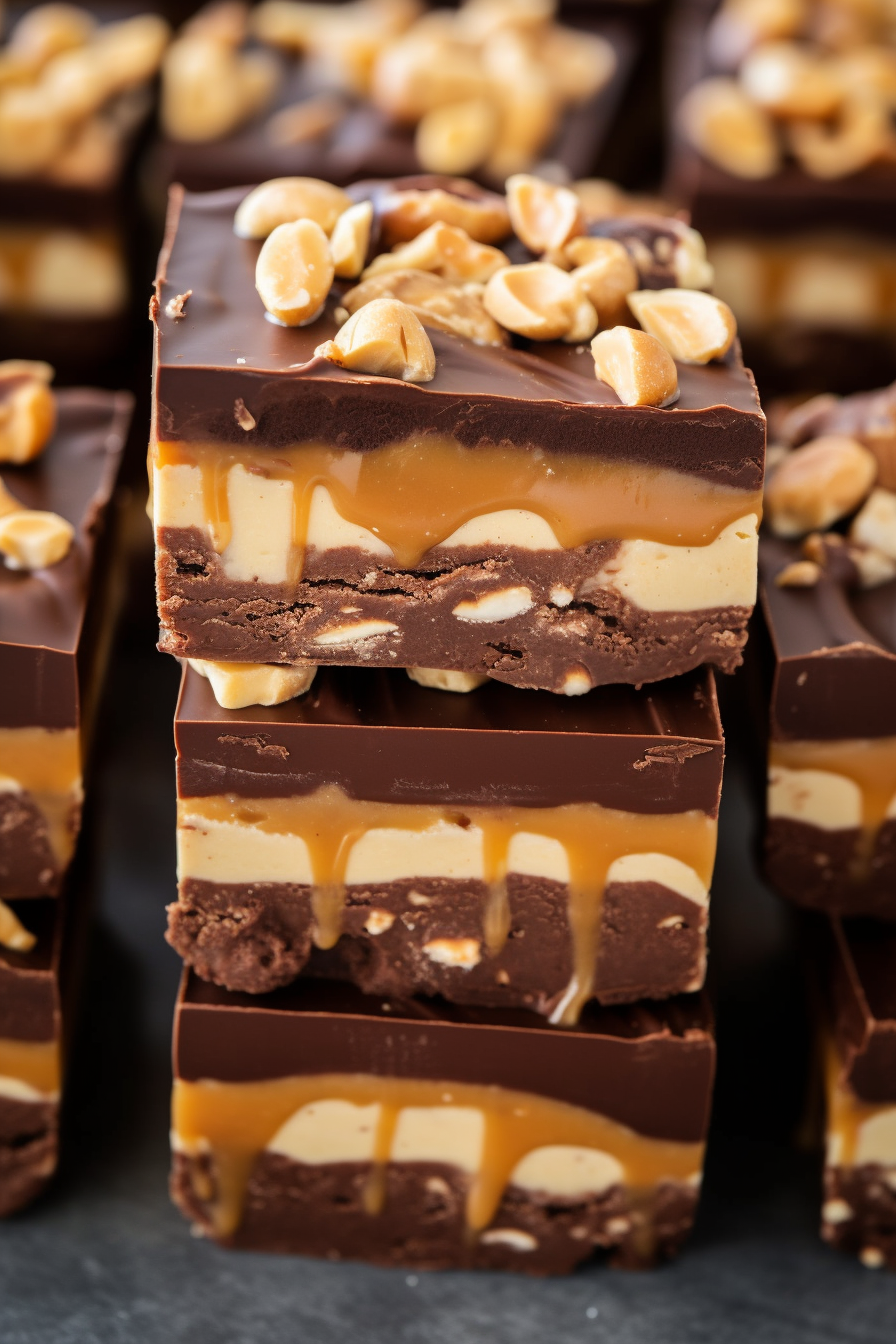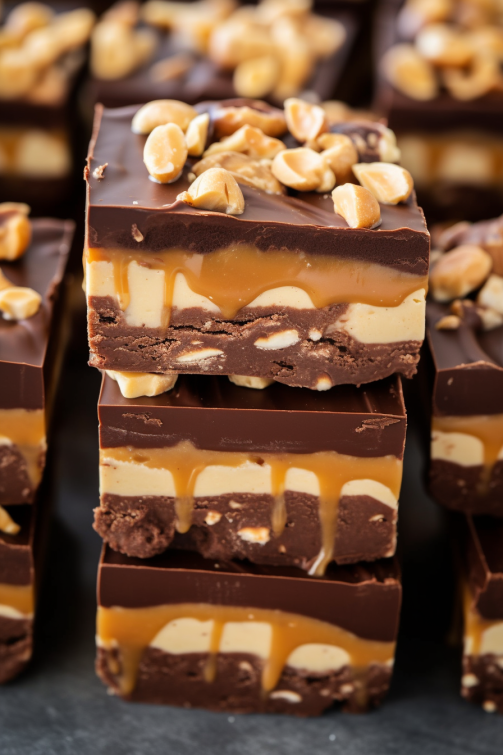 Ingredients Notes For Snickers Fudge:
Butterscotch/Peanut Butter Chips: Either can be used. Butterscotch will give a slightly sweeter kick, while peanut butter chips enhance the nutty depth.
Semi-Sweet Chocolate Chips: Provides the rich chocolatey base. If you're a dark chocolate fan, feel free to experiment with dark chocolate chips for a bittersweet edge!
Evaporated Milk: This isn't the same as condensed milk! It's unsweetened and gives the fudge its creamy texture.
Marshmallow Cream: This sneaky ingredient lends the fudge its velvety consistency and a touch of airy sweetness.
Clear, Easy-to-Follow Steps To Make Snickers Fudge:
FIRSTLY, grease that 9×13 baking pan and line with foil. No one wants their masterpiece sticking! In a microwave-safe bowl, mix chocolate chips, chosen butterscotch/peanut butter chips, and half of the peanut butter. Melt it with love (and a microwave), in short bursts. Once it's all gooey, spread half of it onto your prepared pan. Pop that baby into the fridge.
MOVING ONTO THE SECOND ACT, we're going to concoct a dreamy mixture. Grab a saucepan and mix butter, sugar, and evaporated milk. Keep simmering until you see the sugar dissolve. Boil this mix briefly, then off the heat, fold in the marshmallow cream, remaining peanut butter, and those crunchy peanuts. Layer this over your chilling chocolate base and back into the fridge it goes.
THIRDLY, the caramel layer awaits. Unwrap those golden nuggets (caramels) and toss them into a microwave-safe bowl with a splash of water. Melt until it's pourable, not like a river, but like gooey lava. If your remaining chocolate-peanut butter mix decides to be stubborn and harden, gently reheat it.
FINALLY, pour the warmed chocolate mix over the caramel layer. Smooth it out like you're icing a cake. Into the fridge it goes, one last time. Once everything's set, lift it out, chop into delightful squares, pop them into mini muffin papers, and voila! Snickers Fudge, ready for devouring.
Storage Options:
The best way to store your Snickers Fudge (if it lasts that long) is in an airtight container in the fridge for up to 2 weeks. For an even longer shelf life, you can freeze it. Just make sure to separate layers with parchment paper so they don't become a giant fudge monolith.
Variations and Substitutions:
Feeling experimental? Here are some fun twists:
Nutty Choices: Swap out peanuts for almonds or pecans.
Chocolate Varieties: Dark chocolate chips or even white chocolate chips can add a new dimension.
Salted Caramel: Add a pinch of sea salt to your caramel for a salty-sweet profile.
Vegan Version: Use vegan chocolate, dairy-free evaporated milk, and vegan marshmallow fluff. Swap caramels with a vegan alternative.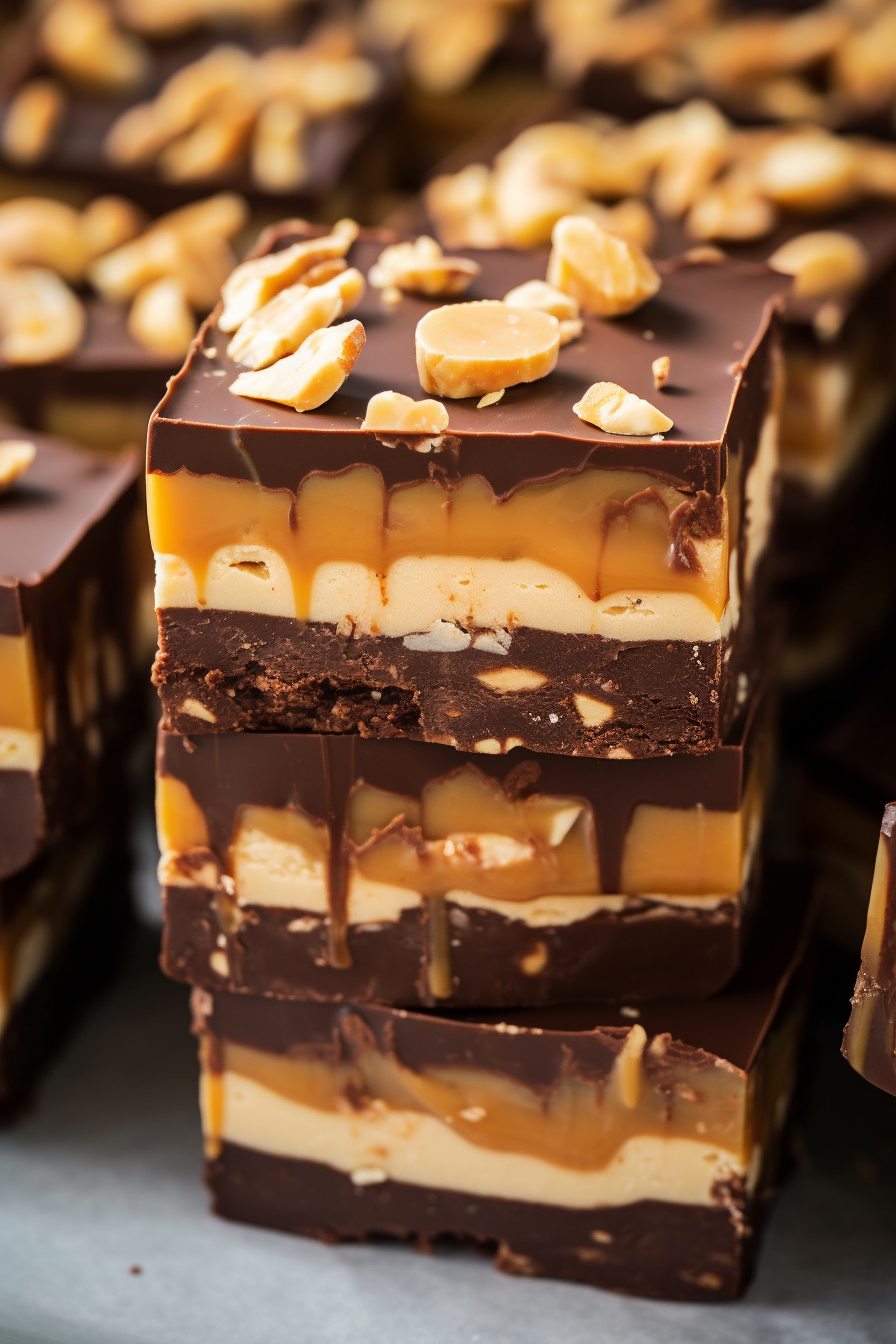 Hope you enjoy making (and eating) this as much as I did! Remember, life's short; eat the fudge first! 😉🍫🥜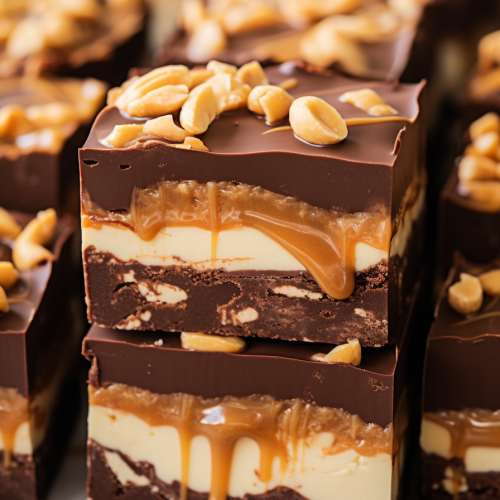 Snickers Fudge
Experience the rich decadence of Snickers in a fudge format! Dive into a blend of semi-sweet chocolate chips, peanut butter, and caramels, highlighted by crunchy peanuts and a touch of marshmallow cream.
Print
Pin
Rate
Ingredients
⅓

cup

butterscotch or peanut butter chips

3

cups

semi-sweet chocolate chips

⅔

cup

peanut butter

divided

¼

cup

evaporated milk

1

cup

granulated sugar

½

stick butter

1 ½

cups

marshmallow cream

1

tsp

vanilla extract

1

package caramels

1.5

cups

salted peanuts
Instructions
Step One:
Thoroughly prepare a 9×13 baking pan by lining it with aluminum foil. Ensure the foil is applied smoothly and then spray with a non-stick cooking spray.

In a microwave-safe bowl, combine the chocolate chips, either the butterscotch or peanut butter chips, and half of the divided peanut butter.

Utilize a microwave to melt the ingredients. Do this by heating them in 30-second intervals, stirring in between, until a smooth mixture is achieved.
Step Two:
Transfer half of the melted mixture into the previously prepared baking pan, ensuring an even layer.

Once spread, refrigerate the pan to allow the layer to set while preparing the next layer.
Step Three:
In a medium-sized saucepan, combine butter, sugar, and evaporated milk.

Place over medium heat, stirring occasionally until the sugar has fully dissolved and the butter is completely melted.

Allow the mixture to come to a boil, maintaining the boil for 5 minutes.

After boiling, remove from heat and incorporate the marshmallow cream, the remaining peanut butter, and the salted peanuts, ensuring a consistent mixture.
Step Four:
Pour the recently prepared mixture over the set chocolate layer in the baking pan, ensuring an even spread.

Return the baking pan to the refrigerator, allowing the newly added layer to solidify.
Step Five:
Unpack the caramels and place them into a separate microwave-safe bowl, adding 1 tablespoon of water.

Melt the caramels in the microwave, checking and stirring periodically. If the caramels are too thick, introduce water in small increments until the desired consistency is achieved.

If the reserved chocolate and peanut butter mixture has solidified, it may be necessary to gently reheat it in the microwave to regain a malleable consistency.

Once reheated, pour this mixture over the caramel layer in the baking pan and spread evenly.
Step Six:
For the final time, place the baking pan in the refrigerator to allow the entire composition to solidify.

Once set, use the foil to carefully lift the fudge out of the pan.

Using a sharp knife, divide the fudge into uniform 1-inch squares.

Optionally, these squares can be placed into mini muffin papers for presentation.

Serve as desired.