Indulge in the perfect fall treat with this Pumpkin Whoopie Pies recipe, featuring fluffy pumpkin cookies and luscious maple cream cheese frosting. Key ingredients include pumpkin puree, spices, flour, sugars, butter, and cream cheese.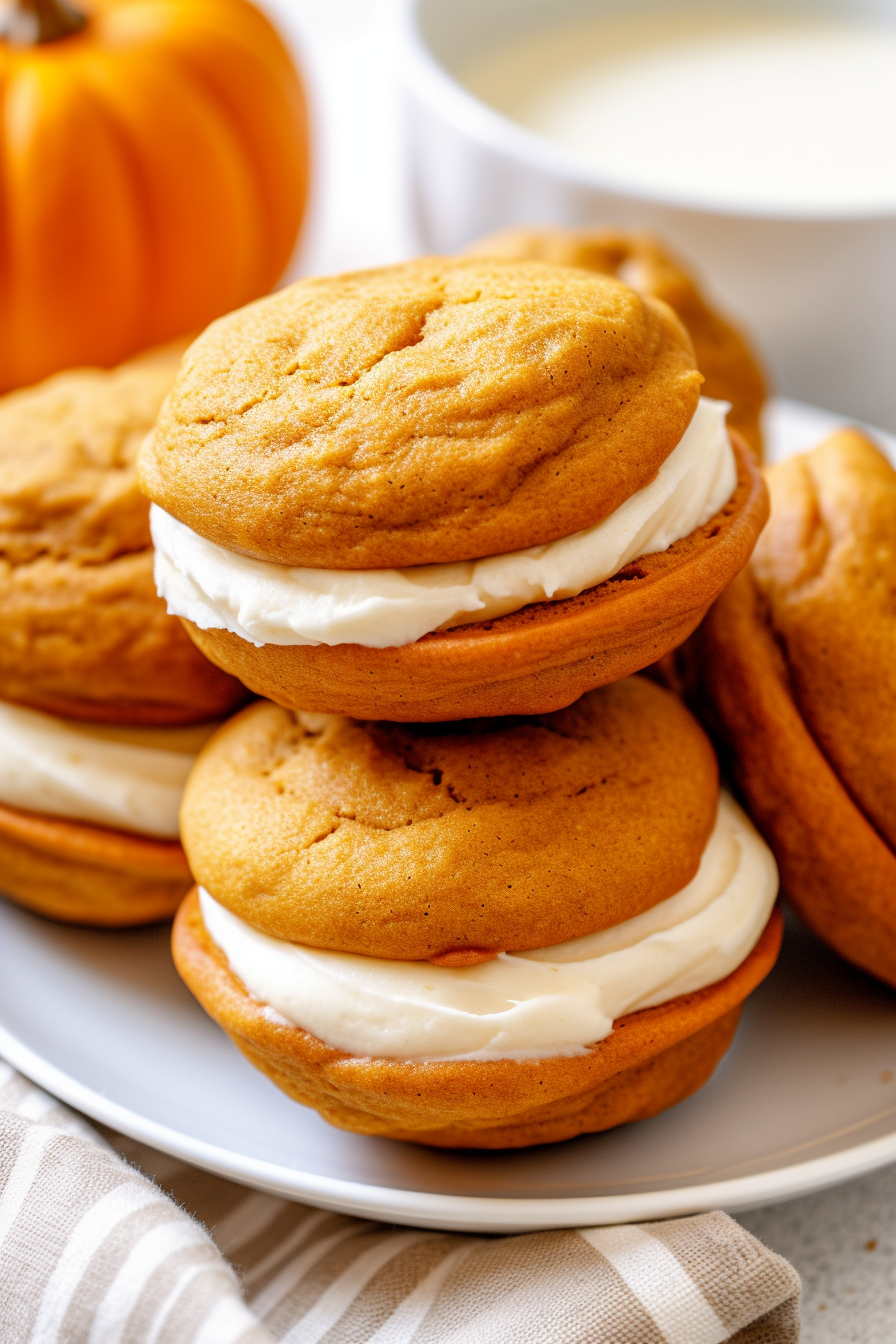 Ah, Pumpkin Whoopie Pies! Every bite takes me back to my grandmother's cozy kitchen in New England, where the sweet aroma of pumpkin and spices filled the air each fall. She'd let me help, my tiny hands clumsily mixing the dough while she shared stories of her own childhood. These whoopie pies became more than just a recipe; they were a bridge between generations, a blend of tradition and my own modern twist. Now, whenever I whisk together pumpkin puree and spices, I feel her loving presence guiding me. It's not just about baking; it's about reliving cherished memories and creating new ones, one whoopie pie at a time.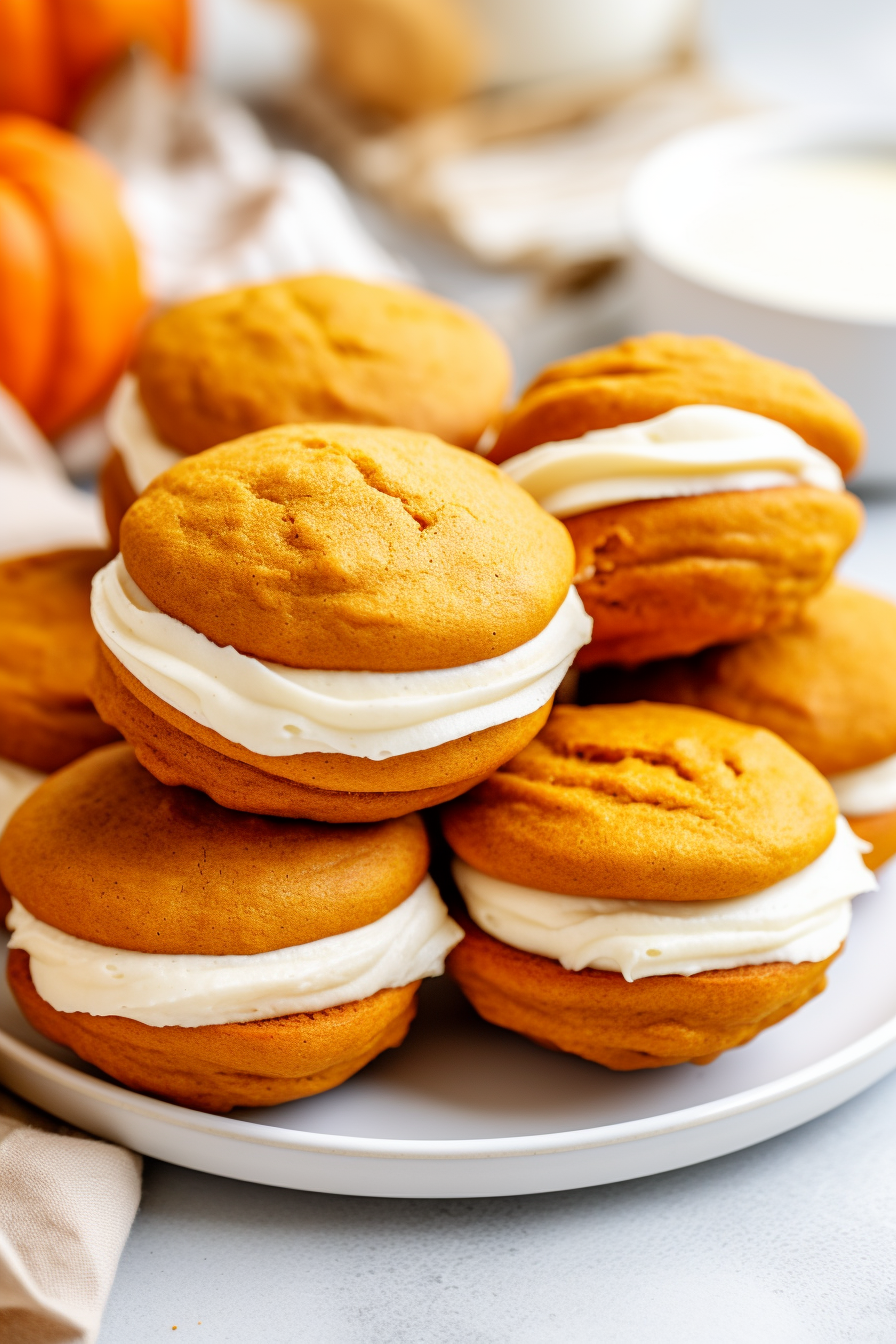 Why You'll Love Pumpkin Whoopie Pies
Seasonal Delight: This recipe perfectly captures the essence of fall with its pumpkin and spice blend, making it ideal for seasonal gatherings.
Maple Cream Cheese Frosting: The unique addition of maple syrup to the cream cheese frosting offers a delightful twist, enhancing the overall flavor profile.
Texture and Taste: The combination of moist, fluffy cookies with the rich, creamy frosting creates a harmonious balance of textures and tastes.
Versatility: These whoopie pies are fantastic for various occasions, from casual get-togethers to festive celebrations.
Nostalgic Charm: Evoking memories of classic New England desserts, this recipe carries a comforting, nostalgic appeal.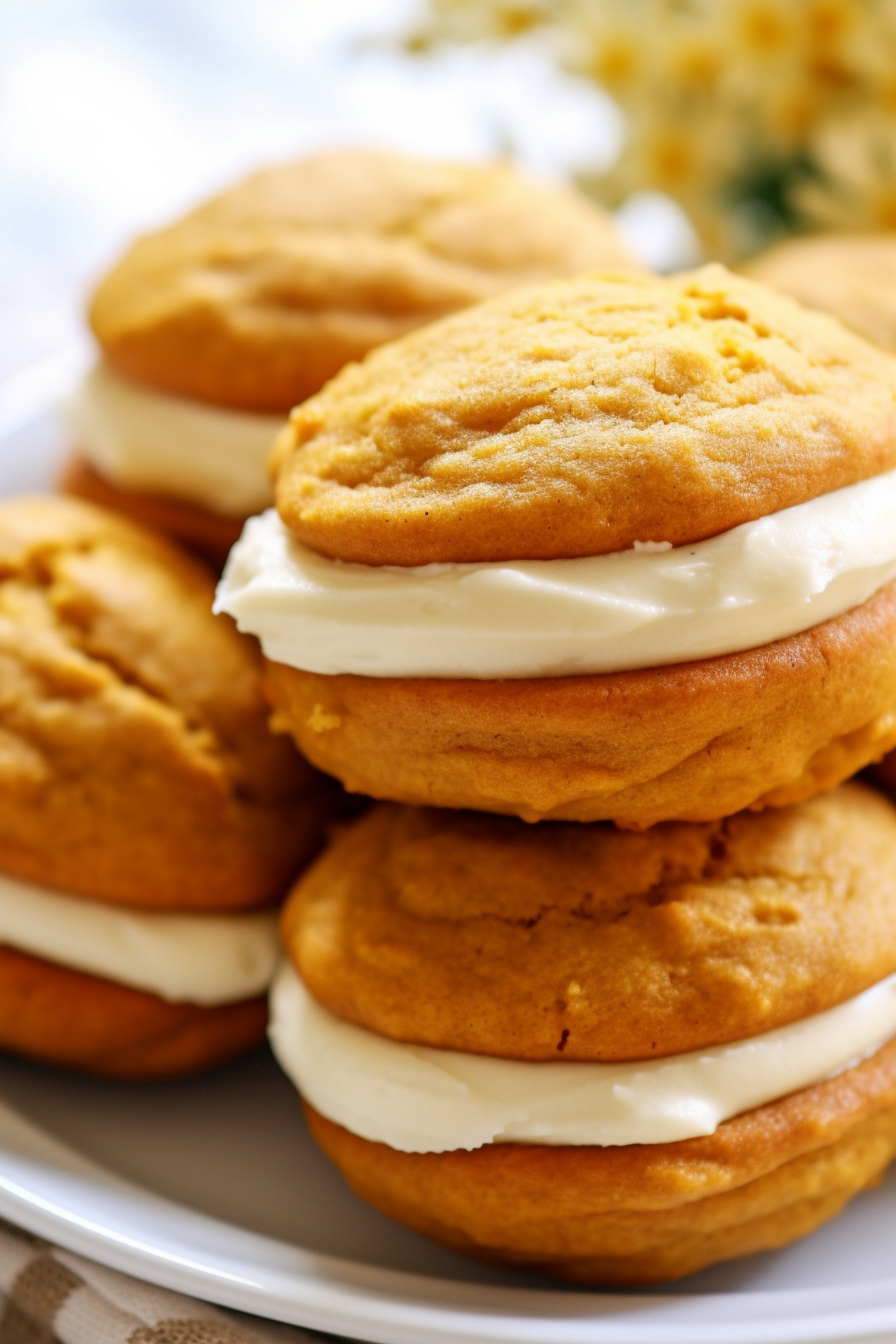 Ingredients Notes For Pumpkin Whoopie Pies
Embark on a delightful baking journey with these key ingredients for Pumpkin Whoopie Pies! Let's break down their roles and see how each contributes to making this treat a fall favorite.
All-Purpose Flour: The foundation of our whoopie pies, giving them structure and body. It's like the canvas for our pumpkin masterpiece!
Salt, Baking Soda, Baking Powder: These are the rising stars (quite literally!) of our recipe. They work behind the scenes to give our cookies that perfect rise and fluffiness.
Pumpkin Pie Spice: The essence of fall, this spice blend infuses our pies with warmth and depth. It's the soul of our recipe, bringing in those cozy autumn vibes.
Granulated Sugar & Dark Brown Sugar: These sweet partners contribute depth and a caramel-like richness, balancing the flavors. They're like the sweet whispers in the background, enhancing every bite.
Vegetable Oil: Our secret to super moist cookies. It ensures that every bite is as tender as a leaf falling on a crisp autumn day.
Pumpkin Puree: The star of the show! This brings the unmistakable pumpkin flavor that makes these whoopie pies a seasonal delight.
Eggs & Vanilla Extract: The binders and flavor enhancers. They unify all the flavors, adding that extra oomph to make the cookies truly irresistible.
For the Frosting:

Powdered Sugar: It's all about sweetness and texture, creating a smooth and spreadable frosting.
Unsalted Butter & Cream Cheese: These bring richness and creaminess, forming the perfect base for our frosting.
Maple Syrup: A touch of woodsy sweetness that sets this frosting apart from the rest. It's like drizzling a bit of fall magic on top.
Vanilla Extract: Adds a hint of classic flavor, complementing the maple and creating a symphony of tastes.
Each ingredient in this recipe is carefully chosen to create a harmonious balance, resulting in a treat that's not just delicious, but a celebration of autumn itself! 🍁🥧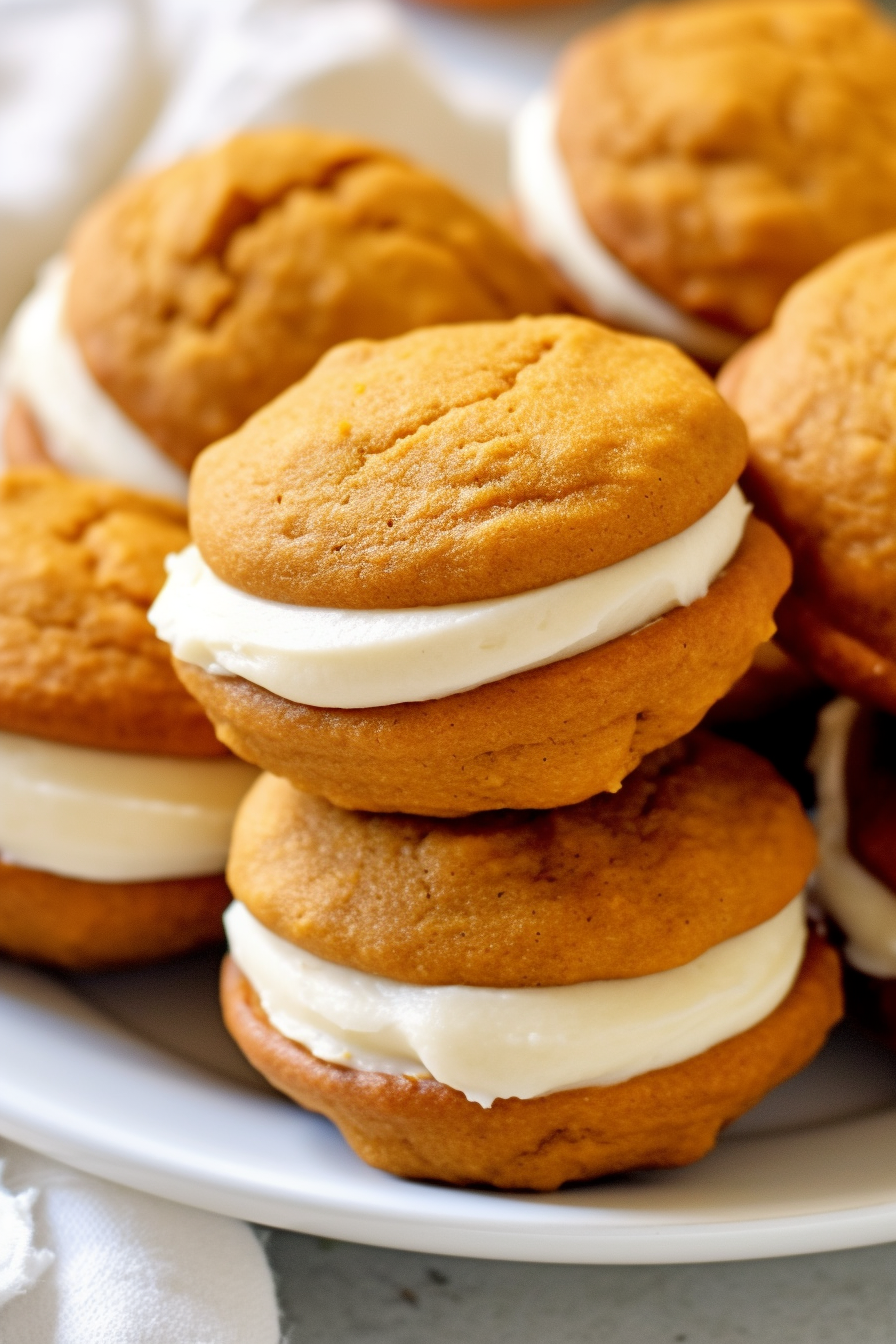 How To Make Pumpkin Whoopie Pies
Ready to make your kitchen smell like a cozy autumn afternoon? Let's bake some Pumpkin Whoopie Pies! This recipe combines the classic whoopie pie texture with a delightful pumpkin twist, enveloped in a maple cream cheese frosting that's to die for. Follow these steps to ensure your whoopie pies turn out perfectly.
Preparation: Start your baking adventure by preheating your oven to 350°F and lining your baking sheets with parchment paper or silicone mats. This is crucial for ensuring your cookies don't stick and bake evenly.
Mix Dry Ingredients: Whisk together your flour, salt, baking soda, baking powder, and pumpkin pie spice. This step is all about getting these dry ingredients well acquainted, setting the stage for a well-mixed cookie dough.
Combine Sugars and Wet Ingredients: In a separate bowl, create a harmonious mixture of sugars, oil, pumpkin puree, eggs, and vanilla extract. This is where the wet ingredients join forces, ready to mingle with the dry mix.
Combine Wet and Dry Mixtures: Gently fold the flour mixture into the pumpkin mixture. This step is key – mix until just combined to avoid overworking the dough, which can lead to tough cookies.
Scoop and Bake: Using a cookie scoop, place dough on the baking sheets, leaving space for spreading. Bake each sheet separately for 10-12 minutes. Remember, patience is a virtue here – don't open the oven door too often!
Cooling Time: Let the cookies cool on the pan for a bit before transferring them to wire racks. This step is crucial for texture perfection.
Frosting Preparation: Beat butter, cream cheese, powdered sugar, maple syrup, and vanilla until smooth. The key here is to achieve a creamy, spreadable consistency.
Assembling Whoopie Pies: Match cookies of similar size, and pipe the frosting on one, then gently sandwich with another. This is where your whoopie pies come to life!
Final Touch: If you're using sprinkles, now's the time to add that festive touch.
Chill Before Serving: Pop them in the fridge for a bit. This helps the frosting set and flavors meld.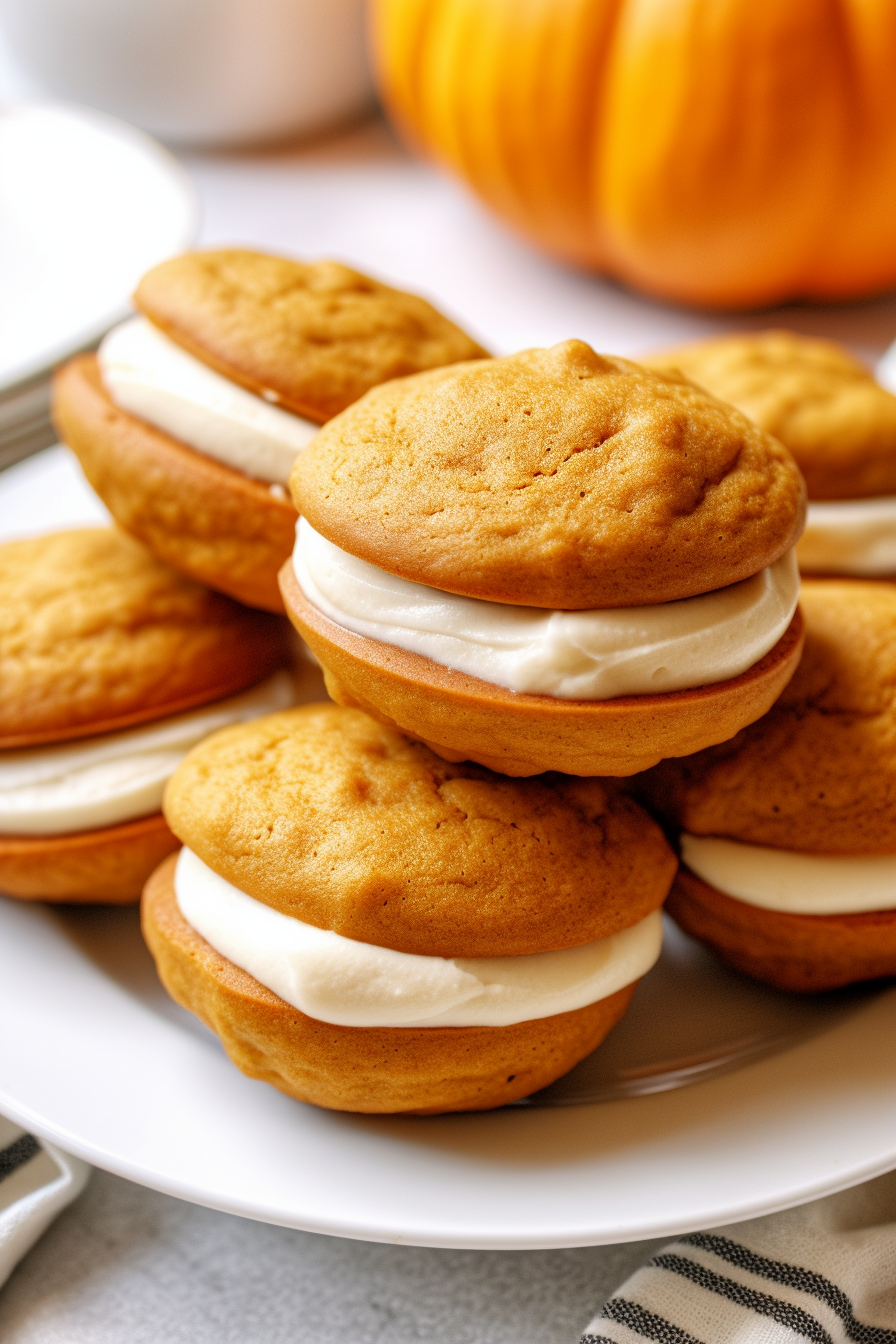 Storage Options
After you've enjoyed these delightful Pumpkin Whoopie Pies, storing them properly is key to maintaining their freshness. You can keep them in an airtight container in the refrigerator for up to 5 days. This helps keep the frosting firm and the cookies moist. If you're thinking long-term, these whoopie pies can be frozen. Wrap them individually in plastic wrap and place them in a freezer-safe bag or container. They can be frozen for up to 3 months. When you're ready to enjoy them again, just thaw them in the refrigerator overnight or at room temperature for a few hours.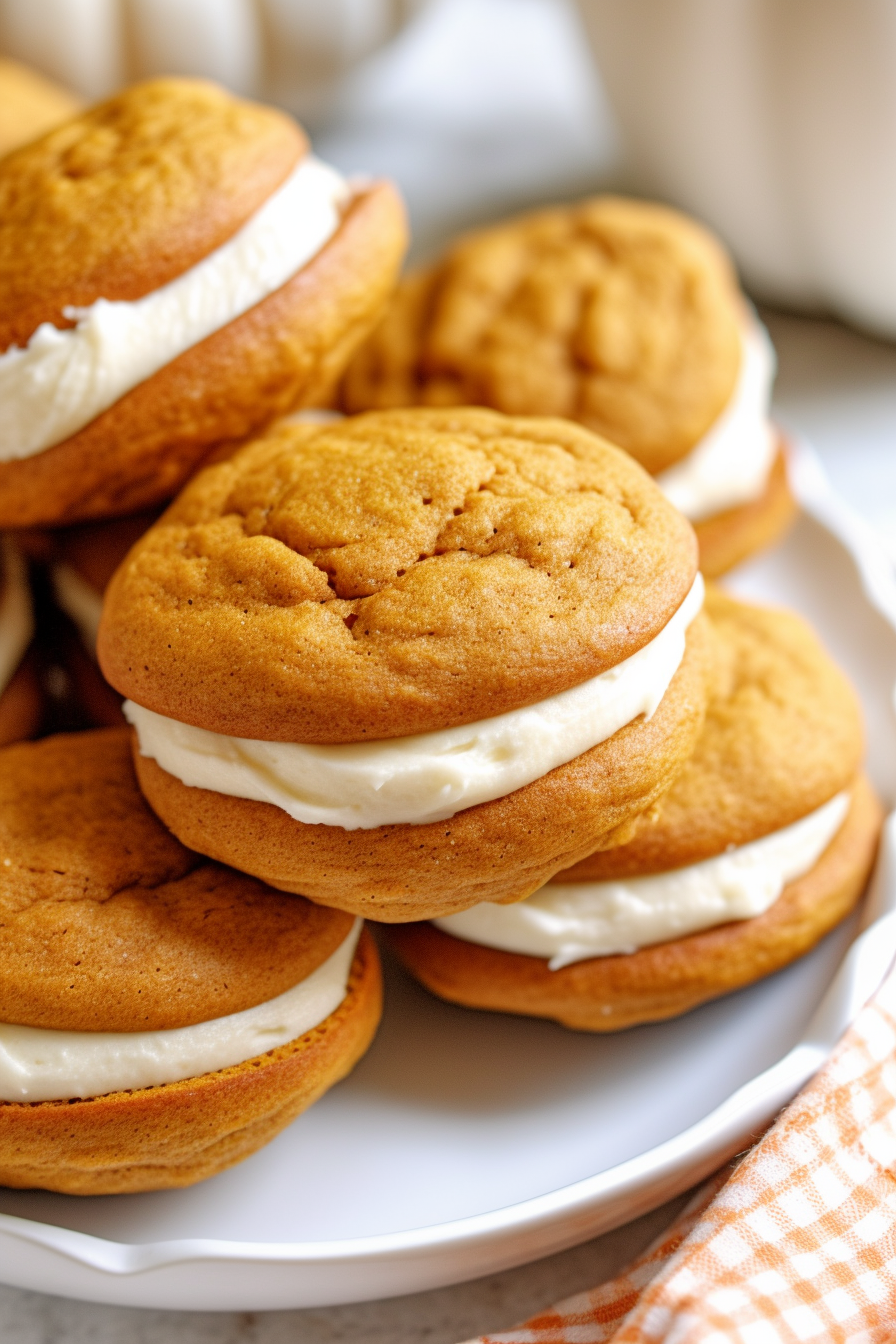 Variations and Substitutions
Gluten-Free Adaptation: Swap out the all-purpose flour with a gluten-free flour blend to cater to those with gluten sensitivities.
Vegan Version: Use vegan cream cheese and butter for the frosting, and replace the eggs in the cookie recipe with a vegan alternative like apple sauce or a commercial egg replacer.
Spice It Up: Feel free to adjust the amount of pumpkin pie spice, or add a pinch of cinnamon or nutmeg for an extra kick.
Sugar Alternatives: If you prefer, you can use coconut sugar or a sugar substitute that measures like sugar for a different take on sweetness.
Oil Options: If vegetable oil isn't your thing, try using melted coconut oil or another neutral oil as a substitute.
Frosting Flavors: If maple isn't your cup of tea, vanilla or cinnamon cream cheese frosting can be delightful alternatives.
Decorative Touches: Go beyond sprinkles! Try chopped nuts, a drizzle of caramel, or a sprinkle of sea salt for a gourmet touch.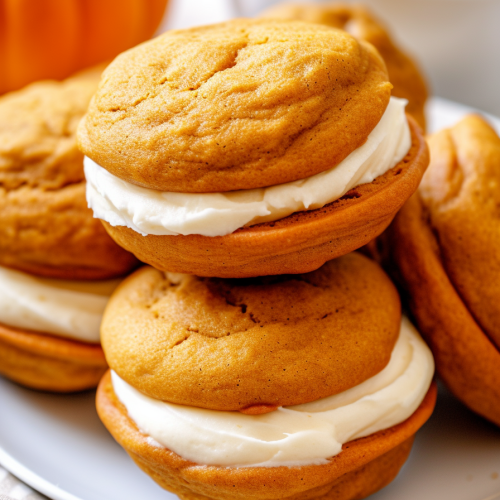 Pumpkin Whoopie Pies
Indulge in the perfect fall treat with this Pumpkin Whoopie Pies recipe, featuring fluffy pumpkin cookies and luscious maple cream cheese frosting. Key ingredients include pumpkin puree, spices, flour, sugars, butter, and cream cheese.
Print
Pin
Rate
Ingredients
For Pumpkin Cookies:
3

cups

All-Purpose Flour

1

teaspoon

Salt

1

teaspoon

Baking Soda

1

teaspoon

Baking Powder

2 ½

Tablespoons

Pumpkin Pie Spice

1

cup

Granulated Sugar

1

cup

Dark Brown Sugar

firmly packed

1

cup

Vegetable Oil

3

cups

Chilled Pumpkin Puree

2

Large Eggs

1

teaspoon

Vanilla Extract
For Maple Cream Cheese Frosting:
3

cups

Powdered Sugar

½

cup

Unsalted Butter

at room temperature

8

ounces

Cream Cheese

at room temperature

3

Tablespoons

Maple Syrup

1

teaspoon

Vanilla Extract

Optional: Sprinkles or Jimmies for garnish
Instructions
Preparation of Pumpkin Cookies:
Oven Preparation and Baking Sheets: Adjust the oven rack to the middle position. Preheat the oven to 350° F (175° C). Line two baking sheets with parchment paper or silicone baking mats.

Dry Ingredients Mixture: In a large bowl, thoroughly whisk together the all-purpose flour, salt, baking soda, baking powder, and pumpkin pie spice. Set aside.

Wet Ingredients Mixture: In a separate large bowl, vigorously whisk together the granulated sugar, dark brown sugar, and vegetable oil. Add the chilled pumpkin puree to this mixture and whisk until thoroughly combined. Incorporate the eggs and vanilla extract, continuing to whisk until fully combined.

Combining Mixtures: Gently sprinkle the flour mixture over the pumpkin mixture. Whisk until the mixture is completely homogeneous and no streaks of flour remain.

Forming Cookies: Utilize a cookie scoop (1.5-2 tablespoons capacity) to portion the dough onto the prepared baking sheets, spacing them approximately 1 inch apart.

Baking Process: Bake the cookies, one sheet at a time, for 10-12 minutes, or until a toothpick inserted into the center of a cookie comes out clean.

Cooling: Remove from the oven and allow to cool on the pan for about 10 minutes. Subsequently, transfer the cookies to wire racks to cool completely. Repeat this process with the remaining dough.
Preparation of Maple Cream Cheese Frosting:
Creaming Butter: In the bowl of an electric mixer fitted with the paddle attachment, beat the unsalted butter until smooth and devoid of visible lumps.

Frosting Mixture: Add the cream cheese to the butter and beat until combined. Incorporate the powdered sugar, maple syrup, and vanilla extract, beating until the mixture is smooth. Avoid overbeating the frosting to prevent it from becoming too thin. If necessary, refrigerate the frosting for approximately 30 minutes to firm up.
Assembly of Whoopie Pies:
Filling: Turn half of the cooled cookies upside down. Pipe the frosting onto the flat side of these cookies.

Sandwich Formation: Place another cookie, flat side down, atop the frosting of each filled cookie. Apply gentle pressure to ensure the filling spreads to the edges of the cookies.

Garnishing (Optional): If using sprinkles or jimmies for garnish, apply them around the edge of the filling.

Finalizing: Refrigerate the whoopie pies for at least 1 hour before serving to allow the flavors to meld and the frosting to set.