Succulent ground beef, sweet onions, and green bell peppers come together, gloriously topped with a golden layer of provolone cheese, all resting on a soft, warm Bisquick base. This Philly Cheesesteak Casserole isn't just a meal; it's an experience waiting to grace your dinner table.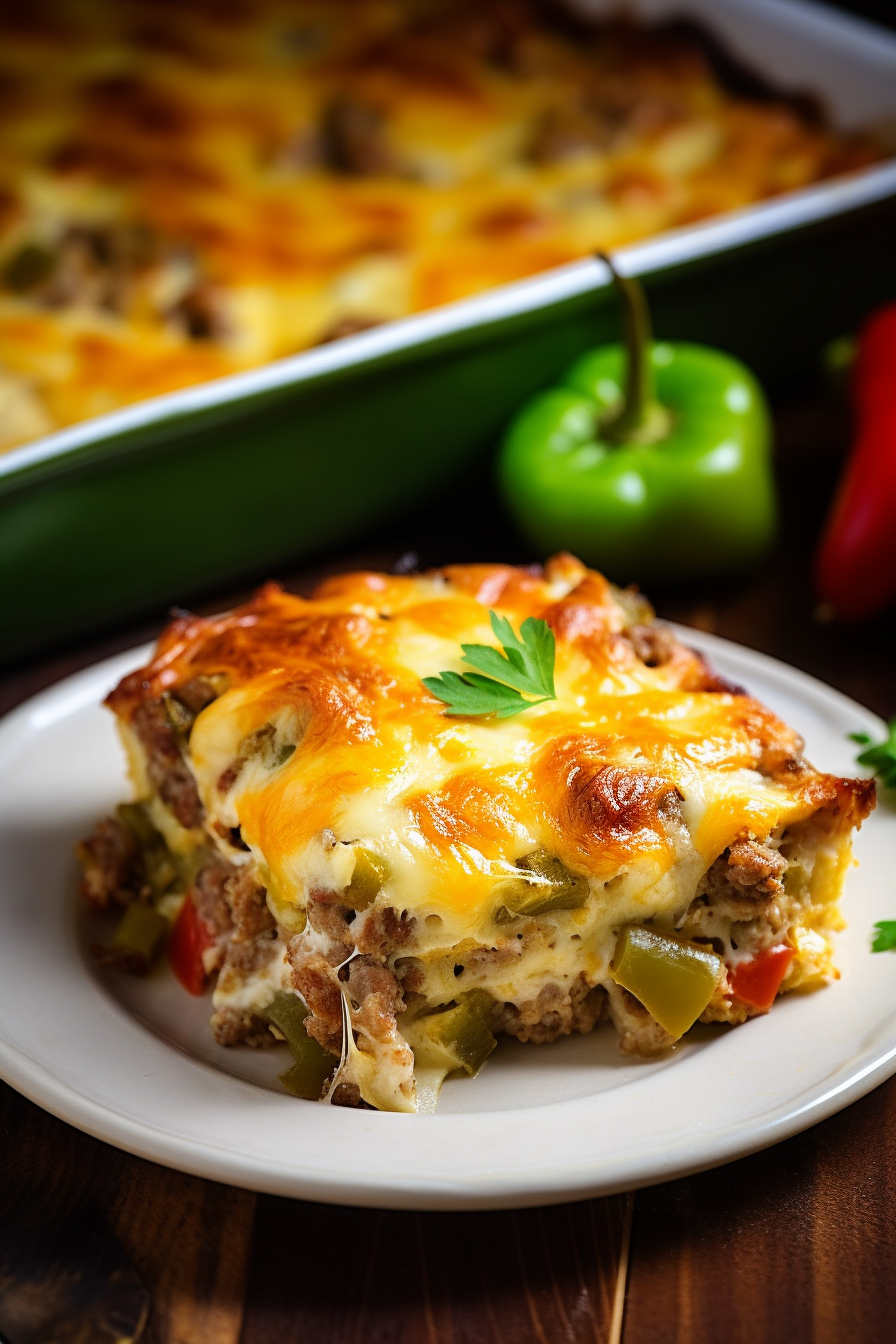 Oh, where do I begin, my dear food enthusiasts? Every bite of this Philly Cheesesteak Casserole is like a jaunt down the cobblestone streets of Philadelphia, the city of brotherly love. One fine evening, nostalgia struck – a reminiscence of those lip-smacking, juicy Philly cheesesteaks. However, the universe had an interesting twist in store! Not the kind that makes you question your life choices, but one that nudges innovation.
It all unfolded in my cozy kitchen, amidst the intoxicating aroma of sweet onions and green bell peppers sautéing, marrying their flavors. Every sizzle echoed the hustle and bustle of Philly's iconic streets. The Bisquick layer? Oh, that was the canvas where this artistry was painted, a base as iconic as the Liberty Bell. Each layer of provolone cheese was like the warm hug of an old friend, golden, inviting, and oh-so-comforting. Thus, a masterpiece, or shall I say, a "meatsterpiece", was born. This, my friends, is not just a casserole – it's a heartfelt ode to Philly, from my kitchen to yours.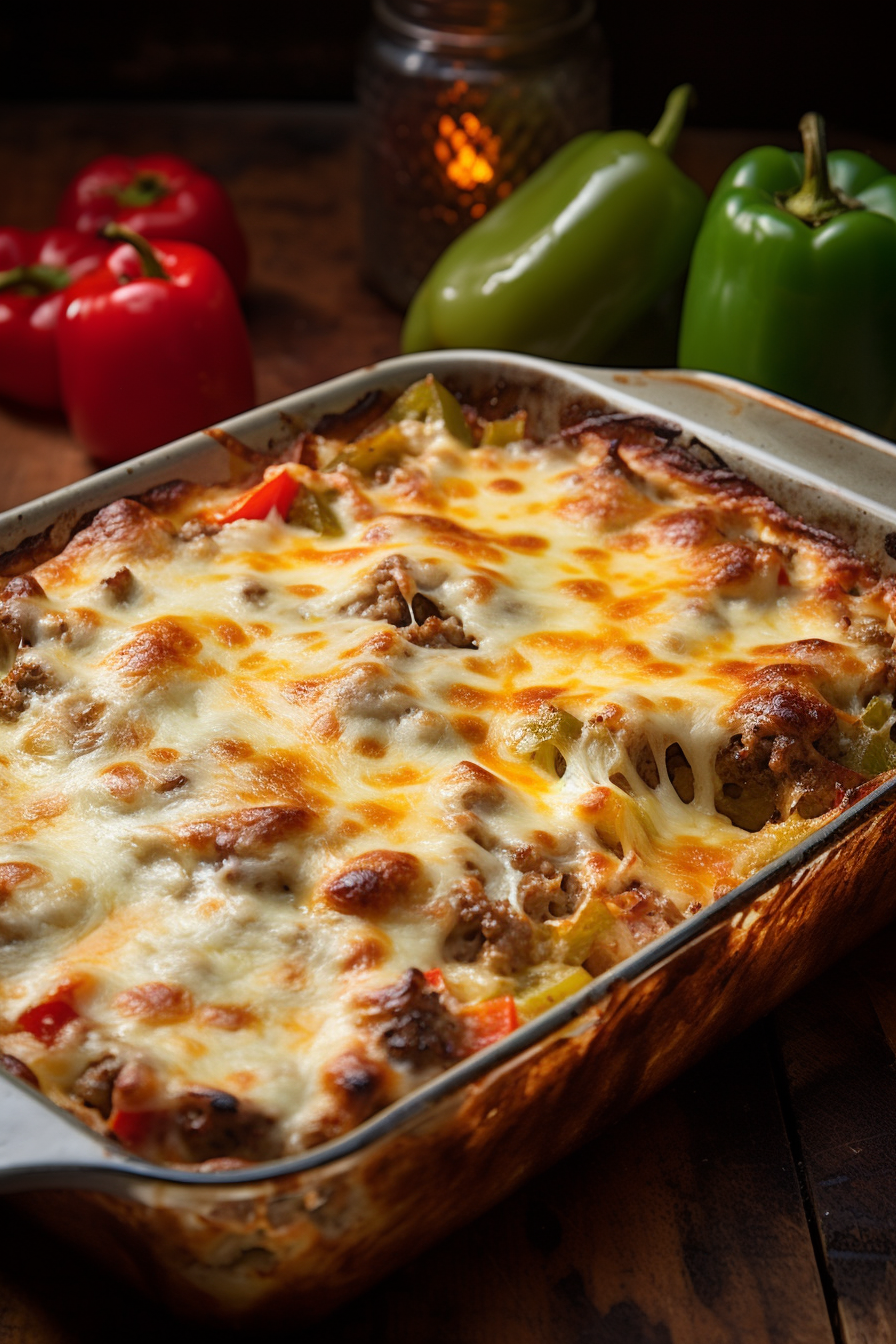 Why You'll Love Philly Cheesesteak Casserole:
Every forkful of this Philly Cheesesteak Casserole is an unmissable culinary spectacle, combining the hearty touch of homely casserole comfort with the iconic, zesty flavors of a classic Philly Cheesesteak. The soul of the dish lies in its bewitching simplicity – no frivolities, no unnecessary garnish, just honest-to-goodness, drool-inducing flavors.
The Bisquick base is the unsung hero, offering a warm, soft embrace to the savory ballet of ground beef, onions, and peppers that dance atop it. A golden, melted provolone crown is the pièce de résistance, ushering you into a world where every bite is a harmonious symphony of taste and texture. Quick prep and cooking time? An added bonus! Because, let's face it, the quicker we make it, the quicker we can indulge in this slice of paradise.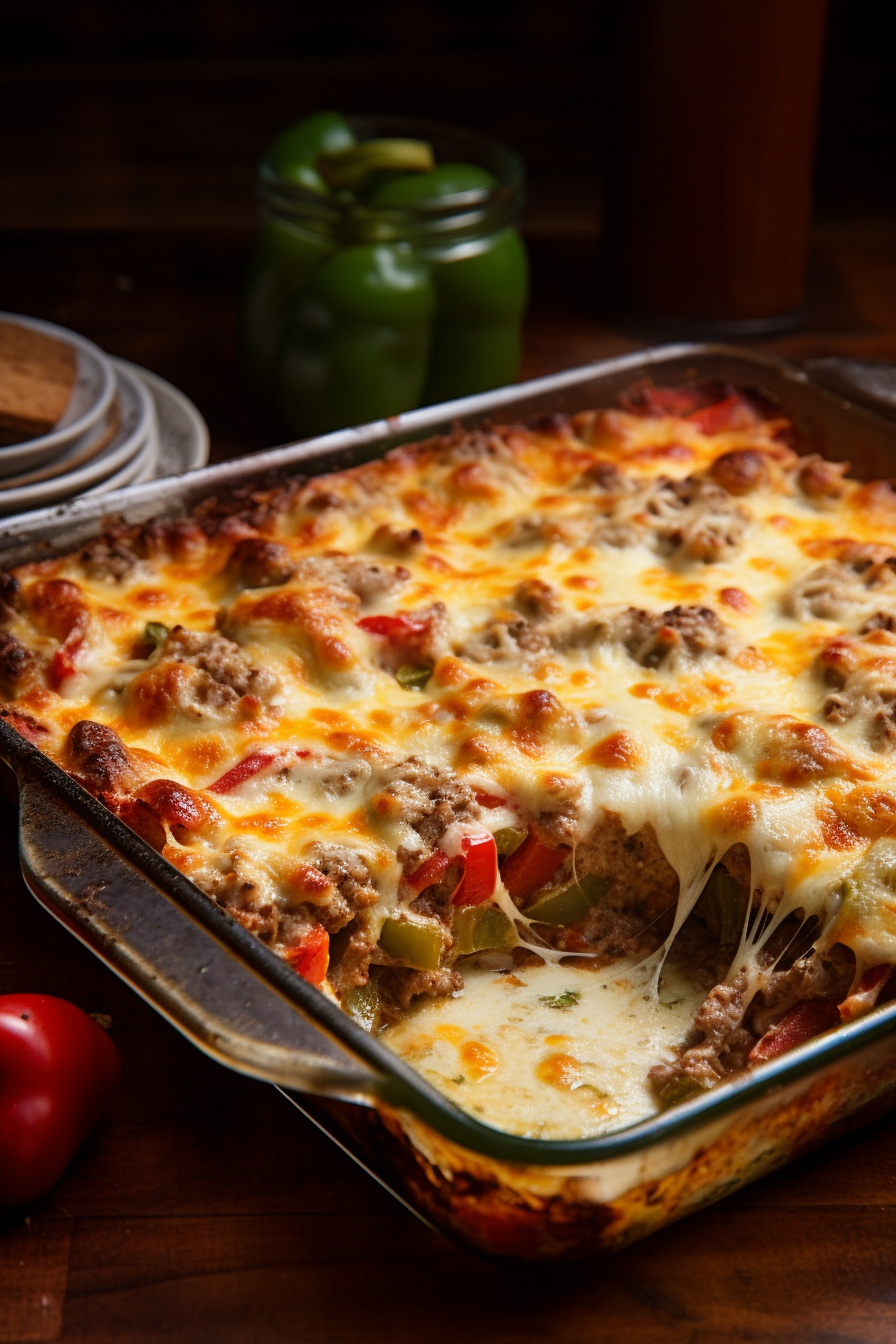 Ingredients For Philly Cheesesteak Casserole:
Now, let's talk ingredients – the soul stirrers of this epic tale of flavors. We're pulling out the Bisquick mix, and no, it's not just for pancakes, folks! It brings a golden, soft, fluffy base that will hold our tasty treasures above. And when it teams up with milk and egg – it's like the Avengers assembling, only more delicious and less apocalyptic.
Ground beef is your main maestro, but feel free to let it waltz with seasonings of your choice. The sweet onions and green bell peppers are not just ingredients; consider them the aromatic heralds of the feast to come. Provolone cheese, ah, the golden blanket of ecstasy, it doesn't just melt; it transcends, creating a crust of pure bliss. Every ingredient is a star, shining bright, yet together, they form a constellation of flavors that'll light up your culinary galaxy.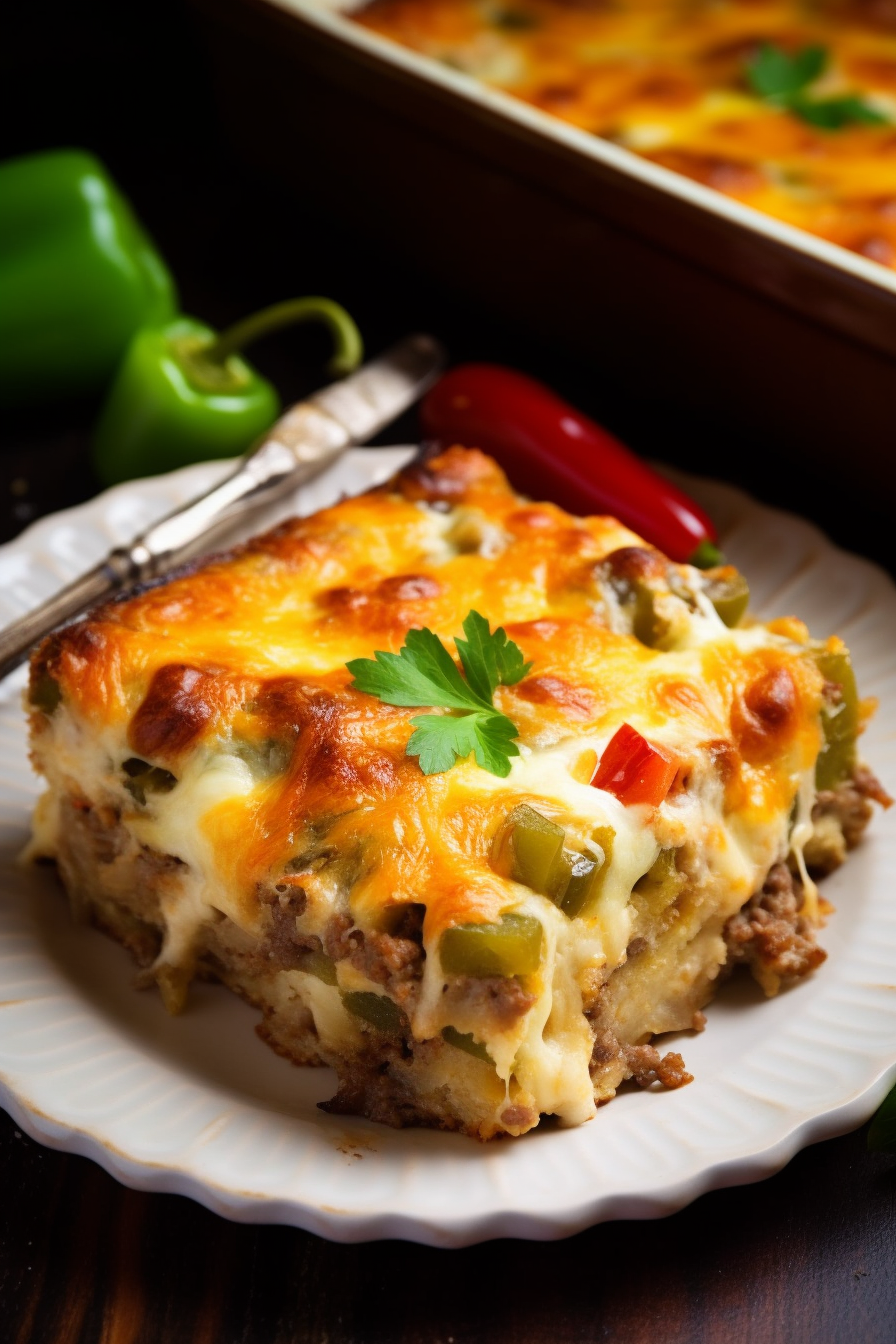 How To Make Philly Cheesesteak Casserole:
Alright, aprons on! We're embarking on a culinary escapade of epic proportions. Kickstart this adventure by preheating that oven to a toasty 375°F. Grab your trusty 9×13-inch casserole dish, and introduce it to a gentle mist of cooking spray, because nothing says "welcome" like a well-greased surface.
In the mystical world of mixing bowls, introduce the Bisquick to milk, egg, and black pepper. Let them mingle, bond, and unite till they form a batter as smooth as a Sinatra song. Elegantly cascade this mix into the casserole dish. But wait, the magic has only just begun.
Now, let's turn the heat up, literally. Over medium-high heat, let the ground beef sizzle and dance to a golden brown rhythm. Throw in the onions and bell peppers and let the symphony of flavors rise. Drain that excess grease; consider it the sacrifice for the greater culinary good.
Gravy time! Summon the brown gravy mix, water, and remaining pepper to join the meaty fiesta. Stir them into a simmering waltz till they reduce into a melody of thick, aromatic beauty. Now, layer this concoction over the Bisquick, as gracefully as a golden sunset painting the evening sky.
The final act – adorn this masterpiece with provolone slices, like golden crowns gracing the heads of royalty. Into the oven it goes, where magic and science meet, and 25-30 minutes later, voila! A golden, bubbling Philly Cheesesteak Casserole, as resplendent as the city it's inspired by. Allow it a restful 10-minute slumber before slicing. Enjoy, you culinary wizard, you!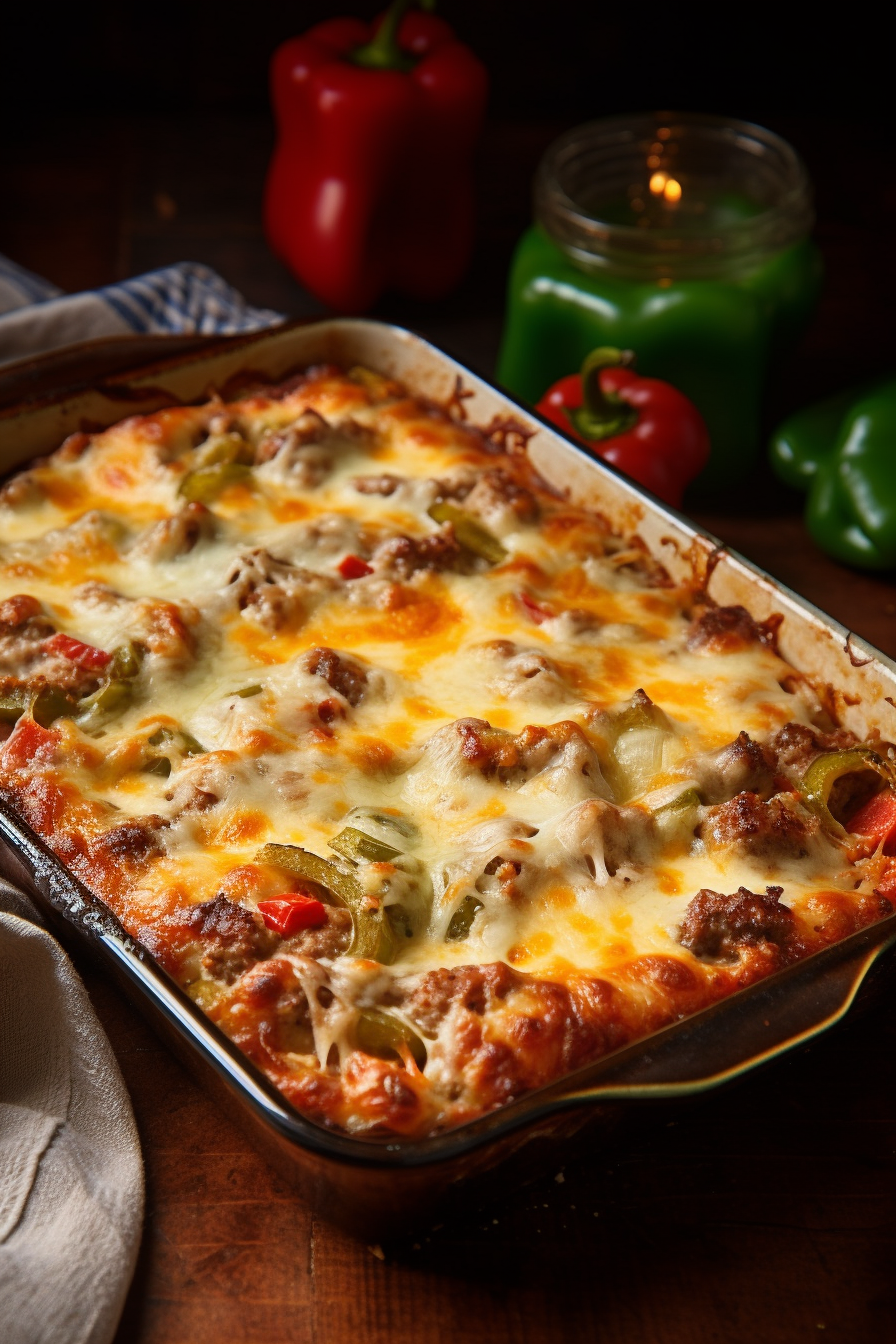 Storage Options:
So, you've conjured up this work of art, but heavens forbid, can't devour it in one sitting? Fear not, for the storage gods smile upon thee. In the hallowed realm of the refrigerator, nestled in an airtight container, this casserole transforms into a dish that's as delightful tomorrow as it is today.
And for my fellow forward-thinkers plotting to squirrel away this treasure for a rainy day, the freezer is your ally. Seal it with the loving touch of aluminum foil or place it in a freezer-safe container, and voila! It slumbers, awaiting the clarion call to grace your table once more. Simply reheat, and let the magic unfurl again.
Variations and Substitutions:
In the grand theatre of culinary arts, adaptation is king! Vegetarian, you say? Swap out the ground beef for a hearty mix of mushrooms and extra bell peppers, and you're on the veggie express to Flavortown. Dairy-free comrades, fear not. Dairy-free cheese awaits to swaddle your casserole in golden, melty splendor.
Low-carb warriors, I see you, and I raise you an almond flour or coconut flour alternative to replace the Bisquick mix. For the adventurous souls, sprinkle in some jalapenos or red pepper flakes – because life's too short for bland bites. Every variation is a new chapter in this epic saga, a tale of a casserole that defies boundaries and invites all to partake in its glorious dance of flavors. Adapt, indulge, and let the symphony play on!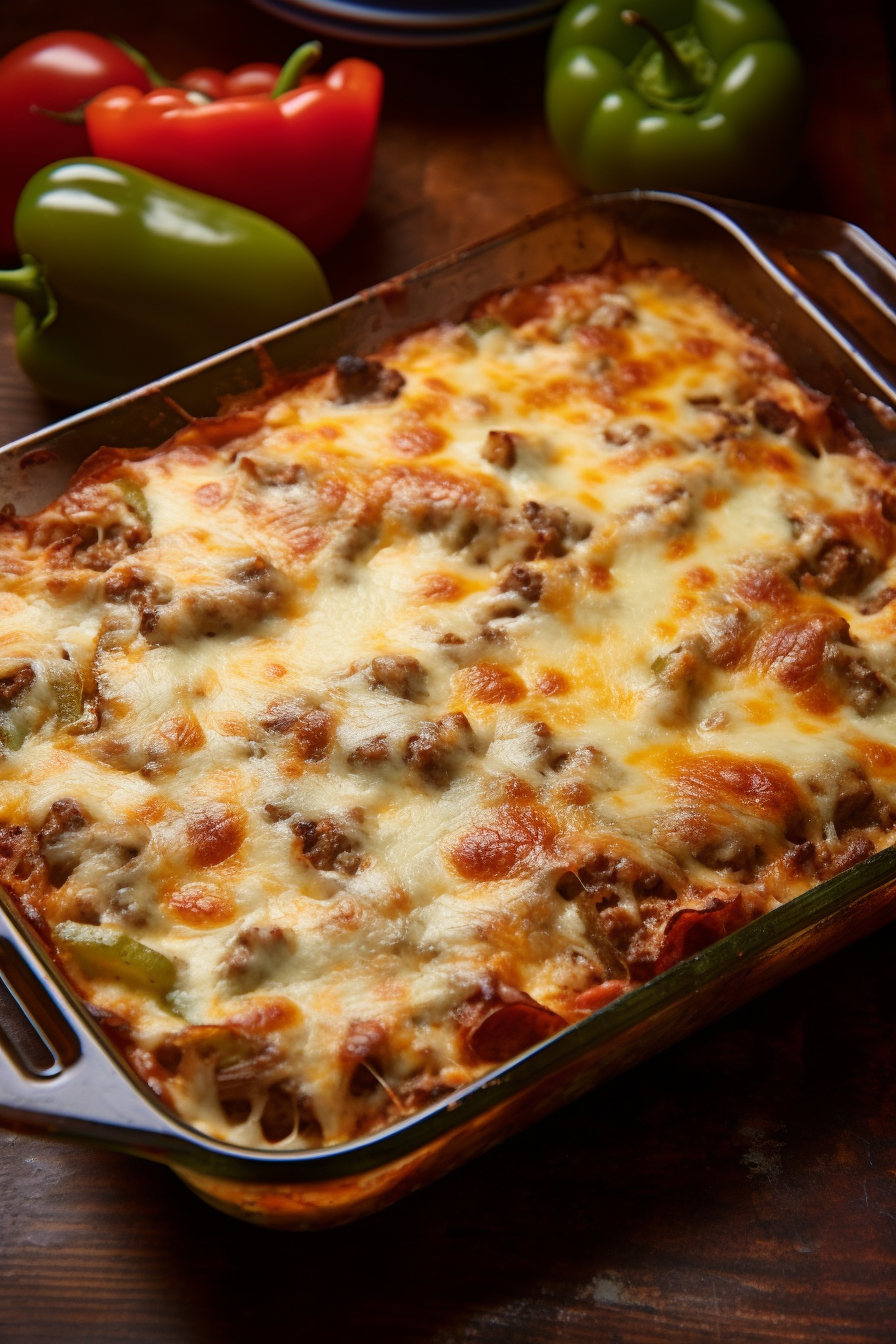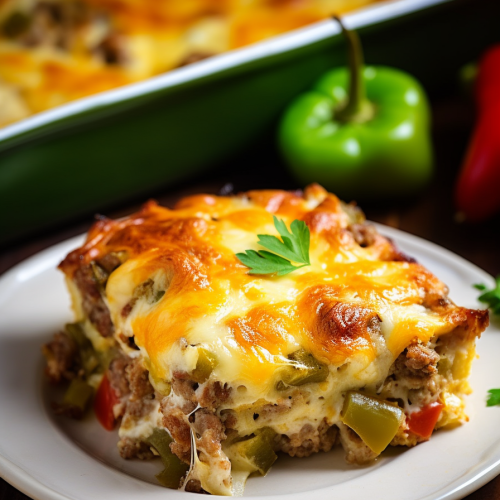 Philly Cheesesteak Casserole
Succulent ground beef, sweet onions, and green bell peppers come together, gloriously topped with a golden layer of provolone cheese, all resting on a soft, warm Bisquick base. This Philly Cheesesteak Casserole isn't just a meal; it's an experience waiting to grace your dinner table.
Print
Pin
Rate
Ingredients
2

cups

of Bisquick mix

1

cup

of milk

1

large egg

½

teaspoon

of ground black pepper

divided

2

pounds

of ground beef

1

large sweet onion

sliced

1

large green bell pepper

sliced

0.87-

ounce

package of brown gravy mix

1

cup

of water

11

slices

of provolone cheese
Instructions
Begin by preheating the oven to a temperature of 375°F (190°C). Subsequently, apply a thin coat of cooking spray to a 9×13-inch casserole dish and place it aside.

In a suitably sized mixing bowl, meticulously combine the Bisquick mix, milk, egg, and half the quantity of black pepper. Once combined, transfer the Bisquick mixture into the earlier prepared baking dish.

Utilizing a large skillet, heat it over medium-high temperature. Once hot, add the ground beef. Cook the beef for approximately 5-7 minutes or until it achieves a browned appearance.

Following this, introduce the sliced onions and green bell peppers to the skillet containing the beef. Continue the cooking process for an additional 5-7 minutes or until the vegetables have softened. Ensure to drain any surplus grease from the skillet.

Carefully integrate the brown gravy mix, water, and the remaining half of the black pepper into the beef mixture in the skillet. Allow it to simmer for approximately 3-5 minutes, or until a reduction in the liquid is observed.

Proceed to evenly distribute the beef mixture over the Bisquick layer in the baking dish. Subsequently, overlay the mixture with the slices of provolone cheese, ensuring they are evenly spaced.

Place the casserole dish into the preheated oven and bake for a duration of 25-30 minutes. Ensure that the provolone cheese acquires a golden brown hue and that a toothpick, when inserted into the Bisquick layer, emerges clean. Should the cheese layer brown too rapidly, it is advisable to cover the casserole with aluminum foil.

Post baking, permit the casserole to cool for a duration of 10 minutes prior to serving.
Nutrition
Calories:
571
kcal
|
Carbohydrates:
27
g
|
Protein:
32
g
|
Fat:
37
g
|
Saturated Fat:
16
g
|
Polyunsaturated Fat:
2
g
|
Monounsaturated Fat:
15
g
|
Trans Fat:
1
g
|
Cholesterol:
128
mg
|
Sodium:
847
mg
|
Potassium:
546
mg
|
Fiber:
1
g
|
Sugar:
8
g
|
Vitamin A:
412
IU
|
Vitamin C:
19
mg
|
Calcium:
347
mg
|
Iron:
3
mg