Dive into the fall season with these scrumptious Baked Pumpkin Donut Holes made with all-purpose flour, pumpkin puree, brown sugar, and a hint of nutmeg. Don't forget the decadent cinnamon sugar coating for that sweet finish!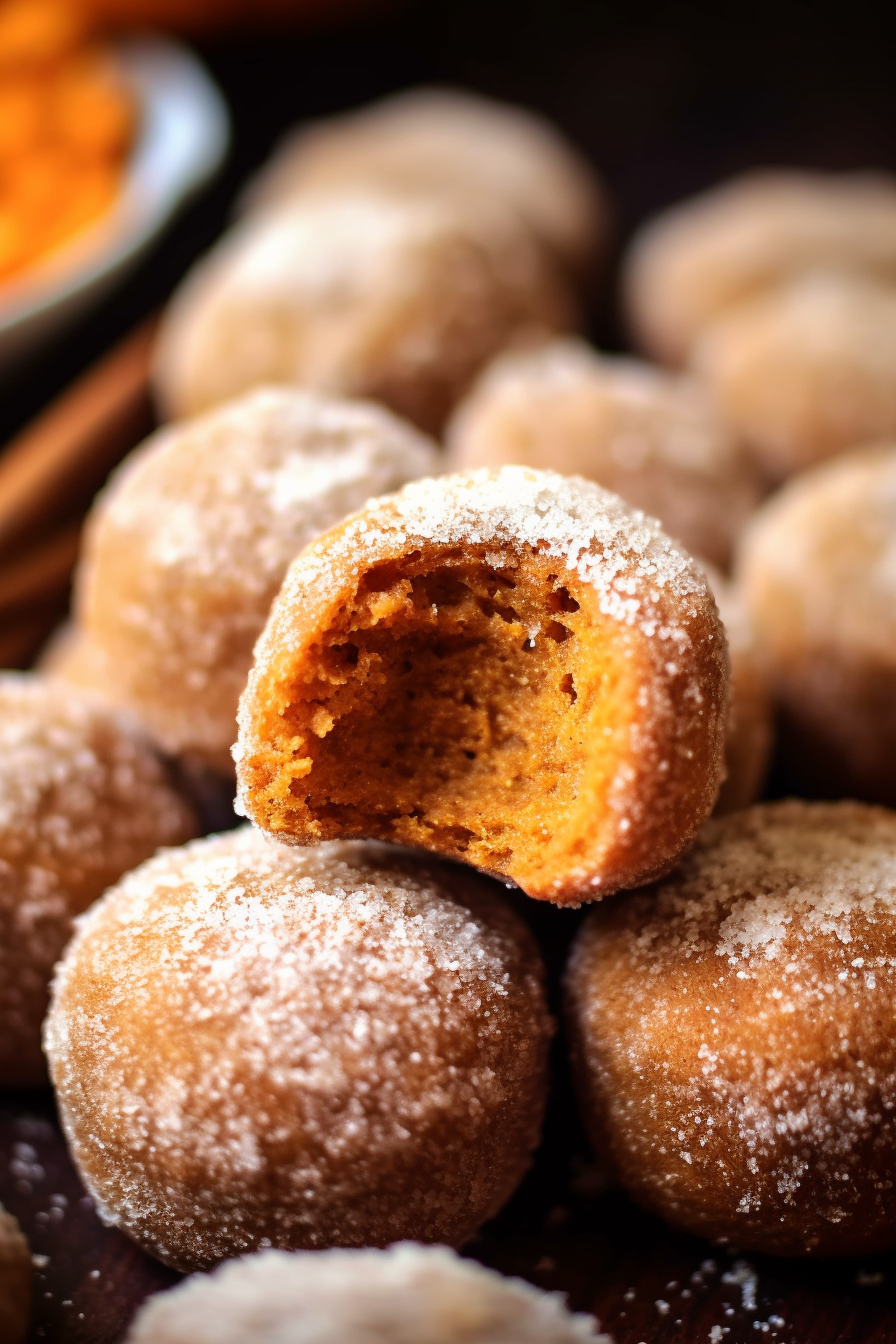 Ah, Autumn! The time when leaves take on fiery hues and the world is aglow with pumpkin spice. I remember one chilly morning, sitting on my porch, wrapped in a cozy blanket, sipping a pumpkin-spiced latte, when a thought struck me: why not turn this drink into a treat? With memories of my grandma's old donut recipes swirling in my head, I took to the kitchen, eager to merge her legacy with my love for all things pumpkin. After some flour clouds and a lot of taste tests, the Baked Pumpkin Donut Holes were born. These little guys are not just donuts; they're morsels of family, tradition, and autumnal love.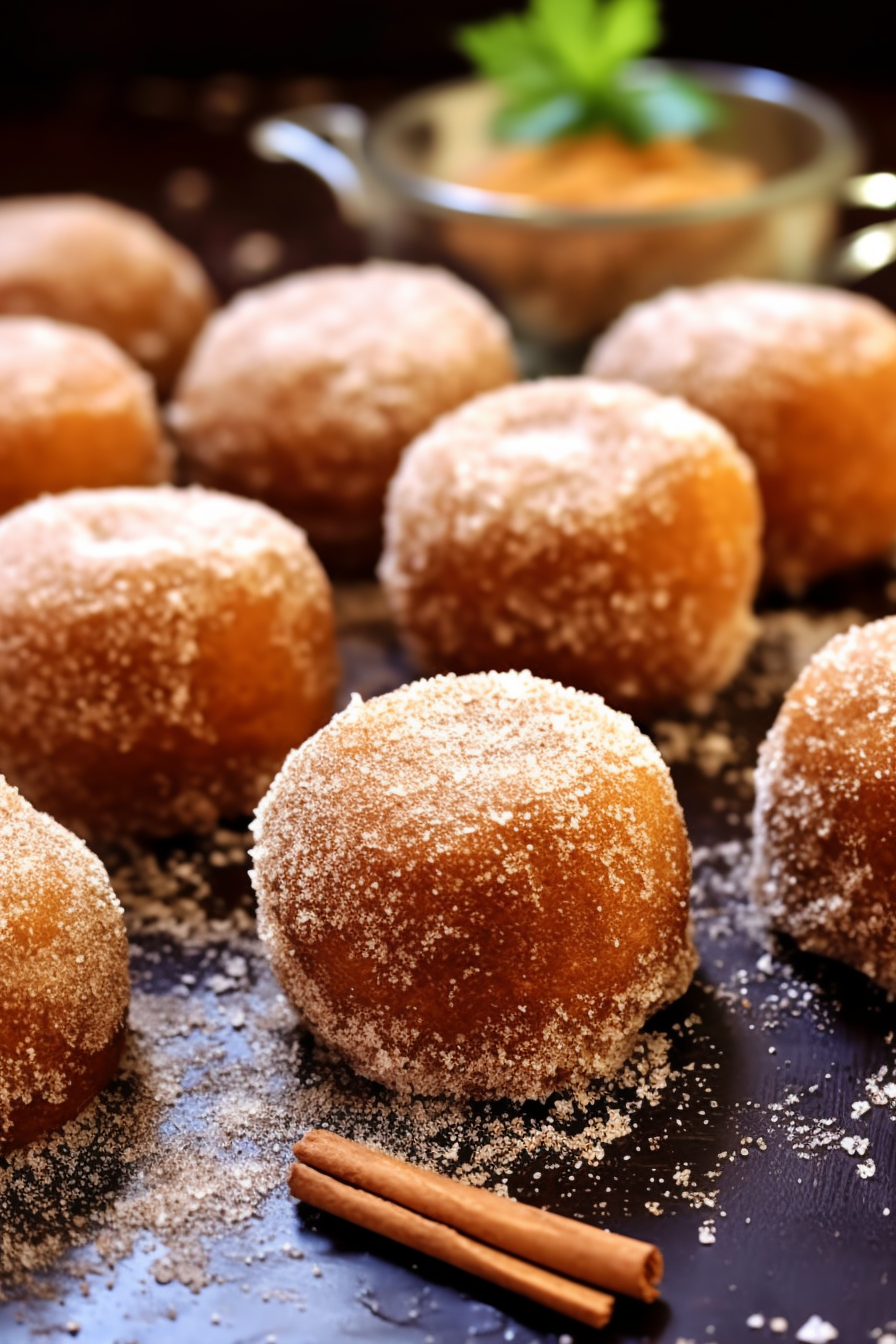 Why You'll Love "Baked Pumpkin Donut Holes":
These Baked Pumpkin Donut Holes are not your run-of-the-mill fall treats.
First off, they're baked, not fried – hello, guilt-free indulgence! The pumpkin puree ensures a moist and tender bite, while the spices encapsulate the very essence of fall in each morsel.
Plus, with that cinnamon sugar coating? You're basically getting a hug from autumn itself. They're the perfect pairing with a steaming cup of coffee, or as a sweet midnight snack (trust me, I've been there).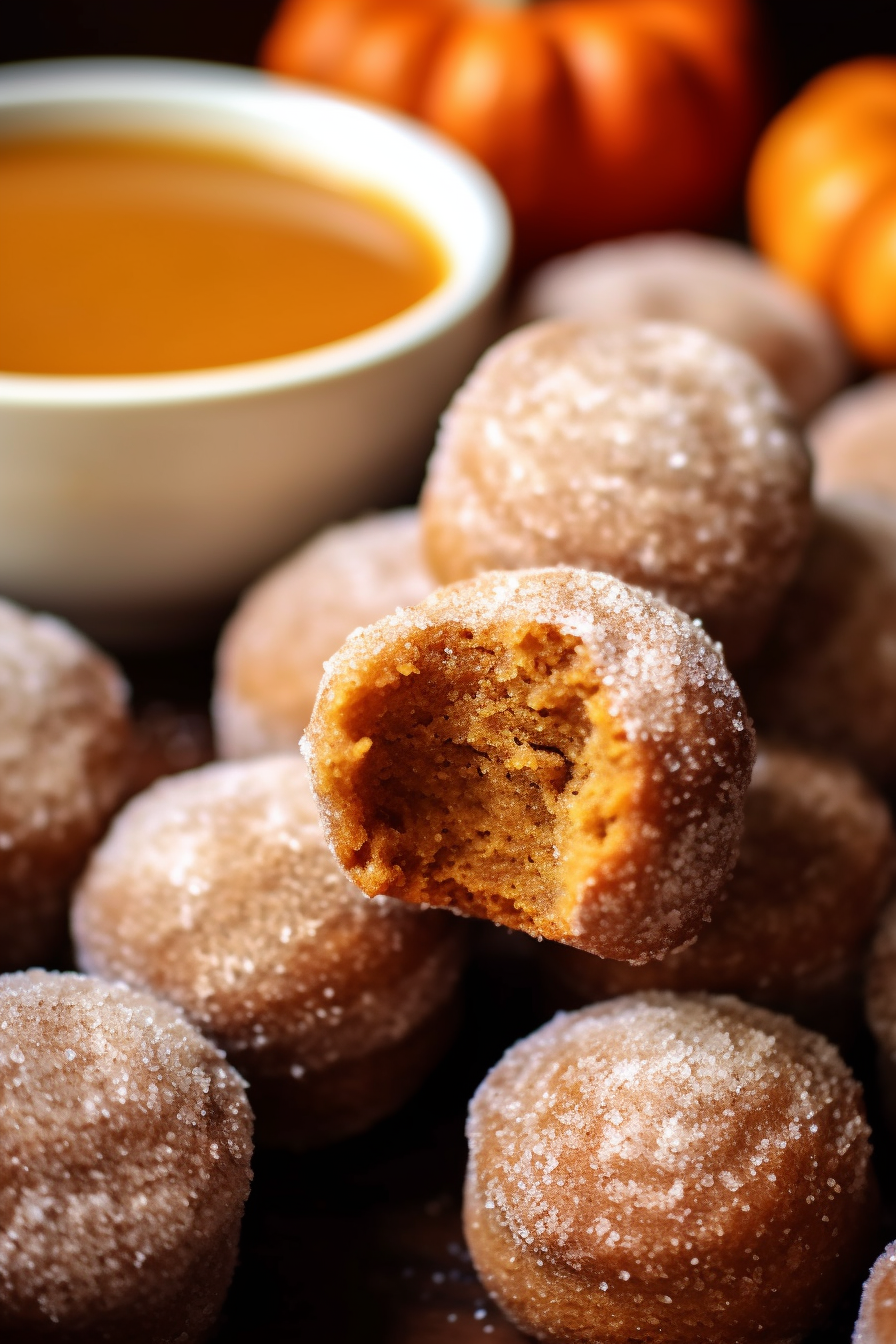 Ingredients Notes for the "Baked Pumpkin Donut Holes":
For the flour, a standard all-purpose does the trick, but if you're feeling fancy, whole wheat could add a nutty depth.
Always ensure that you're using pumpkin puree and not pumpkin pie filling – there's a difference! The pie filling has added sugar and spices, and we're already bringing that to the party.
Brown sugar gives these donuts a rich molasses kick, and if you want to experiment, try dark brown sugar for a deeper flavor.
As for the milk, cow's, almond, oat – they all waltz beautifully with this recipe, so choose your dance partner!
FULL RECIPE CARD BELOW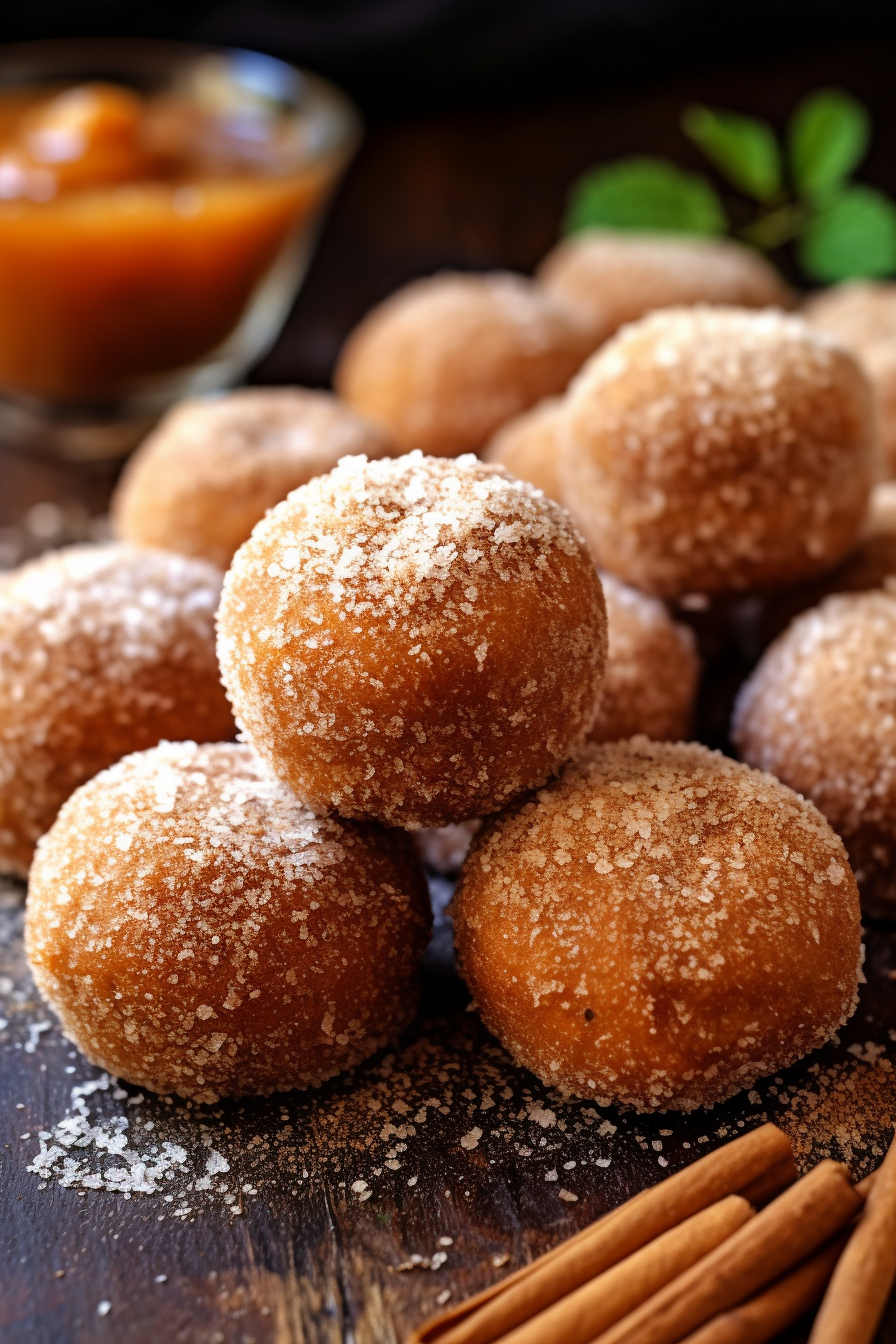 Clear, Easy-to-Follow Steps for the Recipe:
Starting with preheating your oven is crucial; 350 degrees is the sweet spot. Your mini muffin pan should be generously greased – we don't want any donut soldiers left behind! When sifting the dry ingredients, ensure no lumps, especially that sneaky baking powder.
As for the wet ingredients, consistency is key. The batter should be smooth but not overmixed; think of it as gently folding rather than a vigorous stir. Once the wet and dry ingredients come together in harmony, it's time to fill those muffin cups.
Remember, ¾ full ensures a perfect rise. While baking, keep an eye out and do the toothpick test. Once they're out, let them cool just a tad, then dive into the buttery, cinnamon sugary finale. Dip, roll, and voila! Warm, sugary bliss awaits.
FULL RECIPE CARD BELOW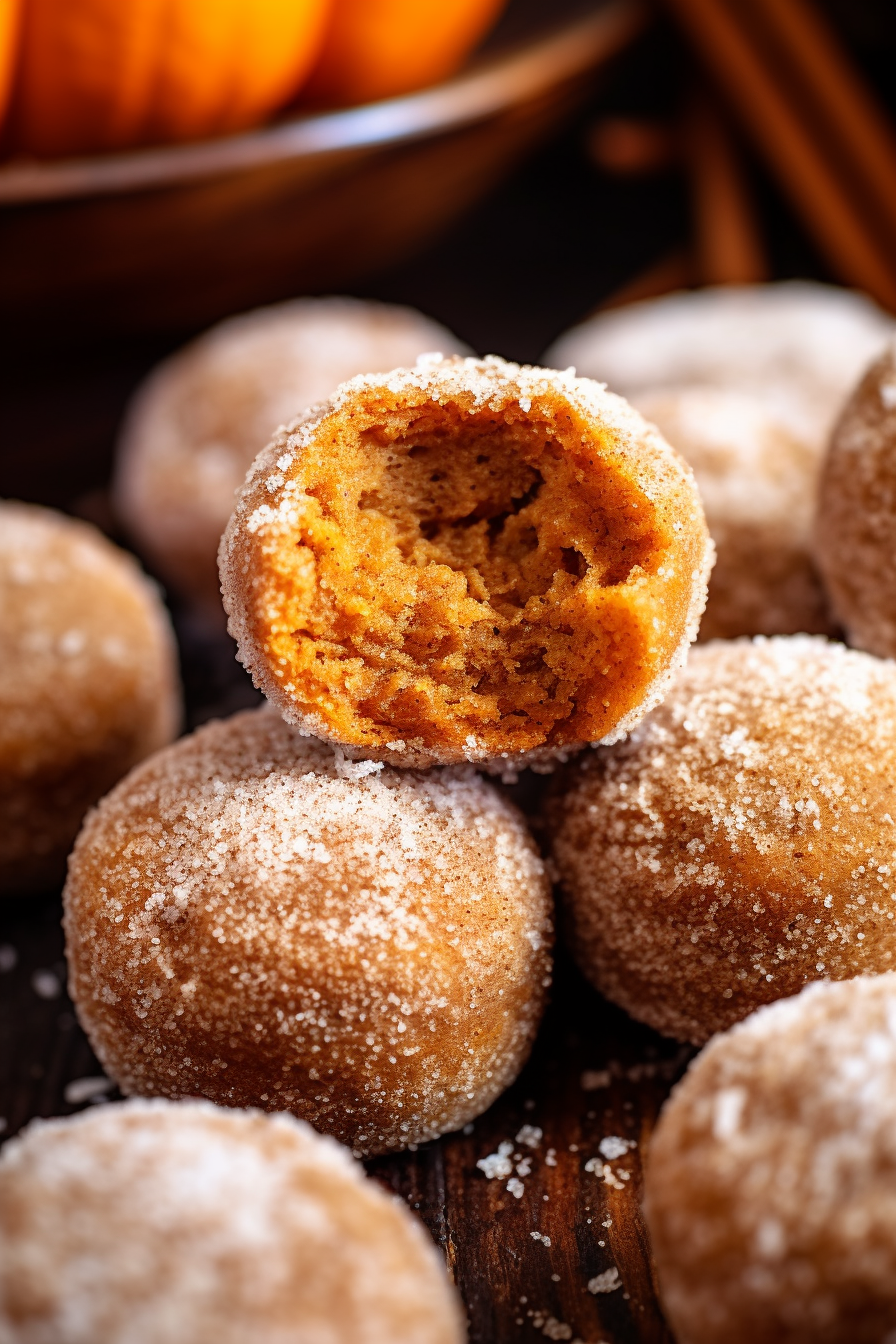 Storage Options for "Baked Pumpkin Donut Holes":
These donut holes taste best when fresh, but if you've shown tremendous self-control and have leftovers, store them in an airtight container at room temperature. They'll last for about 2 days, but good luck with them making it past breakfast tomorrow. If you're thinking longer-term, pop them in the freezer, and when the craving hits, just microwave and dip in some fresh melted butter and cinnamon sugar for that "just baked" feel.
Variations and Substitutions for the "Baked Pumpkin Donut Holes" Recipe:
Feeling a bit adventurous? Swap out the pumpkin pie spice for chai spice for a different flavor profile. If nutmeg isn't your jam, cardamom could be a delightful replacement. For a dairy-free version, coconut oil can be used in place of vegetable oil, and almond or soy milk instead of regular milk. And for those with a penchant for chocolate (because who doesn't love chocolate?), add chocolate chips to the batter or drizzle the finished donut holes with melted chocolate. The world is your pumpkin-flavored oyster!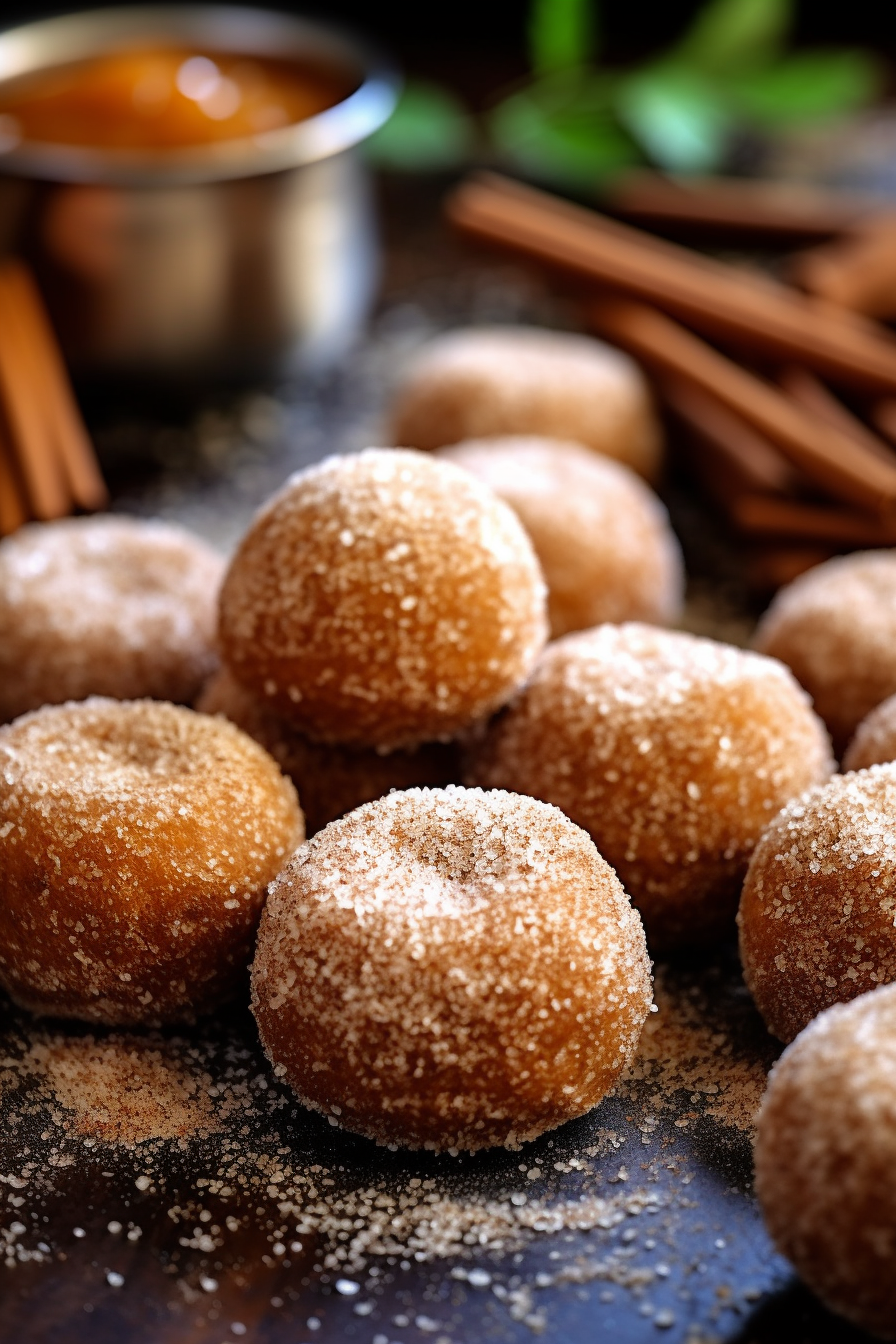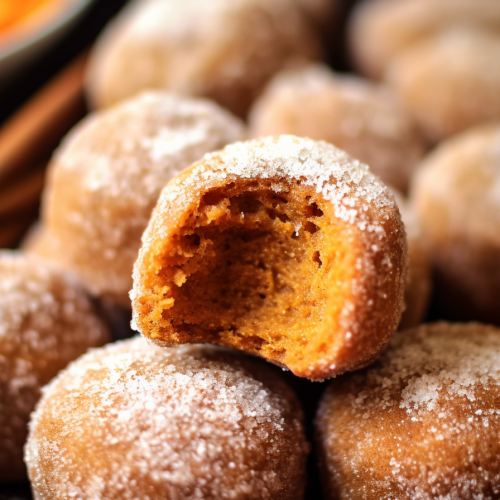 Baked Pumpkin Donut Holes
Dive into the fall season with these scrumptious Baked Pumpkin Donut Holes made with all-purpose flour, pumpkin puree, brown sugar, and a hint of nutmeg. Don't forget the decadent cinnamon sugar coating for that sweet finish!
Print
Pin
Rate
Ingredients
For the donuts:
1¾

cups

all-purpose flour

2

teaspoons

baking powder

½

teaspoon

salt

1

teaspoon

pumpkin pie spice

½

teaspoon

ground nutmeg

¾

cup

pumpkin puree

Ensure it's not pumpkin pie filling

½

cup

brown sugar

⅓

cup

vegetable oil

1

egg

1

teaspoon

vanilla extract

½

cup

milk
For the cinnamon sugar coating:
1

stick of unsalted butter

melted

⅔

cup

granulated sugar

1

tablespoon

cinnamon
Instructions
Prior to starting, set the oven's temperature to 350 degrees Fahrenheit. Ensure the 24-cup mini muffin pan is prepared by greasing it thoroughly with a non-stick spray.

Into a medium-sized mixing bowl, sift the flour. Subsequently, incorporate the baking powder, salt, nutmeg, and pumpkin pie spice into the sifted flour.

In a separate, larger mixing bowl, integrate the pumpkin puree and brown sugar.

To this mixture, add the vegetable oil, vanilla extract, and one egg. Incorporate the milk and ensure the mixture is homogenous.

Gradually blend the dry ingredients with the wet mixture, taking care to not overmix to maintain the desired consistency.

Transfer the resulting batter into the pre-prepared mini muffin pan. Each cup should be filled to approximately ¾ of its capacity. Place the pan in the preheated oven and allow the donuts to bake for a duration of 10-12 minutes. The baking is deemed complete when a toothpick, upon insertion, emerges clean.

Upon completion of the baking process, extract the donuts and allow them a brief cooling period, just sufficient to handle.

Prepare two separate bowls; one containing the previously melted butter and another combining the granulated sugar and cinnamon.

Each donut should first be dipped into the melted butter and subsequently coated thoroughly in the cinnamon sugar mixture.

The Baked Pumpkin Donut Holes are best served warm.