Dive into the tangy delight of lemon paired with the sweet burst of blueberries in our must-try baked donuts! Featuring melted butter, buttermilk, fresh blueberries, and a zesty lemon glaze.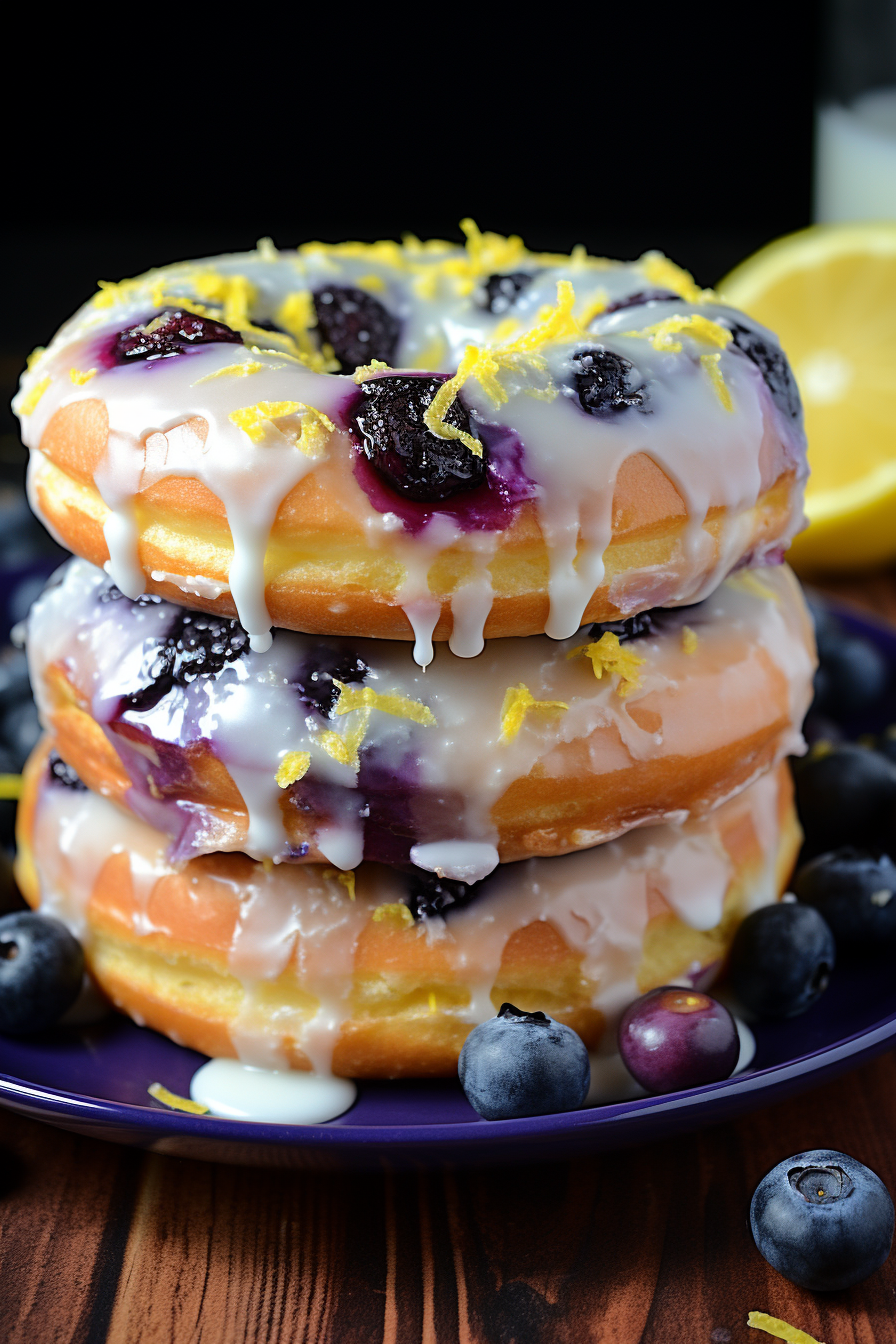 Okay, darlings! Let me take you on a short but sweet trip down memory lane. It was a rainy day, and I was yearning for something warm, fresh, and a tad bit tangy. Remembering a day from my childhood when my grandmother whipped up these lemon pies with tiny blueberries, I decided to give it my own twist. And voilà! That's how these Lemon Blueberry Donuts were born. It was a nostalgic bite into the past but with a modern twist. Every bite reminds me of grandma's kitchen and our sweet (and sometimes sour) moments together.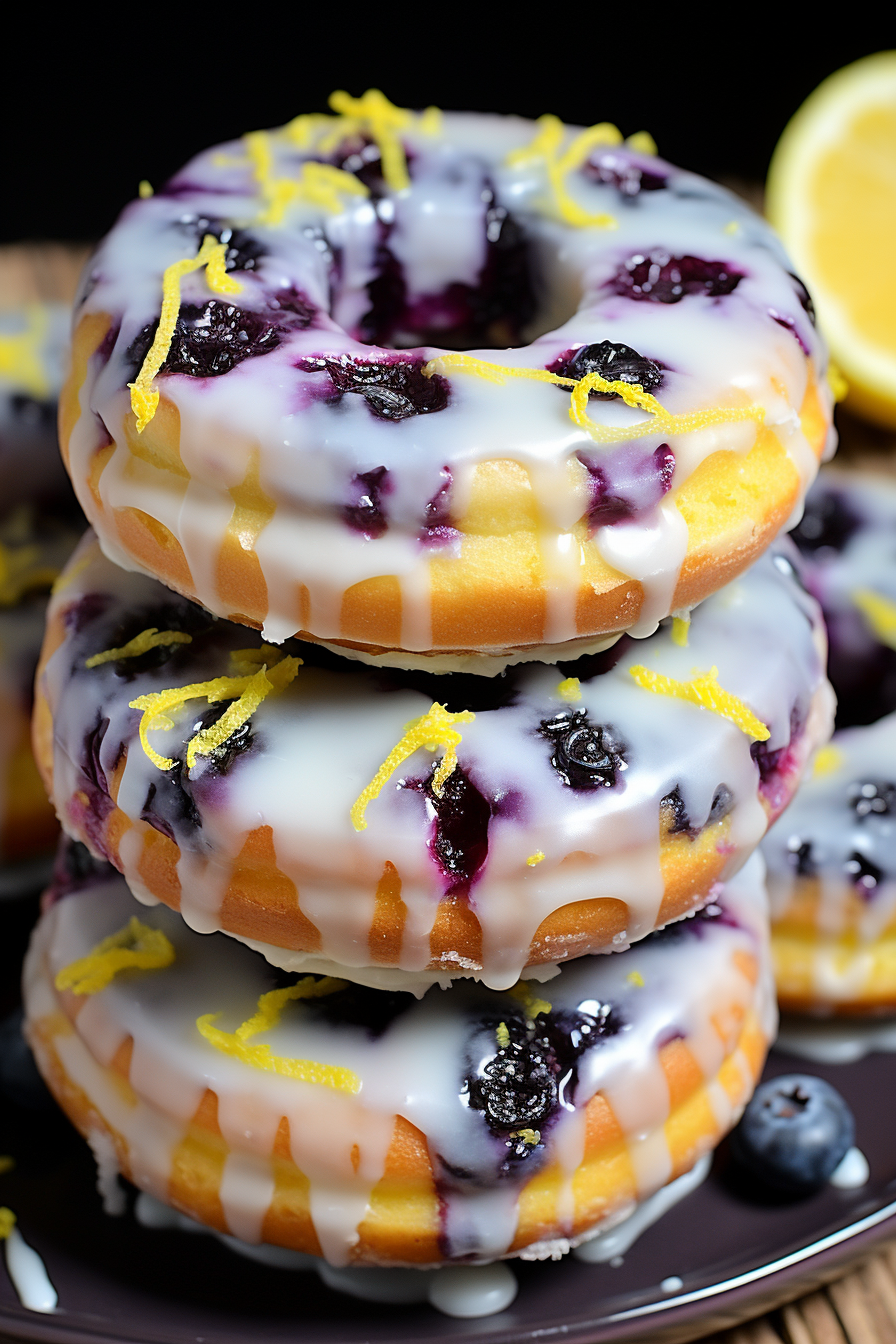 Why You'll Love Lemon Blueberry Donuts:
First off, these aren't your regular deep-fried donuts; they are baked to perfection, making them a tad bit healthier.
The subtle sourness of the lemon combined with the gentle sweetness of blueberries brings forward an unexpected harmony of flavors.
Not to mention the texture! Crisp on the outside, soft on the inside with bursts of blueberries. And that glaze, oh boy! It's zesty, it's sweet, and it's dripping with goodness. Quite honestly, it's a summer fling in the form of a donut.
Ingredient Notes for Lemon Blueberry Donuts:
Alright, foodie pals, here are some tidbits on our star ingredients:
Unsalted Butter: It gives the donuts a rich and moist texture. Ensure it's melted and slightly cooled so you don't accidentally cook the eggs!
Buttermilk: This is the secret to super soft donuts! If you don't have buttermilk, you can make a quick substitute by adding a teaspoon of lemon juice to regular milk.
Fresh Blueberries: These little gems pop in your mouth. Using fresh over frozen ensures a richer flavor and less water content.
Lemon Zest & Juice: Zesting the lemon brings out an intense lemony flavor, while the juice in the glaze offers a beautiful tang.
RECIPE CARD BELOW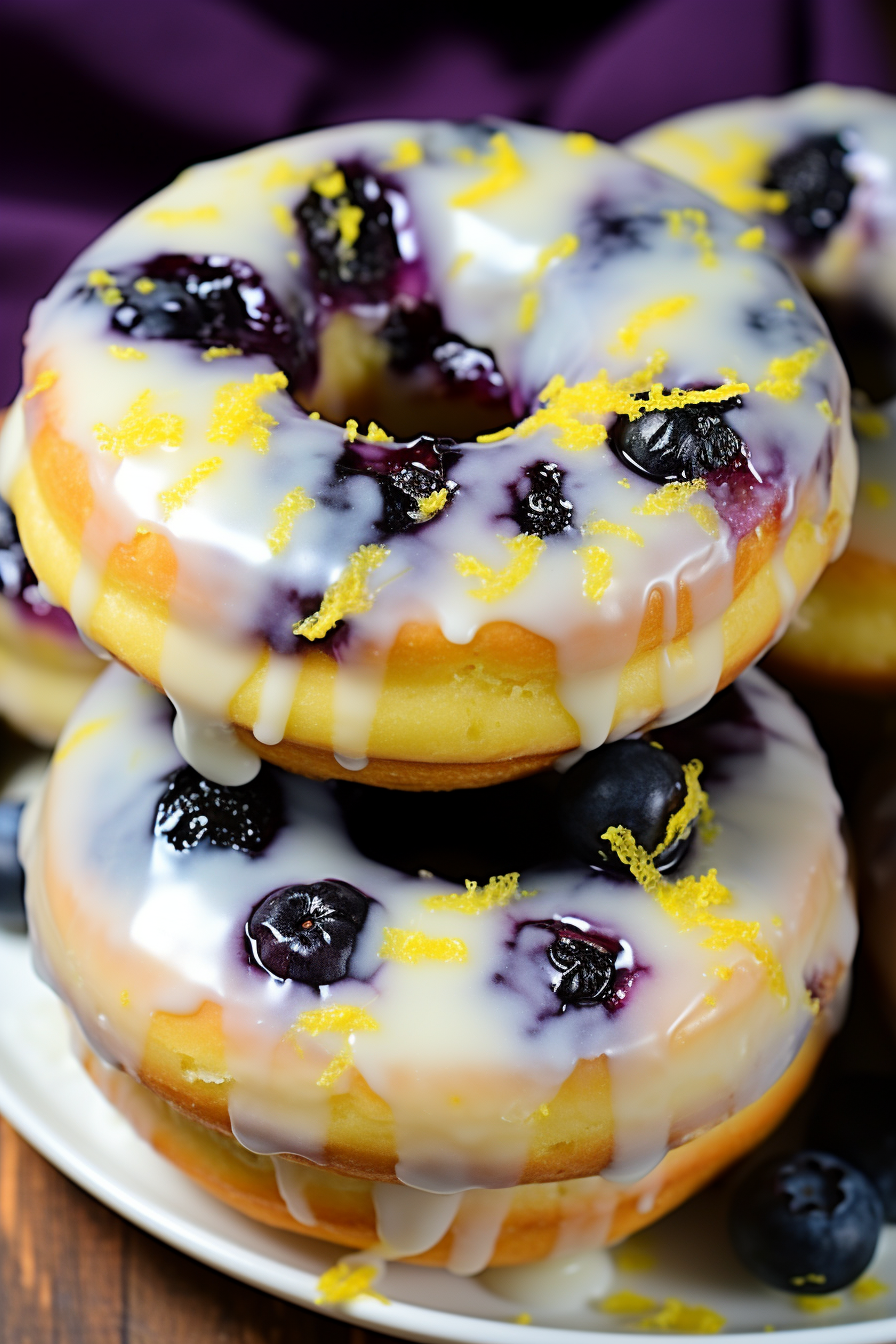 How-To Make Lemon Blueberry Donuts:
Setting the Stage: Start by preheating your oven to 350°F. While it's getting all warm and cozy, grab your donut pan and give it a good spray-down with cooking spray.
Mixing the Dry Ingredients: Grab a sizable mixing bowl and sift in your flour, baking powder, and salt. This ensures no lumpy surprises in your donuts.
The Wet Parade: In another bowl, pour in your milk, sugar, eggs, melted butter, oil, zest of lemon, and vanilla. Give it a good mix till it's all nice and smooth.
Marrying Wet and Dry: Now, slowly bring in your dry mixture to the wet one. Gently mix until it's all nicely incorporated.
Berry Time: Fold in those juicy blueberries with love and care. Once done, spoon this batter into your donut pan.
Baking Time: Pop them in the oven for about 17-20 minutes. Once baked, let them cool and prepare for the glazing magic.
Glaze Galore: For the glaze, whisk together powdered sugar and lemon juice until it's dripping consistency. Drench the cooled donuts in the glaze, and for that final finesse, sprinkle some lemon zest on top.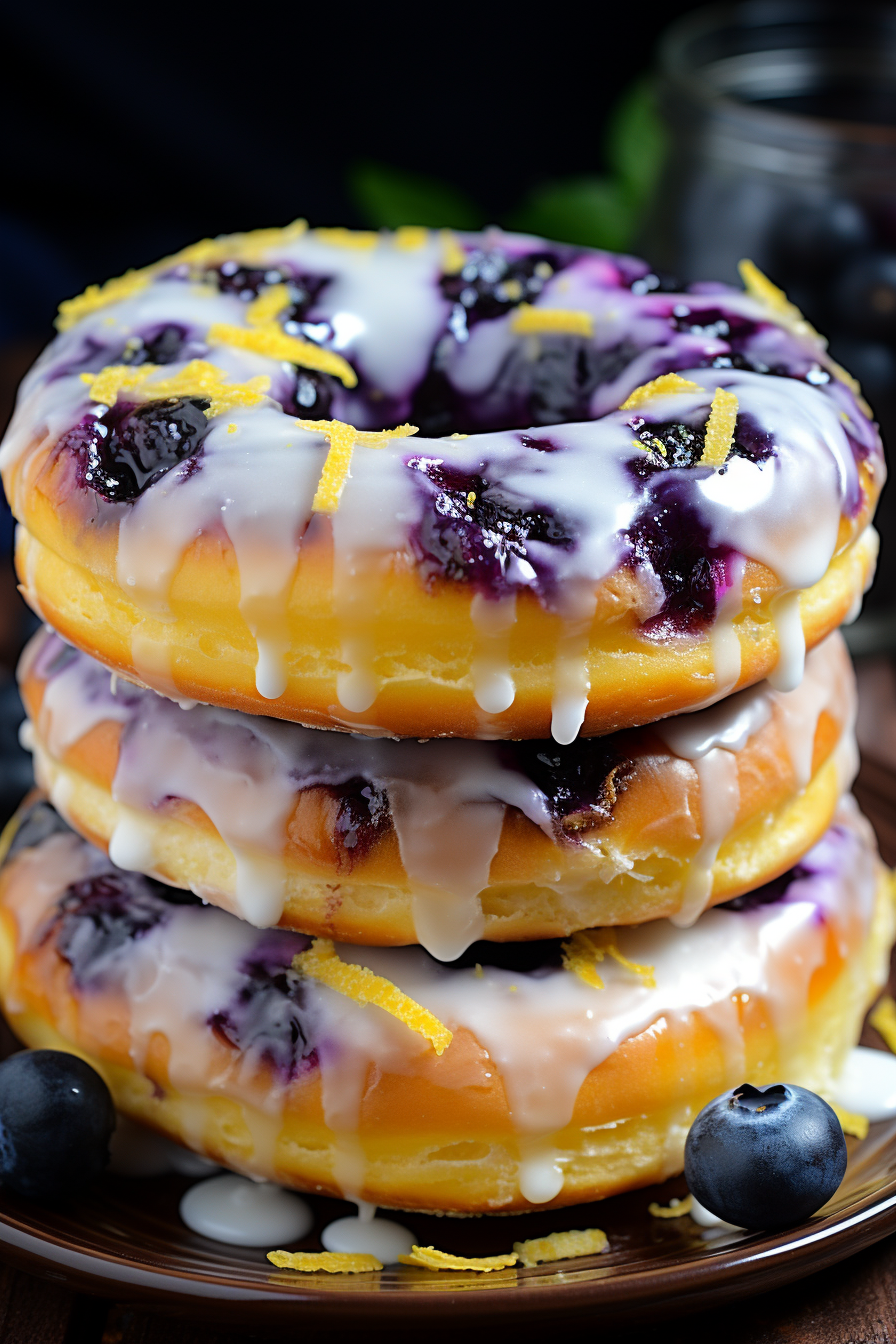 Storing These Tangy Delights:
If, by some miracle, you have leftovers, you can store these donuts in an airtight container. They'll stay fresh at room temperature for up to 2 days or in the refrigerator for about a week. Although, I bet they won't last that long!
Variations & Substitutions for Lemon Blueberry Donuts:
Get ready for some fun swaps! You can substitute the blueberries with raspberries for a different tangy twist. If you're not a fan of lemon, try orange zest and juice. For a dairy-free option, swap out the buttermilk for almond or coconut milk with a dash of vinegar. And if you're feeling extra fancy, add some white chocolate chips to the batter for an added layer of sweetness.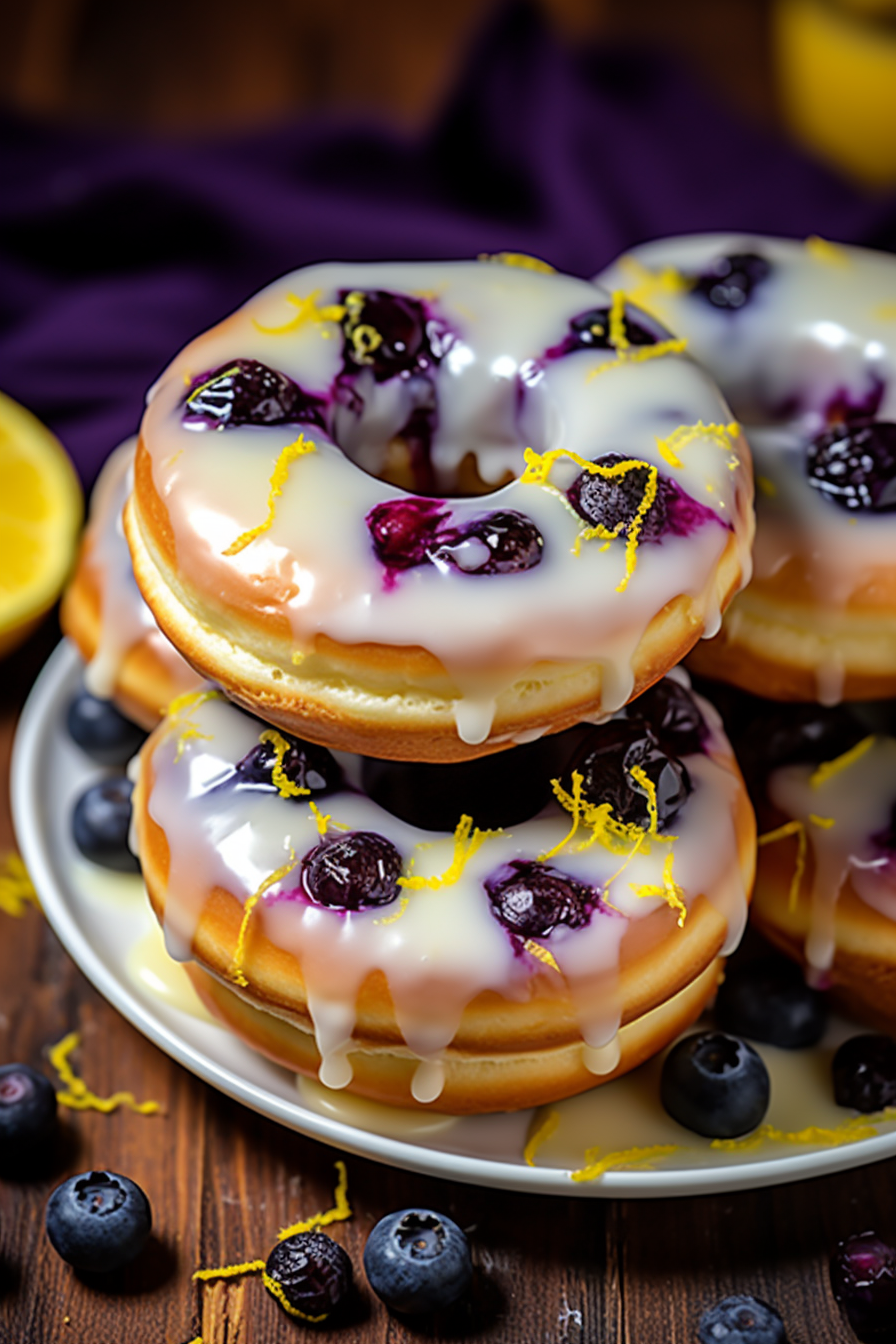 And there you have it, my lovely readers! Your ticket to the world of zesty, berry goodness. Enjoy every bite and remember to share (or not, I won't judge)! 🍩💙🍋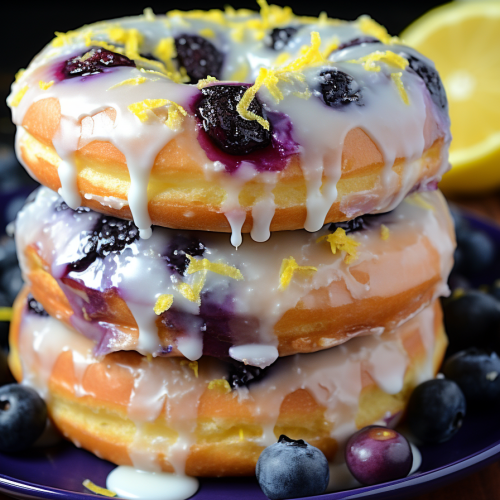 Lemon Blueberry Donuts
Dive into the tangy delight of lemon paired with the sweet burst of blueberries in our must-try baked donuts! Featuring melted butter, buttermilk, fresh blueberries, and a zesty lemon glaze.
Print
Pin
Rate
Ingredients
For the Donuts:
1/4

cup

unsalted butter

previously melted and cooled to room temperature

1/4

cup

vegetable oil

3/4

cup

granulated sugar

2

eggs

at room temperature

2

teaspoons

vanilla extract

2

teaspoons

lemon zest

finely grated

1

cup

buttermilk

2 1/2

cups

all-purpose flour

1

teaspoon

baking powder

1/2

teaspoon

salt

1

cup

blueberries

fresh
For the Glaze:
2

cups

powdered sugar

1

teaspoon

lemon zest

finely grated

7

tablespoons

lemon juice

freshly squeezed
Instructions
Commence by preheating the oven to 350°F. Simultaneously, prepare the donut pan by lightly greasing it.

In a large bowl, meticulously sift the flour, baking powder, and salt together. Once done, set it aside.

In a separate mixing bowl, blend together the buttermilk, granulated sugar, eggs, vegetable oil, previously melted butter, finely grated lemon zest, and vanilla extract.

Gradually incorporate the sifted dry ingredients into the blended wet mixture, ensuring a smooth batter.

Carefully fold the fresh blueberries into the batter.

Transfer the batter to the previously prepared donut pan, ensuring even distribution.

Place the pan in the preheated oven and allow the donuts to bake for approximately 17 to 20 minutes.

Once baked, remove the donuts from the oven and let them cool for a duration of 10 minutes. Subsequently, transfer them to a wire rack for further cooling.
For the Glaze:
In a suitable bowl, whisk together the powdered sugar and freshly squeezed lemon juice until a smooth consistency is achieved.

Position a foil beneath the wire rack holding the donuts to capture any excess glaze. Generously pour the glaze over each donut, ensuring they are adequately coated.

Conclude by garnishing the glazed donuts with the finely grated lemon zest.