Dive into a delightful treat blending Kraft caramels, creamy condensed milk, rich butter, fluffy marshmallows, and crunchy Rice Krispies. The perfect bite awaits!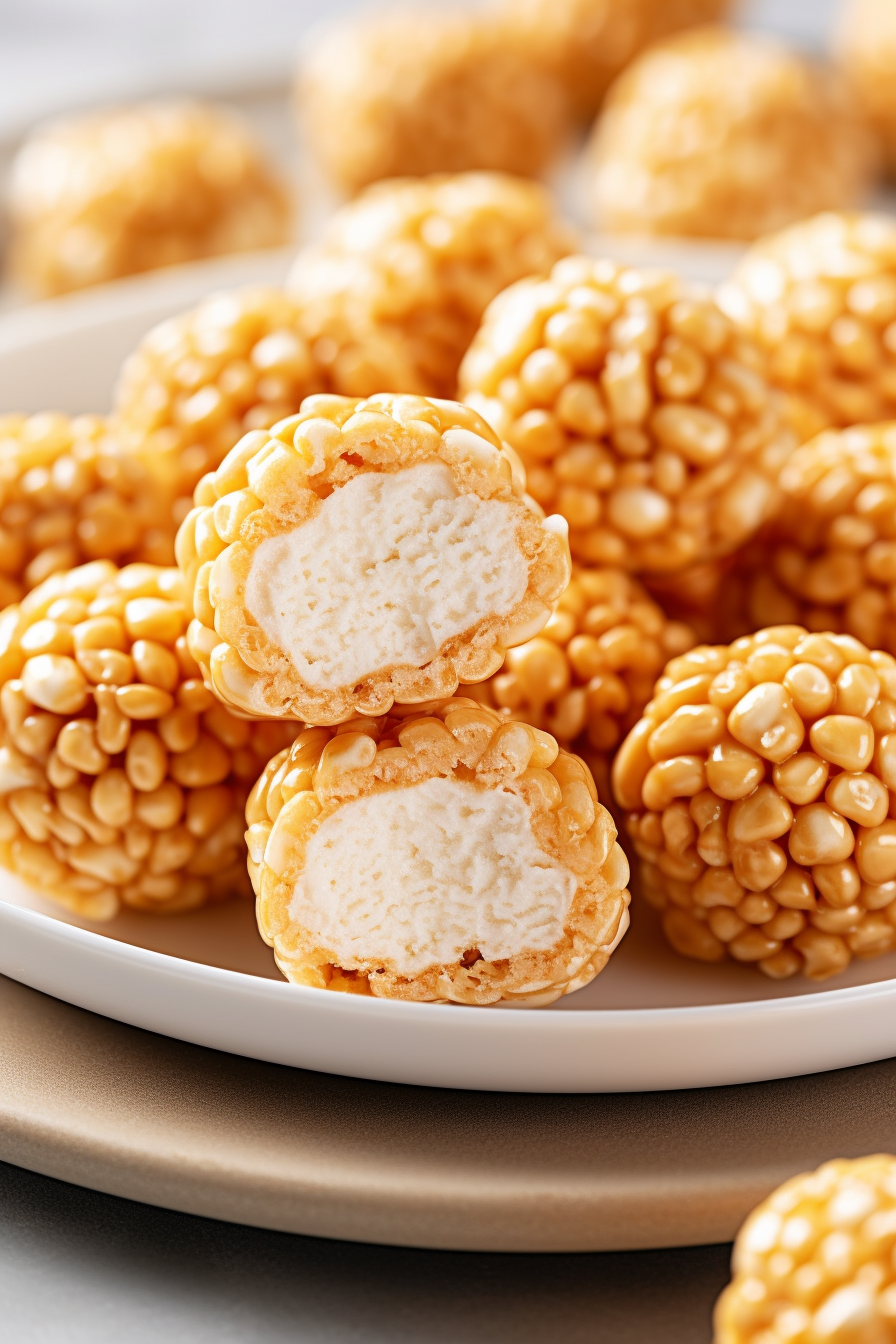 Oh, where do I begin with these Caramel Marshmallow Rice Krispie Balls? It all started many moons ago when my Grandma Ethel, with her curly white hair and infectious laughter, decided to concoct something different for our annual family Christmas gathering. With bits of caramel stuck in her hair and Rice Krispies all over the kitchen floor, she unveiled this deliciously messy creation. The moment they hit our tongues, we were hooked! Since then, it's become a sacred family tradition. Every Christmas, no matter how crazy things get or how many new recipes we try, these little balls of heaven always make their way to our festive table. Every bite is a nostalgic journey back to Grandma Ethel's vibrant kitchen, her tales, and the magic of holidays past.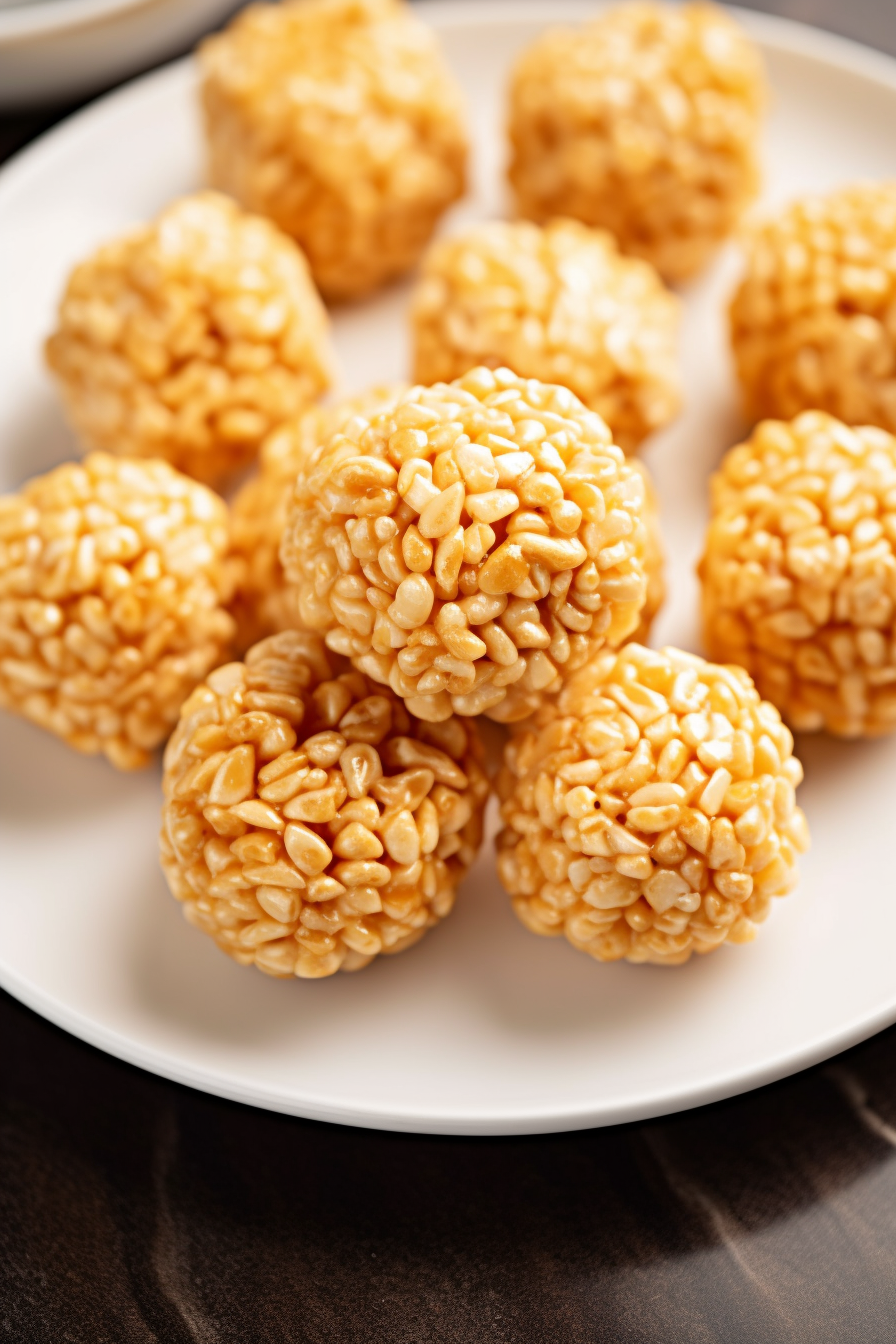 Why You'll Love Caramel Marshmallow Rice Krispie Balls:
These Caramel Marshmallow Rice Krispie Balls aren't just another festive treat; they're an experience.
First, they offer a brilliant blend of textures: the gooey caramel, the soft marshmallow center, and the crispy crunch of Rice Krispies.
Second, it's an all-age pleaser; from toddlers getting their first taste of Christmas magic to grandpas reminiscing about the good old days, everyone's reaching for seconds…or thirds.
Lastly, they're wonderfully easy to whip up, meaning less time in the kitchen and more time for those hearty holiday laughs!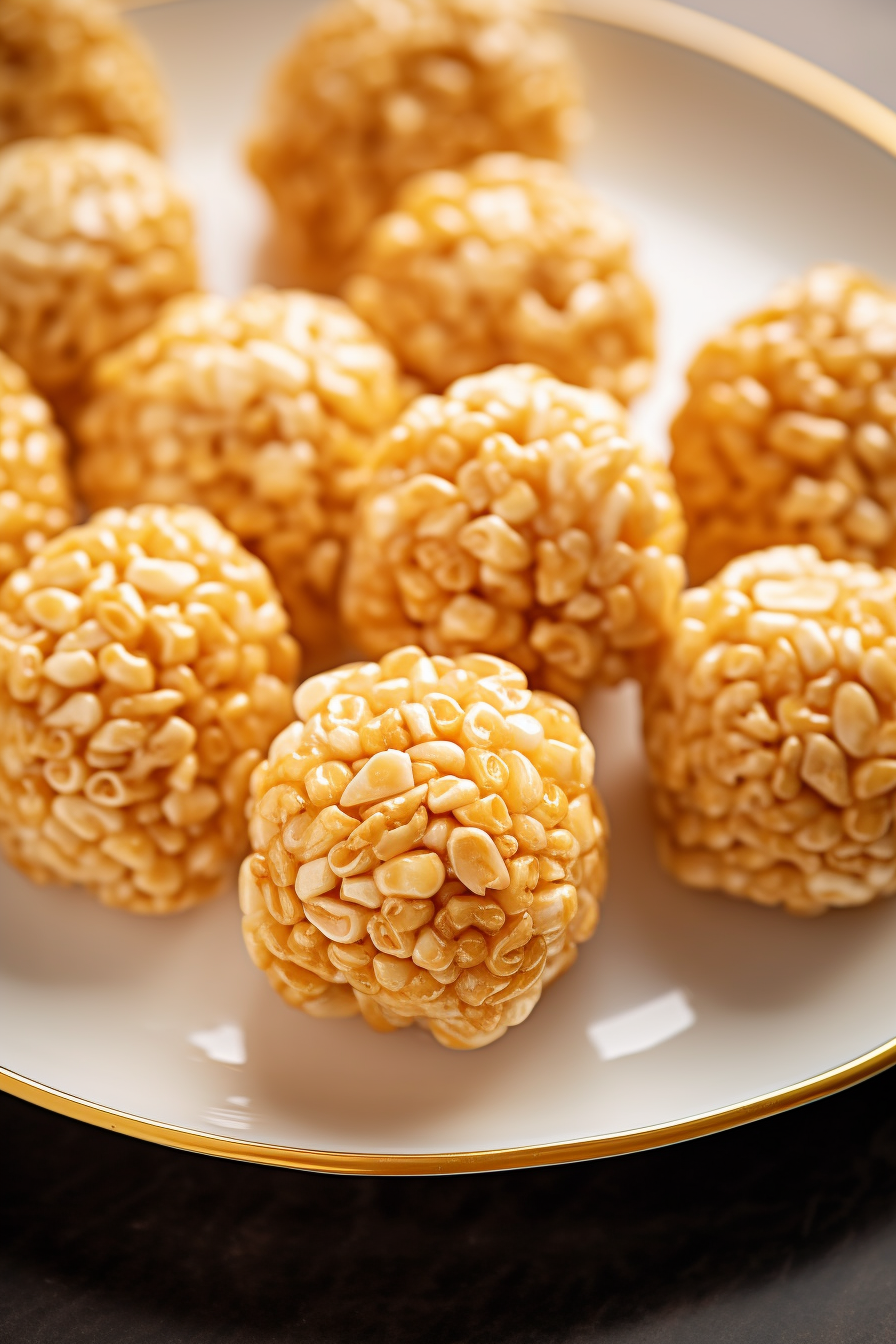 Ingredients Notes For Caramel Marshmallow Rice Krispie Balls:
Kraft Caramels: These are known for their consistent meltability and rich flavor. However, any brand of soft caramels will do.
Sweetened Condensed Milk: Adds a delightful creaminess to the caramel. Ensure it's sweetened to get the desired sweetness.
Butter: Use unsalted to balance the sweetness. If salted is all you have, skip any additional salt you might think of adding.
Large Marshmallows: These serve as the heart of our treat, so make sure they're fresh and fluffy.
Rice Krispies: These add the quintessential crunch. No substitutions here, folks! For best results, ensure they're fresh and not stale.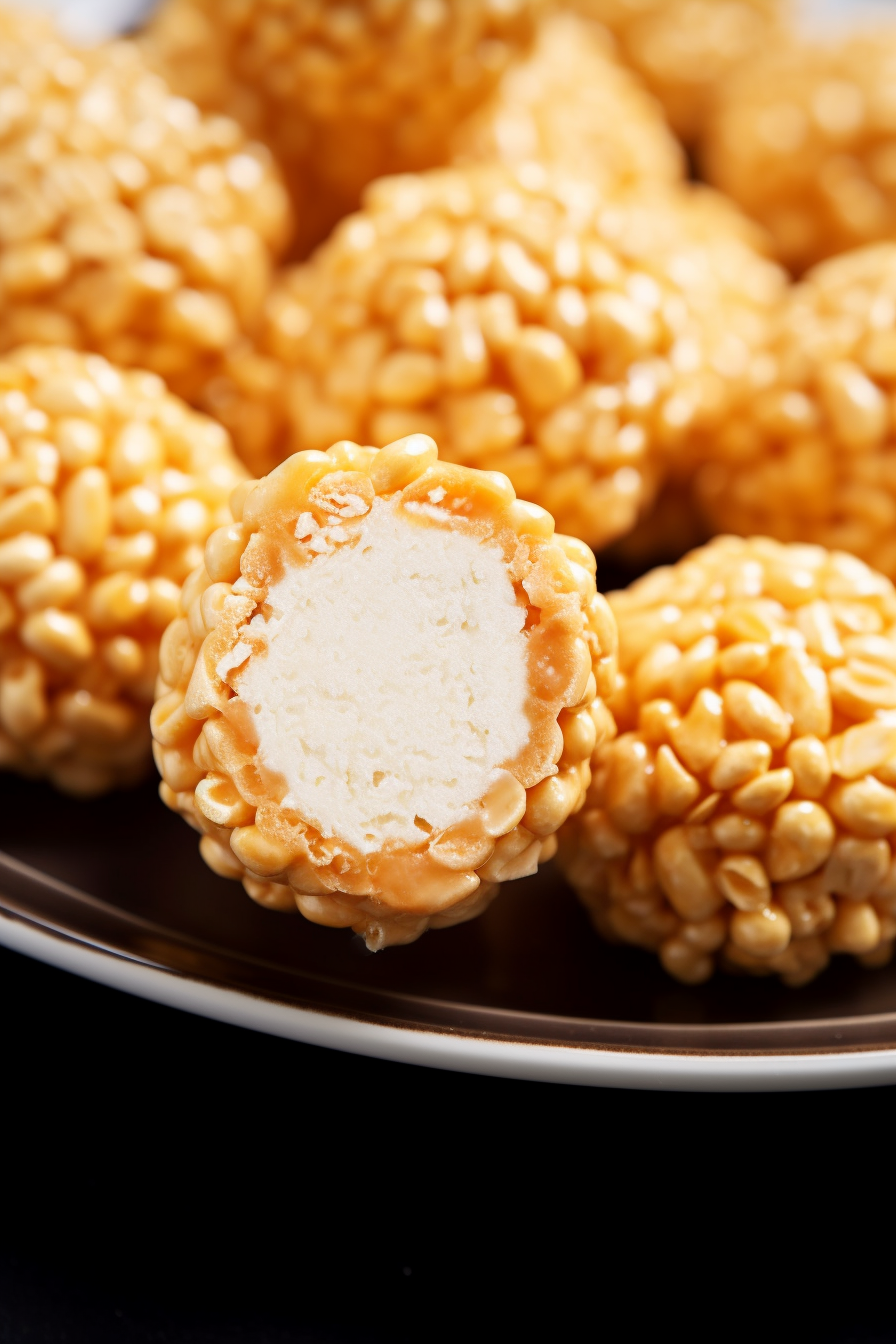 Step-by-Step Instructions To Make Caramel Marshmallow Rice Krispie Balls:
Preparation is Key: First off, clear that kitchen counter and get your unwrapping game on point. Unwrapping the caramels might be tedious, but it's also therapeutic. Plus, who doesn't love sneaking a caramel or two in the process?
Melt and Mix: In a large microwave-safe bowl, combine your butter, the star of our show (caramels), and the sweetened condensed milk. Now, patience is crucial here. Melt them in short bursts, stirring frequently. This ensures you get a smooth, velvety mixture without burning anything.
The Dipping Dance: Here comes the fun part! Take each marshmallow and dip it generously into the caramel concoction. Ensure it's well-coated for maximum yumminess.
Rolling in the Deep: Post the caramel bath, roll each marshmallow in the Rice Krispies. Make sure they're well-coated, and you hear that satisfying crunch.
Set and Forget: Lay out some wax or parchment paper on a tray or flat surface. Place each ball on it, ensuring they don't touch (they need their personal space). Allow them to set for about an hour.
Storage Solutions: If you somehow resist eating them all immediately, store them in the fridge for a chewy treat or the freezer for a crunchy surprise.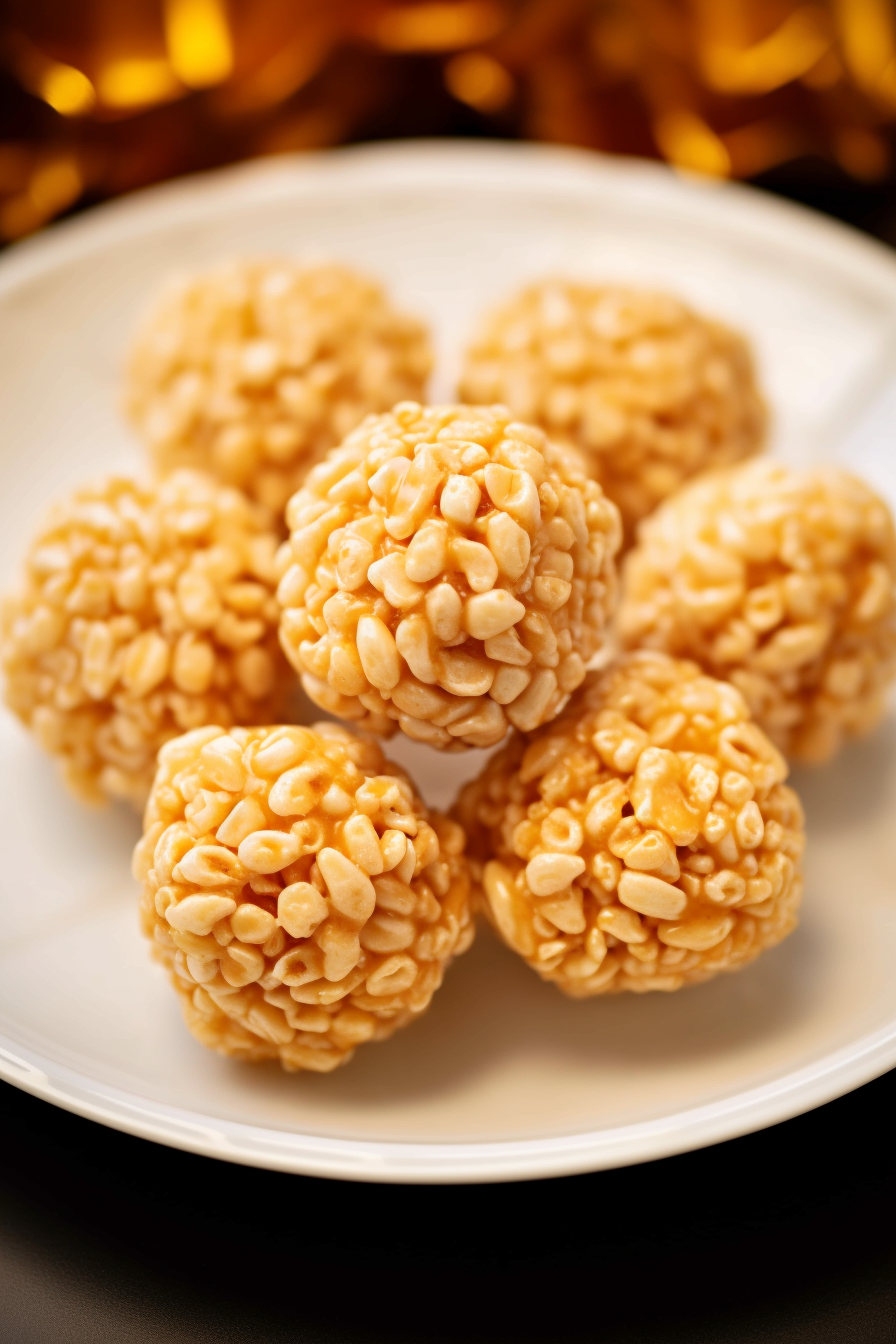 Storage Options:
Refrigerator: Ideal for a chewy texture. Store them in an airtight container for up to a week. Freezer: Fancy a frozen treat? Store them in an airtight container or freezer bag for up to a month. Just give them a few minutes to soften slightly before diving in!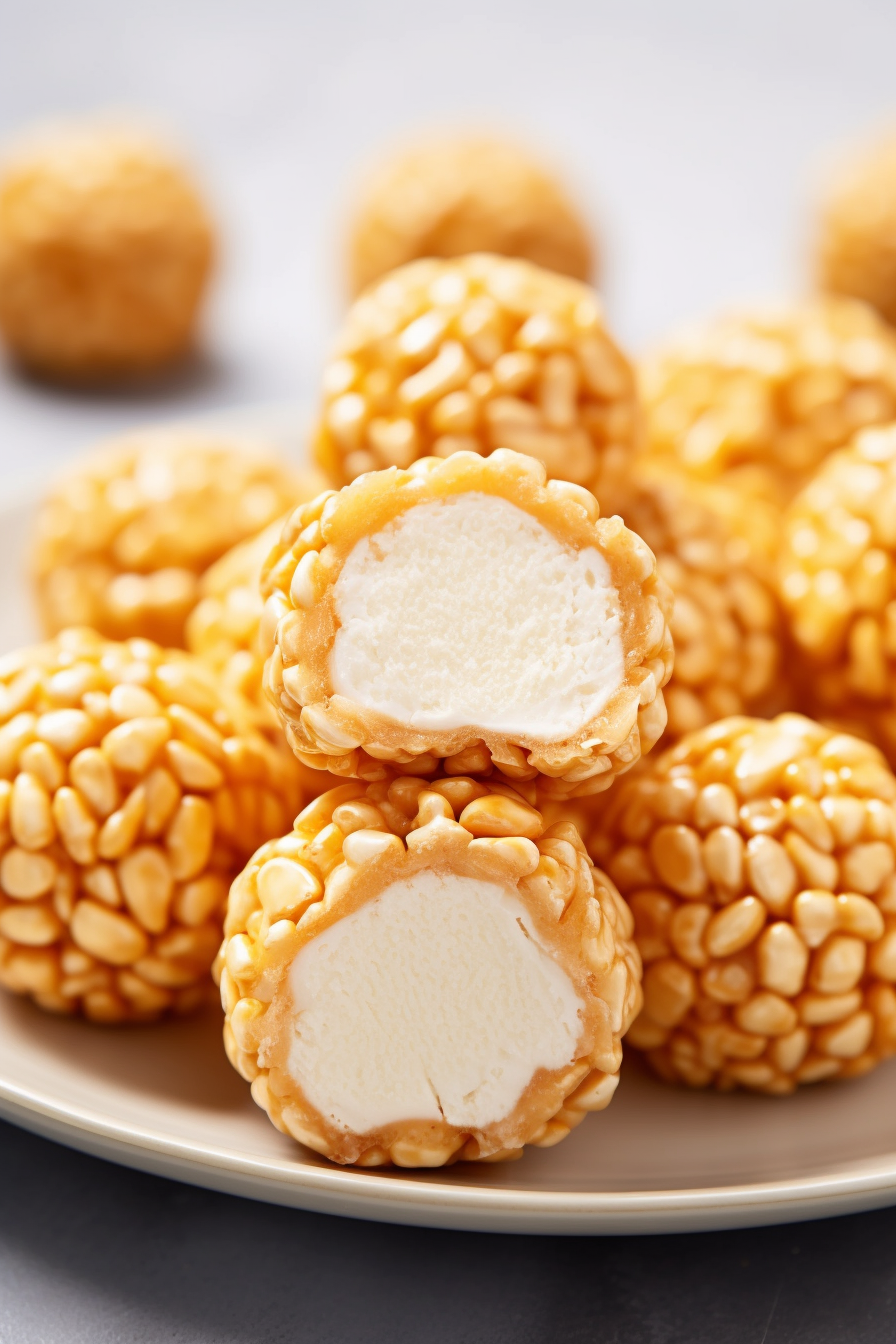 Variations and Substitutions:
Chocolate Drizzle: Drizzle melted chocolate over the balls for an added layer of deliciousness.
Substitute Cereals: Not a Rice Krispies fan? Try Cornflakes or even crushed pretzels for a salty twist.
Nuts About Nuts: Add crushed nuts into the caramel mixture for an added crunch.
Dairy-Free? Use a dairy-free butter substitute and coconut condensed milk. Just ensure the caramels you use are dairy-free too.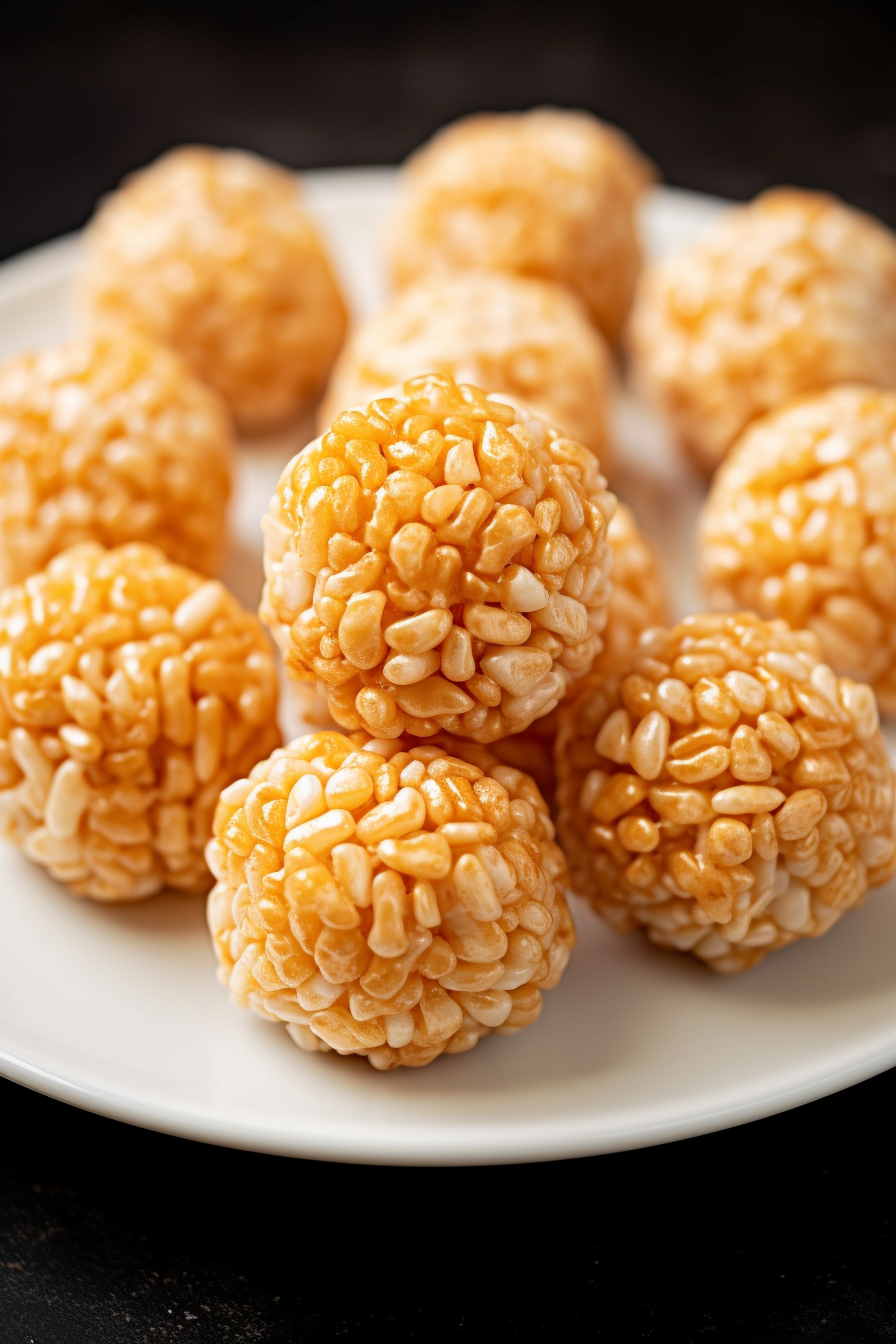 Hope you enjoy making these as much as I love sharing them! Remember, a messy kitchen is a sign of a recipe well enjoyed. Happy Holidays! 🎄🍬🤗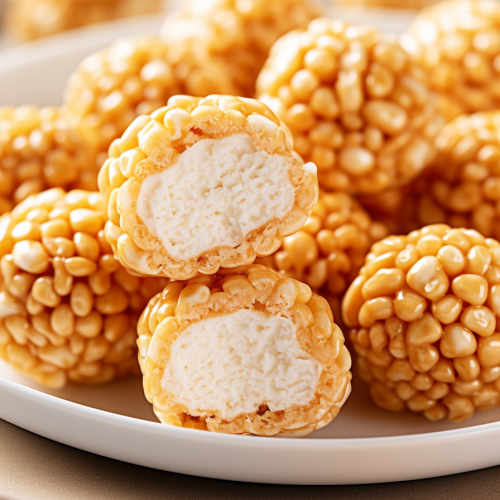 Caramel Marshmallow Rice Krispie Balls
Dive into a delightful treat blending Kraft caramels, creamy condensed milk, rich butter, fluffy marshmallows, and crunchy Rice Krispies. The perfect bite awaits!
Print
Pin
Rate
Ingredients
16

oz

of high-quality caramels

1

can of sweetened condensed milk

1

cup

of unsalted butter

1

and 1/2 packages of large marshmallows

1

box of Rice Krispies cereal
Instructions
Preparation of Ingredients: Begin by carefully unwrapping each caramel piece, ensuring no remnants of wrappers remain.

Creation of Caramel Mixture: In an appropriately sized microwave-safe bowl, combine the unsalted butter, caramels, and sweetened condensed milk. It is paramount to exercise caution in this step; melt the ingredients in the microwave using short intervals. After each interval, stir the mixture diligently until you achieve a homogenous and smooth consistency.

Marshmallow Coating: Individually immerse each marshmallow into the caramel mixture, ensuring it is generously coated on all sides.

Rice Krispies Application: After coating the marshmallow with caramel, immediately roll it in the Rice Krispies cereal, ensuring an even and thorough coverage.

Setting the Confectionery: Arrange the completed balls on a tray lined with wax or parchment paper, ensuring they are spaced appropriately to prevent sticking. Allow them to solidify for approximately one hour.

Storage: Once set, these confections should be stored in a refrigerated environment or a freezer, depending on one's texture preference, until they are to be served. Ensure they are stored in an airtight container to maintain freshness.