Indulge in our homemade Chocolate Chip Cookie Dough Brownies, blending the richness of brownies with the creamy texture of cookie dough, packed with chocolate chips for a double dose of decadence. Perfect for dessert lovers!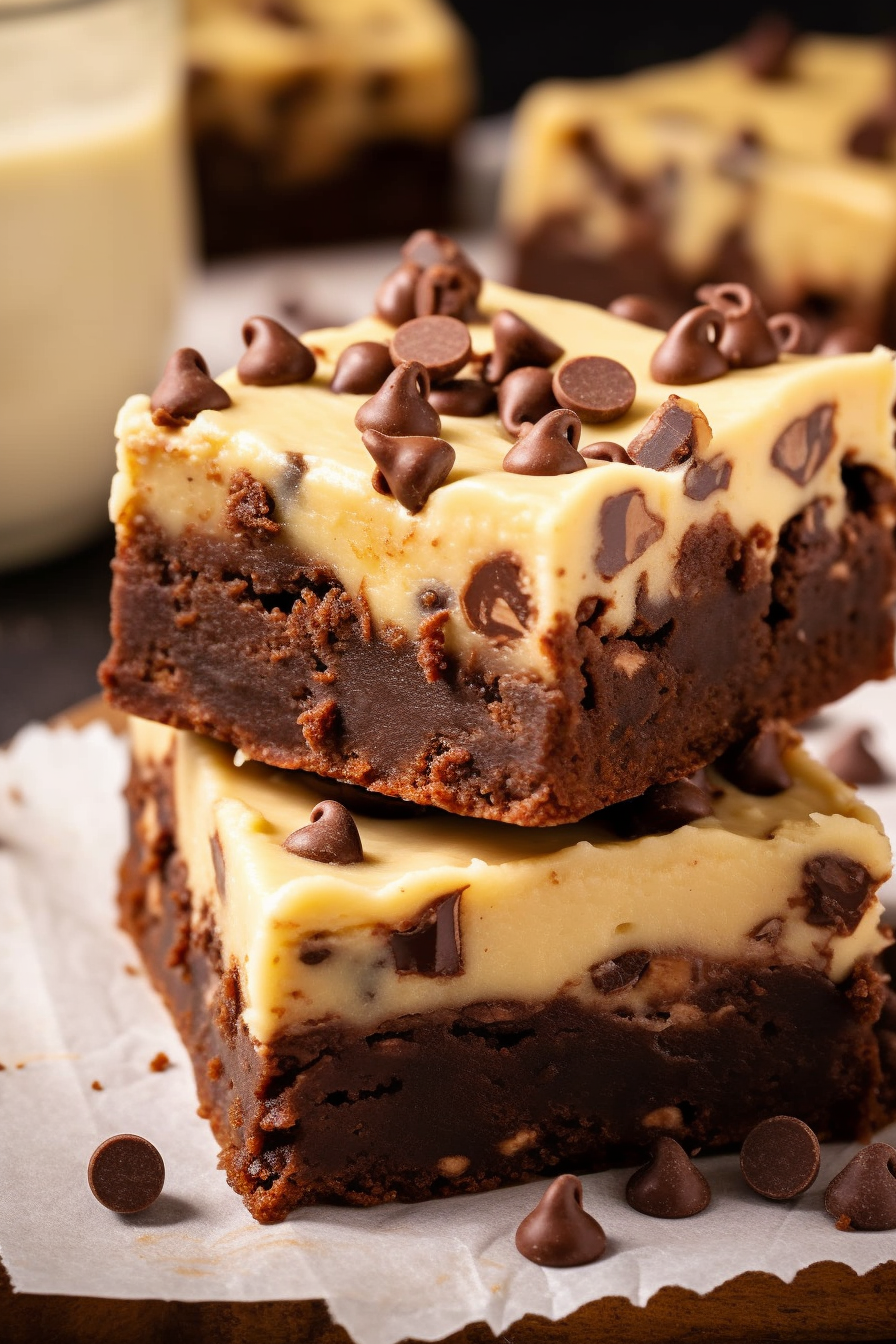 Once upon a time, in a charming bakery nestled in the heart of Maine, my eyes caught the sight of the most delectable creation: Chocolate Chip Cookie Dough Brownies. It was love at first bite. The moment I returned home, I set out on a culinary quest to recreate that magic. In my kitchen, I whisked, mixed, and baked with a sprinkle of nostalgia and a whole lot of chocolate chips. Each bite now takes me back to that quaint bakery and the sweet serendipity of discovering a recipe that's now a cherished tradition in my family.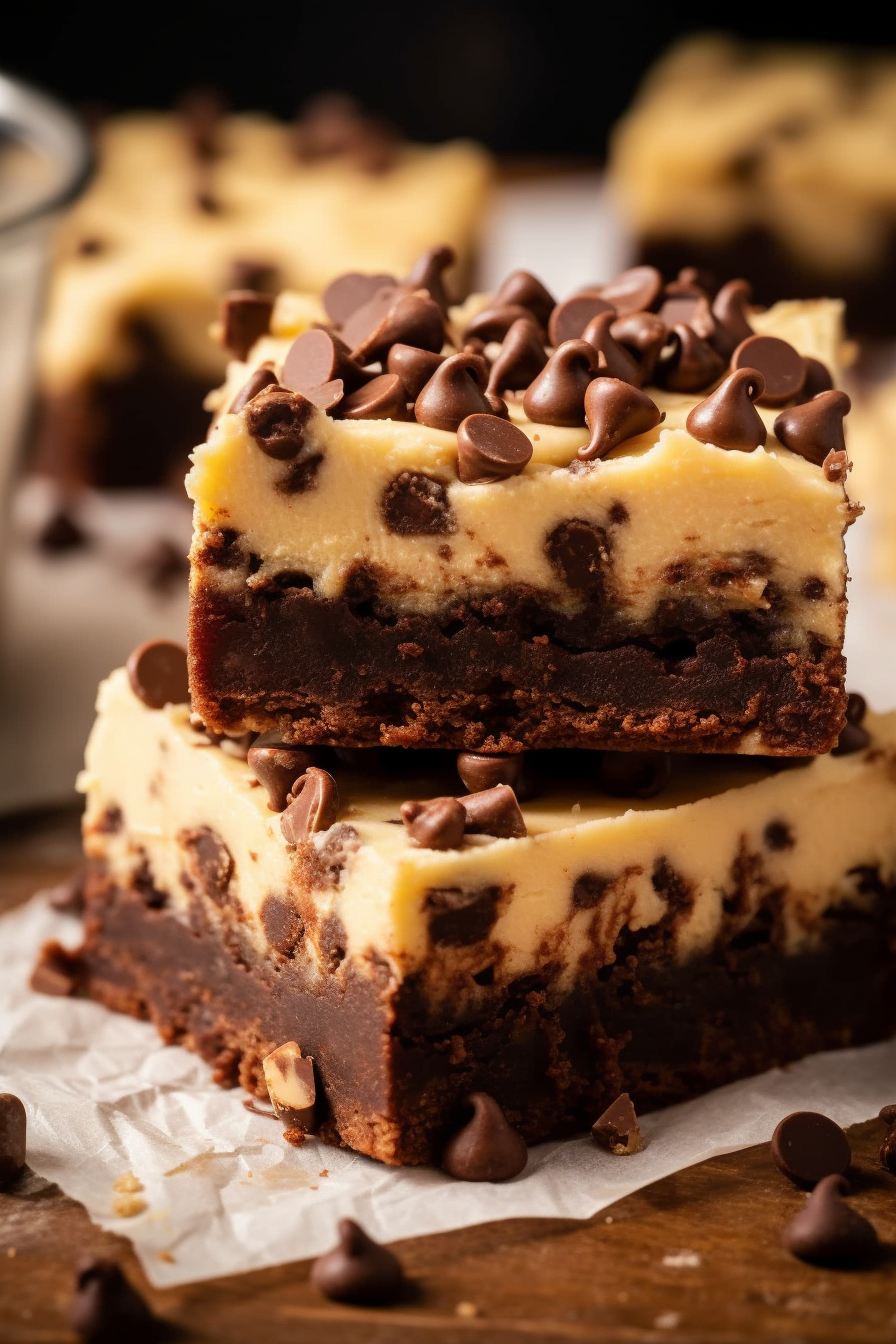 Why You'll Love Chocolate Chip Cookie Dough Brownies:
These Chocolate Chip Cookie Dough Brownies are not your ordinary dessert. First, they offer a dual-layer delight, combining the gooey, chocolaty goodness of brownies with a velvety layer of edible cookie dough. Second, the recipe is perfected with a careful balance of sweetness and texture, ensuring every bite is as satisfying as it is mouth-watering. Lastly, the ease of preparation makes it a go-to treat that looks and tastes as if it came straight from a gourmet bakery.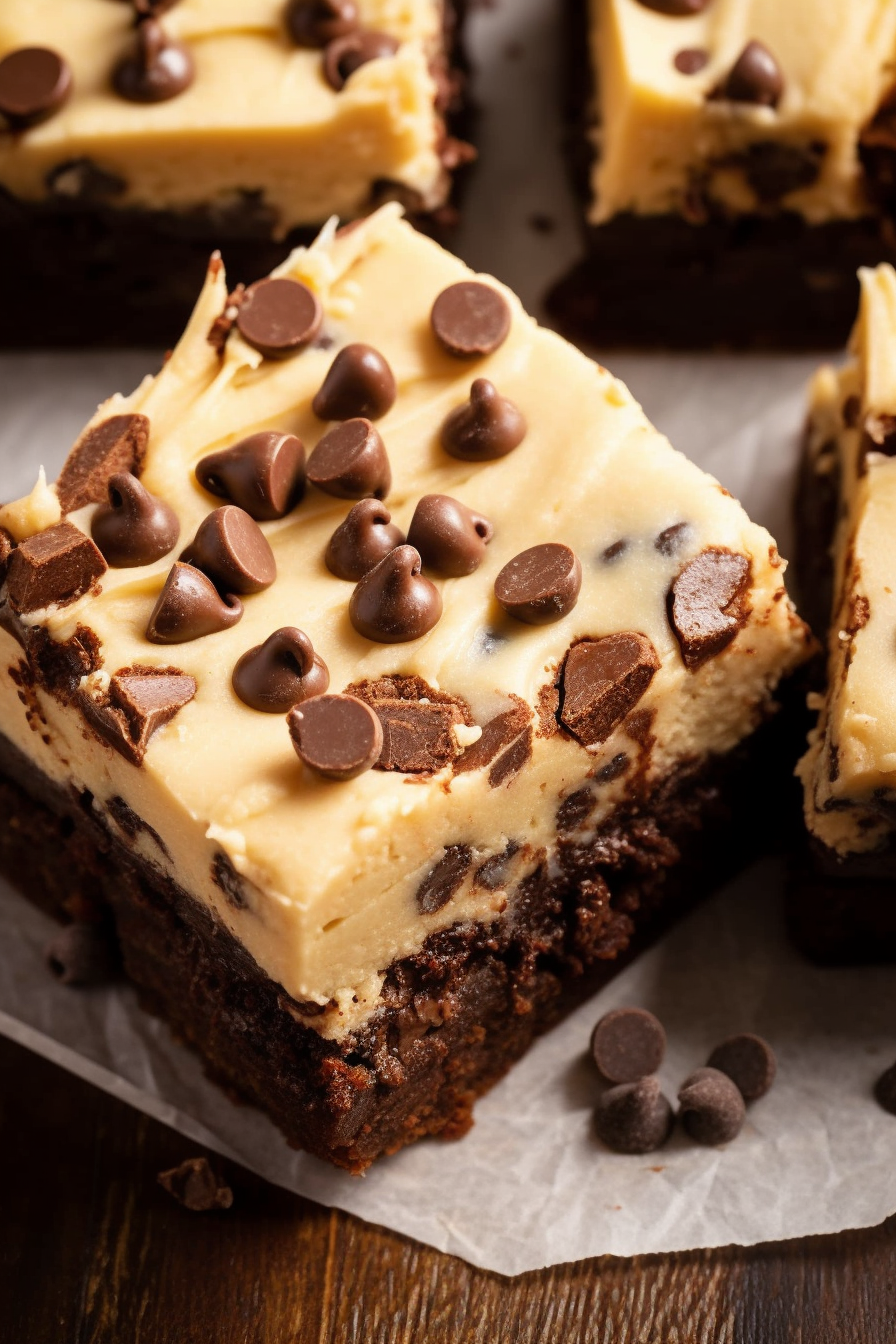 Ingredients Notes For Chocolate Chip Cookie Dough Brownies:
Welcome to the ultimate indulgence: Chocolate Chip Cookie Dough Brownies! Before you dive into baking, let's chat about the all-stars of this recipe:
Unsweetened Chocolate: The foundation of the brownie layer, offering that deep, rich chocolate essence.
Salted Butter: Adds moisture and a slight savory edge to both layers, balancing the sweetness.
Light Brown Sugar: Packs a molasses punch for the brownies, contributing to that moist, chewy texture.
Eggs: The binding agent that gives the brownie its classic structure.
Vanilla Extract: A splash that brings out the chocolate's complexity and warmth.
All-Purpose Flour: The structural backbone for both layers, creating the perfect crumb.
Miniature Chocolate Chips: Little nuggets of joy, they bring fun texture and an extra chocolatey hit to every bite.
Granulated White Sugar: The cookie dough's sweet sidekick, creating that authentic cookie dough flavor.
Milk: Just a touch to make the cookie dough layer creamy and spreadable.
Shortening and Semisweet Chocolate Chips (Optional): The grand finale, a chocolate drizzle that dresses up your brownies for the ultimate gourmet experience.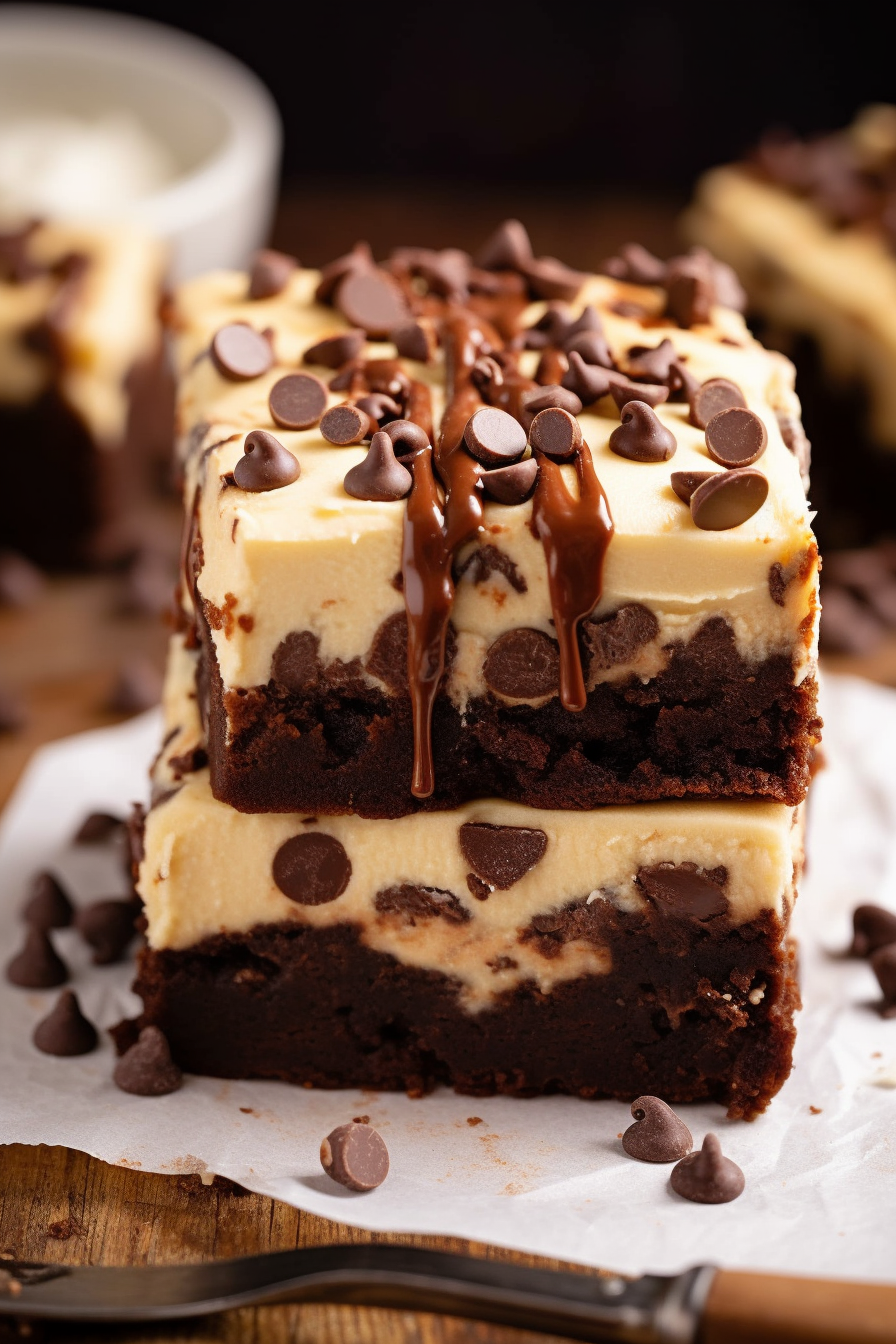 How To Make Chocolate Chip Cookie Dough Brownies:
Ready to create some chocolate magic? Here's how to bring these Chocolate Chip Cookie Dough Brownies to life:
BROWNIE LAYER
Preheat and Prep: Fire up your oven to 325°F and get that 9×13-inch pan ready with a good mist of nonstick spray.
Chocolate Meltdown: Melt your unsweetened chocolate in a glass bowl with short microwave spurts, stirring into oblivion until smooth.
The Whisking Witchcraft: In a separate cauldron—erm, bowl—whisk the melted butter and brown sugar. Throw in the eggs and vanilla, whisking them into the mix like a love potion.
Chocolate Fusion: Introduce the slightly cooled melted chocolate to your mix, blending it into one happy family.
Flour Shower: Gently whisk in the flour, taking care not to overwork it (nobody likes a tough brownie).
Chip Toss: Fold in the mini chocolate chips for that extra texture and flavor.
Bake and Cool: Spread it in the pan and bake until a toothpick comes out clean. Patience, young baker, let it cool completely.
COOKIE DOUGH LAYER
Mix Master: Cream butter and both sugars together until fluffy, then beat in the milk and vanilla essence like it's going out of style.
The Flour Maneuver: Add in the flour, but remember, just until combined—we're not making bread here.
Chip Sprinkle: Get those mini chocolate chips in there for the specks of chocolatey happiness.
The Big Chill: Spread the dough over your cooled brownies and refrigerate. If you're as impatient as I am, pop them in the freezer to firm up faster.
ASSEMBLY
Slice and Dice: Once firm, cut into squares. Keep a paper towel handy unless you want a brownie-dough-covered knife.
Serve it Up: These bad boys are rich, so consider serving them in cupcake papers with a fork for a touch of class (and less mess).
TOP IT OFF
Chocolate Rain: If you're feeling extra, melt chocolate chips with shortening, then drizzle it over your brownies like Picasso in the kitchen.
Final Touch: Sprinkle a few more chips on top because, let's be honest, there's no such thing as too much chocolate.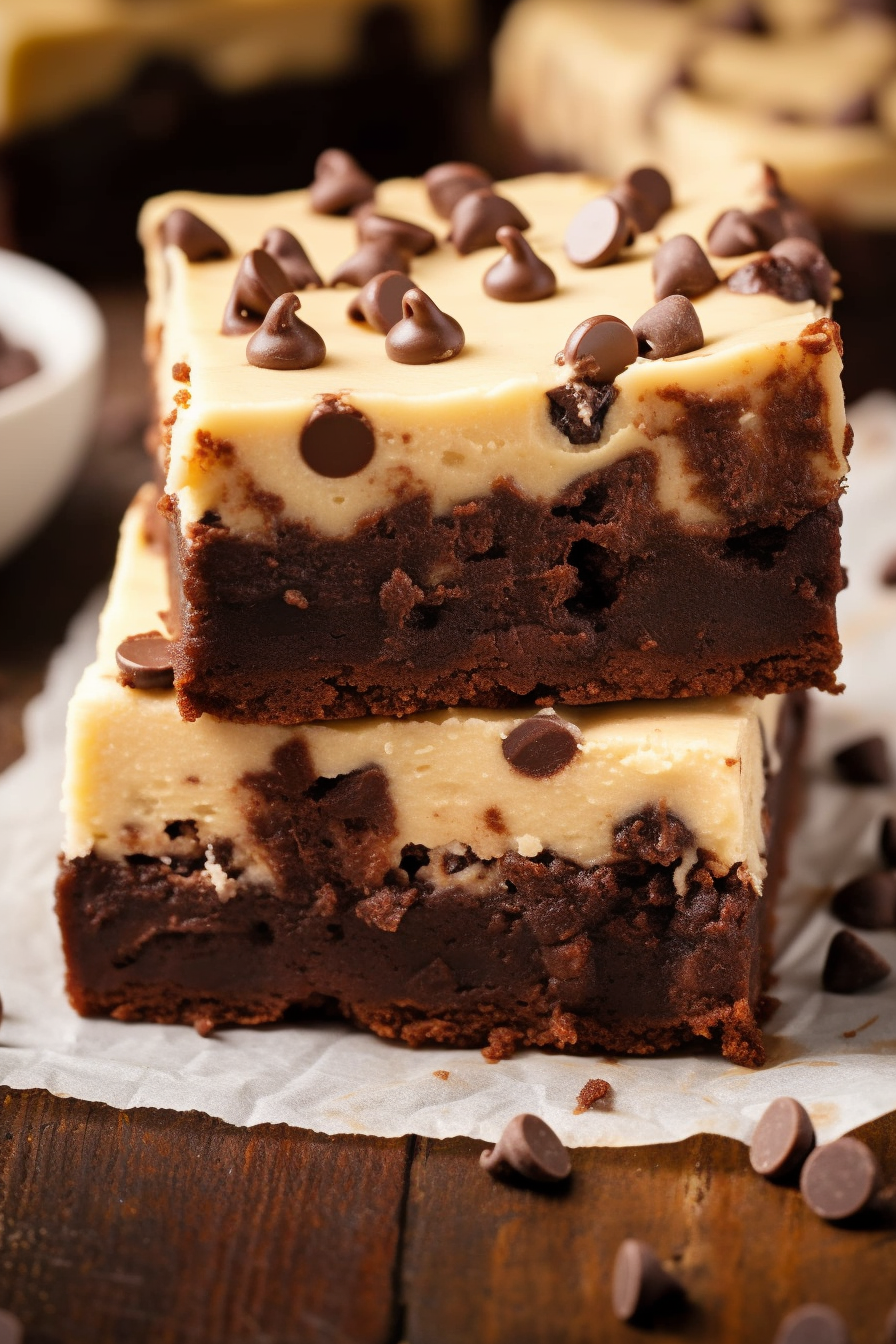 Storage Options:
After you've had your fill of these chocolate treasures (or if you're one of those "save some for later" types), you've got options! Stash them in an airtight container at room temperature to keep them fresh for a few days. If you've got more willpower than most, they'll keep in the fridge for up to a week—just let them sit out for a bit before serving, so they return to their fudgy glory. For the long haul, these babies can be frozen for a couple of months. Just make sure to wrap them up snug so they don't get freezer burn. Defrosting in the fridge overnight works like a charm!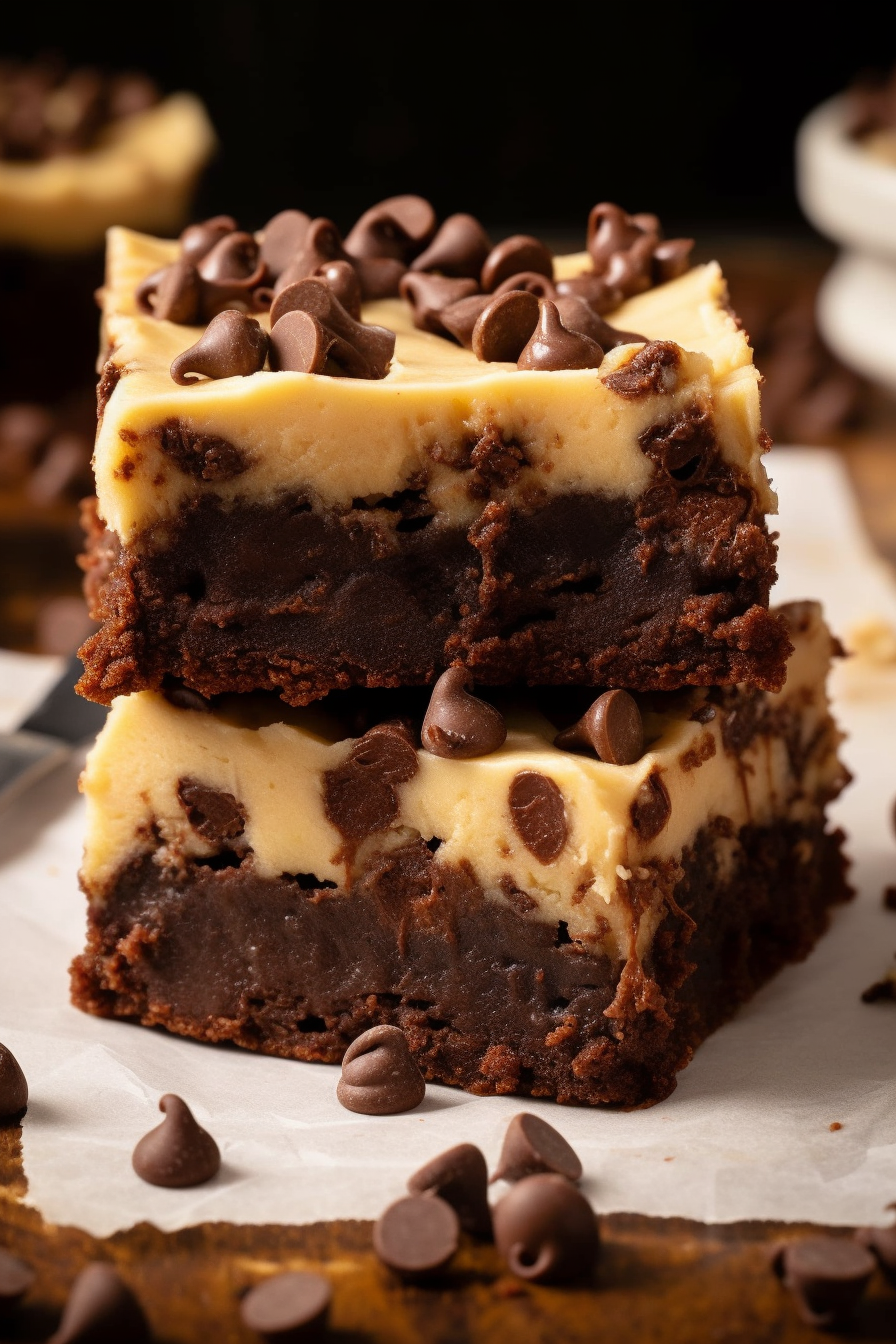 Variations and Substitutions:
Alright, let's talk tweaks and twists for those who like to walk on the wild side of baking:
Butter Beware: If salted butter isn't your jam, go unsalted and add a pinch of salt to balance the flavors.
Flour Power: For a gluten-free spin, swap in your favorite GF flour blend, and you're golden.
Sugar Shuffle: Want a deeper flavor? Try muscovado sugar instead of brown for a toffee-like twist.
Milk Mix-Up: Out of cow juice? Almond, soy, or oat milk can step in as understudies.
Chip Change: Feeling adventurous? Swap out those mini chocolate chips for white chocolate, peanut butter chips, or even toffee bits for a flavor explosion.
Vegan Vibes: There are great vegan alternatives for butter, eggs, and milk that can help you whip up a cruelty-free version of this decadent dessert.
Topping Swap: Not a fan of the chocolate drizzle? A sprinkle of sea salt or crushed nuts can add a crunchy contrast to your gooey brownie base.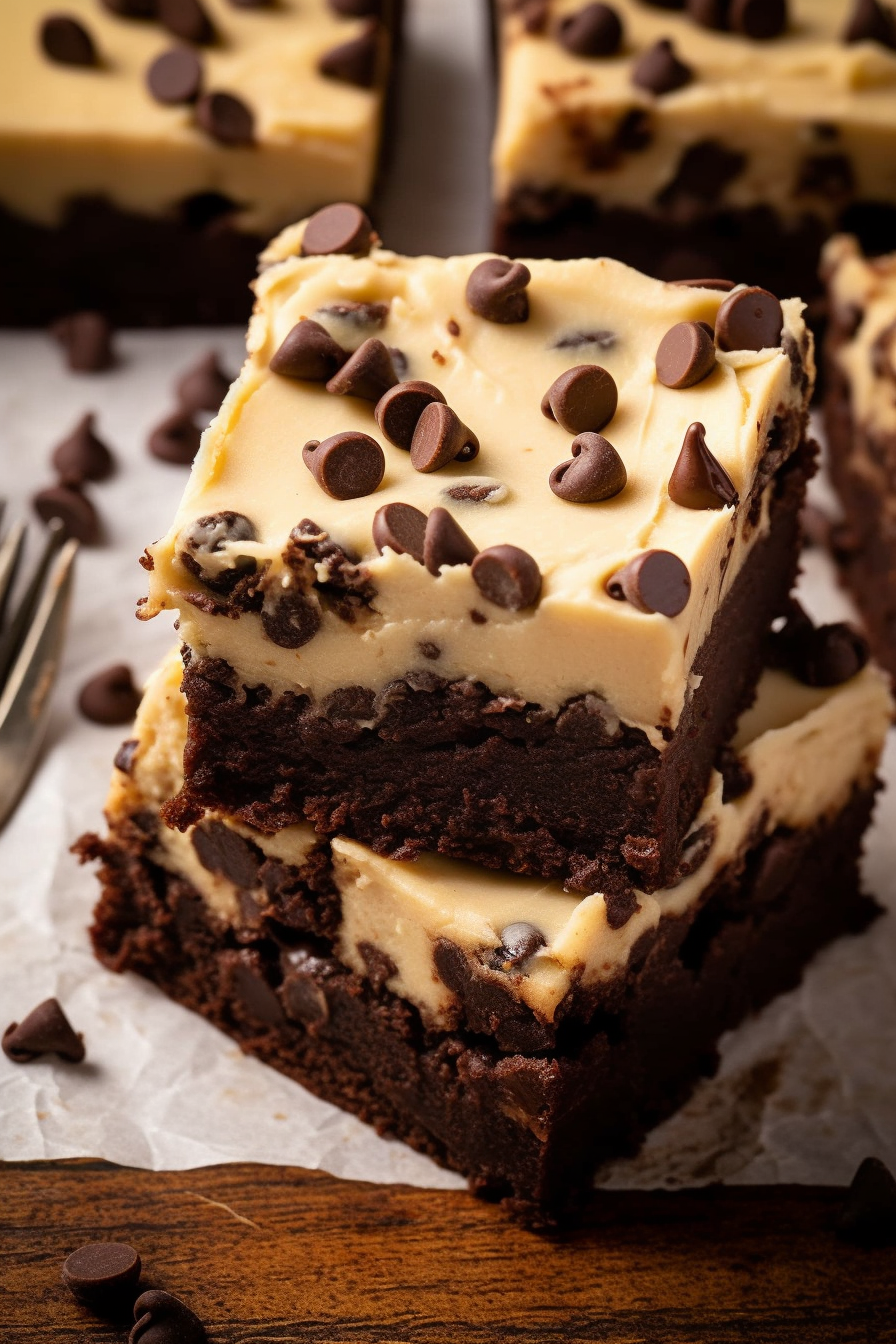 Go ahead, make this recipe your own, and who knows? Maybe you'll stumble upon a combination that'll be your own signature dessert!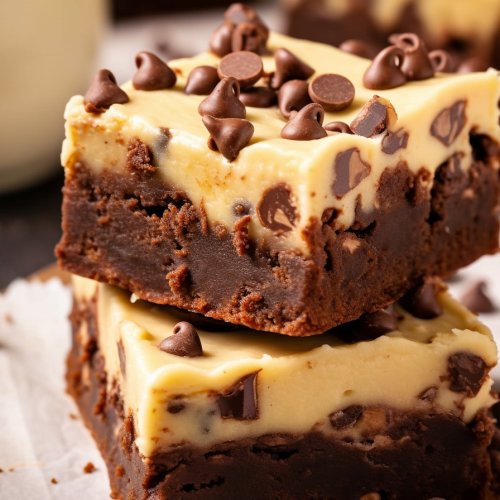 Chocolate Chip Cookie Dough Brownies
Indulge in our homemade Chocolate Chip Cookie Dough Brownies, blending the richness of brownies with the creamy texture of cookie dough, packed with chocolate chips for a double dose of decadence. Perfect for dessert lovers!
Print
Pin
Rate
Ingredients
For the Brownie Layer:
4

ounces

of unsweetened chocolate

finely chopped

1

cup

equivalent to 2 sticks of salted butter, in a melted state

2

cups

of light brown sugar

firmly packed

4

large eggs

2

teaspoons

of vanilla extract

1

cup

of all-purpose flour

1/2

cup

of miniature chocolate chips
For the Cookie Dough Layer:
3/4

cup

equivalent to 1 and 1/2 sticks of salted butter, at room temperature

3/4

cup

of packed light brown sugar

3/4

cup

of granulated white sugar

3

tablespoons

of milk

1

and 1/2 teaspoons of vanilla extract

1

and 1/2 cups of all-purpose flour

refer to NOTES

1

and 1/2 cups of miniature chocolate chips
For the Optional Topping:
1/2

cup

of semisweet chocolate chips

1

teaspoon

of shortening
Instructions
Preparation of the Brownie Layer:
Preheat the oven to a temperature of 325 degrees Fahrenheit. Employ a nonstick spray on a 9×13-inch baking pan to ensure a non-adhesive surface.

Utilize a medium glass bowl to melt the chocolate. This should be achieved through intermittent heating in a microwave for 30-second durations, stirring after each interval. Once the chocolate is melted and possesses a smooth consistency, set it aside to allow a slight decrease in temperature.

In a capacious mixing bowl, combine the melted butter with the light brown sugar by whisking them together. Proceed to incorporate the eggs and vanilla extract into this mixture, whisking thoroughly.

Introduce the melted chocolate into the mixture, ensuring a homogeneous blend. Subsequently, incorporate the flour, taking care to mix only until the ingredient is just combined to avoid over-mixing. Conclude by folding in the miniature chocolate chips.

Transfer the batter into the prepared pan and proceed to bake for a duration of 25 to 35 minutes. It is critical to monitor the baking process closely and remove the pan from the oven when a toothpick inserted into the center emerges clean. Allow the brownie layer to cool completely.
Preparation of the Cookie Dough Layer:
In a medium-sized mixing bowl, utilize an electric mixer to blend the room temperature butter, light brown sugar, and white sugar until the mixture is light and fluffy. Incorporate the milk and vanilla extract into this mixture.

Gently mix in the flour until just combined, ensuring not to overwork the mixture. Note the recipe's NOTES concerning the flour's preparation. Fold in the miniature chocolate chips.
Assembly:
Once the brownie layer has cooled, spread the cookie dough layer evenly over it. Place in a refrigerator to solidify the dough, making it firm. Alternatively, to expedite the firming process, the assembly may be placed in a freezer.

Utilizing a sharp knife, cut the firmed brownies into squares. It may be necessary to clean the knife with a paper towel intermittently to maintain a neat cut, due to the dough's tendency to adhere.
Final Touch (Optional Topping):
If a chocolate drizzle is desired, melt the semisweet chocolate chips with shortening in a microwave; stirring the mixture until smooth consistency is achieved.

Decant the melted chocolate into a small zip-sealed bag, trimming off a corner to create an opening. Apply pressure to the bag to drizzle the chocolate atop each brownie. If desired, extra chocolate chips may be sprinkled on top as a finishing garnish.