Unleash comfort food nostalgia with this simple Creamed Chipped Beef on Toast recipe. Dive into the savory blend of butter, flour, milk, dried beef, and a hint of cayenne served on a crisp toast!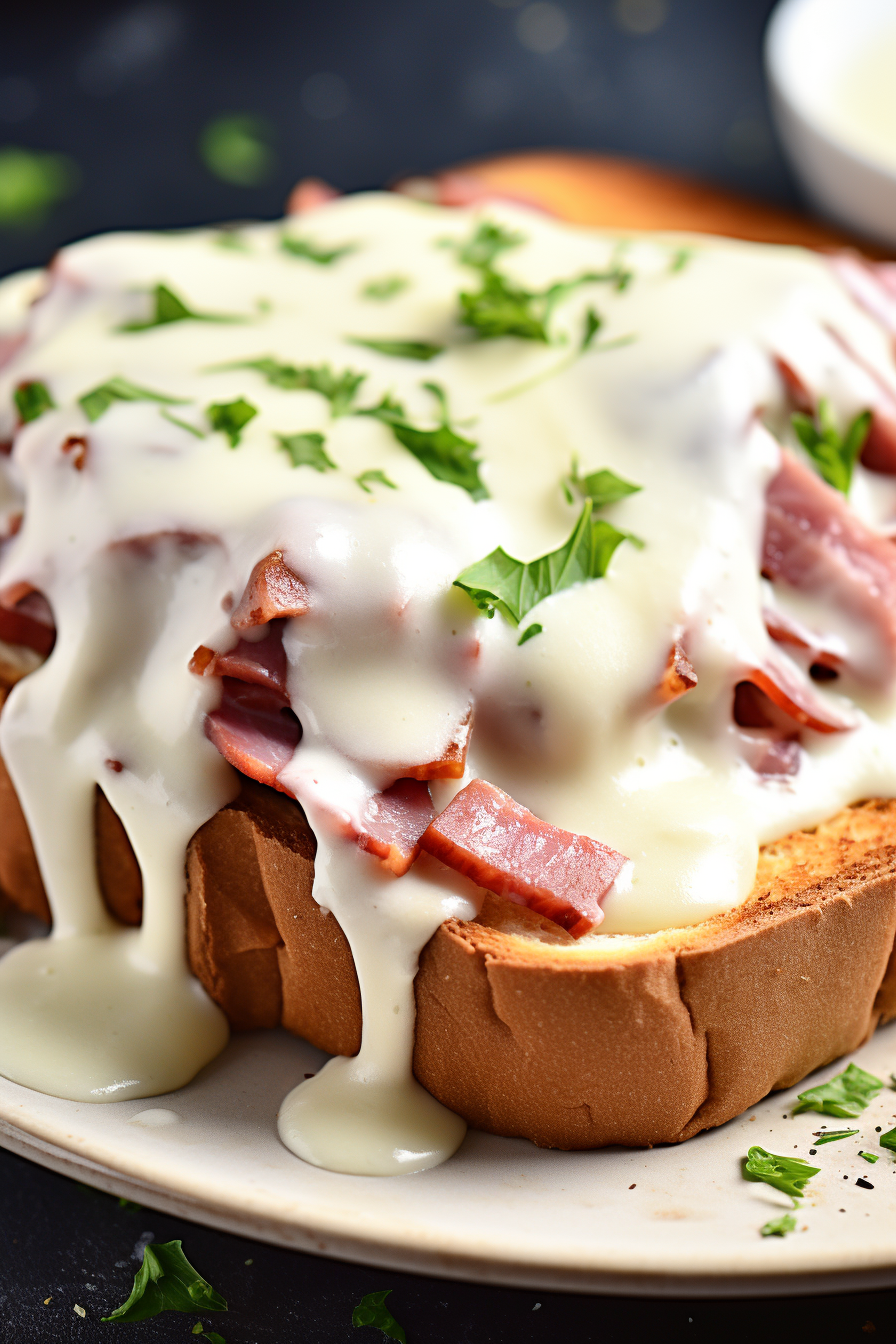 Let's take a stroll down memory lane, shall we? The fragrance of this dish takes me right back to my childhood kitchen, the one with the wonky drawer and a fridge that hummed its own special tune. Whenever the day seemed like it was going south, mom would whip out her secret weapon – this Creamed Chipped Beef on Toast. We fondly called it SOS, and no, it's not because we were sending distress signals. It stood for "Same Ole Stuff," but let me tell you, there was nothing "same ole" about this dish. It was the edible version of a bear hug on a cold, rainy day. Sharing this recipe feels like passing down a family heirloom, but without the worry of it not fitting into your apartment. It's heartwarming, it's easy, and paired with a cold beer, it's absolute perfection.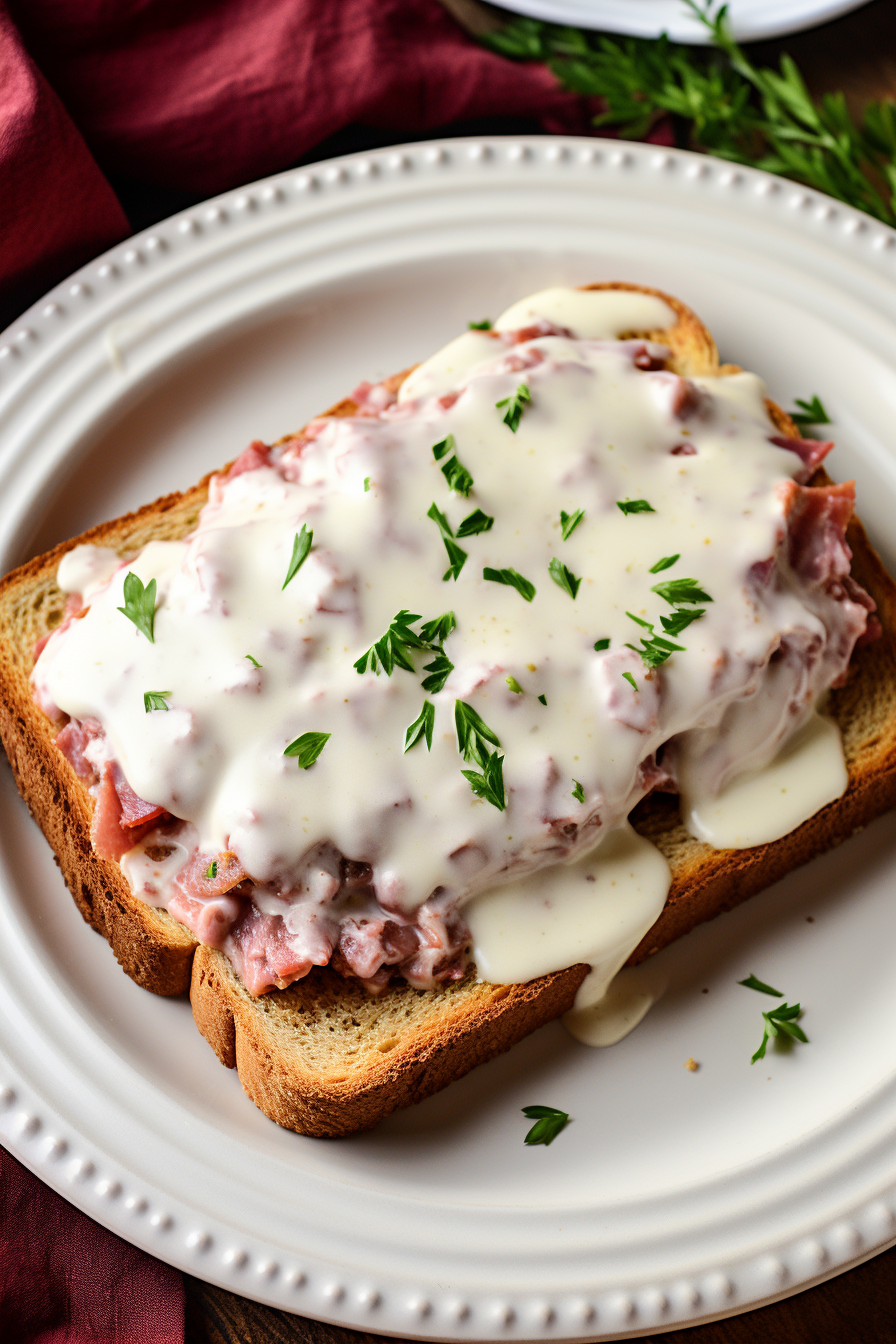 The best Creamed Chipped Beef on Toast:
Ah, what makes this "Same Ole Stuff" so un-same-ole and utterly enticing? First, it's delectably no-fuss, transitioning seamlessly from pantry to plate in a cool 20 minutes. No culinary degree required, just good old passion for comfort food! Next, it offers a heavenly combination of salty dried beef enveloped in a creamy sauce with a cheeky pinch of cayenne to keep things interesting. And the cherry on top? It's served on toast! Everything tastes better on toast, right? Perfect for both lazy Sundays and hectic Wednesdays, this dish is a canvas for culinary creativity.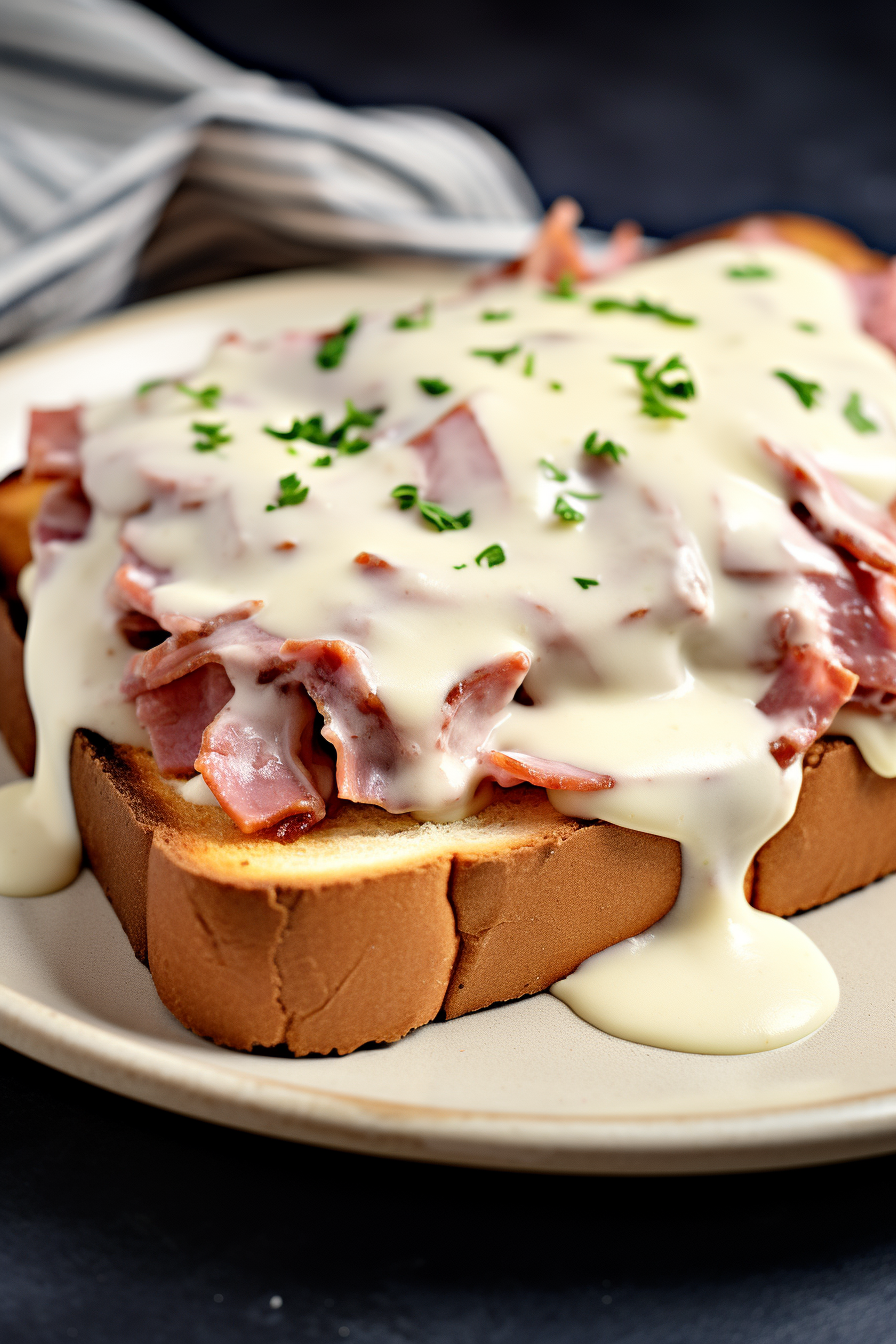 Ingredients for Creamed Chipped Beef on Toast:
The ingredients list here might seem shorter than a cat's attention span, but they're the true MVPs of our beloved SOS. Butter: opt for unsalted, as the dried beef packs its own salty punch. All-purpose flour: this pantry staple acts as the dish's thickening agent. If you're feeling extra adventurous, you could play around with whole wheat flour or gluten-free options. Warm milk: whole milk gives it a rich creaminess, but feel free to lighten it up with skimmed or almond milk. Dried beef: the star of the show, found in jars or bags at your local grocery store. Cayenne pepper: a tad goes a long way to give a playful kick. Lastly, toast – the canvas for our creamy beef masterpiece.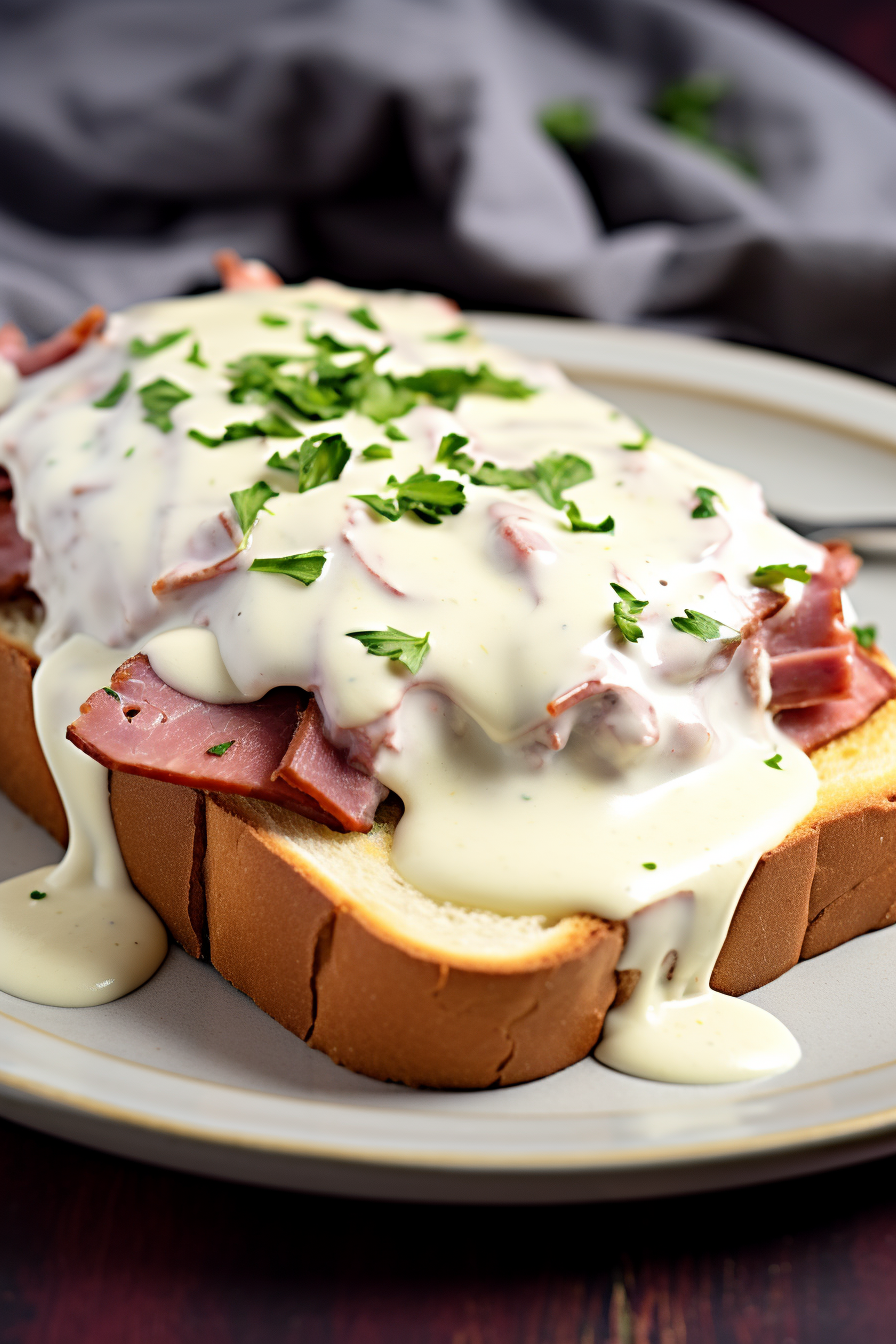 How to make Creamed Chipped Beef on Toast:
Alright, chefs-in-the-making, let's break this down like a 90's dance routine!
Step 1: Start with melting the butter in a medium saucepan over low heat. Think of it as setting the stage for the flour which acts as our background dancer. As the butter melts, its aroma will pave the way for what's coming next.
Step 2: Time to introduce the flour! Whisk it in until you get a smooth paste. This butter-flour combo will create a roux, which is just a fancy word for a thickening agent. It's the foundation of our sauce.
Step 3: Now, for the milk. You can't just dump it in. It needs a grand entrance! Add it gradually, whisking fervently after each splash. This will ensure a lump-free, silky sauce. Raise the heat to medium-high and keep stirring like you're chasing the perfect consistency.
Step 4: Enter the beef and cayenne. Fold in the chopped dried beef and introduce the cayenne pepper. Let them mingle and get warm. Imagine a cozy get-together where all the ingredients are catching up!
Step 5: The grand finale! Once everything's hot and mingling well, pour this creamy concoction over your toasted bread. And just like that, magic on a plate!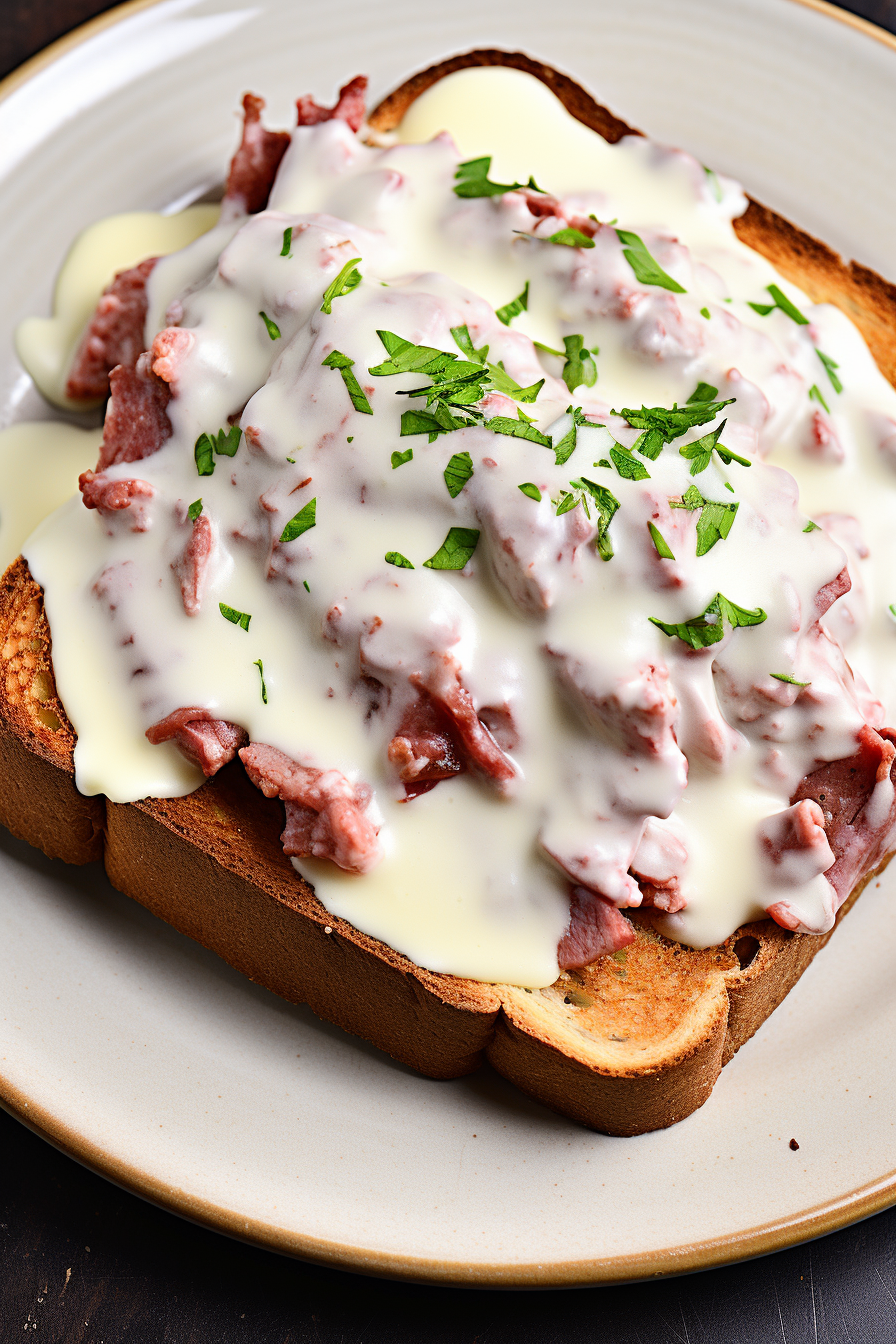 Storage Options for the Creamed Chipped Beef on Toast:
Should you, by some strange twist of fate, end up with leftovers (trust me, it's a rarity), you can store the creamed beef mixture in an airtight container in the refrigerator for up to 3 days. Just remember, the toast tends to get soggy, so it's best to keep it separate and toast fresh slices when you're ready for round two.
Variations and Substitutions for the Creamed Chipped Beef on Toast:
Variety's the spice of life, right? Let's shake things up a bit:
Protein Sub: Not a beef fan? Swap it out for some salty, chopped ham or even smoked turkey.
Heat Variations: Cayenne too hot to handle? Try paprika for a milder kick, or go rogue with some crushed red pepper.
Dairy-Free: Swap regular milk for almond, soy, or oat milk, and use a dairy-free butter alternative.
Gluten Sensitivity: Gluten-free flour works wonders in place of the all-purpose flour. Opt for gluten-free bread for toasting.
Add-Ins: Feeling green? Add some sautéed spinach or peas into the mix for a vibrant twist.
There you have it! A versatile dish that's part comfort, part nostalgia, and wholly delicious. Cheers to mom-inspired masterpieces! 🍞🥛🌶🥩🍺🍽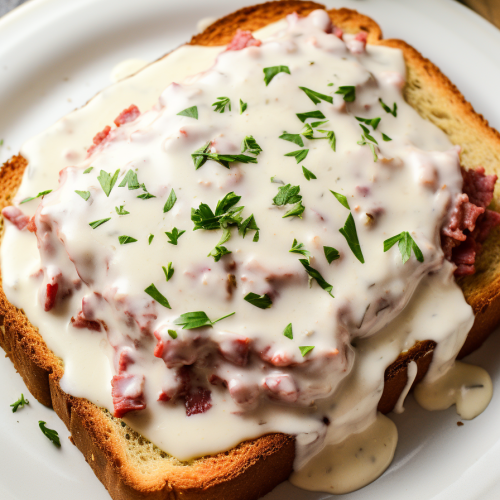 Creamed Chipped Beef on Toast
Unleash comfort food nostalgia with this simple Creamed Chipped Beef on Toast recipe. Dive into the savory blend of butter, flour, milk, dried beef, and a hint of cayenne served on a crisp toast!
Print
Pin
Rate
Ingredients
2

tablespoons

unsalted butter

2

tablespoons

all-purpose flour

1 ½

cups

warm whole milk

1

8 ounce jar of dried beef, finely chopped

A small pinch of cayenne pepper

Bread

appropriately toasted
Instructions
Begin by melting the unsalted butter in a medium-sized saucepan over a low flame.

Once the butter is fully melted, gradually incorporate the all-purpose flour, whisking constantly to ensure the formation of a smooth roux.

Slowly introduce the warm whole milk to the roux, continuing to whisk diligently to prevent any lumps from forming. Subsequently, increase the heat to medium-high, ensuring constant stirring until the mixture attains a thickened consistency.

Upon achieving the desired thickness, fold in the finely chopped dried beef and incorporate the cayenne pepper. Continue to heat the mixture until the beef is adequately warmed.

To serve, ladle the creamed beef mixture over slices of toasted bread.