Indulge in the delightful blend of chocolate and mayo in our easy Chocolate Mayonnaise Cake! With main ingredients like cocoa powder, mayonnaise, and vanilla extract, this moist cake will become your next guilty pleasure.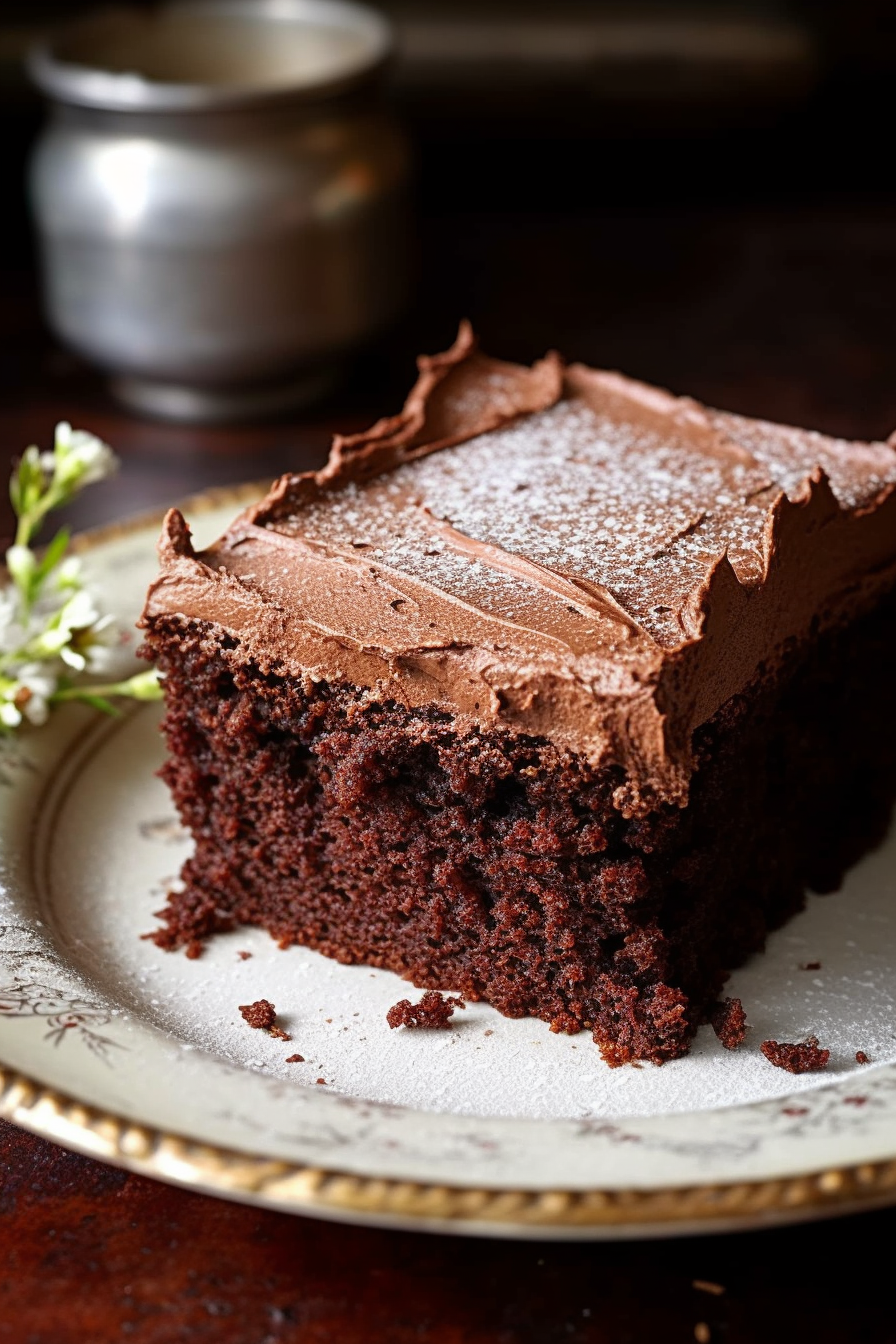 Oh, the joys of cleaning out Granny's old recipe cards! Tucked away between the classic pound cake and her world-famous banana bread was this gem: Chocolate Mayonnaise Cake. Now, I won't lie. I was as sceptical as you probably are right now. Mayonnaise? In cake? But trust me, this has been a family secret weapon for years. Maybe it was born during times of scarcity, or perhaps Granny was simply trying to sneak in some creaminess into the mix. Either way, one bite and I was transported back to afternoons at her cozy kitchen, laughter echoing, and the sweet scent of this cake wafting through the air. Memories in every bite, this cake is a testament to the magic of mixing unexpected ingredients.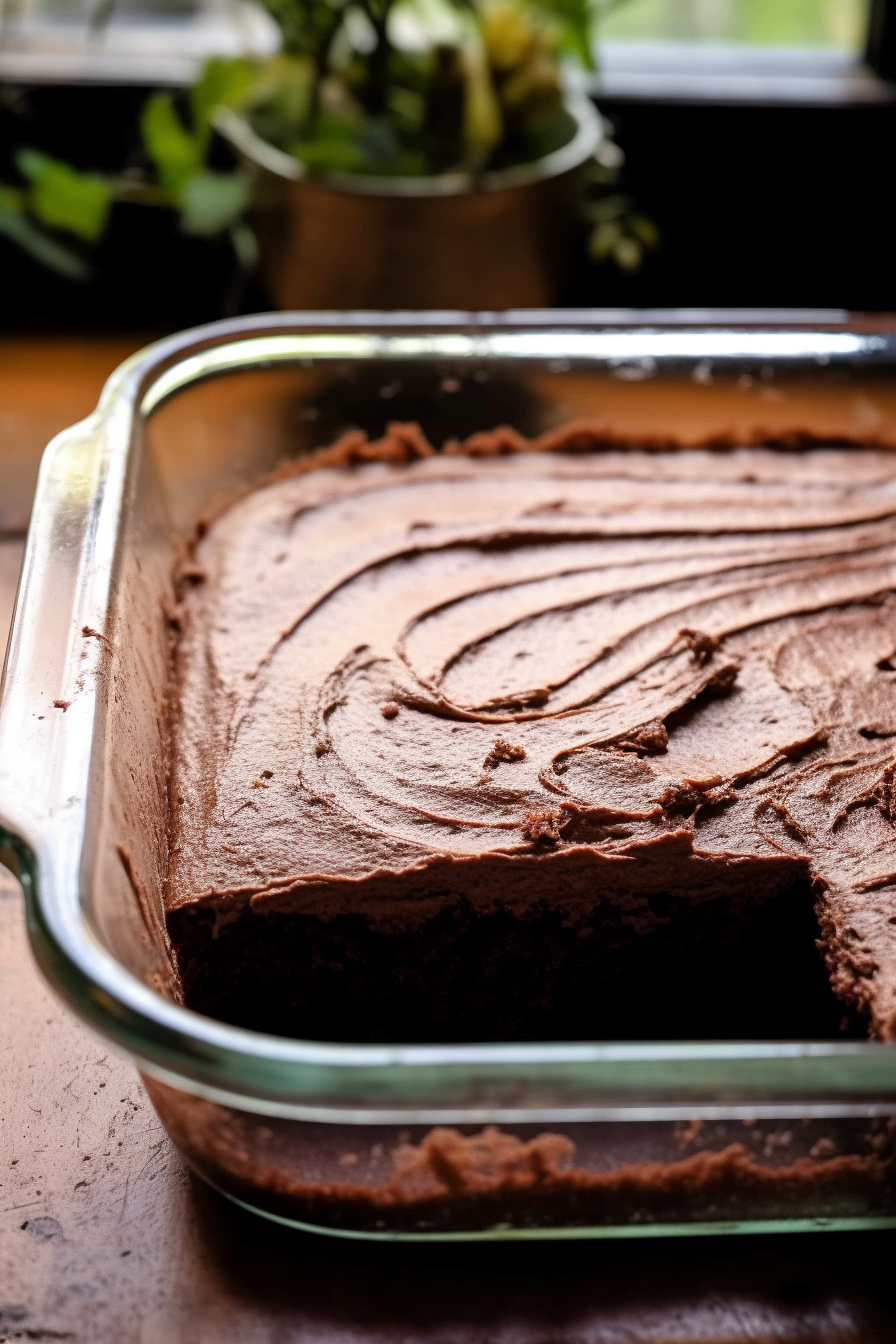 Our Chocolate Mayonnaise Cake is not just any cake. First, it's ridiculously easy! Gone are the days of intricate steps and finicky ingredients. Second, mayo isn't just for sandwiches; it brings unparalleled moistness to the cake that most recipes can't boast of. And lastly, it's a conversation starter! Your guests will be intrigued, delighted, and left scraping the plate for more.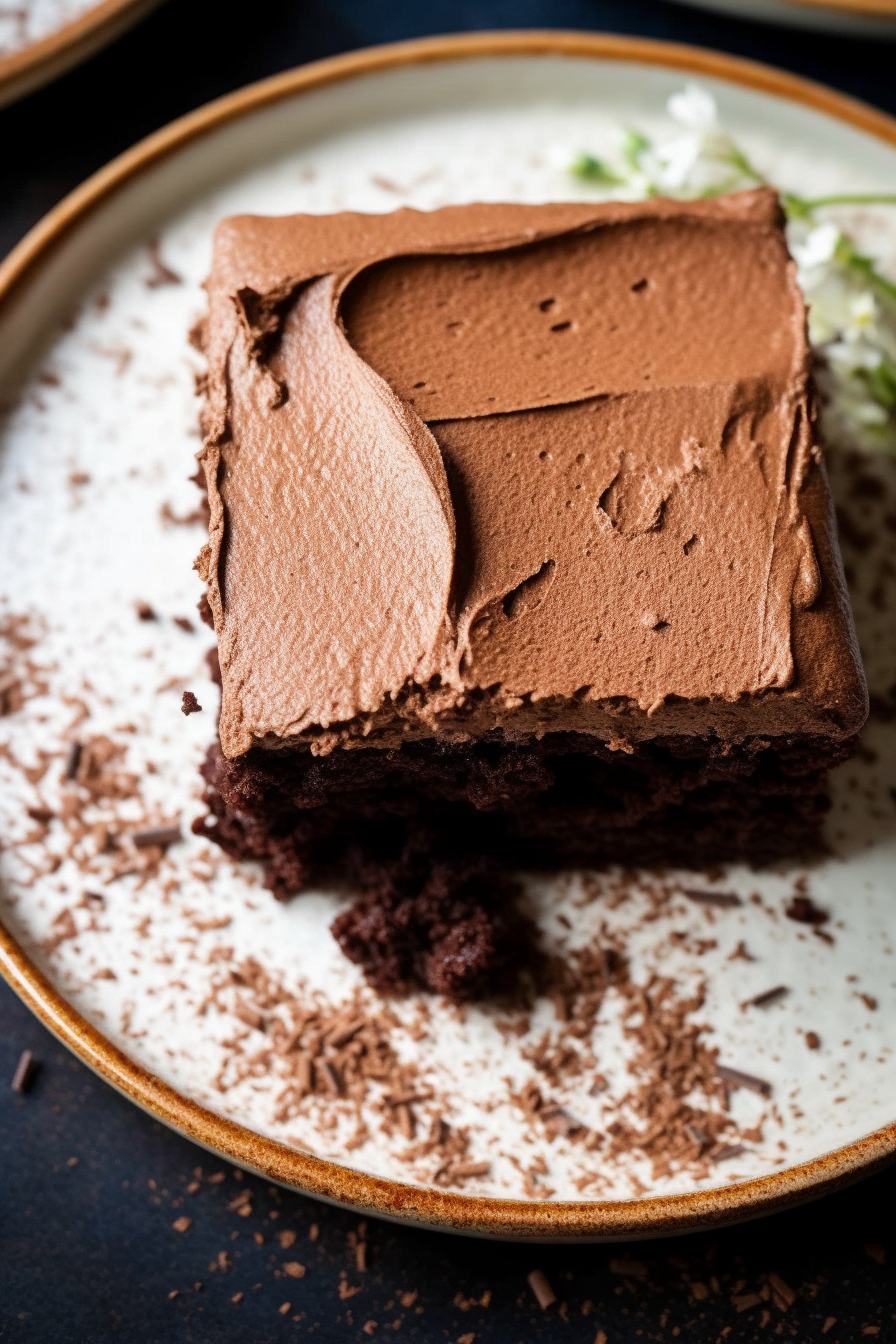 Ingredients for Chocolate Mayonnaise Cake:
Flour: Standard all-purpose flour works wonders.
Sugar: We love the sweet simplicity of white sugar, but feel free to experiment!
Baking Soda: A vital leavening agent for that airy texture.
Vanilla Extract: For that delicate, sweet aroma we all love.
Cocoa Powder: Unsweetened ensures you get that rich chocolatey taste without going overboard on sugar.
Mayonnaise or Miracle Whip: The star! It replaces eggs and oil, giving our cake its distinctive moistness.
Water: Lukewarm's the secret. Helps in combining everything smoothly.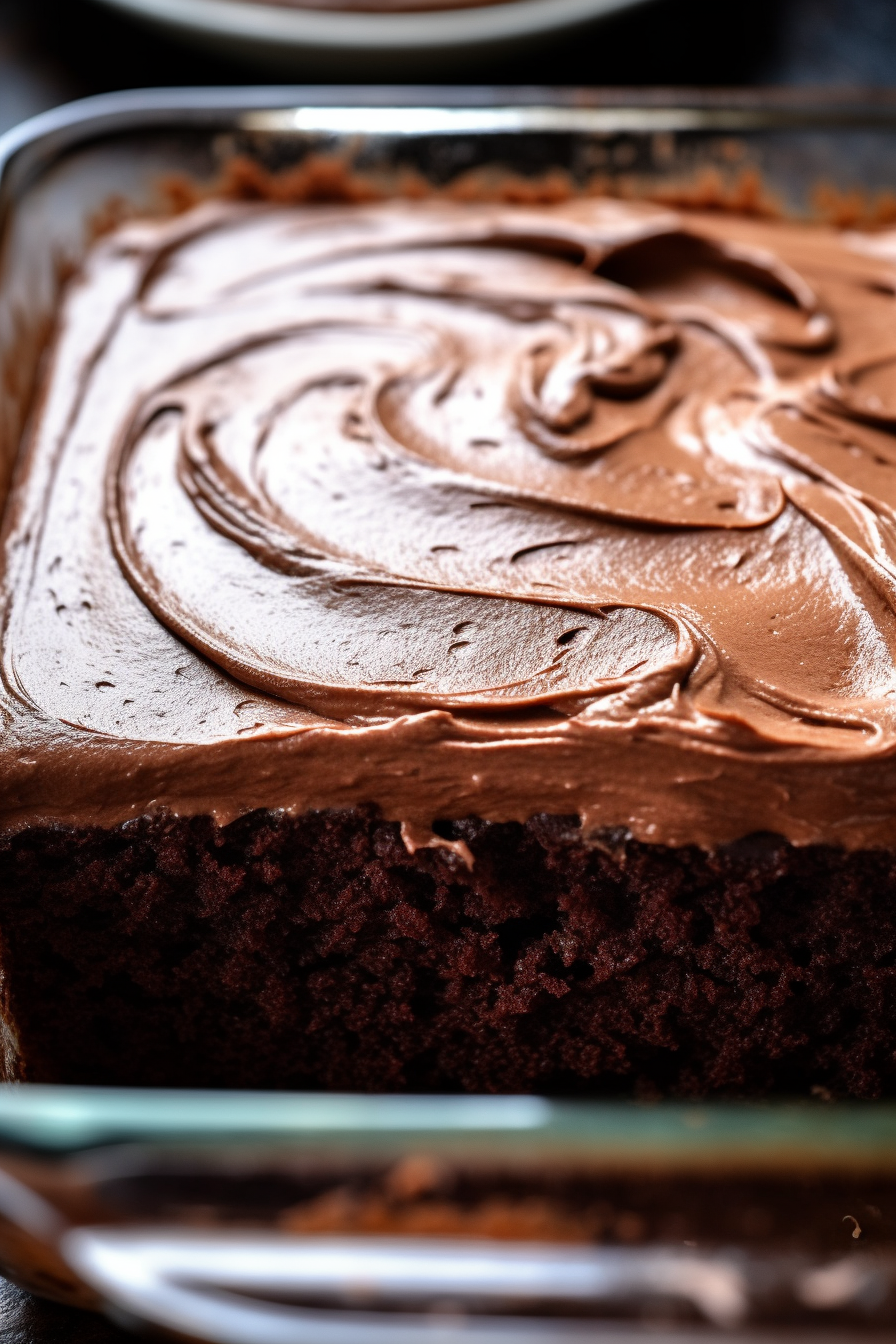 Steps to make Chocolate Mayonnaise Cake:
Step 1: Start by preheating your oven to 350°F. This ensures an even baking environment from the get-go.
Step 2: For the 9×13 inch baking dish, you'll want to generously grease and then lightly flour it. This magical combo will ensure your cake doesn't stick, and you get that flawless cake-to-plate transition.
Step 3: The fun part! In a spacious bowl, get down and dirty by combining all your ingredients. Mix until it's all nice and smooth. No lumps allowed!
Step 4: Gently pour your batter into the prepared dish, spreading it evenly.
Step 5: Pop it into the oven and let it bake for about 30 minutes. You're looking for a toothpick to come out clean when poked in the center. It's like the cake's way of saying, "I'm ready!"
Step 6: Patience, dear friend. Allow the cake to cool completely. Use this time to stare at its beauty or fend off hungry family members.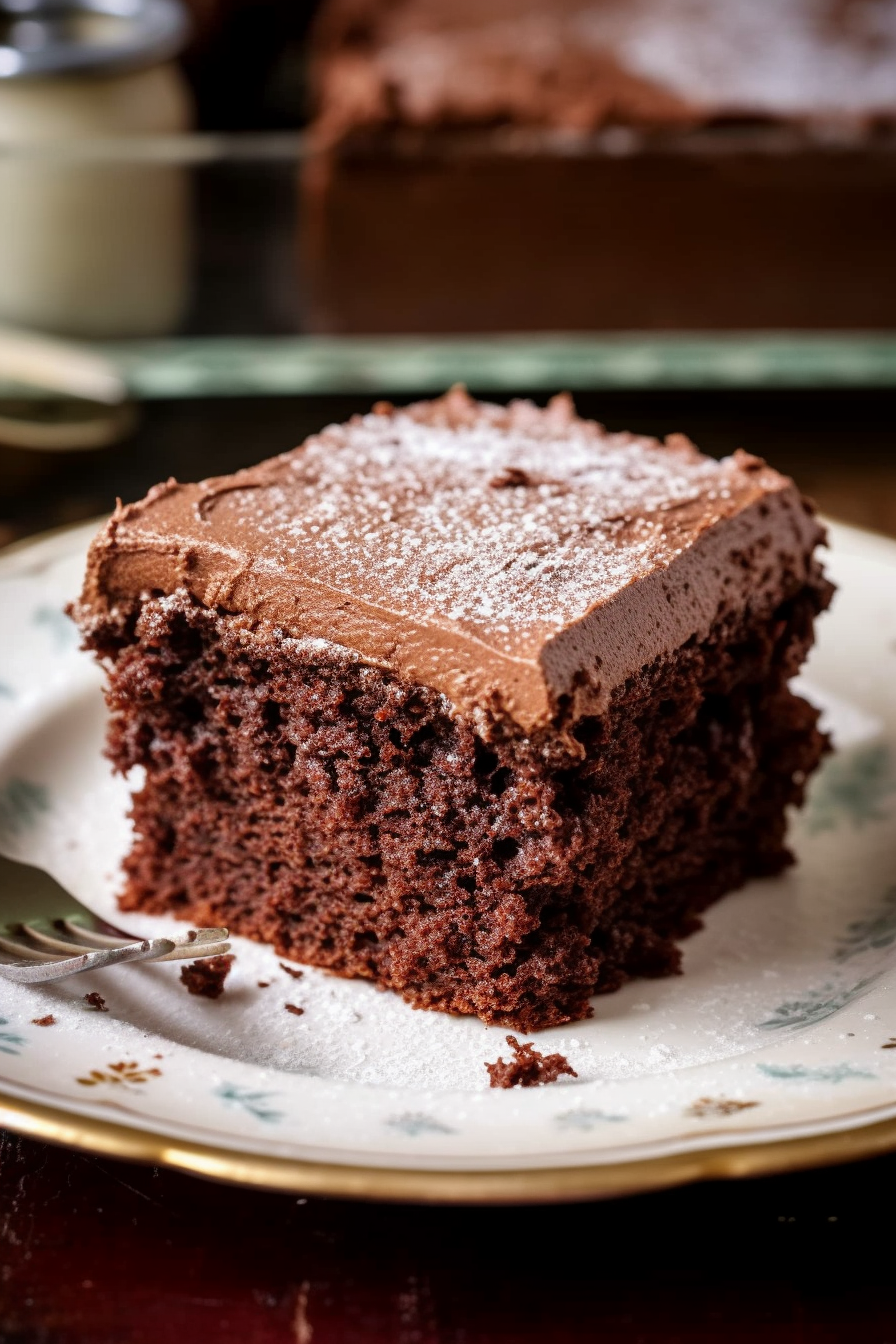 Storage Options:
After enjoying a slice (or two) of your magnificent cake, you can store the remainder by covering it with plastic wrap or aluminium foil. If you're planning on consuming it within 1-2 days, keeping it at room temperature is fine. For longer periods, say up to a week, refrigeration is the way to go. Just remember, cold cake tastes best when allowed to sit at room temperature for a few moments before digging in!
Variations and Substitutions:
Cake recipes are a canvas, waiting for your artistic touch! For a healthier twist, you could use whole wheat flour instead of all-purpose. If you're out of mayo, Greek yogurt is a splendid alternative (though the flavor will be slightly tangy). Want to turn up the chocolate factor? Toss in some chocolate chips or chunks into the batter. And if you're feeling wild, a pinch of instant coffee will enhance that chocolatey goodness even further. The world is your cake-sterpiece!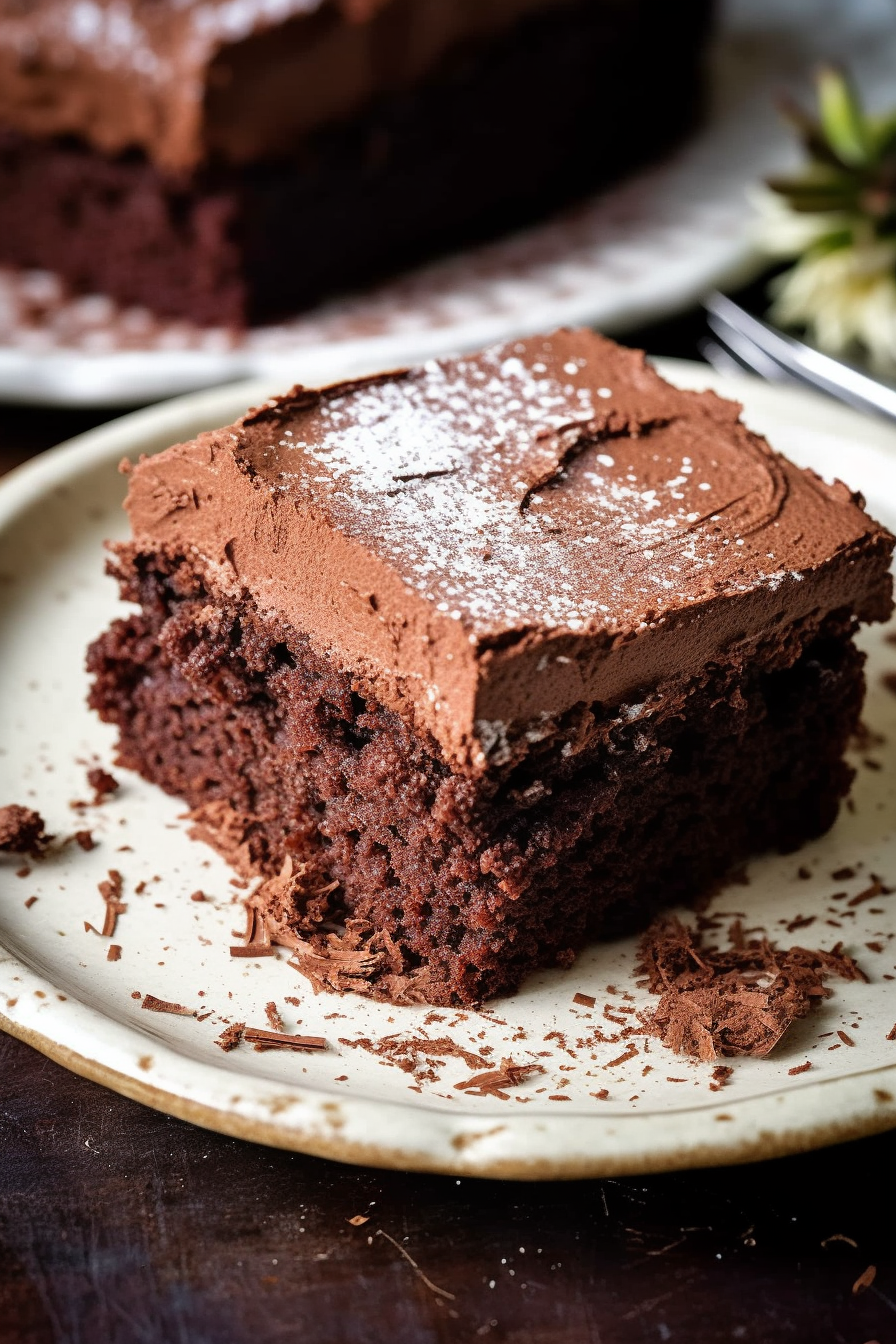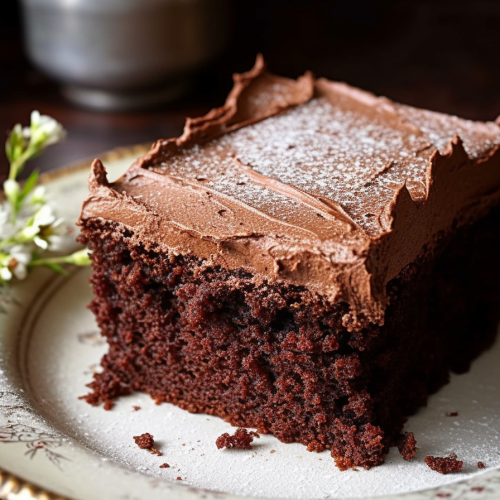 Chocolate Mayonnaise Cake
Indulge in the delightful blend of chocolate and mayo in our easy Chocolate Mayonnaise Cake! With main ingredients like cocoa powder, mayonnaise, and vanilla extract, this moist cake will become your next guilty pleasure.
Print
Pin
Rate
Ingredients
2

cups

of all-purpose flour

1

cup

of granulated sugar

2

teaspoons

of baking soda

1

teaspoon

of pure vanilla extract

½

cup

of unsweetened cocoa powder

1

cup

of creamy salad dressing

preferably Miracle Whip or a high-quality mayonnaise

1

cup

of lukewarm water
Instructions
Initiate the preheating process of your oven, setting the temperature at 350°F.

It is crucial to adequately grease a 9×13 inch baking dish. Following this, a light dusting of flour should be applied to prevent the batter from adhering excessively during the baking process.

In a sizable mixing bowl, methodically integrate all the specified ingredients until a homogeneous mixture is attained.

Transfer to Baking Dish: Once the batter is prepared, carefully transfer it into the aforementioned dish, ensuring an even distribution.

Position the dish in the preheated oven. Allow it to bake for an approximate duration of 30 minutes. To ascertain the cake's readiness, insert a toothpick into its center. If it emerges clean, the cake is sufficiently baked.

Post-baking, it is imperative to permit the cake to cool to room temperature. This allows the cake's structure to set and enhances its flavor profile.
Nutrition
Calories:
207
kcal
|
Carbohydrates:
26
g
|
Protein:
2
g
|
Fat:
11
g
|
Saturated Fat:
1
g
|
Cholesterol:
5
mg
|
Sodium:
248
mg
|
Potassium:
60
mg
|
Fiber:
1
g
|
Sugar:
12
g
|
Vitamin A:
10
IU
|
Calcium:
7
mg
|
Iron:
1.1
mg