Unveiling the comforting embrace of home cooking with our take on Cracker Barrel Chicken and Dumplings. Dive into the tender chicken pieces immersed in thick, hearty broth, adorned by fluffy, homemade dumplings. Truly, a spoonful of nostalgia!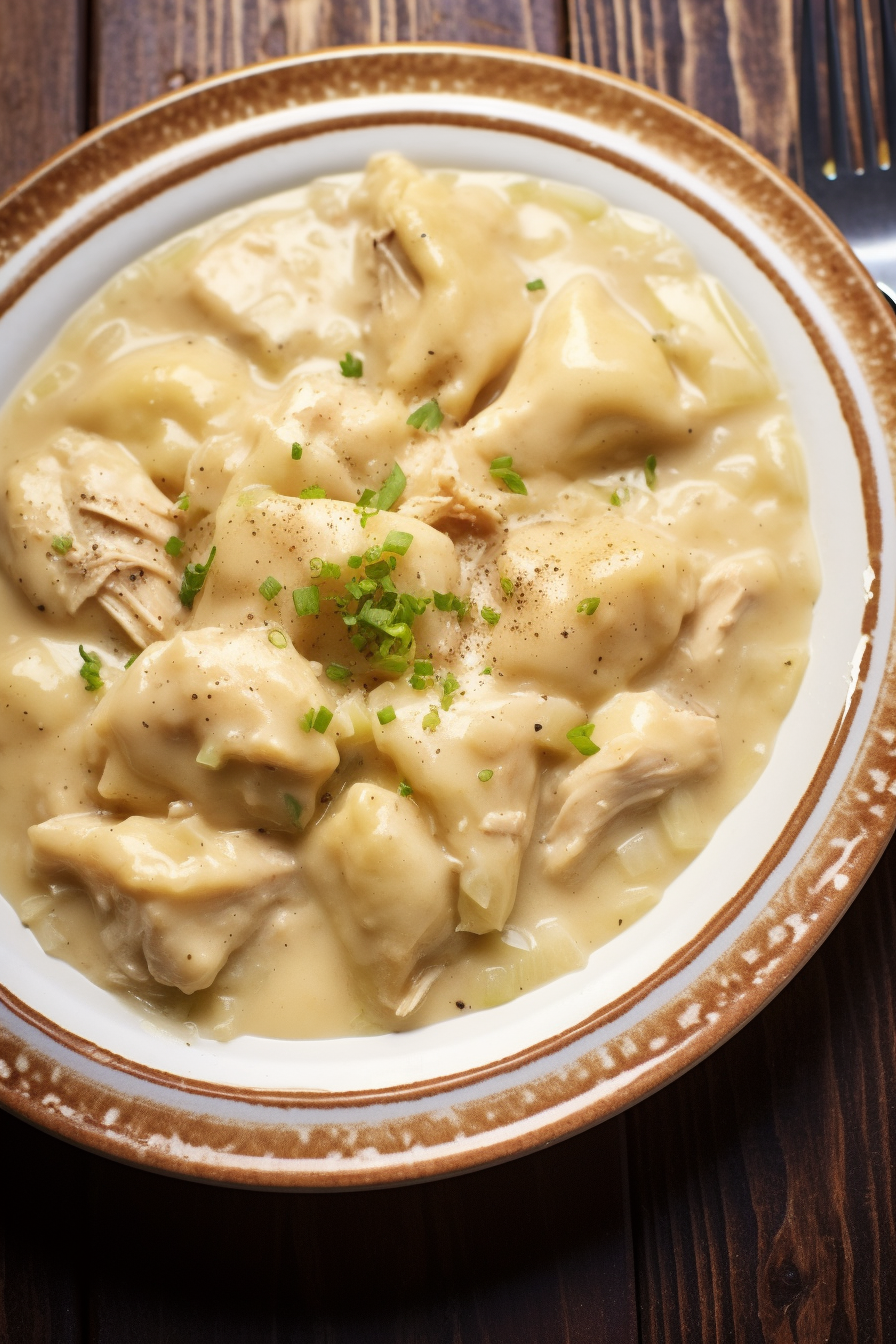 Now, let me take you on a trip down memory lane. The first time I ever ventured into a Cracker Barrel was on a family road trip. The ambiance had us charmed, and the menu? Oh boy, was it a joy! My father, a staunch chicken lover, ordered the Chicken and Dumplings. One spoonful, and his eyes twinkled with delight. It became an unspoken tradition; every road trip had a pitstop at Cracker Barrel for those delectable dumplings. Fast forward a few years, and nostalgia hit hard. But instead of jumping in the car, I decided to bring Cracker Barrel into my kitchen. After a plethora of failed attempts, tweaks, and a flour-streaked kitchen, behold! The Copycat Cracker Barrel Chicken and Dumplings recipe was born, bringing the same comfort and warmth of those treasured family road trips.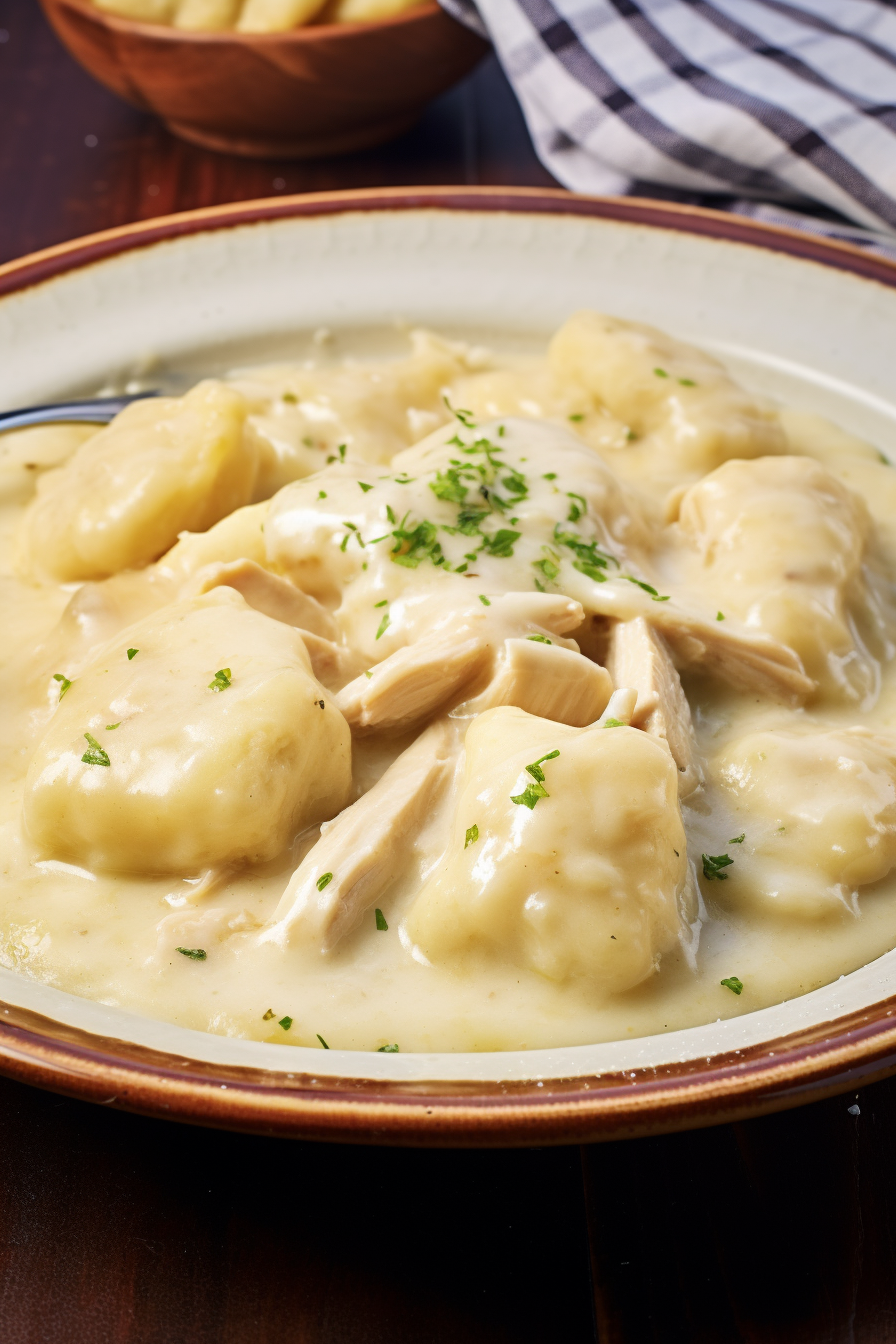 Why You'll Love This Copycat Cracker Barrel Chicken and Dumplings:
First and foremost, the magic lies in its simplicity; minimal ingredients yet bursting with flavor. This recipe saves you the travel and offers an authentic Cracker Barrel experience in the comfort of your home. Plus, we're all about that genuine touch – no canned ingredients or shortcuts here! It's the real, homemade deal. Perfect for those seeking nostalgia on a plate, or just a hearty meal to snuggle up with on a chilly evening.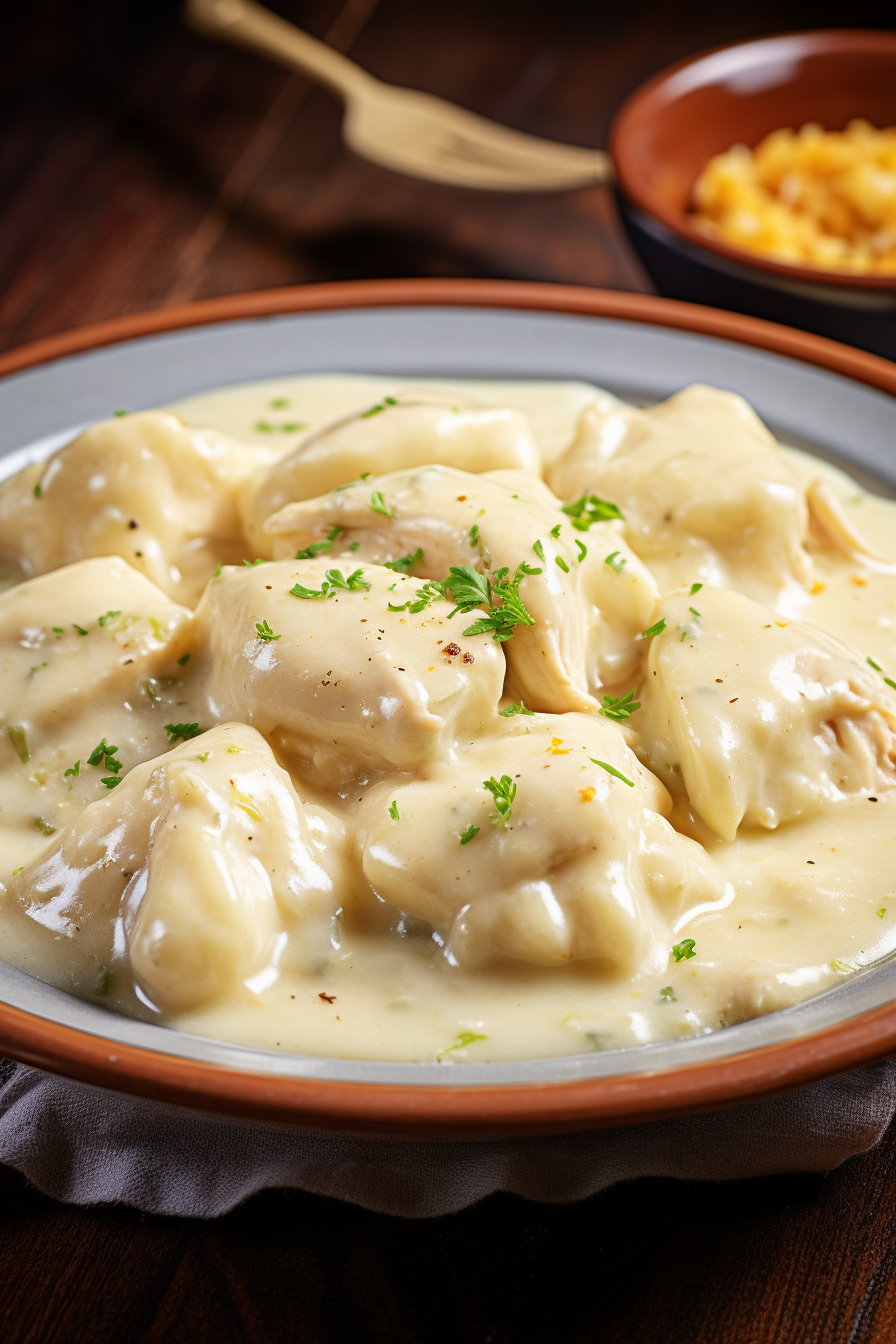 Ingredients For This Copycat Cracker Barrel Chicken and Dumplings
Chicken Broth: Homemade is ideal, but if you're crunched for time, a high-quality store-bought version will suffice.
Chicken Breasts: Boneless and skinless is key. This ensures uniform cooking without added fuss.
All-Purpose Flour: Essential for those perfectly fluffy dumplings. Ensure it's fresh for the best outcome.
Fresh Produce: Though they're removed later, the celery and onion chunks infuse the broth with depth and flavor. So, don't be tempted to skip them!
Milk: It aids in achieving the right consistency for the dumplings. Whole milk works best, but if you're feeling rebellious, a plant-based alternative like almond milk might just tickle your fancy.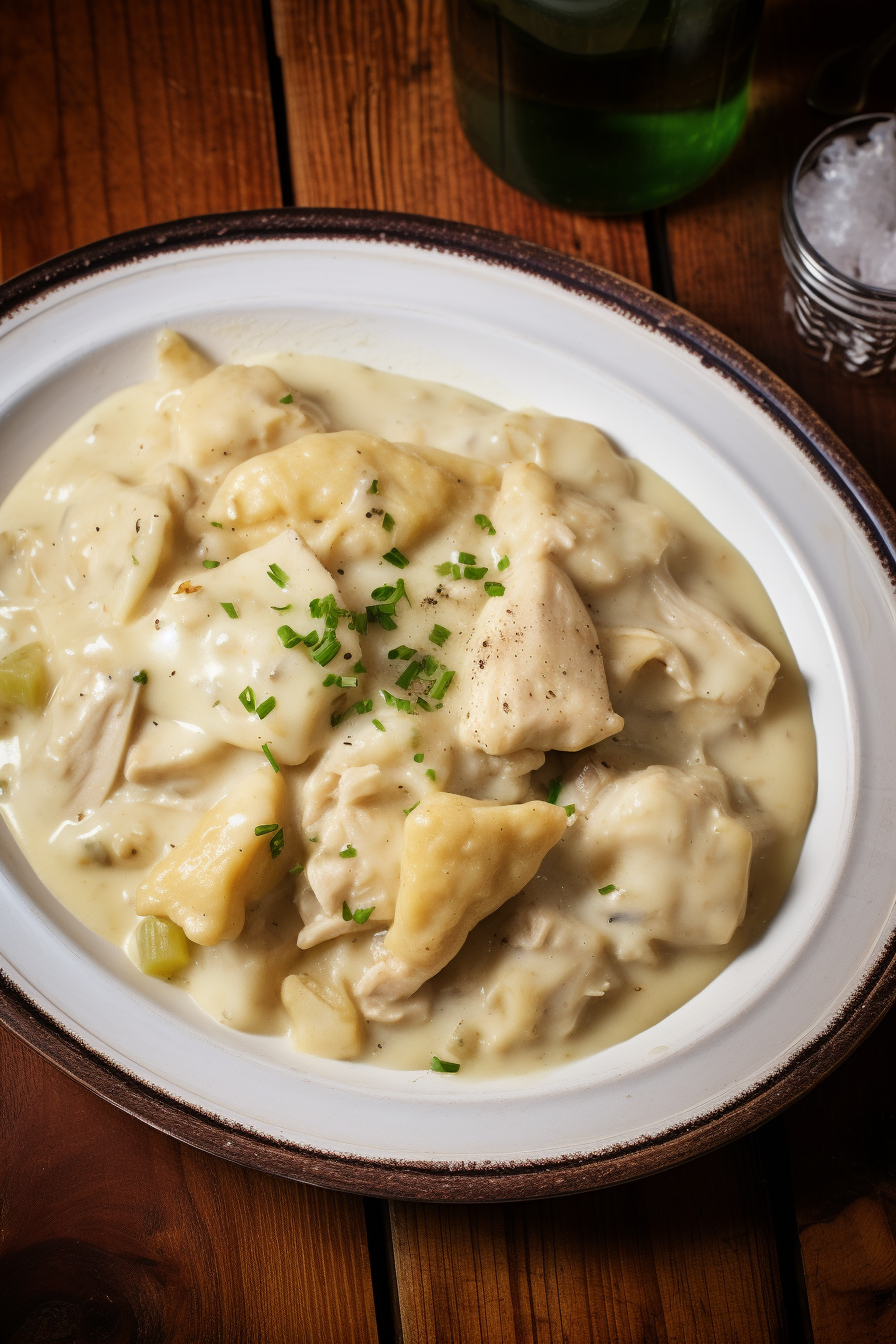 How To Make Copycat Cracker Barrel Chicken and Dumplings:
Begin your gastronomic journey by placing your chicken broth, inviting celery ribs, and the humble onion chunk into a large pot or Dutch oven. Let them mingle and bring them to a lively boil.
Turn the heat down a notch, introducing the chicken to its flavorful bath. As they simmer together in aromatic harmony for roughly 15 minutes, divert your attention to the star of the show – the dumplings.
Whisk your flour, baking powder, and salt in a bowl, then introduce the milk, forging a shaggy alliance. On a floured stage, roll out this dough till it's about a 1/4 inch thick diva. Slice it into strips or squares, your choice.
By now, your chicken should be fully bathed and cooked. Fish it out, along with the celery and onion, bidding them a fond farewell. It's dumpling time! Gently introduce them to the simmering broth. They'll need about 20-30 minutes to blossom.
While they dance in the pot, shred your chicken and bring it back into the fray. A pinch of salt, a dash of pepper, and there you have it! A bowlful of love and warmth, ready to serve.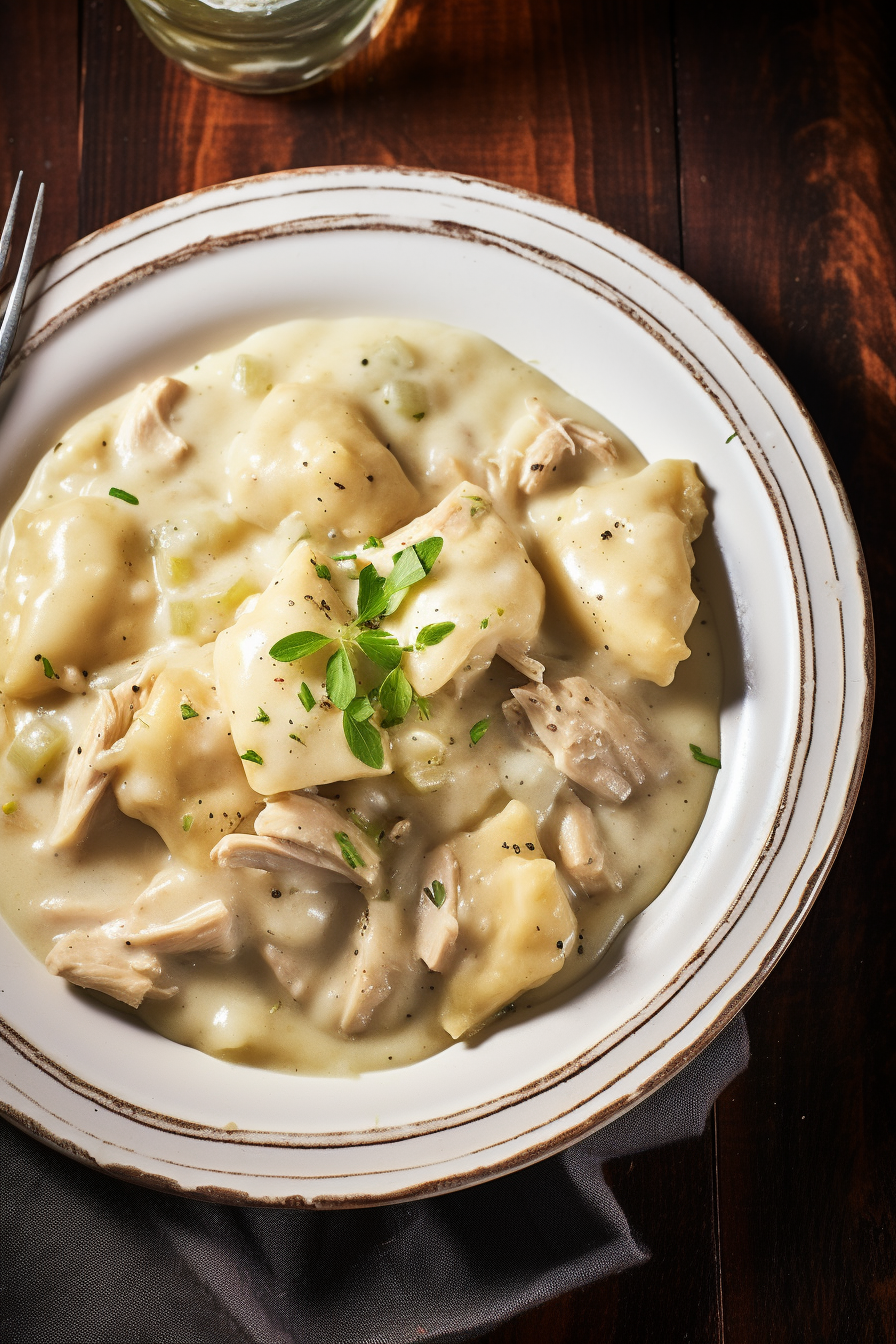 Storage Options:
Got leftovers? Lucky you! Store them in an airtight container and refrigerate for up to 3 days. For a longer love affair, you can freeze this dish for up to 2 months. When reheating, do so slowly on the stovetop, adding a splash of broth or water to rejuvenate its luscious consistency.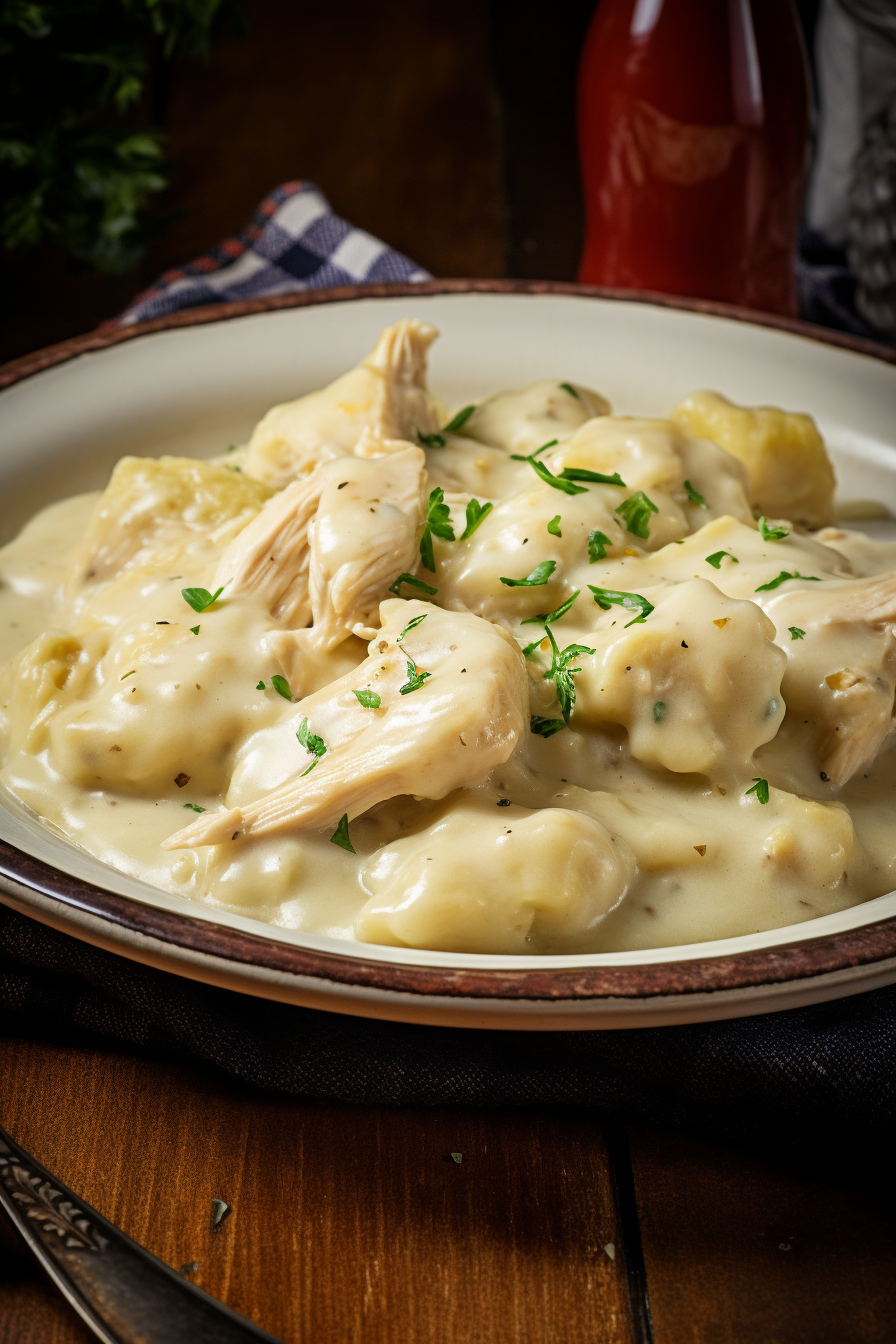 Variations and Substitutions:
Feeling creative? Swap chicken for turkey for a post-Thanksgiving twist. If you're after a lighter touch, chicken thighs can replace the breasts. For our vegetarian friends, consider a hearty mushroom or tofu variant. Gluten-free? Use a gluten-free flour mix and ensure your broth is gluten-free too. If milk's not your jam, try using almond or oat milk for the dumplings. The world's your oyster—or should I say, dumpling?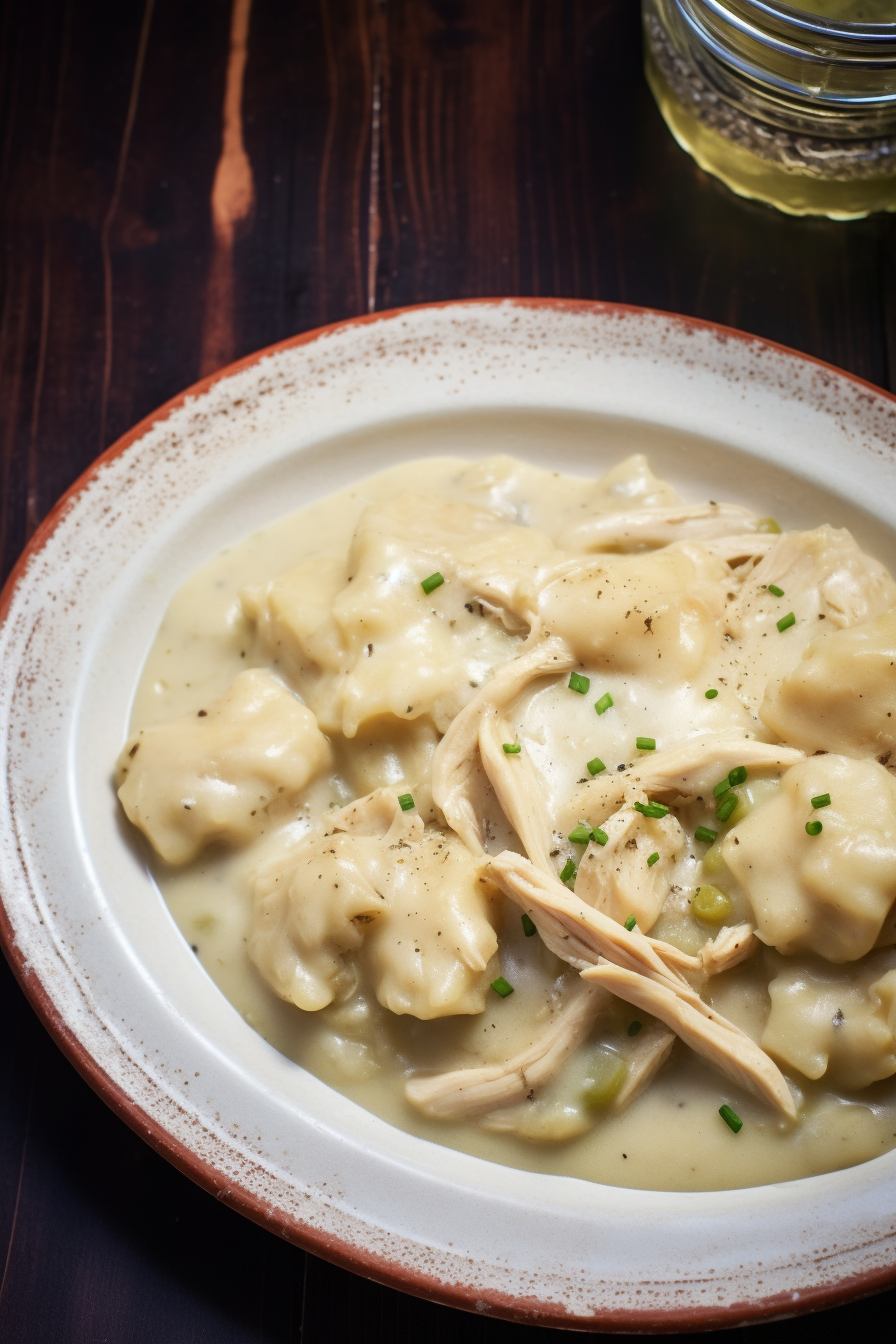 Remember, recipes aren't just instructions; they're invitations to create, adapt, and most importantly, enjoy!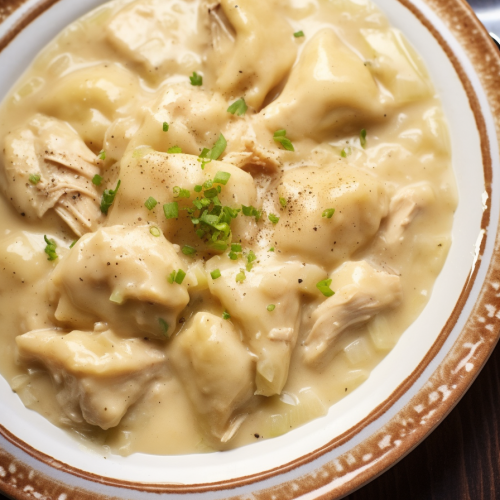 Copycat Cracker Barrel Chicken and Dumplings
Unveiling the comforting embrace of home cooking with our take on Cracker Barrel Chicken and Dumplings. Dive into the tender chicken pieces immersed in thick, hearty broth, adorned by fluffy, homemade dumplings. Truly, a spoonful of nostalgia!
Print
Pin
Rate
Ingredients
6

cups

of high-quality chicken broth

2

celery ribs

each halved

1/2

medium-sized onion

left in a sizable chunk

1

lb

of boneless and skinless chicken breasts

each piece bifurcated

3

cups

of all-purpose flour

1

tablespoon

of baking powder

1 1/4

teaspoons

of salt

1

cup

plus an additional 2 tablespoons of milk

Salt and freshly ground black pepper

adjusted according to preference
Instructions
In a substantial stockpot or a Dutch oven, combine the chicken broth, celery ribs, onion segment, and chicken breast halves.

Elevate the mixture to a boil. Subsequently, reduce the heat to a moderate simmer, covering the pot partially. Let the mixture remain in this state for approximately 15 minutes or until the chicken breasts are thoroughly cooked. Concurrently, the dumplings should be prepared.

In a medium-sized mixing bowl, sift together the all-purpose flour, baking powder, and salt. Gradually incorporate the milk until a cohesive dough is formed.

Transfer the dough to a surface lightly dusted with flour. Using a rolling pin, achieve a uniform thickness of approximately 1/4 inch.

Utilizing a sharp knife or a pizza cutter, segment the dough into rectangular pieces, each measuring between 1 to 2 inches.

Upon ensuring that the chicken breasts are fully cooked, remove them and place them on a cutting board. The onion and celery segments should be extracted from the pot and disposed of.

Introduce the prepared dough segments into the simmering broth. Allow them to cook for an interval of 20-30 minutes, intermittently stirring. This will permit the dumplings to cook thoroughly and the broth to condense into a thicker consistency reminiscent of gravy.

In the interim, the chicken should be finely shredded or diced and subsequently reintegrated into the pot.

Finalize the dish by seasoning it with salt and freshly ground black pepper. It is recommended to serve the preparation while it's still warm.