Dive into a delectable journey of cream cheese, ranch dressing, shredded chicken, crumbled bacon, and melted cheddar sandwiched between sweet Hawaiian rolls. Crack Chicken Sliders – the bite-sized perfection!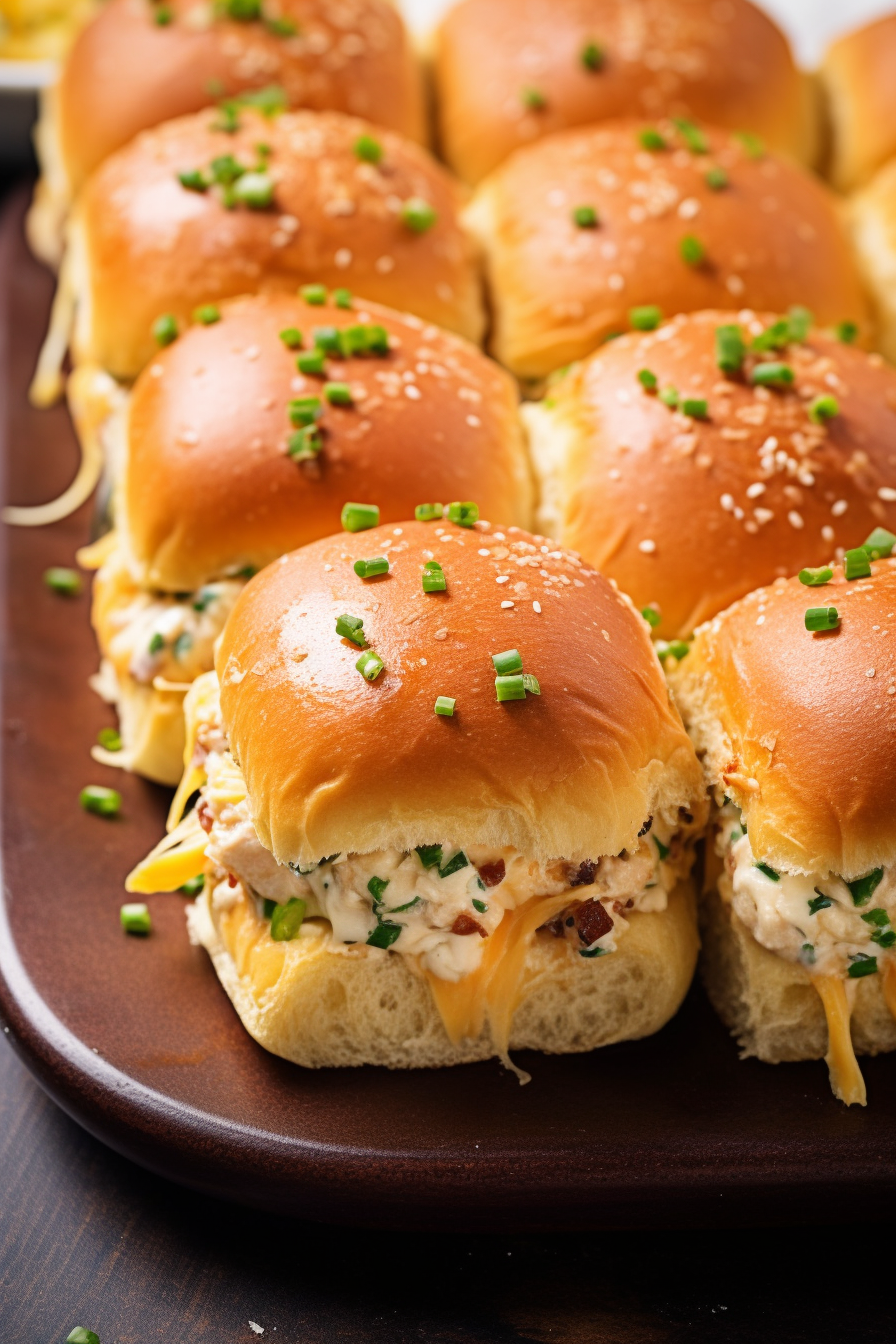 Ah, the Crack Chicken Sliders! I remember the first time I stumbled upon these beauties. It was a typical Tuesday evening, with me binge-watching my favorite show, when a sudden craving for something savory hit. Frantically checking my fridge for ingredients, I found a mishmash of leftover chicken, some cream cheese, and those Hawaiian rolls I got on sale. A dash of creativity, and voila! The first (and a bit clumsy) version of these sliders was born. But what truly gave it the 'Crack' title was the reaction of my roommates. From a simple experiment, these sliders became our household's official snack for every movie night. Honestly, every time I make them, they're gone in minutes, and I can't blame anyone. They're just that good!
Why You'll Love Crack Chicken Sliders:
What makes our Crack Chicken Sliders irresistibly tempting?
Well, first off, it's the delicate balance of flavors – the creamy goodness of cream cheese, the tangy zest of ranch, the meaty richness of shredded chicken, and the crispy bite of bacon.
Combine this with the soft and slightly sweet texture of Hawaiian rolls, and you've got a symphony of tastes in every bite.
Plus, they're incredibly quick and simple to whip up. No more hours slaving away in the kitchen for a party snack that disappears in seconds!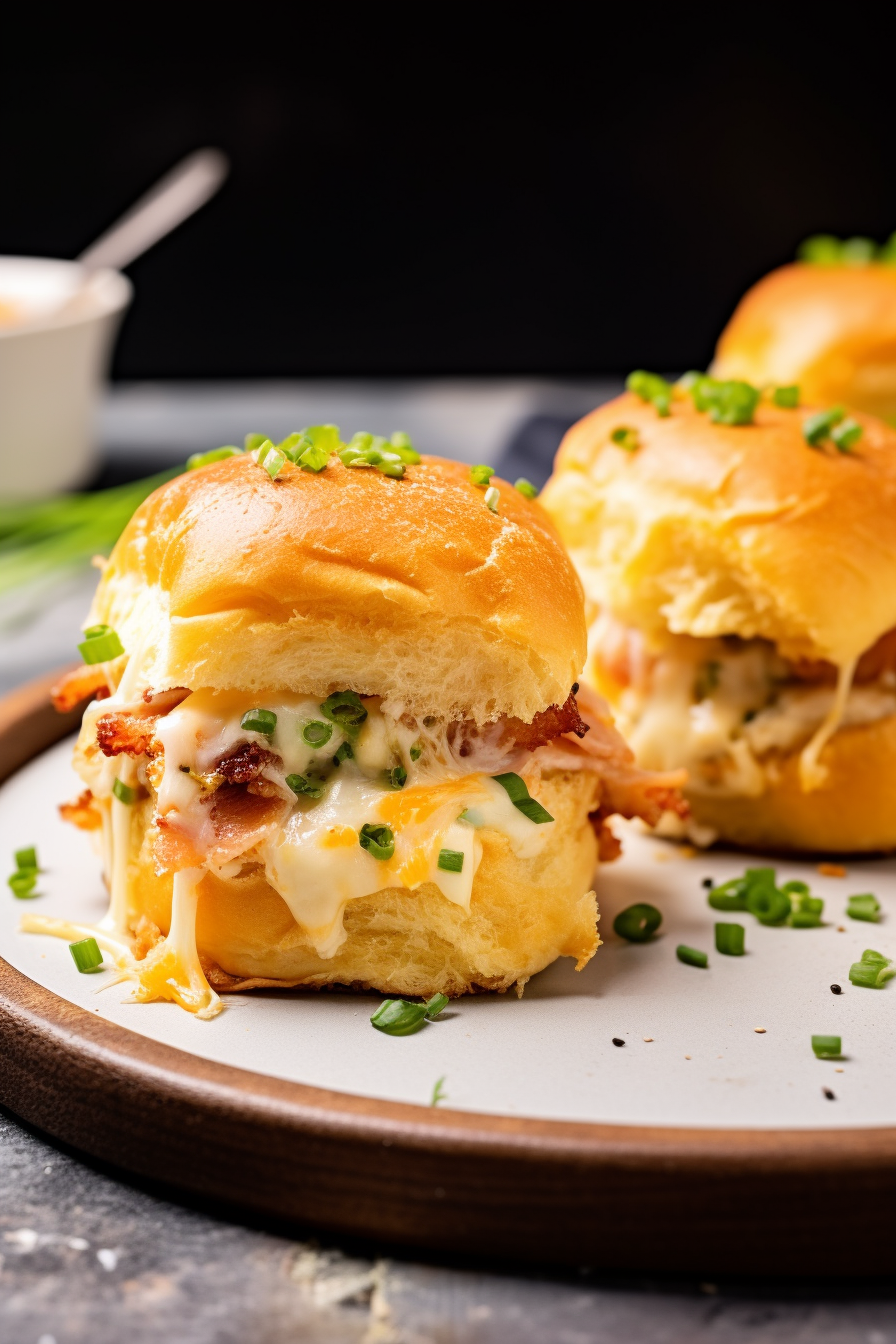 Ingredient Notes For Crack Chicken Sliders:
Cream Cheese: Opt for full-fat versions to give a richer taste.
Ranch Dressing Mix: Store-bought packets are great, but if you're up for an adventure, trying making your own mix at home.
Chicken: Pre-cooked rotisserie chicken can be a lifesaver and time-saver!
Bacon: While pre-cooked crumbled bacon can be used, I always recommend frying your own for that fresh crispy texture.
Hawaiian Rolls: They add a sweet contrast, but in a pinch, other soft rolls or mini buns can be used.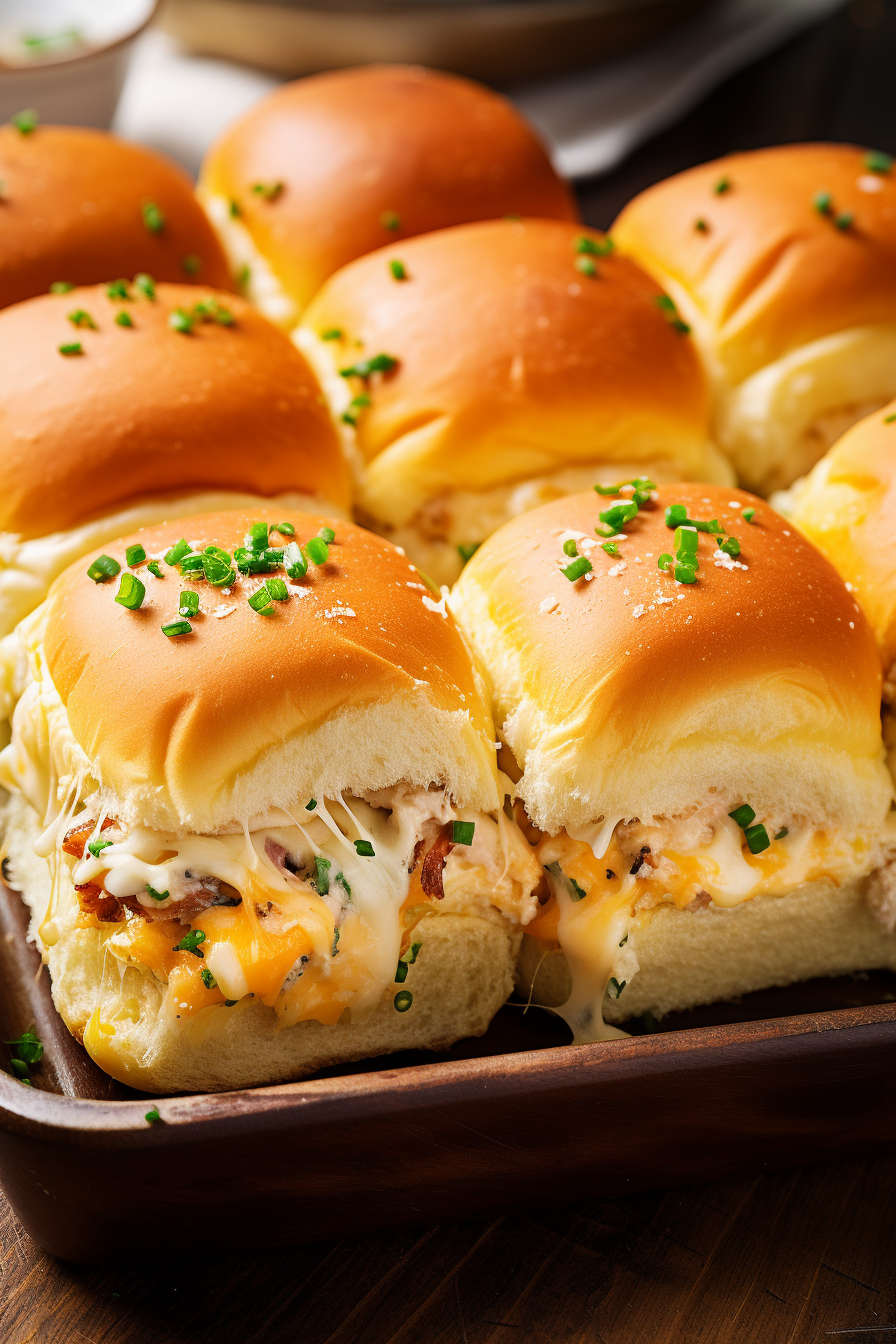 How To Make Crack Chicken Sliders:
Preparation: Start by preheating your oven to 350°F. Got a 9×13 baking dish? Grab it and give it a light spray with your trusty nonstick spray. Keep it ready!
Creamy Base Creation: In a pot, melt that cream cheese. Feel the room smelling heavenly yet? Toss in the ranch mix, onion powder, and black pepper. Give it a good stir.
Chicken Fusion: Now, it's time to introduce the chicken, bacon, green onion, and some of that cheddar to the creamy mix. Mix until they're all good friends.
Layering Time: Place the bottom half of the rolls on your baking dish. Slather them with the creamy chicken mix. Sprinkle with cheese, and cap them with the other half of the rolls.
Finishing Touch: Brush those tops with melted butter. Sprinkle them with parmesan and chives for the gourmet touch.
Baking: Cover with foil and bake for 25 minutes. Uncover, and give them another 5-8 minutes till they're golden and perfect. Let them rest (if you can resist) for 5 minutes, and then dive in!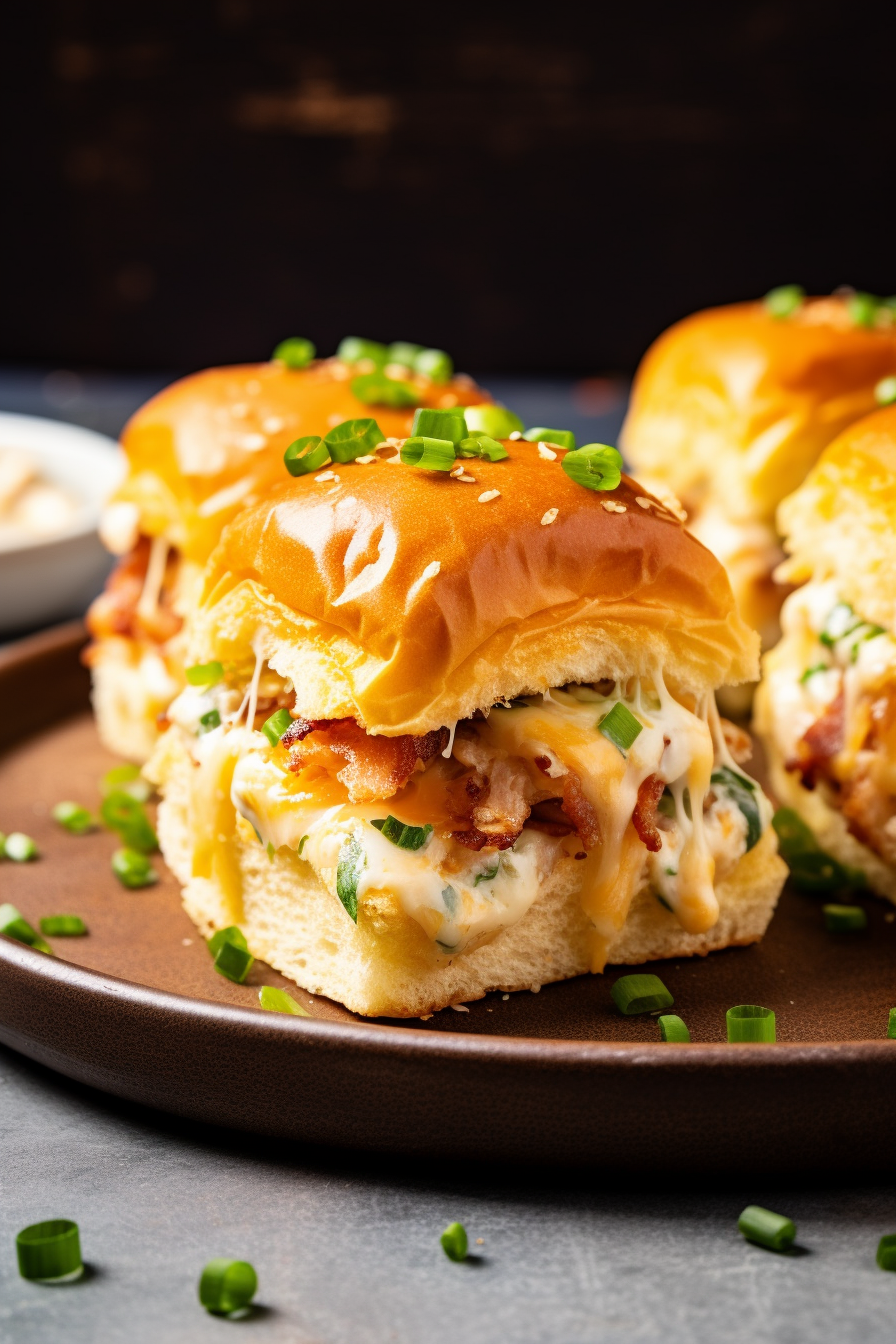 Storage Options:
These sliders are best enjoyed fresh, but if you must, store them in an airtight container in the refrigerator for up to two days. Just pop them in the oven or microwave to warm up, and they're good to go.
Variations & Substitutions:
Swap out the chicken with turkey or even pulled pork for a different meaty flavor.
Not a fan of cheddar? Gouda or mozzarella could be delightful substitutes.
If you're feeling adventurous, try adding a touch of garlic powder or even some hot sauce for an added kick.
For a vegetarian twist, replace chicken with mushrooms or tofu, and skip the bacon or opt for veggie bacon.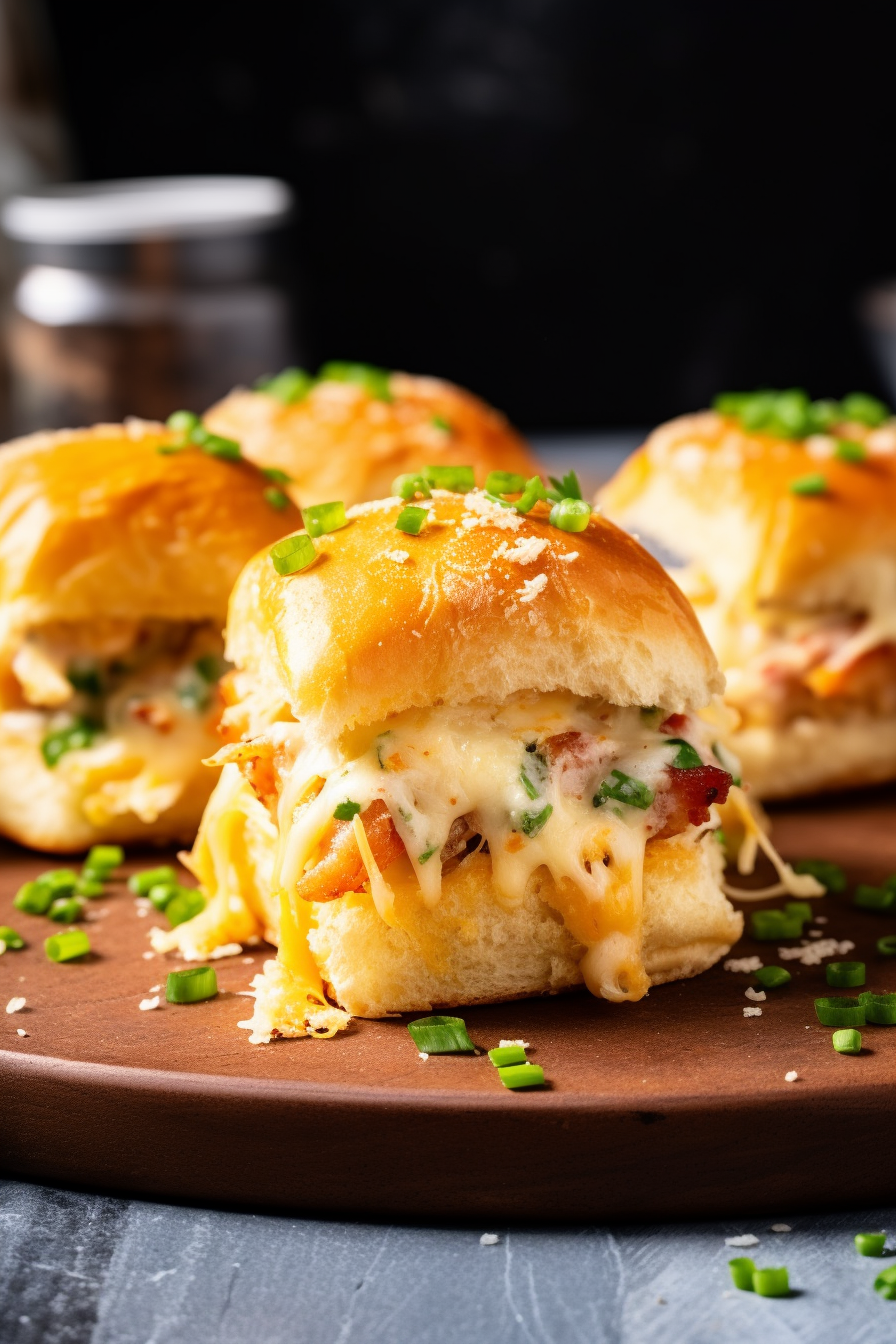 Who knew so much joy could be packed into such tiny sliders? Dive in and let the feasting begin! 😉🍔🎉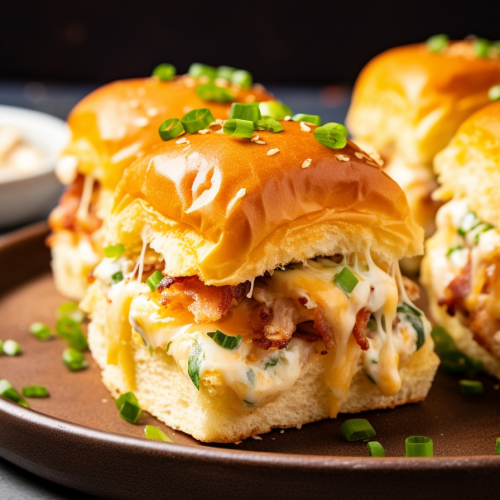 Crack Chicken Sliders
Dive into a delectable journey of cream cheese, ranch dressing, shredded chicken, crumbled bacon, and melted cheddar sandwiched between sweet Hawaiian rolls. Crack Chicken Sliders – the bite-sized perfection!
Print
Pin
Rate
Ingredients
16

ounces

of cream cheese

2 packages, each 8 ounces, softened to room temperature.

1-

ounce

packet of dry ranch dressing mix.

2

teaspoons

of onion powder.

1

teaspoon

of freshly cracked black pepper.

⅓

cup

of green onions

thinly sliced.

2½

cups

of boneless and skinless chicken breast

cooked and finely shredded.

12

ounces

of bacon

cooked and crumbled to a fine texture.

2½

cups

of mild cheddar cheese

shredded (separated into 1 cup and 1 ½ cups portions).

12-

count package of sweet Hawaiian Rolls

sliced horizontally.

6

tablespoons

of salted sweet cream butter

in a molten state.

2

tablespoons

of parmesan cheese

finely grated.

2

teaspoons

of fresh chives

finely chopped.
Instructions
Preheat the oven to a temperature of 350°F (177°C). Utilize a light coating of nonstick spray on a 9×13-inch baking dish and set aside for later use.

In a heavy-bottom stock pot of 4 – 5 quart capacity, place the cream cheese and heat over a medium setting. Ensure consistent stirring until the cream cheese reaches a fully melted consistency.

Incorporate the dry ranch dressing mix, onion powder, and freshly cracked black pepper into the melted cream cheese. Thoroughly mix the ingredients and subsequently remove from the heat source.

Add the sliced green onions, shredded chicken, crumbled bacon, and the 1 cup portion of shredded cheddar cheese into the pot. Ensure thorough mixing until ingredients are uniformly combined.

Arrange the bottom halves of the sliced Hawaiian rolls in the previously prepared baking dish.

Evenly distribute the chicken and cream cheese mixture over the arranged rolls in the baking dish.

Uniformly sprinkle the remaining 1 ½ cups of shredded cheddar cheese over the mixture.

Place the top halves of the rolls onto the cheese layer.

Utilizing a pastry brush, apply the melted butter over the surface of the top rolls.

Proceed to sprinkle the grated parmesan cheese uniformly over the butter-coated rolls.

As a final garnishing step, evenly distribute the finely chopped chives over the parmesan layer.

Cover the baking dish with aluminum foil and bake in the preheated oven for a duration of 25 minutes.

Remove the aluminum foil and continue baking for an additional duration of 5 – 8 minutes, or until the rolls acquire a golden hue. Once completed, remove from the oven and allow a resting period of 5 minutes prior to segmenting into individual serving portions.