As the summer months are quickly approaching, so is the warmer weather. That means I'll finally get to dig my sundresses and shorts out of the back of the closet and put away my cozy sweaters. That also means that I need to hit the gym a little harder and fine-tune my diet. Even though I generally eat very healthy (ignore the cupcake recipe I just posted), it's sometimes hard for me to drink enough water during the day. So I decided it was time to create a great fruity drink that makes it easier to reach your goal of 8 glasses per day.
Plus, this Mint Black Cherry Sparkler is a whole lot tastier than 8 glasses of flat tap water.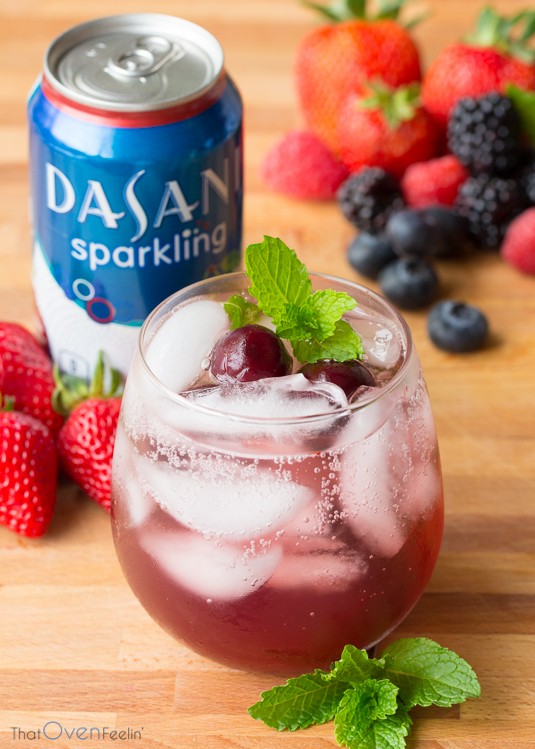 In this recipe, I added muddled black cherries and fresh mint to sparking water. For an extra boost of flavor, I used Dasani's Black Cherry Sparking water. I love having a case of sparking water in the fridge instead of sodas. A ton of carbonated beverages are absolutely packed with sugar, so I like having an alternative when I want to grab a drink to-go.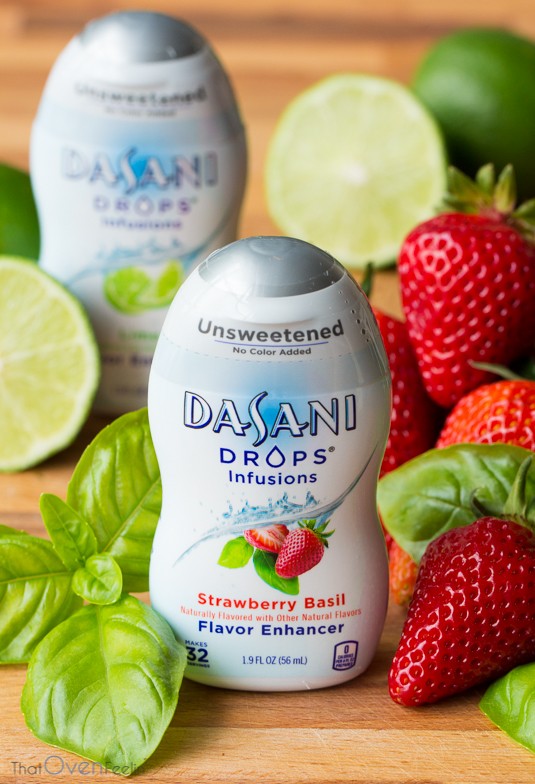 The muddled black cherries add a deep, rich red color to the drink, while the mint adds a bit of freshness. Since cherries are currently out of season, I picked up a bag of frozen cherries. To be totally honest, this was my first time using frozen cherries and I was pleasantly surprised with the amount of flavor that was packed inside. Once the cherries thawed, I was popping them into my mouth as a little snack.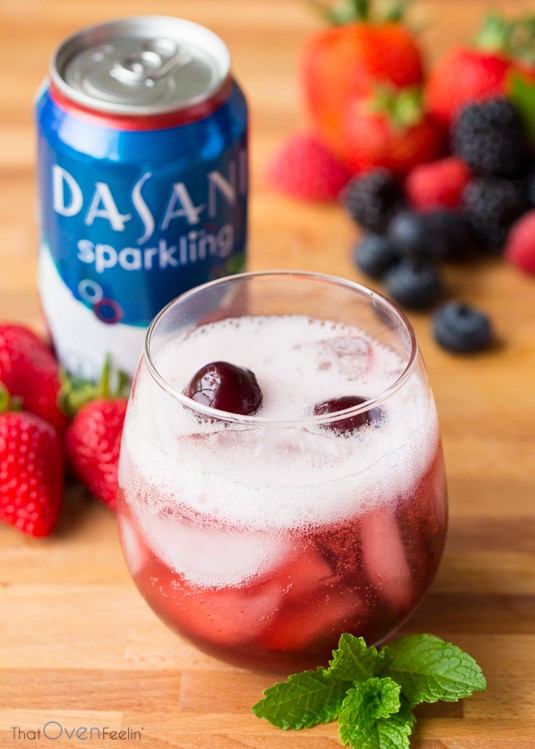 I also got the opportunity to try Dasani Drops, a great way to add flavor to water when you're on-the-go. Elliott and I have a summer road trip coming up, so I'm excited to put these in my purse to take along. We have lots of picnics and hikes planned, so it will be great to jazz up stale water fountain water with some lime or strawberry basil flavor.
No Calories = Major Bonus.
To tell you the truth, I couldn't be more excited for our road trip. I love anything outdoorsy, so I'm really excited to head back to some of my favorite National Parks and lace up my hiking boots. This upcoming road trip has even inspired a new series for That Oven Feelin', with lots of new recipes and tips. I'll tell you more in a few weeks!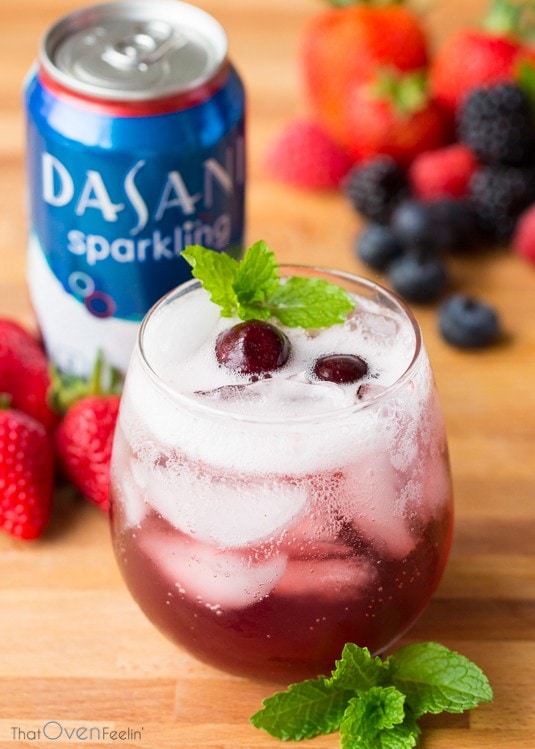 If you want to try the Dasani Sparkling water or Dasani Drops, head over to Target or use Target's Cartwheel app (lots of Dasani coupons, yay!).
Cheers!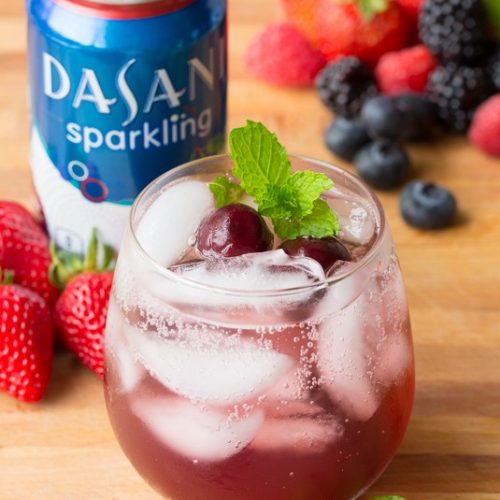 Mint Black Cherry Sparkler
This Mint Black Cherry Sparkler is a whole lot tastier than 8 glasses of flat tap water.
Print
Pin
Rate
Instructions
Gently muddle the black cherries and mint in a cocktail shaker or drinking glass.

Fill up the glass with ice.

Pour the sparking water over the ice and cherries. Stir gently.

Garnish with a sprig of mint.