Since we were on our Weddingmoon for the month of September, I feel like we've missed the fall season. We got back and found the stores already filled with fall colors, pumpkins, and Halloween candy. I haven't even gotten the chance to make many pumpkin-spiced dishes this year. That's a big difference from last year when I devoted an entire week to celebrate pumpkin recipes.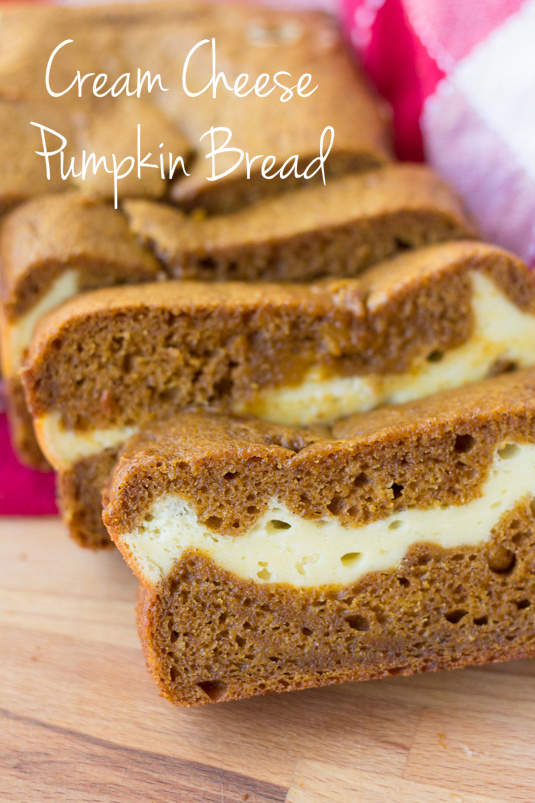 This recipe was actually inspired by last year's Pumpkin Cream Cheese Muffins. Every time I think of those muffins, I'm reminded of the smell of sweet autumn spices wafting through the house.
Seriously, no scented candles can compete with it.
Instead of the sweet cream cheese icing that is stuffed inside the muffins, this pumpkin loaf has a cheesecake-like layer baked right in. I have a bit of a soft spot in my heart for cheesecake, so I always try to incorporate it into other dishes. For example, my pumpkin cheesecake is a cross between cheesecake and pumpkin pie. I always make sure that it's on our Thanksgiving table every year.
I'm sure you can now see why this is my favorite time of the year.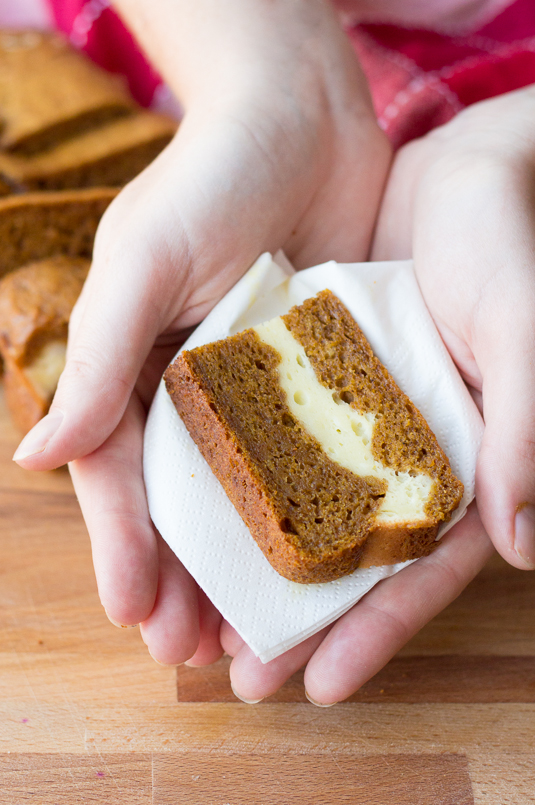 This Cream Cheese Pumpkin Bread is similar in consistency to banana bread. It's moist, tender, and impossible to have just one slice. It's also a great way to use any leftover pumpkin purée. You only need a cup!
Even though you may use fresh pumpkin purée, I use the canned variety for baking in order to get consistent results. The canned purée in this bread yields a nice pumpkin flavor, without being too overpowering.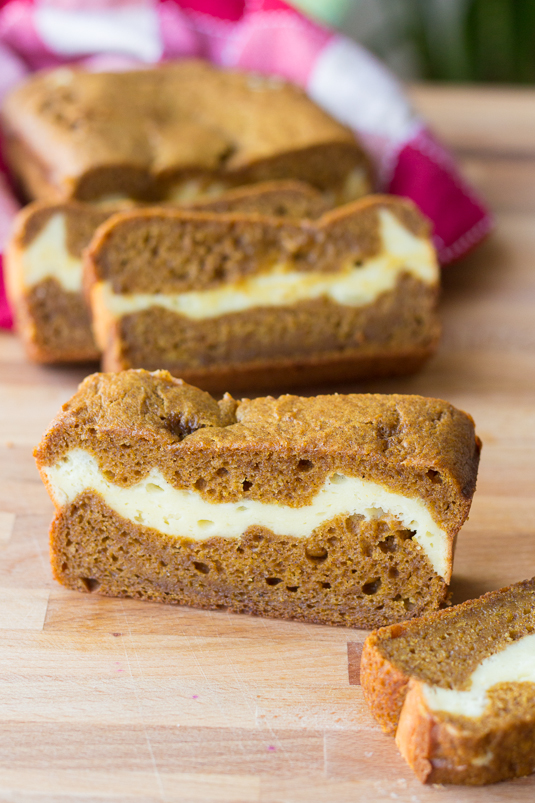 When testing this bread for doneness, keep in mind that the cheesecake-like layer will remain more moist in comparison to the pumpkin bread. If you see undercooked pumpkin bread on the toothpick, leave the bread in the oven for a few more minutes. If you see a lot of the cheesecake layer on the toothpick, I wouldn't worry about it as much.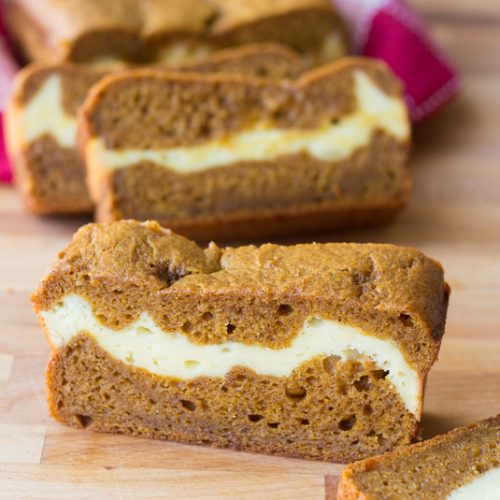 Ingredients
For the Cream Cheese Layer:
1

extra large egg

⅓

cup

sugar

6

oz

cream cheese, softened

4½

tbsp

all-purpose flour
For the Pumpkin Bread:
1

large egg

1

cup

pumpkin purée

½

cup

light brown sugar, packed

¼

cup

granulated sugar

¼

cup

coconut oil (liquid)

¼

cup

Greek yogurt

2

tsp

vanilla extract

½

tsp

ground nutmeg

2

tsp

cinnamon

1

tsp

pumpkin pie spice

1

cup

all-purpose flour

½

tsp

baking powder

½

tsp

baking soda

¼

tsp

salt
Instructions
Preheat the oven to 350 degrees Fahrenheit.
For the Cream Cheese Layer:
In the bowl of a stand mixer, whip together the egg, sugar, cream cheese, and flour to make the cream cheese layer. Once combined, pour into a small container and set aside.
For the Pumpkin Bread Layers:
In the bowl of the stand mixer, add the egg, liquid coconut oil, pumpkin purée, granulated sugar, light brown sugar, yogurt, vanilla extract, cinnamon, pumpkin pie spice, and nutmeg. Stir with the paddle attachment until combined.

Add the flour, baking soda, salt, and baking powder to the stand mixer and stir until just combined.

Pour half of the batter into a floured 9×5 inch loaf pan. Spread out into an even layer. Carefully add a layer of the cream cheese filling on top. Use a spatula to smooth out the cream cheese, careful not to mix the layers together. Finally, top with an even layer of the remaining pumpkin batter.

Bake in the preheated oven for 50 minutes, or until a toothpick inserted into the center of a pumpkin layer comes out clean (the cream cheese will remain wet). Allow to cool on a wire rack before slicing with a serrated knife.
Notes