Dive into this Southern delight as fresh okra pods, drenched in seasoned cornmeal, take a crispy, golden plunge in sizzling vegetable oil. A hint of cayenne? Optional but oh-so-tempting!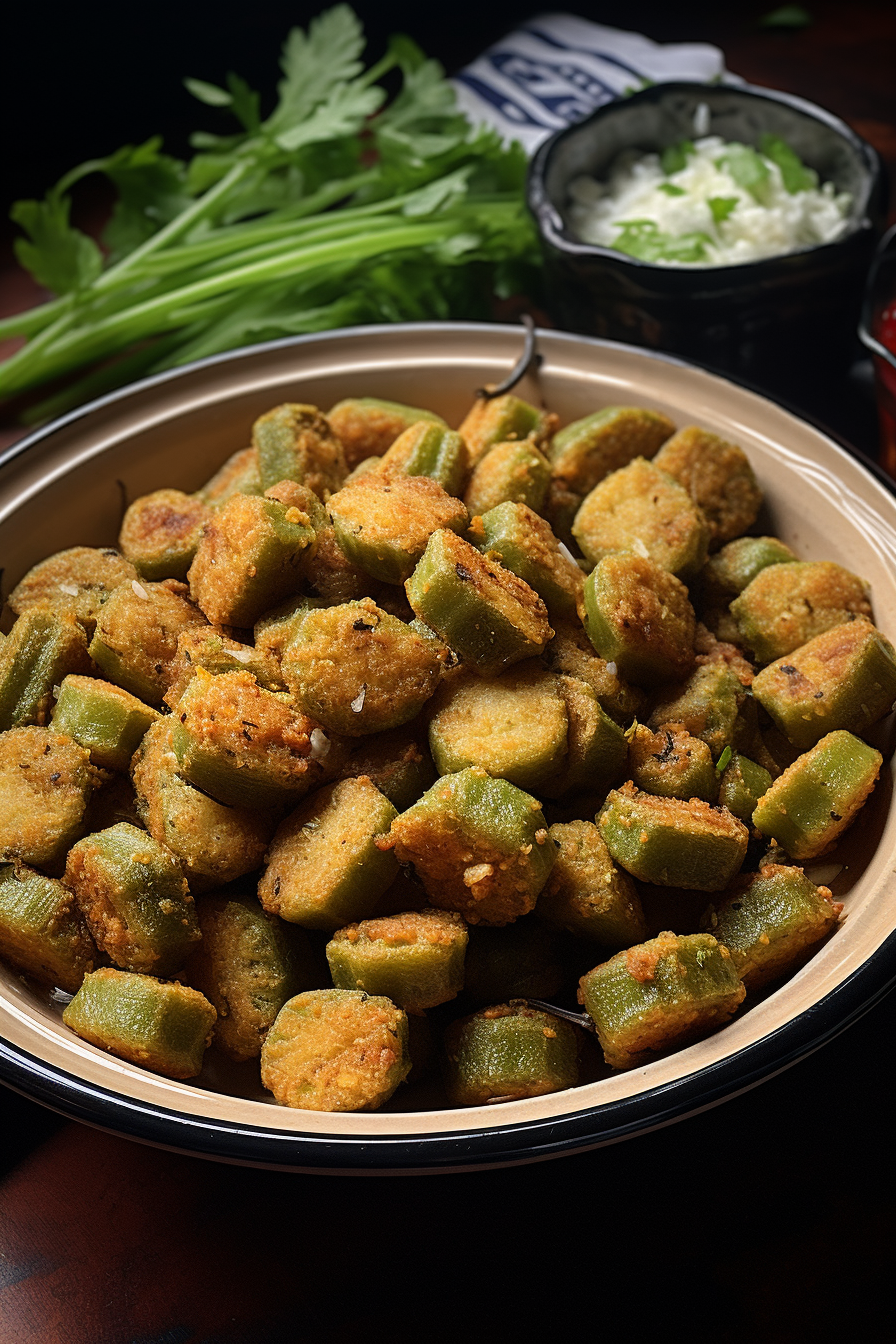 Now, pull up a chair, dear reader, because I'm about to take you on a nostalgic trip down Memory Lane. When I was just a knee-high sprout, summers at Grandma's meant three things: sun-soaked afternoons, sneaking into her cookie jar, and her legendary Crispy Fried Okra. Every time I caught a whiff of that familiar aroma wafting through the windows, my heart would skip a beat. These golden crisps became the stuff of family legends, whispered about at gatherings and daydreamed about during long winter months. Re-creating this recipe, with its delightful crunch and heartwarming memories, is like taking a tasty trip back to those carefree days. So let's honour Grandma's culinary legacy together, shall we?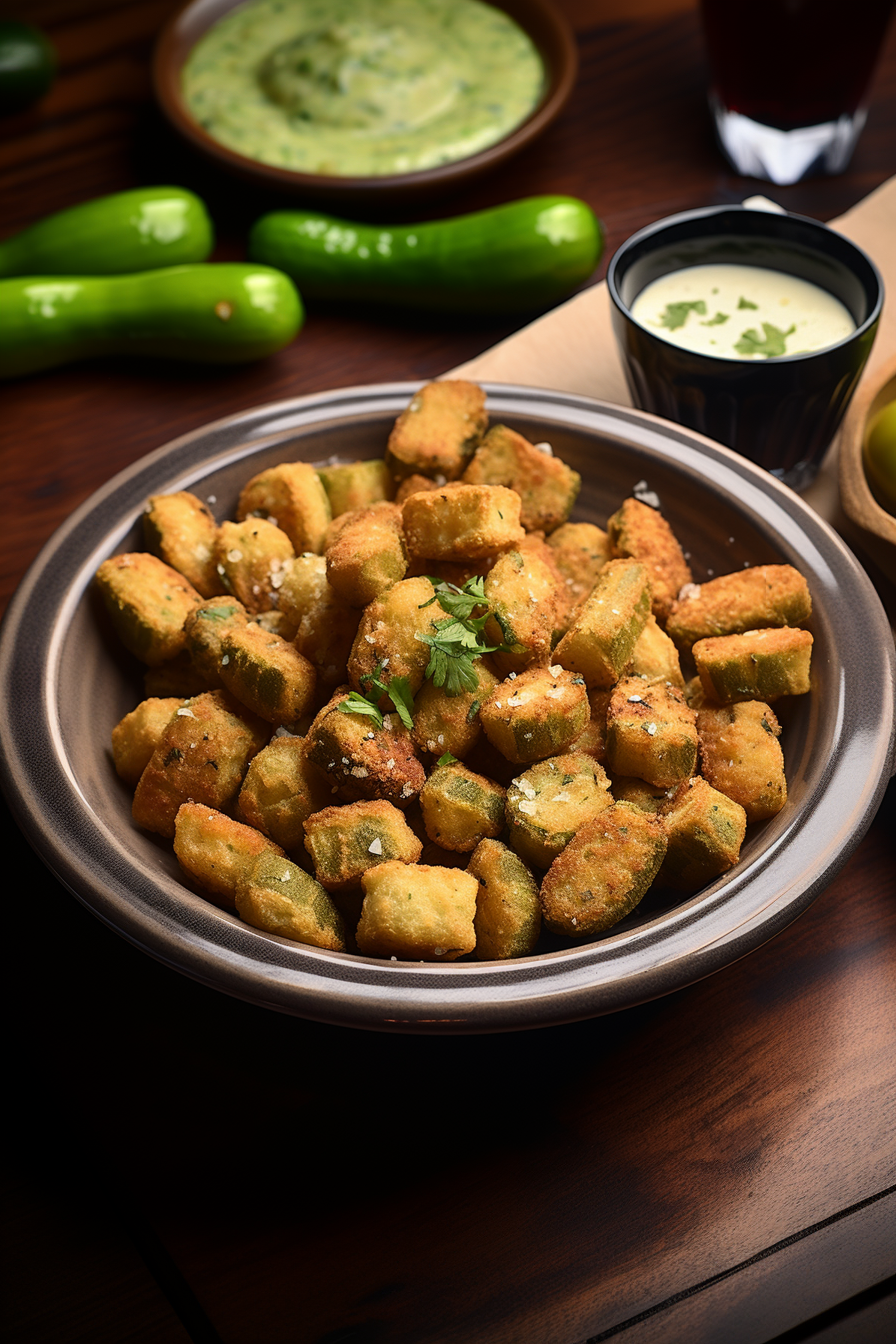 Why should you try this Crispy Fried Okra? Let me count the ways:
Authentic Southern Flair: This isn't just okra; it's a Southern tradition wrapped in a crispy golden coat.
Quick and Easy: From slicing to savouring, you're only 30 minutes away from veggie bliss.
Customizable Heat: Feeling spicy? Just a dash of cayenne, and you're dancing the Southern sizzle waltz!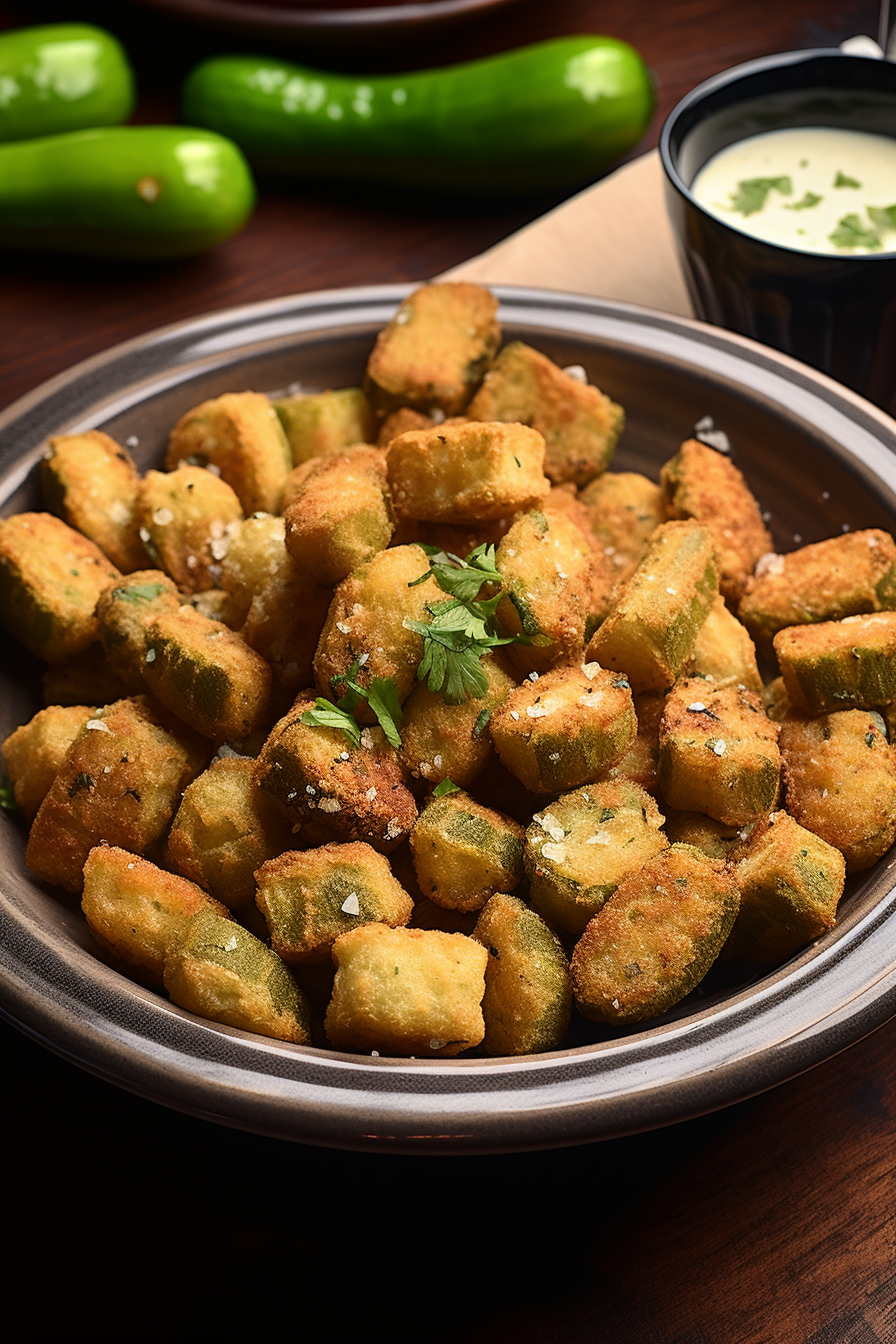 Ingredients for the Crispy Fried Okra:
Okra: Look for bright green, firm pods. The fresher the okra, the better the crisp!
Egg: It acts like the BFF you didn't know Okra needed. It helps the cornmeal adhere, giving you that flawless crispy coat.
Cornmeal: Our star player! This is where the magic of the crisp comes in. Opt for finely ground cornmeal for the best results.
Vegetable Oil: Opt for one with a high smoke point like canola or peanut. You want that okra to fry, not smoke out your kitchen!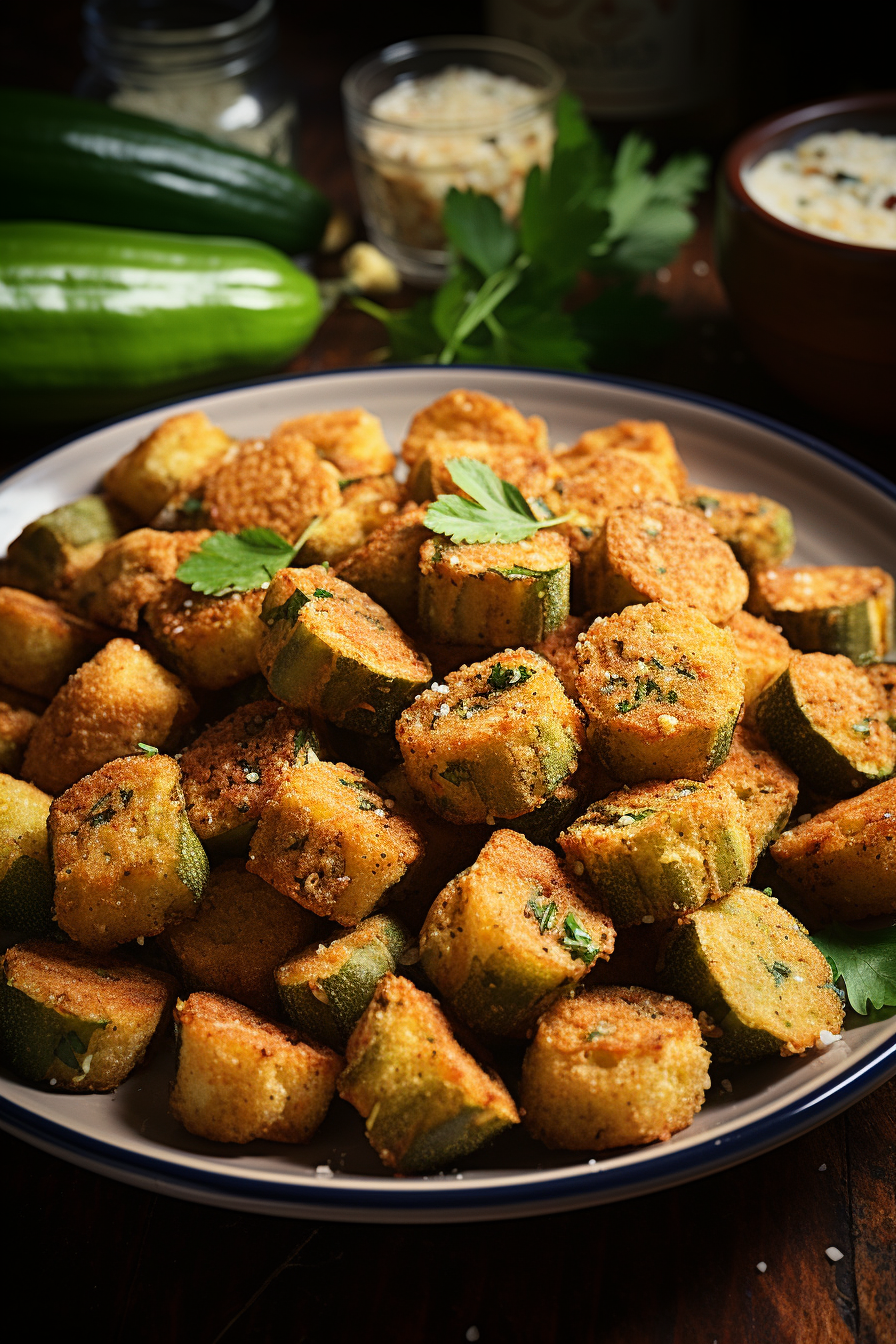 Easy-to-Follow Steps to Make Crispy Fried Okra:
Okra Bath Time: Start by letting the okra slices soak up the egg for a good 5 to 10 minutes. Think of it as a spa day for your veggies. This step ensures the cornmeal adheres perfectly.
Seasoning Mix: In a separate bowl, mix the cornmeal, salt, and pepper. This is where the seasoning magic happens!
Turn Up the Heat: Heat that vegetable oil in a big ol' skillet until it's shimmering but not smoking.
Coating Session: One by one, drag those egg-soaked okra pieces through the cornmeal mix. Ensure each piece is generously coated. Think of it as them putting on their fancy evening coats.
Frying Fiesta: With care, place your okra into the hot oil. Keep them moving and dancing in the skillet. Once they start turning that golden shade of perfection, turn down the heat to medium and let them achieve their crispy destiny. And voila! Drain on paper towels and serve hot. Crunch factor? 100%!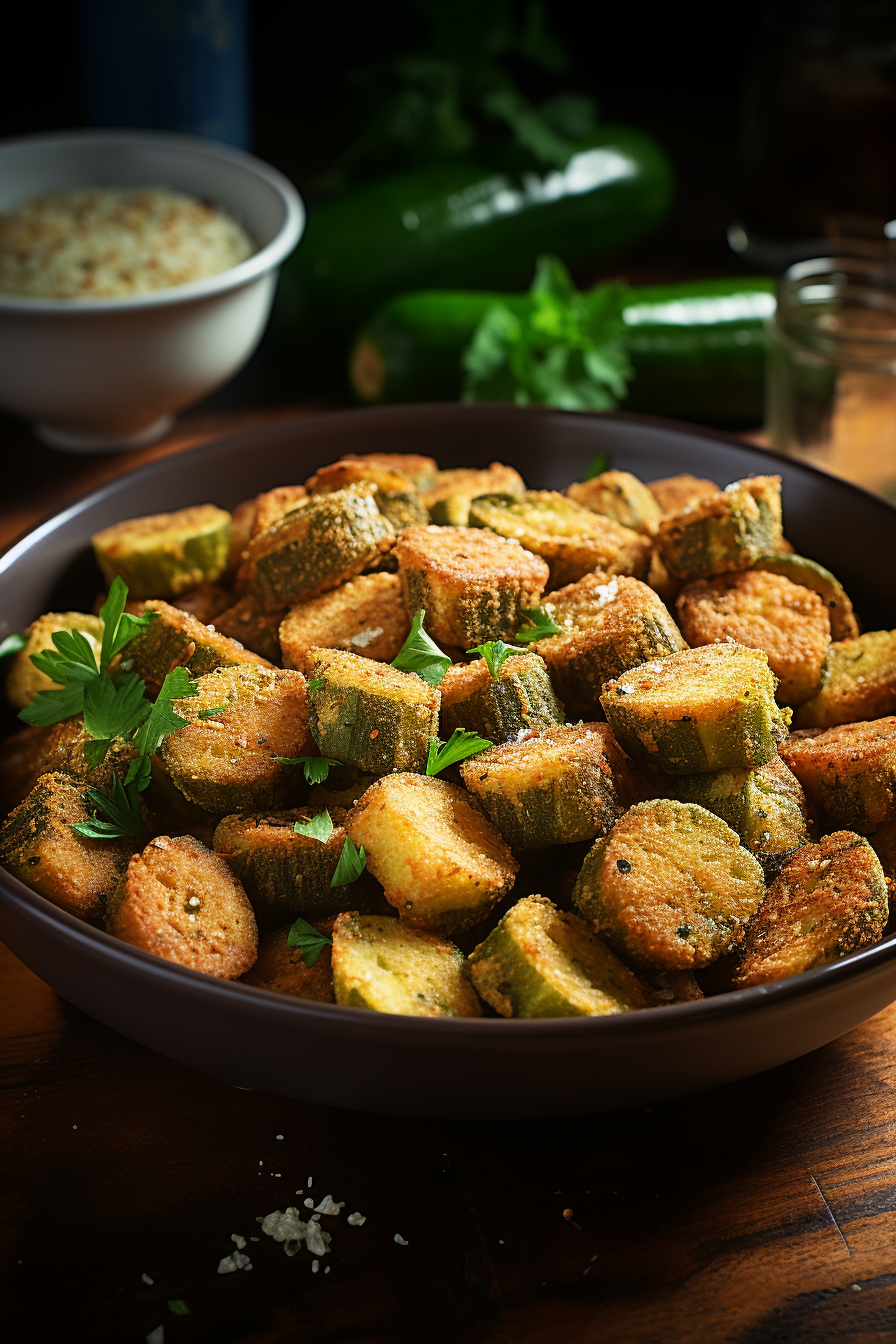 Storage Options:
While the Crispy Fried Okra tastes best straight out of the skillet (I mean, can you resist?), if by some wild chance you have leftovers, store them in an airtight container in the fridge for up to 2 days. When ready to munch again, reheat them in the oven to retain their crispiness. Microwaving? Nope! We don't want soggy okra, now do we?
Variations and Substitutions:
Feeling adventurous? Here are some ways to mix things up:
Spice it Up: Remember that cayenne suggestion? Go for it! Or add smoked paprika for a smoky twist.
Gluten-free: Swap out cornmeal for a gluten-free alternative or almond flour.
Vegan Switch: Instead of an egg, use a flaxseed or chia seed egg replacement. Your okra will never know the difference!
Well, there you have it, fellow food lovers. Now, all that's left to do is roll up those sleeves and let the okra festivities begin! And remember, every crunchy bite is a salute to Southern traditions and, of course, Grandma's impeccable taste. Happy frying! 🍳🌽🎉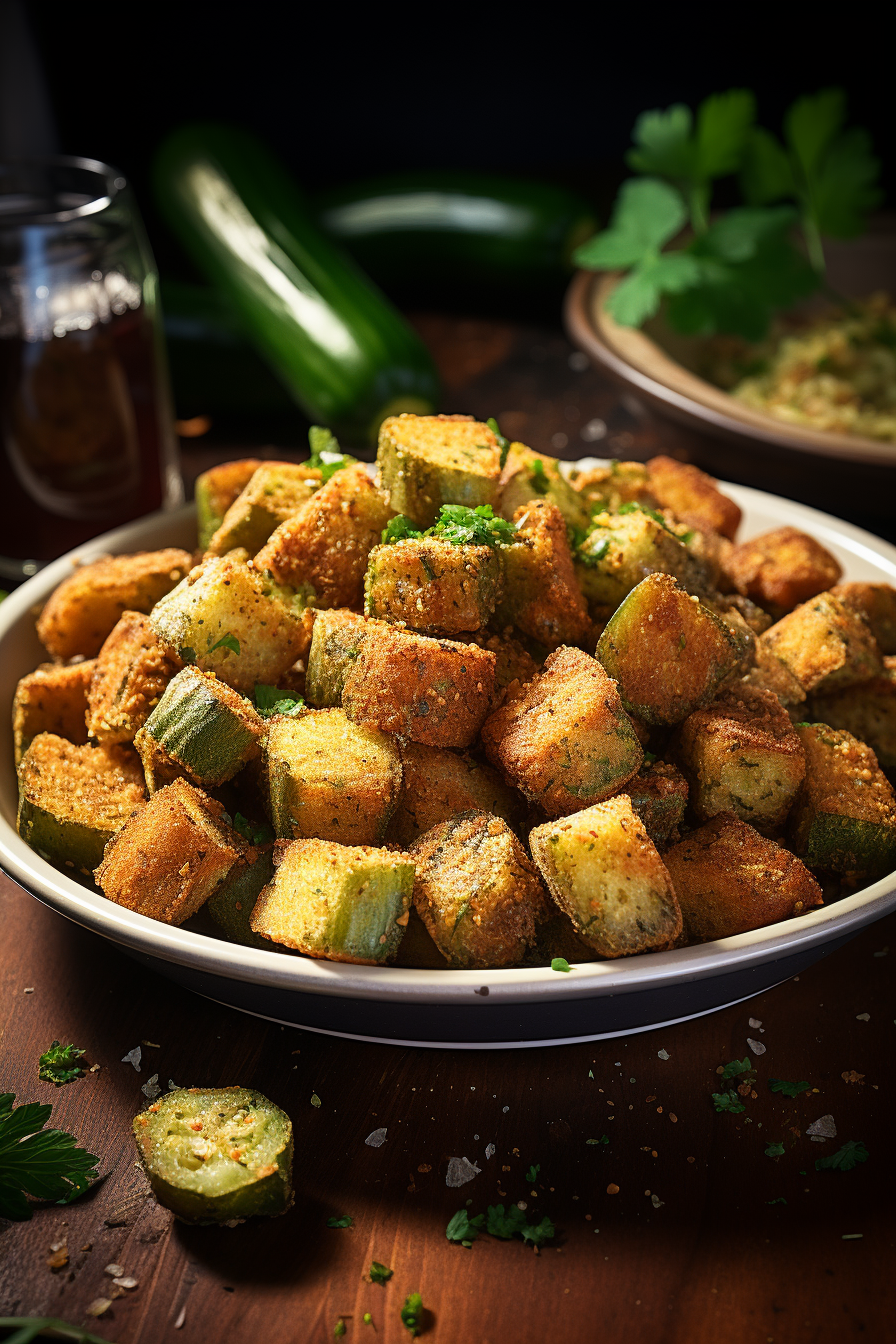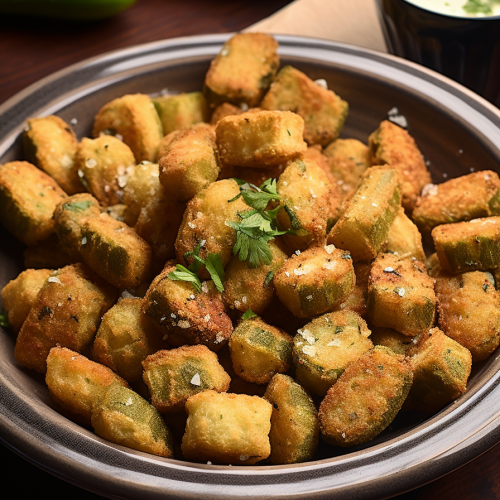 Crispy Fried Okra
Dive into this Southern delight as fresh okra pods, drenched in seasoned cornmeal, take a crispy, golden plunge in sizzling vegetable oil. A hint of cayenne? Optional but oh-so-tempting!
Print
Pin
Rate
Ingredients
10

pods of okra

sliced into 1/4 inch pieces

1

large egg

thoroughly beaten

1

cup

of finely ground cornmeal

¼

teaspoon

of table salt

¼

teaspoon

of freshly ground black pepper

½

cup

of high-quality vegetable oil
Instructions
Begin by placing the sliced okra into a small bowl. Pour the beaten egg over the okra, ensuring that all pieces are sufficiently covered. Allow the okra to sit in the egg for a duration of 5 to 10 minutes.

In a separate, medium-sized mixing bowl, combine the cornmeal, table salt, and freshly ground black pepper. Mix the ingredients until they are evenly distributed.

Pour the vegetable oil into a large skillet. Place the skillet over medium-high heat, allowing the oil to warm until it reaches the appropriate temperature for frying.

One by one, remove the okra pieces from the egg mixture, allowing any excess egg to drip off. Proceed to coat each piece of okra evenly in the cornmeal mixture.

Once the oil is adequately heated, carefully introduce the coated okra into the skillet. Continuously stir the okra to ensure even cooking. Observe the okra closely, and once it begins to take on a light brown hue, reduce the heat to medium. Continue to cook the okra until it reaches a deep golden color.

Upon reaching the desired level of crispness and coloration, remove the okra from the skillet and place it onto paper towels to remove any excess oil.

It is recommended to serve the fried okra immediately to ensure optimal taste and texture.
Nutrition
Calories:
394
kcal
|
Carbohydrates:
29
g
|
Protein:
5
g
|
Fat:
29
g
|
Saturated Fat:
5
g
|
Cholesterol:
47
mg
|
Sodium:
167
mg
|
Potassium:
115
mg
|
Fiber:
2
g
|
Sugar:
1
g
|
Vitamin C:
5
mg
|
Calcium:
33
mg
|
Iron:
2
mg