Indulge in a creamy blend of kielbasa, potatoes, and two cheeses! Dive into the hearty and cheesy Potato Kielbasa Soup, enriched with garlic, onion, and a touch of parsley.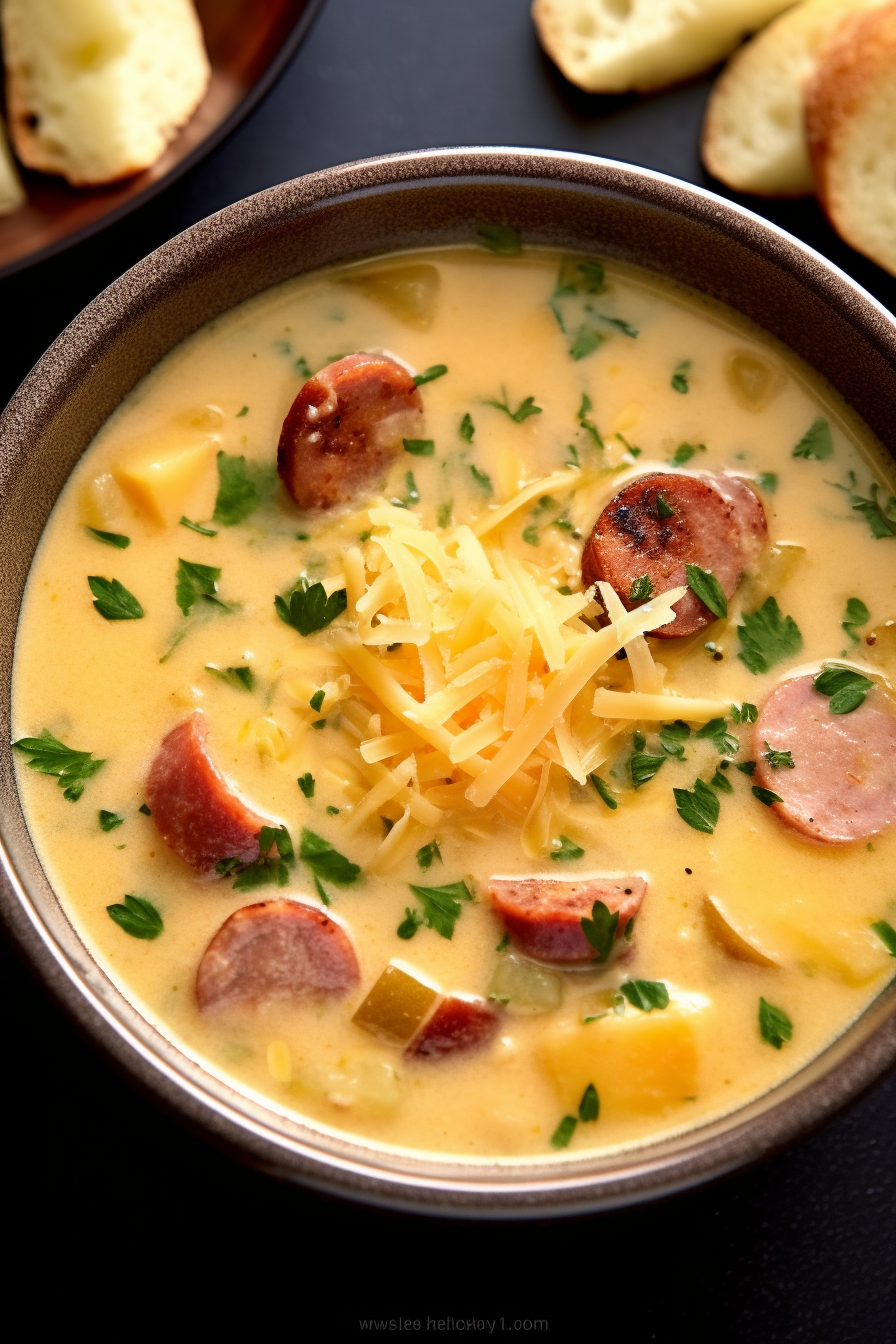 Growing up, Sundays at Grandma's meant two things: animated family conversations and a giant pot of her famous soup bubbling on the stove. This Potato Kielbasa Soup recipe reminds me so much of those golden days. As a child, I'd hang around the kitchen, hoping for the first taste. Grandma would lovingly swat me away with her ladle, but she always sneaked a bowl for me before anyone else. This soup isn't just a dish; it's a hug in a bowl. It's a blend of family traditions, love, and that secret ingredient – memories. And though I've added a couple of modern tweaks here (hello, parmesan!), the soul of the recipe remains unchanged.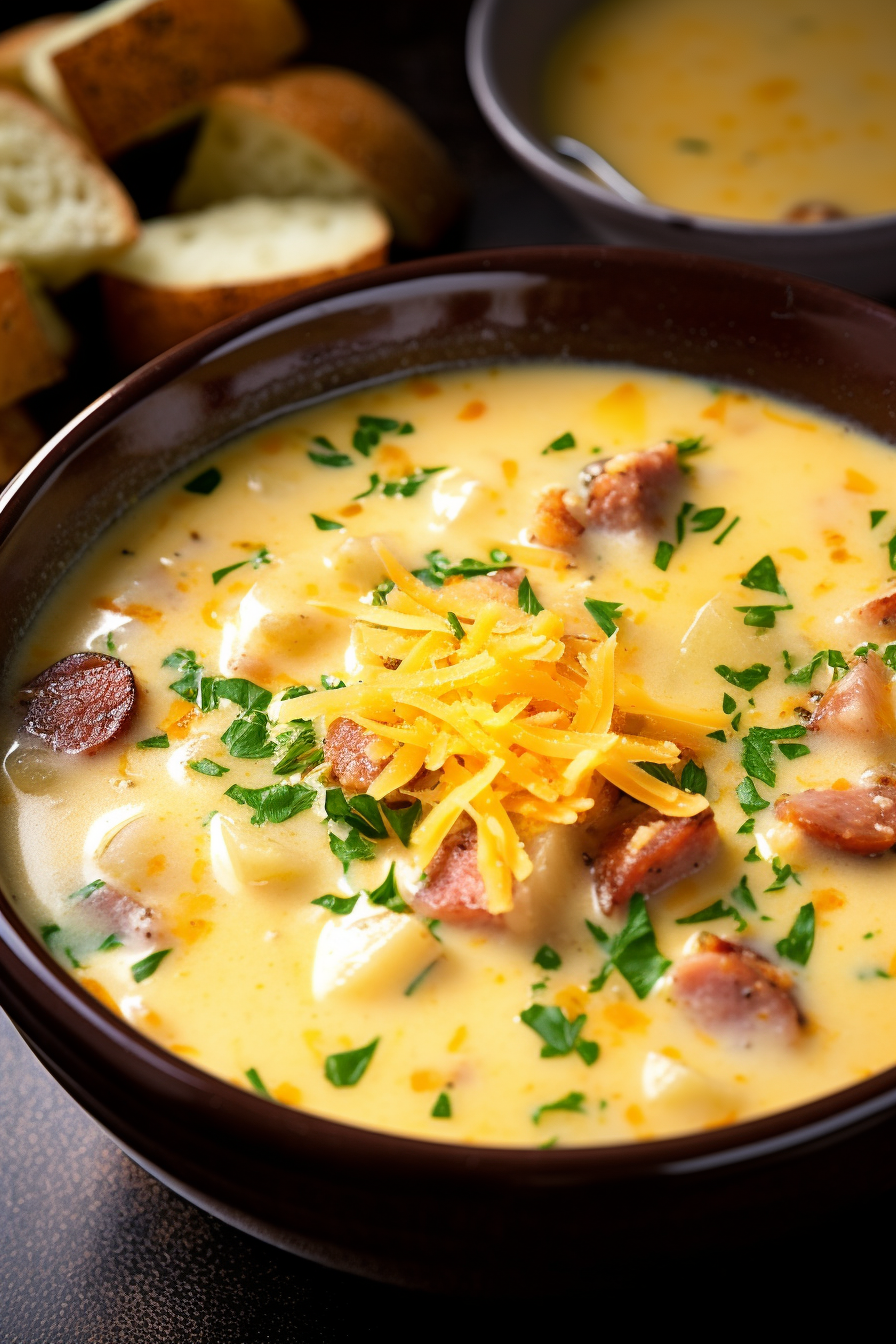 Why You'll Love Potato Kielbasa Soup:
Let's dish, foodies! The Potato Kielbasa Soup is NOT your everyday soup. What sets it apart? First off, we're bringing together the smokiness of kielbasa with the creamy, melt-in-your-mouth goodness of cheddar and parmesan. The result? A fusion of flavors that's a symphony in a bowl. The mix of finely diced veggies, combined with hearty potatoes, ensures each spoonful is a burst of wholesome delight. Plus, with a prep time of just 10 minutes, this isn't just tasty; it's also a time-saver! Perfect for those who crave gourmet without the wait.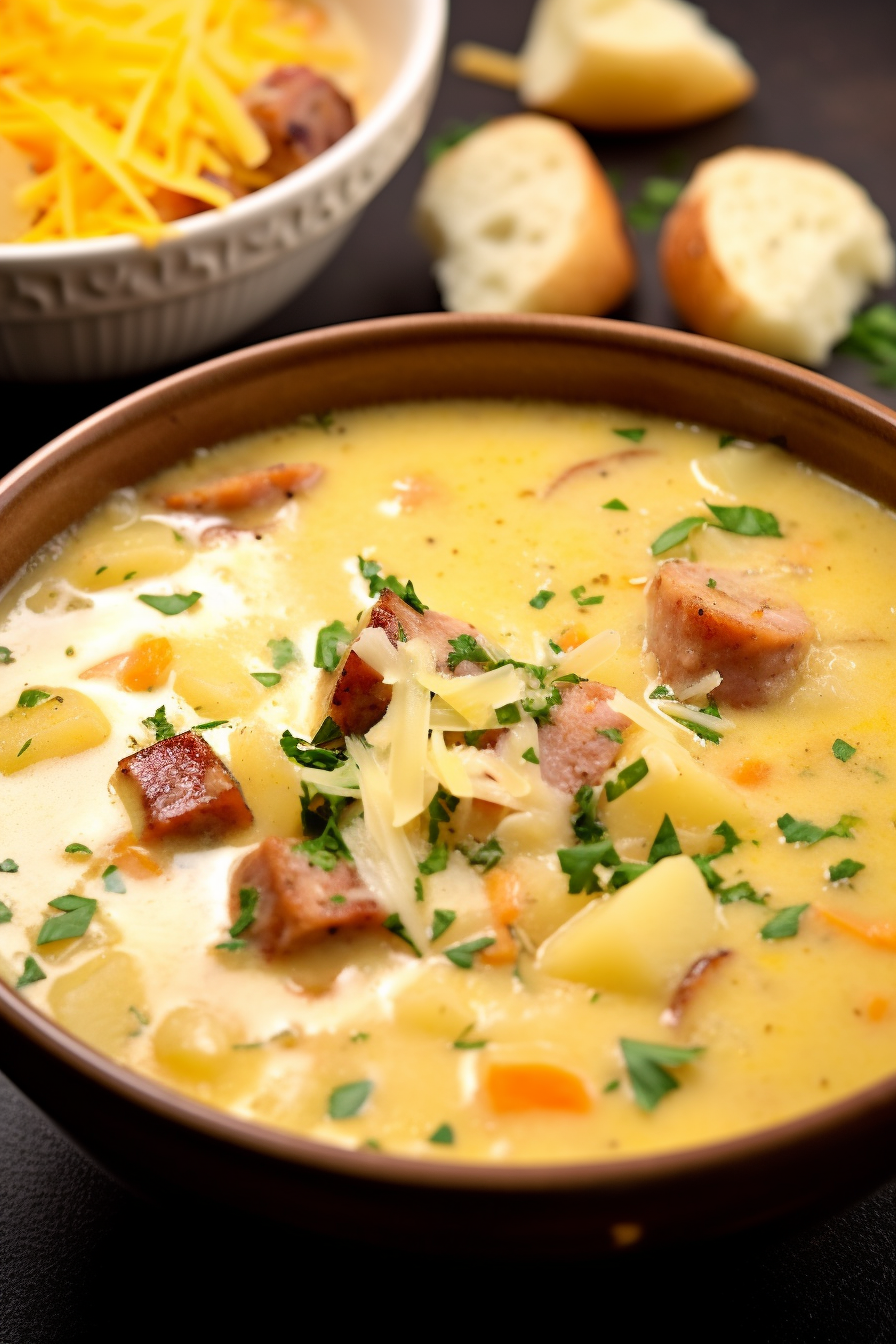 Ingredients For Potato Kielbasa Soup
Alright, let's talk ingredients, shall we? The kielbasa really is the star here – try to source a high-quality one, it makes a world of difference. As for the potatoes, I'd recommend russet or Yukon Gold for that creamy texture. When it comes to cheese, freshly shredded cheddar and parmesan are the way to go; trust me, it melts way better than the pre-packaged stuff. And for those looking to dial up the health quotient, feel free to switch out the milk for a non-dairy alternative or low-fat version. Lastly, fresh parsley? Always a winner! Its vibrant hue adds that gourmet touch.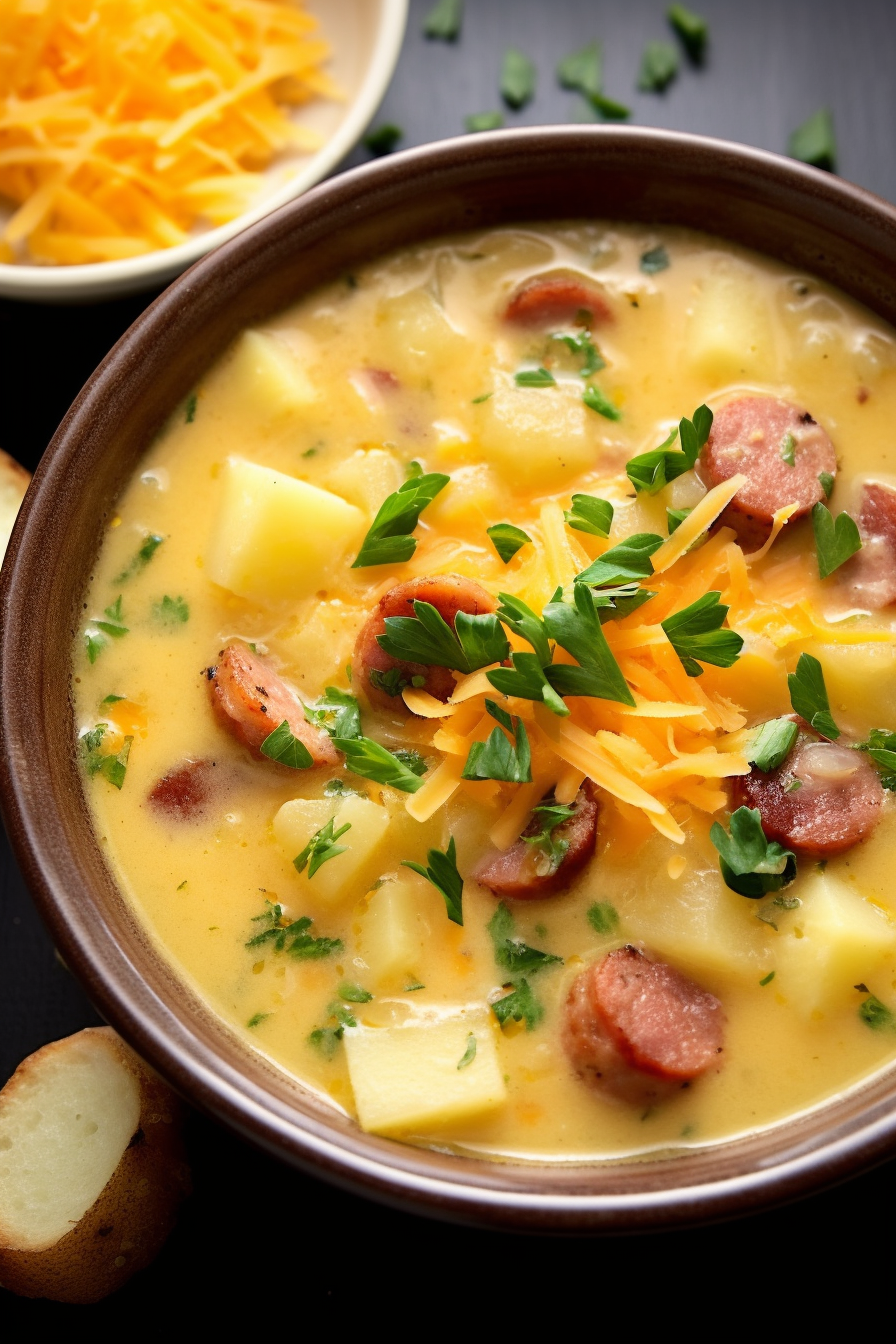 How To Make Potato Kielbasa Soup:
Let's get cookin'!
Starting Strong: In your Dutch oven or soup pot, warm up that olive oil over medium-high heat. Now, add in those delicious kielbasa pieces. Let them sizzle and dance around for about 5-6 minutes, stirring occasionally. Once they're beautifully browned, remove and set them aside.
Veggie Time: In the same pot, throw in your garlic, onions, carrots, and celery. Let them sauté until they're singing (or about 2 minutes). They'll be mingling and mixing, getting all flavorful.
Simmer and Soothe: Pour in the chicken stock followed by the cubed potatoes. Bring this concoction to a gentle boil and then, hush! Let it simmer. Cover and let it do its magic for 15 minutes or until those potato cubes turn tender.
Cheese, Please!: Here comes the dreamy part. Stir in your earlier-cooked kielbasa, milk, and those mouth-watering cheeses. Season with salt and pepper, and keep stirring gently on low heat for another 5-10 minutes, till the cheese cloaks everything in creamy goodness.
Final Flourish: Before you serve, sprinkle in that chopped parsley. It's like adding the final brushstroke to your culinary masterpiece.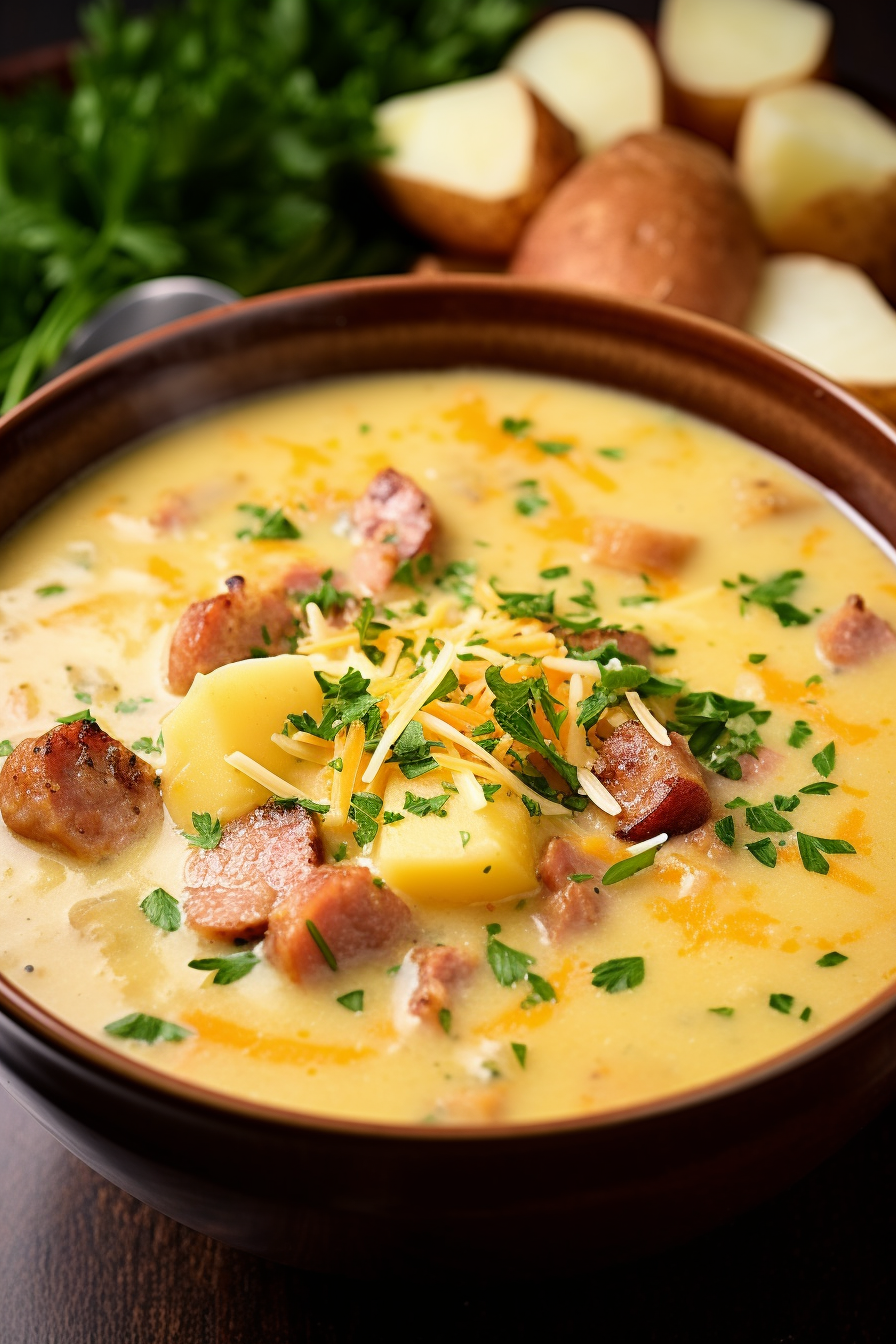 Storage Options:
Got leftovers? (Though I'd be surprised if you did!) This soup stores beautifully. Pour it into an airtight container, and it'll be good in the fridge for up to 3 days. Looking for a longer fix? You can freeze this beauty. Just ensure it's cooled before storing. To reheat, just thaw overnight in the fridge and warm up on the stove, stirring occasionally.
Variations and Substitutions:
Flexibility is the name of the game! Not a fan of kielbasa? Swap it out for smoked sausage or even chorizo. If you're going for a vegetarian version, try some hearty mushrooms instead of the meat, and swap the chicken stock for vegetable stock. For the cheese lovers (and who isn't one?), mix up the cheese varieties – maybe a bit of gouda or mozzarella? For an extra dash of green, throw in some baby spinach or kale. And if you're aiming for a gluten-free option, just ensure your stock and sausage are gluten-free! Remember, recipes are just guidelines. Feel free to mix, match, and make it yours!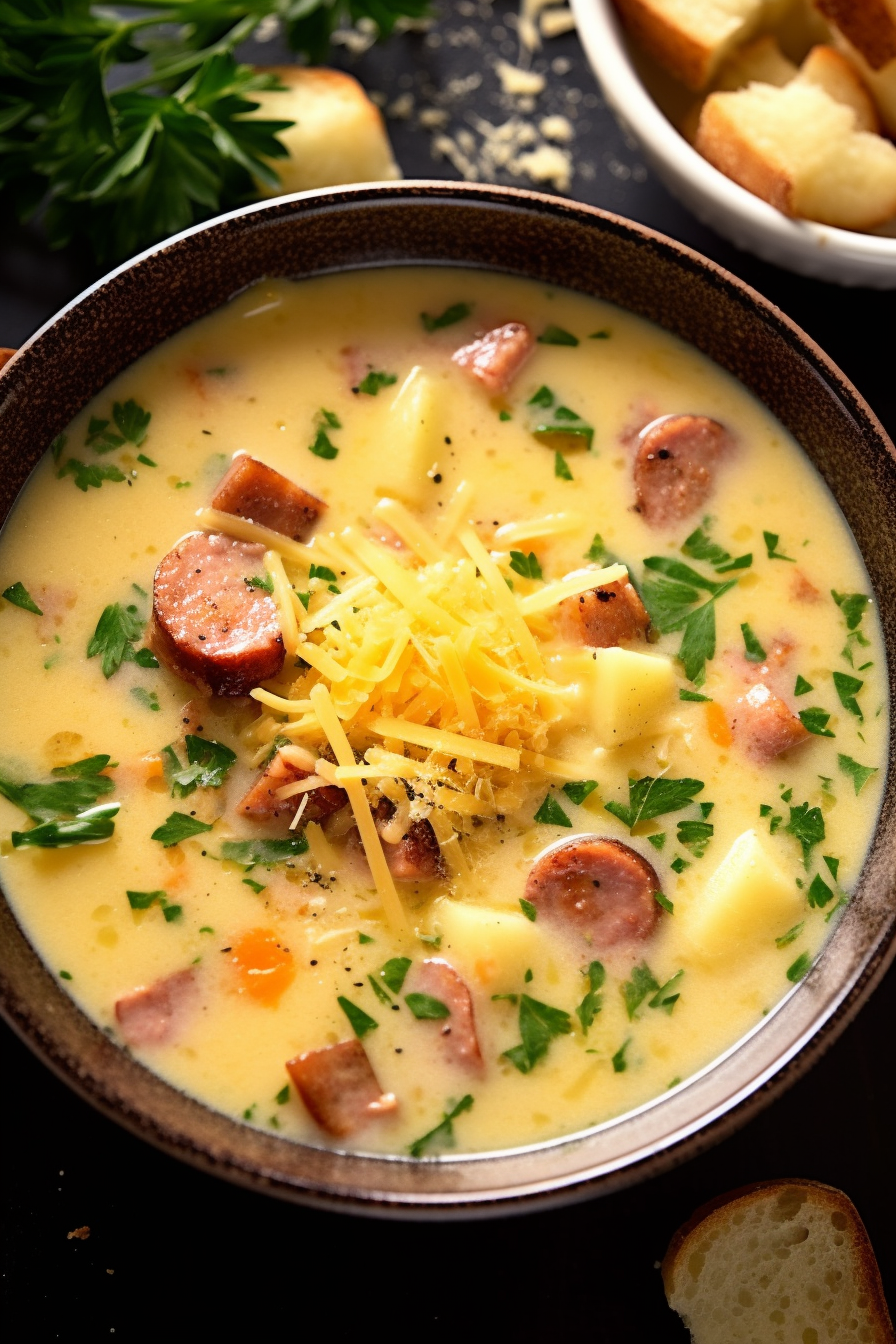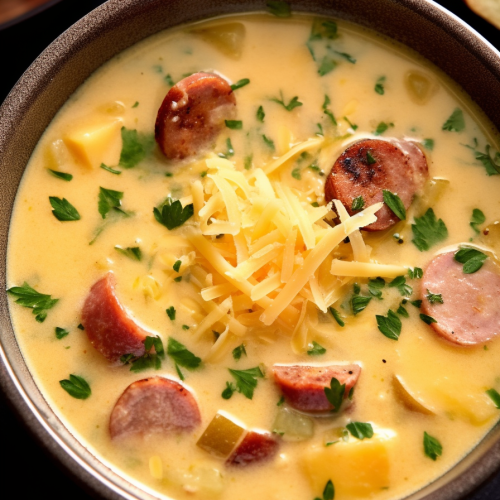 Potato Kielbasa Soup
Indulge in a creamy blend of kielbasa, potatoes, and two cheeses! Dive into the hearty and cheesy Potato Kielbasa Soup, enriched with garlic, onion, and a touch of parsley.
Print
Pin
Rate
Ingredients
1

tablespoon

of extra virgin olive oil

1

pound

of premium kielbasa

sliced into ½ inch segments

2

cloves

of garlic

finely minced

½

cup

of yellow onion

finely diced

½

cup

of carrots

approximately 2 large ones, peeled and finely diced

½

cup

of celery

approximately 2-3 stalks, finely sliced

4

cups

of high-quality chicken stock

1 1/2

pounds

of potatoes

diced into precise cubes

2

cups

of full-fat milk

2

cups

of finely shredded aged cheddar cheese

½

cup

of finely shredded parmesan cheese

½

teaspoon

of kosher salt

¼

teaspoon

of freshly ground black pepper

¼

cup

of freshly chopped parsley
Instructions
In a premium Dutch oven or suitable soup pot, heat the extra virgin olive oil over medium-high temperature. Once the oil has reached the optimal temperature, introduce the kielbasa segments. Allow them to sear for approximately 5-6 minutes, ensuring regular stirring to achieve uniform browning. Once done, carefully remove the kielbasa using a slotted spoon to drain excess oil.

To the same pot, introduce the minced garlic, finely diced onions, carrots, and sliced celery. Allow these ingredients to sauté, stirring occasionally, for a duration of 2 minutes.

Gradually introduce the chicken stock followed by the diced potatoes to the pot. Elevate the heat to achieve a boil, subsequently reducing the temperature. Secure the pot with a lid and allow the ingredients to simmer for a span of 15 minutes, or until a fork can easily penetrate the potato cubes.

Once the potatoes are adequately tender, reintroduce the seared kielbasa to the pot. Additionally, pour in the milk and introduce both the cheddar and parmesan cheeses. Season with kosher salt and freshly ground black pepper. Reduce the heat to low and consistently stir the mixture for an additional 5-10 minutes, ensuring the cheeses have completely melted into the soup.

As a finishing touch, integrate the freshly chopped parsley into the soup. Stir once more before serving, ensuring a uniform blend. The Potato Kielbasa Soup is now ready to be presented and enjoyed.