Dive into the festive spirit with this Christmas Pretzel Bark! Featuring salted pretzel sticks glazed with rich caramel and melted chocolate, it's the ultimate salty-sweet holiday treat.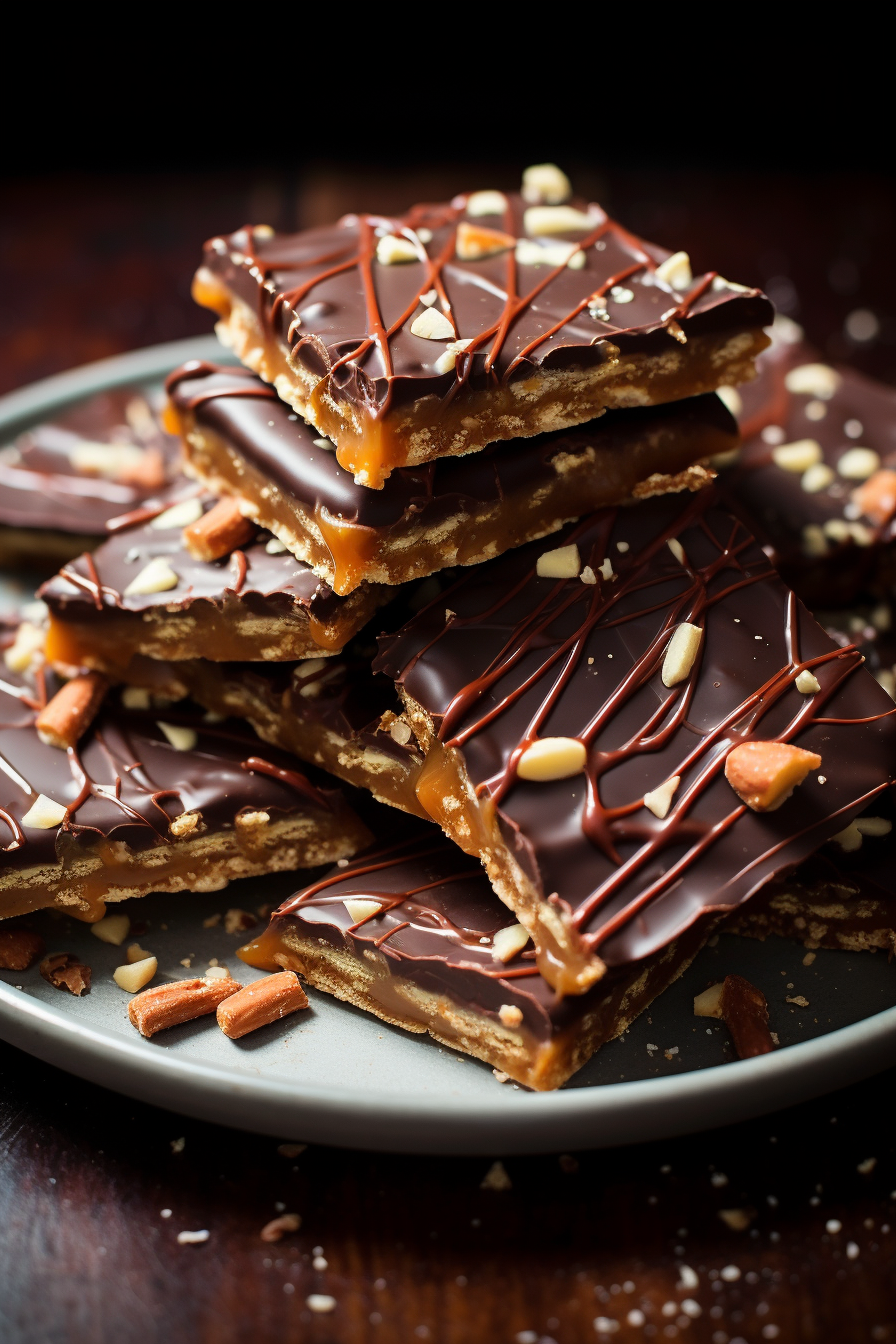 Ah, Christmas Pretzel Bark. This delightful treat brings back fond memories of my childhood. Every December, as the snow began to blanket the streets, my grandmother and I would sneak into the kitchen, armed with pretzels, chocolate, and a sense of mischievous holiday spirit. We'd giggle, spill sprinkles everywhere, and create a chocolaty mess that I'm sure gave my mother heart palpitations. But at the end of our little escapade, we'd have this gleaming sheet of golden goodness. It was more than just a recipe to us – it was our special Christmas tradition, our little holiday secret.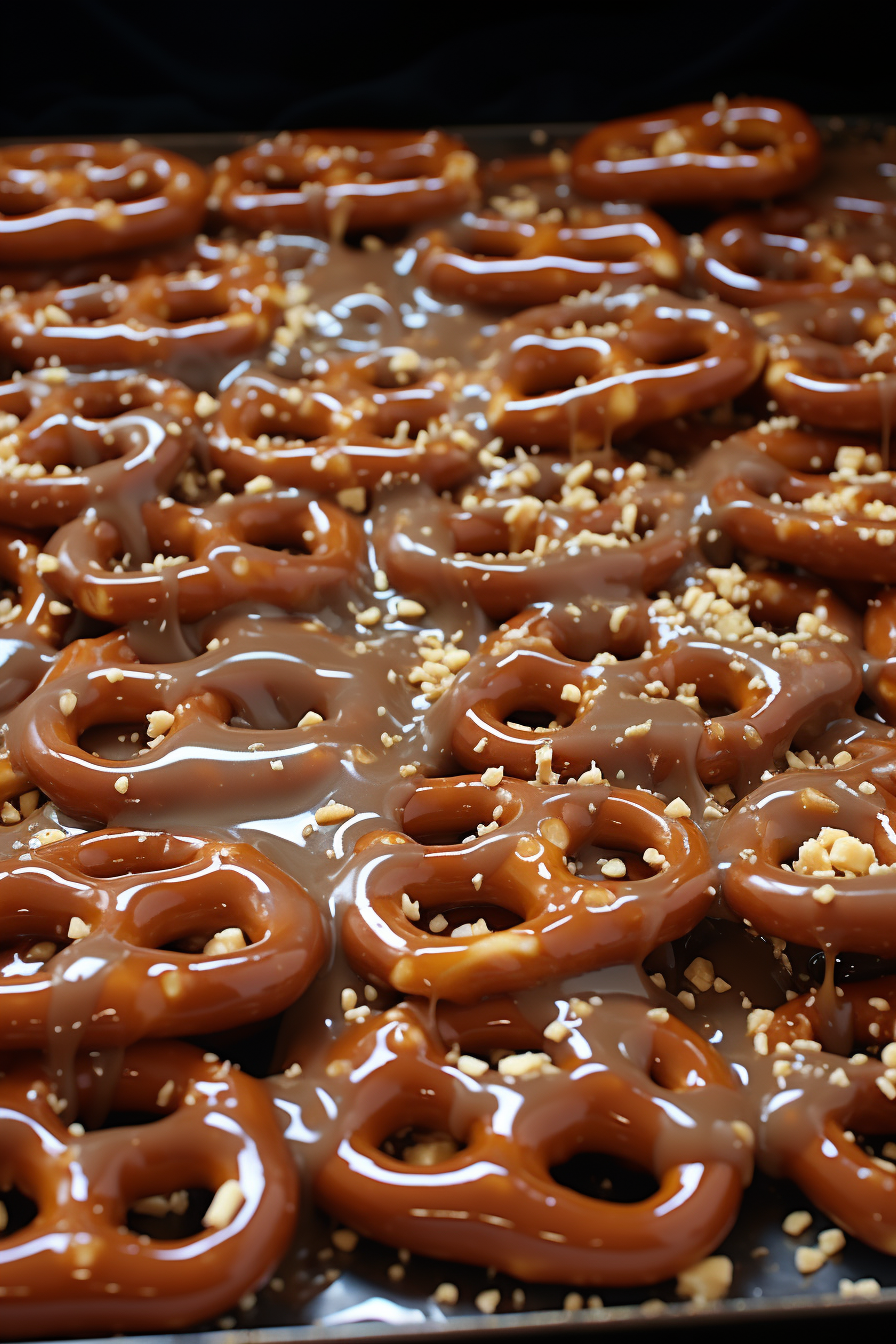 Meet the ultimate holiday fusion: the Christmas Pretzel Bark! Here's why it's everyone's favorite:
Salty Meets Sweet: The brilliant combo of salty pretzels with sweet caramel and chocolate ensures a flavor explosion with every bite.
Quick & Easy: Just 20 minutes from start to finish? You can't beat that, especially during the busy holiday season!
Insta-Worthy: The gorgeous layers topped with vibrant Christmas sprinkles make this a show-stopping treat, perfect for sharing (or, you know, humble-bragging on social media).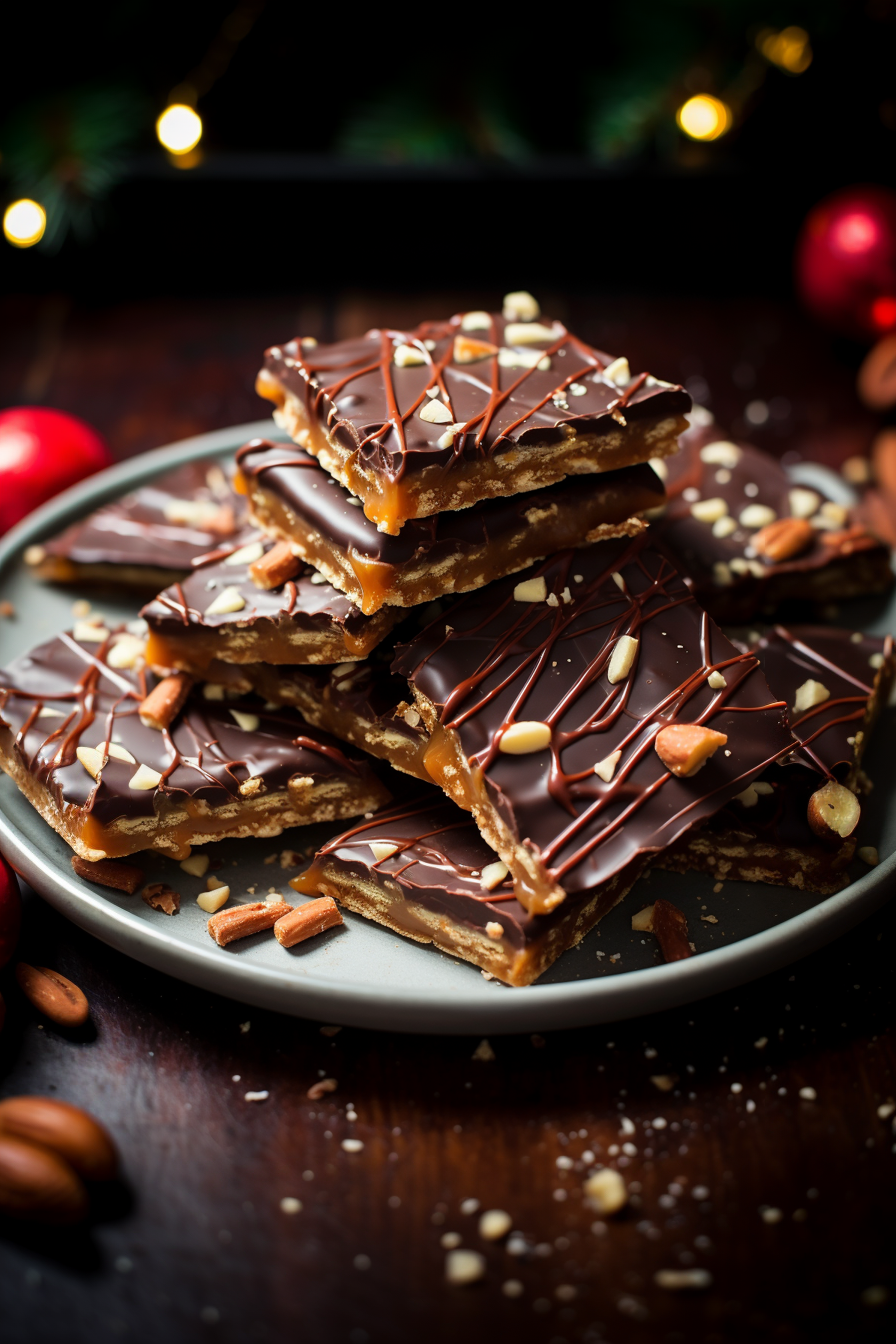 Ingredients for Christmas Pretzel Bark:
Before we embark on our delightful pretzel journey, a couple of ingredient shout-outs:
Pretzel Sticks: Opt for the thicker variety if possible. They hold the caramel and chocolate better and give a fabulous crunch.
High-Quality Chocolate: It's the star of the show, folks! A good quality chocolate melts smoothly and tastes divine. Trust me, it's worth the splurge.
Christmas Sprinkles: They're optional, but hey, it's the festive season! Go big or go home, right?
Easy-to-Follow Steps To Make Christmas Pretzel Bark:
Alright, fellow baking aficionados! Here we go:
Step 1: First off, let's get that oven preheated to a toasty 400 degrees. Grab a baking sheet and lovingly line it with parchment paper (because nothing sticks to Grandma's heirloom tray).
Step 2: Arrange your pretzel sticks in a beautiful, even layer on the sheet. This will form the crunchy base of our bark.
Step 3: Next up: caramel goodness! In a saucepan, melt butter, stir in brown sugar and salt, and bring it to a delightful boil. Keep it bubbling for 4-5 minutes until it turns a luscious dark shade. Once done, pull it off the heat and mix in that vanilla for a hint of magic.
Step 4: Gently pour your caramel over the pretzels. Pop that tray in the oven and give it 5 minutes. This will allow the caramel to bond with the pretzels, creating a match made in heaven.
Step 5: Chocolate time! Melt your chosen chocolate in the microwave. Pro tip: take it slow, melt in 30-second bursts, stirring each time. Patience is key!
Step 6: Once your pretzels are out of the oven, let them cool slightly, then lavish them with your melted chocolate. If you're feeling extra festive, now's the time to sprinkle on some holiday cheer.
Step 7: Refrigerate, but not freeze! Give it a good 3-4 hours or let it rest overnight if you can resist the temptation. Once set, get creative and cut into squares, triangles, or any geometrical shape your heart desires.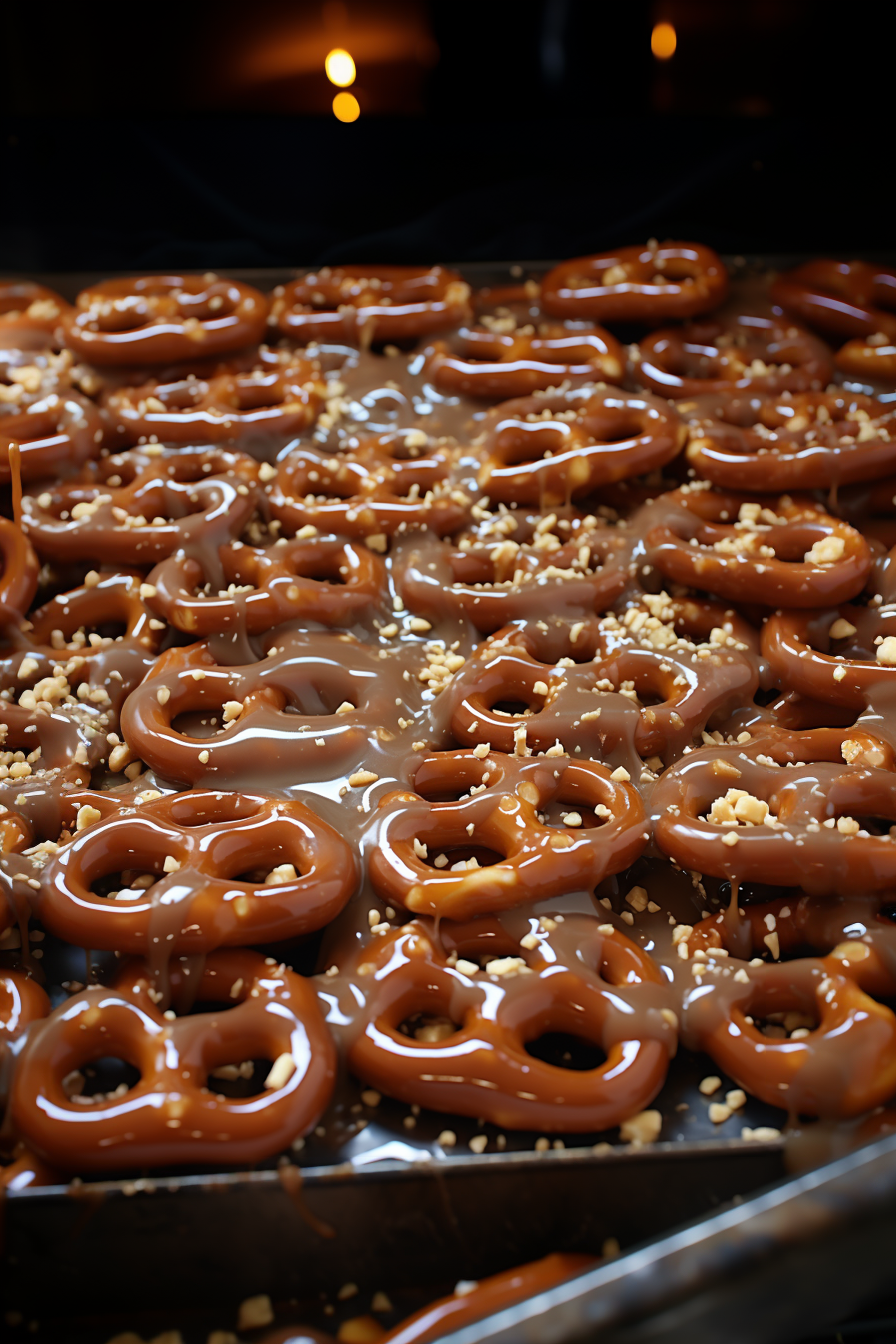 Storage Options:
Keep your delightful creations fresh in an airtight container. You can store them in the fridge for a chillier treat or leave them at room temperature if you prefer them slightly softer. And remember, it's called "bark," but no need to store like a tree! 😉
Variations and Substitutions:
Feeling adventurous? Here are some twists to try:
Swap the Pretzels: Use saltine crackers or even graham crackers for a different crunch.
Go Nuts: Add chopped pecans, almonds, or your favorite nut to the caramel layer.
White Chocolate Wonder: Substitute white chocolate for a creamier texture and taste.
Flavor Burst: Add a pinch of sea salt or a dash of cinnamon to the caramel for an extra kick.
Happy Baking and may your holidays be as sweet as this bark! 🎄🍫❤️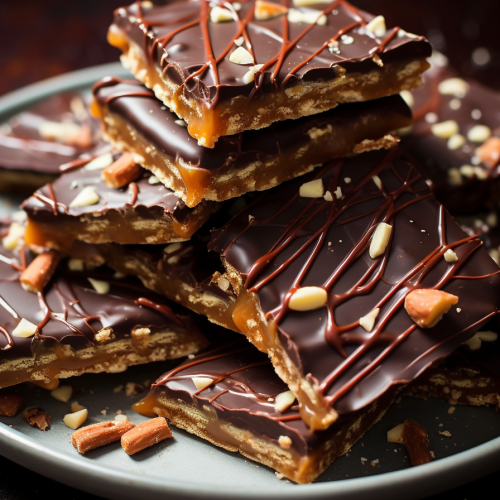 Christmas Pretzel Bark
Dive into the festive spirit with this Christmas Pretzel Bark! Featuring salted pretzel sticks glazed with rich caramel and melted chocolate, it's the ultimate salty-sweet holiday treat.
Print
Pin
Rate
Ingredients
15

oz

425g of premium pretzel sticks

1

cup

200g of brown sugar, packed

1

cup

240g of unsalted butter

1

teaspoon

of pure vanilla extract

¼

teaspoon

of fine salt

20

oz

570g of high-quality dark chocolate, finely chopped

Optional: Festive-themed confectionery sprinkles
Instructions
Preparation of Baking Sheet: Begin by preheating the oven to 400°F (200°C). Carefully line a baking sheet with parchment paper ensuring complete coverage.

Arrangement of Pretzels: On the prepared baking sheet, methodically lay out the pretzel sticks ensuring an even, single layer.

Caramel Preparation: In a stainless-steel saucepan, combine the unsalted butter, brown sugar, and salt. Place the saucepan on medium heat, stirring continuously until the mixture reaches a boiling point. Continue boiling for approximately 4-5 minutes, ensuring constant stirring to prevent burning. The mixture should thicken and take on a darker hue. Once achieved, promptly remove from heat and incorporate the pure vanilla extract.

Applying the Caramel: Pour the caramel mixture over the arranged pretzel sticks, ensuring a consistent and even spread.

Baking: Insert the baking sheet into the preheated oven and bake for precisely 5 minutes.

Chocolate Melting: While the pretzels are baking, take the finely chopped chocolate and place it in a microwave-safe bowl. Utilizing the microwave, melt the chocolate in 30-second intervals. After each interval, stir the chocolate thoroughly to ensure an even melt and to prevent overheating.

Chocolate Application: Upon removal of the baking sheet from the oven, allow it to cool for approximately one minute. Subsequently, pour the melted chocolate over the caramel-coated pretzels, ensuring a uniform spread.

Decoration (Optional): If desired, you may embellish the still-wet chocolate layer with festive-themed confectionery sprinkles.

Cooling and Setting: Relocate the baking sheet to a refrigerator. Allow the mixture to set for a period of 3-4 hours, or preferably, overnight.

Serving: Once fully set, utilize a sharp knife to cut the bark into uniform squares. Store in an airtight container to maintain freshness.

It is recommended to follow the instructions meticulously to achieve the best results.