Indulge in Easy Boston Cream Pie Cookie Bites, a delightful twist on the classic dessert featuring a soft cake mix cookie cup, luscious homemade whipped cream, and a rich chocolate ganache topping – a perfect bite-sized treat!
Oh, how these Easy Boston Cream Pie Cookie Bites take me back! I still remember the Sunday afternoons at my grandma's house when the air was thick with the scent of her legendary Boston Cream Pie. No one, and I mean no one, could replicate her magical custard or that glossy chocolate on top. But here I am, not with a pie, but with a whimsical take on grandma's classic – a recipe for those who want to capture that nostalgia without the pie tins and patience. Transformed into a cookie bite, they're a hit at family gatherings where my cousins and I reminisce about the good old days while savoring these sweet replicas. Baking these bites always feels like a loving tribute to my grandma's kitchen, where the warmth wasn't just from the oven, but also from the love that filled the room.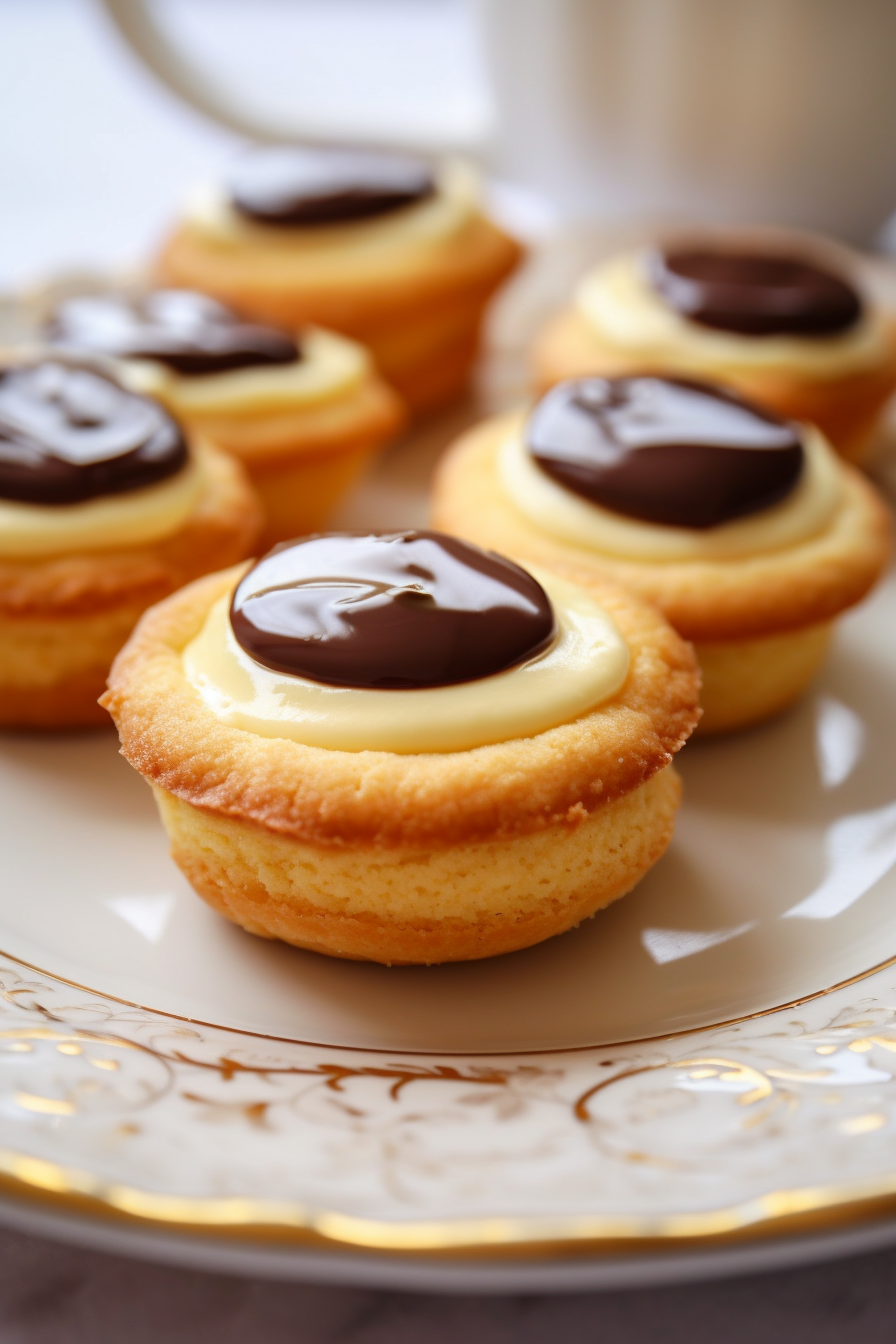 Why You'll Love These Easy Boston Cream Pie Cookie Bites:
The unique charm of these Easy Boston Cream Pie Cookie Bites lies in their simplicity and the ingenious twist on a beloved classic. They swap the intimidation of pastry-making for a user-friendly cake mix, cutting down the fuss and muss.
Then there's the homemade whipped cream – it's not just any whipped cream, but one with the silken touch of vanilla pudding, giving it that extra stability and flavor.
And let's not forget the crowning glory – the chocolate ganache. This isn't just melted chocolate; it's a concoction that will give the finest chocolatiers a run for their money.
Plus, their mini size isn't just cute; it's perfect for portion control… or, at least, that's what I tell myself as I reach for the third (okay, fourth) one.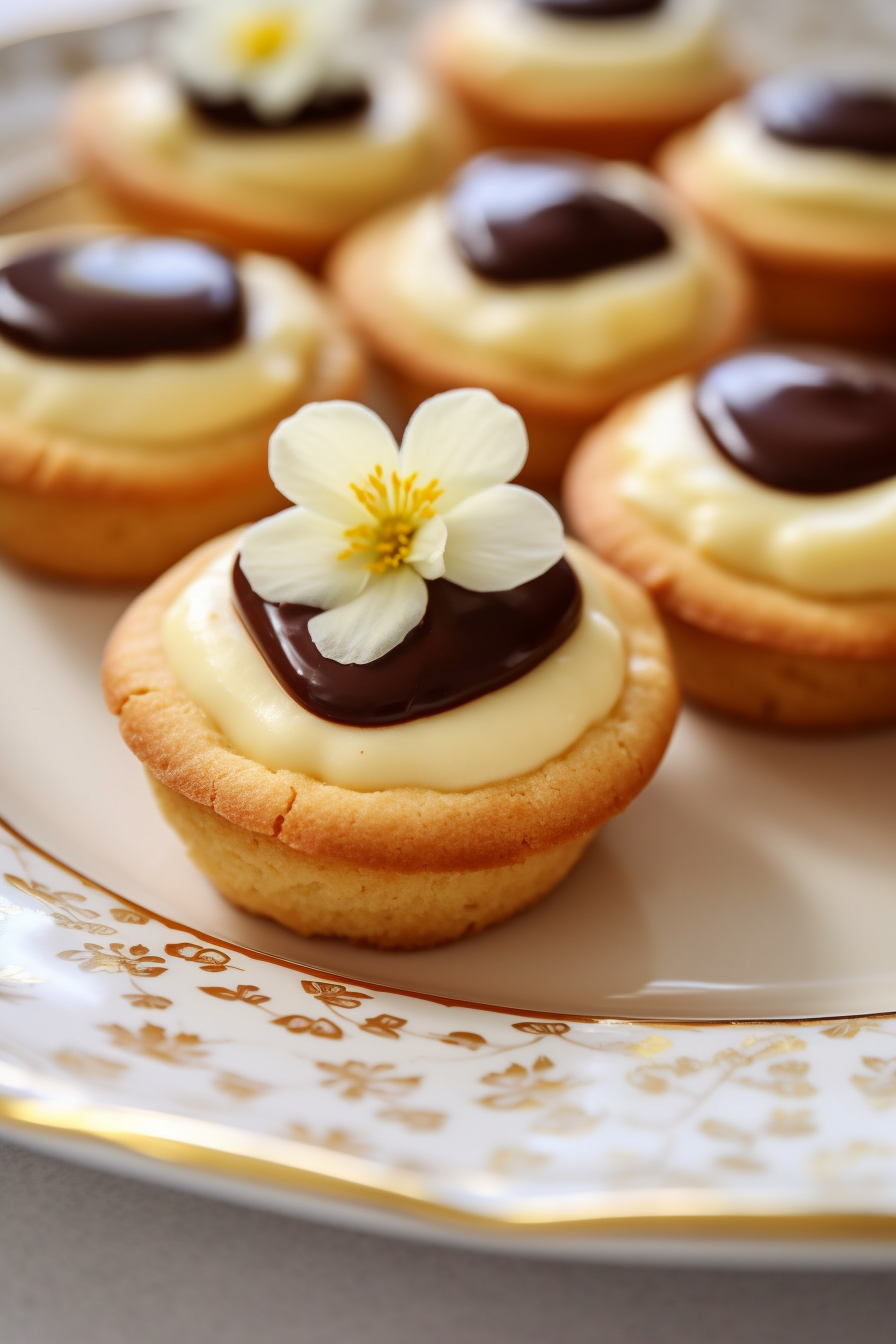 Ingredients Notes:
Before you get started, let's chat about these ingredients, shall we?
Starting with the cake mix – any brand of yellow cake mix will do, but make sure it's the kind that makes you think of sunshine and happiness.
For the eggs, freshness is key; they're the secret to a rise that'll make the dough proud.
Butter – oh, butter. Make sure it's softened, not melted, not cold; it's the Goldilocks of baking fats.
The instant vanilla pudding mix is where the vanilla cream gets its backbone, so don't skip it!
Heavy whipping cream – this is non-negotiable for both the cream and the ganache; it's what dreams are made of.
Semi-sweet chocolate chips are the soul of the ganache, but don't let them bully the cream; they need to blend into silky submission.
Recipe Steps:
Let's get down to business – no, not to defeat the Huns, but to whip up some cookie magic! Start your baking engines by preheating that oven to a toasty 350 degrees. Show your mini muffin pan some love with a spritz of non-stick spray, because we want zero stickage, folks. Take that yellow cake mix and give it a good whisk; think of it as a spa treatment to get all the lumps out. Now, lovingly blend in the softened butter and eggs until it's as thick and sticky as my last attempt at karaoke. Scoop the dough into each cup like it's precious cargo, then press it down like you're gently coaxing it to relax. Bake them until they're golden like a summer tan, and then cool those bad boys off with a tart shaper spa treatment, creating a little nest for the filling.
Whip up your vanilla cream next. Mix the pudding, cream, and milk like you're on a first-name basis until peaks form like mountains of deliciousness. Cozy that cream into a pastry bag and pipe it generously into your cookie cups – be generous, it's what grandma would do.
Last but not least, the ganache – it's the little black dress of this dessert. Microwave your chocolate and cream duo until they're smooth like a jazz tune. Spoon a dollop onto each cookie cup and then chill them until they're set, like your determination to eat just one.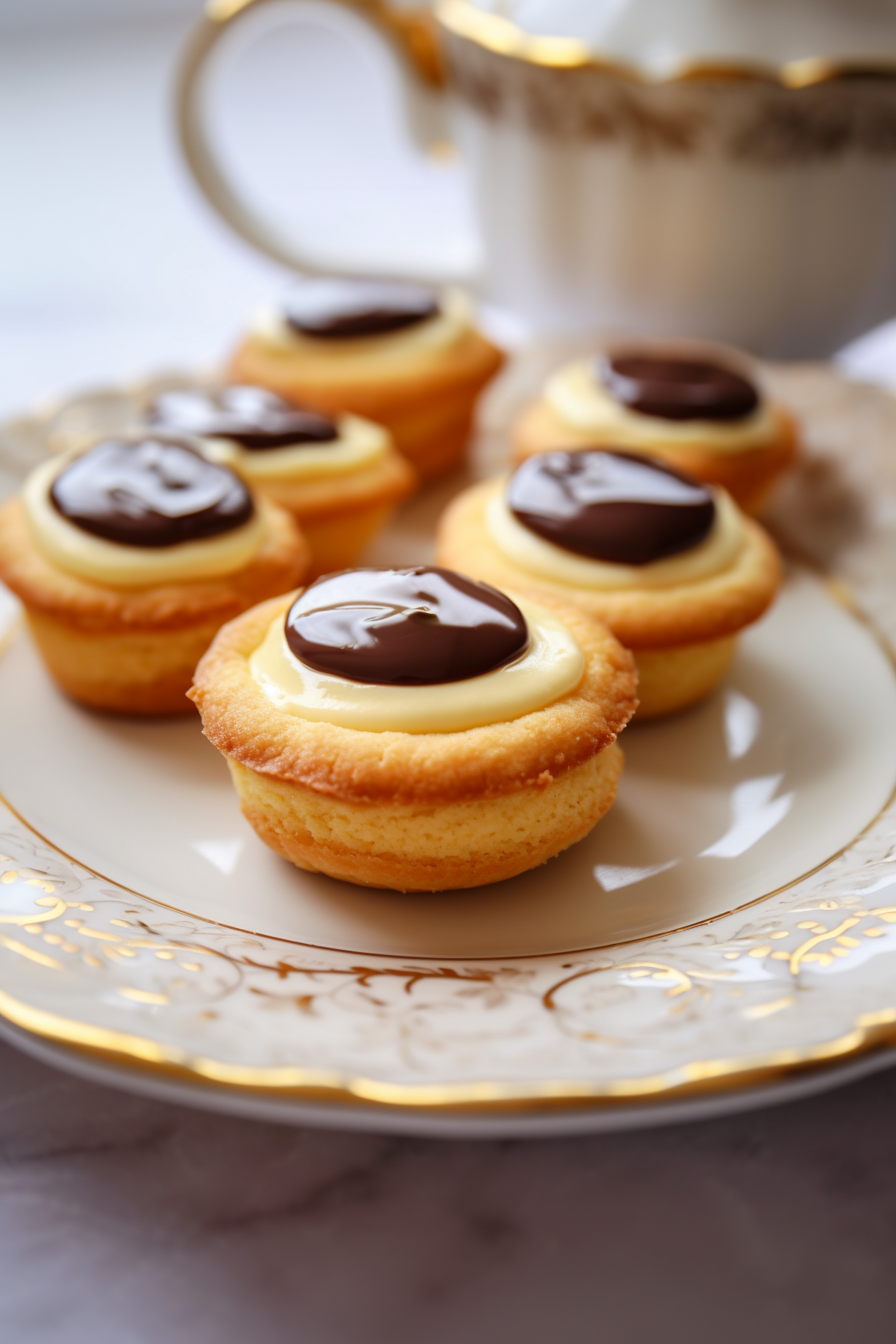 Storage Options:
These little darlings are as delicate as they are delicious. Once you've topped them with ganache, they'll need to be refrigerated. They're like Cinderella at the ball – fabulous but with a curfew. Keep them in an airtight container in the fridge for up to 3 days (as if they'll last that long, am I right?). You can also freeze the cookie cups sans cream and ganache for a sweet surprise on a rainy day.
Variations and Substitutions:
Feel like mixing it up? If you're not about yellow cake, any cake mix flavor will gladly take center stage. If you've run out of eggs, a couple of spoonfuls of applesauce or mashed banana can pinch-hit. No heavy cream for the ganache? Dark chocolate and a splash of milk can step up to the plate. And if you're looking to lighten things up, a dollop of Greek yogurt can sub in for some of that whipped cream. Remember, the baking world is your oyster – so shuck it your way!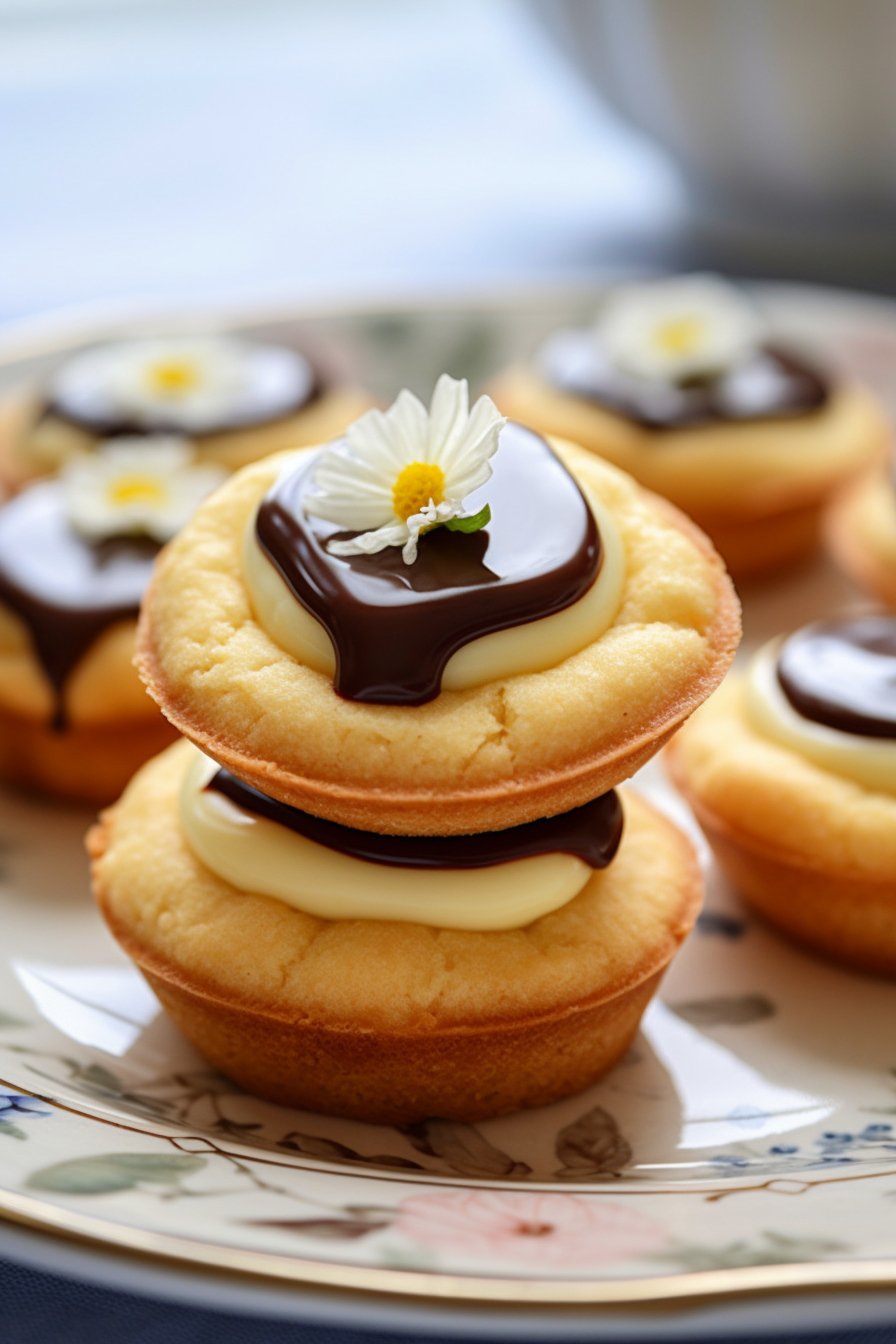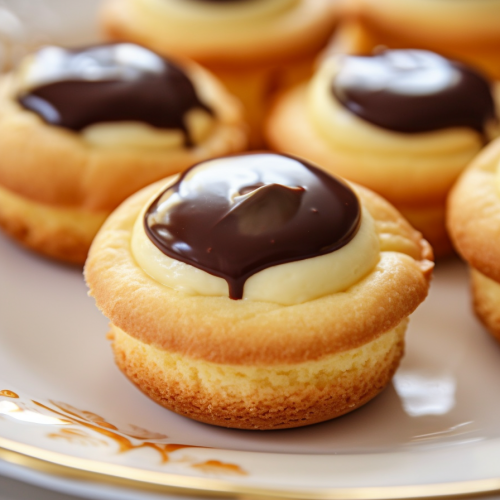 Easy Boston Cream Pie Cookie Bites
Indulge in Easy Boston Cream Pie Cookie Bites, a delightful twist on the classic dessert featuring a soft cake mix cookie cup, luscious homemade whipped cream, and a rich chocolate ganache topping – a perfect bite-sized treat!
Print
Pin
Rate
Servings:
36
Cookie Bites
Ingredients
For the Cookie Cup:
1

box of yellow cake mix

2

whole eggs

1/3

cup

of butter

softened to room temperature
For the Homemade Whipped Cream:
1 3.25-

ounce

package of instant vanilla pudding mix

1

cup

of heavy whipping cream

1/2

cup

of milk
For the Chocolate Ganache:
2

tablespoons

of semi-sweet baking chips

2

tablespoons

of heavy whipping cream
Instructions
Preparation of Cookie Cups:
Preheat the oven to a temperature of 350 degrees Fahrenheit. Utilize non-stick cooking spray to adequately prepare each cup of a mini muffin pan.

Place the yellow cake mix into a medium-sized mixing bowl and whisk thoroughly to eradicate any lumps that may be present.

Introduce the softened butter and eggs to the cake mix, combining them with a hand mixer or manually until a thick and sticky dough is formed.

Employing a small cookie scoop or a measurement of 1/2 tablespoon, transfer a mound of the cookie dough into each prepared muffin cup. Subsequently, press down each mound with your fingers to ensure a level surface for the cookie.

Bake in the preheated oven for a duration of 9 to 11 minutes. Upon removal, immediately loosen each cookie from the pan by tracing the edges with an offset spatula or knife.

When sufficiently cooled, press the center of each cookie to create a well, using a tart shaper or the end of a wooden spoon. Transfer the cookies to a cooling rack and allow them to cool completely.
Preparation of Vanilla Cream:
In a separate medium bowl, blend the instant vanilla pudding mix with the heavy cream and milk.

With a mixer or a whisk, beat the mixture until it reaches a thick consistency and forms stiff peaks.

Transfer the vanilla cream into a pastry bag or a plastic bag with a cut corner and pipe a generous amount of cream into the indentation of each cookie cup.
Preparation of Chocolate Ganache:
Combine the heavy cream and semi-sweet chocolate chips in a microwave-safe bowl.

Heat the mixture in the microwave for 20 seconds, then whisk. If the ganache has not reached a smooth consistency, continue to heat in 10-second increments, whisking after each, until the desired consistency is achieved.

Spoon a small quantity of ganache, approximately 1/4 to 1/2 teaspoon, onto the top of each filled cookie cup.

Place the cookie cups in the refrigerator to allow the ganache to set before serving.