Indulge in the sweetness of "Fresh Strawberry Muffins," featuring all-purpose flour, butter, sugar, eggs, vanilla and almond extracts, milk, and fresh strawberries. These golden-topped muffins are a delightful treat, perfect for any occasion.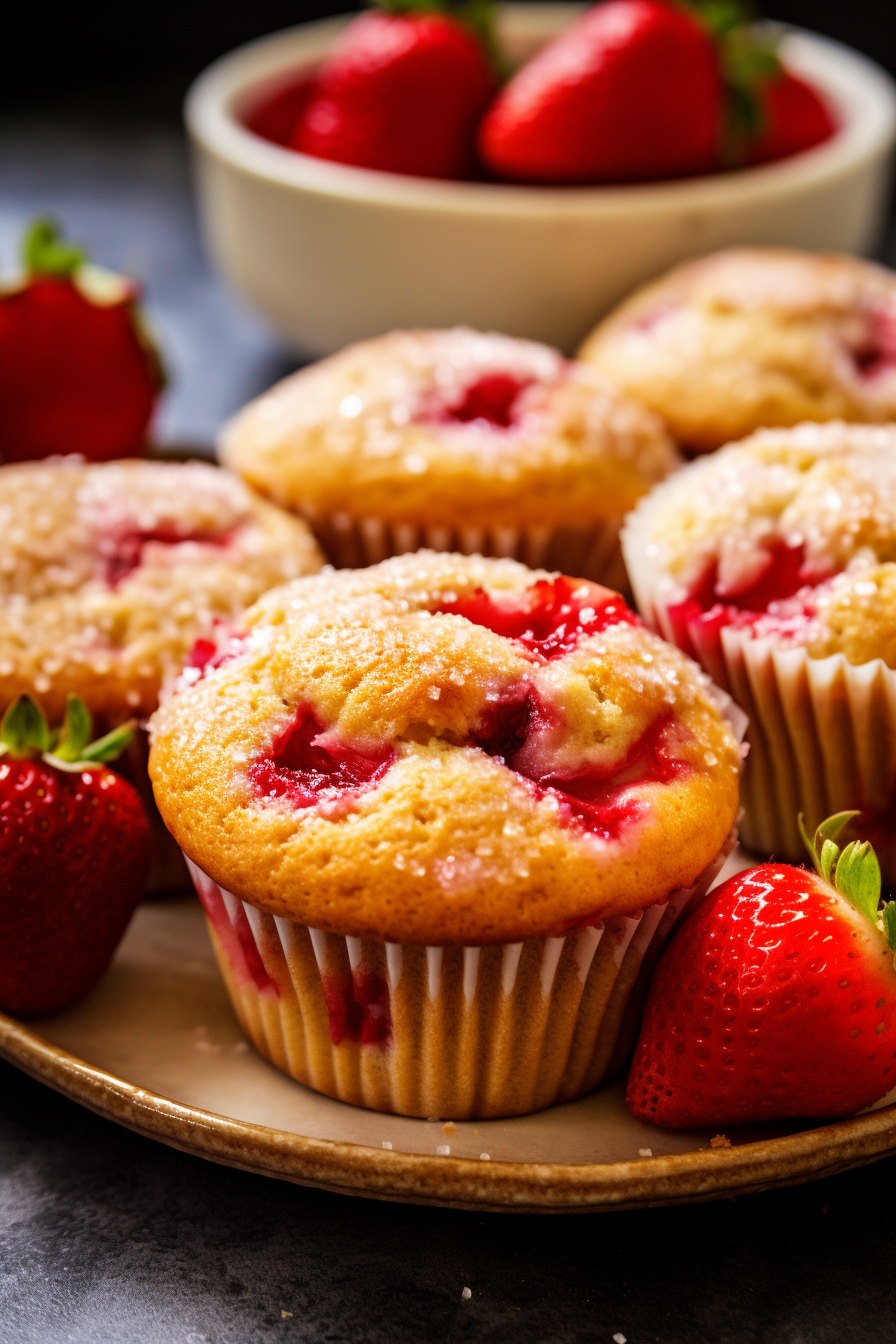 A Sweet Summer Memory with Strawberry Muffins
Remember those warm, sunny days at grandma's, where the aroma of baked goods wafted through the air? These "Fresh Strawberry Muffins" take me right back to those cherished moments. Every bite is filled with memories of picking fresh strawberries in her garden, laughing, and baking together. They're not just muffins; they're a piece of my heart, a tribute to those sweet, carefree days.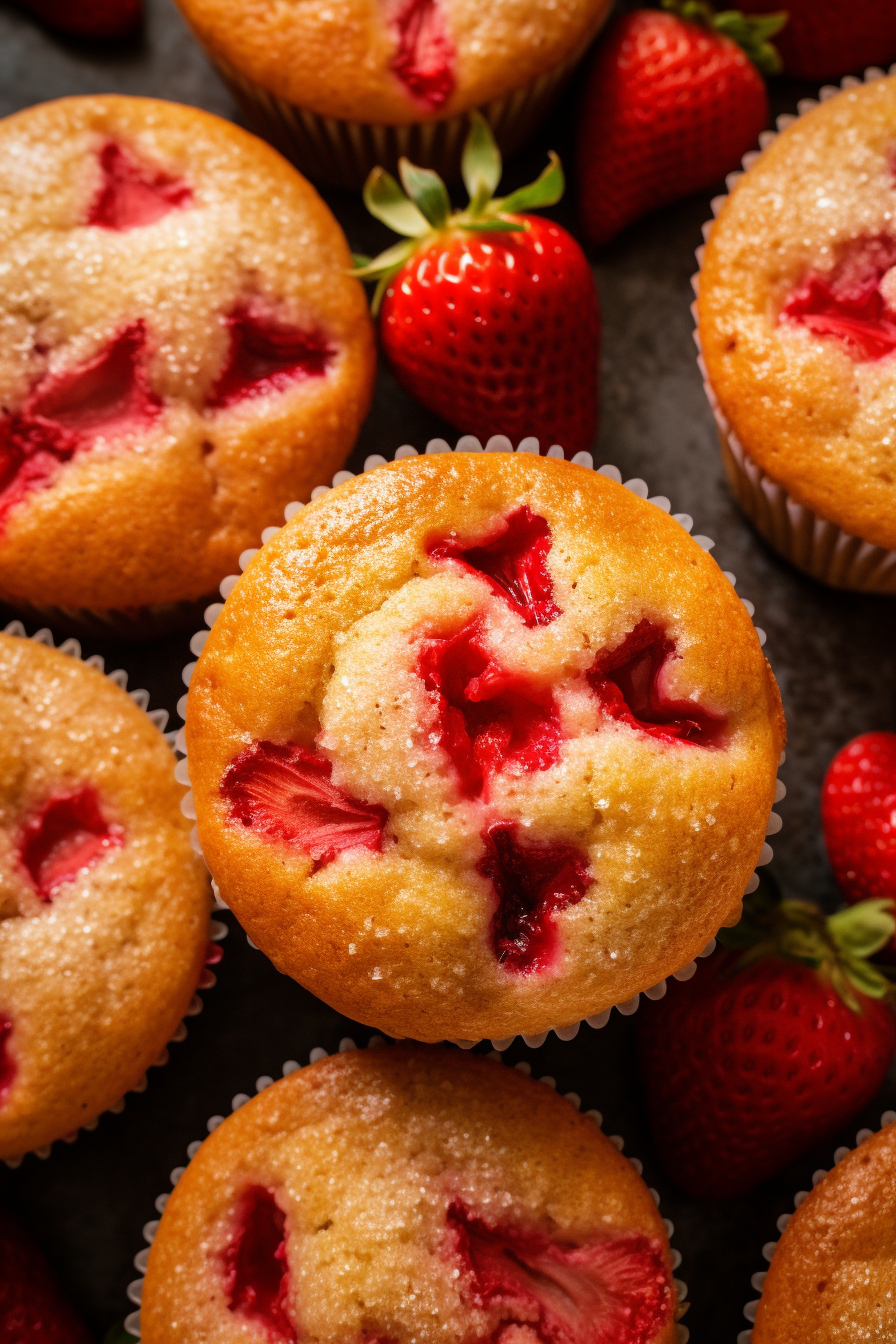 Why Strawberry Muffins Stand Out?
Bursting with Freshness: Packed with fresh, juicy strawberries, these muffins are a fruity delight in every bite.
Golden Perfection: The crisp, golden tops make them not only delicious but visually appealing.
Homely Comfort: Each muffin is like a warm hug, evoking nostalgia and comfort.
Versatile Delight: Perfect for breakfast, a snack, or a sweet end to a meal.
Freezer-Friendly: Easily stored for later enjoyment, they're as convenient as they are tasty.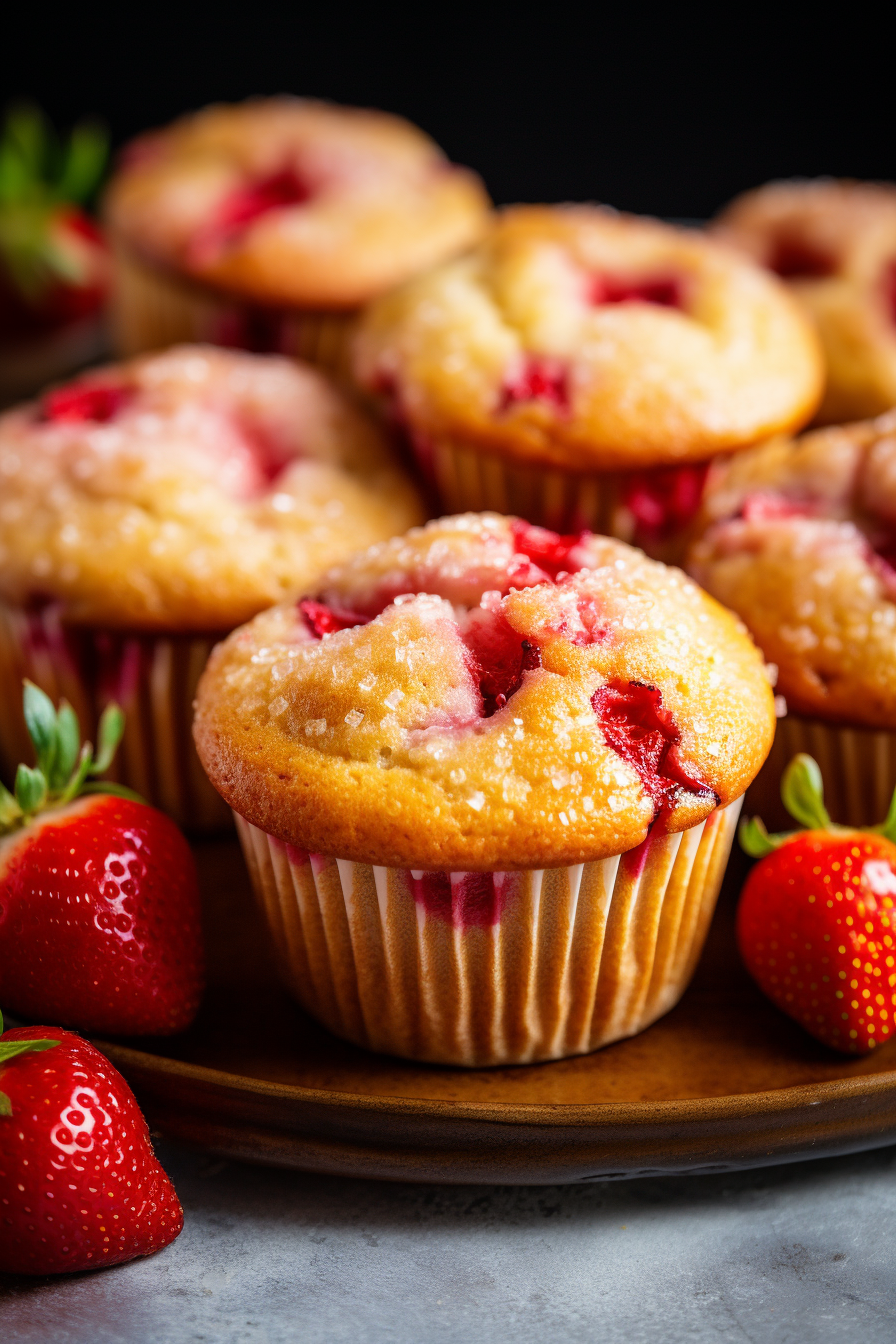 Essential Tips for Strawberry Muffins Ingredients
Embark on a delightful baking journey with these "Fresh Strawberry Muffins." A simple yet delicious blend of everyday ingredients brings this recipe to life. All-purpose flour forms the base, with baking powder to ensure a perfect rise. A touch of salt balances the flavors. The creaminess comes from unsalted butter, paired with the sweetness of granulated sugar. Eggs add richness and structure, while vanilla and almond extracts introduce an irresistible aroma. Milk adds the necessary moisture, making the batter smooth and luscious. And of course, the stars of the show: fresh strawberries, diced to distribute their juicy goodness evenly throughout each muffin.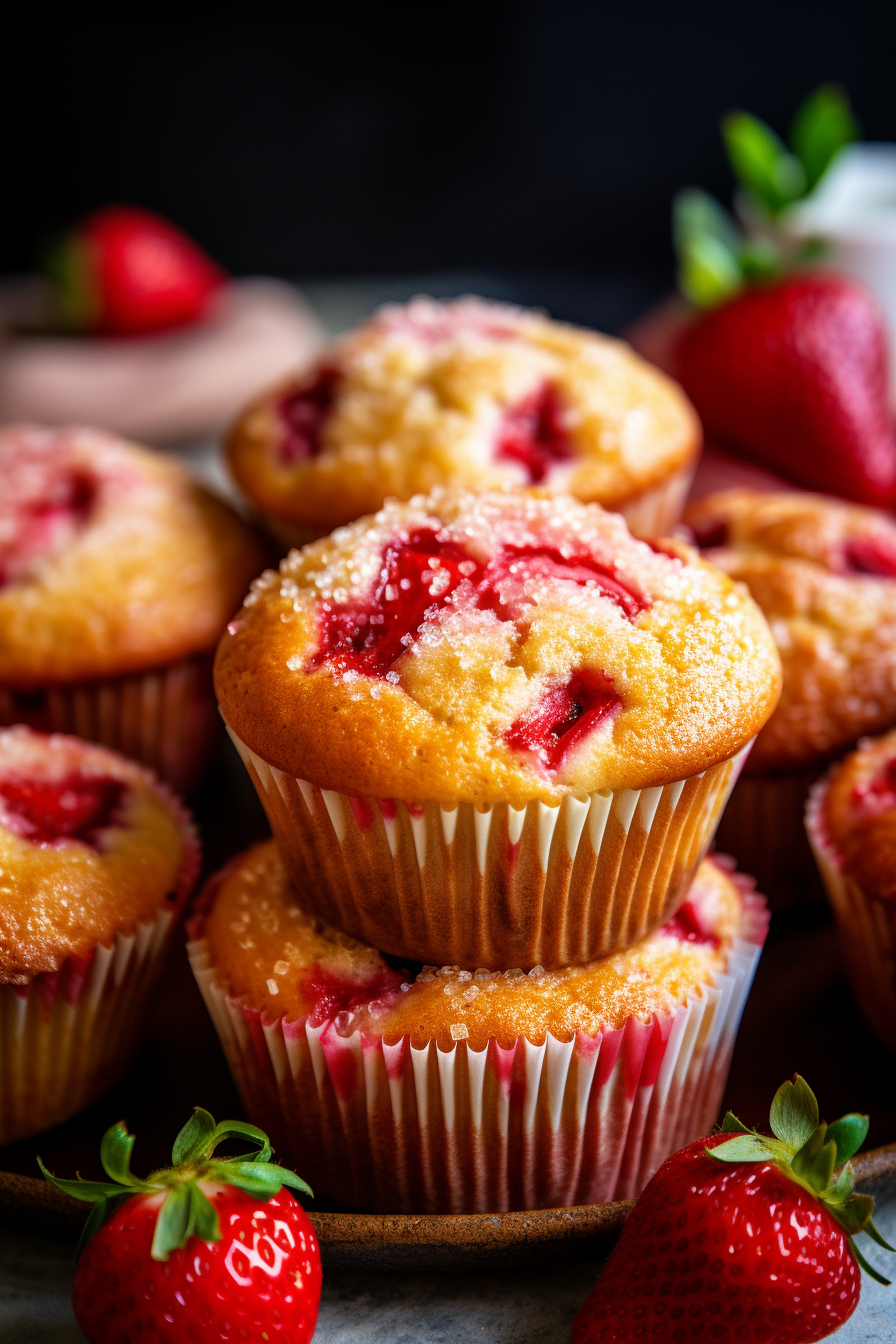 Step-by-Step Guide to Fresh Strawberry Muffins
These "Fresh Strawberry Muffins" are a delightful treat, combining the simple joy of baking with the fresh, juicy goodness of strawberries. The recipe is straightforward, but the result is extraordinary. Let's dive into each step.
Starting Right: Preheating your oven to 375°F and preparing your muffin tin with liners and a spray of non-stick cooking spray sets the stage for baking success.
Dry Ingredients: Whisking together flour, baking powder, and salt ensures a uniform mixture, which is crucial for the perfect texture of the muffins.
Creaming Process: The key here is to beat the butter and sugar until light and fluffy, then adding eggs one at a time for richness. The vanilla and almond extracts are added for a subtle, yet distinct flavor profile.
Combining Wet and Dry: This step involves alternating between adding the flour mixture and milk to the creamed butter mixture. It's crucial to do this gently to avoid overmixing, which can result in tough muffins.
Strawberry Incorporation: Tossing most of the strawberries in flour prevents them from sinking. Gently folding them into the batter ensures even distribution without crushing the berries.
Filling the Tin and Baking: Scooping the batter into the tin, then topping with the remaining strawberries and turbinado sugar, gives these muffins their signature look and taste. Baking them until golden brown and a tester comes out clean is the final, crucial step.
Cooling: Allowing the muffins to cool in the pan before transferring them to a rack is essential for their structure to set properly.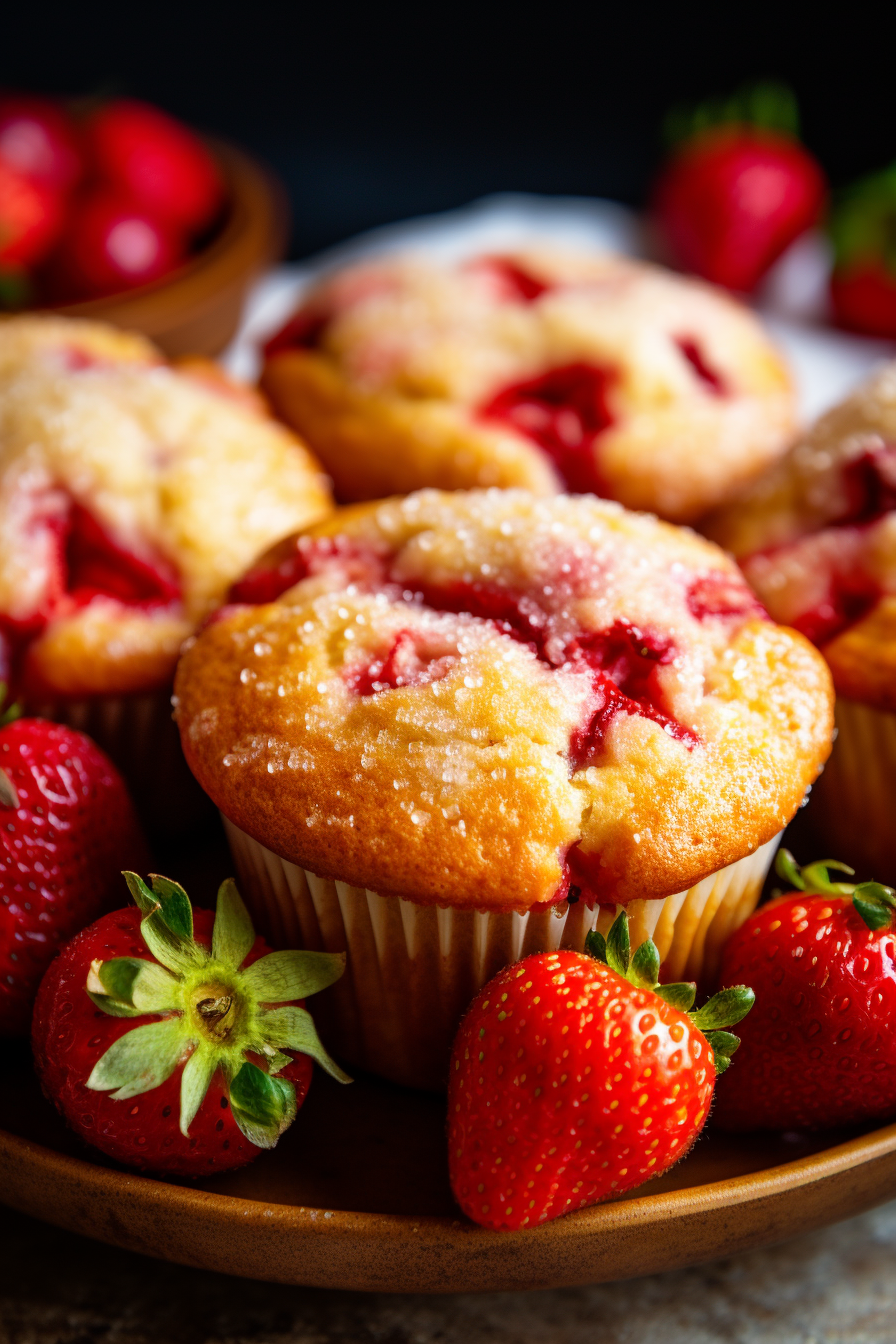 Storage Options
Room Temperature: Store in an airtight container for up to 2 days.
Refrigerator: Keeps fresh for up to a week when refrigerated in a sealed container.
Freezing: For longer storage, these muffins can be frozen for up to 3 months. Just ensure they are cooled completely, then wrap them securely before freezing.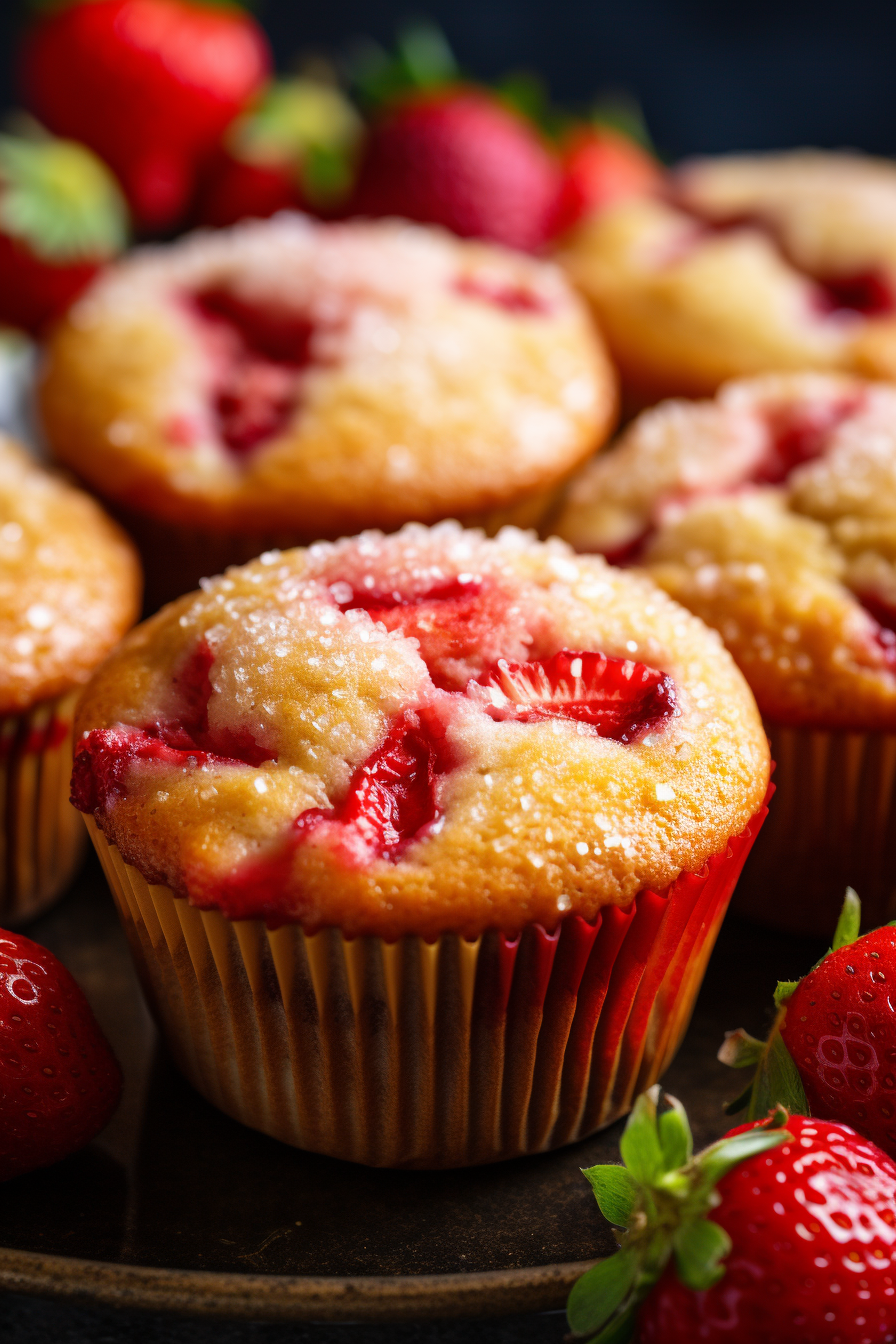 Variations and Substitutions
Gluten-Free Flour: For a gluten-free version, substitute the all-purpose flour with your preferred gluten-free blend.
Vegan Options: Replace the butter with vegan margarine and use plant-based milk. Substitute eggs with applesauce or a commercial egg replacer.
Different Berries: Feel free to use other berries like blueberries or raspberries for a twist.
Nut Addition: Add chopped nuts like almonds or walnuts for an extra crunch.
Sweetener Variations: Swap granulated sugar with coconut sugar or honey for a different sweetness profile.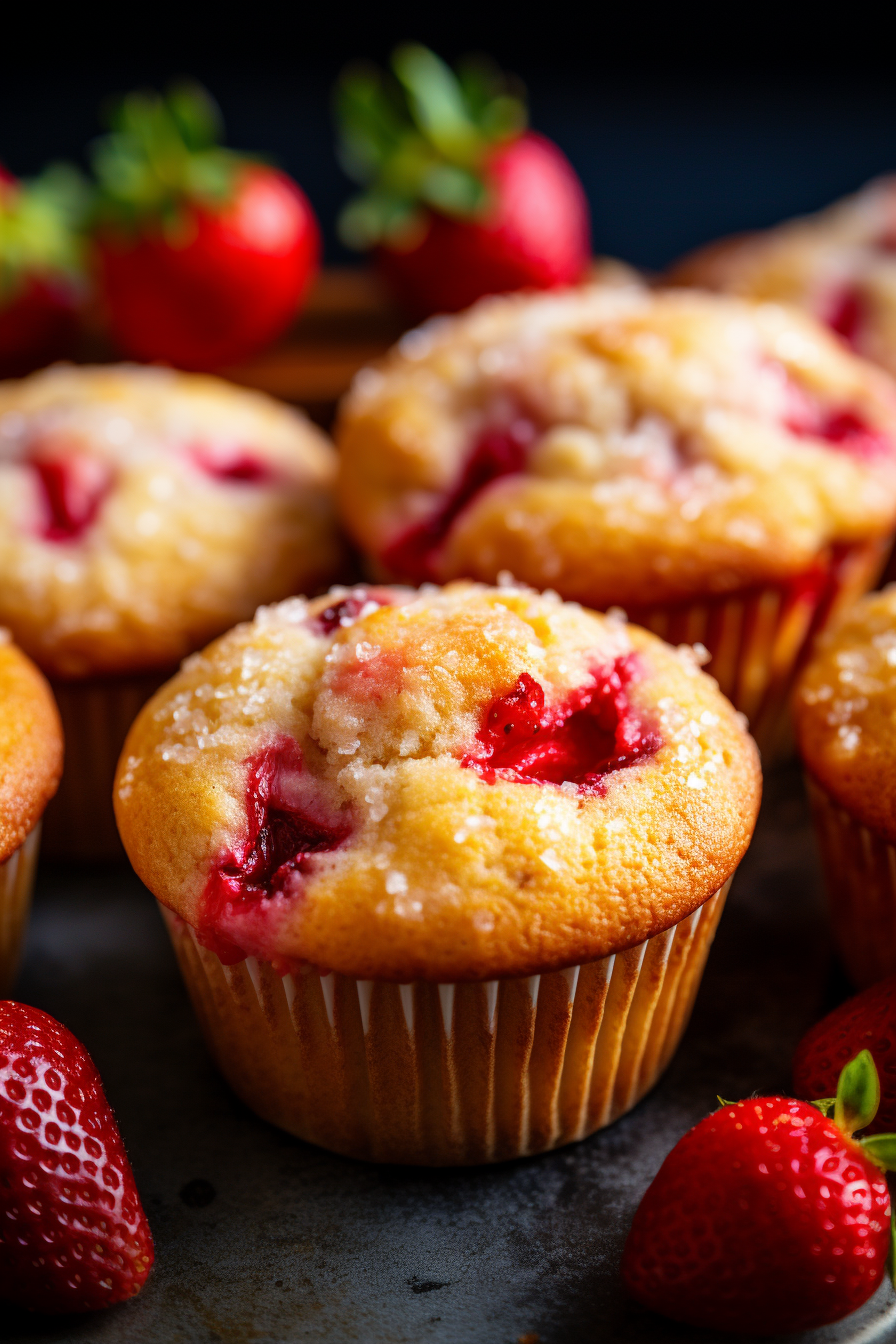 Fresh Strawberry Muffins
Indulge in the sweetness of "Fresh Strawberry Muffins," featuring all-purpose flour, butter, sugar, eggs, vanilla and almond extracts, milk, and fresh strawberries. These golden-topped muffins are a delightful treat, perfect for any occasion.
Print
Pin
Rate
Ingredients
2

cups

of all-purpose flour

accurately measured by spooning into a measuring cup and leveled off with a knife, plus an additional 2 teaspoons for coating the strawberries.

2

teaspoons

of baking powder.

¾

teaspoon

of salt.

1

stick

½ cup of unsalted butter, softened to room temperature.

1

cup

of granulated sugar.

2

large eggs.

1½

teaspoons

of vanilla extract.

¼

teaspoon

of almond extract.

½

cup

of milk.

2¼

cups

of diced strawberries

approximately one pint, divided.

2

tablespoons

of turbinado sugar

for topping the muffins.
Instructions
Preparation of Baking Equipment: Preheat your oven to a temperature of 375°F (190°C). Prepare a 12-cup muffin tin by lining it with paper liners and applying a coat of non-stick cooking spray to both the liners and the pan.

Combining Dry Ingredients: In a medium-sized mixing bowl, thoroughly whisk together the flour, baking powder, and salt to create a uniform mixture.

Creaming Butter and Sugar: In the bowl of an electric mixer, beat the softened butter and granulated sugar for approximately 2 minutes. Following this, add the eggs one at a time, ensuring to scrape down the sides of the bowl and beat well after each addition. Then, incorporate the vanilla extract and almond extract into the mixture. Note: It is normal for the batter to appear slightly grainy at this stage.

Incorporating Dry and Wet Ingredients: With the mixer set to a low speed, gradually add the previously combined dry ingredients in three separate increments, alternating with the milk and concluding with the addition of flour.

Preparing Strawberries for Baking: Toss the diced strawberries in 2 teaspoons of flour to prevent them from sinking during the baking process. Reserve ½ cup of the coated strawberries for later use. Fold the remaining strawberries into the batter with a spatula, ensuring even distribution while taking care not to overmix.

Filling Muffin Tin and Baking: Utilize an ice-cream scoop or a similar utensil to evenly distribute the batter into the prepared muffin tin. The tins should be filled to near capacity. Evenly distribute the reserved strawberries over the top of the muffin batter, followed by a sprinkling of turbinado sugar, focusing the sugar on the centers of the muffins to avoid sticking at the edges.

Baking and Cooling: Bake the muffins in the preheated oven for approximately 30 minutes, or until they achieve a light golden color and a cake tester inserted into the muffins comes out clean. If necessary, use a sharp knife to loosen the tops of the muffins from the pan to prevent sticking. Allow the muffins to cool in the pan for about 25 minutes before transferring them to a wire rack to cool completely.

Freezing Instructions (Optional): For long-term storage, these muffins can be frozen for up to three months. Once completely cooled, wrap them securely in aluminum foil or plastic freezer wrap, or place them in a heavy-duty freezer bag. To thaw, leave them overnight at room temperature.