Dive into the Southern delight of Fried Green Tomatoes, featuring tangy unripened tomatoes dipped in buttermilk, seasoned breading, and fried till golden crispy. Partnered with a zesty remoulade sauce packed with mayo, spicy brown mustard, and a hint of Cajun seasoning. A tantalizing treat that's sure to impress!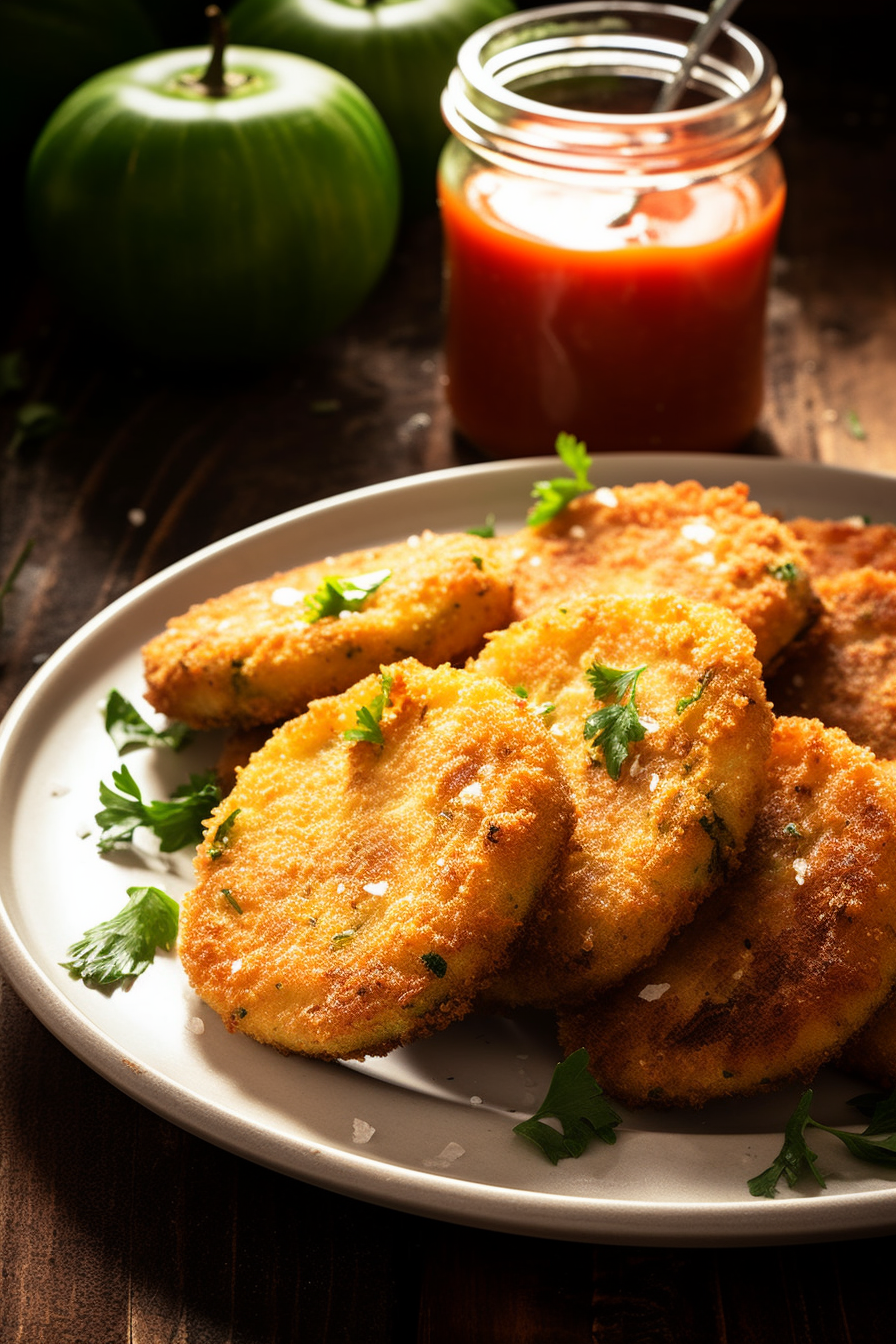 Picture this – a lazy summer afternoon in Alabama, the sweet scent of magnolias in the air. I'm at Grandma Lou's porch, and she pulls out this golden, crispy snack. It was love at first bite! Yes, my dear reader, that's where my love story with Fried Green Tomatoes began. Grandma Lou had an impeccable knack for picking the perfect unripe tomatoes from her garden. She'd always say, "The tangier, the better!" Every year, she'd share stories of the Deep South and fry up a batch of these beauties, sending my taste buds on a tantalizing journey. This recipe? It's a piece of that memory. So, if you've ever dreamt of capturing the magic of Southern afternoons, this is your golden (quite literally) ticket.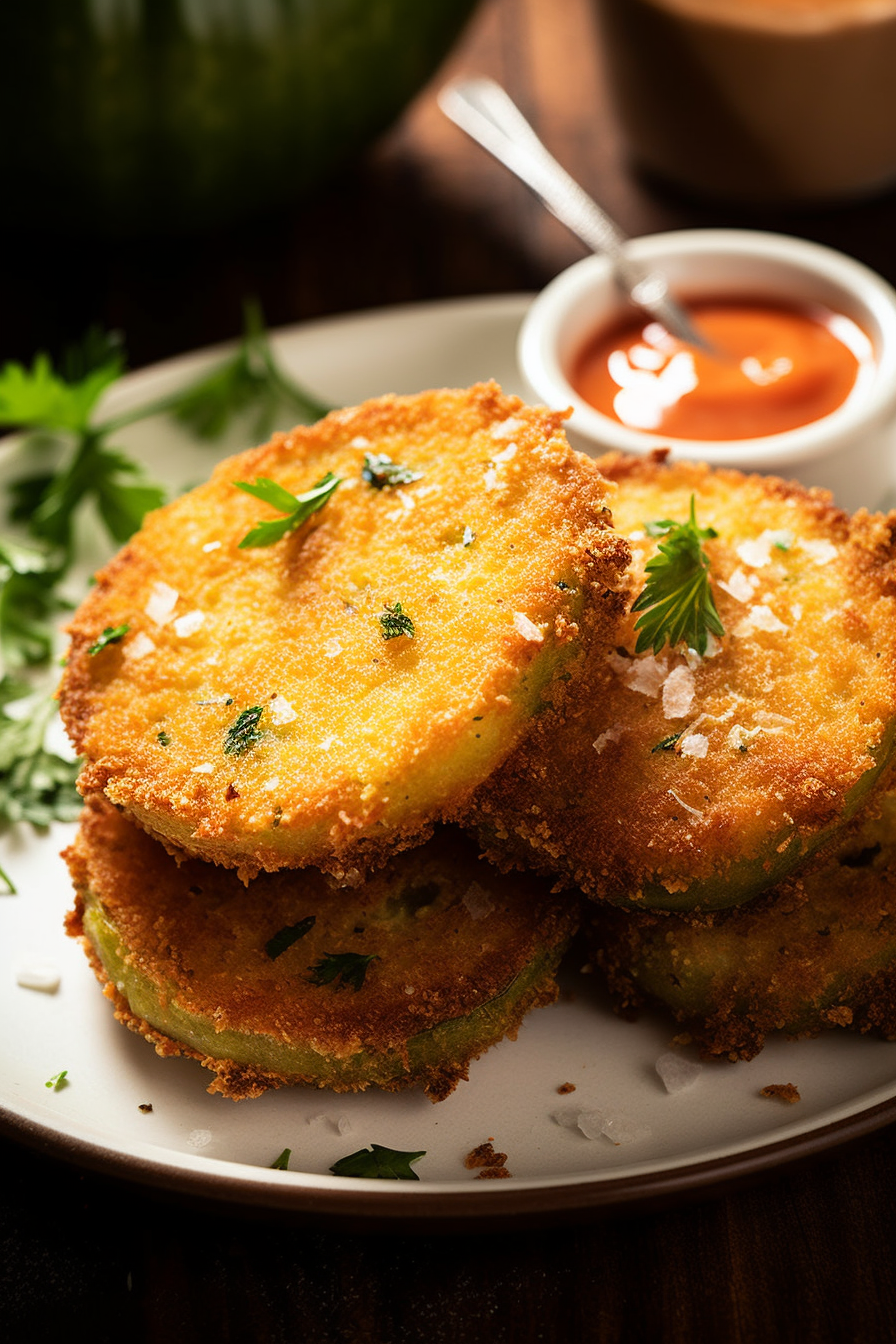 Why You'll Love Fried Green Tomatoes:
Darling, this ain't just another Fried Green Tomatoes recipe! Here's what sets ours apart:
Remoulade Sauce: Why settle for plain old ketchup? This zingy, creamy, and slightly spicy sauce brings out the flavors like no other.
The Flour Blend: A subtle symphony of smoked paprika, garlic powder, and onion powder. Pure umami goodness!
Breading Station: With separate stages of flour mix, a buttermilk blend, and a breadcrumb-cornmeal combo, every bite guarantees a perfect crunch.
The Waiting Game: By letting the tomatoes rest post-breading, the coating sets beautifully, ensuring it doesn't flake off during frying.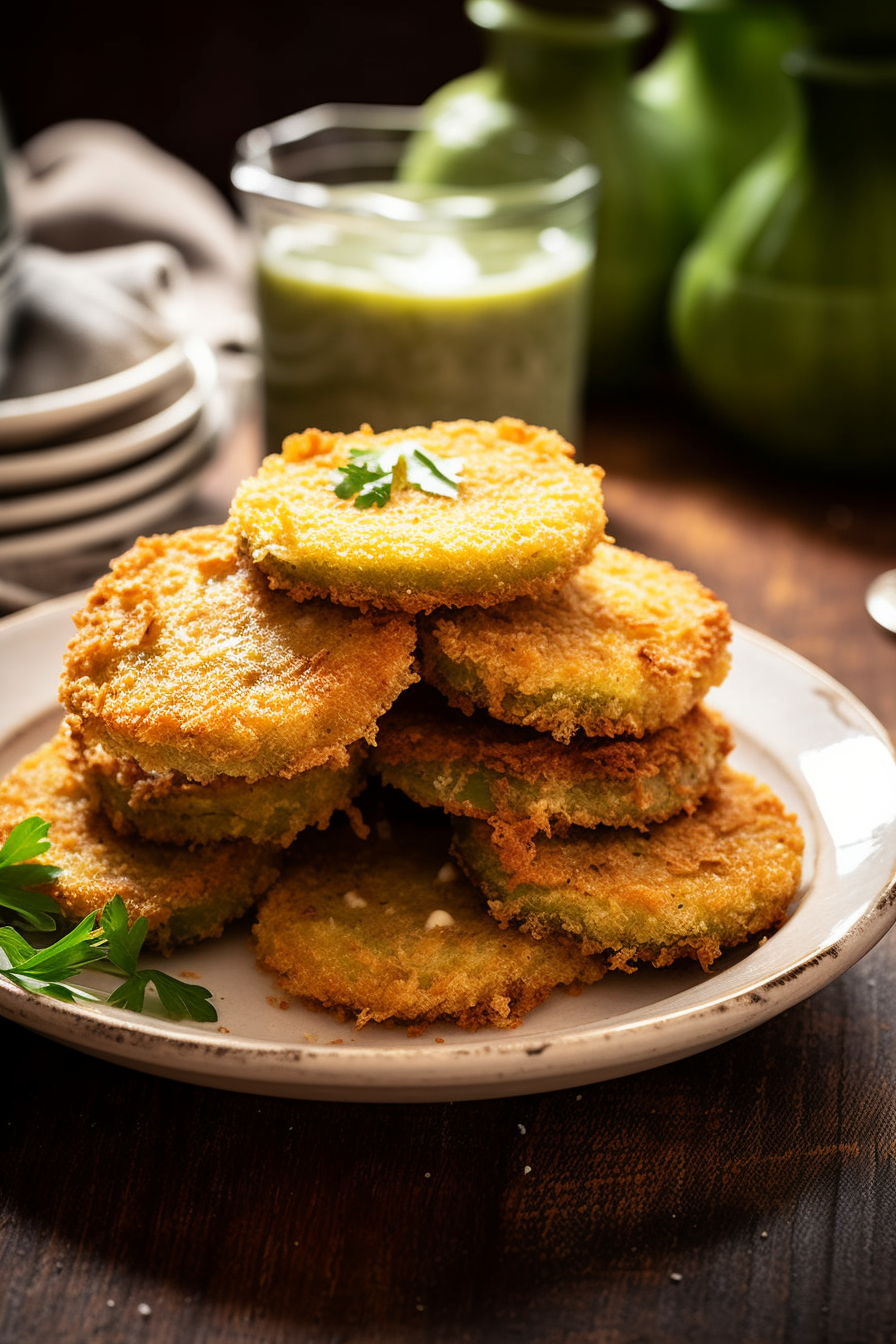 Ingredient For Fried Green Tomatoes:
Green Tomatoes: Make sure they're firm and unripe; soft ones can get mushy.
Remoulade Sauce: Feel free to adjust the hot sauce or Cajun seasoning to suit your taste. More kick? Add more! Too spicy? Dial it down.
Buttermilk & Egg White: This combo ensures the perfect adherence for the breading.
Vegetable Oil: Ensure it's fresh to avoid a heavy aftertaste. Always test the heat before you start frying.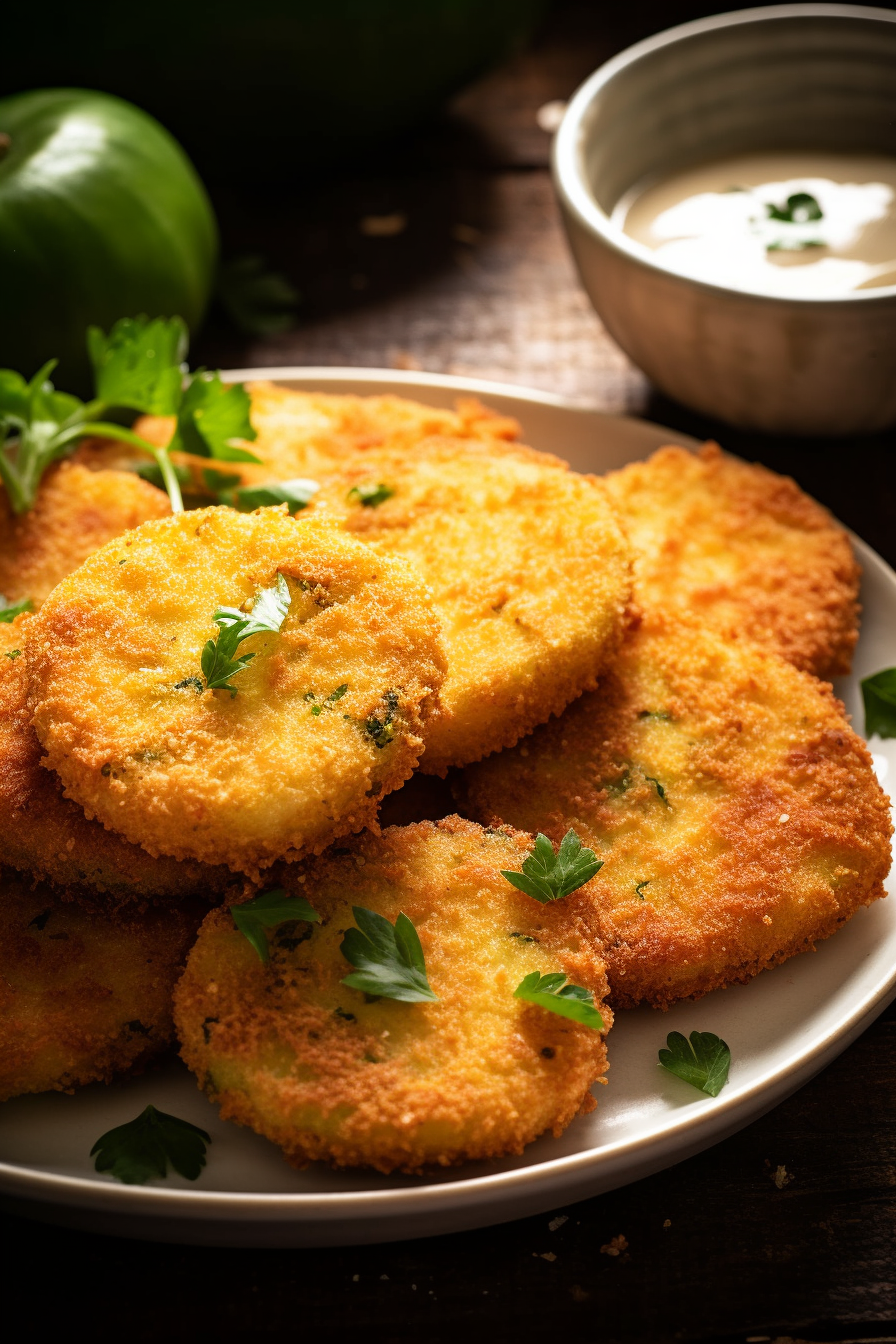 How To Make Fried Green Tomatoes:
Remoulade Magic: Start with that delectable sauce. Whisk together all the listed ingredients, adjusting as per taste. The fridge is your friend here – keep it chilled till you're ready.
Tomato Prep: Slice 'em up real good, sprinkle some coarse salt and let them shed some moisture. It's like a spa day for tomatoes! Pat them dry afterward.
Breading Bonanza: Set up your breading station – flour mix in the first, buttermilk blend in the second, and breadcrumb-cornmeal combo in the third. Feels like an assembly line, doesn't it?
Tomato Dive: Dip your slices sequentially in the stations, letting each tomato get well-acquainted with every mix.
Rest & Set: After breading, let them lounge on a wire rack. It's essential downtime for our star ingredients.
Heat Things Up: In a trusty cast-iron skillet, warm up the oil till it's shimmering like the summer sun.
Fry Fiesta: Start frying in batches, ensuring you don't crowd the skillet. Once golden and gorgeous, move them to a plate lined with paper towels.
Serve & Woo: Present them fresh and hot, with the chilled remoulade on the side. Watch the magic unfold!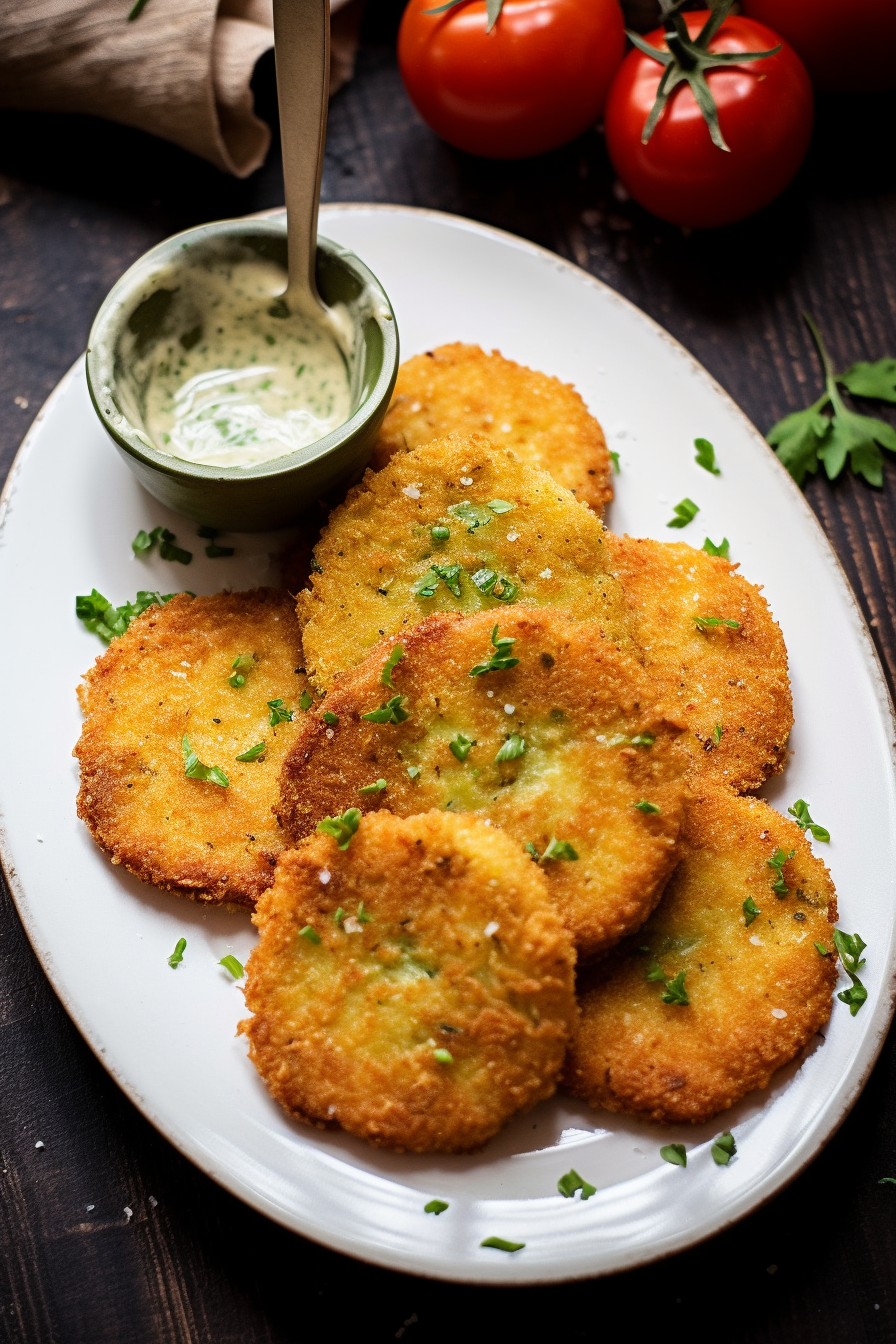 Storage Solutions:
These beauties are best served hot. But if you must, store them in an airtight container in the refrigerator for up to 2 days. Reheat in an oven to bring back the crispiness. As for the remoulade? Keep it refrigerated for up to a week.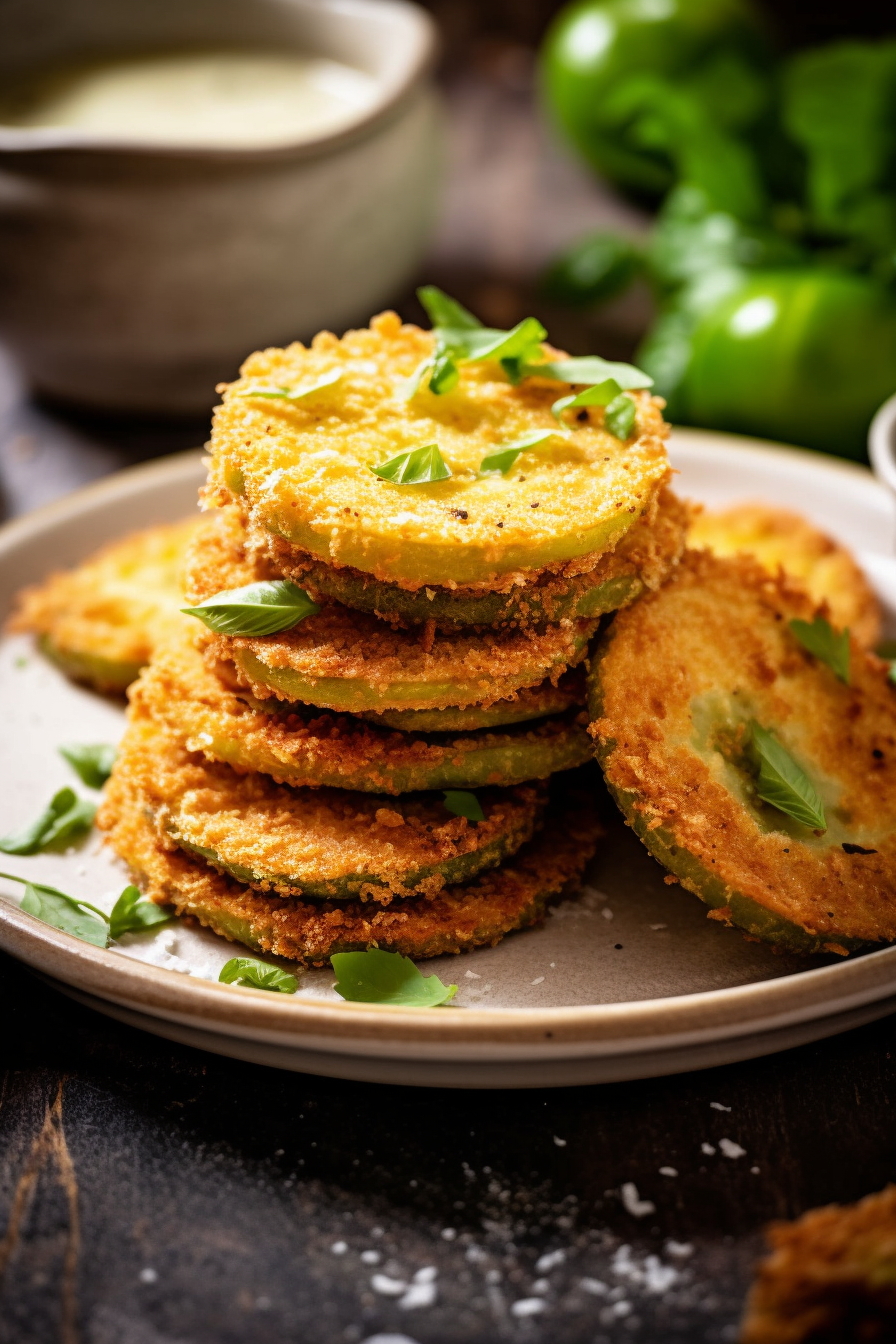 Variations & Substitutions:
Gluten-free: Swap out all-purpose flour and panko for gluten-free alternatives.
Dairy-free: Use a dairy-free milk alternative in place of buttermilk. Add a dash of lemon juice to mimic the tanginess.
Spice Game: Adjust the heat as per your preference. You can even try other hot sauces or seasonings to mix things up!
Air Fryer Edition: Looking to cut down on oil? Use an air fryer for a healthier version. Follow the manufacturer's instructions for best results.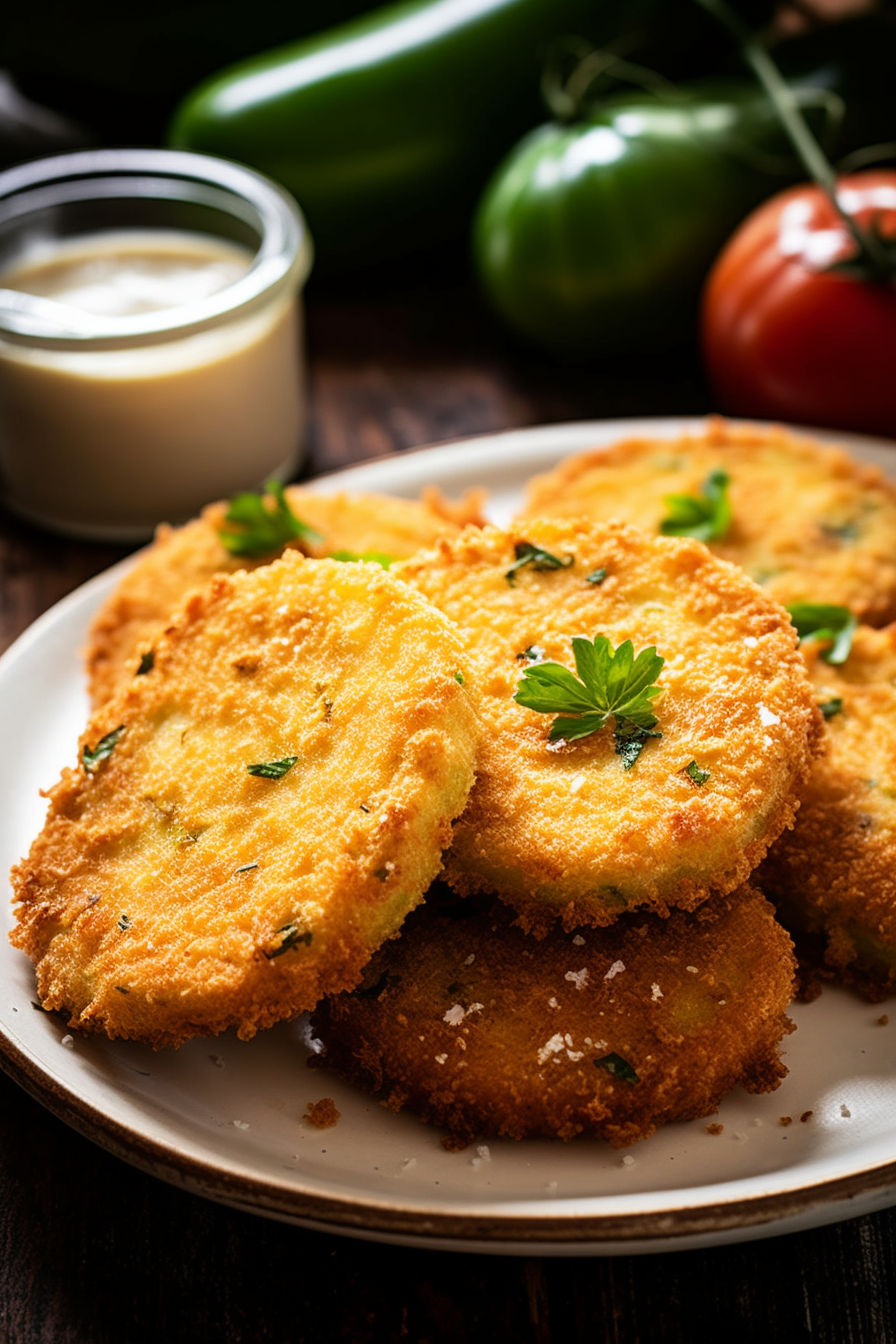 Remember, dear reader, cooking isn't just about following a recipe. It's about making it your own. So go forth, play around, and most importantly, enjoy every bite of this Southern delight! And if you start speaking with a Southern drawl, don't say I didn't warn ya! 😉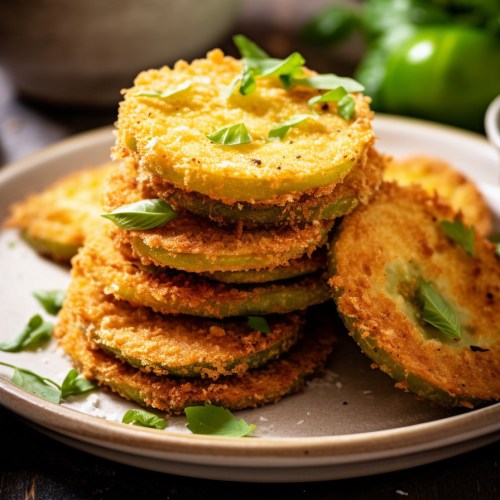 Fried Green Tomatoes
Dive into the Southern delight of Fried Green Tomatoes, featuring tangy unripened tomatoes dipped in buttermilk, seasoned breading, and fried till golden crispy. Partnered with a zesty remoulade sauce packed with mayo, spicy brown mustard, and a hint of Cajun seasoning. A tantalizing treat that's sure to impress!
Print
Pin
Rate
Ingredients
For the Remoulade Sauce:
1 1/4

cup

mayonnaise

2 1/2

tablespoons

spicy brown mustard

1

tablespoon

paprika

either sweet or smoked

1

tablespoon

freshly chopped parsley

2

teaspoons

prepared horseradish

2

teaspoons

lemon juice

1

teaspoon

Cajun or Creole seasoning

1

teaspoon

pickle juice

either dill or sweet

1

teaspoon

hot sauce

1

garlic clove

grated

A grind of black pepper
For the Tomatoes:
3

large firm green tomatoes

approximately 1 1/2 pounds in total

Coarse salt

3/4

cup

all-purpose flour

1 1/2

teaspoons

kosher salt

1/2

teaspoon

smoked paprika

1/4

teaspoon

garlic powder

1/4

teaspoon

onion powder

1/4

teaspoon

ground black pepper

1/2

cup

buttermilk

1

large egg white

1/2

teaspoon

hot sauce

such as Tabasco

1/2

cup

panko bread crumbs

1/3

cup

fine white cornmeal

1 1/2

cups

vegetable oil for frying
Instructions
Preparation of the Remoulade Sauce: In a medium-sized bowl, combine all the ingredients for the remoulade sauce. Mix well, ensuring even distribution of ingredients. Adjust seasonings if necessary. Once combined, refrigerate until it is to be served.

Tomato Preparation: With the use of a serrated knife, slice the green tomatoes into approximately 3/8-inch thick portions. Ensure uniformity in thickness for even cooking. Once sliced, sprinkle both sides of each slice with coarse salt. Allow these slices to rest for 30 minutes, which facilitates the removal of excess moisture. Subsequently, gently pat each slice dry using paper towels.

Breading Preparation: Arrange three shallow dishes, ideally pie plates. For the first dish, combine the flour, garlic powder, onion powder, and smoked paprika, ensuring they are well-mixed. For the second dish, whisk together the buttermilk, egg white, and hot sauce until well combined. For the third dish, combine the breadcrumbs and cornmeal thoroughly.

Breading the Tomato Slices: Place each tomato slice in the flour mixture, ensuring both sides are covered and shaking off any excess. Then, dip the flour-covered slice into the buttermilk mixture, ensuring even coating. Lastly, coat the slice in the breadcrumb-cornmeal combination, pressing gently to ensure adherence. Once breaded, place the tomato slices on a wire rack, ensuring no overlap.

Setting the Breading: Allow the breaded tomato slices to sit, which ensures the breading sets and adheres well during the frying process.

Oil Preparation: In a large cast iron skillet, heat the vegetable oil over medium-high heat until it reaches approximately 350 degrees Fahrenheit. Ensure the oil is shimmering but not smoking.

Frying the Tomato Slices: Carefully place 3 to 4 breaded tomato slices into the hot oil, ensuring they are not overcrowded. Fry until each side is a golden-brown color, typically 3 to 5 minutes per side. Adjust the heat as necessary to prevent overheating.

Post-Frying Process: Once fried to the desired color, transfer the tomato slices to a plate lined with paper towels to remove excess oil.

Serving: The fried green tomatoes are best served immediately. Accompany them with the previously prepared remoulade sauce.