Indulge in the crispy, golden perfection of homemade Apple Fritters, where the delightful mix of juicy apples, hints of cinnamon, and a silky glaze unite. Every bite promises the tender warmth of apples encased in a light, crispy batter, marking the intersection where comfort and luxury meet.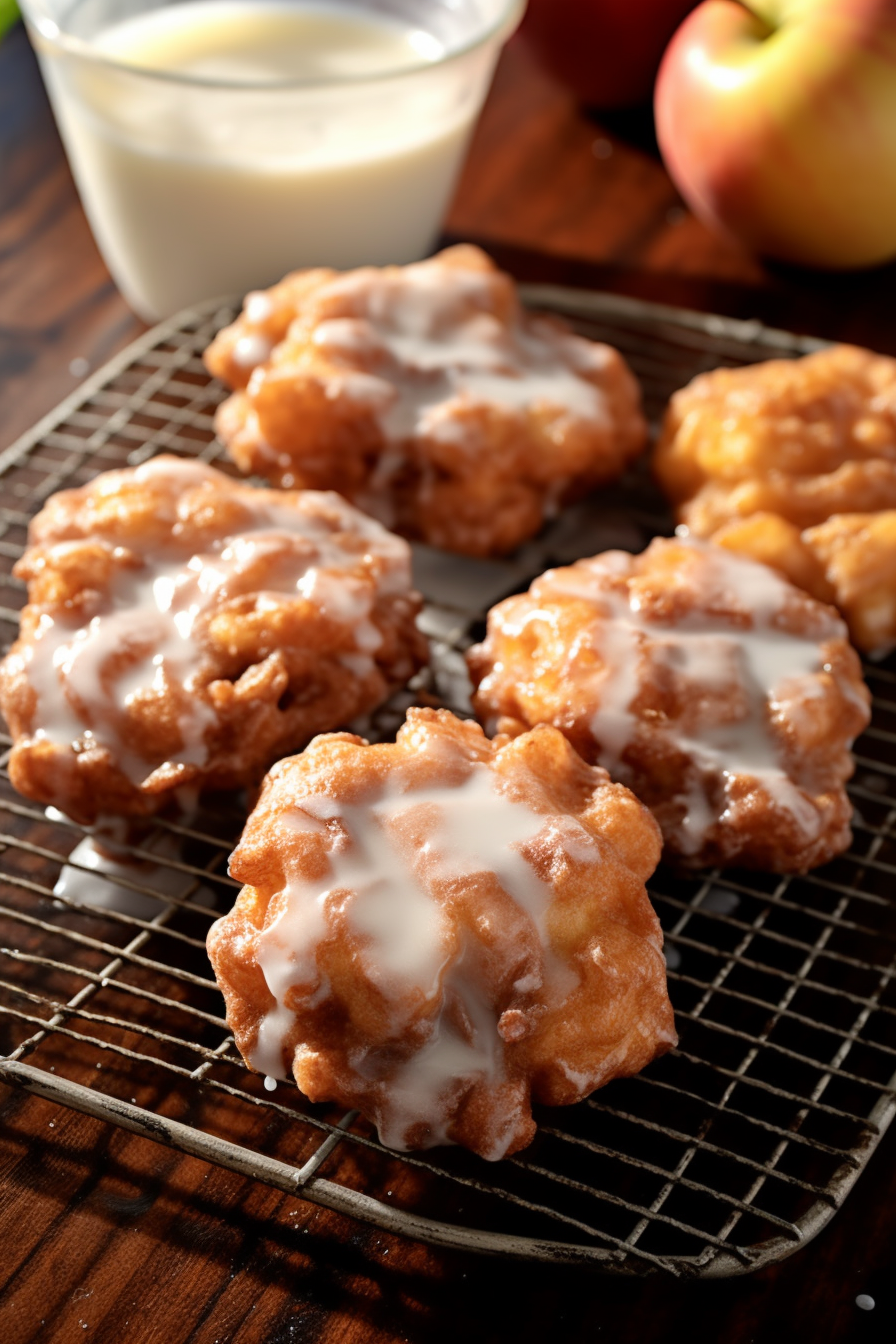 It's funny how the scent of cinnamon and apples frying in a pan can instantly whisk you away to a time of innocence and wonder. Every time I make these Apple Fritters, I'm a little girl again, nestled in my grandma's cozy kitchen, the world outside nonexistent. Every sizzle in the pan would draw out giggles, every waft of cinnamon-spiced air, a chorus of "is it ready yet?". Grandma, the pillar of patience, would smile, the creases of her eyes deepening, echoing years of wisdom and tales untold. Each fritter isn't just a delicious symphony of flavor; it's a ticket to a time where every bite was a melody of love, warmth, and the kind of joy that you can only find in a grandma's hug. In sharing this recipe, it isn't just the secret to the crispiest, most flavorful apple fritters I offer, but an invitation to build memories, as sweet and enduring as each bite.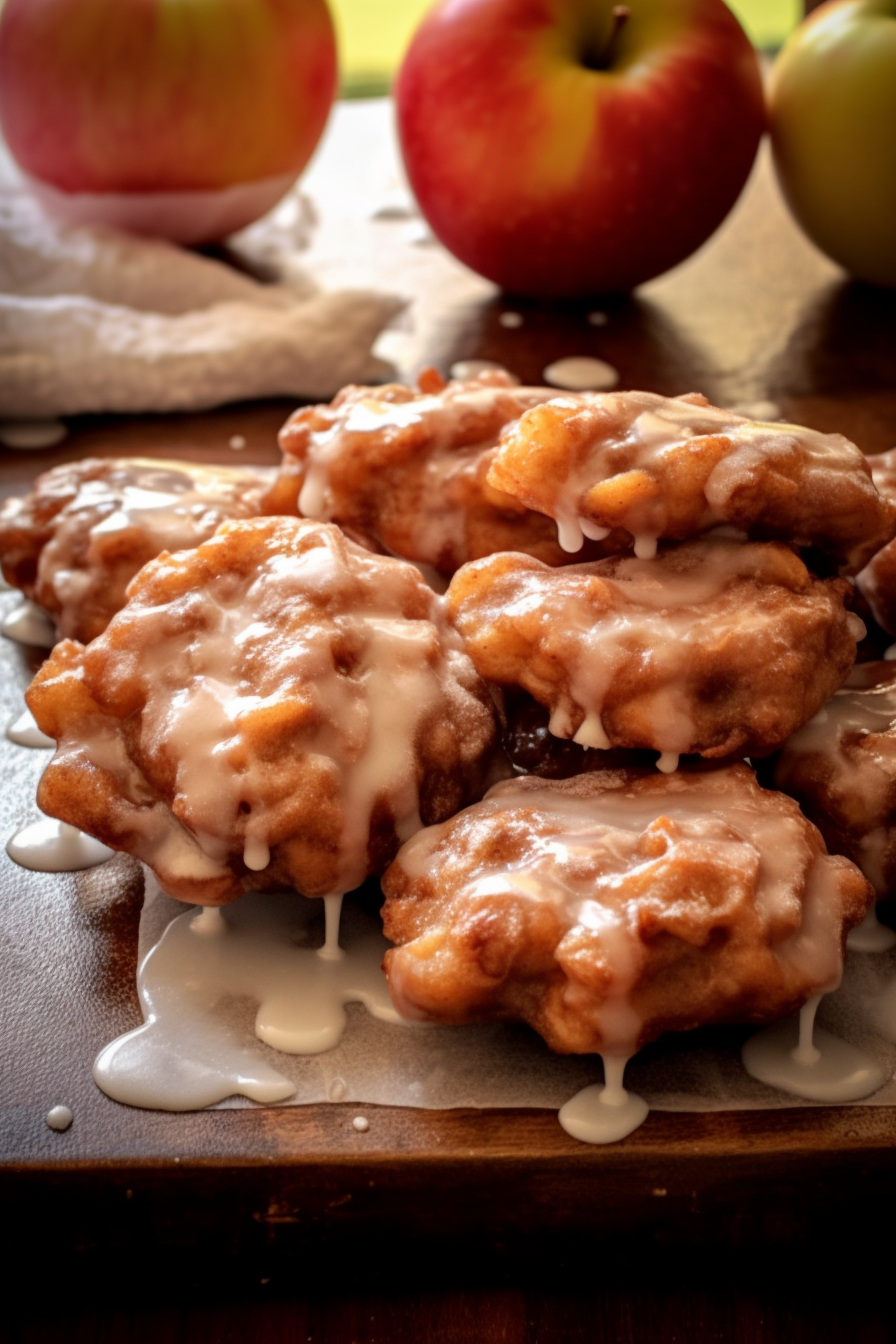 What sets these Apple Fritters apart?
Oh, where to begin! Picture the crispest, golden exterior giving way to a soft, tender interior brimming with apple pieces, as though the fruit had just been plucked from the tree. The sprinkle of cinnamon weaves magic into every bite – a sweet spell that ensures no fritter ever lasts long on the plate. And the glaze? Ah, it's the secret embrace that wraps each fritter in a sweet, silky hug, making every bite a dance of flavors that are as nostalgic as they are gourmet. Quick to whip up but impossible to forget, these aren't just treats – they're an experience.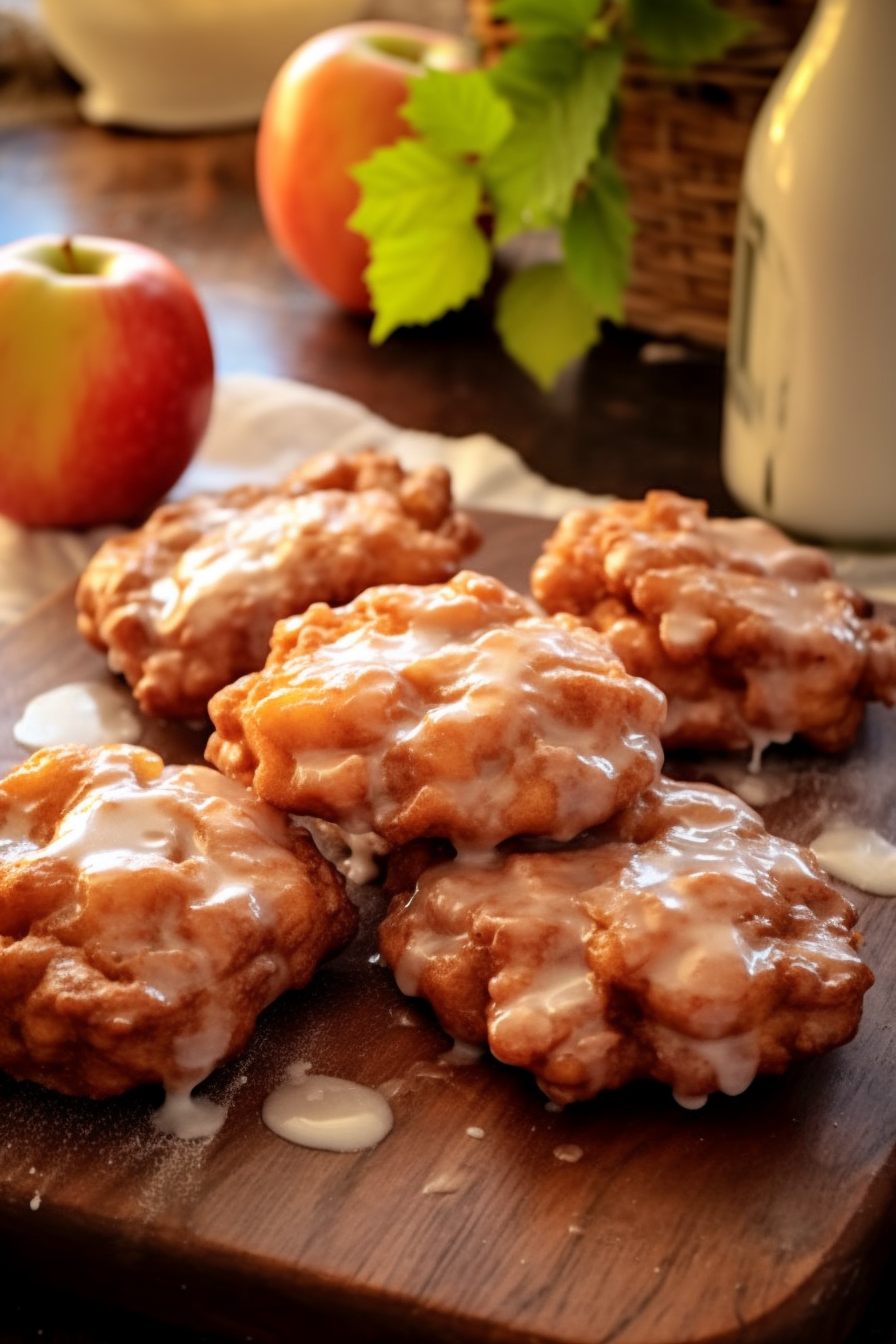 Ingredients For Apple Fritters:
Ah, the assembly of our star cast! When choosing apples, Granny Smiths are your golden ticket. Their tartness, my dear friends, is like a Shakespearean soliloquy in a world of mundane conversations. If unavailable, Honey Crisps are a splendid understudy. Now, canola or vegetable oil? Here, freedom is your companion; both do a stellar job of turning our doughy delights into golden wonders. Remember, the glaze isn't a place to cut corners. Real vanilla extract plays the tune that powdered sugar and milk dance to, creating that glossy, addictive coat that makes our fritters the stuff of legends.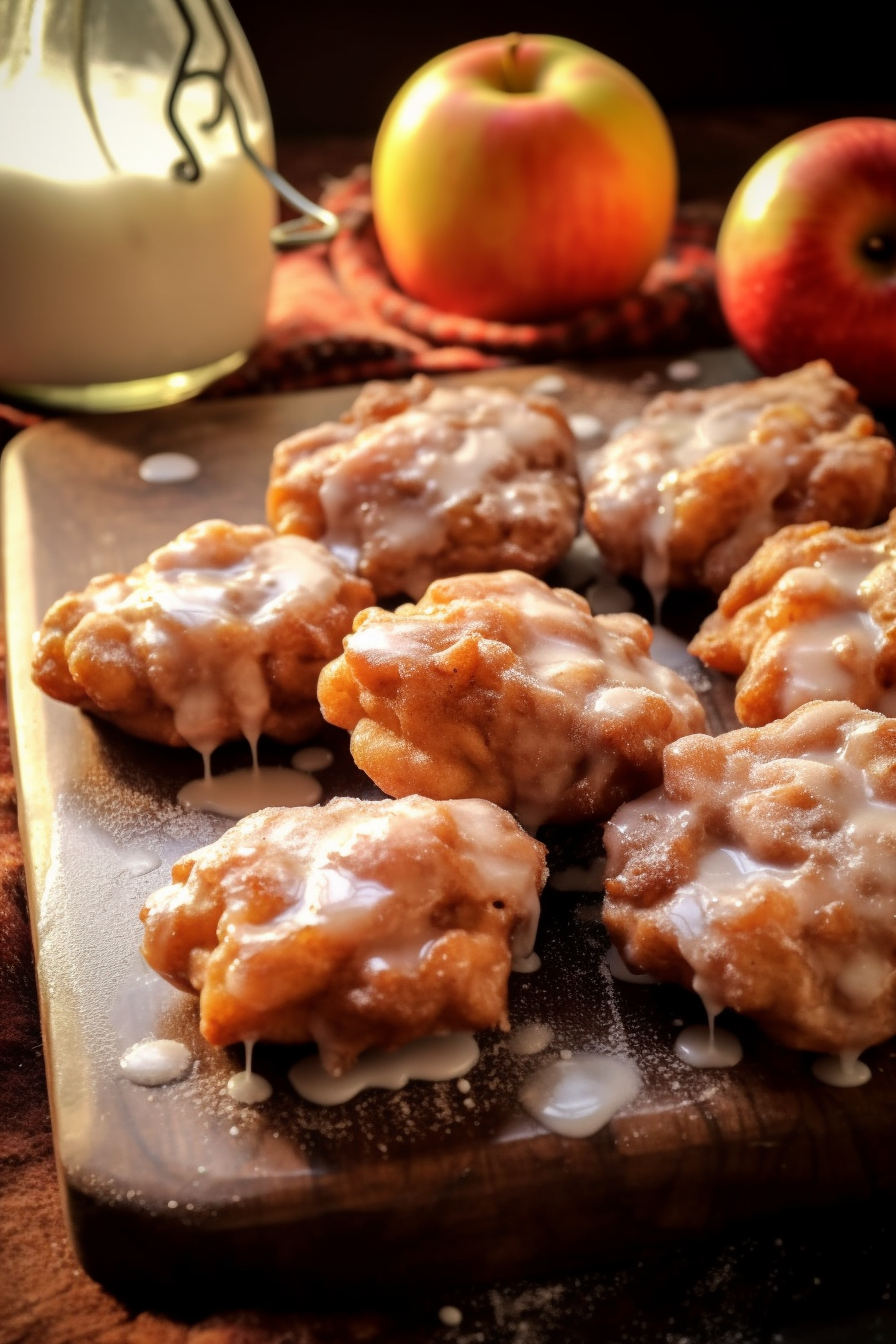 How To Make Apple Fritters:
Step 1 is where the magic begins. We're whisking the dry ingredients like a wizard with a wand, creating the foundation of our delightful fritters. In the midst of flour and spices, make a well, like a secret cavern ready to hold the elixirs – milk, eggs, and applesauce. The stirring is a gentle dance, no haste, just grace. Apples join the ballad, and we're ready to dive into the brewing cauldron of oil.
Step 2, into the golden bath they go. A careful drop of the batter, spreading like the wings of a butterfly, sizzling to life, each bubble a whisper of the crispiness to come. Patience, dear friend, golden brown is the flag of perfection, on both sides, no less!
Step 3, the royal cloak – the glaze. A tender whisk of sugar, milk, and vanilla – simplicity, yet grandeur. Each fritter, now cooled, dips into this liquid gold, emerging, a masterpiece, ready for the grand reveal on the wire rack. There, anointed and glistening, they await the final verdict – the first bite. Spoiler alert – it's always an ovation!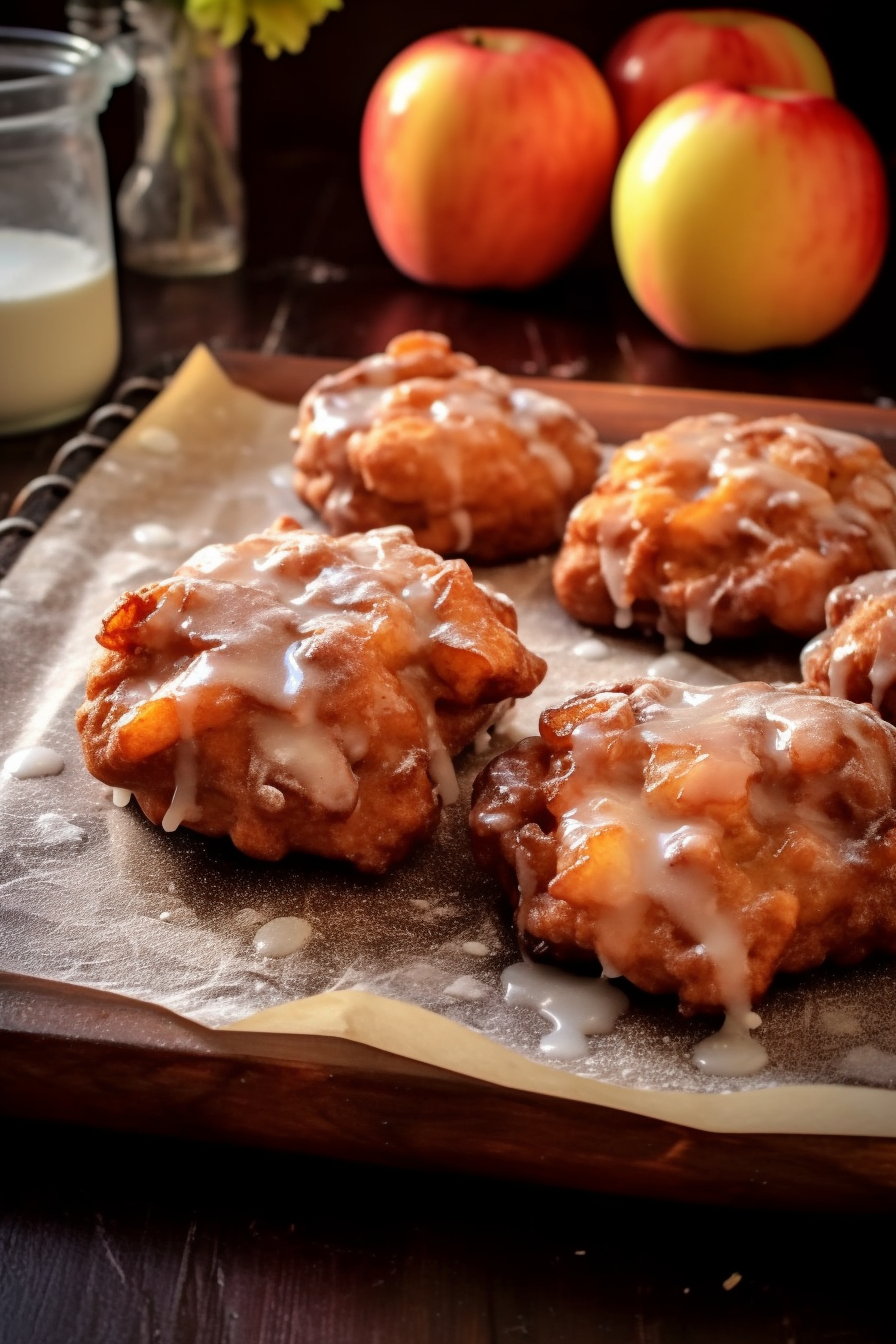 Storage Options:
The question of storing these Apple Fritters is almost blasphemous, for they vanish like mist under the morning sun. However, for those with Herculean restraint, an airtight container is your chalice, where these golden treasures can nestle for 2 days at room temperature, or in the cool embrace of a fridge for up to a week. To rekindle their crispiness, a short sojourn in the oven, and voila, they're ready to steal the show once more!
Variations and Substitutions:
Now, for the brave souls who dare to tread paths untaken, fear not! For the land of Apple Fritters is forgiving and welcoming.
No apples? Pears, my dear friend, step into the limelight with grace.
Vegan? Almond milk and a flax egg are your comrades.
And for those gluten-sensitive warriors, a blend of gluten-free flour stands ready.
But remember, amidst these variations, the soul of the fritter – that golden, crispy, tender, apple-laden bite, drizzled with the sweet embrace of glaze – remains unscathed, a testament to the timeless allure of this cherished delight.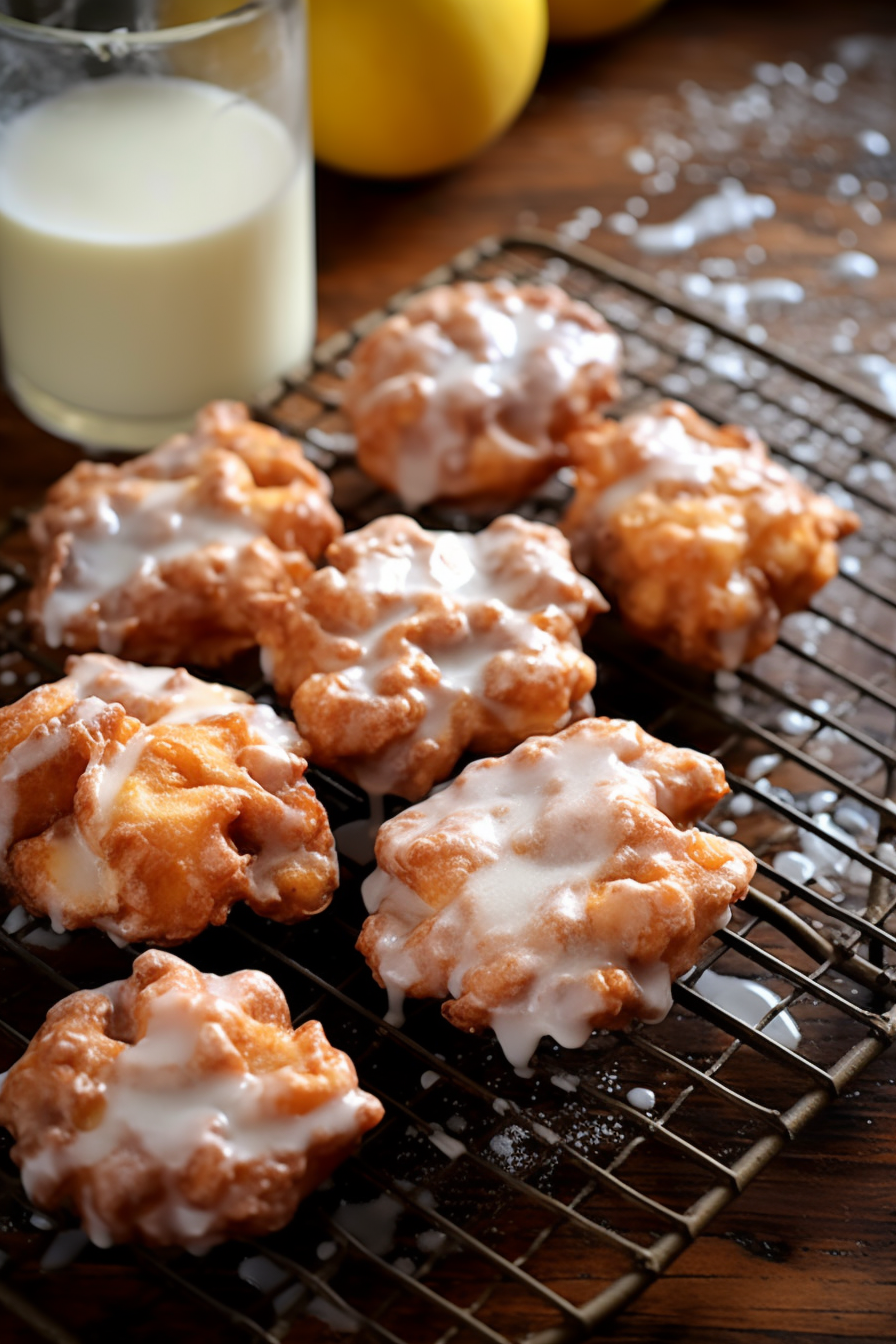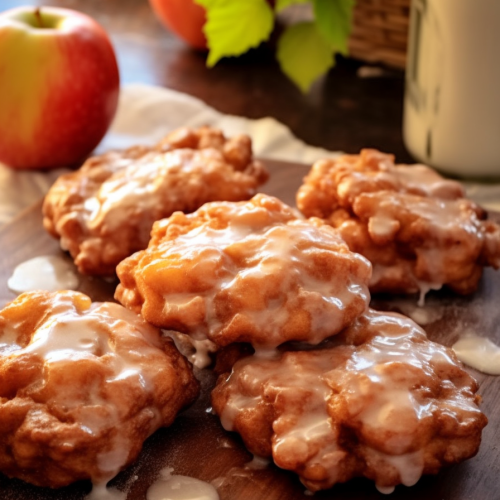 Apple Fritters
Indulge in the crispy, golden perfection of homemade Apple Fritters, where the delightful mix of juicy apples, hints of cinnamon, and a silky glaze unite. Every bite promises the tender warmth of apples encased in a light, crispy batter, marking the intersection where comfort and luxury meet.
Print
Pin
Rate
Ingredients
For the Apple Fritters:
1 1/2

cups

of all-purpose flour

1/4

cup

of granulated sugar

2

teaspoons

of baking powder

1/2

teaspoon

of fine salt

1 1/2

teaspoons

of ground cinnamon

1/3

cup

of milk

2

whole eggs

3

tablespoons

of applesauce

2

large Granny Smith or Honey Crisp apples

peeled, cored, and finely diced

Canola oil or vegetable oil

suitable for frying
For the Glaze:
2

cups

of powdered sugar

1/4

cup

of milk

1/2

teaspoon

of pure vanilla extract
Instructions
In a medium-sized mixing bowl, sift together the all-purpose flour, granulated sugar, baking powder, salt, and ground cinnamon. Once combined, create a well in the center.

Into this well, add the measured milk, eggs, and applesauce. Mix the wet and dry ingredients until just combined to form a batter. Avoid overmixing. Proceed by gently folding the finely diced apples into this batter.

Heat a heavy skillet, dutch oven, or deep fryer with approximately 1 1/2 inches of either canola oil or vegetable oil. Use a cooking thermometer to ensure the oil reaches and maintains a temperature of 375°F (190°C).

Carefully dispense approximately 1/4 cup of the batter into the hot oil for each fritter, ensuring it is spread out evenly. Fry each fritter until it achieves a uniform golden brown hue on both sides, which typically requires around 2 minutes per side. Employ a slotted spoon to extract the fritters from the oil, allowing them to drain on paper towels.

To prepare the glaze, in a separate bowl, whisk together the powdered sugar, milk, and pure vanilla extract until smooth.

Once the fritters have cooled slightly, immerse each one into the glaze, ensuring that both sides are adequately coated. Finally, place the glazed fritters on wire racks to allow any excess glaze to drip off and for them to air dry.
Notes
It is advised to consume the fritters fresh for optimal taste and texture. If required, they can be stored as per standard storage practices for similar items.