Dive into a savory blend of ground beef, aromatic onions, garlic, vibrant bell peppers, and rich tomatoes, all beautifully nestled in a skillet with fluffy jasmine rice. Oh, and did I mention cheese? 😉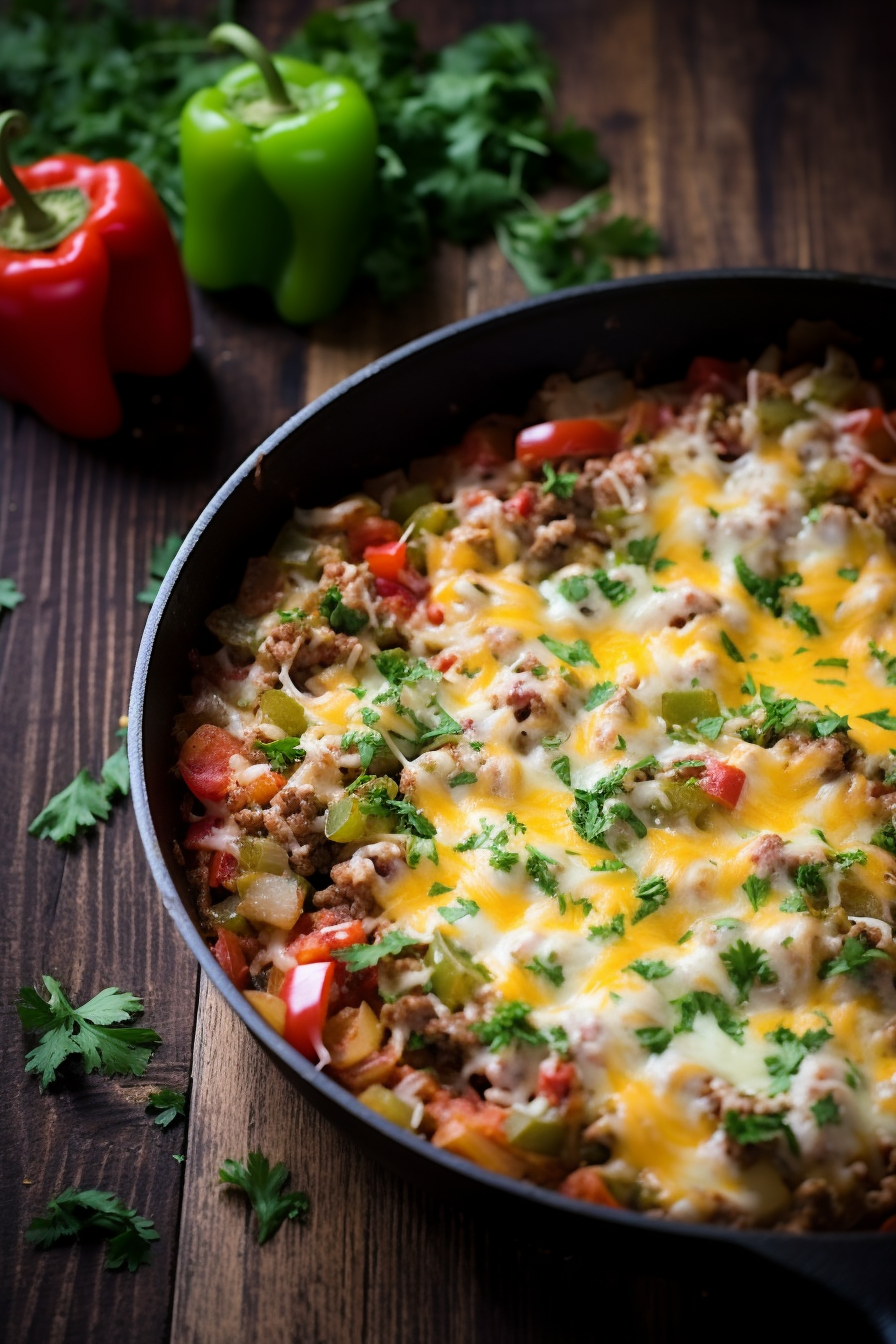 So there I was, reminiscing about those old-school stuffed peppers my Grandma used to make – the ones that seemed to take all day and made the kitchen smell like heaven. But let's be real, in this Netflix and chill age, who has the time? That's when it hit me! What if I could capture all those childhood flavors without all the fuss? And voila! The Ground Beef Stuffed Pepper Skillet was born. An ode to Grandma, but with a dash of my modern-day laziness.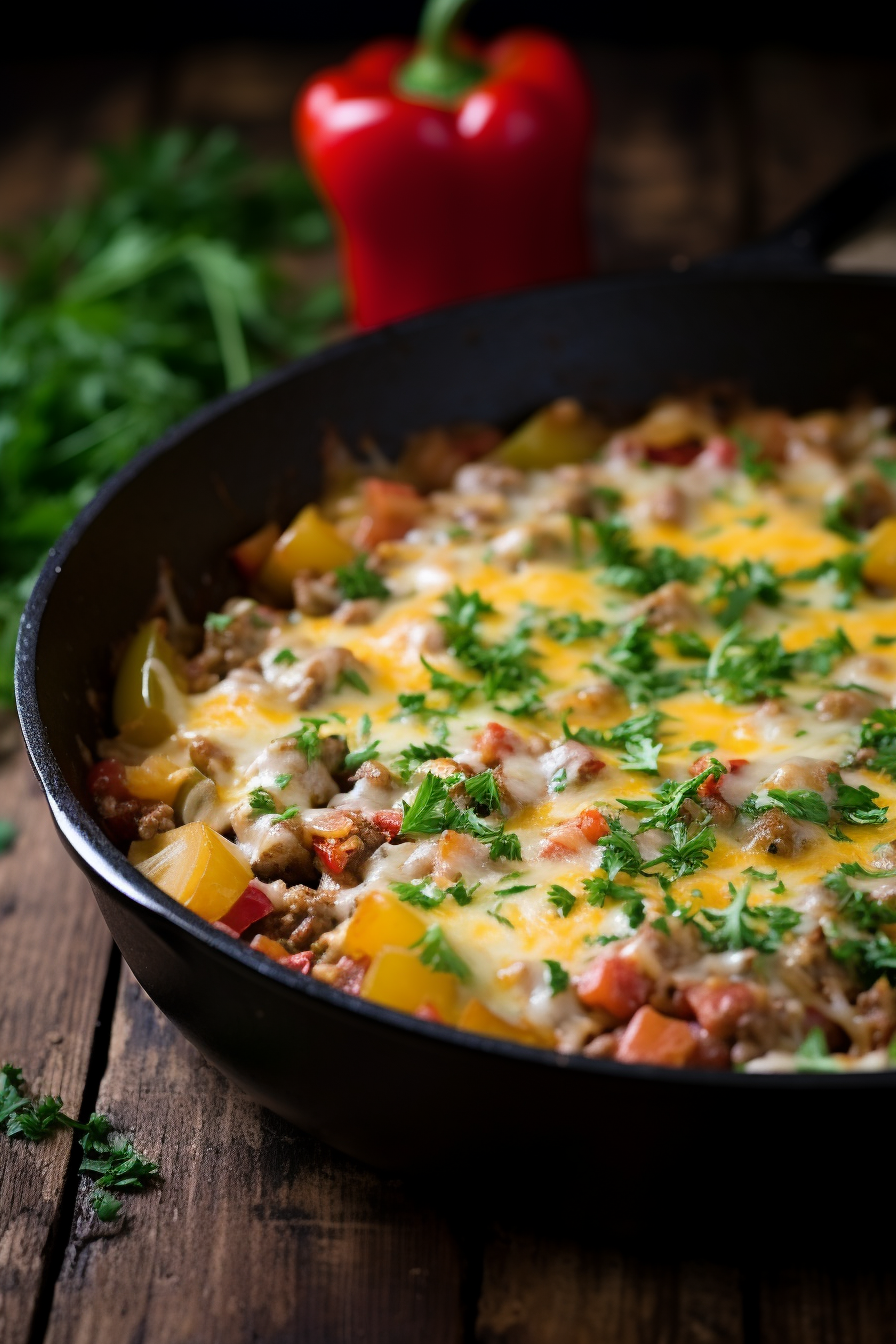 Ground Beef Stuffed Pepper Skillet:
Alright, foodies, let's chat. What if I told you that you could have all the robust, hearty flavors of a traditionally-stuffed pepper, but without having to stuff anything, and, here's the kicker, in under 30 minutes? Yep, you heard me right! We're breaking all the kitchen rules here. This Ground Beef Stuffed Pepper Skillet isn't just a meal, it's a revolution! Packed with protein, bursting with vibrant veggies, and topped with ooey-gooey cheese – it's the weeknight hero your culinary heart has been longing for.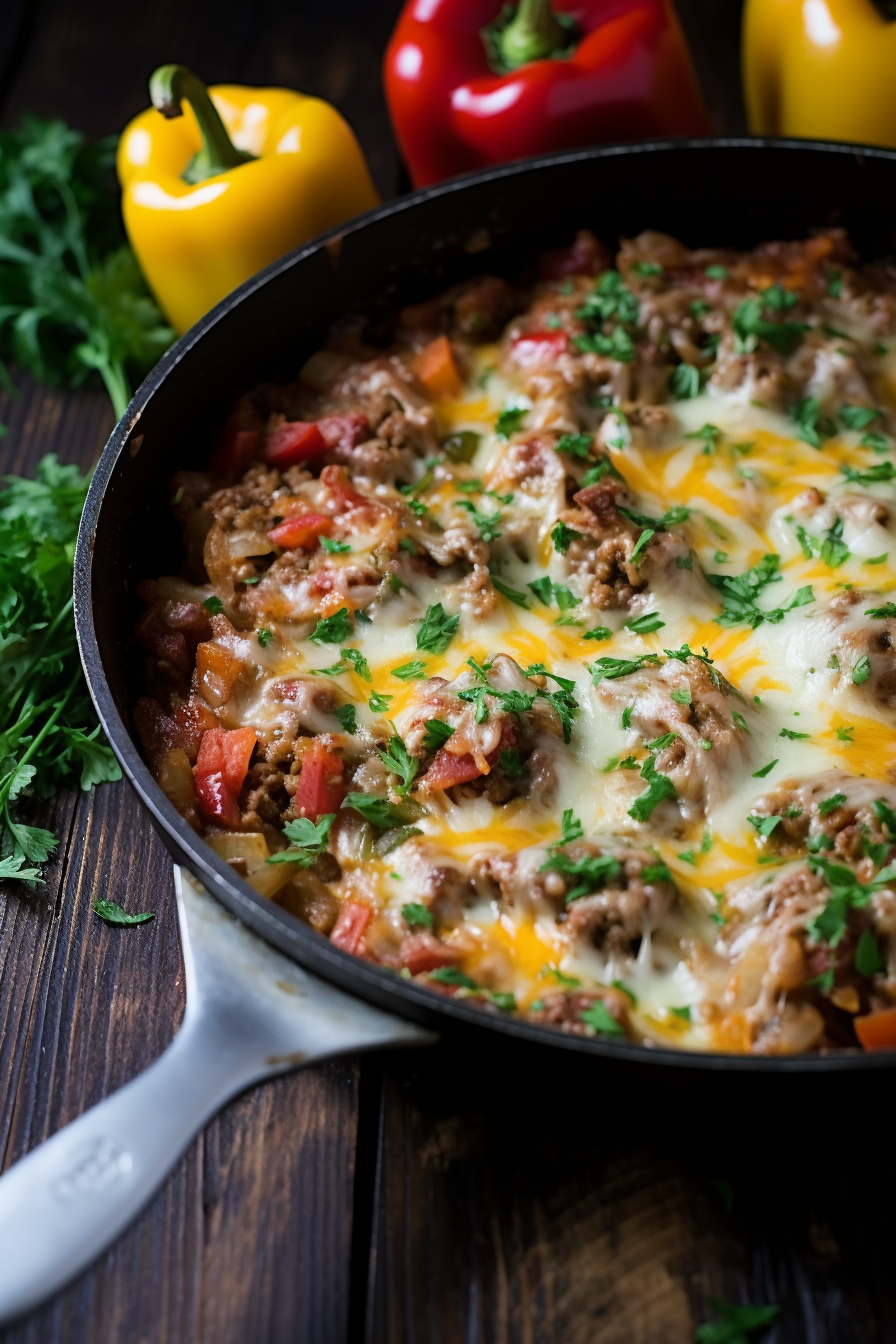 Ingredients For Ground Beef Stuffed Pepper Skillet:
Ground Beef: Opt for lean beef to keep things on the lighter side.
Onion & Garlic: The dynamic duo! They lay down that aromatic foundation.
Bell Peppers: Green gives a slightly bitter contrast, while red offers a touch of sweetness.
Diced Tomatoes: Fresh or canned? Your call! But do ensure they're juicy.
White Rice: Jasmine rice adds a subtle fragrance. But feel free to flex with Basmati or even brown rice.
Beef Broth: This adds depth. Choose a low-sodium version if you're watching the salt.
Tomato Paste & Seasonings: These are the jazz hands of the dish, giving it that extra flair.
Cheese: Go wild! I prefer a good cheddar, but mozzarella or pepper jack could add a zesty twist.
Parsley: Because we fancy, right? A touch of green to garnish.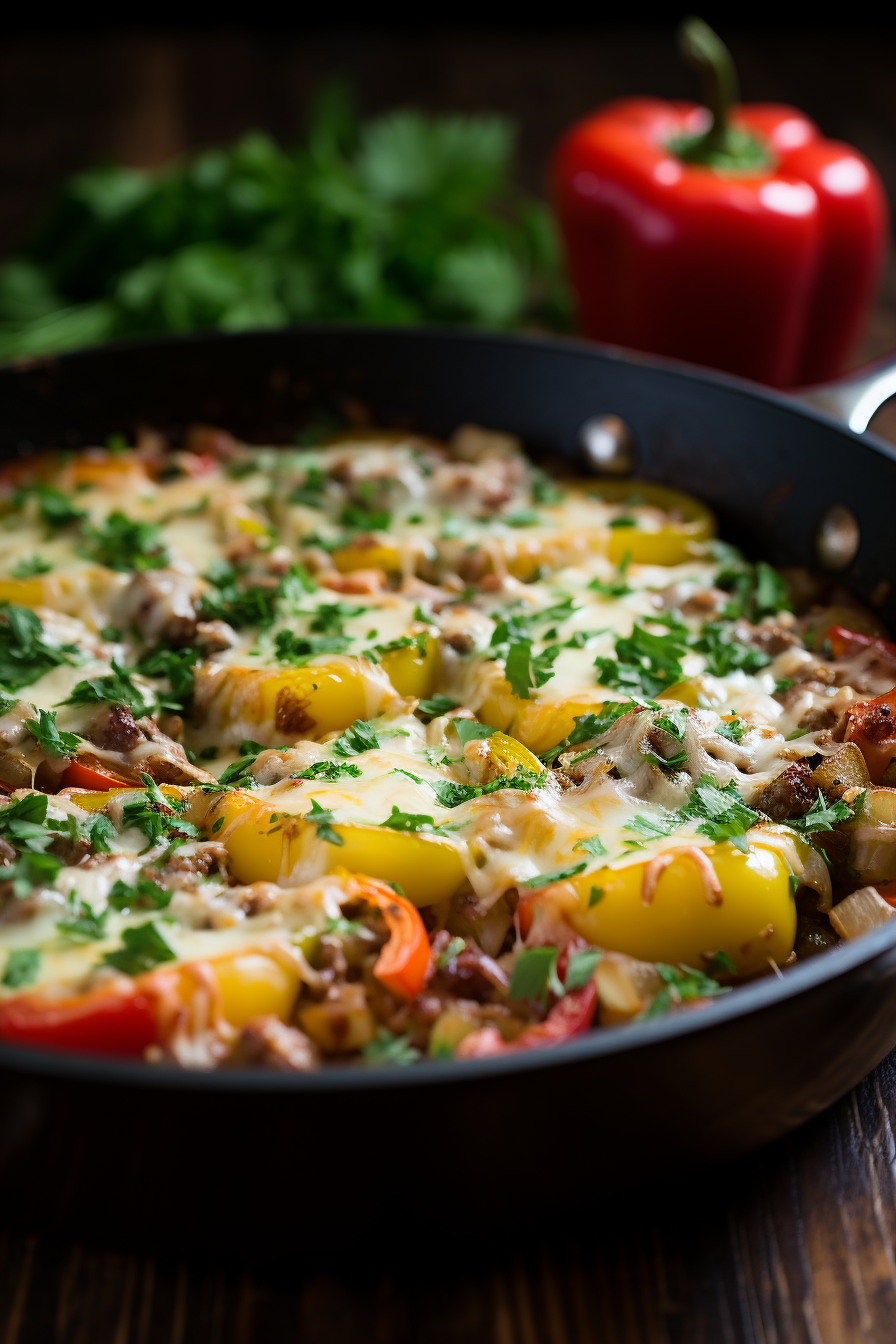 How To Make Ground Beef Stuffed Pepper Skillet:
Alright, folks, here's the game plan:
The Prep: Start with dicing those onions and mincing the garlic – let's get those tears out of the way! Chop up those bell peppers, ensuring you embrace both the red and green for that vibrant splash of color.
Step One: Grab your skillet and let's get sizzling. You're going to want to brown that ground beef, onions, and garlic over medium heat. Cook it till the beef is doing its best impression of a golden tan. Drain any extra fats; we want flavor, not grease!
Step Two: Back on the stove, the skillet goes! Toss in the bell peppers, tomatoes, rice, beef broth, tomato paste, and all those gorgeous seasonings. Stir it like a pot of gold till it's bubbling with anticipation.
Step Three: Turn down the heat – we're simmering now. Cover and let the magic happen. About 18 minutes should do the trick. This is where the rice soaks up all those flavors and becomes the star of the show.
The Grand Finale: Fluff that rice up and make it rain cheese. Cover it for a hot second to let the cheese get all melty and delicious. Finally, sprinkle that parsley like you're an artist finishing their masterpiece.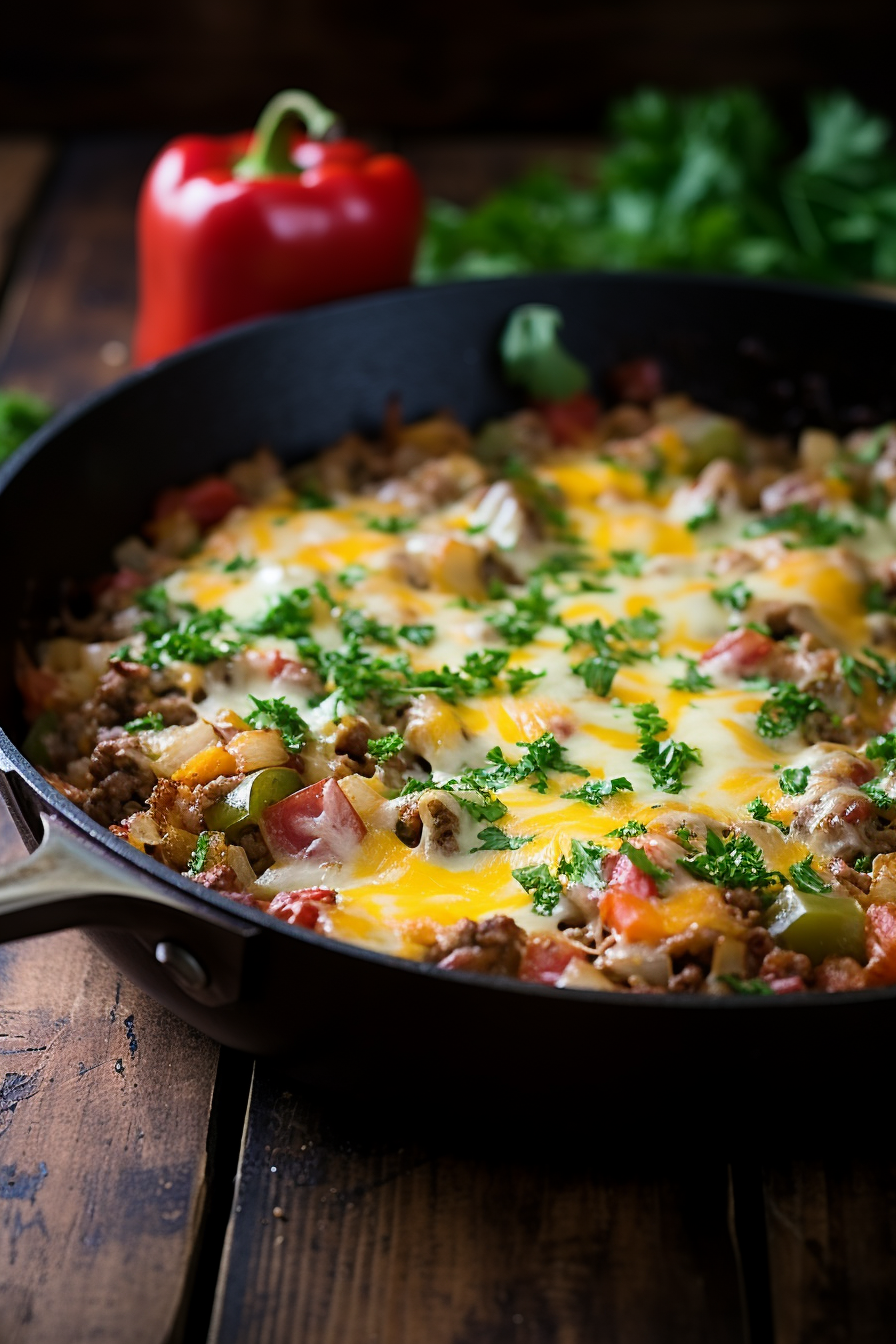 Storage Options:
Here's the deal. If by some miracle you've got leftovers (because let's face it, this dish is irresistible), pop them into an airtight container and slide them into the fridge. This skillet sensation should stay scrumptious for about 3 to 4 days. Warm-up portions in the microwave, and it's almost like day one all over again.
Variations and Substitutions:
Variety is the spice of life, right? So, let's mix it up:
Meat: Ground turkey or chicken can slide in if you're looking to lighten things up.
Veggies: Think outside the bell pepper box! Zucchini or mushrooms could offer a fun twist.
Rice: Quinoa or cauliflower rice could step in for a health-conscious or low-carb twist.
Cheese: Feta? Goat cheese? The cheesy world is your oyster!
Spice it Up: A pinch of red pepper flakes or some sliced jalapeños could give it that kick!
Remember, the kitchen is your playground. Enjoy the dish as is, or spice things up and make it your own! 😊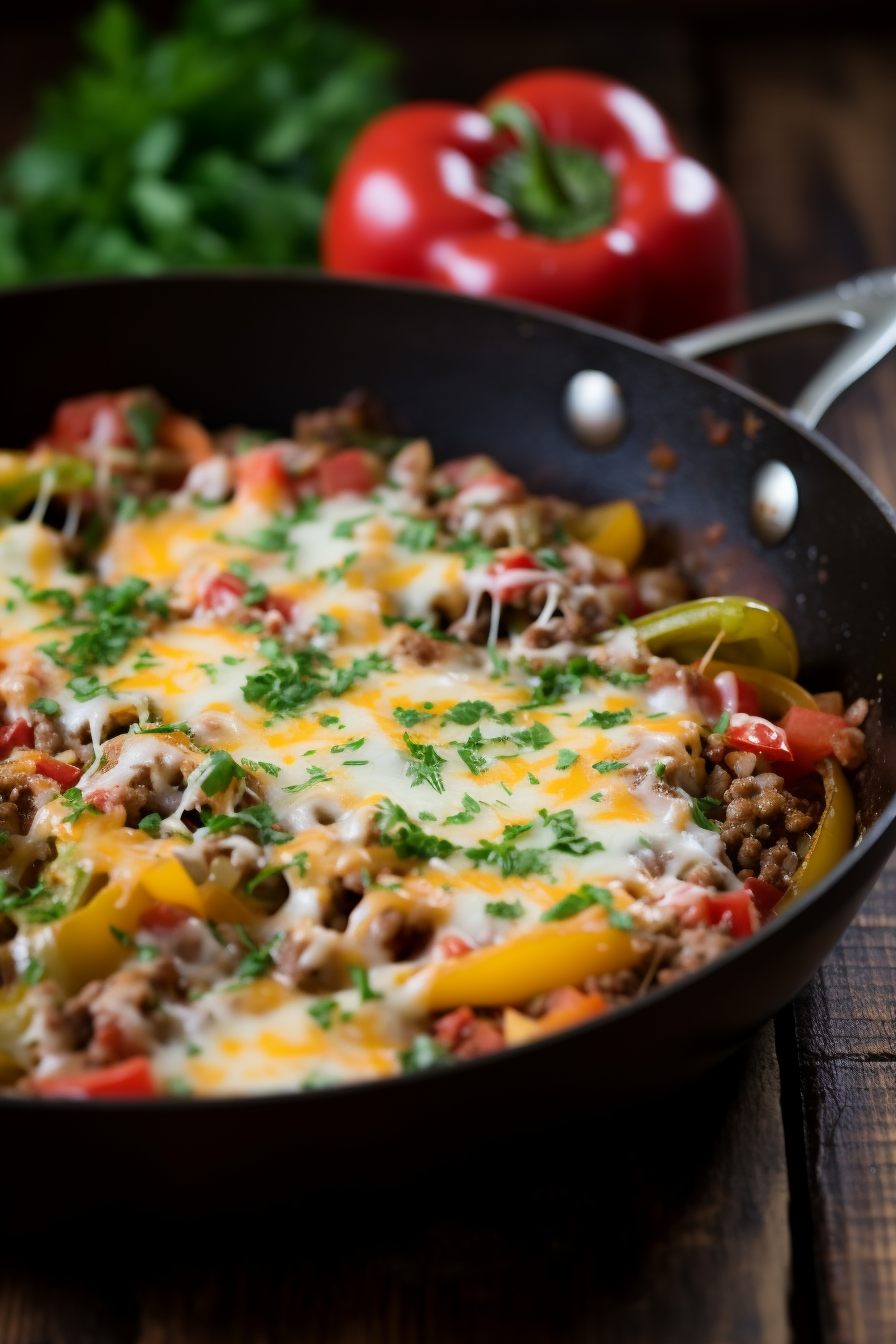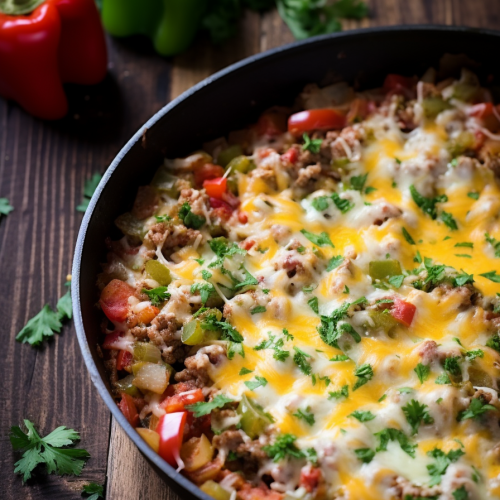 Ground Beef Stuffed Pepper Skillet
Dive into a savory blend of ground beef, aromatic onions, garlic, vibrant bell peppers, and rich tomatoes, all beautifully nestled in a skillet with fluffy jasmine rice. Oh, and did I mention cheese? 😉
Print
Pin
Rate
Ingredients
1

lb.

lean ground beef

0.5

onion

finely diced

3

cloves

of garlic

minced

0.5

cup

green bell pepper

diced

0.5

cup

red bell pepper

diced

14.5

oz

of diced tomatoes

3/4

cups

Jasmine rice

2

cups

beef broth

preferably low-sodium

2

tbsp

tomato paste

1

tsp

Italian seasoning

0.5

tsp

salt

0.25

tsp

black pepper

1.5

cups

shredded cheese

preferably cheddar

1

tbsp

fresh parsley

finely chopped for garnish
Instructions
In a skillet, brown the ground beef together with the onion and garlic over medium heat. Ensure that the beef is thoroughly cooked, crumbled, and has no pink coloration. Drain off any excess fat and set aside.

Return the skillet to the stove and introduce the diced bell peppers, diced tomatoes, rice, beef broth, tomato paste, Italian seasoning, salt, and pepper. Stir the mixture carefully until it is thoroughly combined.

Once the mixture begins to boil, lower the heat to a simmer. Cover the skillet and allow the contents to cook for approximately 18 minutes, or until the rice is fully cooked.

After the rice is cooked, use a fork to gently fluff it. Evenly distribute the shredded cheese across the top of the mixture.

Reduce the heat to low and cover the skillet again, allowing the cheese to melt.

Once the cheese is melted, remove the skillet from heat. Before serving, garnish the dish with finely chopped fresh parsley.
Nutrition
Calories:
426
kcal
|
Carbohydrates:
26
g
|
Protein:
24
g
|
Fat:
25
g
|
Saturated Fat:
12
g
|
Cholesterol:
83
mg
|
Sodium:
766
mg
|
Potassium:
585
mg
|
Fiber:
2
g
|
Sugar:
4
g
|
Vitamin A:
1423
IU
|
Vitamin C:
38
mg
|
Calcium:
247
mg
|
Iron:
3
mg