Dive into the zesty realm of Little Lemonies! Crafted from all-purpose flour, granulated sugar, fresh lemon juice, zest, and a hint of vanilla, these lemony squares will have you relishing every bite.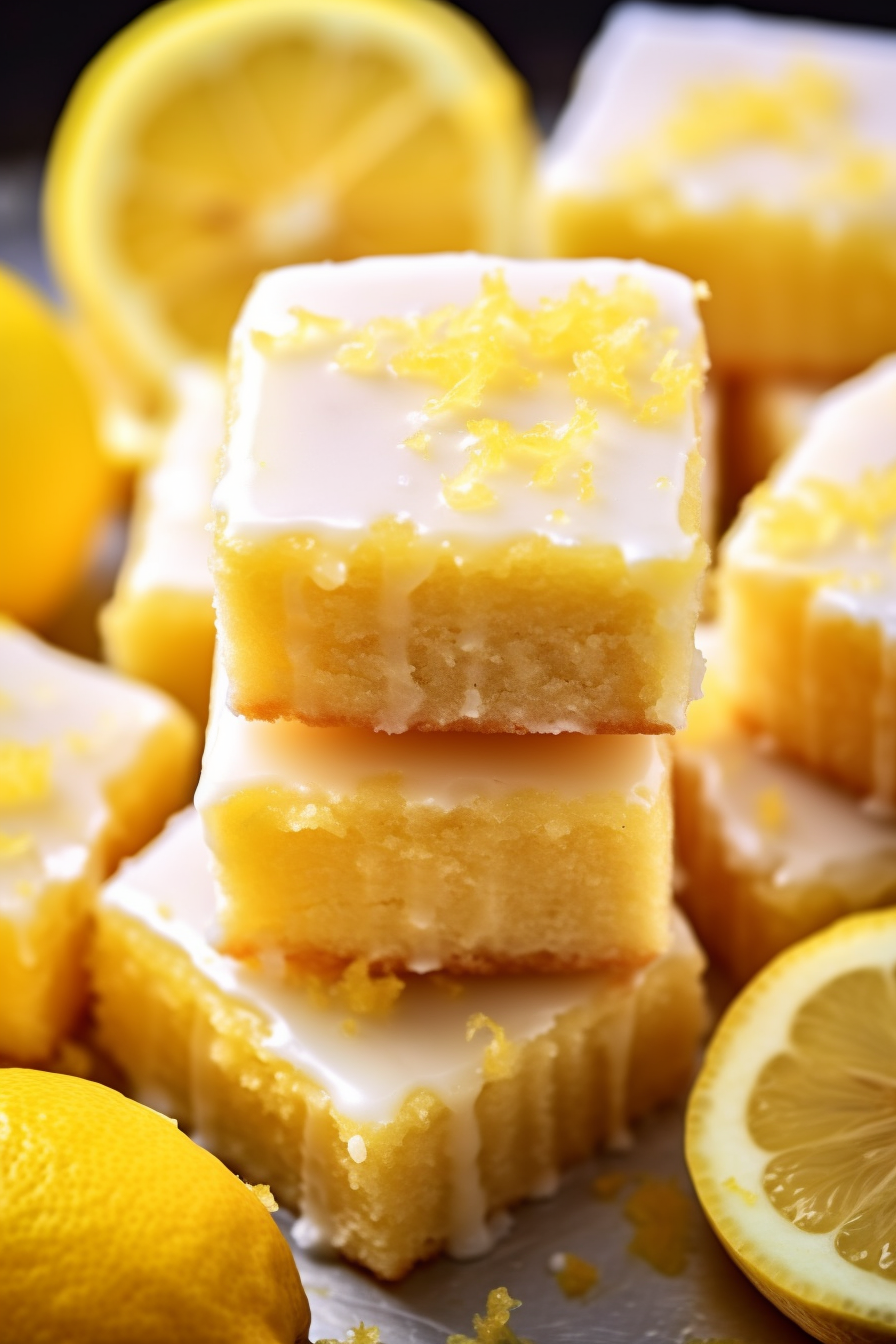 Growing up in a quaint town where life revolved around our backyard lemon tree, summers were all about chasing butterflies and mom's delicious lemony treats. One particular sunny afternoon, I stumbled upon a curious combination of a brownie and a lemon bar, and voila, the 'Little Lemonies' were born! These are not just lemon squares; they're a sun-soaked childhood memory, a zesty surprise, and a sweet testimony to my mother's culinary experiments.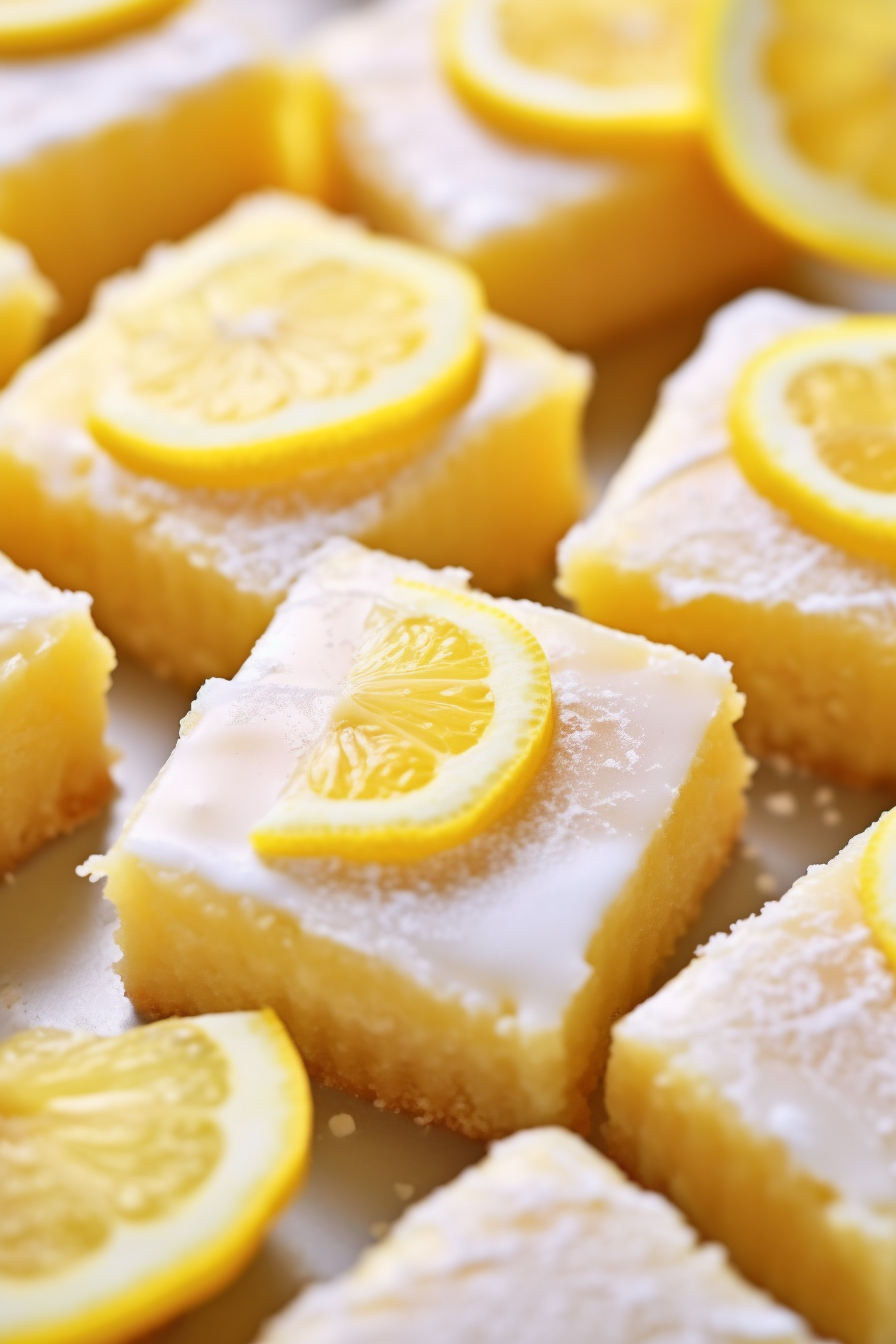 Why You'll Love Little Lemonies:
Now, why would these Lemonies woo your tastebuds? First, they perfectly balance the tanginess of lemon with the sweetness of a brownie, a hybrid dessert that satisfies multiple cravings. Next, with that glossy lemon glaze on top, they're not just a treat for the palate but also a feast for the eyes! Lastly, the texture! Soft and chewy, these little squares ensure you're in for a delightful mouthful every single time.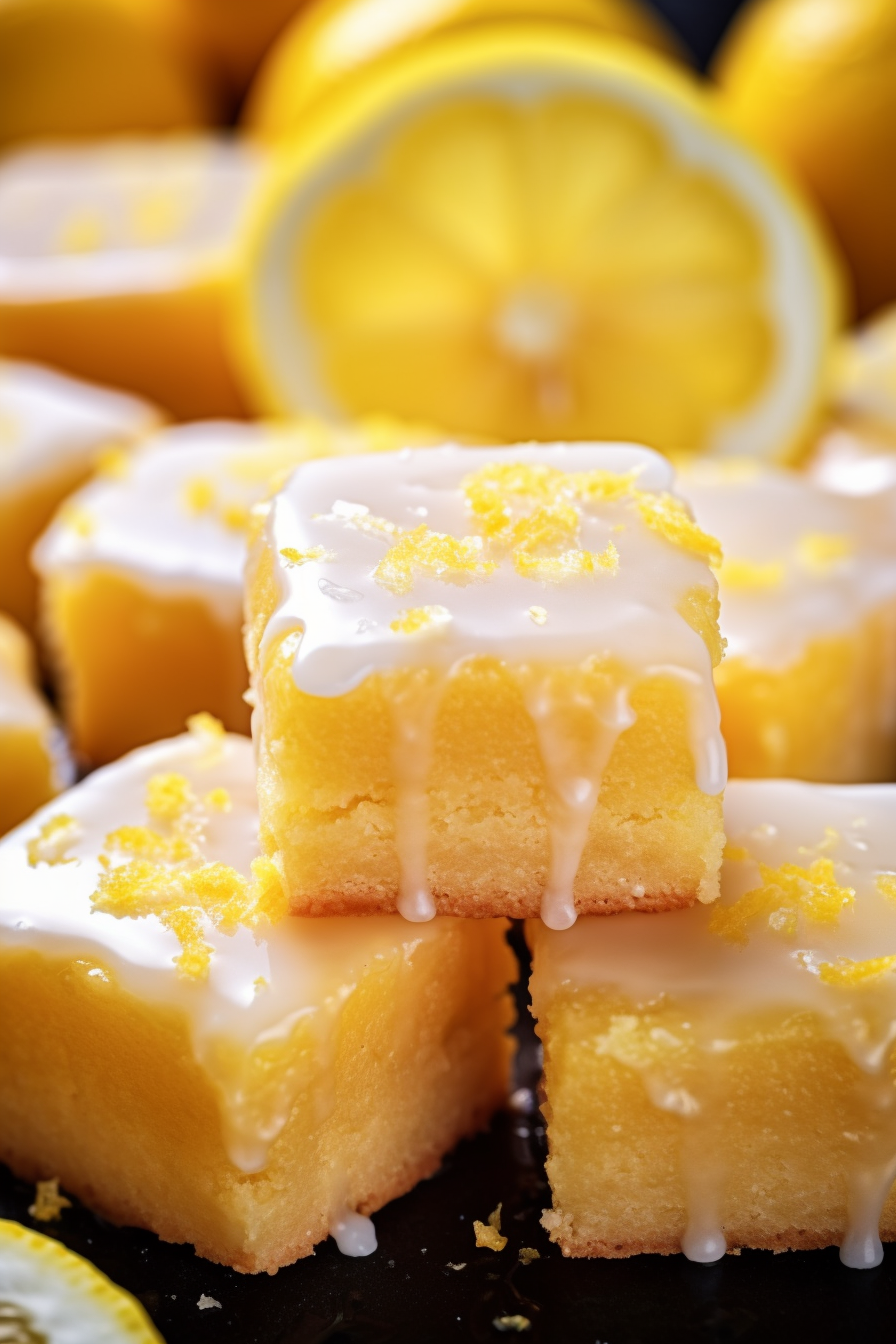 Ingredient Insights for Little Lemonies:
Ah, the main stars! When picking all-purpose flour, ensure it's fresh; a musty flour can ruin the entire flavour profile. As for the granulated sugar, the finer, the better, as it melts seamlessly into the batter. The hero, lemon, should be fresh and preferably organic. You're using both its zest and juice; no compromises here! Salted butter gives the Lemonies their rich texture, but ensure it's melted and cooled to avoid a scrambled egg situation. And speaking of eggs, always crack them in a separate bowl first – just in case one of them decided to go rogue.
Crafting Your Little Lemonies – A Step-by-Step Guide:
To begin, preheat that oven of yours to 350°F and line an 8×8-inch aluminum baking pan. The parchment trick ensures easy lemony square extraction later on.
Now, for the batter, take a large bowl and whisk in your flour, sugar, salt, baking powder, and lemon zest. Feel the aroma?
In another bowl, bring together the cooled melted butter, eggs, lemon juice, and vanilla.
Now, combine the wet with the dry ingredients, ensuring a smooth batter. Transfer this golden goodness to the pan, spreading it evenly.
Bake for about 18-20 minutes, keeping a vigilant eye out. Remember, undercooked is better than overcooked!
For the glaze, combine powdered sugar, lemon juice, and zest, ensuring a silky texture. Once your Lemonies have cooled, anoint them with this glaze, refrigerate, and there you have it – lemony perfection!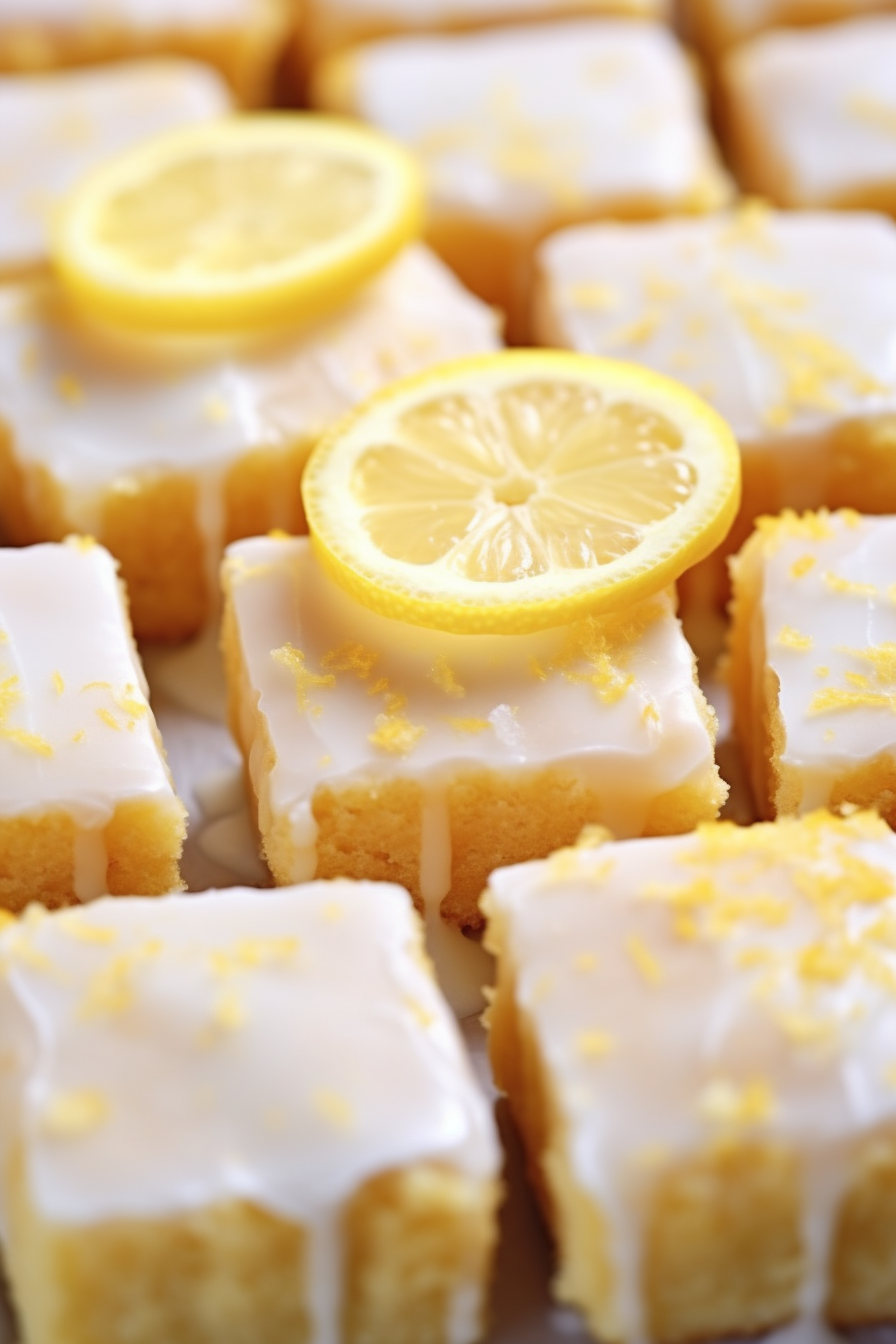 Storing Your Lemony Squares:
Got leftovers? (Though I'd be surprised if you do!) Store these Lemonies in an airtight container in the refrigerator. They'll stay fresh and chewy for up to 4 days. If you prefer a cooler zest, you can freeze them individually and then transfer to a zip-top bag, storing for up to a month. Just thaw in the fridge before enjoying.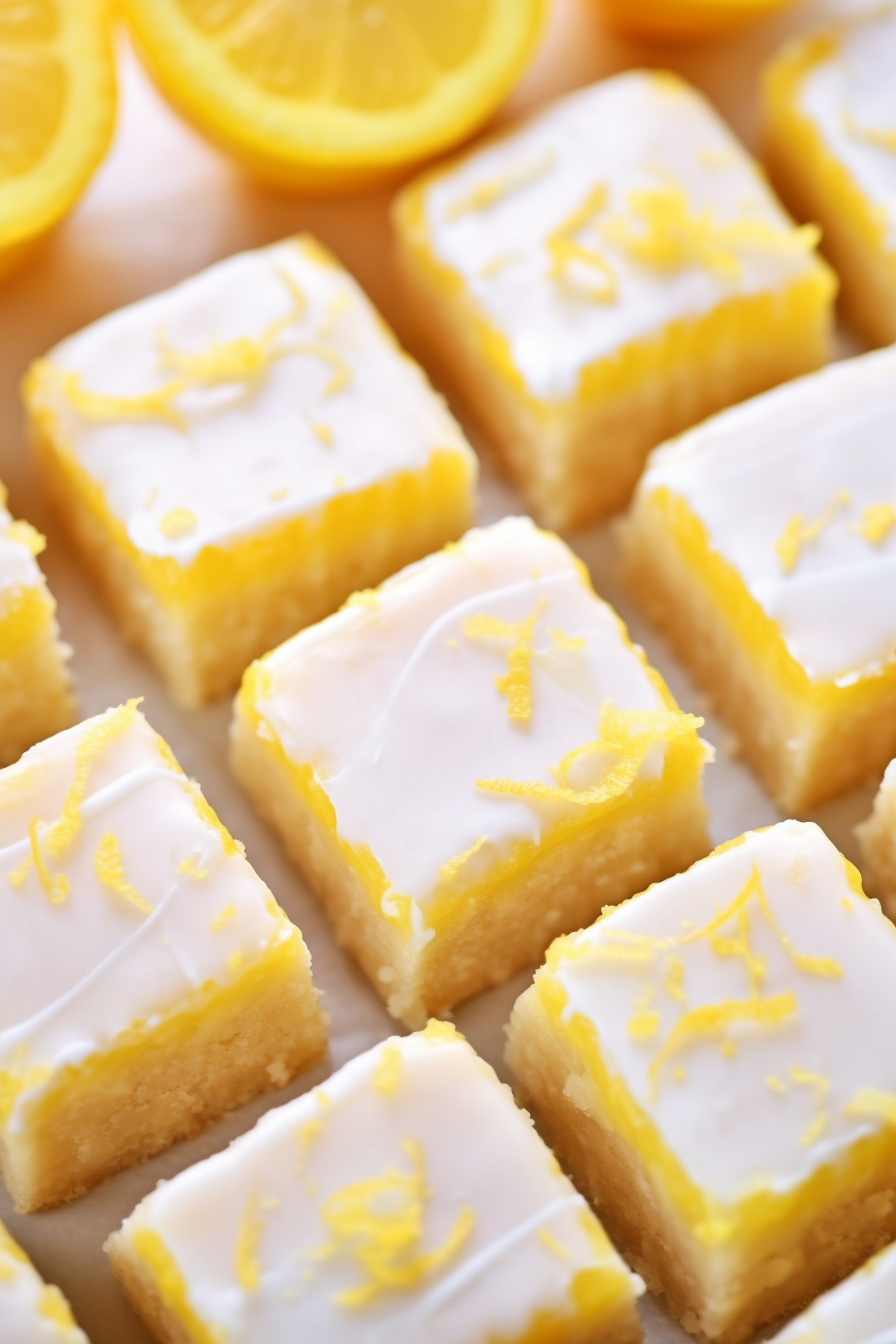 Twisting the Tale – Variations and Substitutes:
While the classic Lemonies are a treat, don't hesitate to mix things up! You can sprinkle some poppy seeds into the batter for an added crunch. Allergic to eggs? Substitute with applesauce or mashed bananas. Want a richer taste? Swap out the granulated sugar for brown sugar. Vegan pals, replace butter with coconut oil and use a flax egg. Every variation brings its own unique flavor; so, don't be shy to make these Lemonies truly your own!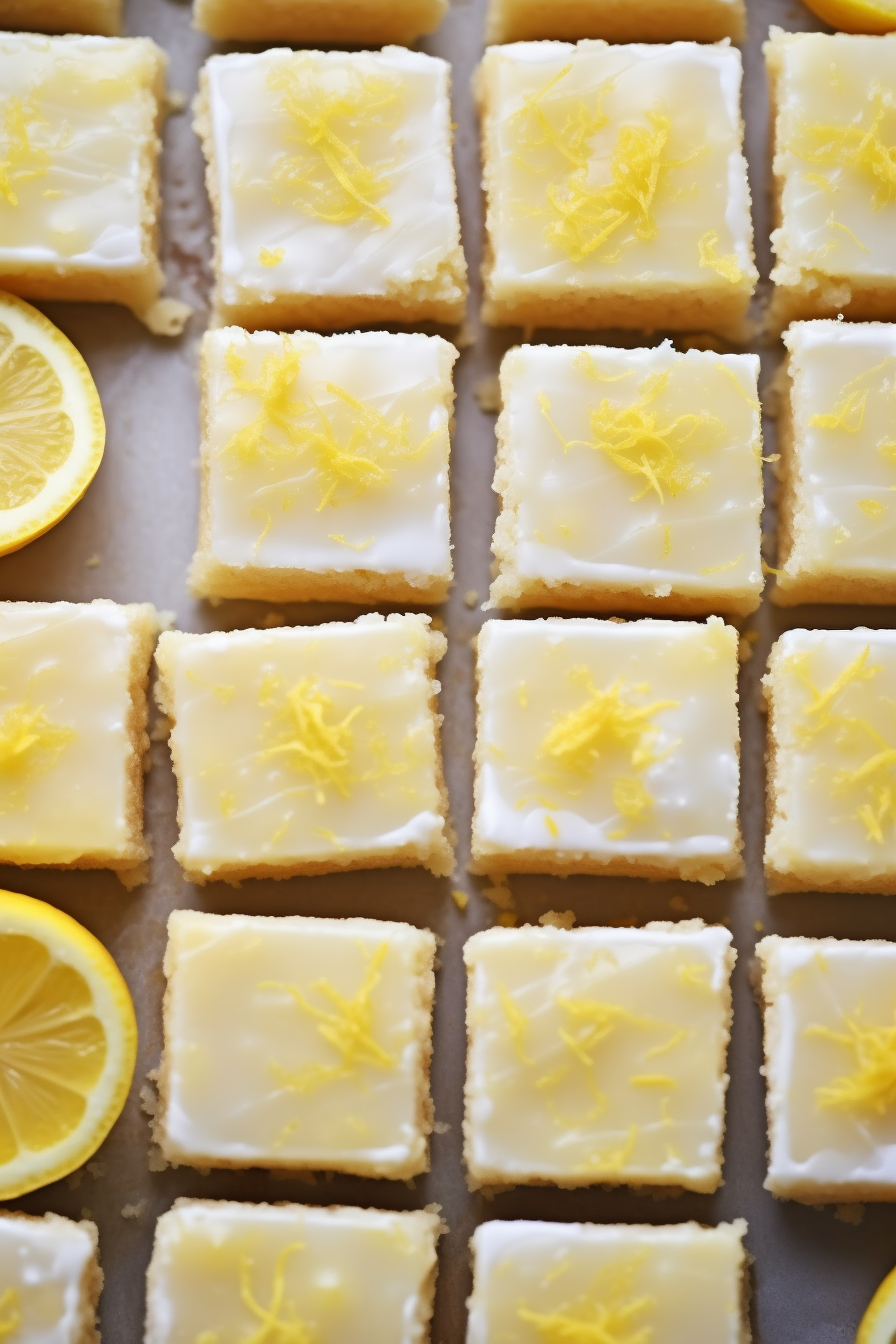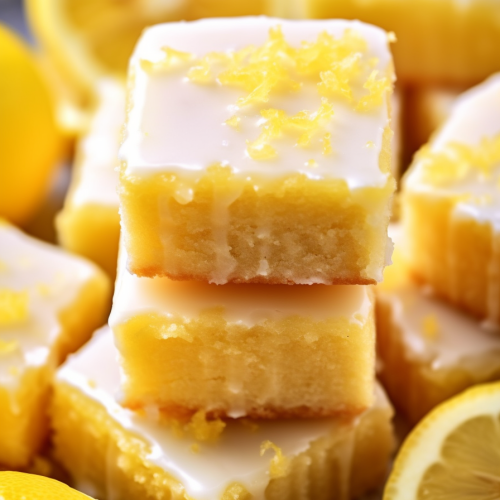 Little Lemonies
Dive into the zesty realm of Little Lemonies! Crafted from all-purpose flour, granulated sugar, fresh lemon juice, zest, and a hint of vanilla, these lemony squares will have you relishing every bite.
Print
Pin
Rate
Servings:
24
SMALL SQUARES
Ingredients
Lemon Batter:
142

g

all-purpose flour

159

g

granulated sugar

A pinch of salt

¼ teaspoon

¼

teaspoon

baking powder

Zest from 1 large lemon

113

g

salted butter

ensure it's melted and then cooled

2

whole large eggs

1

large egg yolk

3

tablespoons

of fresh lemon juice

1

teaspoon

pure vanilla extract
Lemon Glaze:
86

g

powdered sugar

1

tablespoon

fresh lemon juice

Zest of ½ lemon
Instructions
Begin by preheating the oven to 350 degrees Fahrenheit. Prepare an 8X8-inch aluminum baking pan by lining it with parchment paper, ensuring it overhangs on two sides for ease of removal post-baking. Alternatively, you may grease the pan thoroughly.

Take a large mixing bowl and meticulously combine the all-purpose flour, granulated sugar, salt, baking powder, and lemon zest.

In a separate mixing bowl or a sizable liquid measuring cup, blend the cooled melted butter, two whole eggs, one egg yolk, fresh lemon juice, and pure vanilla extract.

Gradually incorporate the wet ingredient mixture into the flour mixture, stirring consistently to ensure a smooth, lump-free batter.

Transfer the batter into the pre-prepared baking pan, ensuring it is spread uniformly.

Place the baking pan in the oven and bake for a duration of 18-20 minutes. It's imperative to ensure that a toothpick, when inserted into the center of the baked batter, emerges clean or with only a few moist crumbs. Overbaking can compromise the desired moist texture of the lemonies.

Upon baking completion, allow the lemonies to cool.

For the lemon glaze, employ a separate mixing bowl and whisk the powdered sugar, fresh lemon juice, and lemon zest together until a smooth consistency is achieved.

Once the lemonies have sufficiently cooled, pour the glaze over them, ensuring even coverage. It is advisable to distribute the glaze uniformly, rather than concentrating it in one spot.

The glazed lemonies should be refrigerated for 1-2 hours, ensuring the glaze sets firmly. Afterward, employ the parchment overhangs to lift them out of the pan. They can be neatly sliced into squares and are best enjoyed when chilled. However, they can also be served at room temperature if desired.
Nutrition
Serving:
1
Square
|
Calories:
100
kcal
|
Carbohydrates:
14
g
|
Protein:
1
g
|
Fat:
4
g
|
Saturated Fat:
3
g
|
Cholesterol:
32
mg
|
Sodium:
68
mg
|
Fiber:
1
g
|
Sugar:
10
g