Dive into a refreshing summer delight with English cucumbers, zesty cherry tomatoes, pungent red onion, creamy feta, and fragrant cilantro, all kissed by a light lemon pepper olive oil dressing. 🍅🥒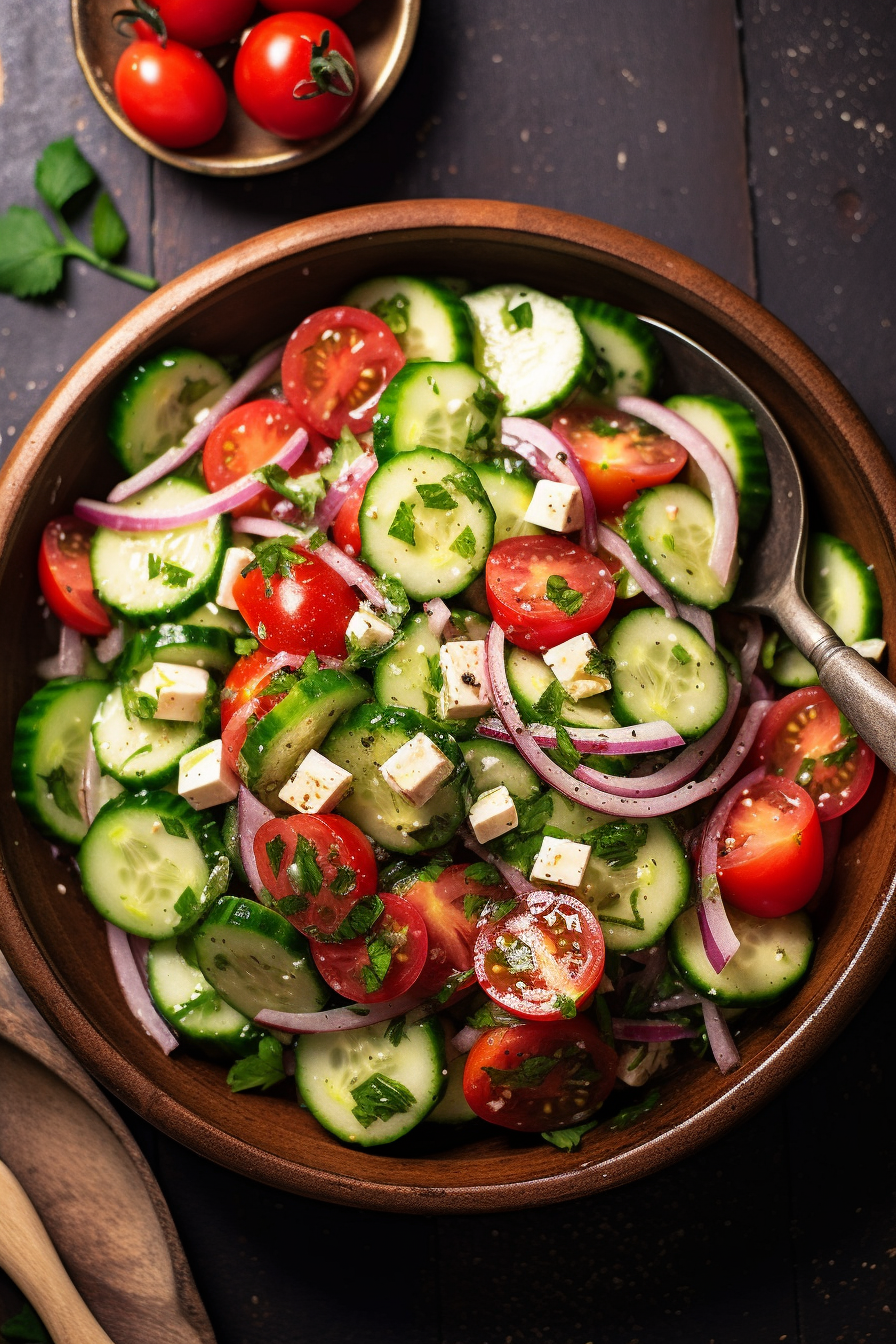 Picture this: A hot summer day, a family reunion at my Granny's old cottage by the beach, kids playing in the water, and the comforting hum of conversations filling the air. Amidst all the heavy BBQ and rich desserts, there was always one dish that managed to steal the show – Granny's Cucumber Tomato Salad. It wasn't just a salad; it was a bowl of memories. Every time I bite into the juicy cherry tomatoes, I'm taken back to those carefree summer days. The creamy feta reminds me of the waves crashing on the shore, and the fresh cilantro? Oh, it's like a gust of cool sea breeze on a sweltering day! This recipe isn't just a combination of ingredients. It's my childhood in a bowl. Every time I make it, I am reliving those magical summer moments, and now, I am thrilled to share a piece of my heart (and my Granny's secret) with you!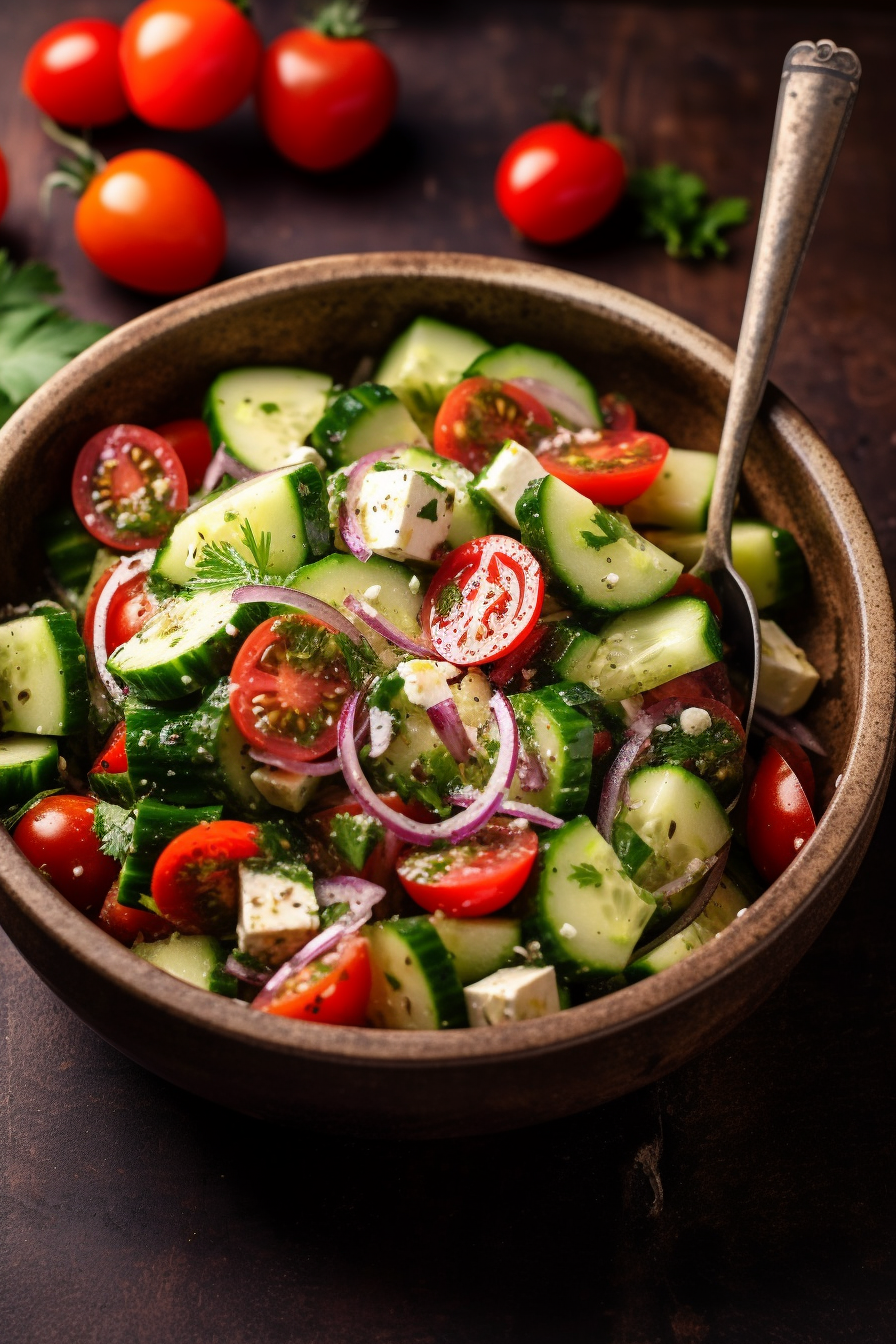 Why You'll Love Cucumber Tomato Salad:
Now, why should this Cucumber Tomato Salad take the crown in your summer salad lineup? First, it's simplicity at its best. It's as straightforward as summer love but leaves an impression that lasts. Secondly, the contrasting textures – the crunch from the cucumber and the burst from the tomatoes is like a firework show for your mouth. And then, the feta – it's not just cheese; it's a creamy, tangy surprise in every bite. The zesty lemon-pepper olive oil dressing? It's like the encore at the end of a great concert, making sure the show ends on a high note. Plus, 15 minutes? That's less time than it took my cousin Jimmy to get sunburned last summer, and he's a fast burner!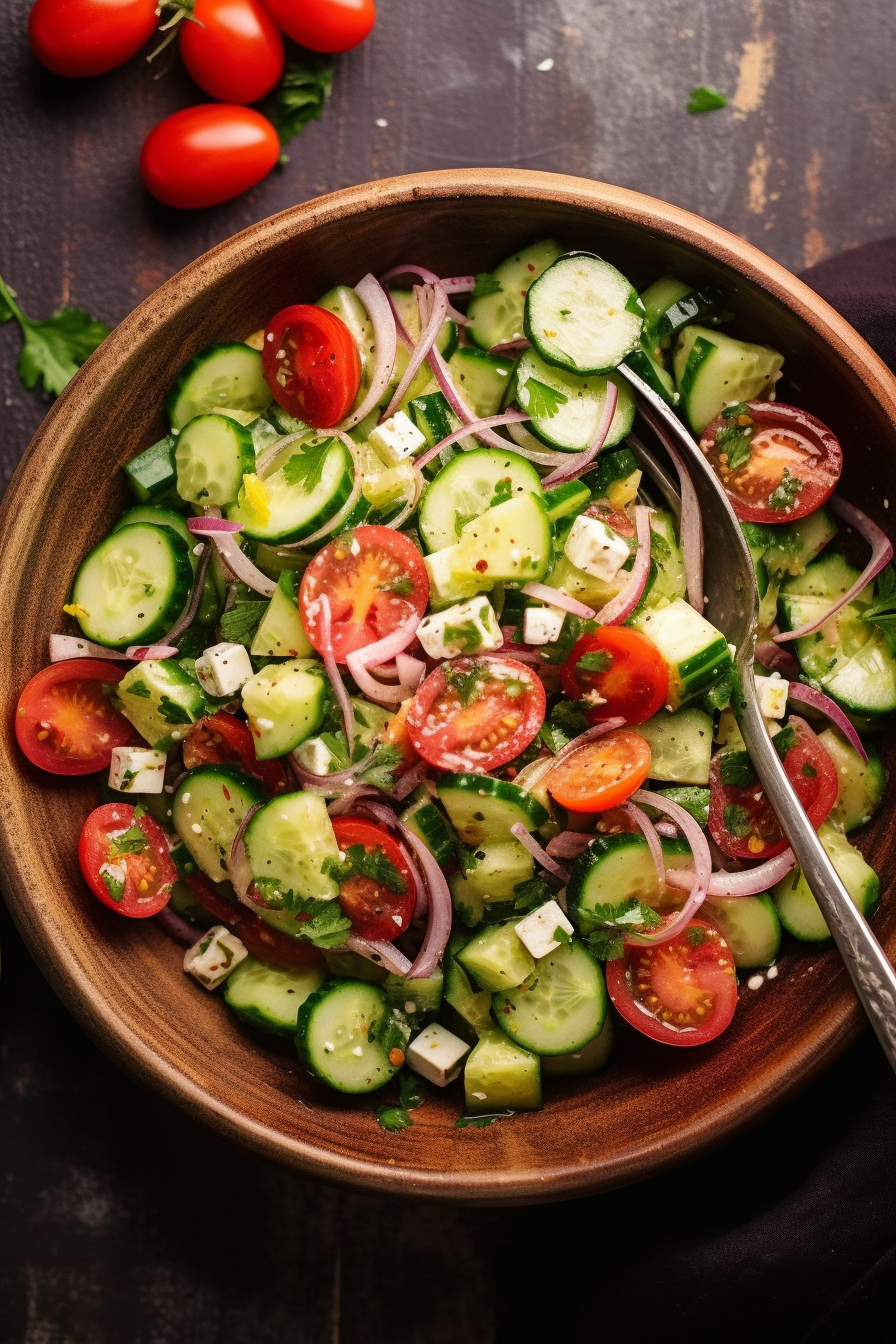 Ingredients For Cucumber Tomato Salad:
Cherry Tomatoes: Opt for the ripest, most vibrant ones. They're the juiciest!
English Cucumber: These bad boys have a thinner skin and fewer seeds, meaning more flavor and less fuss.
Feta Cheese: Trust me, go for the real deal. None of that pre-crumbled stuff. Cube it yourself; it's therapeutic.
Red Onion: It adds that crunchy zing. Just remember, a little goes a long way. And maybe don't eat it before a date… unless it's a salad date!
Cilantro: For those of you thinking, "It tastes like soap!" First of all, how do you know what soap tastes like? Secondly, you can always substitute with fresh parsley!
How To Make Cucumber Tomato Salad:
Prep Central: First off, ready all your veggies. This isn't just a recipe; it's an art project. Halve those tomatoes – think of it as them getting a cute summer haircut. Quarter and slice your cucumber, and try not to munch on them in the process. With the red onion, treat it like fine paper, going for the thinnest slices. And that feta? Cube it up! Lastly, a quick chop for the cilantro, and voila! Your masterpiece is ready for assembly.
Dress to Impress: Now, let's jazz up our veggies. In a humble small bowl, combine olive oil, that freshly squeezed lemon juice (yes, squeeze that lemon like it owes you money), black pepper, and kosher salt. Whisk it like you're waving to your fans. This dressing is the hero that binds our art together.
Marry & Mix: Get a spacious bowl (no one likes a crowded dance floor), and let all your salad ingredients have a ball. Pour that fabulous dressing over, give it a gentle yet passionate toss, ensuring everything gets acquainted. Taste, adjust, and voila! You've created summer in a bowl.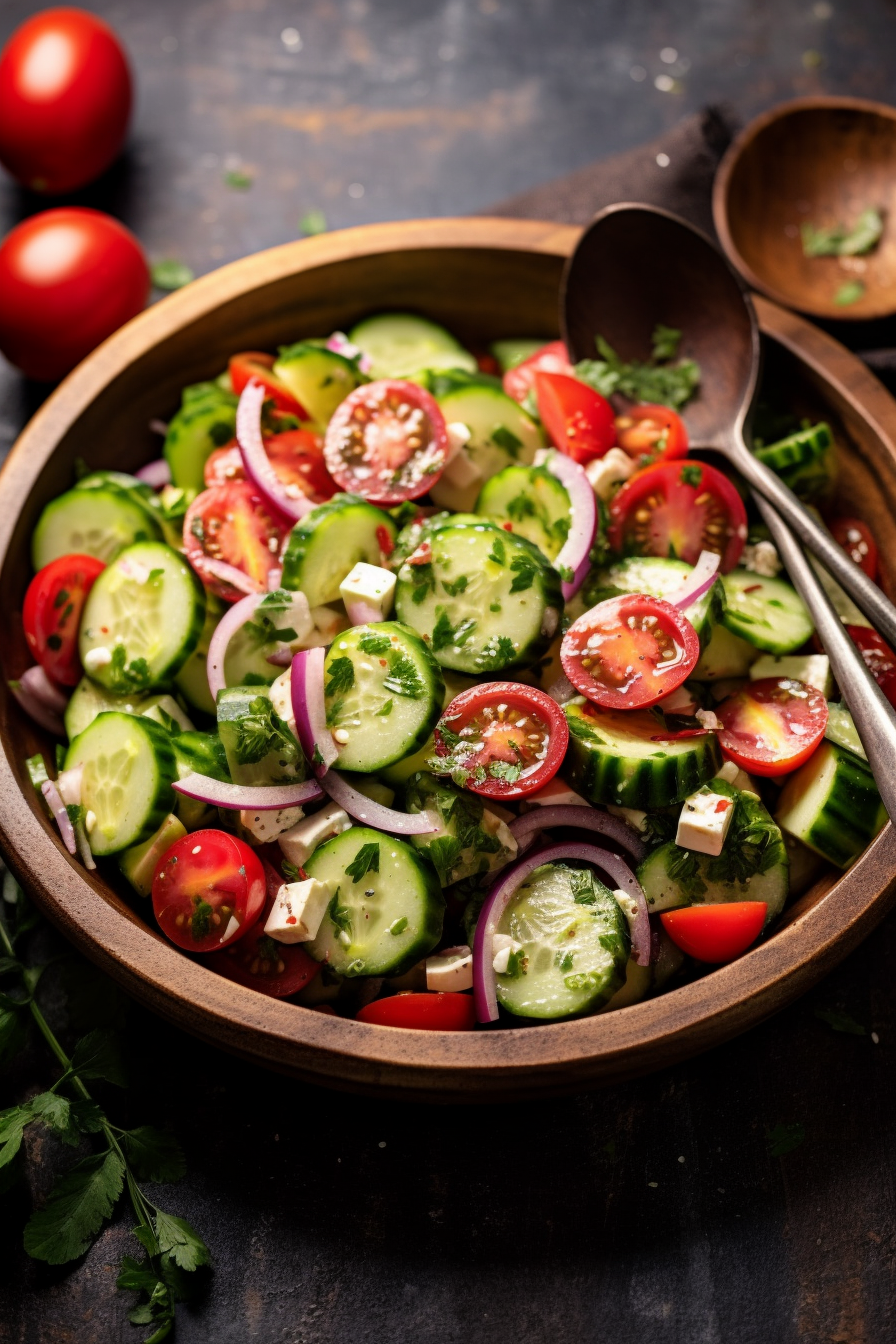 Storage Solutions:
Got leftovers? First, kudos on your self-control! Slide that bowl of goodness into an airtight container and park it in the refrigerator. It's best devoured within a day or two. Any longer, and it starts to reminisce about the good old fresh days.
Variations and Substitutions:
Feeling adventurous? Swap out the feta for mozzarella pearls. Not a cilantro fan? Remember, parsley's got your back. Want a hint of sweetness? Add in some sliced strawberries. Trust me, it's a game-changer! And if you're looking for a zesty kick, sprinkle in some chili flakes or drizzle a touch of balsamic reduction. Remember, this salad is like a blank canvas, and you, my friend, are Picasso!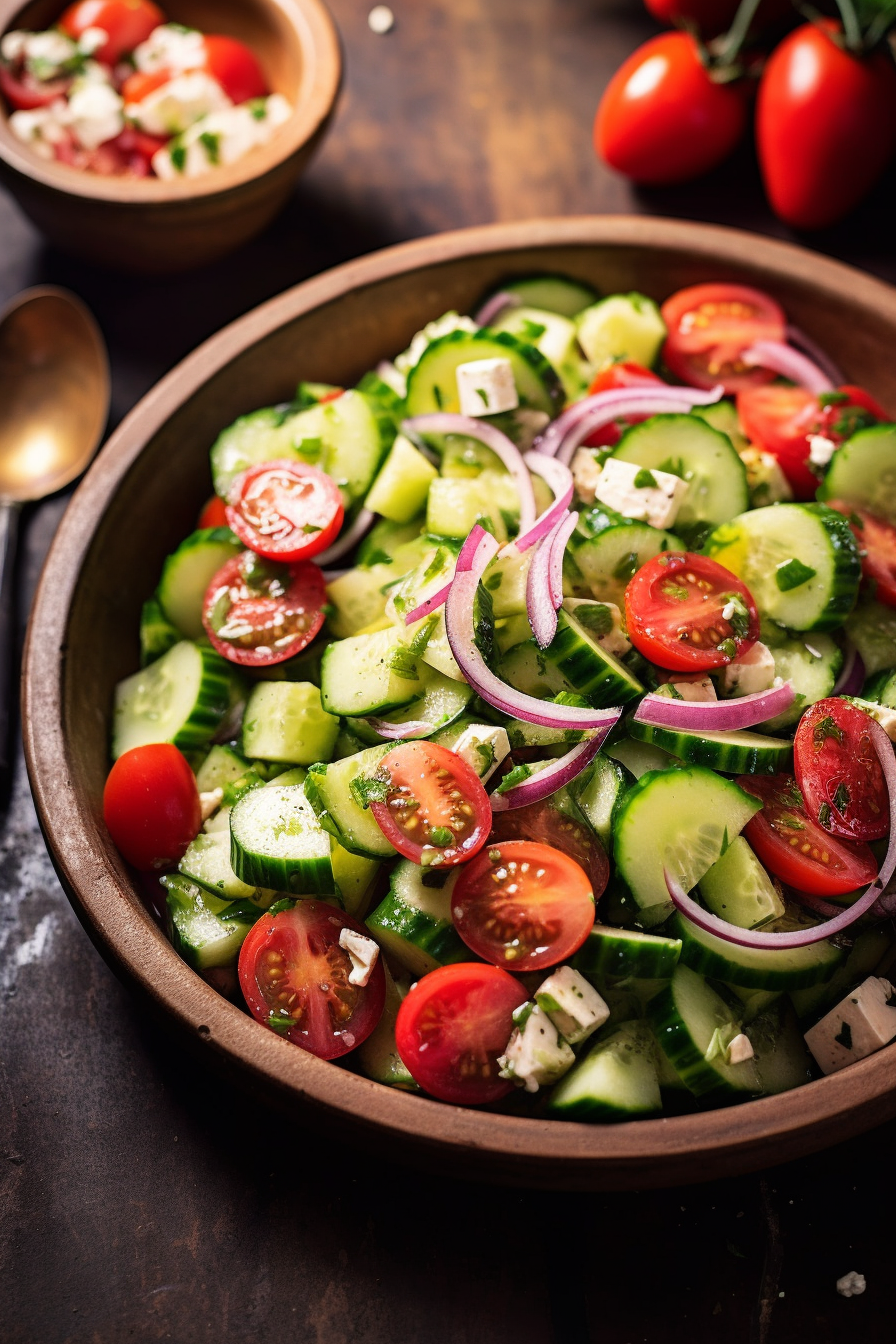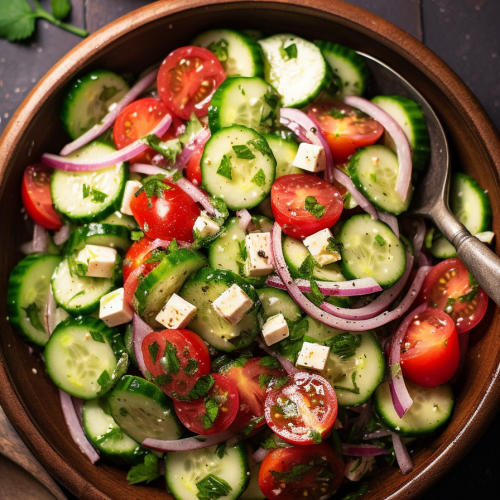 Cucumber Tomato Salad
Dive into a refreshing summer delight with English cucumbers, zesty cherry tomatoes, pungent red onion, creamy feta, and fragrant cilantro, all kissed by a light lemon pepper olive oil dressing.
Print
Pin
Rate
Ingredients
For the Salad:
1

pint

cherry tomatoes

bisected

1

English cucumber

longitudinally quartered and subsequently sliced

8

ounces

feta cheese

segmented into cubes

1

red onion

longitudinally bisected and finely sliced

2

tablespoons

of freshly chopped cilantro
For the Dressing:
2

tablespoons

of olive oil

2

tablespoons

of freshly extracted lemon juice

sourced from a single lemon

½

teaspoon

of freshly milled black pepper

¼

teaspoon

of kosher salt
Instructions
Preparation of Salad Components: In an adequately sized mixing bowl, amalgamate all the aforementioned salad ingredients.

Dressing Concoction: In a separate, smaller bowl, systematically combine all the requisite ingredients for the dressing.

Final Assembly: Prior to serving, meticulously pour the prepared dressing over the salad components. Employ a gentle folding technique to ensure thorough integration. Taste, and if necessary, make adjustments to seasoning levels to achieve desired flavor profile.