Indulge in these mouth-watering Mexican Zucchini Boats filled with zucchini, black beans, corn, and a kick of enchilada sauce, topped with melted cheese. Perfect for when you're craving zesty and vegetarian!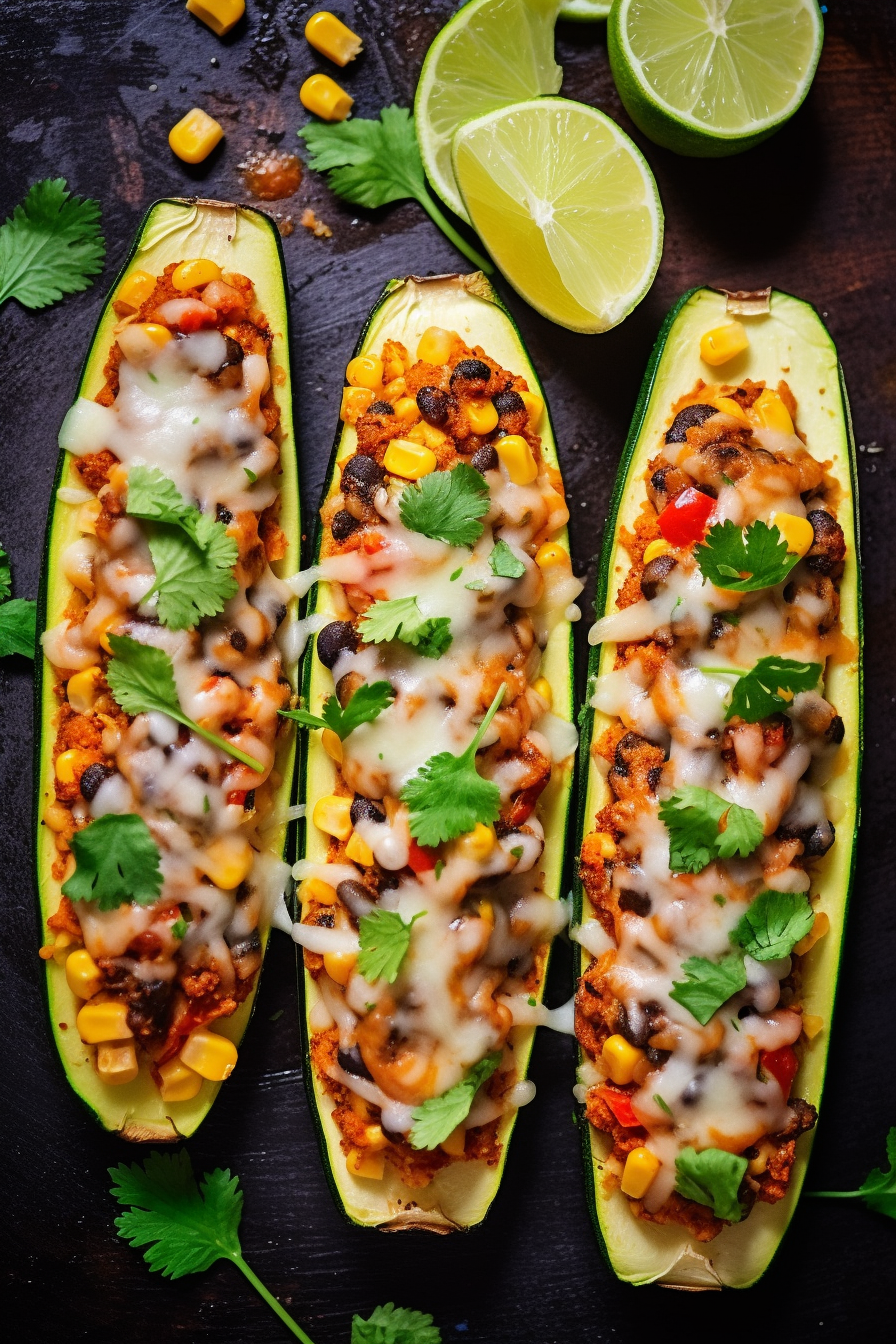 Alright, amigo, buckle up and let me take you on a journey down memory lane. A few summers ago, I ventured to a small village in Mexico, where I had the pleasure of experiencing authentic, homemade Mexican dishes. One evening, as the sunset painted the sky with warm hues, a local family invited me over and introduced me to the magic of the Mexican Zucchini Boats. You heard that right – not a boat you can row, but one you can devour! A fusion of fresh zucchini, earthy black beans, and sweet corn enveloped in tangy enchilada sauce, all of it coming together to dance the salsa on my taste buds. From that day on, I made it my mission to recreate the dish and share this slice of Mexican heaven with you. So here we are, my fellow food lover, about to embark on this delicious journey!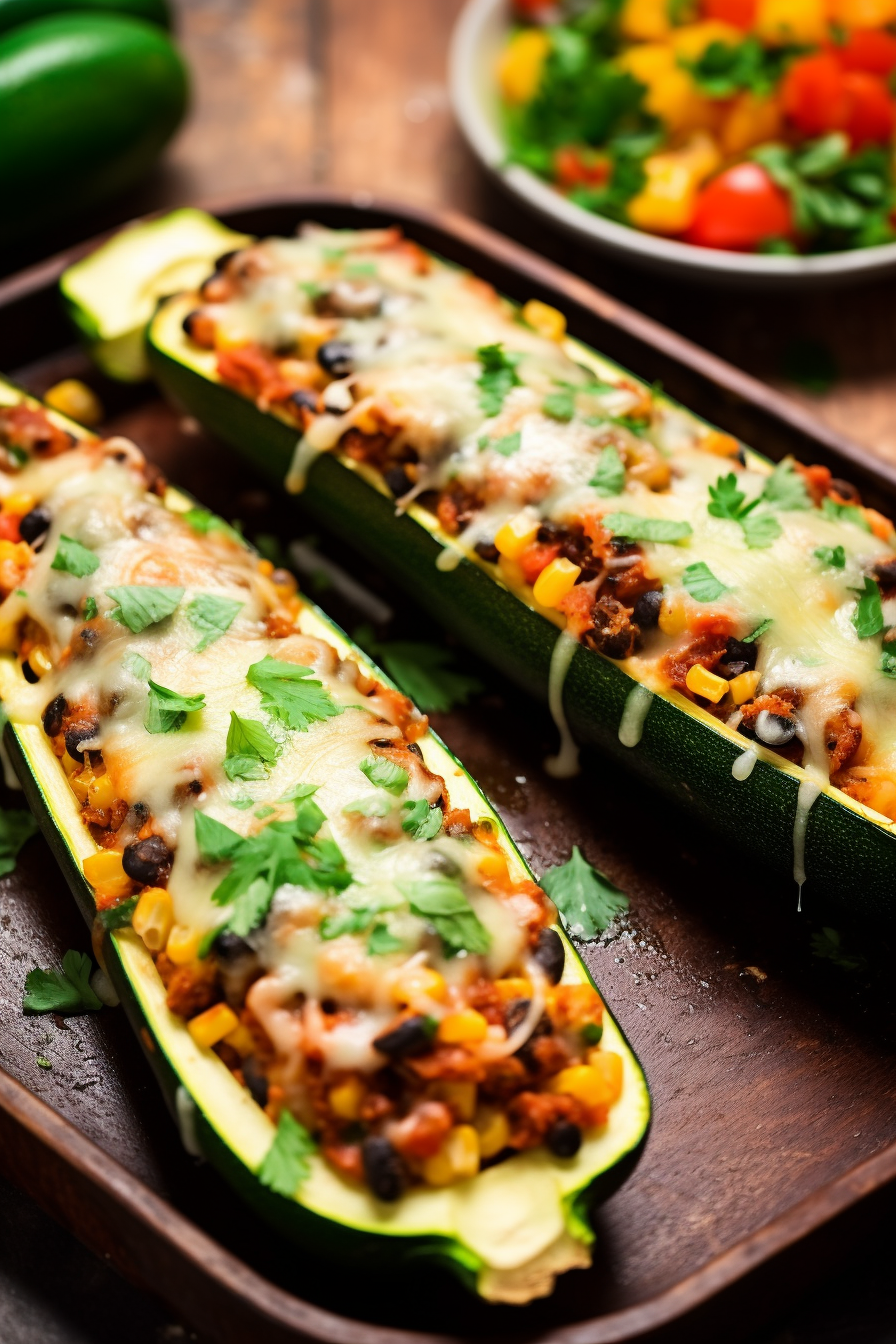 Why You'll Love Mexican Zucchini Boats:
Okay, let's dive into the delicious deets. Why should you try these Mexican Zucchini Boats? Firstly, they're vegetarian but pack a flavor that even meat-lovers can't resist. They're healthy and nutrient-rich but don't compromise an ounce on taste. The mix of textures, from the crunchy zucchini to the creamy beans, offers a delightful sensory experience. And let's not forget – this dish is as colorful as a fiesta! It looks as good on your Instagram feed as it tastes in your mouth. Plus, in under an hour, you get a meal that transports you straight to the heart of Mexico. Ole!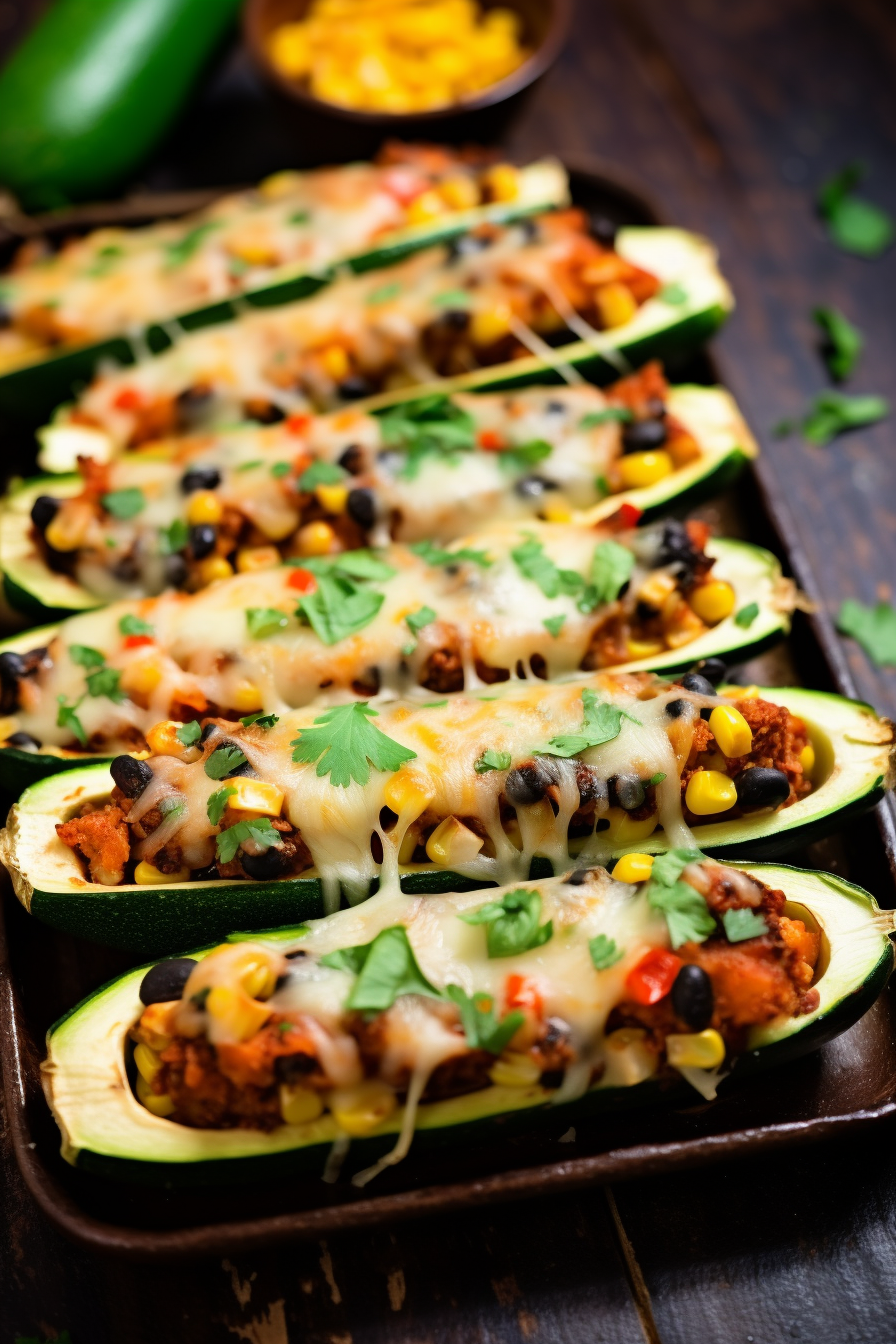 Ingredients For Mexican Zucchini Boats:
Alright, a few tidbits about our starring ingredients:
Zucchini: Opt for firm zucchinis. They are the boats, after all! And you wouldn't want a sinking ship, would you?
Olive Oil: This gives our mix a smooth glide in the pan. But feel free to use coconut or avocado oil if you're feeling adventurous.
Black Beans & Corn: Canned is okay (we all love a shortcut), but if you've got fresh, by all means, go fresh!
Enchilada Sauce: Spice levels vary. Choose according to your 'heat' preferences. Mild for beginners, fiery for daredevils.
Cheese: The gooey glue that holds this ship together. You can use a Mexican blend, but even mozzarella or cheddar would work wonders!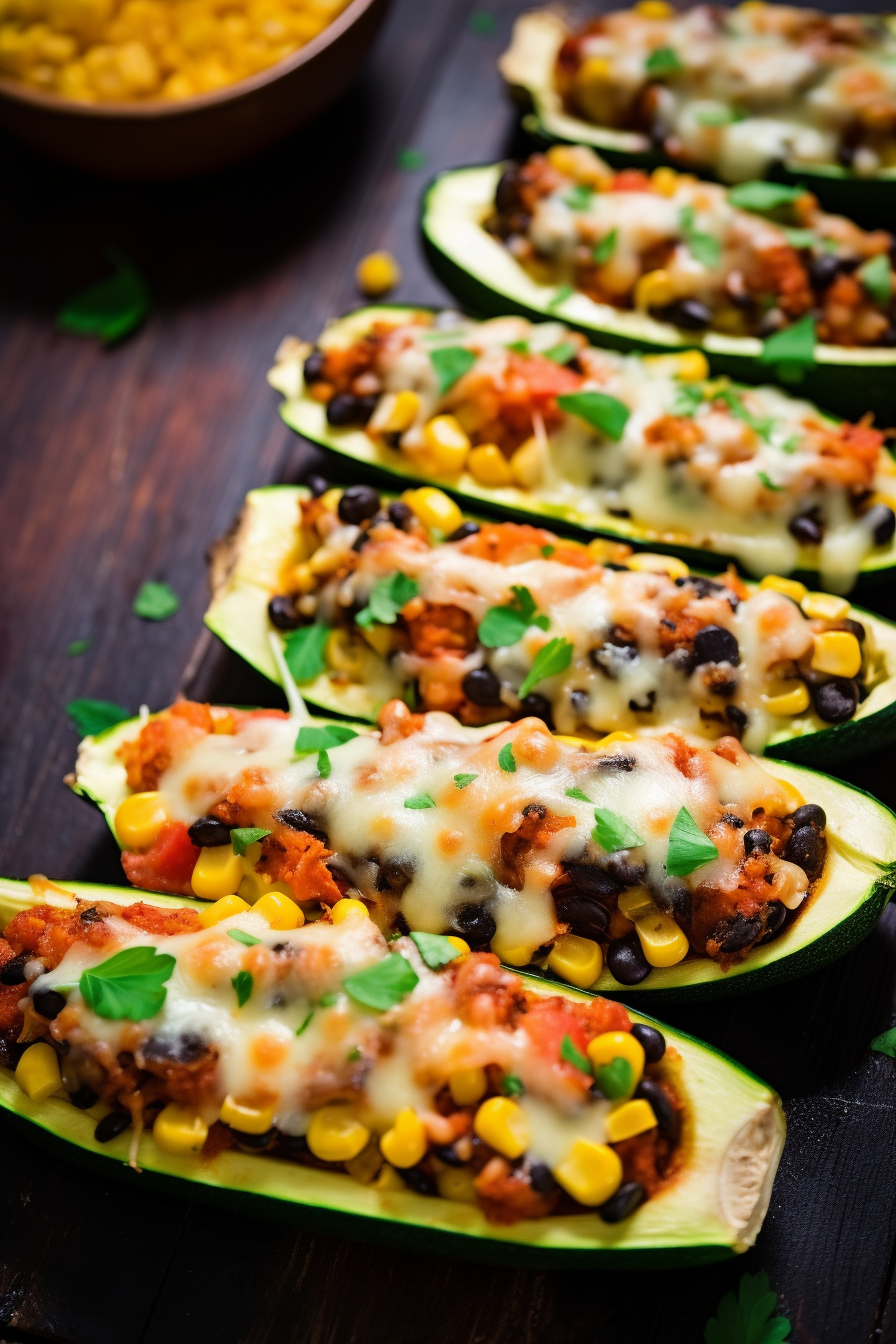 How To Make Mexican Zucchini Boats:
Step 1: First, let's prep the zucchini. Chop off their ends and split them lengthwise. Now channel your inner artist and carve out their insides, chopping that juicy flesh for later use.
Step 2: Now, over to our trusty pan! Heat up that olive oil, throw in the onions, and let them get all translucent and dreamy for about 4-5 minutes.
Step 3: Add in the garlic and that zucchini you artistically chopped earlier. Give them about 5 minutes to mingle and get to know each other.
Step 4: It's time for the beans and corn to join the party. Toss them in, followed by the enchilada sauce, salt, and that fragrant cumin. Give it a good mix and let the flavors marinate together.
Step 5: Arrange your zucchini boats (or should I say, vessels?) on a baking sheet. Stuff them generously with the bean mixture.
Step 6: Oh, cheese, glorious cheese! Sprinkle it over the boats. Into the oven they go at 400°F for 30 minutes. Once that cheese is melted and slightly browned, you're all set. Dinner is served!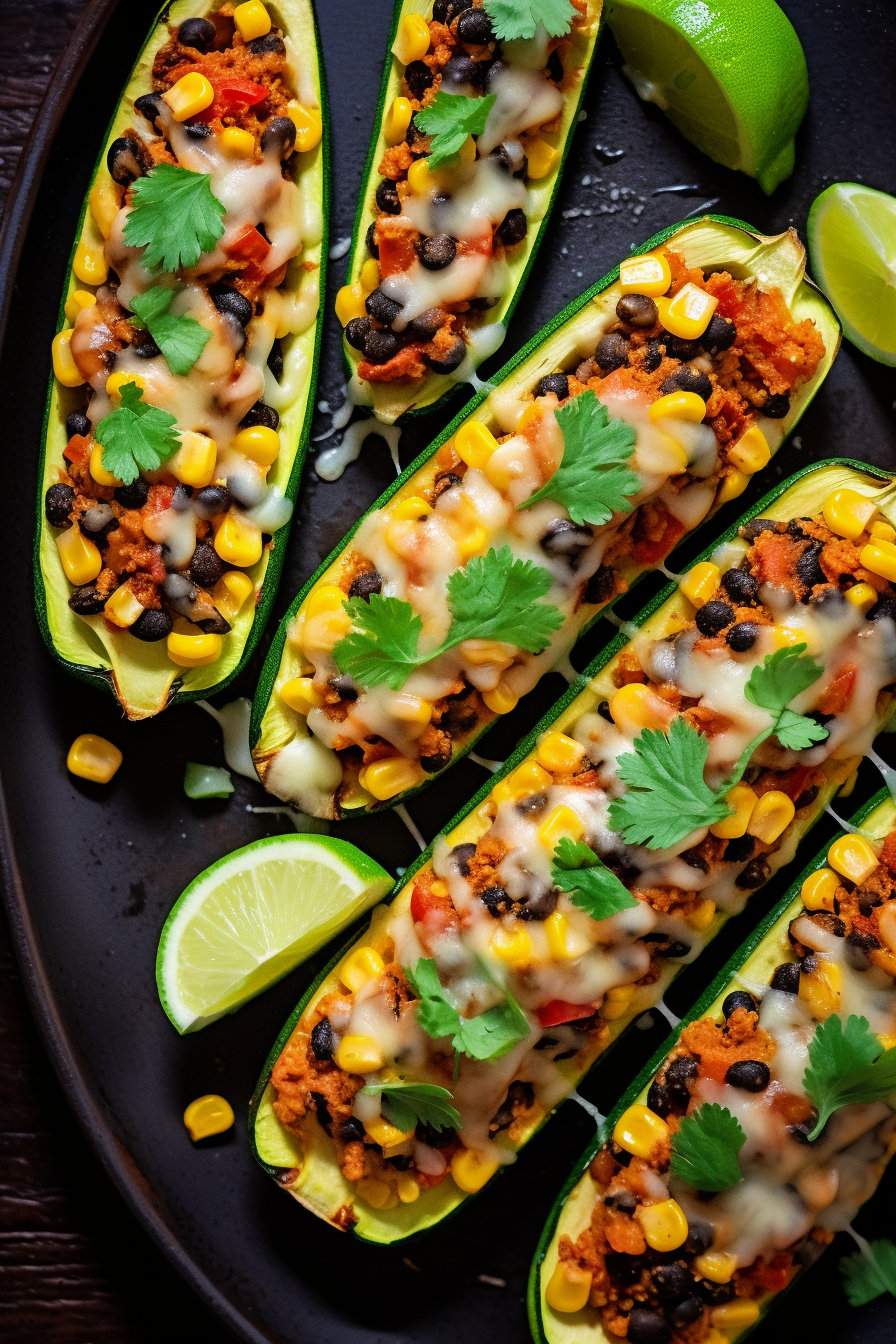 Storage Options:
If, by some strange twist of fate, you've got leftovers, you can store these in an airtight container in the fridge for up to 3 days. To reheat, pop them in the oven at 350°F for about 10-15 minutes. Voila! Good as new.
Variations & Substitutions:
Flexibility is key, right?
If black beans aren't your jam, try kidney beans or even chickpeas.
Not a corn fan? Swap it out for bell peppers or mushrooms.
Want a vegan twist? Opt for vegan cheese or skip it altogether, and maybe add some avocado slices on top after baking.
If you're into meat, adding some cooked, crumbled ground beef or chicken to the mixture can be a game-changer.
Now, grab your apron, crank up that Mariachi band, and let's get cooking! 🌮🚤🎉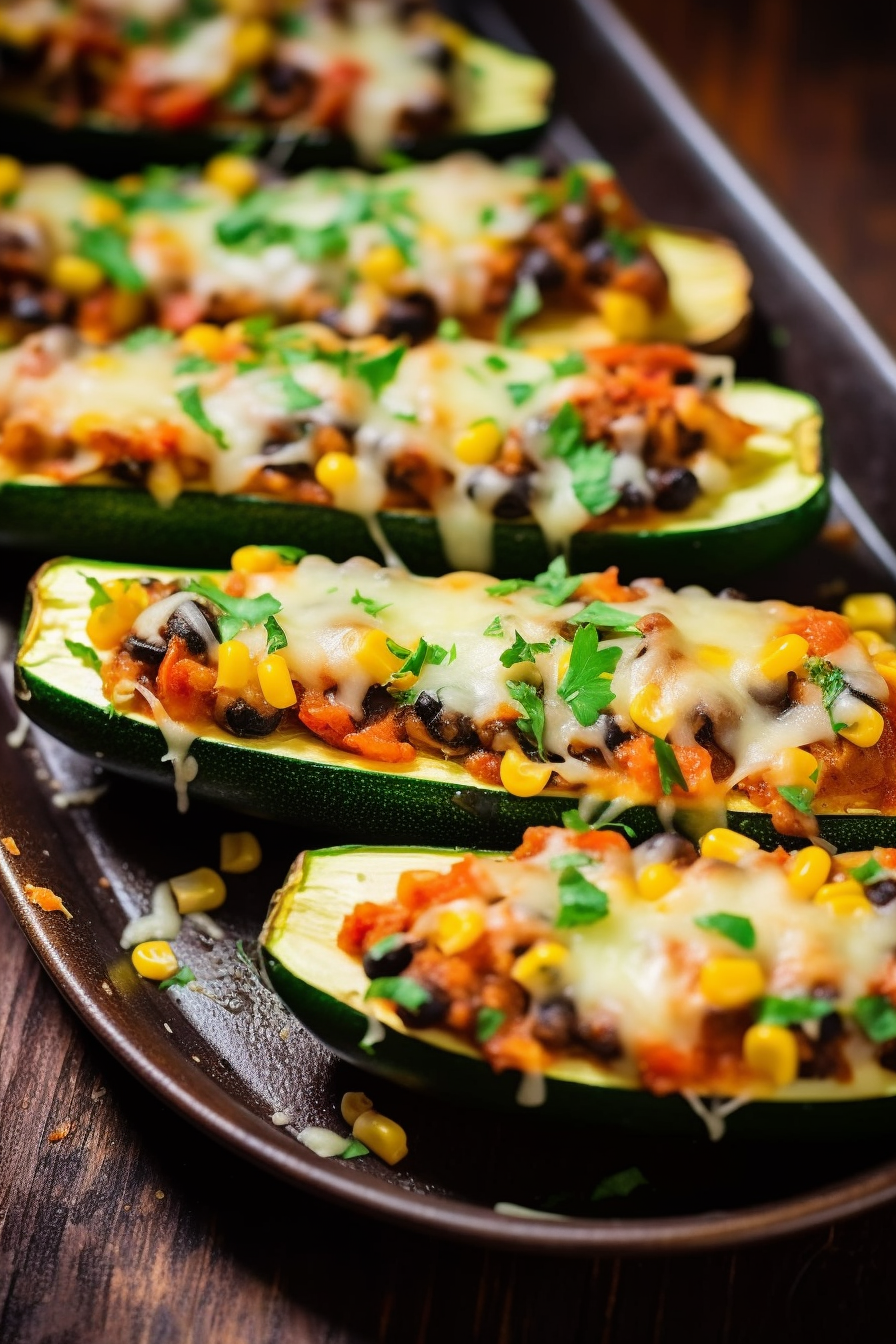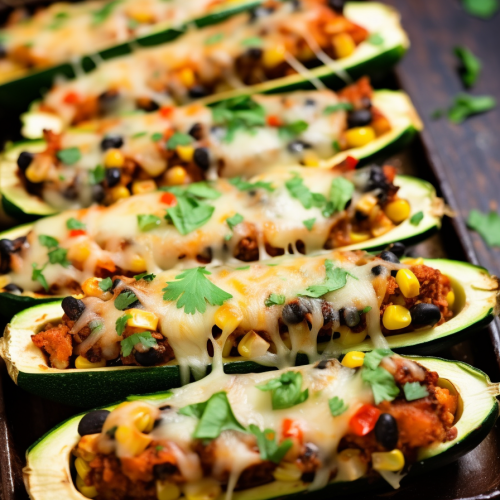 Mexican Zucchini Boats
Indulge in these mouth-watering Mexican Zucchini Boats filled with zucchini, black beans, corn, and a kick of enchilada sauce, topped with melted cheese. Perfect for when you're craving zesty and vegetarian!
Print
Pin
Rate
Ingredients
2

medium-sized zucchinis

2

tablespoons

olive oil

½

of a medium onion

finely diced

2

cloves

of garlic

minced

1

can of black beans

thoroughly rinsed

1

can of corn

drained

1

cup

of enchilada sauce

½

teaspoon

salt

adjust according to preference

1

teaspoon

cumin

½

cup

cheese of choice
Instructions
Begin by removing the stem ends from the zucchinis. Subsequently, halve the zucchinis lengthwise. Using a spoon, meticulously remove the flesh from the zucchinis. This flesh should be finely chopped and set aside for later use.

In a sizable pan, warm the olive oil over a medium-high flame. Once heated, introduce the finely diced onions to the pan and sauté for approximately 4-5 minutes or until they achieve a translucent appearance.

Once the onions are ready, incorporate the minced garlic and the reserved zucchini flesh to the pan. Continue to sauté the combined ingredients for an additional 5 minutes.

At this juncture, introduce the black beans, corn, enchilada sauce, salt, and cumin to the pan. Mix the ingredients thoroughly and set them aside once integrated.

Position the zucchini halves on a baking tray. Distribute the previously prepared black bean mixture evenly among the hollowed zucchini halves.

Conclude by evenly sprinkling cheese over the filled zucchini halves. Place the tray in a preheated oven at 400 degrees Fahrenheit and bake for 30 minutes or until the cheese is thoroughly melted and exhibits a slightly browned surface. It is recommended to serve the dish warm.