Dive into a creamy delight of Oreo-infused cheesecake bites! Made with Oreo cookies, buttery crusts, lush cream cheese, and topped with whipped cream. Every bite is an Oreo dream come true!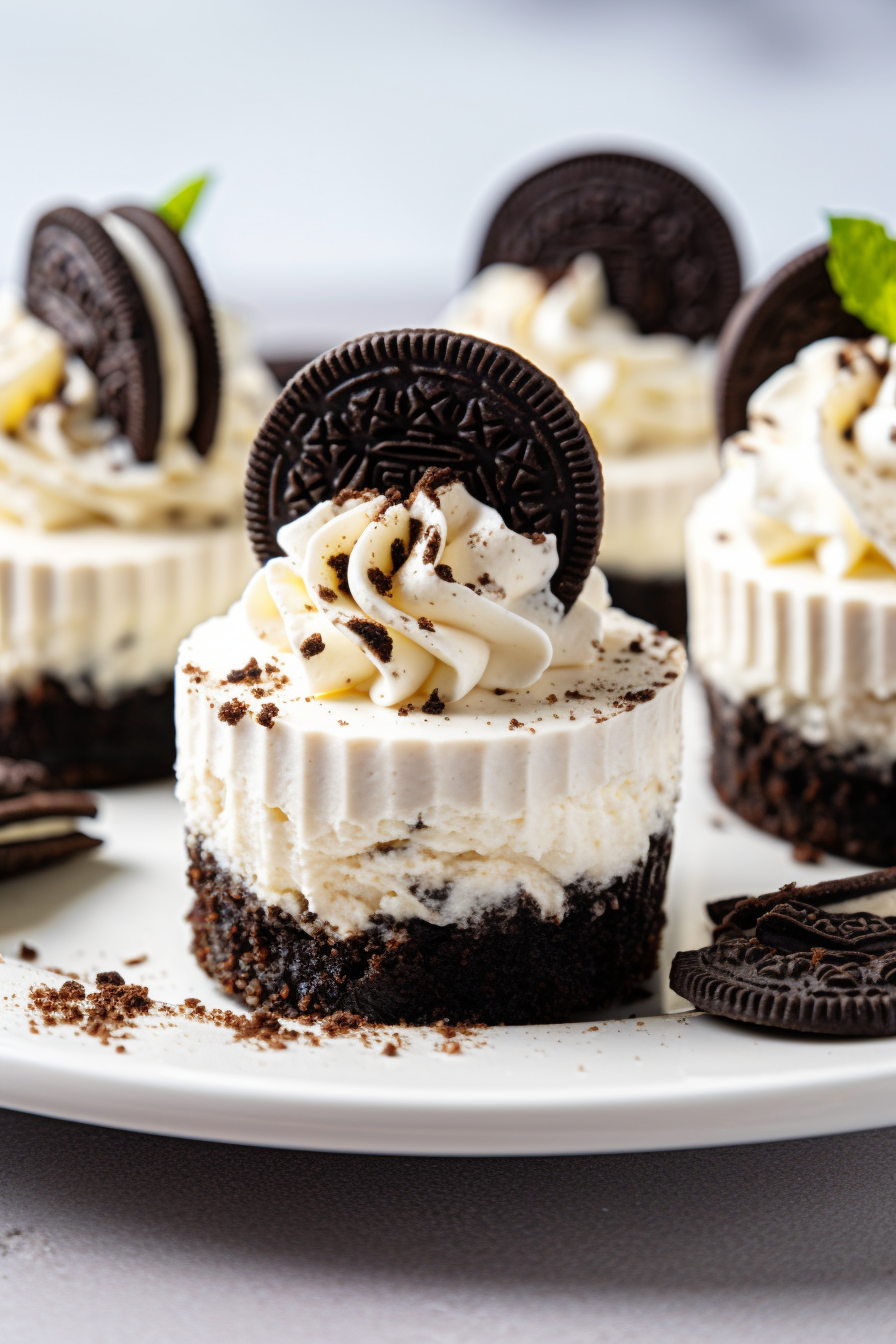 Growing up, I always fought my siblings for the last Oreo in the jar. Yes, cookie wars were a real thing in our household! Fast forward to adulthood, I decided, "Why not combine my love for Oreos with my adoration for cheesecake?" Thus, the "Easy Mini Oreo Cheesecake Bites" were born. Perfect for family gatherings where everyone gets their own individual treat, without any squabbling! These bites are not just a dessert; they're a trip down memory lane, filled with creamy nostalgia.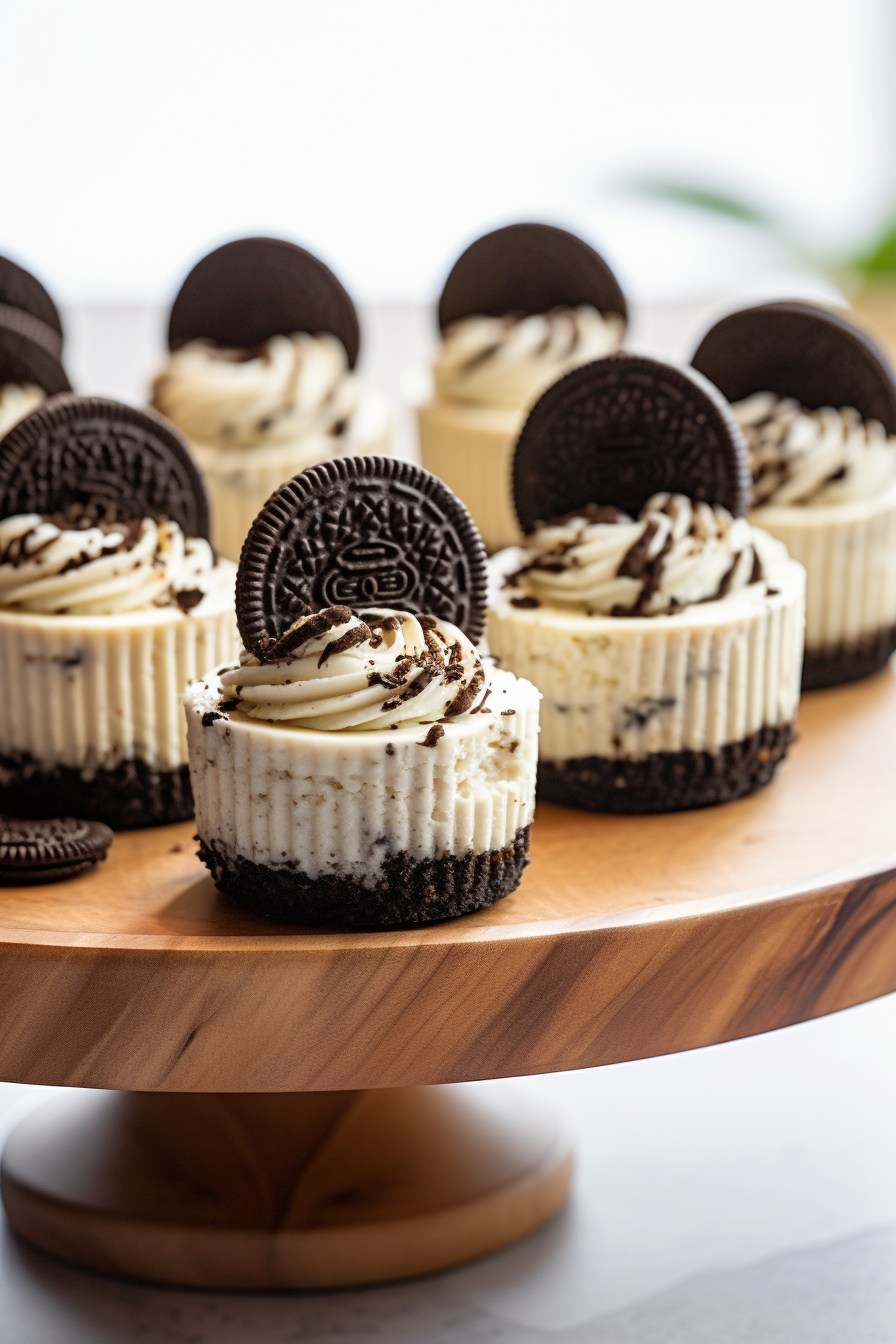 Why You'll Love These Mini Oreo Cheesecake Bites:
Convenience: Individually portioned? Say no more! These bites are perfect for any gathering, be it potlucks or picnics.
No Waiting Game: Unlike traditional cheesecakes, these mini wonders are ready in just over three hours.
Oreo Overload: With Oreos in the crust, filling, and topping, it's truly an Oreo lover's dream.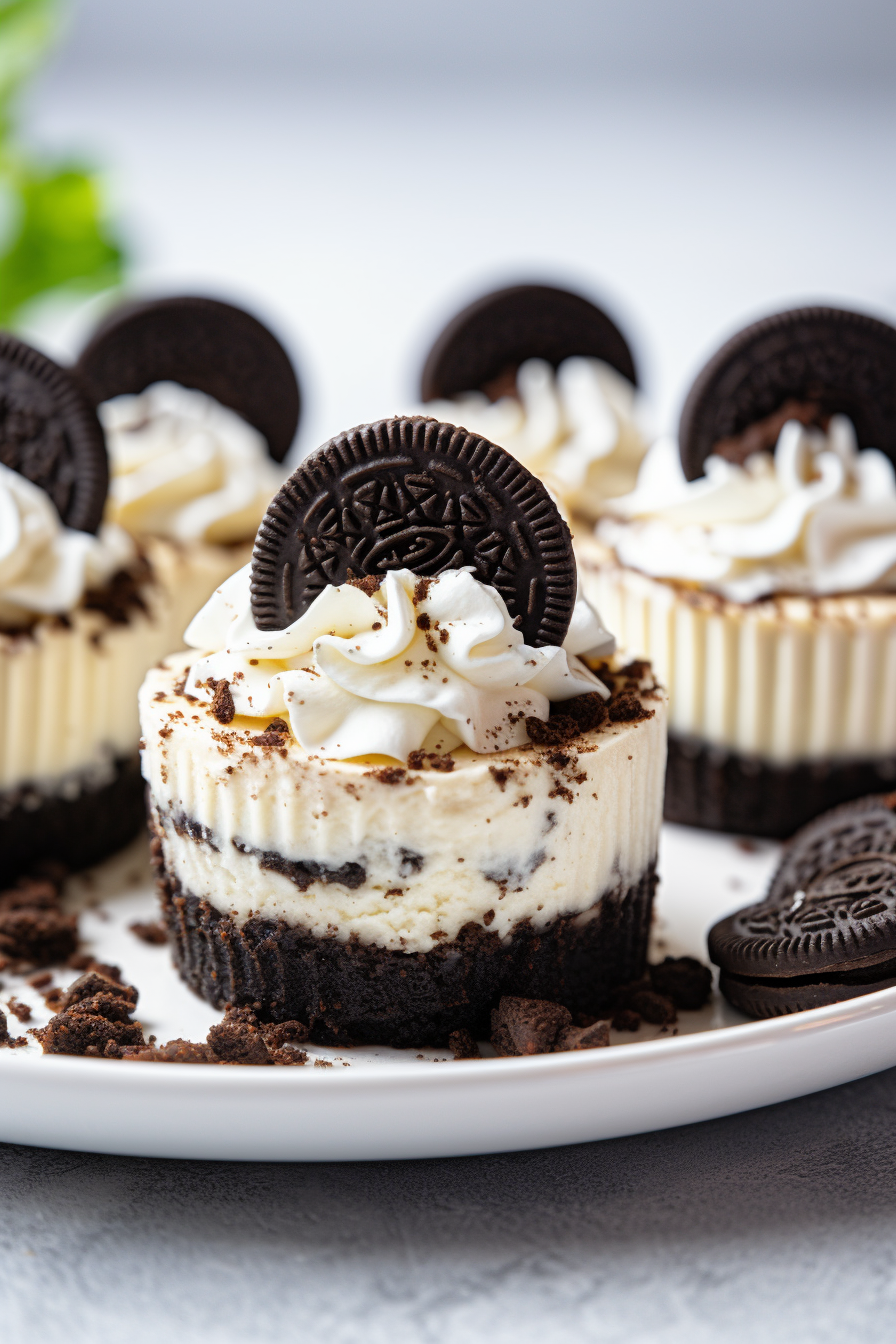 Ingredient Notes For These Mini Oreo Cheesecake Bites:
Oreo Cookies: Regular-sized Oreos are used for both crust and filling, giving you that perfect crunch and creaminess.
Butter: Melted butter acts as the binding agent for the crust, ensuring it's just the right amount of crumbly.
Cream Cheese: Ensure it's at room temperature for a smooth and creamy filling.
Eggs: Use room temperature eggs. They mix better and result in a smoother texture.
Toppings: Mini Oreos and whipped cream are optional but recommended for that extra 'wow' factor.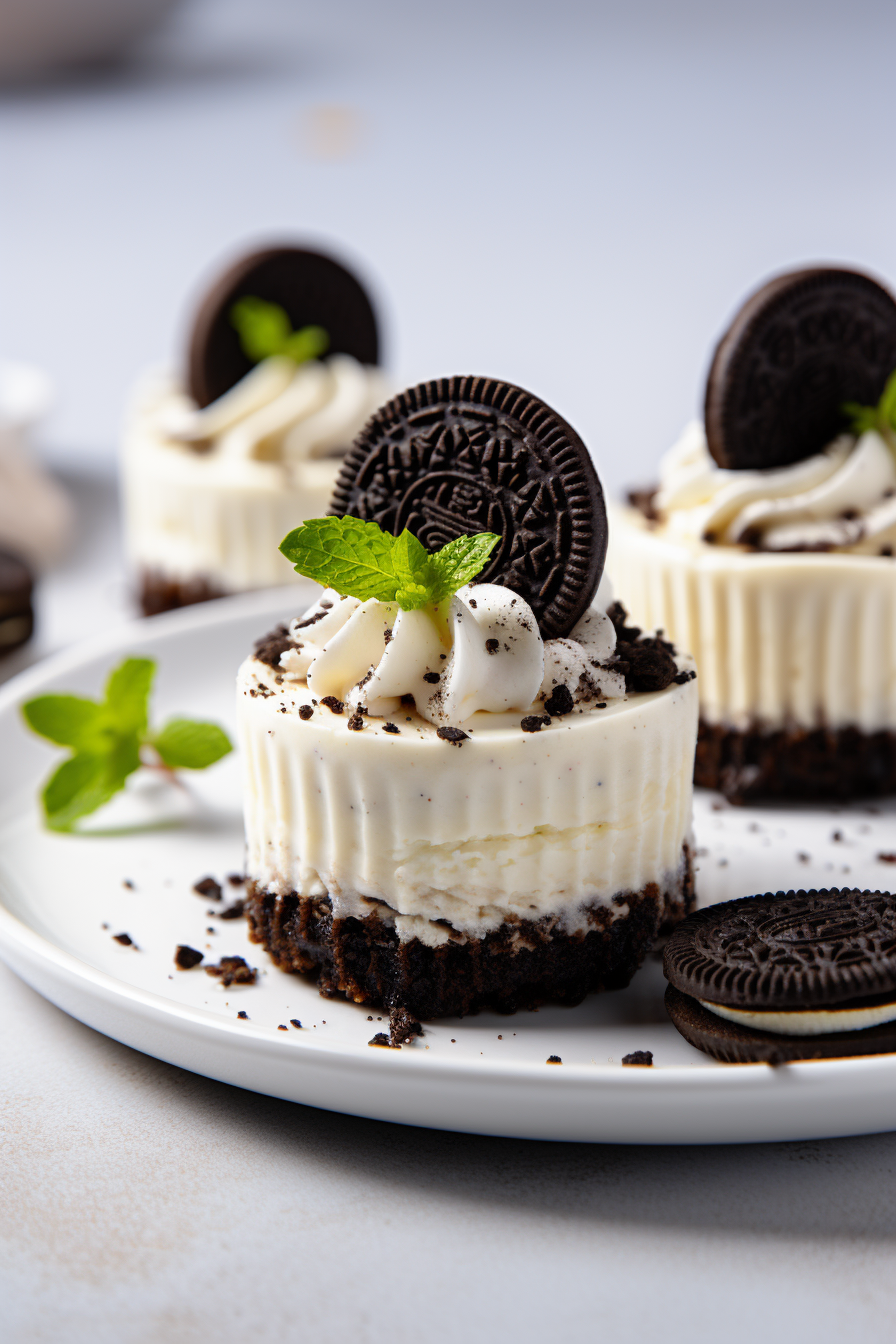 Easy-to-follow Steps To Make These Mini Oreo Cheesecake Bites:
Oreo Crust Prep: Begin by warming up your oven to 350ºF. Grab those muffin tins and line 'em up with paper liners. Now, for the fun part: crush 18 Oreo cookies using either a food processor or the classic ziplock-and-rolling-pin technique.
Buttery Bind: Pour those cookie crumbs into a bowl and marry them with melted butter. Make sure they're well mixed – we're going for a perfectly moist consistency.
Muffin Tin Magic: Now, scoop about 1 ½ tablespoons of your Oreo-butter mix into each muffin cup. Press down firmly, ensuring a solid base for your cheesecake. A quick 6-minute bake sets the crust.
Creamy Goodness: In a separate bowl, whip the cream cheese until it's fluffy. Blend in the sugar, sour cream, heavy cream, and vanilla, ensuring a creamy texture.
Egg-citing Addition: Carefully add in the eggs, mixing just enough. Remember, over-mixing is a cheesecake's worst enemy!
Oreo Encore: Break the remaining Oreos into bite-sized chunks and fold them into your creamy mixture.
Filling Time: On top of the pre-baked crust, scoop in that delightful cheesecake mixture.
Baking Brilliance: Bake for about 16 minutes. Look for set edges and a slightly jiggly center. Let it cool, pop in the fridge, and practice patience for 3 hours.
The Grand Finale: Garnish with whipped cream, Oreo crumbs, and if you're feeling extra fancy, a mini Oreo on top.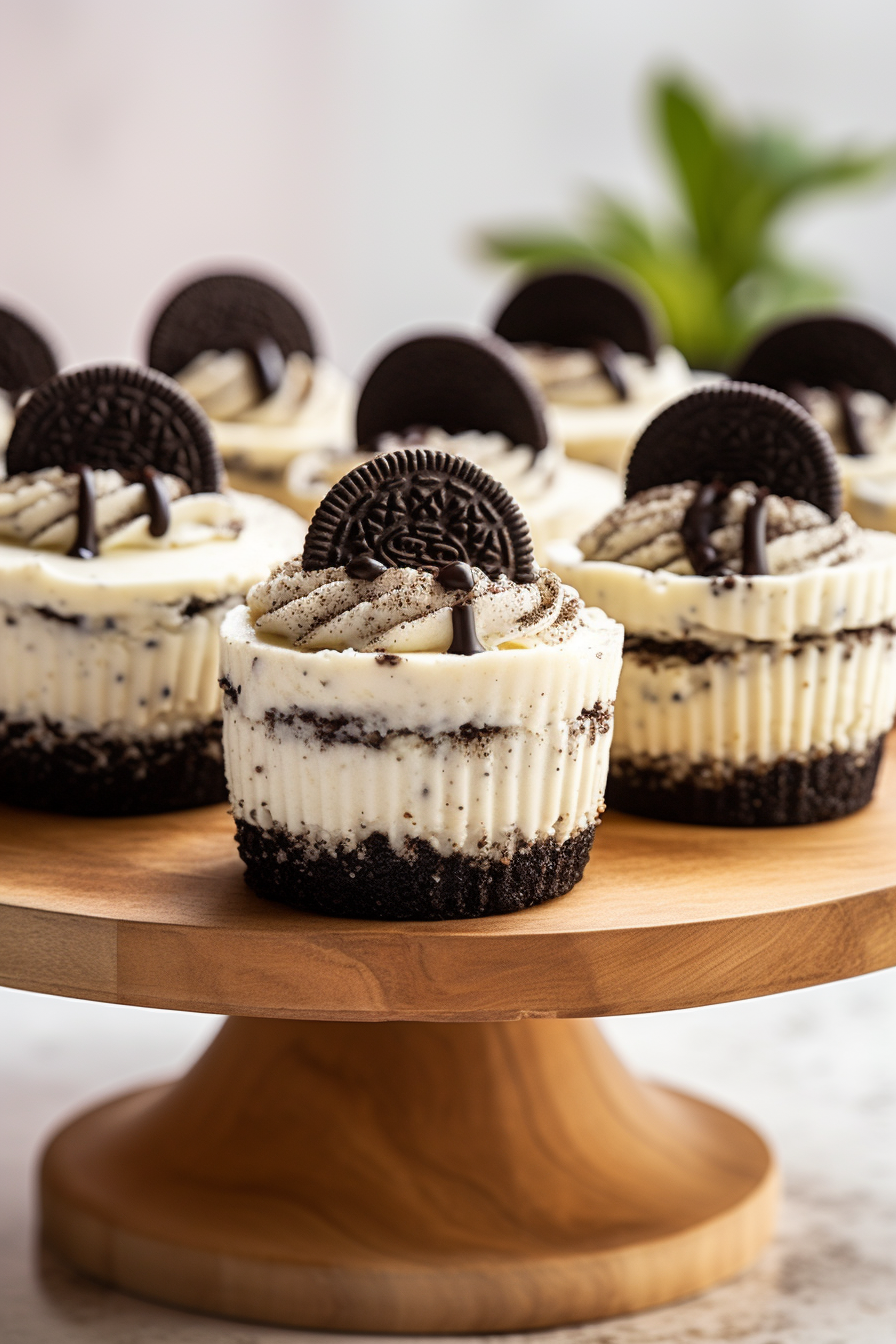 Storage Options:
These delightful bites can be stored in an airtight container in the refrigerator for up to 5 days. For longer storage, pop them in the freezer, and they'll be good for up to 2 months. Just ensure they're wrapped well to prevent freezer burn!
Variations and Substitutions:
Cookie Swap: Not an Oreo fan? Swap out for your favorite cookie – think chocolate chip or even ginger snaps.
Lighten it Up: Opt for low-fat cream cheese or Greek yogurt in place of sour cream for a lighter touch.
Flavor Twist: Spice things up with a hint of lemon zest or almond extract for a unique taste.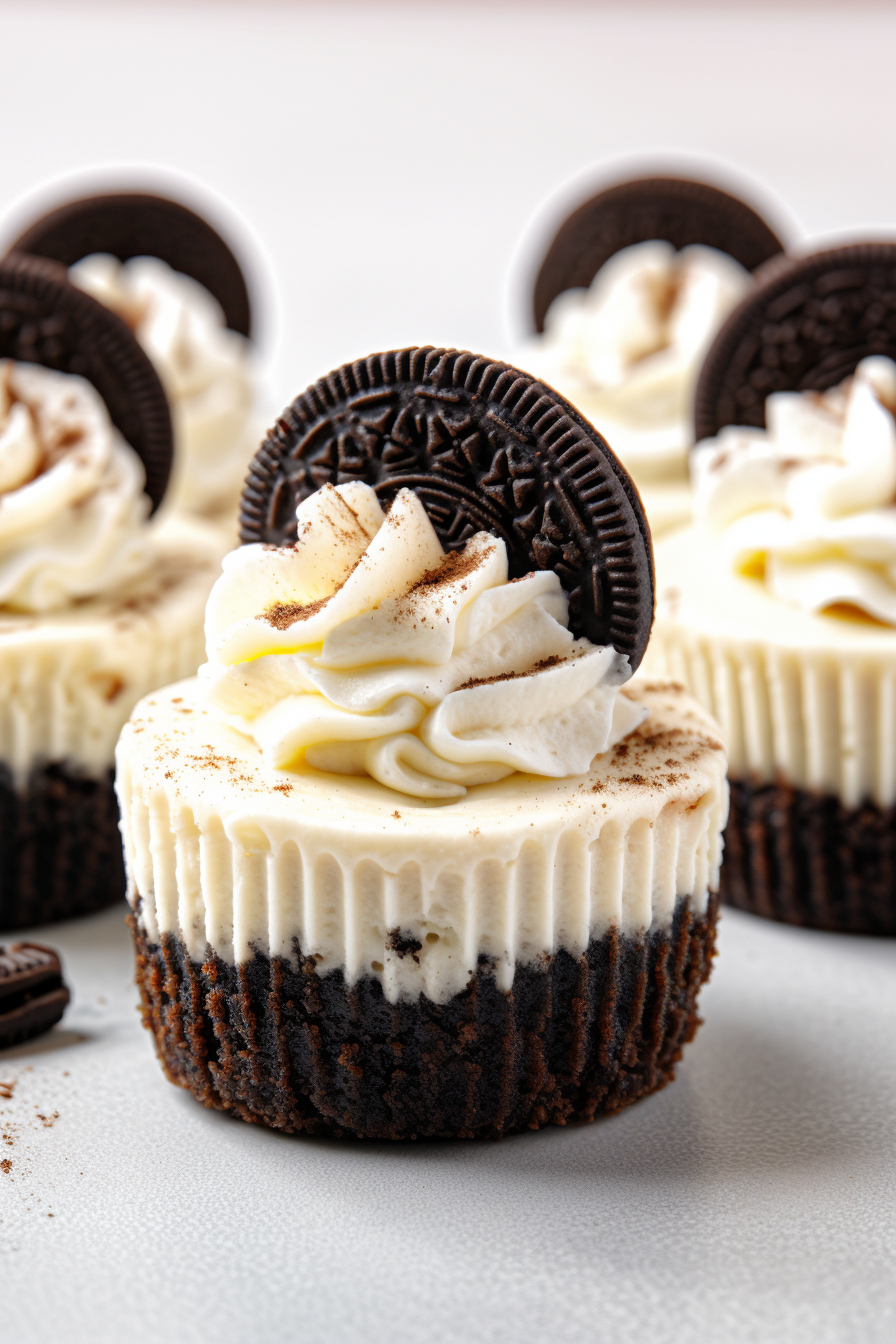 Hopefully, this reimagined recipe has your tastebuds tingling and your funny bone tickled. Remember, in the world of baking, laughter is the best ingredient (right after Oreos, of course!).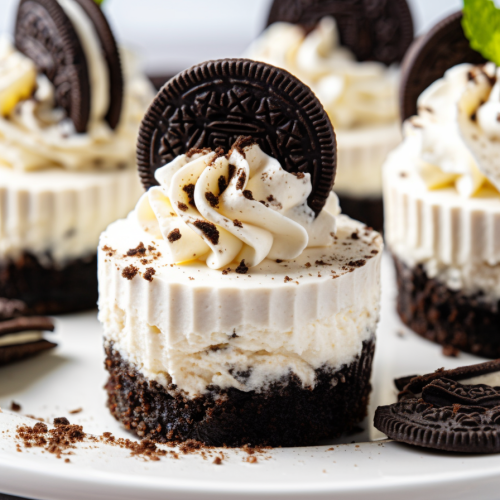 Mini Oreo Cheesecake Bites
Dive into a creamy delight of Oreo-infused cheesecake bites! Made with Oreo cookies, buttery crusts, lush cream cheese, and topped with whipped cream. Every bite is an Oreo dream come true!
Print
Pin
Rate
Ingredients
26

standard Oreo cookies

18 designated for the crust, 8 for the interior filling

4

tablespoons

of butter

melted

16

oz

of cream cheese

brought to room temperature

½

cup

of granulated sugar

½

cup

of sour cream

3

tablespoons

of heavy whipping cream

2

teaspoons

of pure vanilla extract

2

large eggs

also brought to room temperature

16

miniature Oreo cookies

optional, for garnishing purposes

Whipped cream

optional, for garnishing purposes
Instructions
Commence by preheating the oven to a temperature of 350ºF. Proceed to line two standard muffin tins with 16 paper liners.

Take 18 Oreo cookies (ensure they include their cream filling) and place them into a food processor.

Process the aforementioned cookies until they are reduced to fine crumbs. As an alternative, one may place these cookies into a sealable plastic bag and utilize a rolling pin to crush them to the desired consistency.

Once crushed, transfer the Oreo crumbs to a mixing bowl. Introduce the melted butter to the crumbs and combine using a fork until the mixture is uniformly moistened.

Distribute the Oreo and butter combination evenly amongst the 16 paper-lined muffin tin sections, using approximately 1 ½ tablespoons for each. Apply pressure to compact the mixture at the base of each section using a spoon or the base of a ¼ cup measuring device. Subject the crust to a baking duration of 6 minutes, then remove from the oven and set aside to cool.

In a separate bowl, whisk the cream cheese using an electric mixer at medium speed. Continue for 2-3 minutes or until the texture becomes creamy and smooth.

Sequentially incorporate the granulated sugar, sour cream, heavy whipping cream, and pure vanilla extract, mixing on a low speed until all ingredients are thoroughly combined.

Introduce the eggs to the mixture, ensuring to mix sparingly so as not to overwork the filling.

Break the remaining 8 standard Oreo cookies into small fragments and manually integrate them into the cream cheese mixture using a spatula.

Carefully transfer the filling into each muffin tin section, placing it atop the pre-set crust. It is advisable to use a scoop capable of holding three tablespoons for accurate portioning.

Bake the cheesecakes for a span of 16-17 minutes. Ensure the perimeters are firm and the centers retain slight movement. Once baking is completed, allow the cheesecakes to cool at room temperature for a minimum of 30 minutes. Following this, relocate them to a refrigerator for no less than 3 hours. If desired, prior to serving, one may choose to garnish each cheesecake with whipped cream, additional Oreo crumbs, and a miniature Oreo cookie.