Indulge in the simplicity of No Bake Cookies, a delightful blend of oatmeal, cocoa, and peanut butter, creating fudgy, irresistible treats ready in just 33 minutes!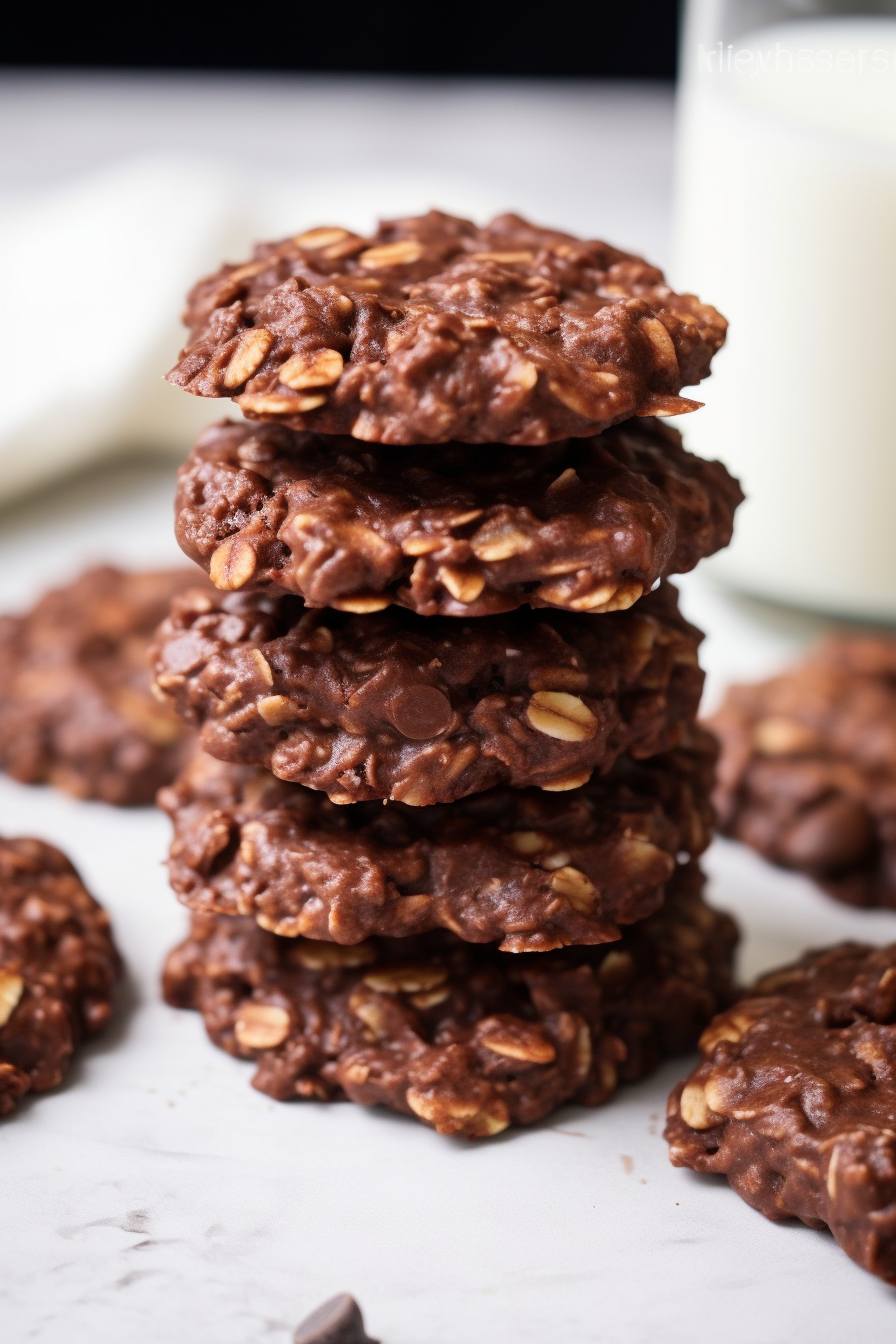 The Nostalgic Magic of No Bake Cookies:
These No Bake Cookies are more than just a recipe to me; they're a trip down memory lane. I remember the first time I made them; I was about ten years old, barely tall enough to reach the countertop without a stool. My grandmother, a wizard in the kitchen, introduced me to these beauties on a rainy afternoon. We'd run out of eggs, and I was devastated thinking our baking plans were ruined. But then she pulled out her old, stained recipe book and showed me this gem. The magic of watching the cocoa, butter, and sugar transform into this glossy, chocolatey mixture was mesmerizing. The aroma of peanut butter melting into this lava of chocolate was my first real baking memory. Every time I scoop these cookies onto the baking sheet now, I'm instantly ten again, standing on a stool, wide-eyed, watching magic happen in my grandmother's kitchen.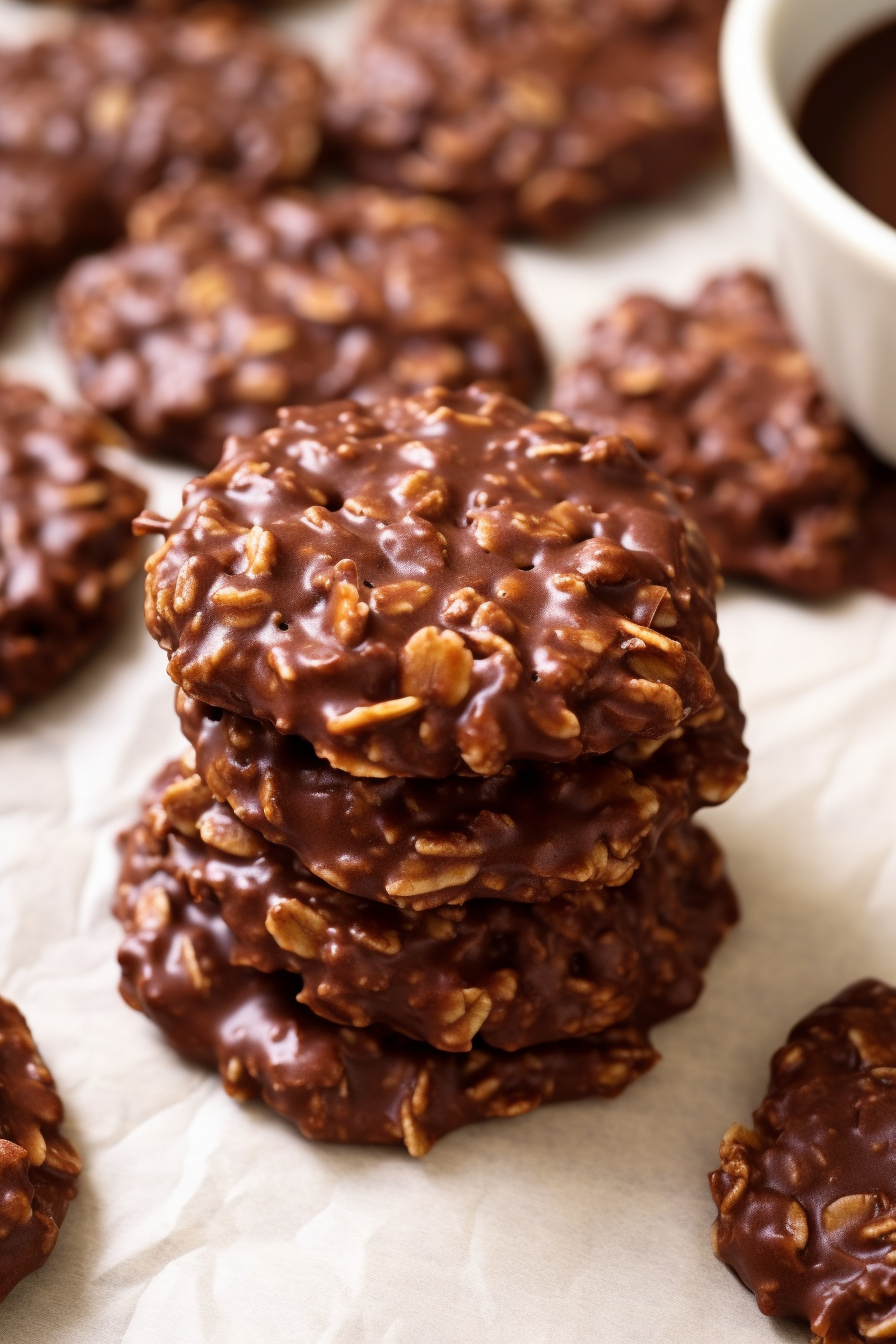 Why You'll Love No Bake Cookies
Effortlessly Quick & Simple: With a preparation time of merely 5 minutes and a cooking time of 8 minutes, these cookies are the epitome of convenience. Perfect for those spontaneous cravings or unexpected guests!
No Oven Required: Perfect for summer days when you can't bear the thought of turning on the oven, or for those living in dorms or with limited kitchen facilities.
Fudgy Texture & Rich Flavor: The combination of creamy peanut butter and rich cocoa ensures a luxuriously fudgy texture and deep chocolate flavor that's hard to resist.
Childhood Nostalgia: A classic recipe that many remember from childhood, perfect for recreating those sweet, nostalgic moments.
Versatile & Customizable: Easily adaptable, these cookies can be tweaked with various add-ins like nuts, chocolate chips, or coconut, making them a new experience every time.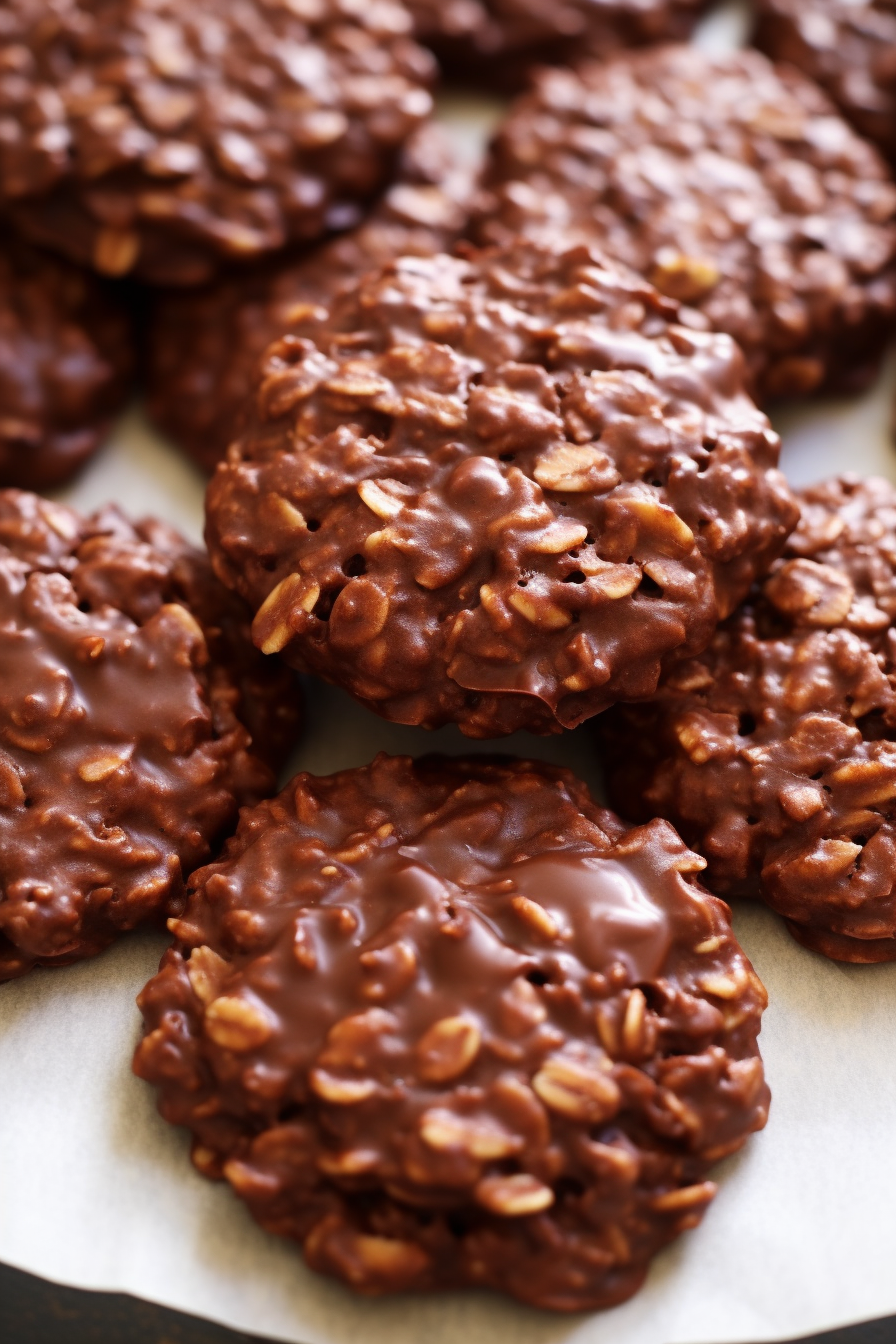 Ingredients Notes For No Bake Cookies
A Closer Look at What You'll Need for No Bake Cookies:
Salted Butter: Adds richness and a subtle saltiness that balances the sweetness. If using unsalted butter, consider adding a pinch of salt.
Granulated Sugar: The backbone of sweetness in these cookies. It also helps in creating the right texture.
Unsweetened Cocoa Powder: Provides the deep chocolate flavor. Make sure it's unsweetened to control the sweetness level.
Milk: Acts as the liquid base and helps to bind all the ingredients together. You can use any kind you have on hand.
Vanilla Extract: A dash of vanilla enhances all the other flavors, so don't skip it!
Creamy Peanut Butter: This is the star ingredient that gives these cookies their distinctive taste and fudgy texture. Chunky peanut butter can be used for added texture.
Quick Oats: The structural element of the cookies. Quick oats are essential as they're smaller and softer than old-fashioned oats, which are too chewy for this recipe.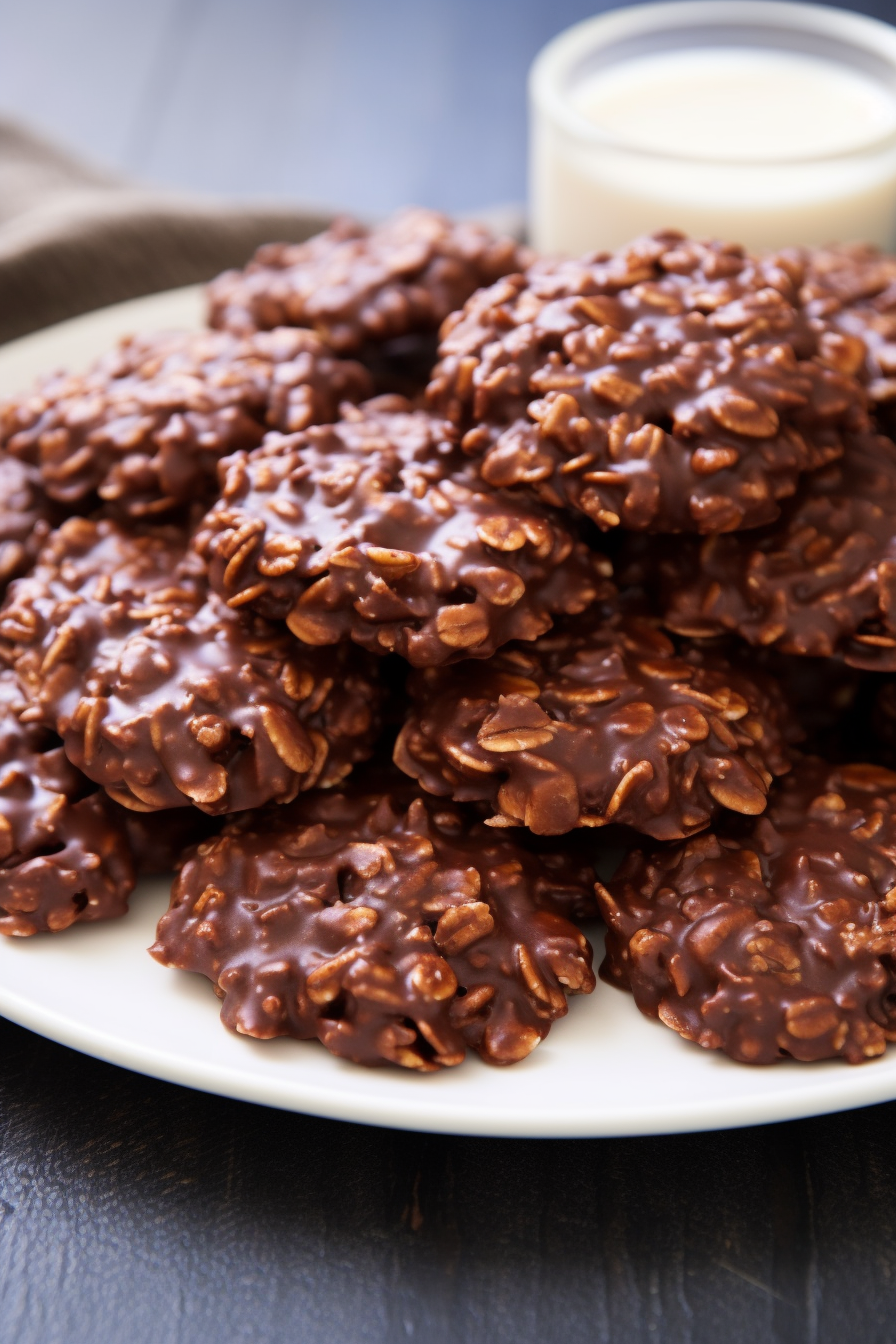 Recipe Steps Explained
Here's Your Roadmap to No Bake Cookie Success:
Preparation: Start by lining your baking sheets with parchment paper or setting out cupcake liners. This is crucial for a non-stick experience and an easy clean-up.
Combining Ingredients: In your saucepan, mix the butter, sugar, cocoa, and milk. This blend is the foundation of your cookies, so ensure everything is well combined.
The Cooking Process: Cook this mixture over medium heat. Keep stirring; you're looking for a full boil, which is key to getting the right consistency.
The Boiling Point: Let it boil for 60 seconds. This is where the magic happens, transforming the mix into a thick, glossy chocolate base. It's crucial not to stir during this minute – let the heat do its work!
Final Add-Ins: Off the heat, quickly add in the vanilla, peanut butter, and quick oats. Stir until everything is well mixed. This step is where your cookies start taking shape, as the oats absorb the chocolatey goodness.
Shaping the Cookies: Using a cookie scoop or spoons, drop the mixture onto your prepared sheets or liners. Size them as you like, but remember, the bigger they are, the longer they'll take to set.
Setting Time: Patience is key! Let them rest at room temperature to set, which should take about 20-30 minutes. If you're in a rush, pop them in the fridge.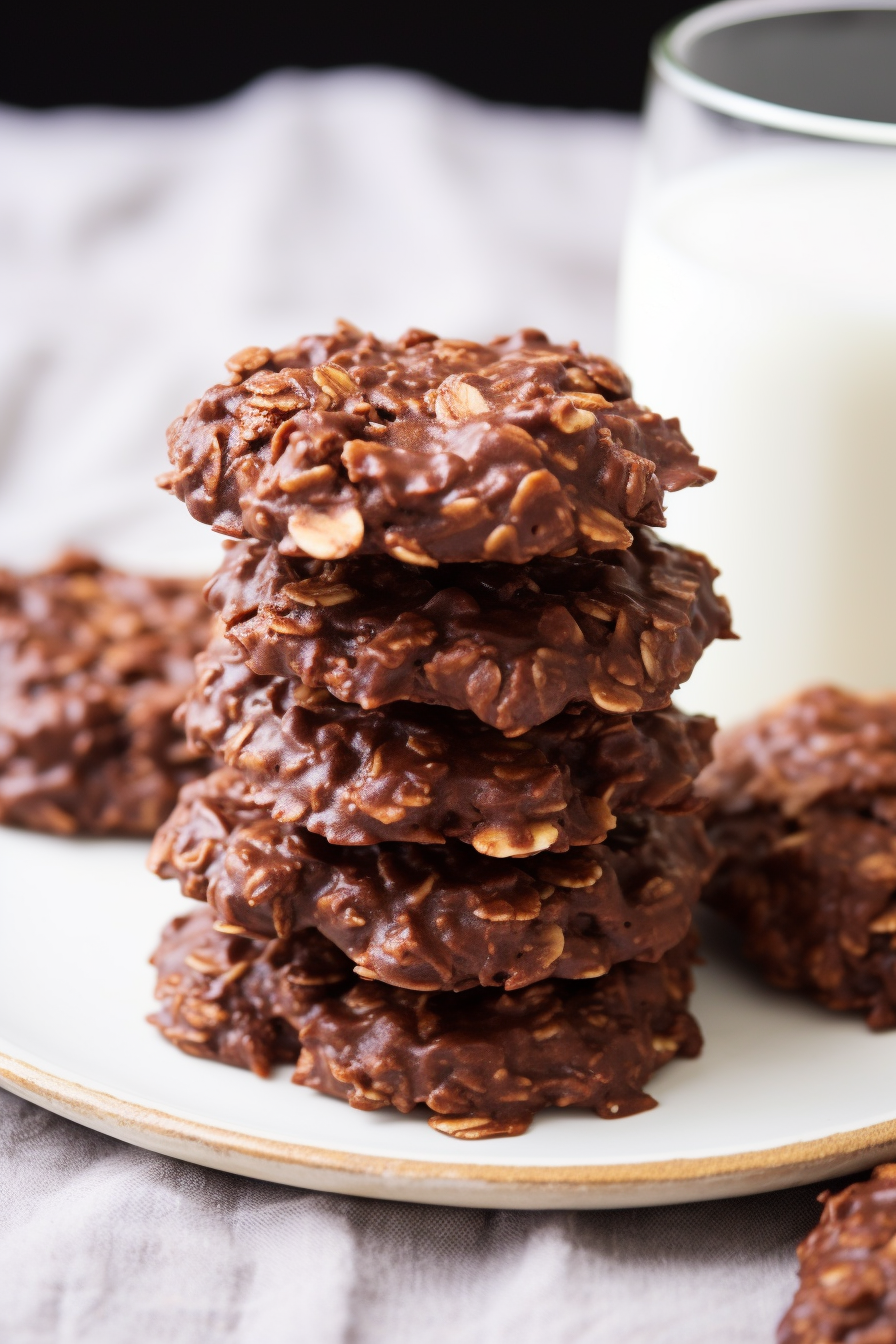 Storage Options
Keeping Your No Bake Cookies Fresh and Delicious: Store these delightful cookies in an airtight container at room temperature. They'll stay fresh and fudgy for up to a week, though it's a rare occurrence for them to last that long without being devoured! If you're in a warmer climate, consider storing them in the fridge to maintain their shape and texture.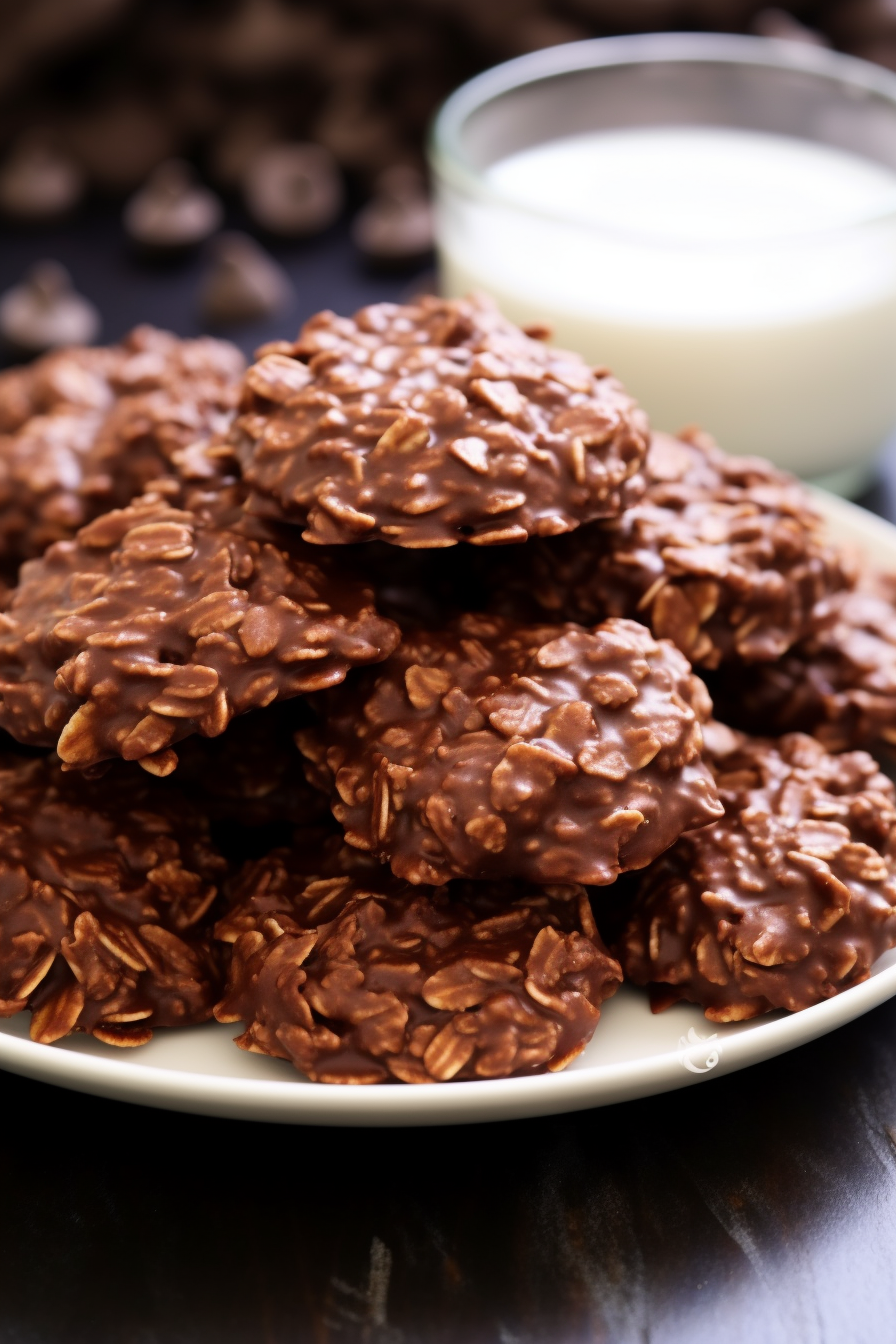 Variations and Substitutions
Shake Things Up with These Fun Twists:
Nut Butter Swap: Not a fan of peanut butter or dealing with allergies? Almond butter, cashew butter, or sunflower seed butter are great alternatives.
Chocoholic's Dream: For an extra chocolate kick, mix in some chocolate chips or chunks just after you stir in the oats.
Nutty Crunch: Add chopped nuts like walnuts, pecans, or almonds for a delightful crunch.
Fruit Fun: Stir in some dried fruit like raisins, cranberries, or chopped apricots for a fruity twist.
Vegan-Friendly: Use dairy-free butter and milk to make these cookies vegan.
Sweetener Swap: Experiment with different types of sweeteners like brown sugar, coconut sugar, or even honey for a different flavor profile.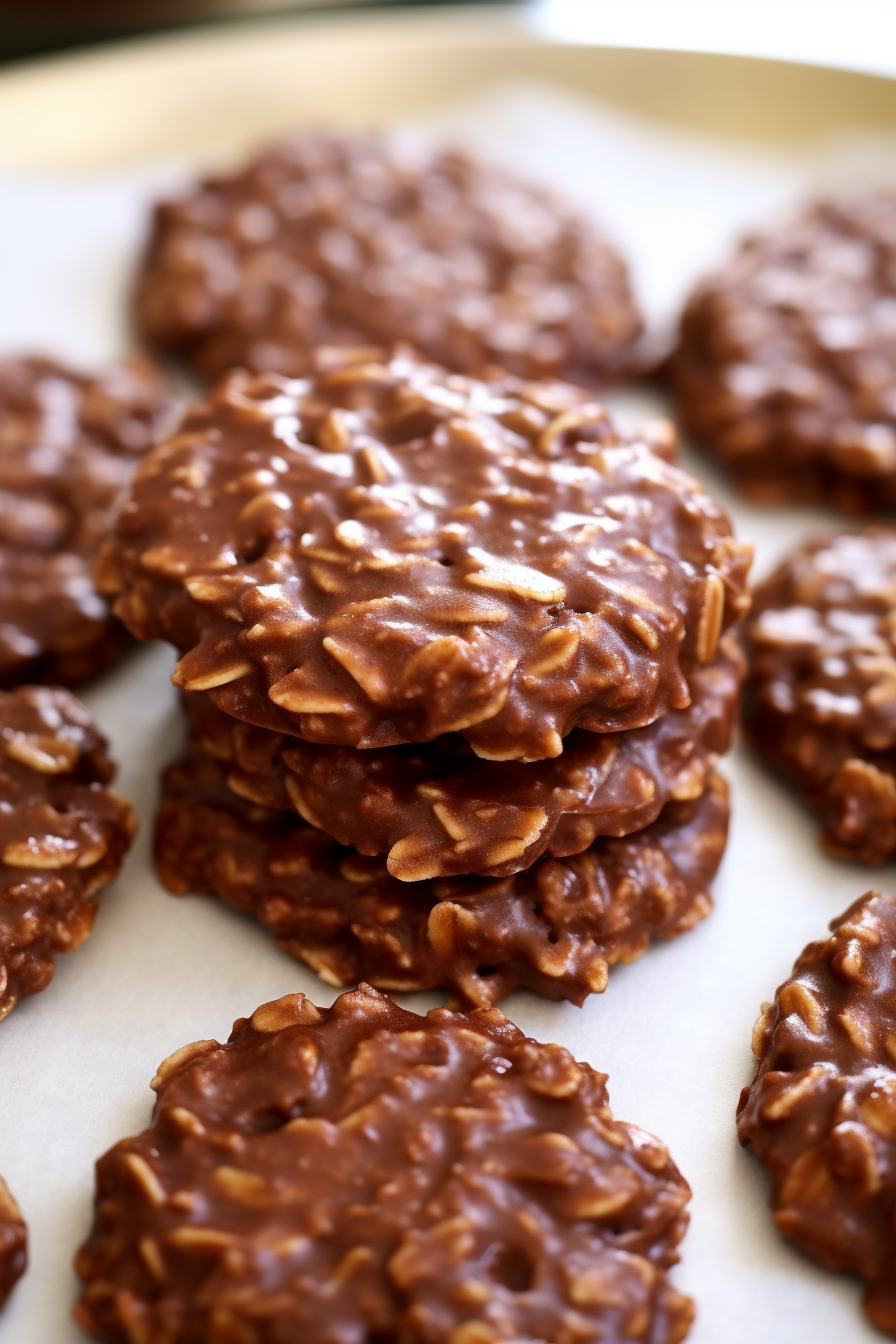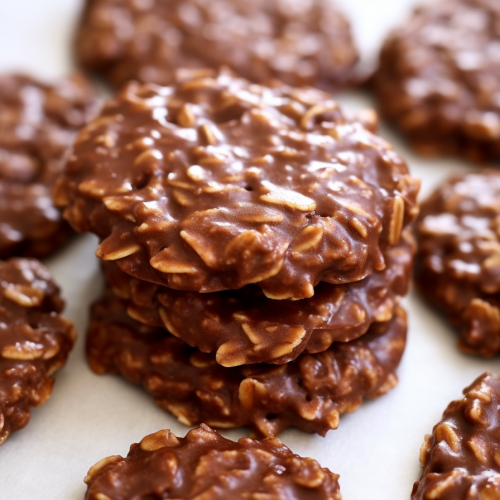 No Bake Cookies
Indulge in the simplicity of No Bake Cookies, a delightful blend of oatmeal, cocoa, and peanut butter, creating fudgy, irresistible treats ready in just 33 minutes!
Print
Pin
Rate
Ingredients
113

grams

Salted Butter

350

grams

Granulated Sugar

32

grams

Unsweetened Cocoa Powder

120

milliliters

Milk

1

teaspoon

Vanilla Extract

160

grams

Creamy Peanut Butter

275

grams

Quick Oats

Note: Old fashioned oats are not recommended for this recipe
Instructions
Prepare two baking sheets by lining them with parchment paper or alternatively, arrange approximately 29 cupcake liners for use.

In a medium saucepan (approximately 2.5 to 3 quarts in size), combine the butter, sugar, cocoa powder, and milk. Place the saucepan over a medium heat setting.

Stir the mixture frequently and continue to cook until it reaches a full rolling boil.

Allow the mixture to boil for exactly 60 seconds, refraining from stirring during this time.

Immediately after the boiling period, remove the saucepan from the heat. Quickly incorporate the vanilla extract, peanut butter, and quick oats into the mixture, stirring until the ingredients are uniformly combined.

Using a medium-sized cookie scoop (equivalent to 2 tablespoons) or two spoons, drop the cookie mixture onto the prepared baking sheets or into the cupcake liners.

Let the cookies rest at room temperature until they are set, which typically takes about 20 to 30 minutes. For a quicker setting process, the cookies can be refrigerated.

Once set, store the cookies in an airtight container at room temperature for optimal freshness.