Indulge in the delightful fusion of cinnamon apple cake and salted caramel in this Salted Caramel Apple Sheet Cake recipe, featuring simple ingredients like all-purpose flour, cinnamon, apples, and a homemade caramel glaze.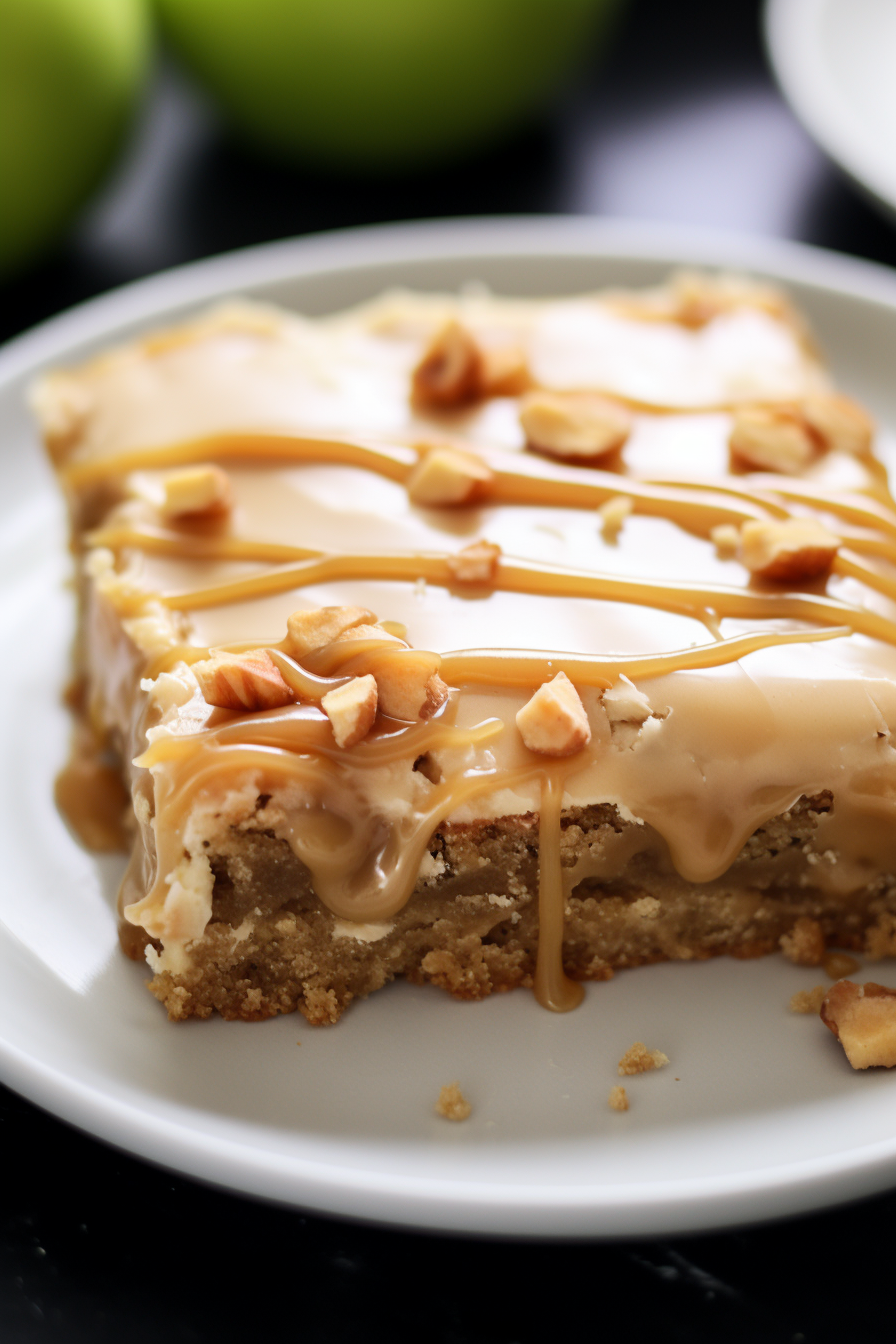 Every bite of this Salted Caramel Apple Sheet Cake takes me back to my grandmother's cozy kitchen, where the aroma of cinnamon and apples promised a slice of heaven. As a child, I'd watch in awe as she skillfully blended simple ingredients into something magical. This recipe, inspired by her legendary apple cakes and my love for caramel, is my homage to those cherished moments. Perfecting the balance of flavors, from the tartness of Granny Smith apples to the richness of salted caramel, became my culinary mission. Now, each time I bake this cake, it's like a sweet reunion with my beloved grandma, her wisdom, and our shared love of baking.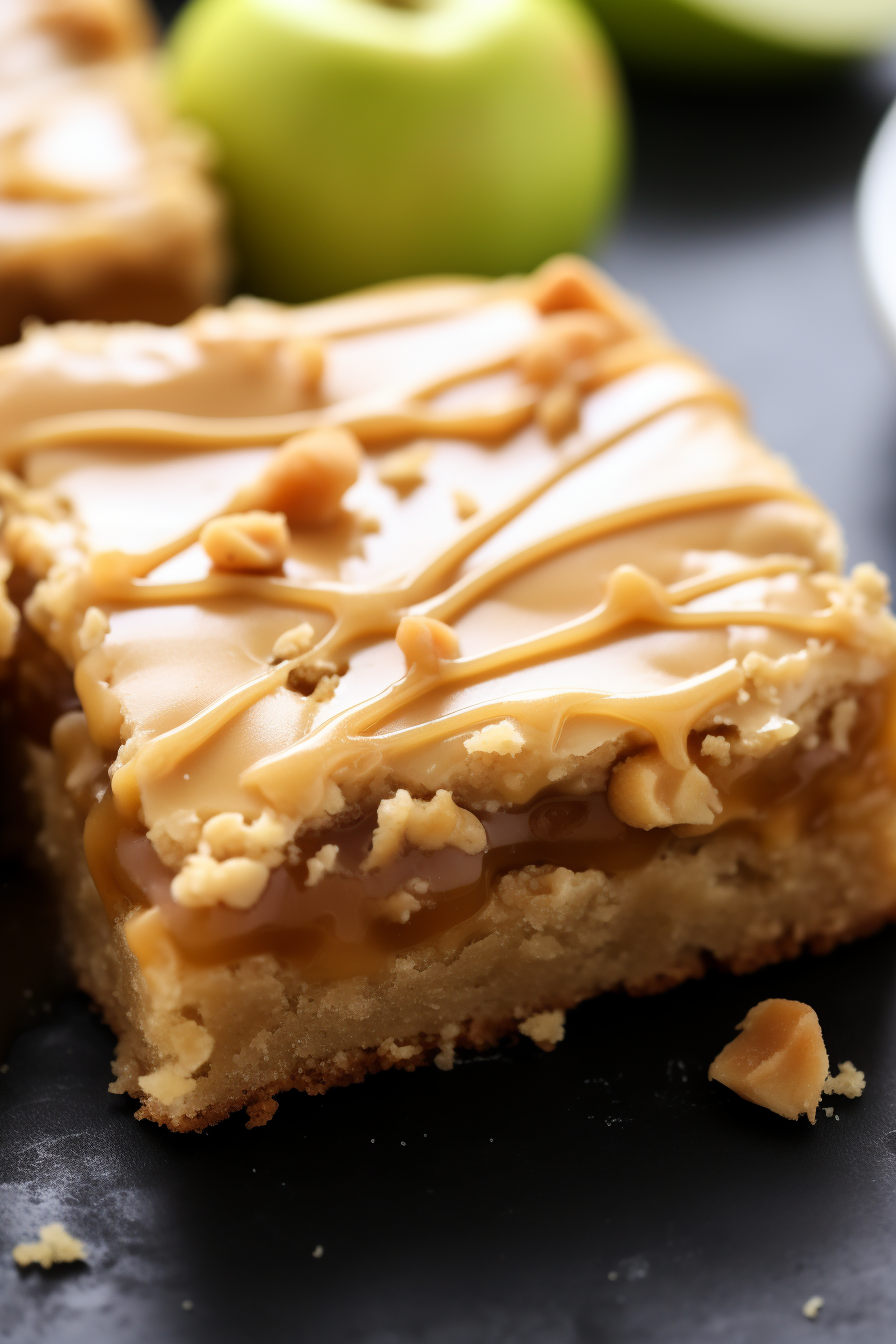 Why You'll Love Salted Caramel Apple Sheet Cake
Perfect Texture Balance: Combining a tender, spongey cinnamon apple cake with a glossy, thick salted caramel glaze creates a delightful contrast in textures.
Crowd-Pleaser: Its sheet cake form makes it incredibly convenient for serving large gatherings, ensuring everyone gets a taste of this irresistible treat.
Seasonal Charm: The use of seasonal ingredients like fresh Granny Smith apples and warming cinnamon makes this cake an ideal choice for holiday celebrations and autumn gatherings.
Versatile and Customizable: The recipe allows for variations in sweetness and can be easily modified to cater to different dietary needs or preferences.
Simple Ingredients, Sophisticated Flavor: While the ingredients are basic pantry staples, the cake's flavor profile is anything but simple, offering a sophisticated blend of sweet, salty, and tangy notes.
Ingredients Notes
Creating this Salted Caramel Apple Sheet Cake is a delightful culinary adventure, and the key lies in understanding your ingredients. Starting with all-purpose flour, the backbone of our cake, providing structure and softness. Cinnamon and Granny Smith apples are the stars, offering that quintessential autumnal flavor and a delightful tartness that balances the cake's sweetness. Using both granulated and light brown sugar enriches the cake's flavor complexity, with the brown sugar adding a hint of caramel-like depth. The role of unsalted butter in both the cake and glaze cannot be overstated – it's all about richness and moisture. The inclusion of buttermilk is a clever twist, introducing a subtle tang and enhancing the cake's tenderness. And, of course, the salted caramel sauce in the glaze elevates this cake from ordinary to extraordinary, bringing in a salty-sweet symphony that's hard to resist. Remember, quality ingredients translate to a cake that's not just good, but spectacular!
Recipe Steps
Embarking on the journey of baking the Salted Caramel Apple Sheet Cake is like stepping into a world of delightful flavors and aromas. This step-by-step guide will ensure that your cake turns out perfect every time.
Making the Cake
Preparation: Start by preheating your oven to 400°F, ensuring it's hot and ready for your cake. Grease your choice of a jellyroll pan or sheet pan with butter or oil for easy cake removal.
Dry Ingredients: In a large bowl, whisk together the flour, cinnamon, baking soda, salt, and both sugars. This not only combines them but also helps in evenly distributing flavors.
Butter-Water Mixture: Heat butter and water in a saucepan until the butter melts and bring it to a boil. This process helps to dissolve the sugars and meld the flavors together. Once boiled, mix it with the dry ingredients. The slight cooling before the next step is crucial for the right texture.
Final Batter Mix: Add in buttermilk, eggs, vanilla, and apples to the mixture. The buttermilk and eggs add richness and ensure the cake is moist, while the vanilla enhances the flavor. The apples provide the tartness and texture that are pivotal to this cake. Pour the batter into your prepared pan and spread it evenly.
Baking: Bake for the specified time based on your pan choice. The cake is done when a toothpick comes out clean, indicating it's cooked through but still moist. Let it cool in the pan on a wire rack, allowing the structure to set.
Making the Glaze
Combining Ingredients: For the glaze, mix butter and milk in a heat-proof bowl and microwave until the butter melts. This forms the base of your glaze.
Adding Sweetness and Flavor: Gradually add powdered sugar, ensuring a smooth, lump-free consistency. Stir in vanilla and caramel for that irresistible flavor. Adjust the thickness of the glaze with more powdered sugar if needed.
Glazing the Cake: Pour the glaze over the slightly warm cake, allowing it to seep slightly into the cake, creating pockets of caramel goodness. Let it set before slicing to ensure the glaze holds its form.
Storage Options
Once you've managed to resist eating the entire Salted Caramel Apple Sheet Cake in one sitting (a feat of self-control), you'll find that storing it is a breeze. This cake keeps well at room temperature for a couple of days – just make sure it's covered, preferably in a cake container or under a cake dome, to keep it from drying out. For longer storage, pop it in the fridge where it will stay fresh for up to a week. Remember to cover it well or keep it in an airtight container to maintain its moistness and prevent it from absorbing any fridge odors. If you're a plan-ahead kind of baker, you'll be thrilled to know that this cake freezes beautifully. Wrap individual slices or the entire cake in plastic wrap and then foil, and it'll stay delicious in your freezer for up to 3 months. Just thaw it at room temperature or in the fridge when you're ready to dive back into caramel apple bliss.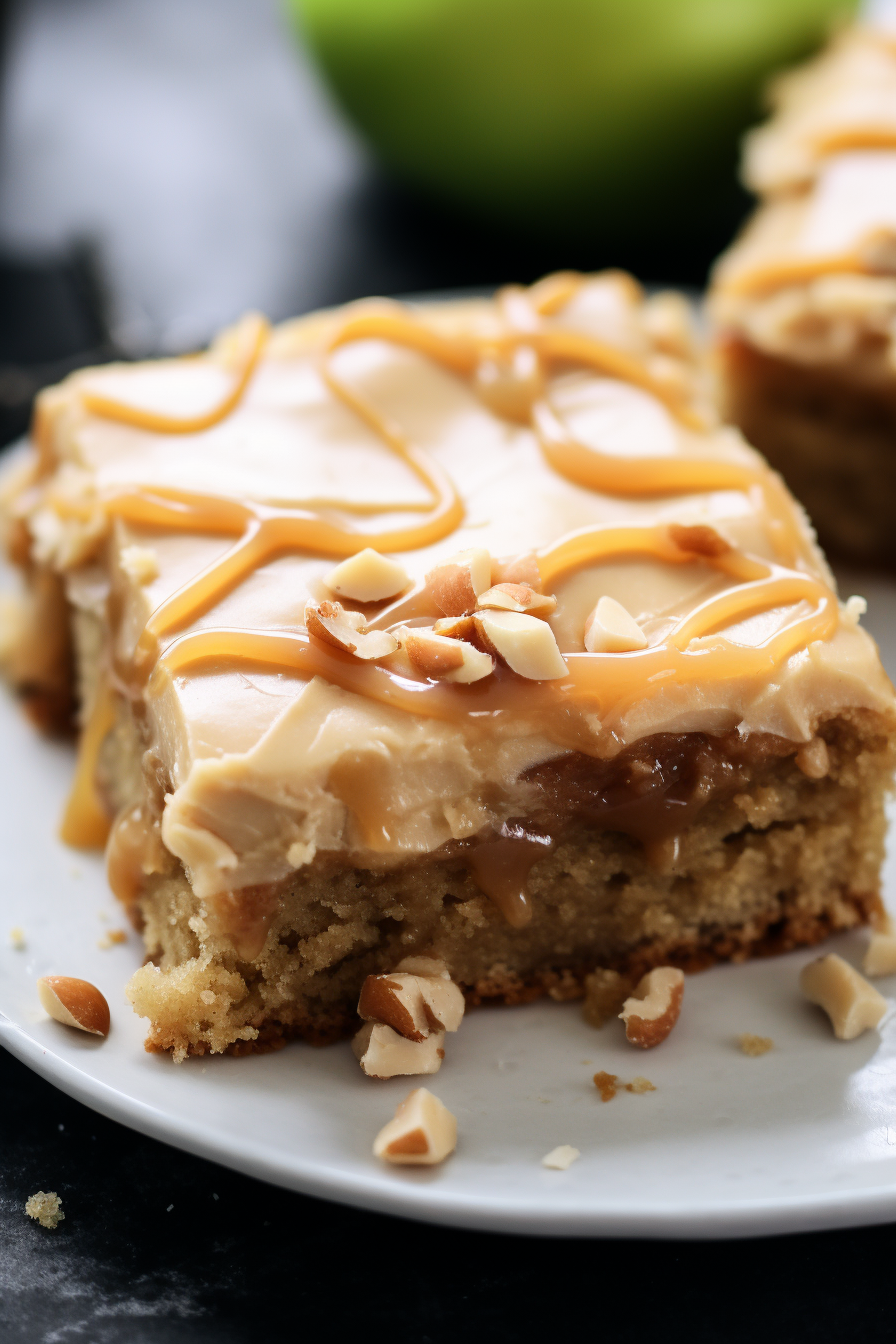 Variations and Substitutions
Flour Alternatives: If you're catering to gluten-free needs, swap the all-purpose flour with a good gluten-free flour mix. Just make sure it's a 1:1 substitute to keep the cake's texture intact.
Sugar Adjustments: For those who prefer a less sweet cake, you can reduce the amount of granulated sugar slightly. Remember, this might slightly alter the cake's texture.
Buttermilk Hack: No buttermilk? No problem! You can easily make your own by mixing a cup of milk with a tablespoon of lemon juice or vinegar and letting it sit for about 10 minutes.
Apple Varieties: While Granny Smith apples are perfect for their tartness and firmness, feel free to experiment with other apple varieties like Honeycrisp or Braeburn for a different flavor profile.
Caramel Sauce Options: If you're short on time, a store-bought caramel sauce works wonders. For a dairy-free version, look for coconut milk-based caramel sauces.
Nutty Additions: For an added crunch, sprinkle chopped walnuts or pecans over the cake before or after adding the glaze.
Spice It Up: If you're a fan of spices, feel free to add a dash of nutmeg or allspice to the batter for an extra warm flavor dimension.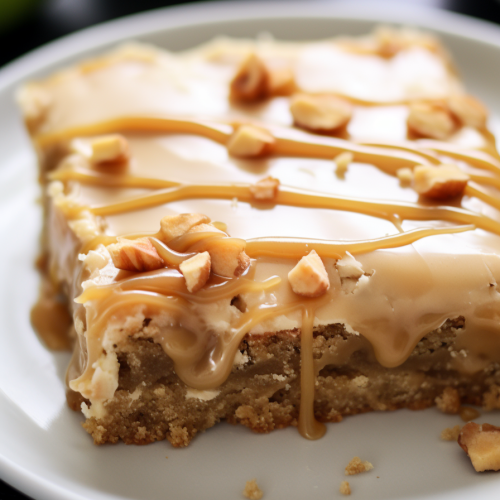 Salted Caramel Apple Sheet Cake
Indulge in the delightful fusion of cinnamon apple cake and salted caramel in this Salted Caramel Apple Sheet Cake recipe, featuring simple ingredients like all-purpose flour, cinnamon, apples, and a homemade caramel glaze.
Print
Pin
Rate
Ingredients
For the Cake:
254

grams

All-Purpose Flour

1

teaspoon

Ground Cinnamon

1/2

teaspoon

Baking Soda

1/4

teaspoon

Salt

200

grams

Granulated Sugar

200

grams

Light Brown Sugar

lightly packed

227

grams

Unsalted Butter

236

ml

Water

120

ml

Buttermilk

2

Large Eggs

1

teaspoon

Vanilla Extract

200

grams

Granny Smith Apples

peeled and chopped (approximately 2 medium apples)
For the Glaze:
113

grams

Unsalted Butter

60

ml

Milk

375

grams

Powdered Sugar

sifted

1/2

teaspoon

Vanilla Extract

60

ml

Salted Caramel Sauce

store-bought or homemade
Instructions
Preparing the Cake:
Preheat the oven to 400°F (204°C). Generously apply butter or oil to a 10-by-15-inch jellyroll pan or a 16-3/4 by 12-inch sheet pan to prevent sticking.

In a substantial bowl, thoroughly mix the flour, cinnamon, baking soda, salt, granulated sugar, and brown sugar.

In a medium saucepan over medium-high heat, melt the butter with 1 cup of water. Bring the mixture to a boil and then remove it from the heat. Pour this into the bowl containing the flour mixture. Allow it to cool slightly.

Following the slight cooling, incorporate the buttermilk, eggs, and vanilla extract. Stir gently, ensuring not to overmix. Then, fold in the chopped apples.

Transfer the batter into the prepared pan, ensuring an even spread. Bake for approximately 20 minutes if using a jelly roll pan, or 17 minutes for a 16.75 by 12-inch pan. The cake is ready when a toothpick inserted into it comes out clean. Allow the cake to cool in the pan, placed on a wire rack, for 15 to 20 minutes.
Preparing the Glaze:
In a large, heat-proof bowl, combine the butter and milk. Heat in the microwave until the butter has fully melted.

Gradually mix in the powdered sugar until the mixture achieves a smooth consistency. Stir in the vanilla extract and caramel sauce. If the glaze appears too thin, additional powdered sugar can be added to reach the desired thickness.

Pour the glaze evenly over the cake while it is still slightly warm. The glaze should be allowed to set for approximately 15 minutes before the cake is sliced and served.