Indulge in the ultimate Thanksgiving Stuffing, featuring hearty bread, rich butter, fresh herbs, aromatic veggies, and perfectly seasoned chicken broth. A homemade delight that eclipses any boxed version!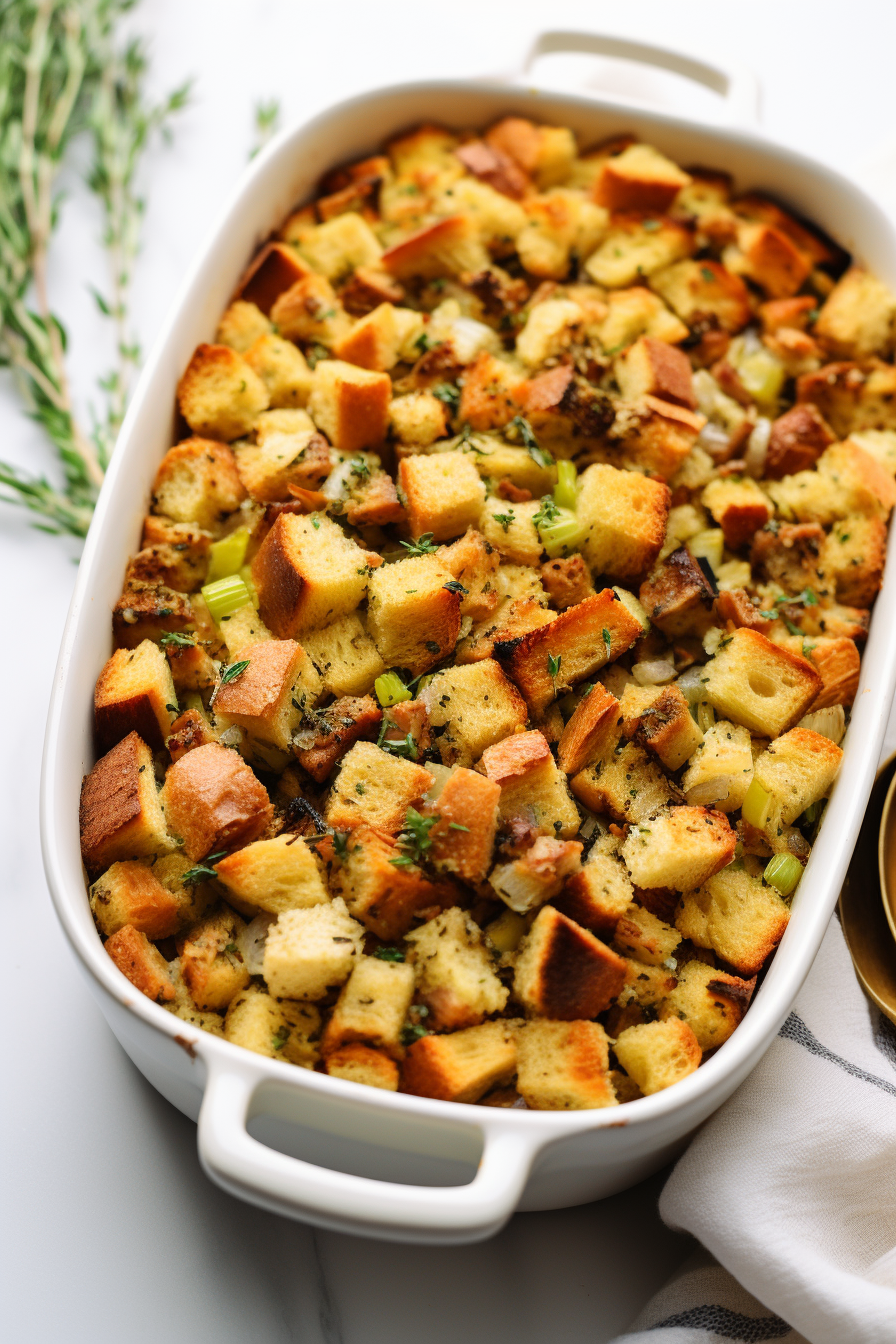 Every Thanksgiving, as the aromas of roasted turkey and sweet pies waft through the house, I'm instantly taken back to my grandmother's kitchen. It was there, amidst her collection of worn recipe cards and the ever-present hum of the old oven, that I first learned the art of making stuffing. Grandma, with her flour-dusted apron and twinkling eyes, would let me help tear the bread for her famous stuffing. She'd share stories of her childhood Thanksgivings as we mixed in the fresh herbs and sautéed veggies. "The secret," she'd whisper conspiratorially, "is in using real butter and just the right amount of chicken broth." Years later, armed with her recipe and a pantry full of memories, I continue the tradition. Each Thanksgiving, as I mix the stuffing, I can't help but smile, feeling her love and warmth in every savory, buttery bite.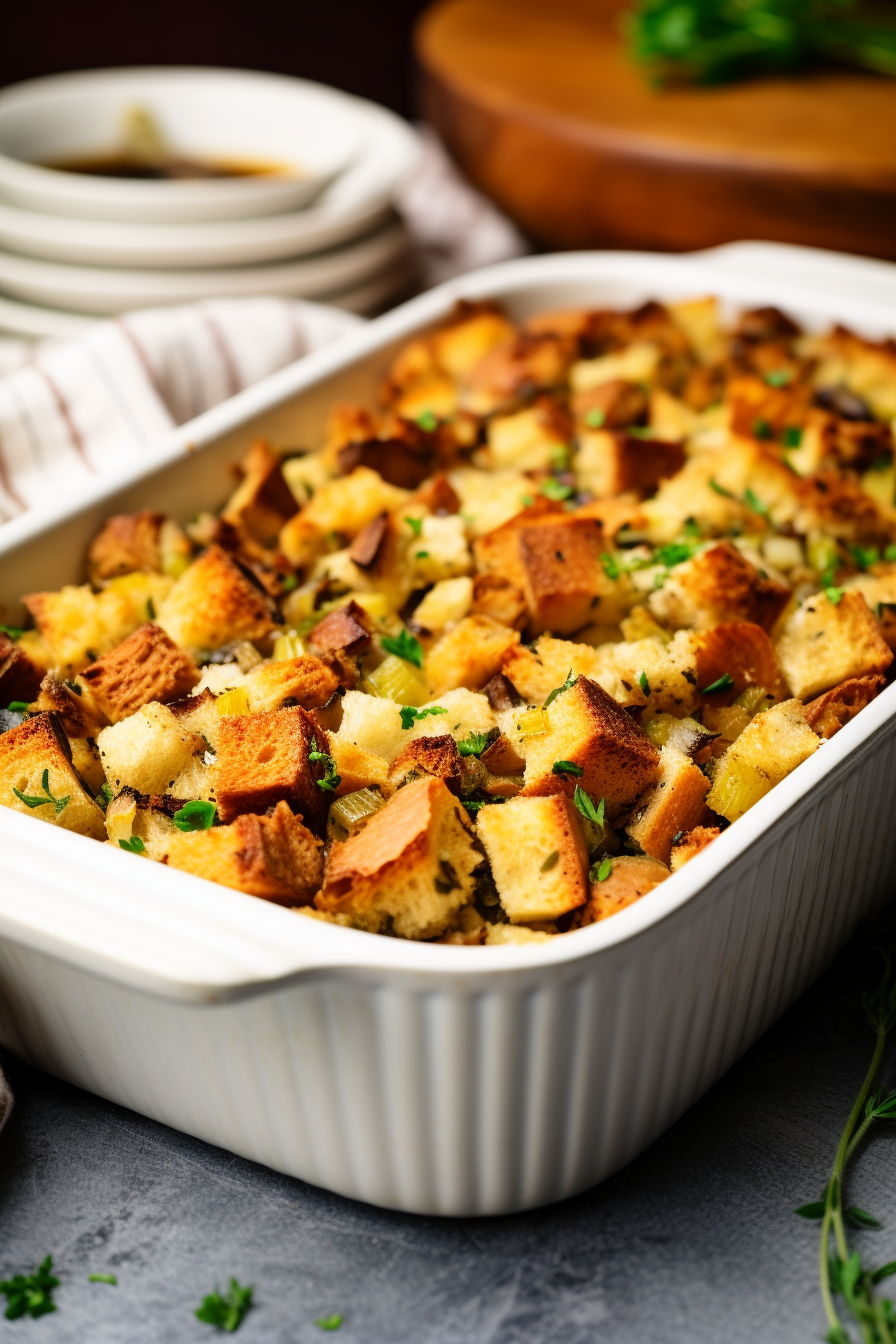 Why You'll Love Thanksgiving Stuffing
Homemade Goodness: Ditch the box! This recipe is made from scratch, providing a taste and quality that store-bought versions simply can't match.
Fresh Herbs Galore: The use of fresh parsley, sage, thyme, and rosemary infuses the stuffing with vibrant, garden-fresh flavors.
Butter-Rich Indulgence: Generous amounts of butter ensure every bite is deliciously rich and satisfying.
Perfect Texture: The combination of dried bread cubes and just the right amount of broth results in a stuffing that's moist without being soggy.
Customizable Broth Content: The recipe allows for adjusting the chicken broth amount, ensuring the perfect level of moisture for every preference.
Ingredients Notes For Thanksgiving Stuffing
Intro: Crafting the perfect Thanksgiving stuffing is an art, and like any masterpiece, it starts with high-quality ingredients. Here's a little breakdown to help you get each component just right:
Bread Choice: Opt for a hearty French bread or a robust sandwich bread. The sturdiness of these bread types holds up well against the broth and butter, giving your stuffing that ideal texture.
Chicken Broth: Low-sodium is key here; it lets you control the salt level of your dish. The amount can be adjusted based on your texture preference.
Fresh Herbs vs. Dried: While fresh herbs bring a brighter flavor, don't sweat it if you need to use dried. Just remember, dried herbs are more potent, so you'll need less.
Butter: Unsalted butter allows for a rich flavor without overpowering the dish with saltiness.
Aromatics: Yellow onions and celery form the classic base of flavors. Ensure they are finely chopped for a consistent texture throughout.
Eggs: They act as a binder, keeping your stuffing cohesive and moist.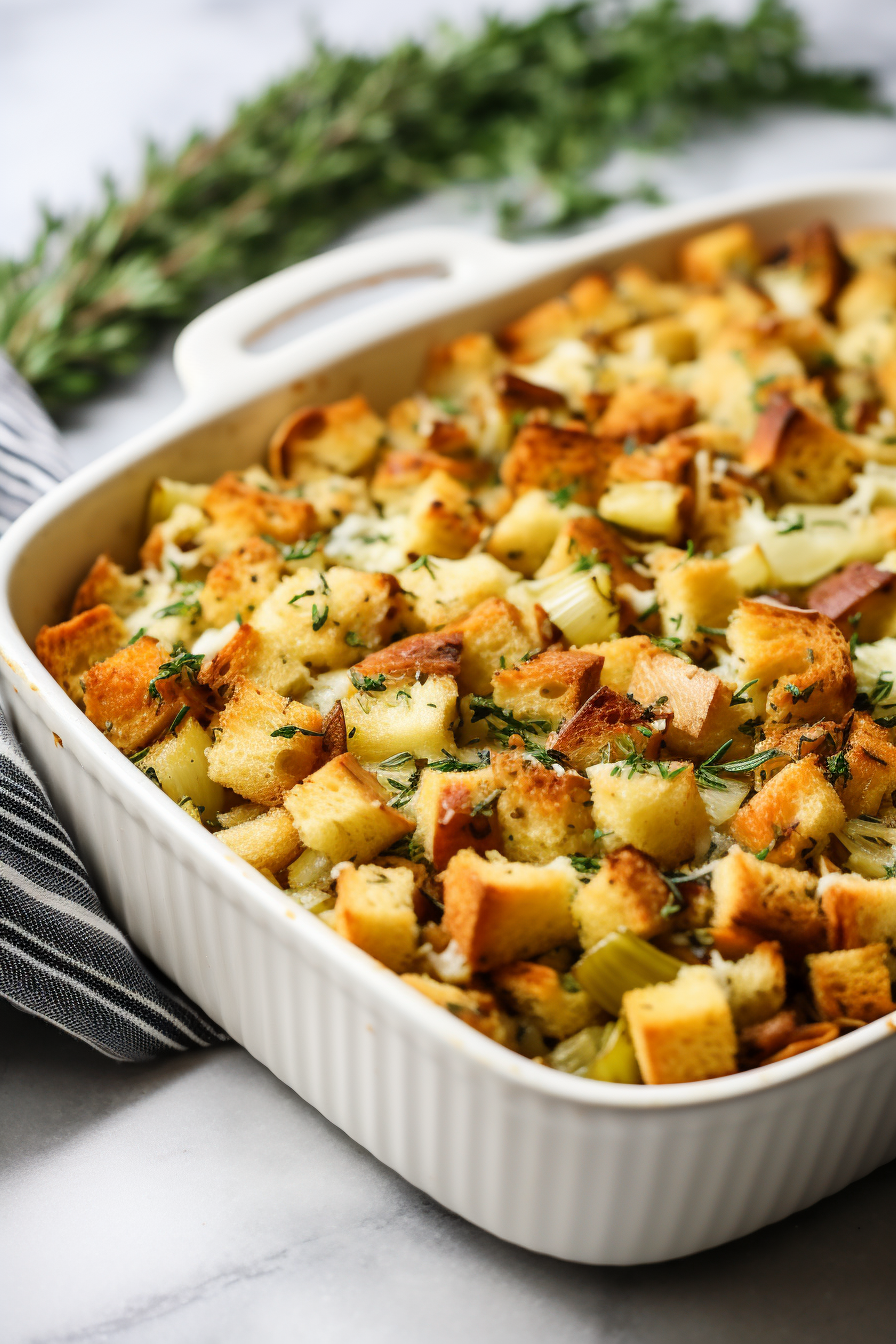 Recipe Steps Breakdown
Intro: Thanksgiving stuffing is more than just a side dish; it's a vessel of comfort and tradition. Follow these steps to ensure your stuffing is the talk of the table:
Drying the Bread: Begin by preheating your oven to a gentle 250 degrees. Spread the bread cubes on baking sheets, giving them space to breathe. The slow bake dries them out perfectly, ensuring they soak up the broth and butter later without turning to mush.
Mixing Liquids: In a measuring cup, whisk together chicken broth, eggs, salt, and pepper. This mixture is your stuffing's secret weapon, binding the ingredients and adding moisture.
Sautéing Veggies: Melt that glorious butter in a skillet and sauté your onions and celery until they're tender and aromatic, adding garlic towards the end. This step is crucial for infusing your stuffing with those classic Thanksgiving flavors.
Combining Ingredients: Toss the dried bread with the herbs in a large bowl, then add the sautéed veggies. Drizzle the broth-egg mixture over, and gently toss. You're looking for a balance where the bread is moistened but not soggy.
Baking the Stuffing: Transfer everything into a greased baking dish, cover with foil, and bake. Midway through, remove the foil for that irresistible golden-brown top. If you're feeling daring, a quick broil at the end adds a delightful crunch.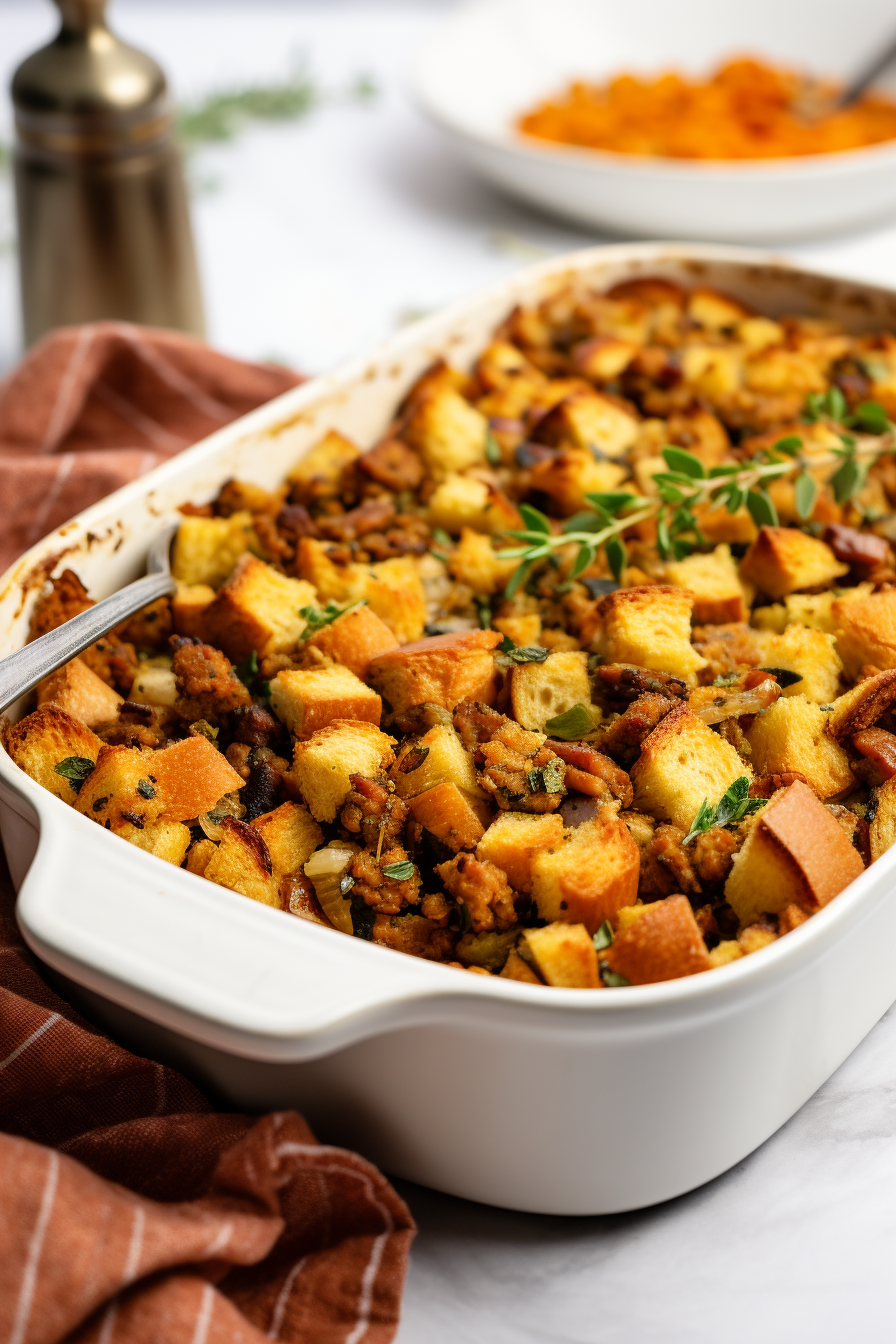 Storage Options
Post-feast, your delicious stuffing can be stored in the fridge for up to 4 days – if it lasts that long! Make sure it's in airtight containers to keep it from drying out. For a longer haul, freeze it for up to a month. Just thaw overnight in the fridge before reheating. Remember, stuffing loves moisture, so add a splash of broth or butter when reheating to revive its glory.
Variations and Substitutions
Intro: Like any legendary recipe, this stuffing is ripe for experimentation. Whether you're accommodating dietary needs or just feeling adventurous, here are some twists:
Bread Varieties: Feel free to experiment with different bread types, like sourdough or whole wheat, for a unique twist.
Vegetarian-Friendly: Swap chicken broth for vegetable broth to cater to vegetarian guests.
Gluten-Free Needs: Opt for gluten-free bread if you have dietary restrictions to consider.
Adding Meat: For a heartier stuffing, consider adding cooked sausage or bacon bits.
Vegan Adaptations: Use vegan butter and a flax or chia egg as substitutes to make it vegan-friendly.
Nutty Flair: Add toasted walnuts or pecans for an added crunch and depth of flavor.
Fruit Accents: Stir in some dried cranberries or chopped apples for a sweet, tart contrast.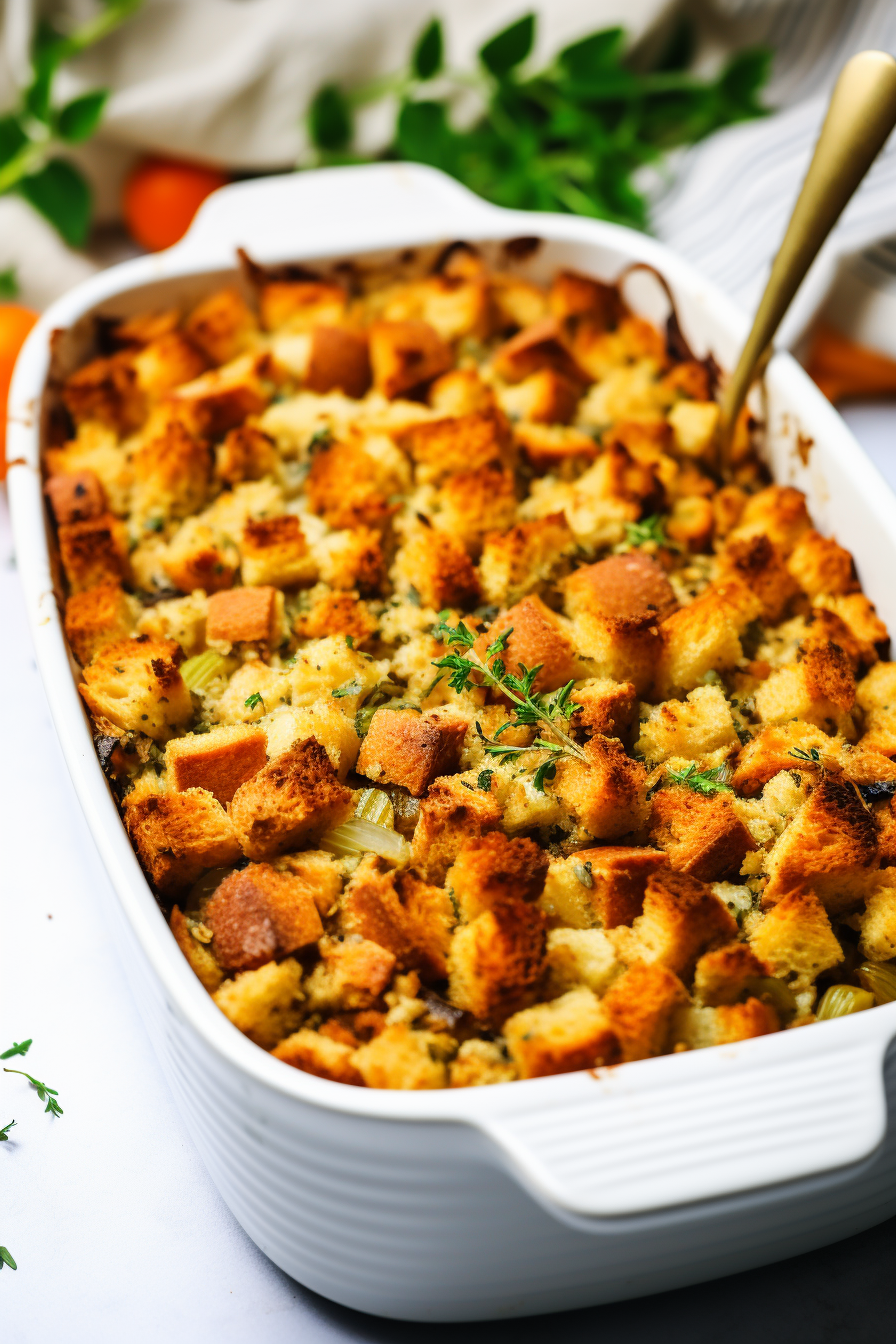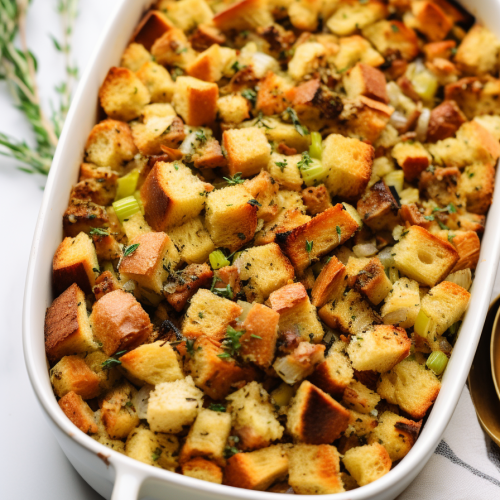 Thanksgiving Stuffing
Indulge in the ultimate Thanksgiving Stuffing, featuring hearty bread, rich butter, fresh herbs, aromatic veggies, and perfectly seasoned chicken broth. A homemade delight that eclipses any boxed version!
Print
Pin
Rate
Ingredients
2

pounds

of high-quality French bread or hearty sandwich bread

precisely cut into 3/4-inch cubes

2 1/2 to 4 1/2

cups

of low-sodium chicken broth

as required

3

large eggs

thoroughly beaten

1

teaspoon

of salt

or to taste

1/2

teaspoon

of freshly ground black pepper

1

cup

of unsalted butter

meticulously diced into 1-tablespoon pieces

2

cups

of finely chopped yellow onion

2

cups

of finely chopped celery

2

teaspoons

of minced garlic

1/3

cup

of finely chopped fresh parsley

2 1/2

tablespoons

of freshly chopped sage

or 2 1/2 teaspoons if using dried

1 1/2

tablespoons

of freshly chopped thyme

or 1 1/2 teaspoons if using dried

1

tablespoon

of freshly chopped rosemary

or 1 teaspoon if using dried and crushed

1

teaspoon

of dried marjoram
Instructions
Commence by preheating your oven to 250 degrees Fahrenheit. Arrange the bread cubes in a single layer on two 18 by 13-inch rimmed baking sheets.

Place the baking sheets in the oven. During the baking process, which lasts approximately 45 to 60 minutes, ensure that the bread cubes are tossed three times and the pans are rotated to achieve uniform drying. Once completed, set aside to cool. Subsequently, increase the oven temperature to 375 degrees Fahrenheit and adjust the oven rack to the center position.

In a liquid measuring cup, meticulously whisk together 2 1/2 cups of chicken broth with the eggs, salt, and pepper until the mixture is well blended. Set this aside.

Melt the butter in a 12-inch skillet over medium heat. Once melted, add the celery and onion, and sauté them until they are tender, which should take about 10 to 12 minutes. Following this, add the garlic and continue to sauté for an additional minute.

In an extra-large mixing bowl, place the dried bread cubes. Add the chopped parsley, sage, thyme, rosemary, and marjoram. Pour the sautéed vegetable mixture over the bread cubes, followed by the chicken broth mixture, and immediately toss to combine.

Gradually add more chicken broth while tossing, ensuring that the bread pieces are just barely soaked through.

Transfer the mixture into a greased 13 by 9-inch baking dish, spreading it into an even layer. Cover the dish with foil and bake it in the preheated oven for 30 minutes. After this period, remove the foil and continue to bake until the stuffing is cooked through, approximately 15 to 25 minutes longer. For additional browning on top, you may opt to broil the stuffing briefly, but ensure constant supervision to prevent burning.