Dive into a world of nostalgic delights with our Old-Fashioned Apple Dumplings! Featuring whole baking apples, rich pie dough, spiced sugar filling, and a delectable apple juice sauce, this treat is a delicious trip down memory lane.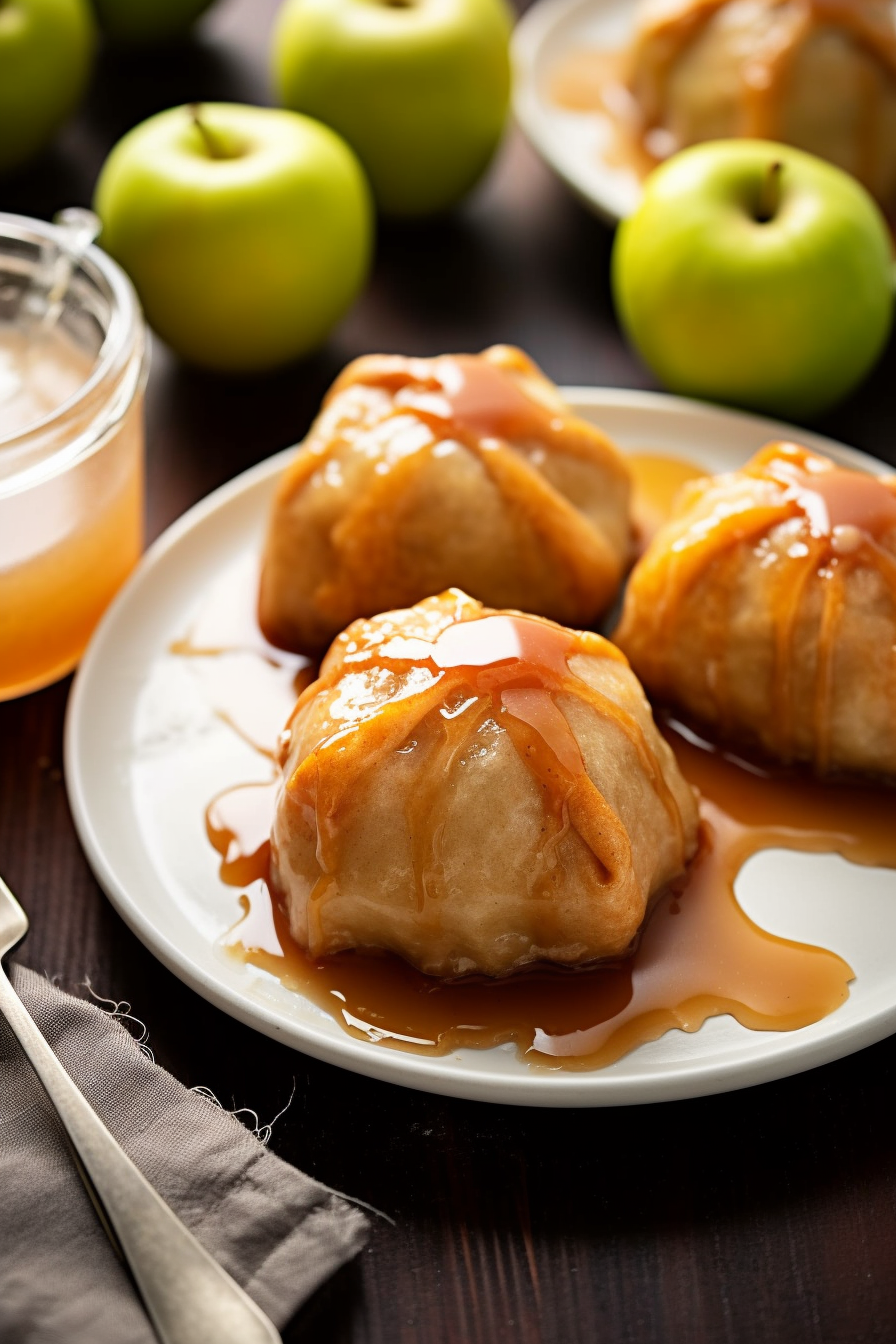 Every time I sink my teeth into these Old-Fashioned Apple Dumplings, I'm transported back to a simpler time – a time when the smell of apples baking would waft through Grandma's house. Saturday mornings were my favorite. Clad in her iconic apron, Grandma would say, "It's apple dumpling day, sweetie!" We'd pluck the juiciest apples from the backyard orchard and, with her guidance, craft these heavenly pastries. There was magic in how those homely apples transformed into the star of our weekends. These dumplings aren't just a recipe; they're a piece of my heart, a fragment of cherished memories I now get to share with you.
These Old-Fashioned Apple Dumplings are a cut above the rest, and here's why:
Whole Apples – Not slices, not chunks, but glorious whole apples, giving you that perfect juicy bite every time.
Double Pie Crust Hug: Every apple is snuggly wrapped in a generous portion of pie dough, ensuring each bite is a harmonious blend of flaky crust and succulent apple.
Spice Magic: The sprinkle of apple pie spice offers an enchanting flavor, reminiscent of autumn evenings and cozy gatherings.
Saucy Affair: That apple juice sauce is no ordinary sauce; it's a luscious blend of sweetness and buttery goodness, drizzling down to create a symphony of flavors.
Ingredient For Old-Fashioned Apple Dumplings:
Baking Apples: Opt for Honeycrisp or Granny Smith for a perfect blend of sweetness and tartness.
Pie Dough: Feel free to go homemade or store-bought, whatever floats your boat. Just ensure it's for a 9-inch double-crust pie, so our apples get their deserving pastry embrace.
Apple Pie Spice: A little goes a long way. This warm blend of spices adds that quintessential 'grandma's kitchen' vibe.
Sauce: Always choose unfiltered apple juice or apple cider for an authentic, robust apple flavor.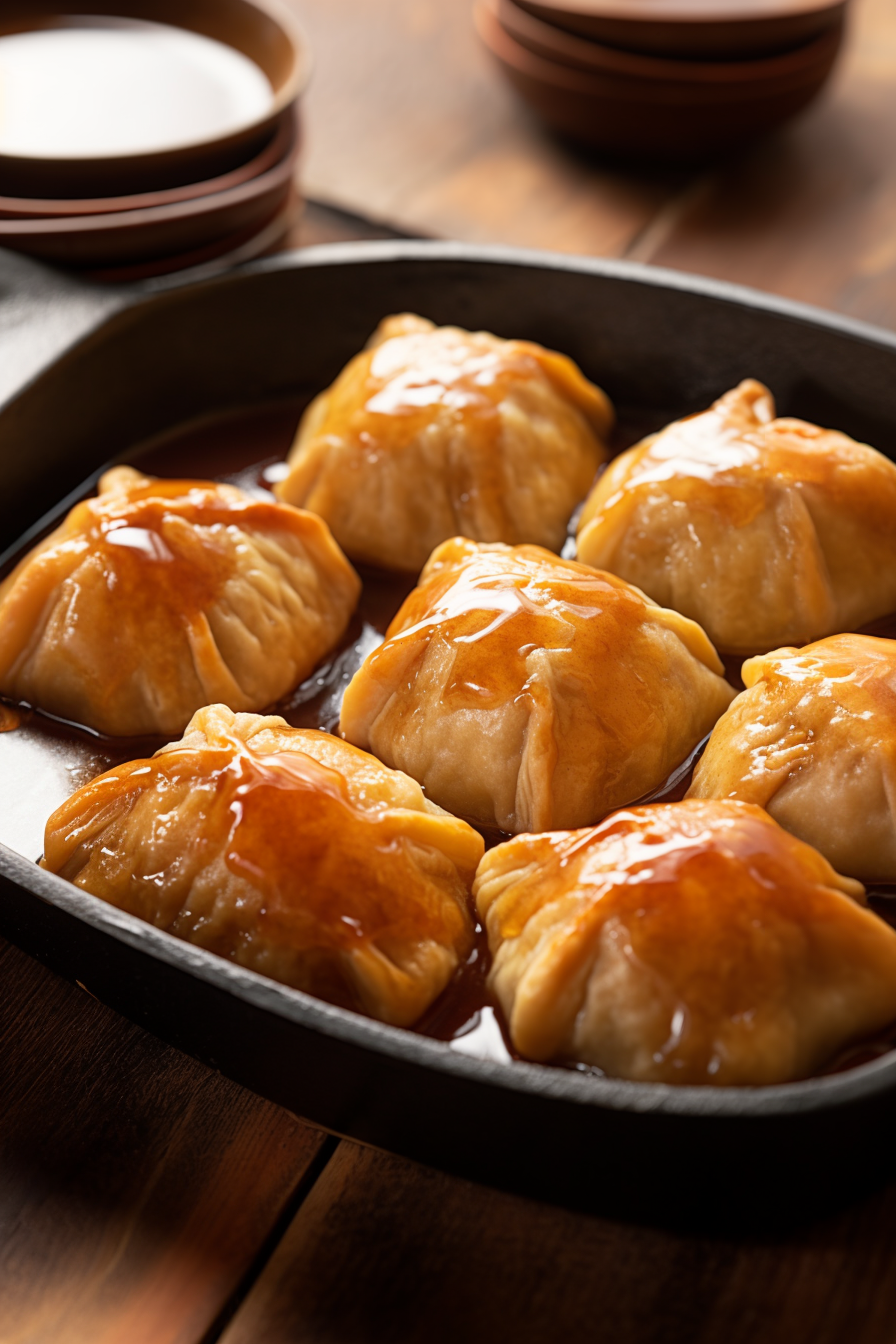 How To Make Old-Fashioned Apple Dumplings:
Step 1: Kick things off by setting your oven to 375°F and giving your baking dish a gentle greasing. This prepares the stage for our apple stars.
Step 2: Carefully peel and core the apples. A handy tip? Keep them from browning by dunking them in lemony water. Talk about a refreshing apple spa!
Step 3: Roll out that dough! Whether you're channeling your inner baker with homemade dough or using store-bought, aim for a 7×7 inch square for each apple.
Step 4: Mix that sugar and spice and everything nice. This concoction is what gives our dumplings their signature flavor punch.
Step 5: Now for the fun part! Place each apple on a dough square, stuff with butter, sprinkle with sugar-spice magic, wrap, and seal. Feels like wrapping a present, doesn't it? Step 6: On the stovetop, whisk your sauce ingredients till they boil. This sauce is liquid gold, I tell ya! Step 7: Drizzle the sauce over your dumpling-clad apples and sprinkle any leftover sugar-spice on top. Because why not? Step 8: Into the oven they go for 50-55 minutes. Once they're golden and tender, serve warm. And don't forget the sauce!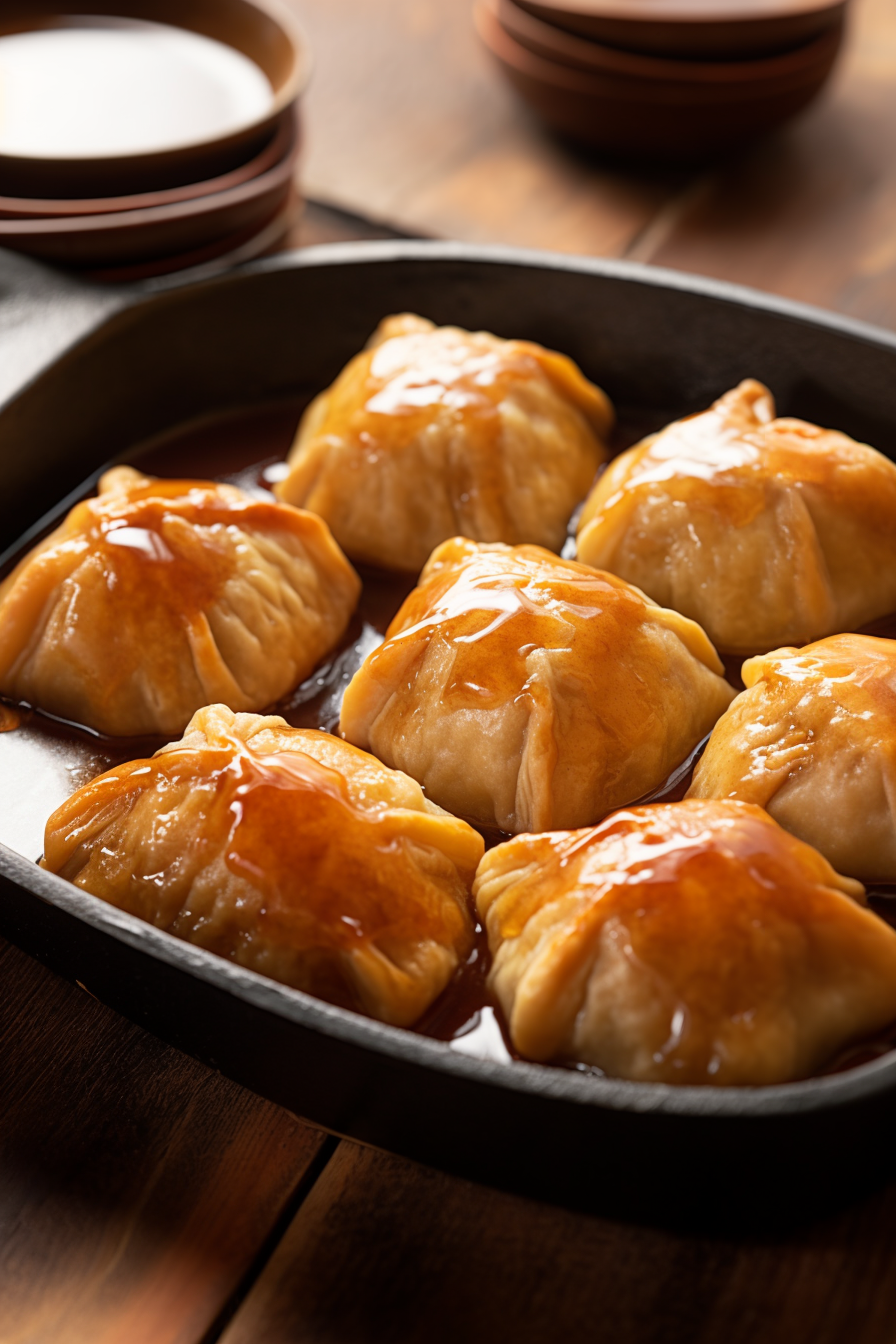 Storage Options:
Wrap your cooled dumplings in foil or plastic wrap and store them in the fridge for up to 3 days. To enjoy, just reheat in the oven or microwave. For a longer storage solution, pop them into freezer-friendly bags and freeze. When the dumpling craving hits, defrost and reheat!
Variations and Substitutions:
Feeling peachy? Substitute apples for peaches! If pie dough isn't your thing, puff pastry is a divine alternative. Swap out apple juice for pear or cranberry juice for a tangy twist. For those watching their sugar, maple syrup or honey can replace brown sugar. Remember, it's all about making these dumplings your own while keeping the essence alive.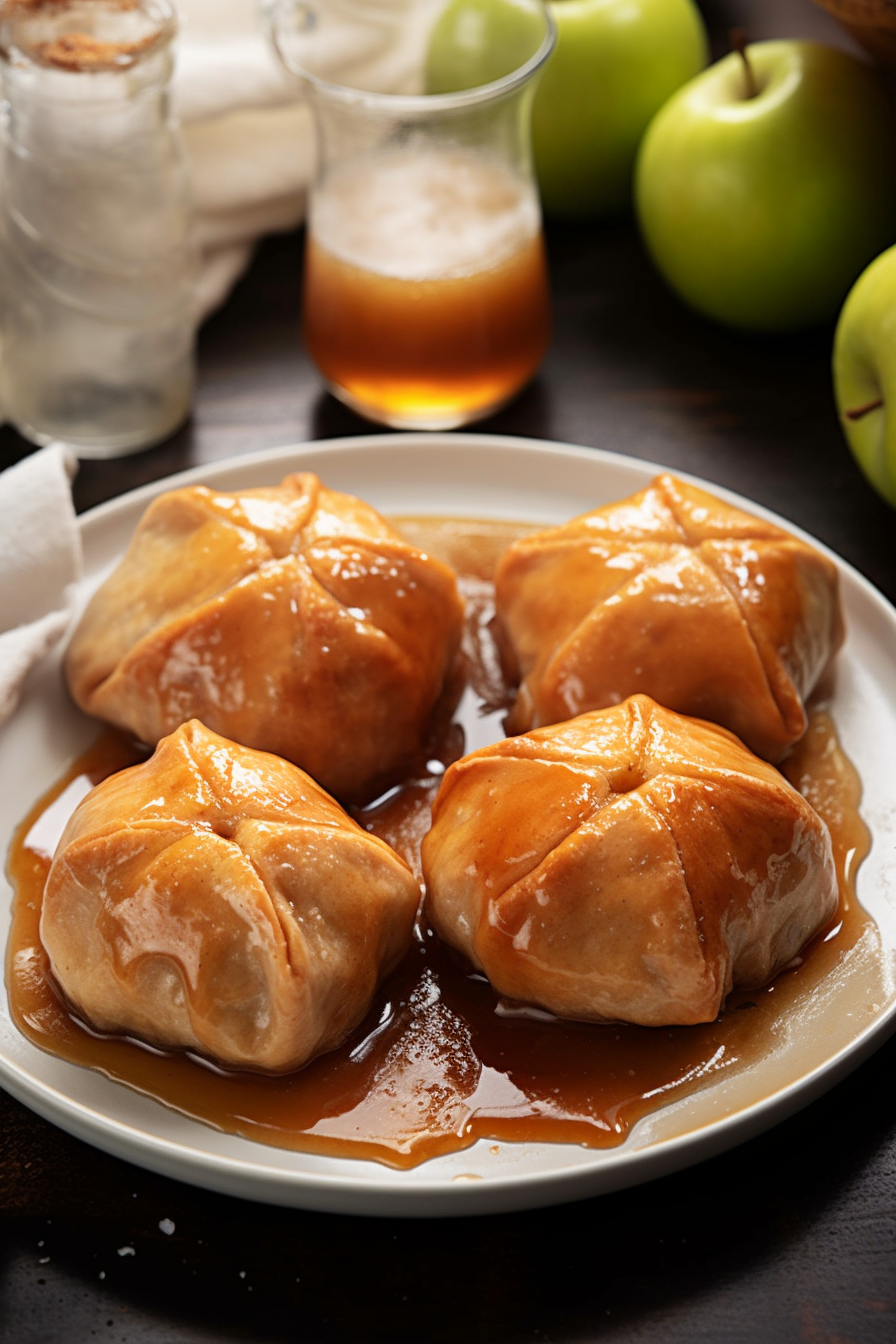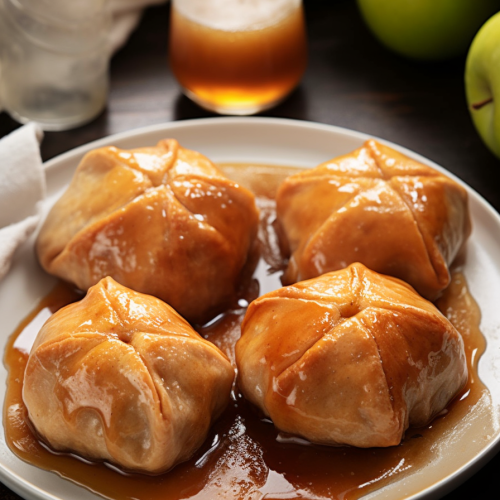 Old-Fashioned Apple Dumplings
Dive into a world of nostalgic delights with our Old-Fashioned Apple Dumplings! Featuring whole baking apples, rich pie dough, spiced sugar filling, and a delectable apple juice sauce, this treat is a delicious trip down memory lane.
Print
Pin
Rate
Ingredients
6

medium-sized baking apples of choice

preferably Honeycrisp or Granny Smith variants

Sufficient pie dough for a 9-inch double-crust pie

either artisanal or commercially procured
For the Filling:
3

tablespoons

of unsalted butter

segmented into 6 equal portions

6

tablespoons

of granulated sugar

1

teaspoon

of apple pie spice blend
For the Sauce:
1

cup

of unfiltered apple juice or cider

¾

cup

of light brown sugar

lightly packed

¼

cup

of unsalted butter
Instructions
Initiate by preheating the oven to a temperature of 375°F (190°C). Thoroughly grease a 13×9-inch baking dish and set it aside for subsequent use.

Delicately peel and core each of the apples. To mitigate oxidation and discoloration during the dough preparation process, it is advised to immerse the cored apples in cold water, augmented with a modest addition of lemon juice.

Should you be employing artisanal pie dough, proficiently roll out the dough to achieve a substantial rectangle, precisely measuring 21×14 inches. Subsequently, with precision, partition the dough into 6 congruent segments, each approximately 7×7 inches.

If utilizing commercially procured pie dough, diligently unroll the dough and segregate it into 6 congruent segments.

In an auxiliary mixing vessel, amalgamate the granulated sugar and apple pie spice blend until uniform.

Position a cored apple upon the center of each individual dough segment. In the recess of each apple, situate a portion of the butter followed by a measured tablespoon of the aforementioned sugar and spice mixture. Cautiously elevate the extremities of the dough to envelope the apple, ensuring to seal the junctions with finesse. Position each encased apple in the previously greased baking dish. Replicate this process for the entirety of the apples and dough segments.

Combine the sauce ingredients in a saucepan. Subject them to medium heat, whisking at intervals, until the concoction reaches a rolling boil and ensures the sugar is completely dissolved. Once achieved, remove from heat and meticulously disperse it over the encased apples. Garnish with any residual sugar and spice mixture.

Commit the baking dish to the preheated oven and allow it to bake for a duration of 50-55 minutes or until the exterior achieves a golden hue and the apples yield to the gentle pressure of a paring knife. Once achieved, allow a brief cooling period. It is recommended to serve these dumplings warm, accompanied by a generous drizzle of the sauce.
Nutrition
Calories:
568
kcal
|
Carbohydrates:
85
g
|
Protein:
2
g
|
Fat:
26
g
|
Saturated Fat:
13
g
|
Cholesterol:
36
mg
|
Sodium:
212
mg
|
Fiber:
3
g
|
Sugar:
57
g