Dive into the flavors of autumn with this Pumpkin Pecan Cobbler! Highlighted by pumpkin puree, aromatic spices, and crunchy pecans, this dessert conjures memories of cozy sweaters and crackling fires.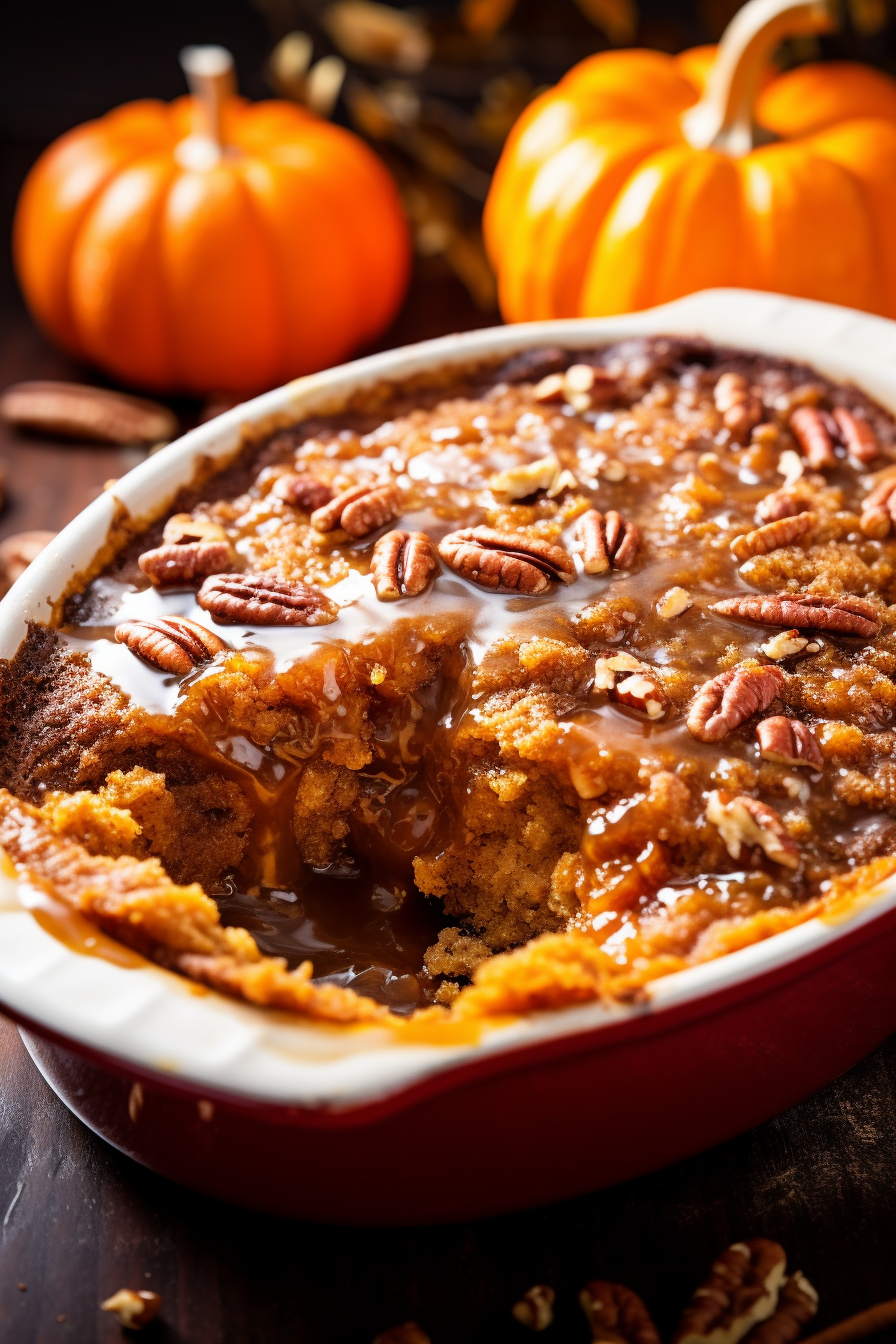 Now, gather round, dear readers! Let me tell you the tale of this Pumpkin Pecan Cobbler. One crisp fall afternoon, as I strolled amidst the fiery hues of the turning leaves, a longing welled up inside me. A longing for a dessert that wasn't just any regular dessert, but something that encapsulated the very essence of autumn. And, as the winds whispered sweet nothings of cinnamon and nutmeg, the Pumpkin Pecan Cobbler was born. Every spoonful takes me back to that moment, the sweetness of memories blending perfectly with the warmth of the season.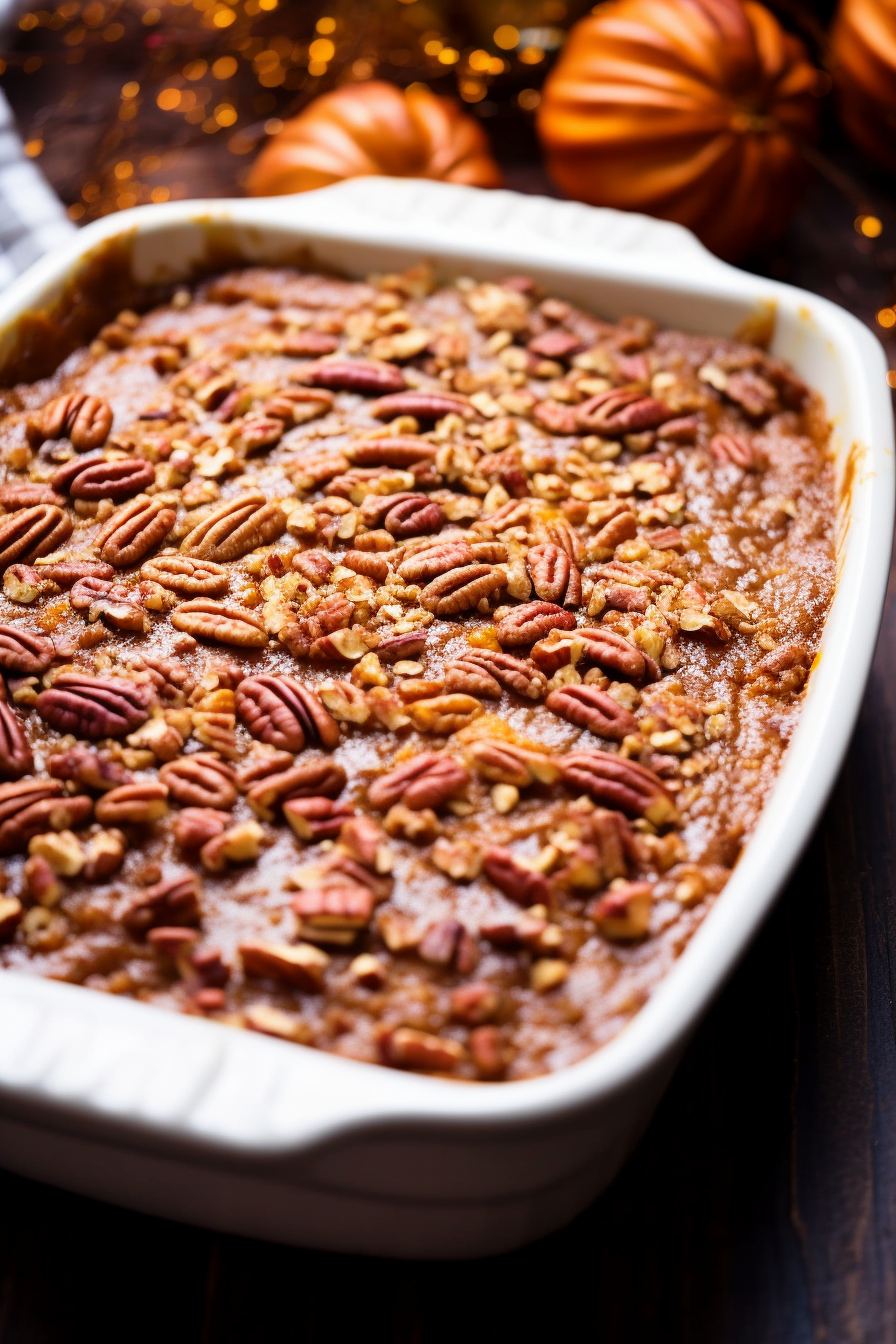 Alright, foodie friends! Let's dissect the delectable charm of this Pumpkin Pecan Cobbler. First off, it's the epitome of ease! With just a 10-minute prep, you're off to a gustatory adventure. Secondly, the magic trick – as it bakes, it crafts its own caramel sauce! (Yes, you read that right. It's like having your own little culinary elf in the oven.) And the grand finale? The harmonious blend of pumpkin and pecans, bringing together creamy richness and nutty crunch. It's not just a cobbler; it's an experience.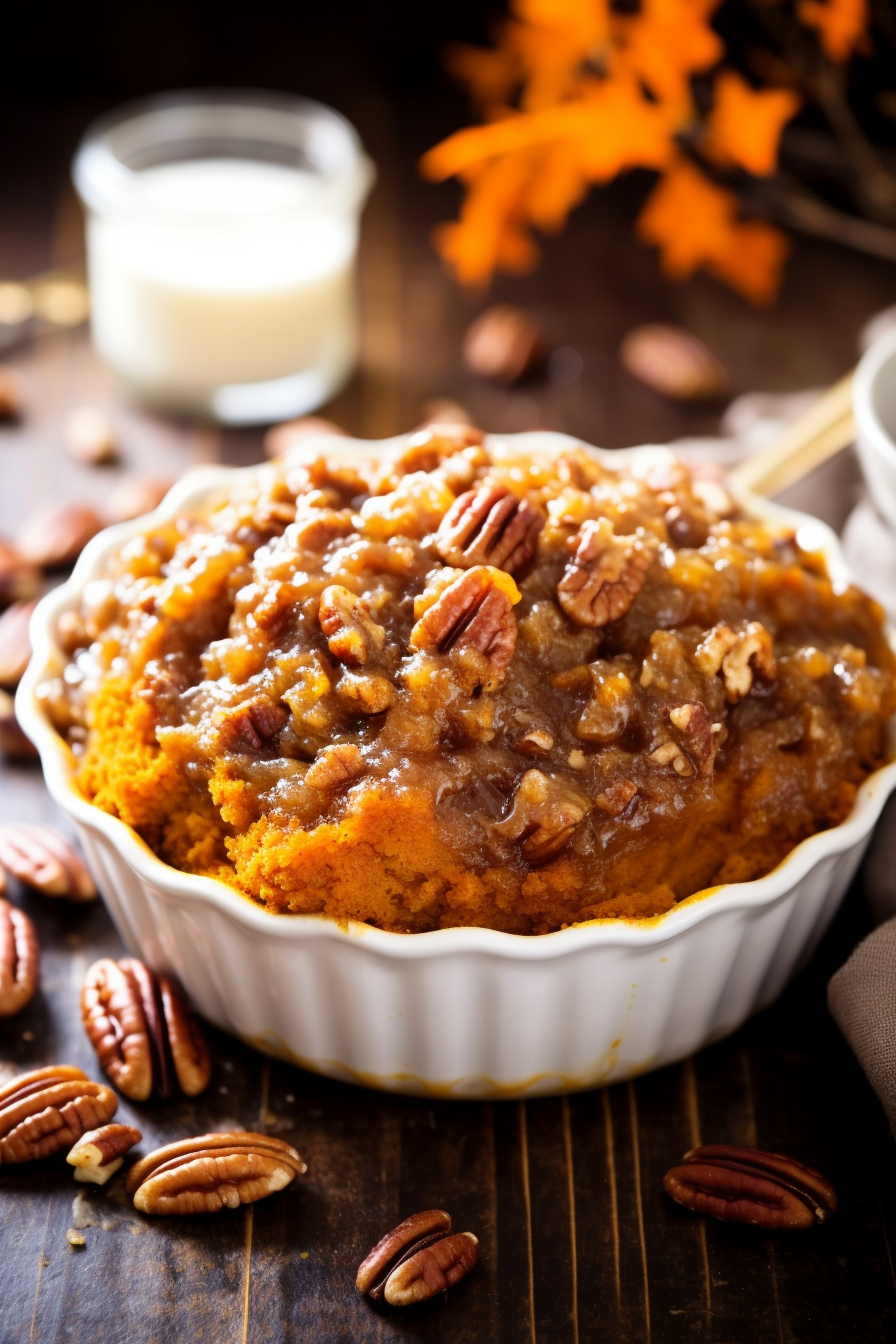 Ingredients For Pumpkin Pecan Cobbler:
Diving deep into our ingredient treasure trove:
Pumpkin Puree: Ensure it's pure pumpkin and not the pie filling, we want the genuine stuff, my friends.
Whole Wheat Pastry Flour: Adds a depth and wholesomeness, but if you're in a pinch or feeling rebellious, regular all-purpose flour won't tell on you.
Baking Powder: Aluminum-free is preferred, unless you're looking for that metallic edge to your dessert.
Spices: These are the soul of our cobbler – they transform humble pumpkin into a flavor bomb. Always opt for freshly ground, if possible. It's like the difference between watching a movie in standard definition and 4K.
Milk: Skim, full-fat, almond, oat – the world's your dairy (or non-dairy) oyster!
Brown Sugar: Dark brings a richer molasses touch, but light keeps things bright and sweet. Choose your own adventure.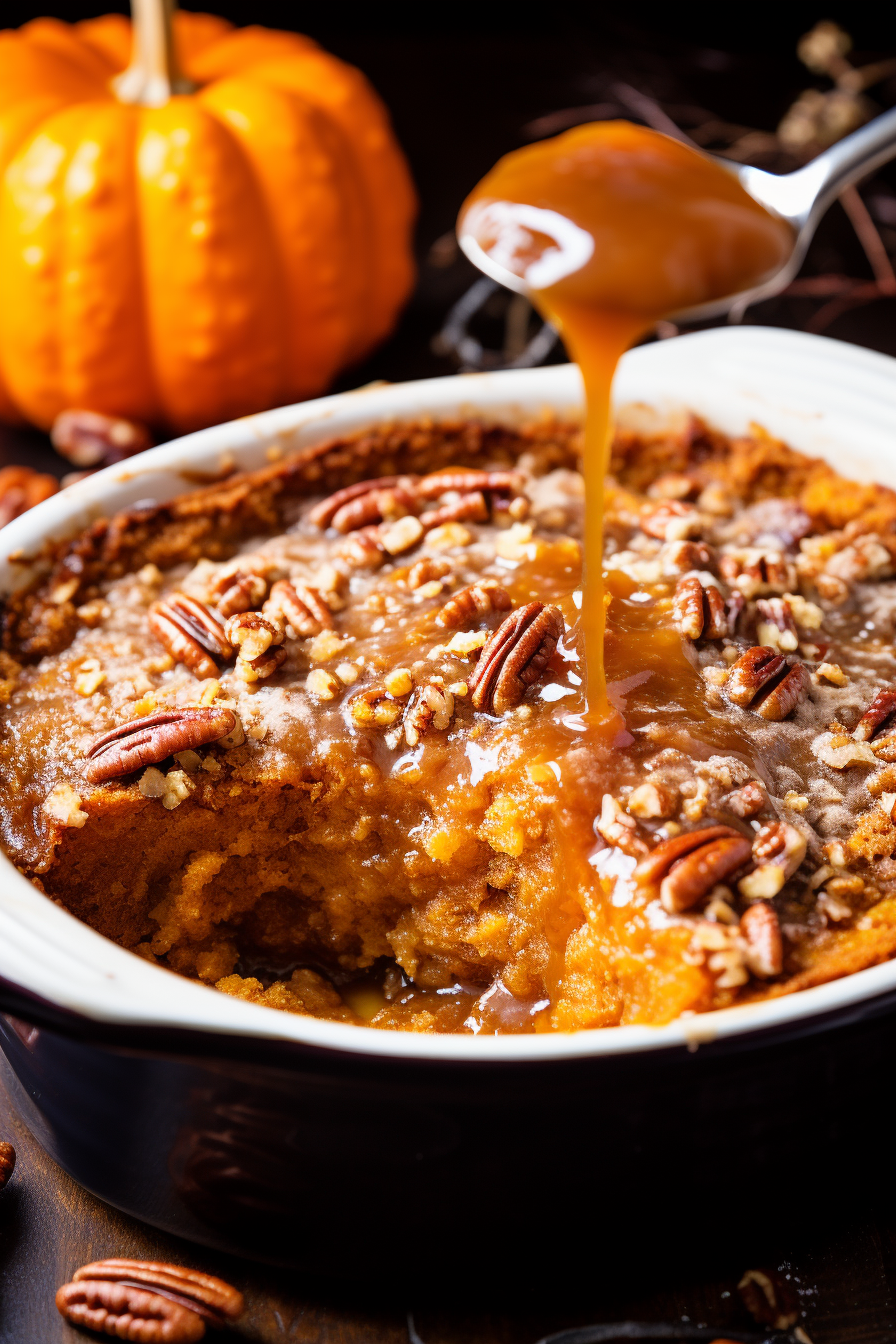 How To Make Pumpkin Pecan Cobbler:
Let's break this down, step-by-step:
Step 1: Preheat that oven to 350 degrees F and give your casserole dish a little spray. This ensures your cobbler doesn't become a permanent resident.
Step 2: Unite your dry ingredients. Flour, spices, and everything nice into a medium bowl. Whisk it, like you're commanding a culinary orchestra.
Step 3: Time to get wet and wild! In another bowl, combine pumpkin, milk, melted butter, and vanilla. An ensemble of deliciousness awaits.
Step 4: Marry the wet with the dry. Gently! We're aiming for harmony, not chaos. Spread this beautiful concoction into your dish, then onto a baking sheet. This will catch any mischievous drips.
Step 5: For the showstopper topping, combine the sugars and cinnamon. Add pecans for the final touch. Sprinkle this over your batter.
Step 6: This may sound odd, but trust me! Pour hot water over everything. Don't stir! It's a little magic trick for that caramel sauce.
Step 7: Into the oven it goes! After 40 minutes, it'll emerge transformed. Let it cool a tad, then dive in. Top with a scoop of vanilla ice cream or a dollop of whipped cream and let your taste buds rejoice!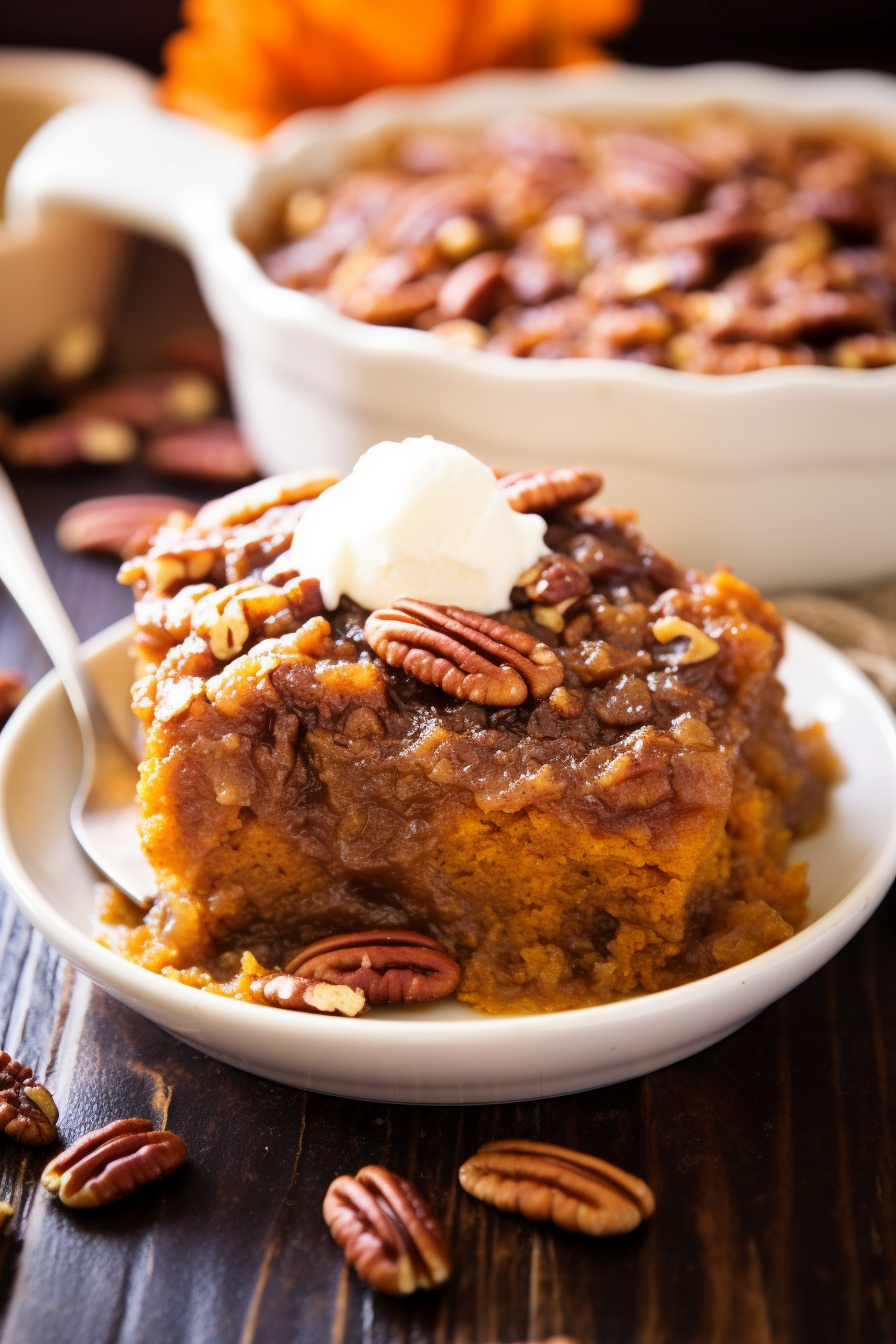 Storage Options:
So, if by some chance you don't devour this cobbler immediately (are you even human?), it's best kept in the fridge for up to 3 days. Covered, of course. When you're ready for round two, just reheat in the oven or microwave and it's like diving back into autumn all over again!
Variations and Substitutions:
Feeling creative? Here are some tweaks:
Spices: Mix and match! Cardamom can bring a delightful twist. Pecans: Walnuts can stand in if pecans aren't your jam or are simply MIA in your pantry. Dairy: Lactose-intolerant? Fear not! Swap out regular milk for almond, soy, or oat. Vegan: Substitute the butter with coconut oil and use almond or soy milk. Top with dairy-free ice cream. Vegan autumnal bliss awaits!
And that, my lovely readers, is the magnum opus of fall desserts. Dive in, savor, and remember to share (or don't, I won't judge!).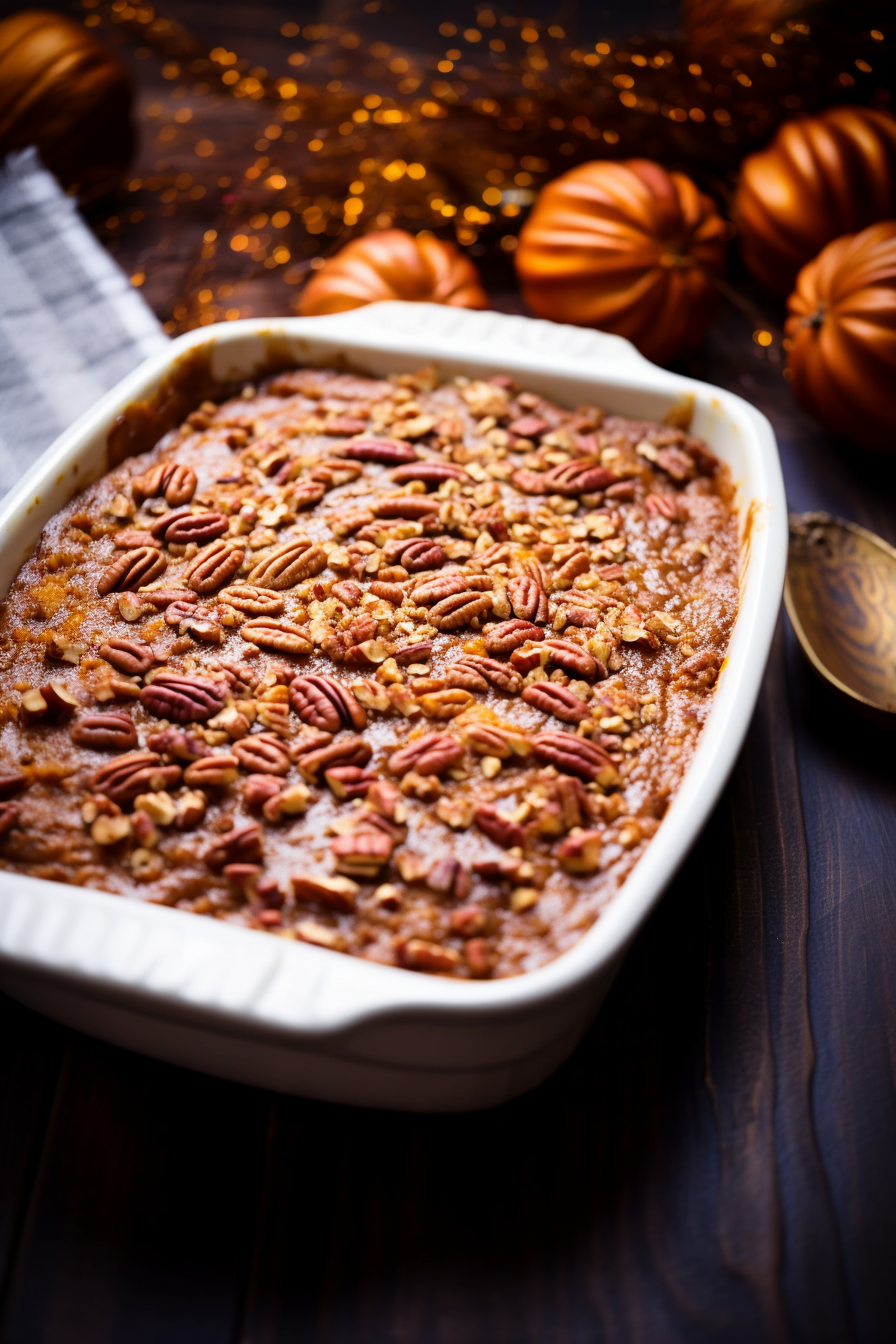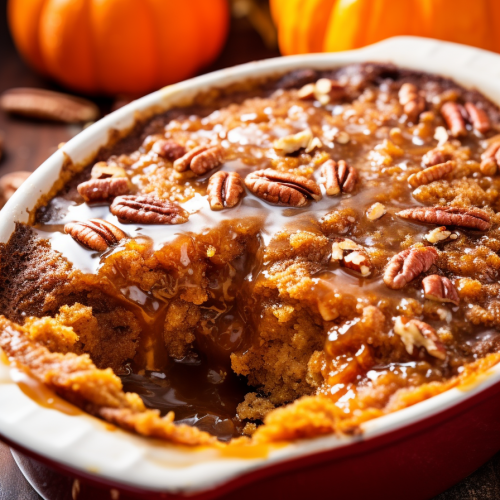 Pumpkin Pecan Cobbler
Dive into the flavors of autumn with this Pumpkin Pecan Cobbler! Highlighted by pumpkin puree, aromatic spices, and crunchy pecans, this dessert conjures memories of cozy sweaters and crackling fires.
Print
Pin
Rate
Ingredients
For the Pumpkin Layer:
1/2

cup

+ 3 tablespoons all-purpose flour

1/2

cup

whole wheat pastry flour

or an equivalent amount of all-purpose flour

2

teaspoons

baking powder

aluminum-free recommended

1/2

teaspoon

kosher salt

2/3

cup

granulated sugar

1

teaspoon

ground cinnamon

1/2

teaspoon

ground ginger

1/4

teaspoon

ground nutmeg

1/4

teaspoon

ground cloves

1/2

cup

pumpkin puree

1/4

cup

+ 1 tablespoon milk

room temperature

1/4

cup

unsalted butter

melted and cooled

2

teaspoons

pure vanilla extract
For the Topping:
1/2

cup

granulated sugar

1/2

cup

brown sugar

either light or dark

1/4

teaspoon

ground cinnamon

1/3

cup

pecans

chopped

1 1/2

cups

hot water

Optional: Vanilla ice cream

heavy cream, or whipped cream for serving
Instructions
Preheat the oven to 350 degrees F (175 degrees C). Grease a 2-quart casserole dish lightly (alternatively, a deep 8×8-inch or 9×9-inch pan can be used).

In a medium-sized mixing bowl, sift and combine the all-purpose flour, pastry flour, baking powder, salt, granulated sugar, cinnamon, ginger, nutmeg, and cloves. Once combined, set this mixture aside.

In a separate bowl or large measuring cup, combine the pumpkin puree, milk, cooled melted butter, and vanilla extract. Mix until integrated.

Gradually add the wet ingredient mixture to the dry ingredient mixture. Stir until just combined, ensuring not to overmix. The resulting batter should be thick. Transfer the batter to the greased casserole dish and spread it evenly. Place this dish onto a rimmed baking sheet to prevent any overspill during baking.

For the topping preparation, mix together the granulated sugar, brown sugar, and cinnamon in a small bowl. Incorporate the chopped pecans into this sugar mixture. Evenly distribute this topping over the batter in the casserole dish.

Carefully pour the hot water over the topping. It's essential not to mix or stir once the water has been added.

Place the casserole dish (on the baking sheet) into the preheated oven and bake for approximately 40 minutes, or until the center has set.

After removing from the oven, allow the cobbler to cool for at least 5 minutes before serving. If desired, serve with vanilla ice cream, heavy cream, or whipped cream.
Nutrition
Calories:
316
kcal
|
Carbohydrates:
57
g
|
Protein:
3
g
|
Fat:
9
g
|
Saturated Fat:
4
g
|
Cholesterol:
15
mg
|
Sodium:
92
mg
|
Fiber:
2
g
|
Sugar:
42
g