Delve into the delectable blend of chopped ham, rich mayo, and tangy sweet pickle relish, combined to create the perfect Deviled Ham Salad; ideal for sandwiches and crackers!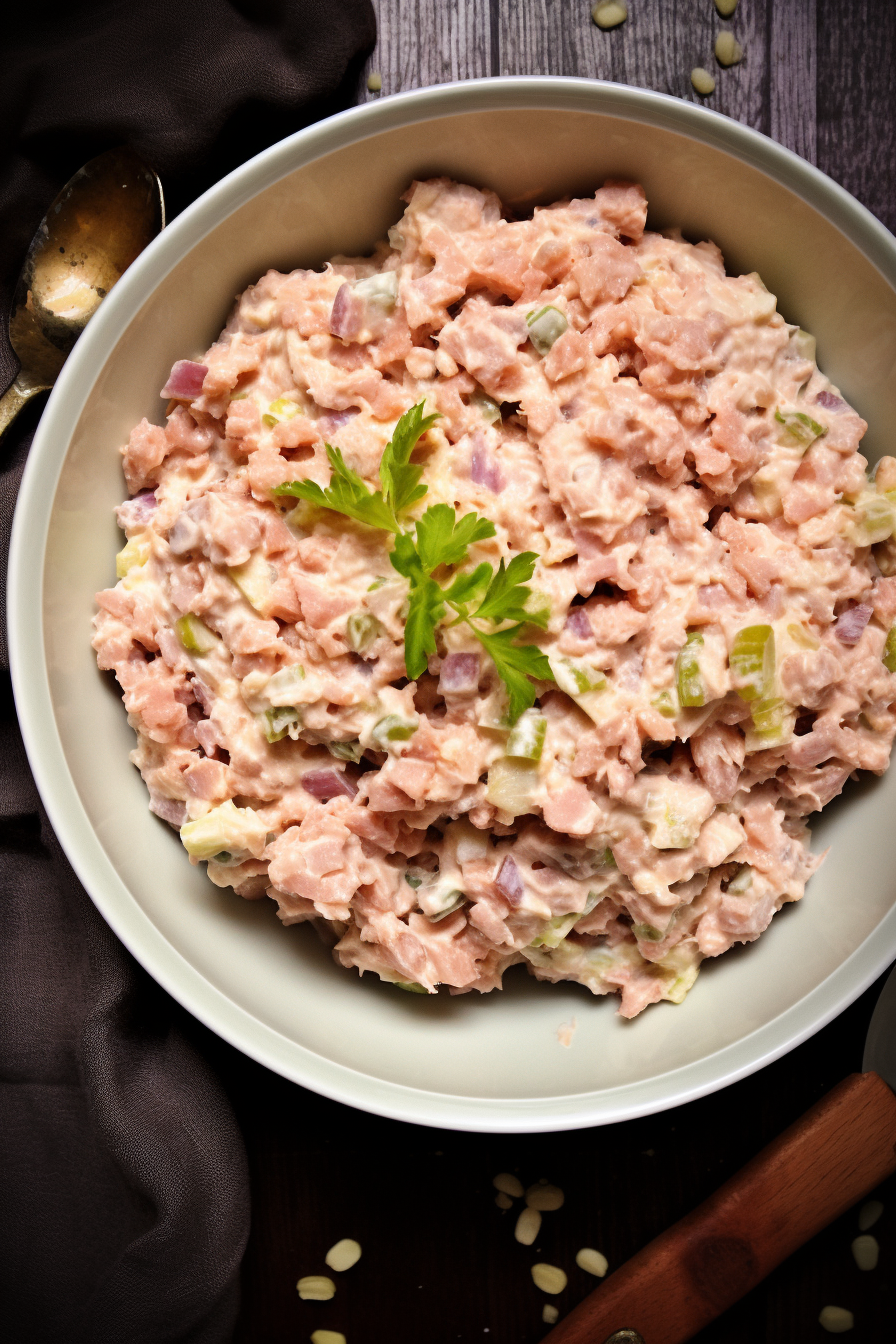 Oh, the nostalgia! Every time I whip up this Deviled Ham Salad, I'm transported back to my grandma's cozy kitchen on a lazy Saturday afternoon. We'd be there, laughing and sharing stories, with the old radio playing some jazz in the background. She'd let me take the first bite straight out of the bowl before slathering it onto freshly toasted bread. It wasn't just a recipe for her; it was a way to connect, to share love, and to make memories. Now, every bite is a reminder of those precious moments. And you know what? It's time you create some of your own memories with this timeless classic.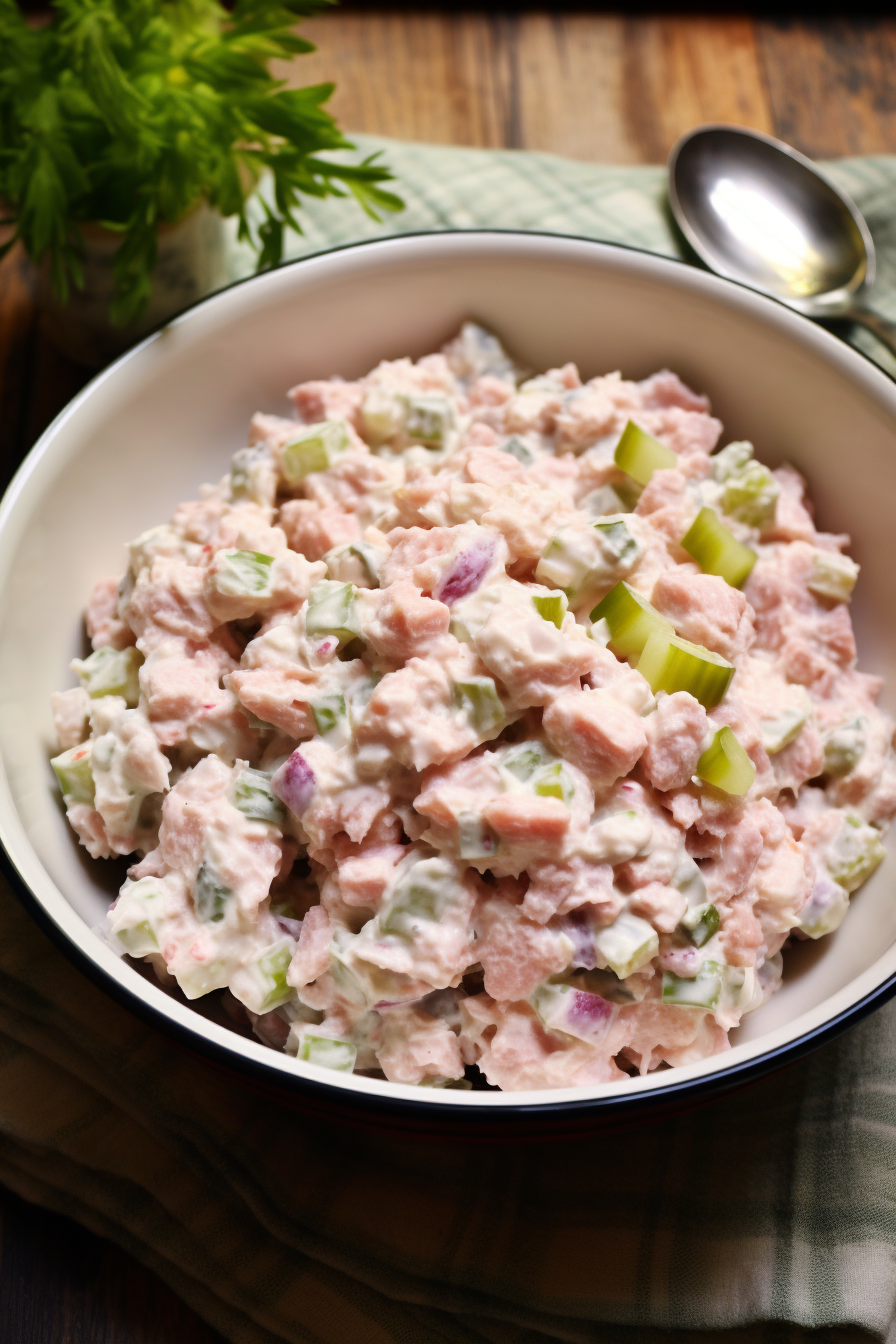 Let's chat perks! Firstly, the time-saving wonders of this recipe. In just 10 minutes, you're looking at a bowl of creamy, savory perfection. Then there's its versatility; great on crackers for a quick snack, or nestled between slices of bread for a hearty sandwich. And, most importantly, the dance of flavors! The sweet relish plays a delightful tango with the salty ham while the mayo is like that mutual friend ensuring they gel together. But wait – did we mention the adaptability? Adjust the mayo and relish to suit your palette. It's like a choose-your-own-adventure, but with food.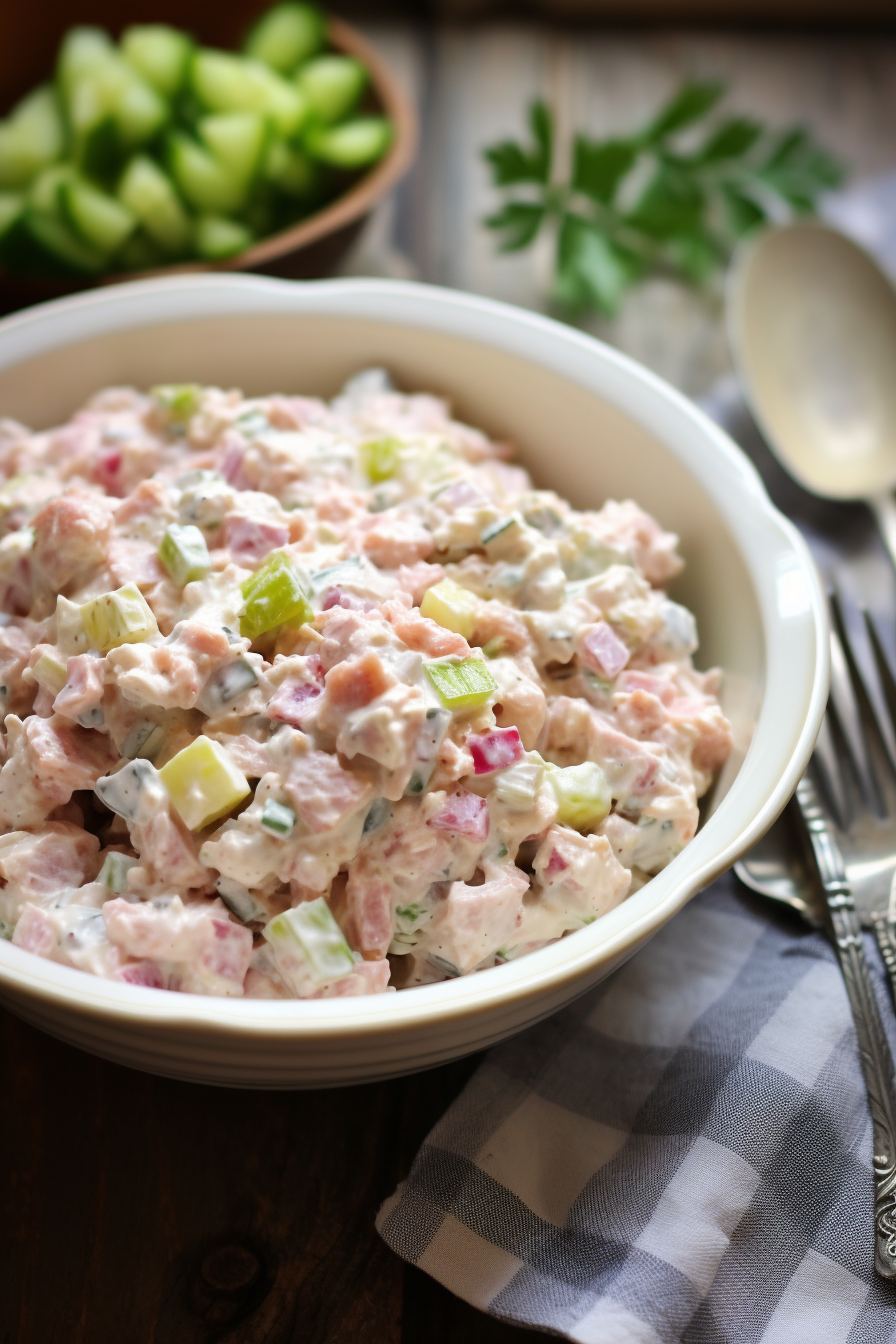 Ingredients For Deviled Ham Salad :
Alright, culinary explorers, let's dissect these ingredients a bit:
Chopped Ham: Go for quality, friends. Whether you're grinding leftover ham or buying fresh from the deli, make sure it's flavorful. Trust me, it makes a difference.
Mayonnaise: While I'm a sucker for full-fat mayo (oh, the creaminess!), you could go for the low-fat version if you're watching those calories. But come on, live a little!
Sweet Pickle Relish: This bad boy is the zesty curveball in this dish. Look for ones without added preservatives for a natural, unadulterated taste.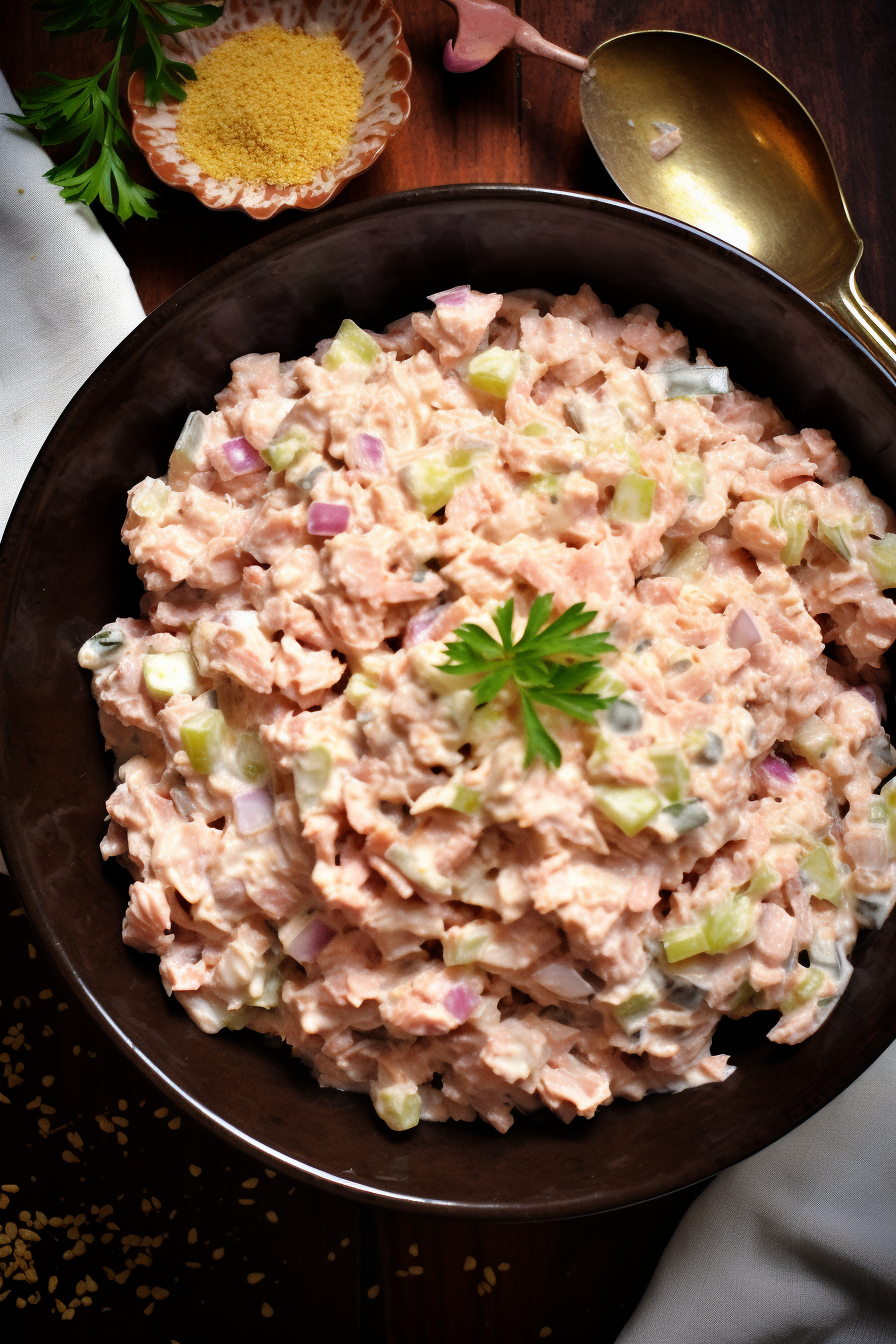 How To Make Deviled Ham Salad:
Okay, folks, let's dive deep:
Step 1: You're basically making magic here. In a large mixing bowl, bring together the chopped ham, mayo, and that zingy sweet pickle relish. Give it a thorough mix. It's like a party where everyone's getting to know each other.
Step 2: Once mixed, do a taste test. Be your own harshest critic! Need it creamier? Add a dollop more mayo. Want it zestier? A tad more relish should do the trick. Once it hits perfection, either slather it generously over your sandwich or dollop it atop a cracker.
Storage Note: And remember, once you're done, store any leftovers in the refrigerator. It's like sending it to a spa; it'll keep it fresh and tasty for up to a week.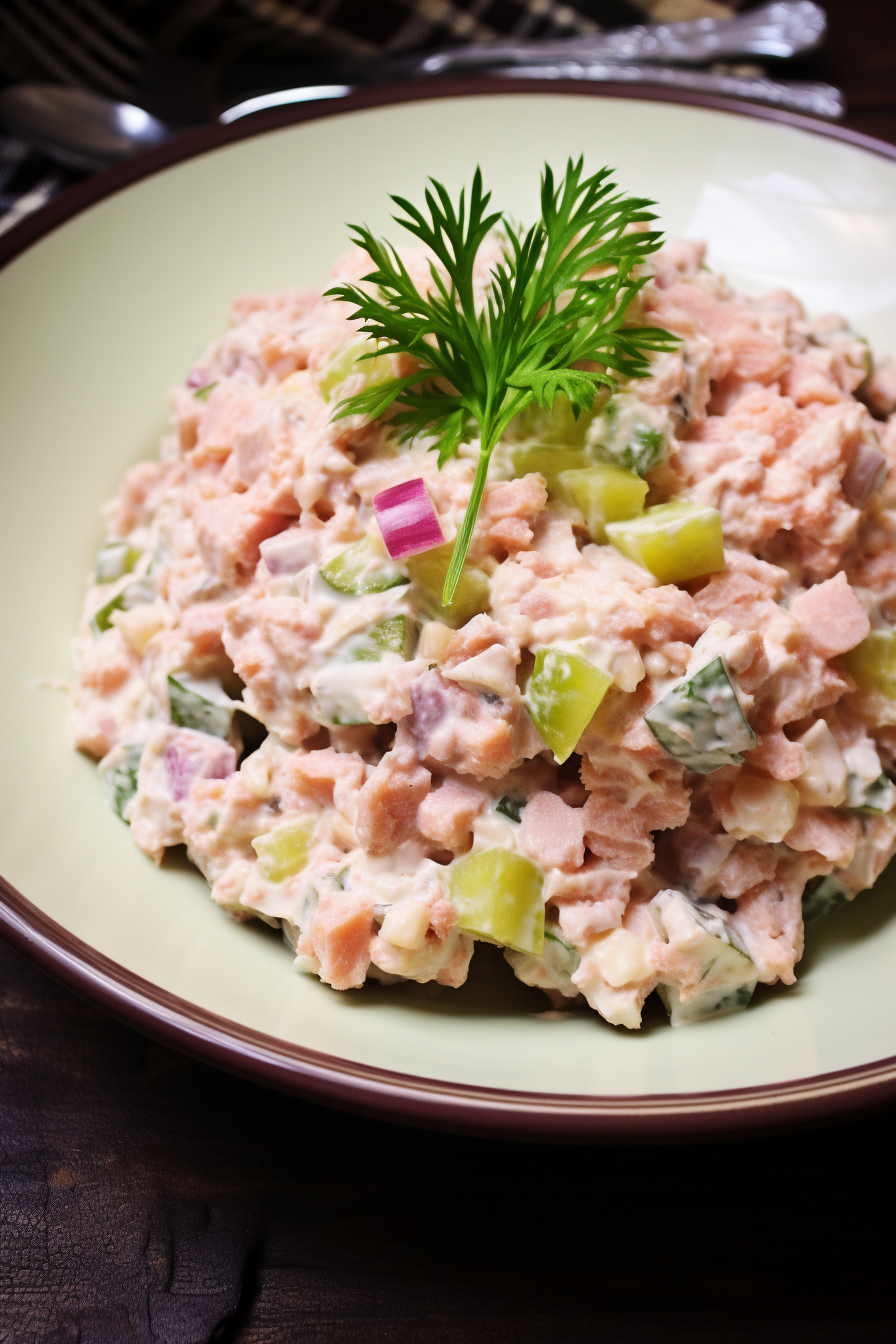 Storage Options For The Deviled Ham Salad:
When you're not busy devouring it, this Deviled Ham Salad needs to be pampered. Make sure to store it in an airtight container to keep it fresh. Nestled in the cozy confines of your refrigerator, it should happily last up to a week. Just give it a gentle stir before using it again, as the ingredients might get a little shy and separate.
Variations & Substitutions:
Feel like experimenting? Great! For a spicy kick, add a dash of hot sauce or some diced jalapenos. Not a fan of mayo? Swap it out for Greek yogurt or sour cream. For a crunchier texture, throw in some diced celery. And if sweet pickle relish isn't your jam, dill pickle relish will give it a tangy twist. Remember, cooking is all about making it your own, so don't be afraid to jazz it up!
And there you have it, folks! Whether you're on Team Sandwich or Team Cracker, this Deviled Ham Salad is bound to win your heart. Until next time, happy eating! 🍽️🥪🥳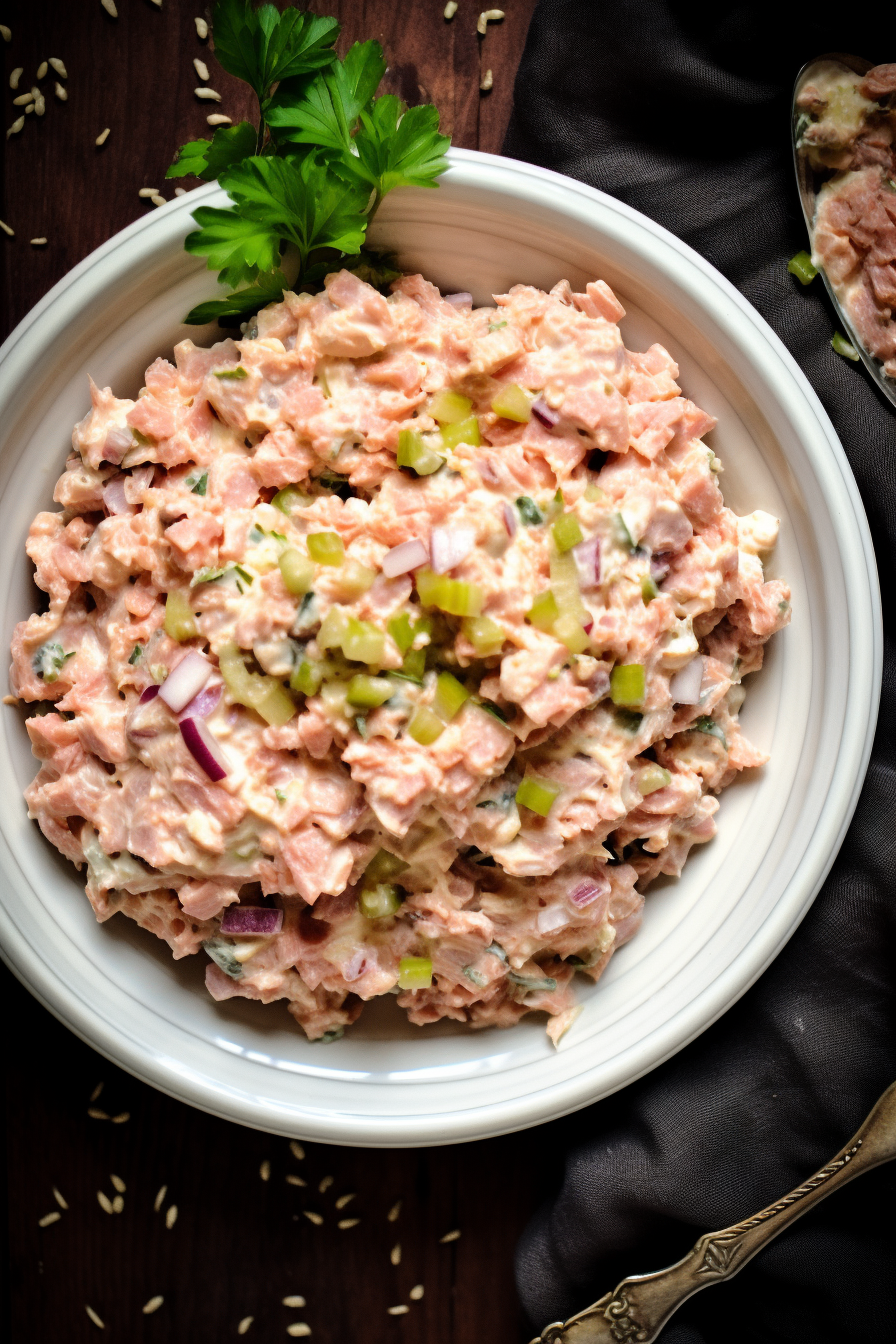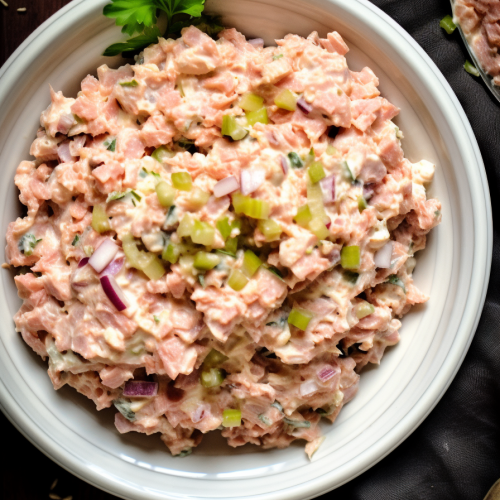 Deviled Ham Salad
Delve into the delectable blend of chopped ham, rich mayo, and tangy sweet pickle relish, combined to create the perfect Deviled Ham Salad; ideal for sandwiches and crackers!
Print
Pin
Rate
Ingredients
3 1/2 to 4

cups

of finely chopped ham

1/2

cup

of premium mayonnaise

1/3

cup

of sweet pickle relish
Instructions
In a large mixing bowl, amalgamate the finely chopped ham, premium mayonnaise, and sweet pickle relish. Ensure a thorough and uniform blend.

Taste and adjust the mixture according to preferences. If a creamier consistency is desired, one may add additional mayonnaise. Likewise, if a sweeter or tangier taste is preferred, integrate more sweet pickle relish.

The resultant mixture can be served as a sophisticated spread for sandwiches or as a complement to premium crackers.

Once prepared, it is imperative to store the Deviled Ham Salad in a refrigerated environment, ideally in a sealed container. This will ensure its freshness for up to one week. Prior to subsequent servings, ensure to mix the salad for uniformity.