Dig into a delectable casserole loaded with bacon, ground beef, and cheddar cheese, brought together with a tangy sauce twist. This is where comfort food meets keto!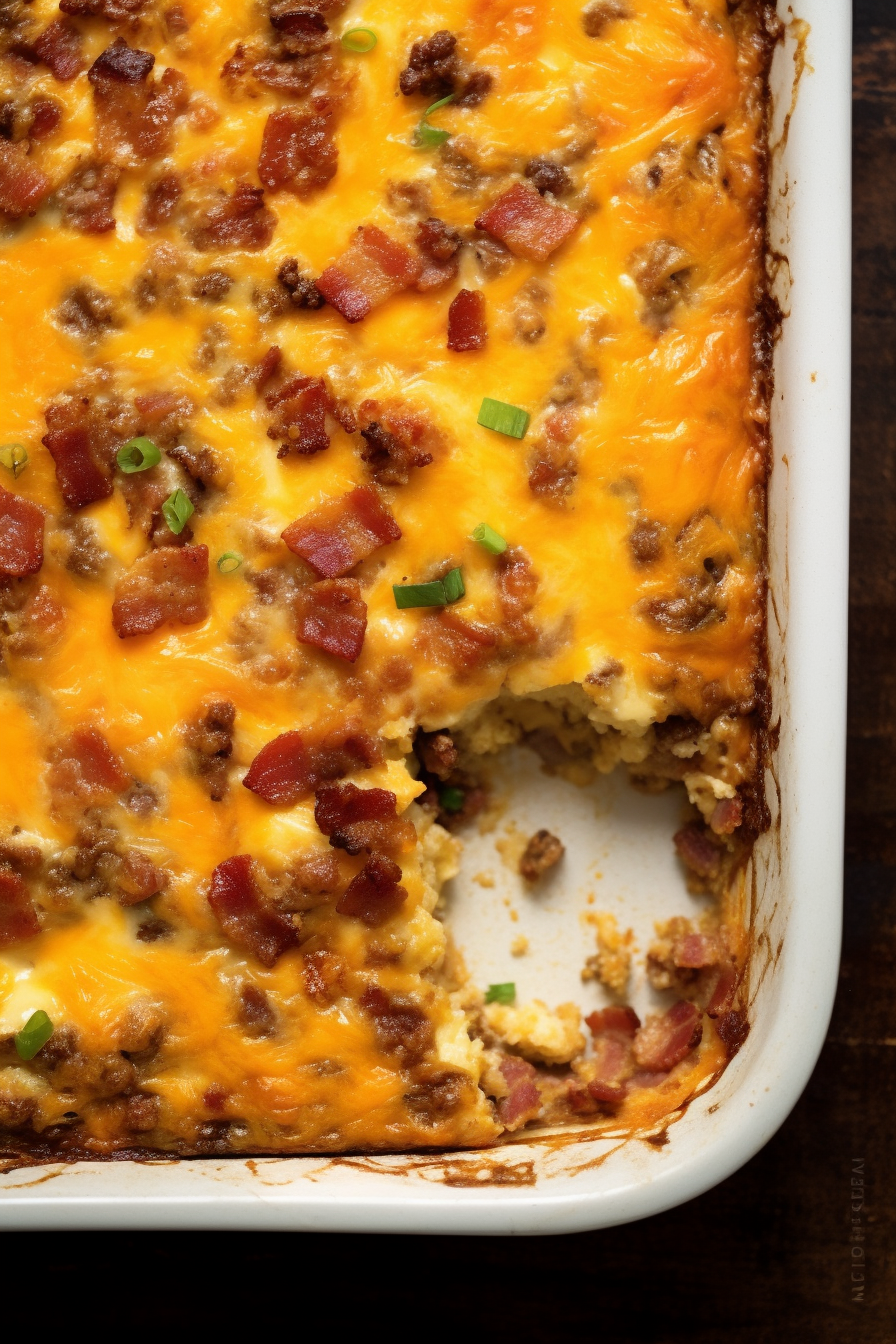 Hey, my lovely readers! It all started on a rainy Sunday when I had an intense craving for a juicy bacon cheeseburger but was also feeling just a touch too lazy to fire up the grill (okay, maybe more than a touch). On top of that, my keto journey was going strong, and I didn't want to lose the momentum. And that's when it hit me! Why not merge the indulgence of a cheeseburger with the warmth and ease of a casserole? That's how the Bacon Cheeseburger Casserole was born in my kitchen. An ode to lazy Sundays and burger cravings, with a healthy twist. Keto fam, this one's for you! And trust me, even the carb-lovers in your house won't be able to resist this beauty.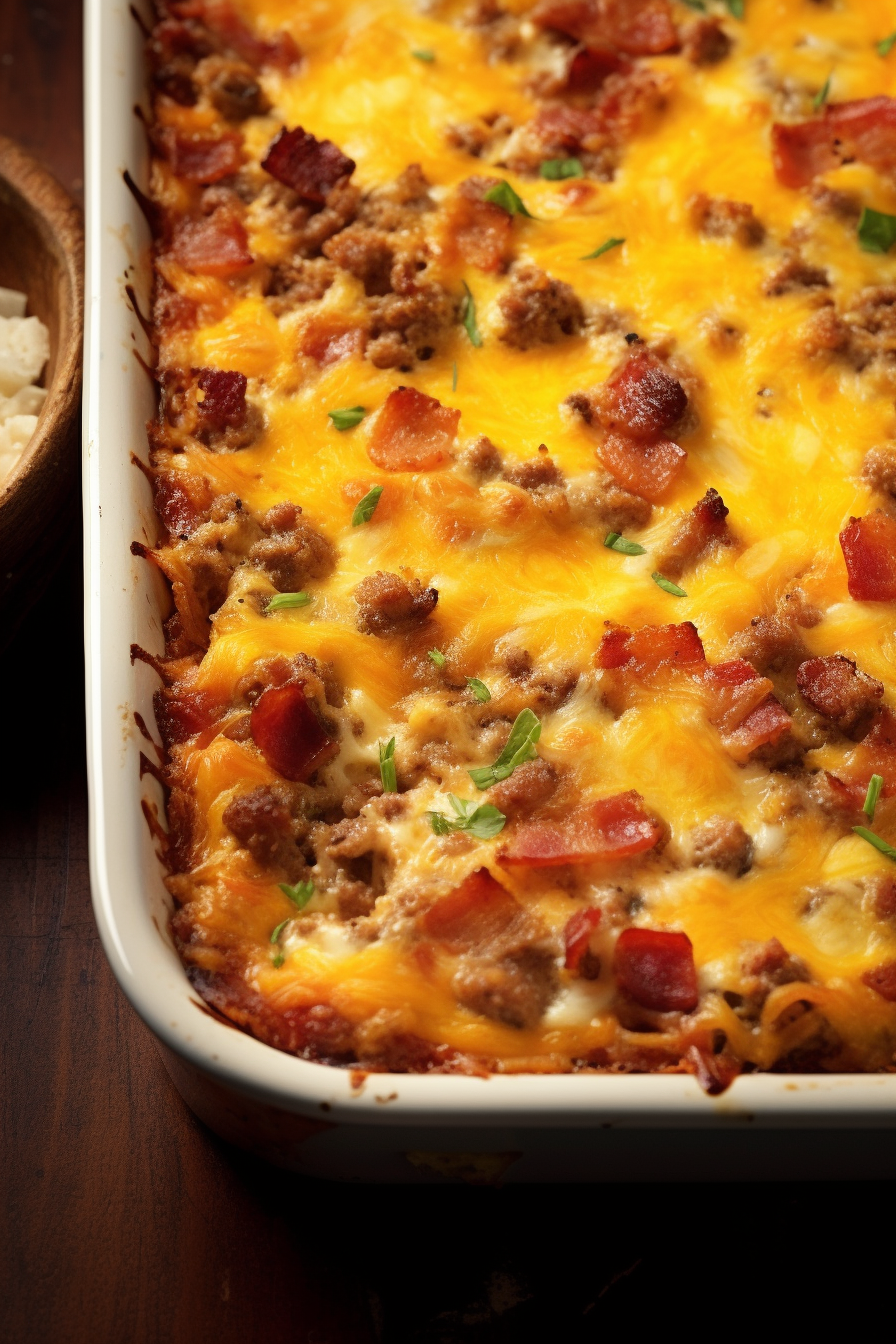 Where do I even begin? Our Bacon Cheeseburger Casserole is basically what dreams are made of! Firstly, it's keto-approved. So, for everyone walking the low-carb path, this is your holy grail. But wait, even if you aren't on the keto bandwagon, the flavor-packed punch of this dish is irresistible. Bacon and ground beef unite for a savory duo, complemented by the rich, melty goodness of cheddar. The cherry on top? A tangy, one-of-a-kind sauce that'll make your taste buds do the cha-cha!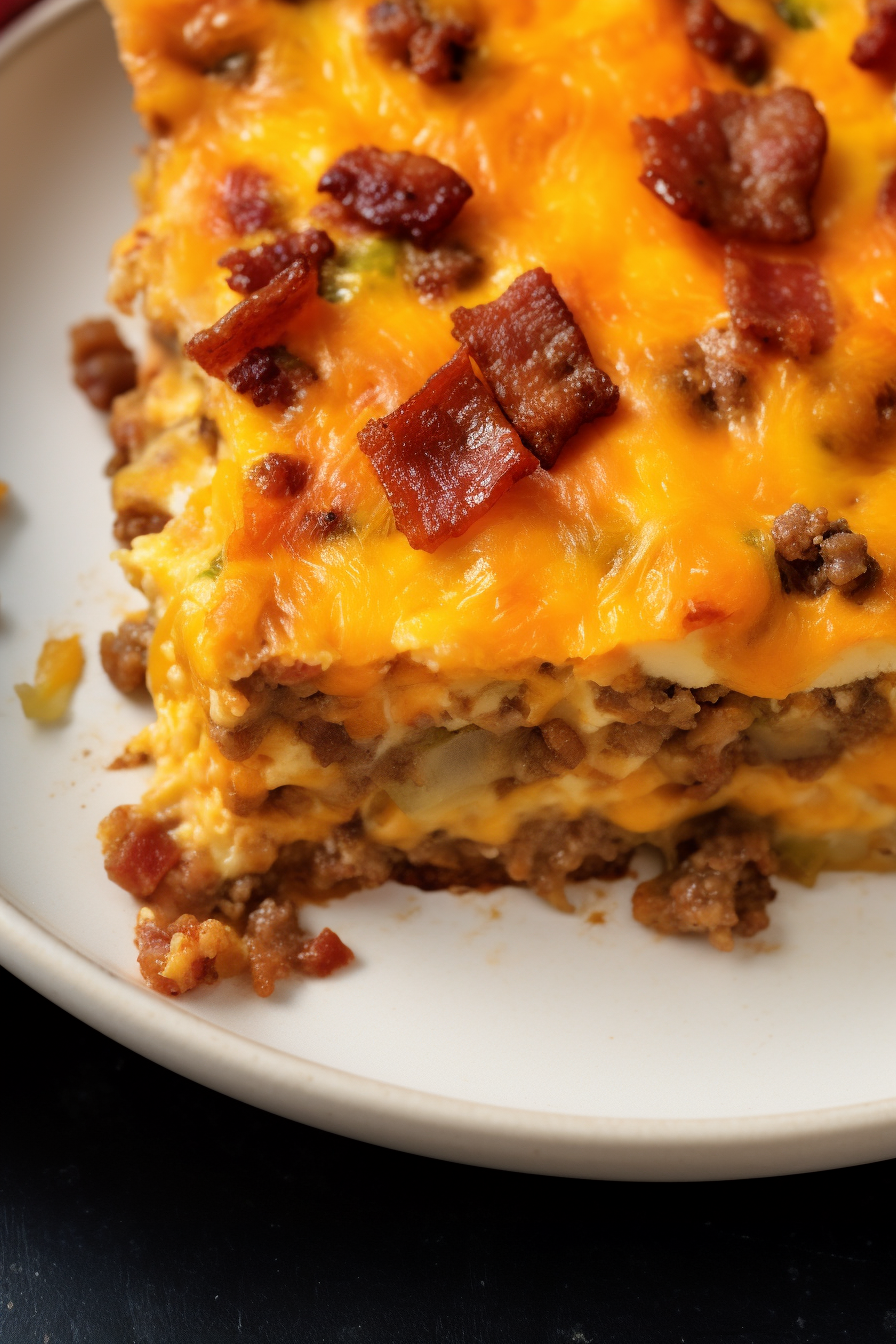 Ingredients For Bacon Cheeseburger Casserole:
Bacon: Go for thick-cut bacon if you can, it just holds its own better in a casserole.
Ground beef: Opt for a leaner percentage if you're watching your fat intake, but a little fat always does wonders for flavor.
Montreal Steak Seasoning: This blend of garlic, coriander, dill, black pepper, and more gives an incredible depth of flavor. Don't skip!
Heavy Cream: Adds creaminess to the dish. Want it lighter? Try half-and-half.
Sauce: This combo brings in a delightful tang, but feel free to adjust sweetness levels based on your palate. And always, always choose sugar-free ketchup for a healthier twist.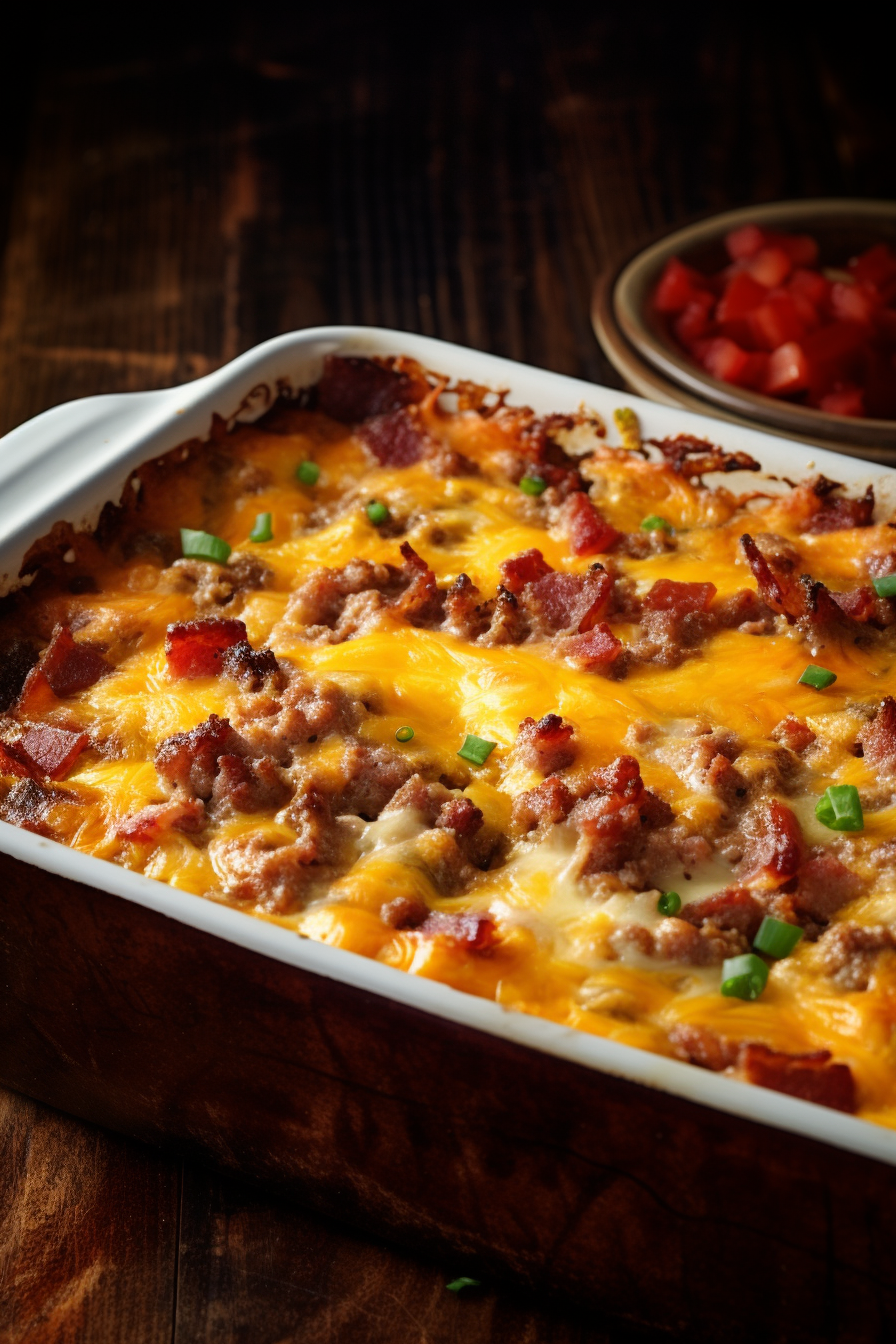 How To Make Bacon Cheeseburger Casserole:
Get ready, set, COOK!
Begin by warming up your oven to a cozy 400F. Remember, it loves a good preheat.
Give your 9×13 casserole dish a gentle spray with some cooking spray. It'll thank you later.
Now, onto the bacon. In a skillet over medium heat, fry those lovely bacon bits until they're gloriously crisp. Once done, scoop them out (a slotted spoon works wonders here) and let them relax on some paper towels.
Using the heavenly bacon-infused fat, cook your ground beef in that same skillet. Keep stirring till it's perfectly cooked. And then – the magic touch – stir in that Montreal steak seasoning.
In a big mixing bowl, let all your ingredients have a party. Combine them well and then pour your mixture into the prepared casserole dish.
Let your casserole bake in the oven for a solid 30 minutes. Once it's all beautifully browned and bubbling, it's ready to be devoured!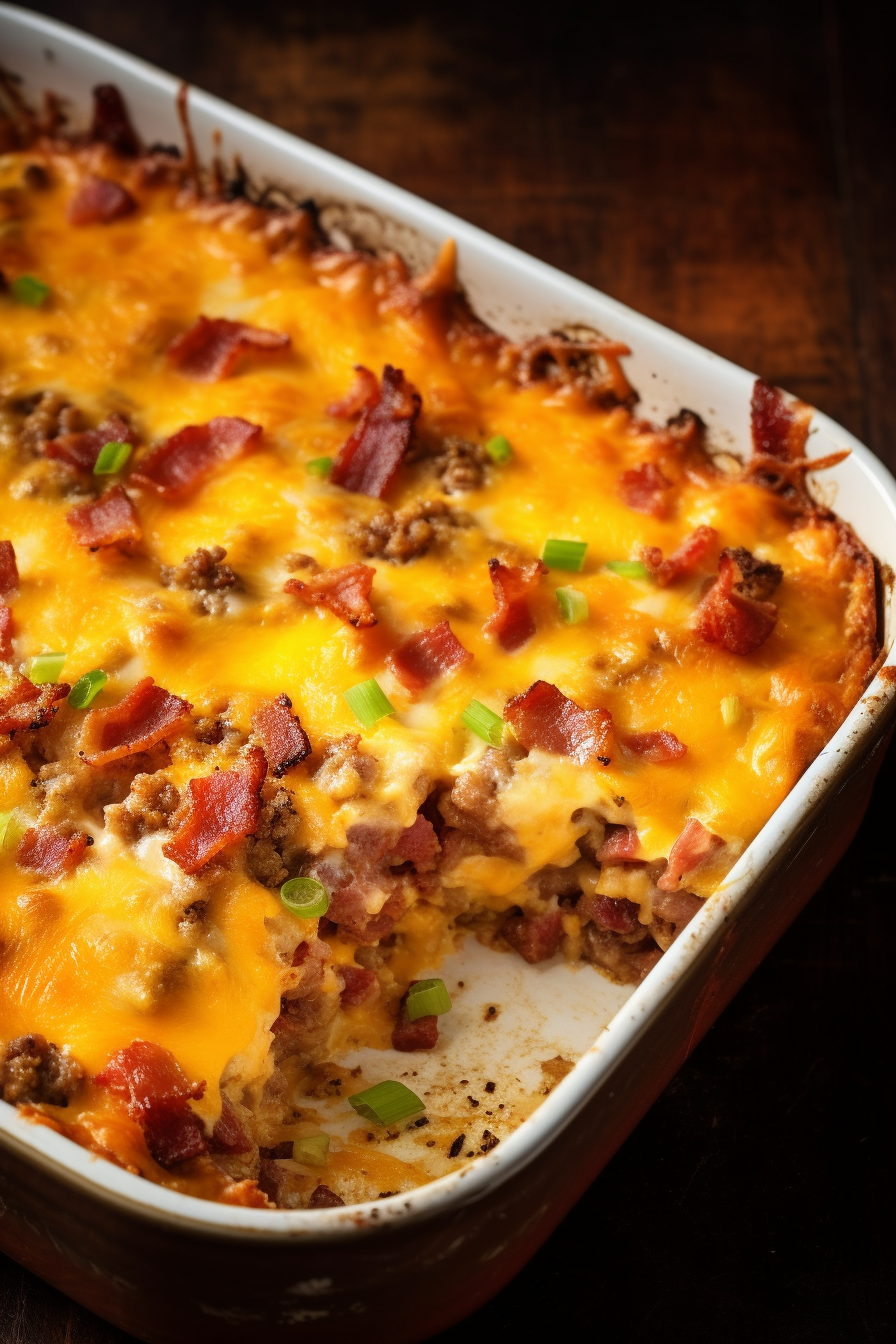 Storage Options:
Made too much or saving some for later? No problem! After it cools, stash your casserole in the fridge in an airtight container. It stays fresh for up to 4 days. For those thinking long-term, you can freeze it! Just ensure it's tightly wrapped and defrost overnight in the refrigerator before reheating.
Variations & Substitutions:
Variety is the spice of life, right?
Meat: Ground turkey or chicken can be a lighter alternative.
Cheese: Swap cheddar with mozzarella or pepper jack for a different cheesy experience.
Veggies: Feel free to toss in some bell peppers, mushrooms, or even spinach for a nutritional boost.
Sauce: Not a fan of dill pickle relish? Swap with some chopped pickles or even capers for that tangy zing.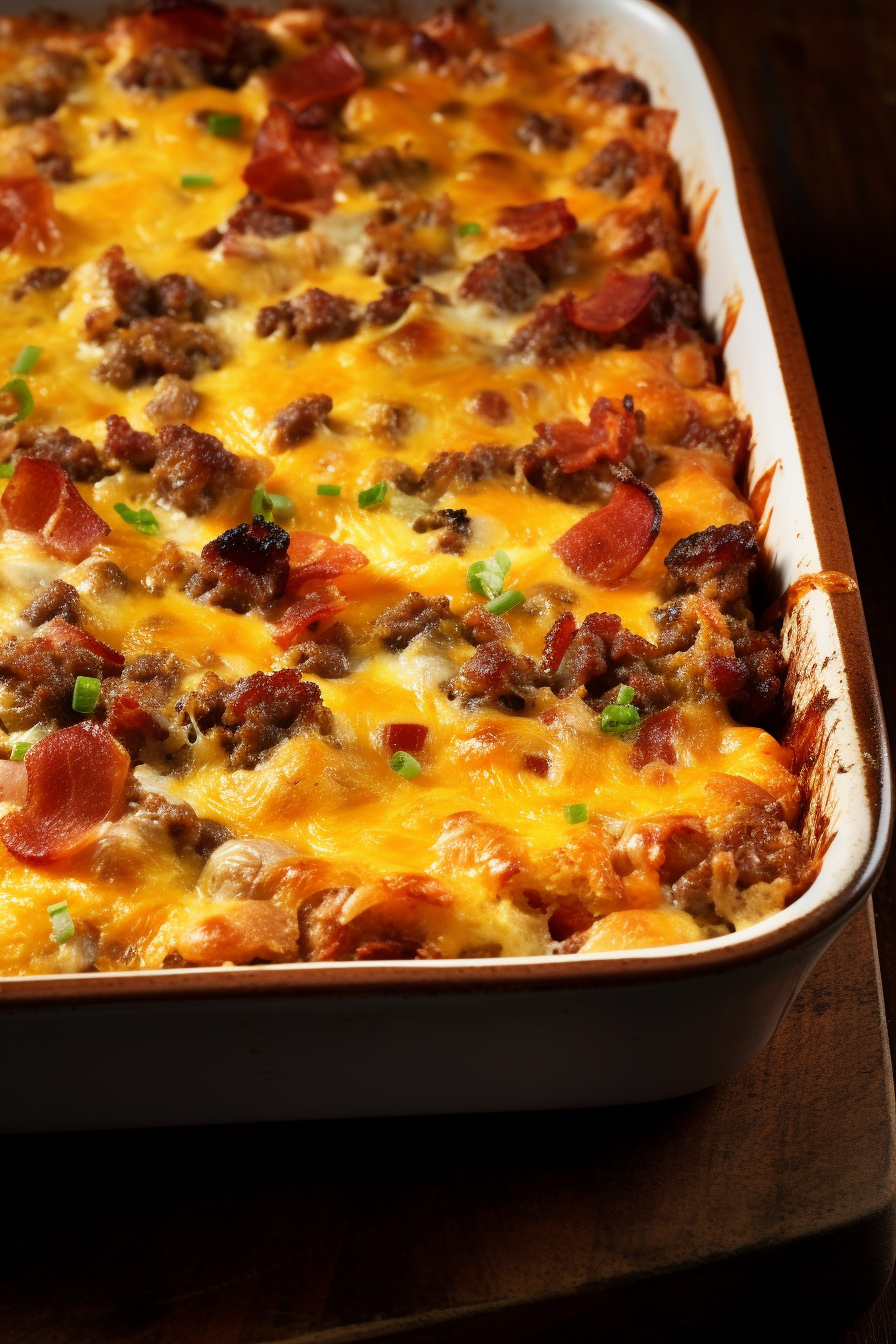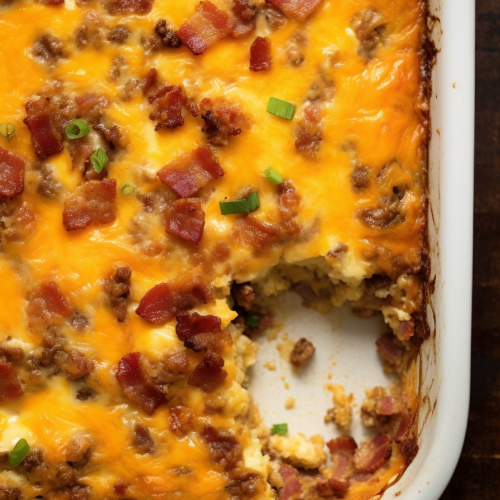 Bacon Cheeseburger Casserole
Dig into a delectable casserole loaded with bacon, ground beef, and cheddar cheese, brought together with a tangy sauce twist. This is where comfort food meets keto!
Print
Pin
Rate
Ingredients
1

pound

of bacon

precisely chopped into ½ inch segments

1

pound

of high-quality ground beef

1

teaspoon

of Montreal Steak Seasoning

4

eggs

thoroughly beaten

1

cup

of heavy cream

2

cups

of finely shredded Cheddar Cheese
Sauce Composition:
¼

cup

of white vinegar

¼

cup

of dill pickle relish

¼

cup

of granular sweetener

¼

cup

of finely minced white onion

½

cup

of sugar-free ketchup
Instructions
Preheat the oven to precisely 400°F. Ensure that the inside of a 9×13 casserole dish is adequately greased with cooking spray to prevent sticking.

Using a large skillet, place it over medium heat. Cook the bacon until it achieves a crisp texture. Subsequently, extract the bacon with a slotted utensil and allow it to drain, placing it atop absorbent paper towels.

Utilizing the residual fat in the skillet, introduce the ground beef. Cook it until it achieves thorough doneness, which approximately takes 8 minutes. After the ground beef is adequately cooked, remove any excess grease. Integrate the Montreal steak seasoning into the beef, ensuring an even distribution of flavor.

In an adequately sized mixing vessel, amalgamate all the aforementioned ingredients. Once an even consistency and distribution are achieved, transfer the contents to the previously prepared casserole dish.

Insert the dish into the preheated oven. Allow it to bake for a duration of 30 minutes or until it exhibits thorough cooking. Once completed, it is ready for serving.
Nutrition
Calories:
453
kcal
|
Carbohydrates:
4
g
|
Protein:
29
g
|
Fat:
36
g