Indulge in a tropical escape with our Pineapple Coconut God Bless America Cake. Main players? Crushed pineapple, caramel pecan coconut icing, and a sprinkle of American pride!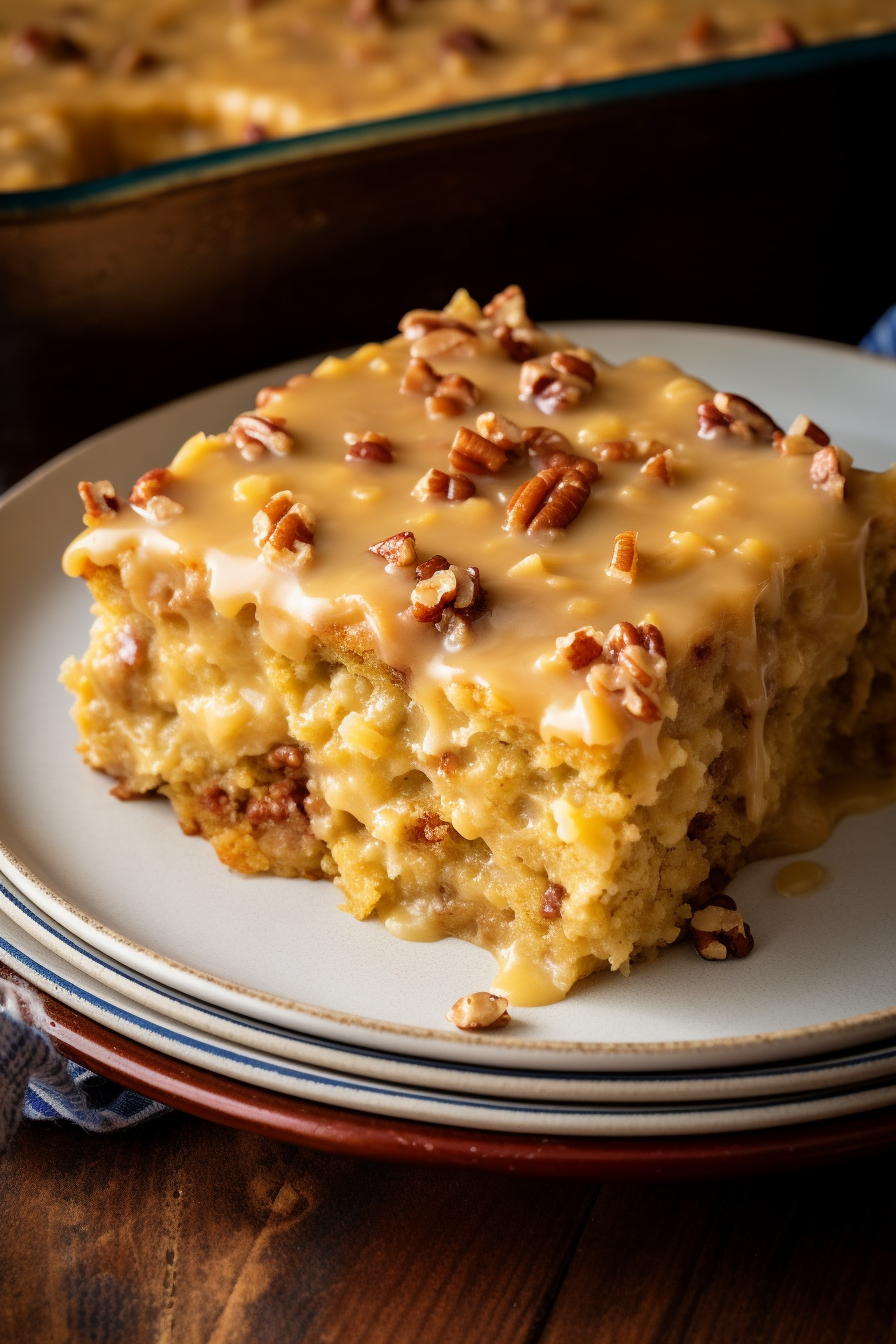 Ah, my Pineapple Coconut God Bless America Cake! Every bite is a trip down memory lane. It started years ago during a 4th of July backyard BBQ at my grandparents'. Grandma Gertrude, a proud patriot with an odd love for tropical flavors, wanted to fuse her passion for America and her fondness for the tropics into a dessert. This cake was the scrumptious outcome. It became an instant family hit. Now, every Independence Day, the aroma of this cake wafts through our home, reminding us of sunny celebrations, family gatherings, and Grandma Gertrude dancing to Beach Boys' tunes. Fun fact: she always said, "If the Founding Fathers had tried this cake, it'd be a national dish!"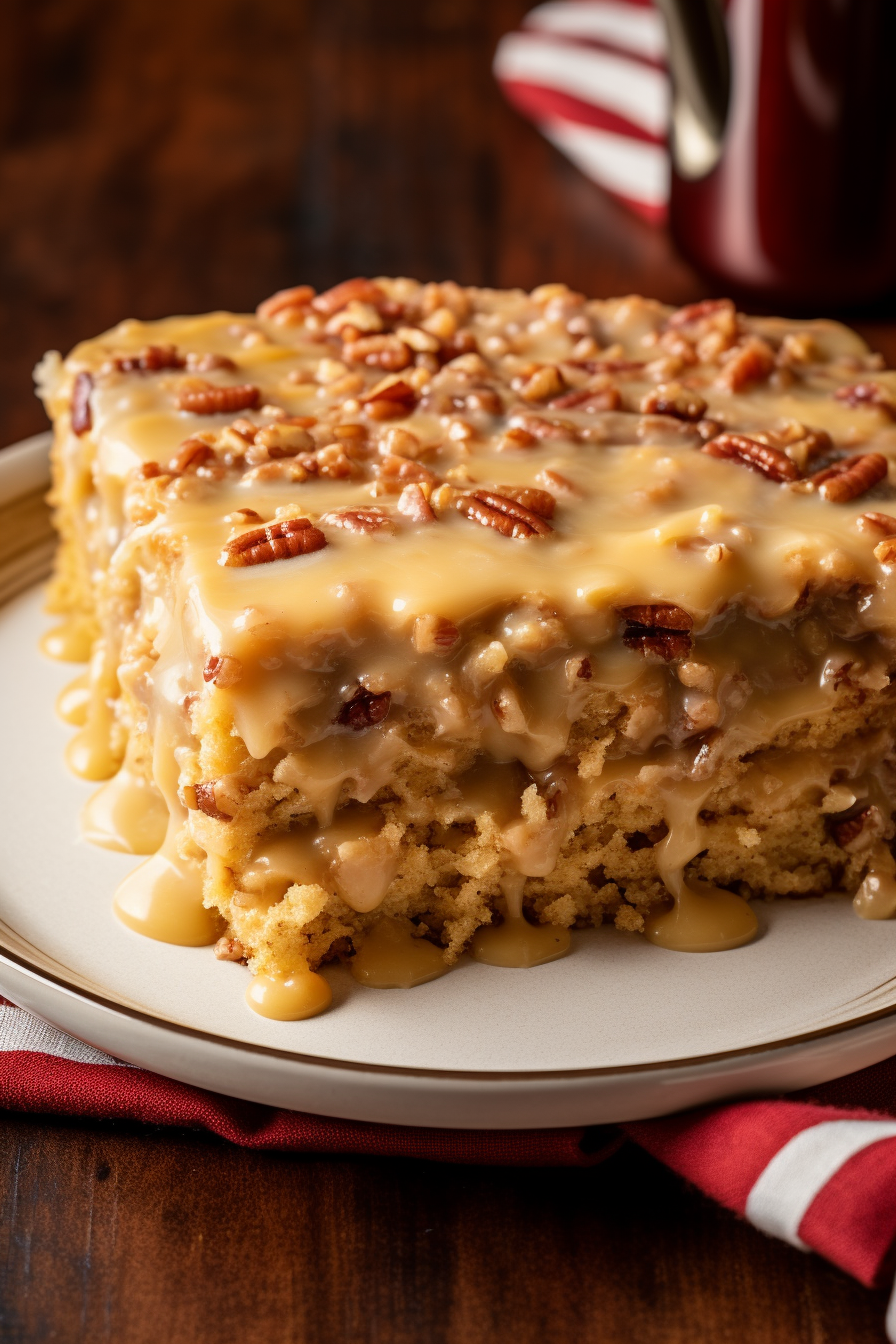 Now, why should this cake make it to your dinner table? Well, for starters, it's a delightful fusion of patriotism and the tropics. Imagine the distinct tangy zest of crushed pineapple harmonizing with a lush caramel pecan coconut icing – it's an exotic dance of flavors! Furthermore, it's not just any cake; it's an emotion, a story, a memory baked into delicious layers. Plus, it's straightforward and quick to whip up, so you don't need to be a confectionary genius to master this beauty.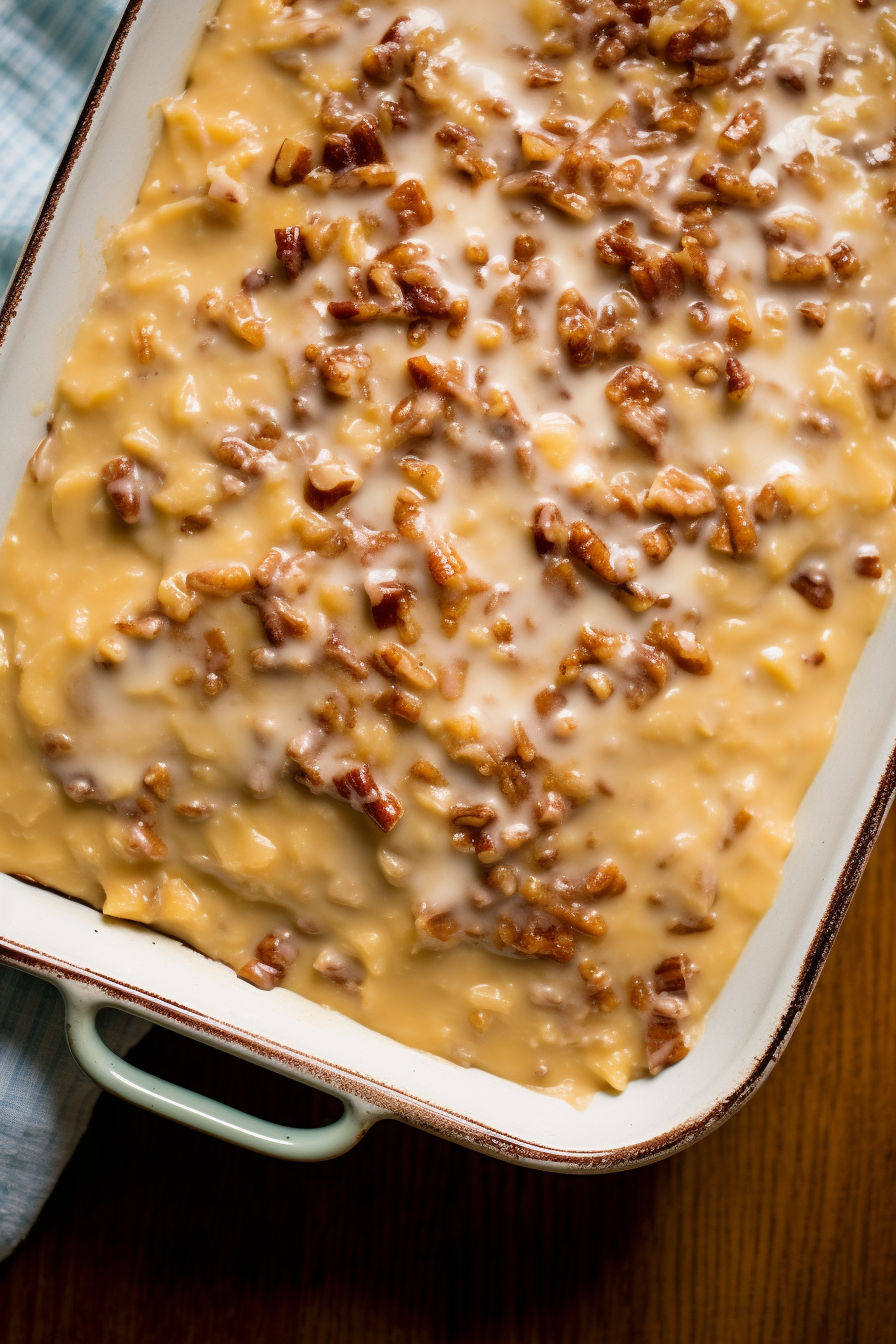 Ingredients For Pineapple Coconut God Bless America Cake:
Crushed Pineapple: Ensure you use the entire contents, including the juice. This helps keep the cake moist.
Vegetable Oil: It's crucial for the cake's moist texture, but you can use coconut oil for a more profound coconut hint if you're feeling experimental.
Brown Sugar: This adds a molasses undertone. Always pack it into the cup when measuring!
Evaporated Milk: Not to be confused with condensed milk. The former is unsweetened and is the heart of our icing.
Shredded Coconut: Go for unsweetened to control the sweetness level. And if you can find it, toasted shredded coconut brings a delightful crunch.
Pecans: Ensure they're toasted. It amplifies the flavor, and the crunch juxtaposes the soft cake beautifully.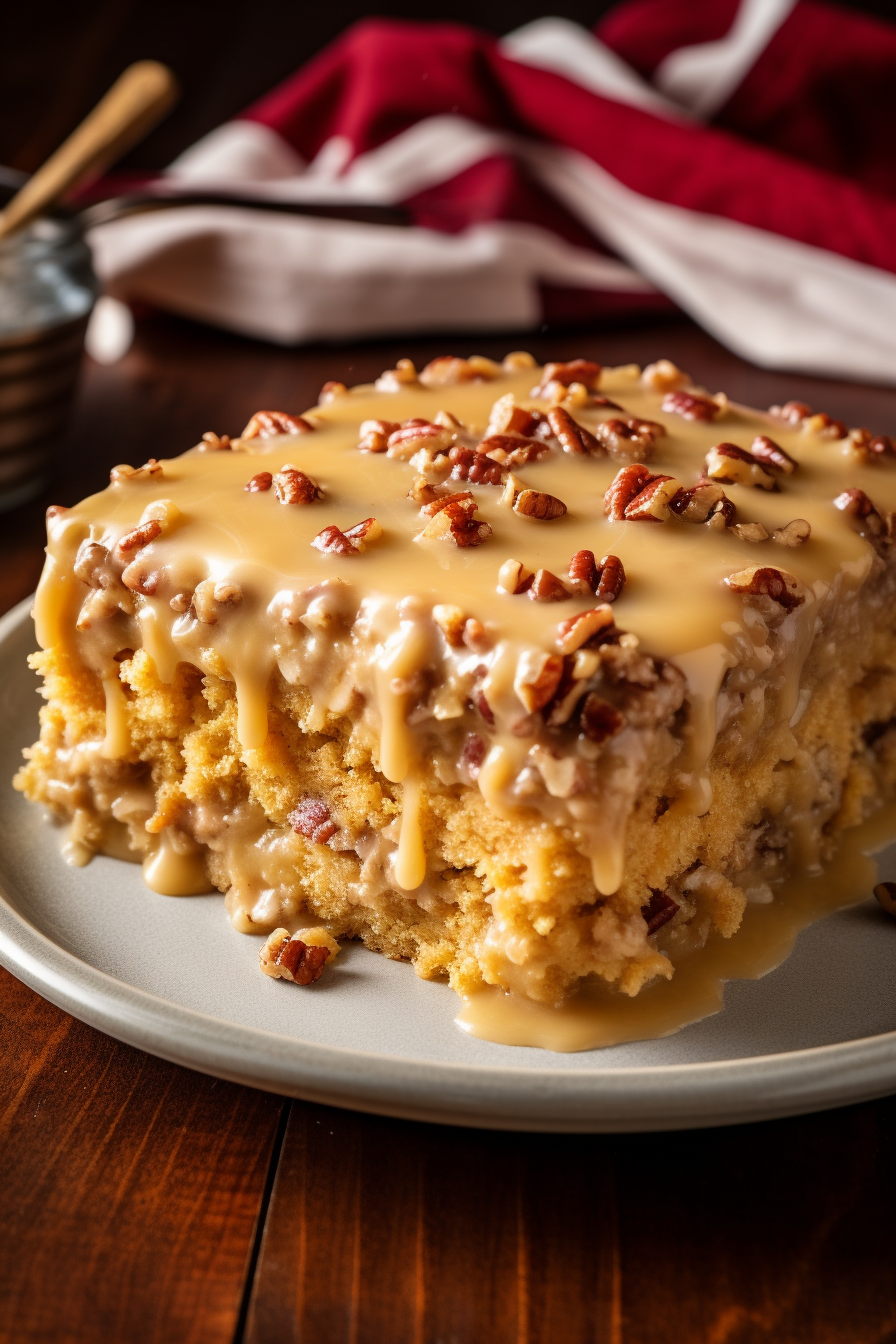 How To Make Pineapple Coconut God Bless America Cake:
Alright, aprons on! Let's get down to baking.
Prep Work: Start by preheating your oven to 350º F. While it's warming up, lightly butter up your 9×13-inch baking dish. Remember, buttering is caring!
Cake Mixing Magic: Whisk those eggs, sugar, brown sugar, oil, and pineapple (juice and all) in a big bowl. Once it's all jolly together, gently fold in the flour, baking soda, and salt. Don't overmix; we want it just right!
Baking Brilliance: Pour that tropical concoction into your baking dish. Bake for about 25-30 minutes. Here's a tip: Poke the cake's heart with a toothpick. If it comes out clean, voilà, it's done!
Icing Adventure: As the cake bakes, let's prepare the icing. In a saucepan, get the evaporated milk, sugar, and butter boiling. Then, tone down the heat and let it simmer for 10 delightful minutes. Once done, mix in the coconut, pecans, vanilla, and salt.
Final Touch: Once the cake is out of the oven, it's showtime! Pour over that glorious icing, spread evenly, and let it set. A tad of patience now, and you'll be rewarded later!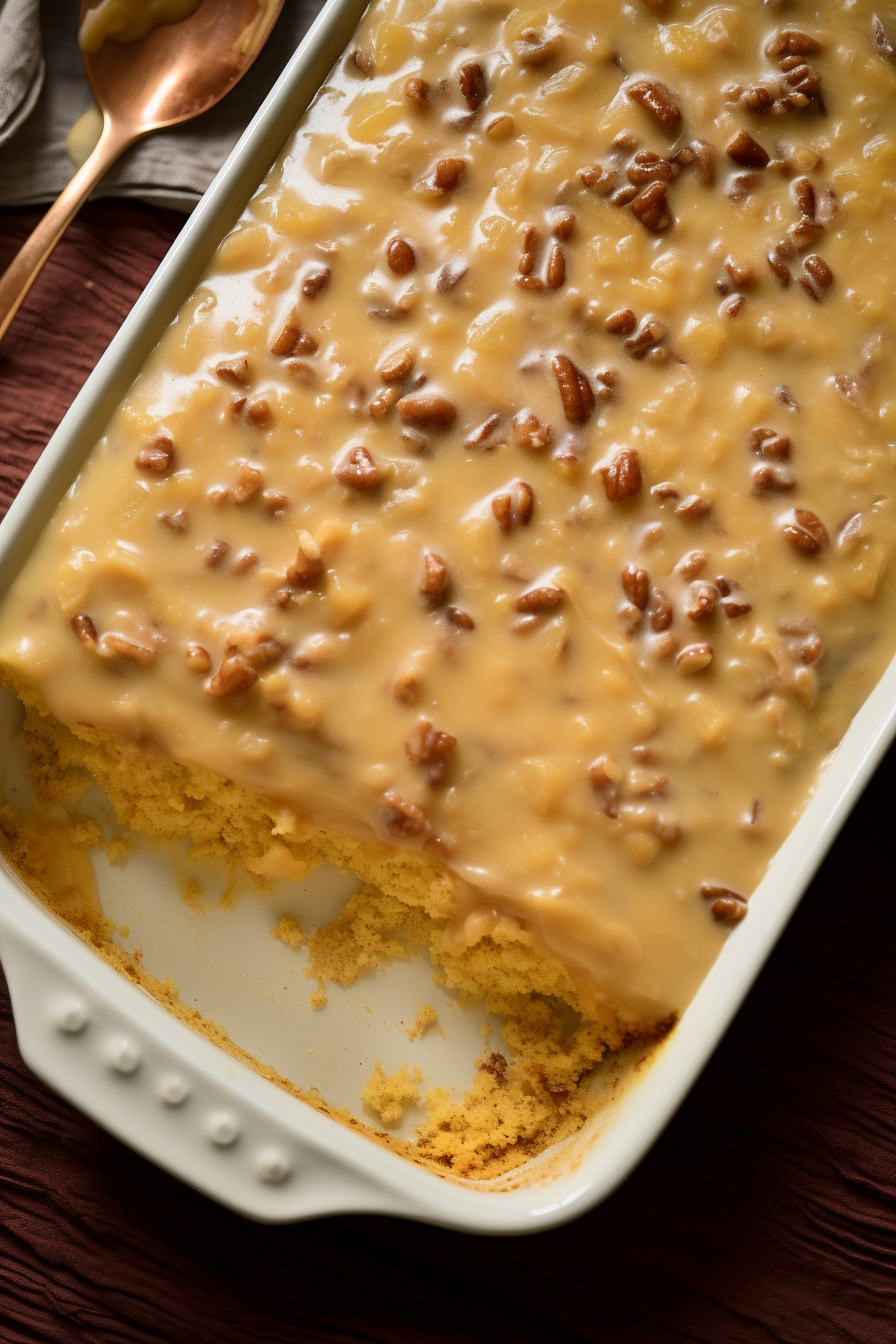 Storage Options: Got leftovers? Not sure how that's possible, but I'll help! Keep the cake in an airtight container or cover the baking dish with cling wrap. Store it in the fridge for up to 4 days. Planning to serve it later? You can freeze the cake without the icing for up to 3 months. Just remember to thaw and ice it before serving.
Variations and Substitutions:
For the Health Conscious: Substitute all-purpose flour with whole wheat or almond flour. You can also switch white sugar for coconut sugar or honey.
Nuts Galore: Not a pecan fan? No problemo! Try walnuts or almonds.
Tropical Twist: Add a teaspoon of rum extract to the cake mix for an extra tropical zing. Or, if you're feeling adventurous, stir in some diced mangoes or cherries.
Vegan Vibes: Replace eggs with flax eggs and use vegan butter and a plant-based milk alternative for the icing.
Bake, relish, repeat! Happy tropical journey with a patriotic twist, folks! 🍍🥥🇺🇸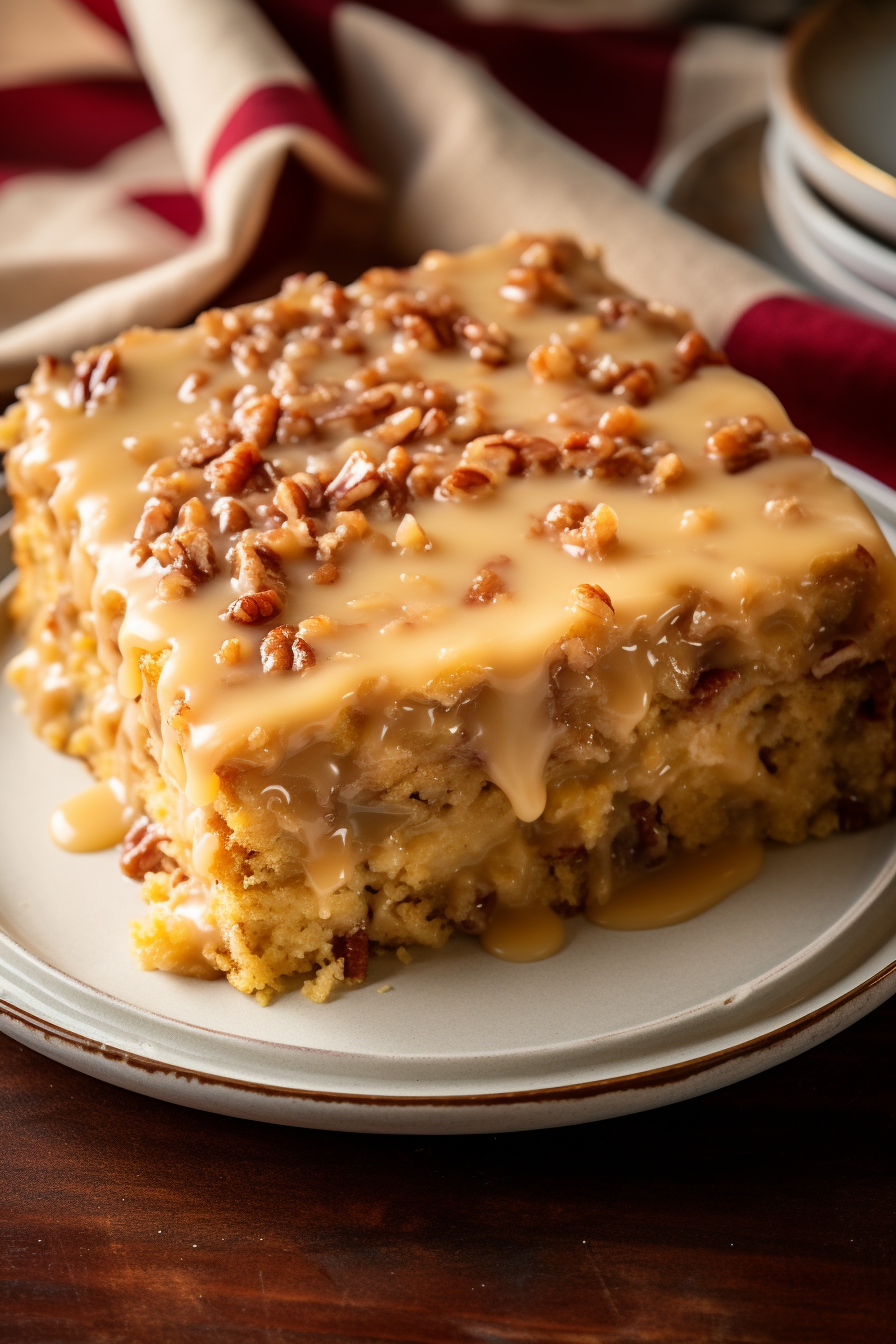 Pineapple Coconut God Bless America Cake
Indulge in a tropical escape with our Pineapple Coconut God Bless America Cake. Main players? Crushed pineapple, caramel pecan coconut icing, and a sprinkle of American pride!
Print
Pin
Rate
Ingredients
Cake:
1

can

20 oz. of crushed pineapple, inclusive of juice

2

large eggs

1/4

cup

of vegetable oil

1

cup

of granulated sugar

1/2

cup

of brown sugar

firmly packed

2

cups

of all-purpose flour

2

teaspoons

of baking soda

1/2

teaspoon

of salt
Icing:
1

can

12 oz. of evaporated milk

1

cup

or 2 sticks of unsalted butter

1 1/2

cups

of granulated sugar

2

cups

of shredded coconut

1

cup

of pecans

coarsely chopped and toasted

1

teaspoon

of pure vanilla extract

1/4

teaspoon

of salt
Instructions
Commence by preheating the oven to a temperature of 350º F. Simultaneously, prepare a 9×13-inch baking dish by lightly greasing it.

In a large mixing bowl, amalgamate the eggs, granulated sugar, brown sugar, vegetable oil, and crushed pineapple (with its juice). Subsequently, fold in the all-purpose flour, baking soda, and salt until well integrated.

Transfer the cake batter to the previously prepared baking dish.

Bake in the preheated oven for approximately 25-30 minutes. It is crucial to ensure that the cake is adequately baked by inserting a toothpick into its center; if it emerges clean, the cake is ready.

Concurrently, as the cake bakes, prepare the icing. In a sizable saucepan, combine the evaporated milk, granulated sugar, and unsalted butter. Place this mixture over high heat until it reaches a boiling point.

Once boiling, reduce the heat to a simmer and maintain for 10 minutes.

Post simmering, remove the saucepan from the heat. Immediately incorporate the shredded coconut, toasted pecans, vanilla extract, and salt, stirring until well combined.

Upon removal of the cake from the oven, promptly pour the prepared icing over its surface, ensuring an even distribution. Allow the cake to rest, permitting the icing to set, prior to slicing and serving.