Dive into bite-sized heaven with these Blueberry Pie Cookies, oozing with fresh blueberries, buttery pie crust, and a sprinkle of sugar. It's pie and cookie all in one!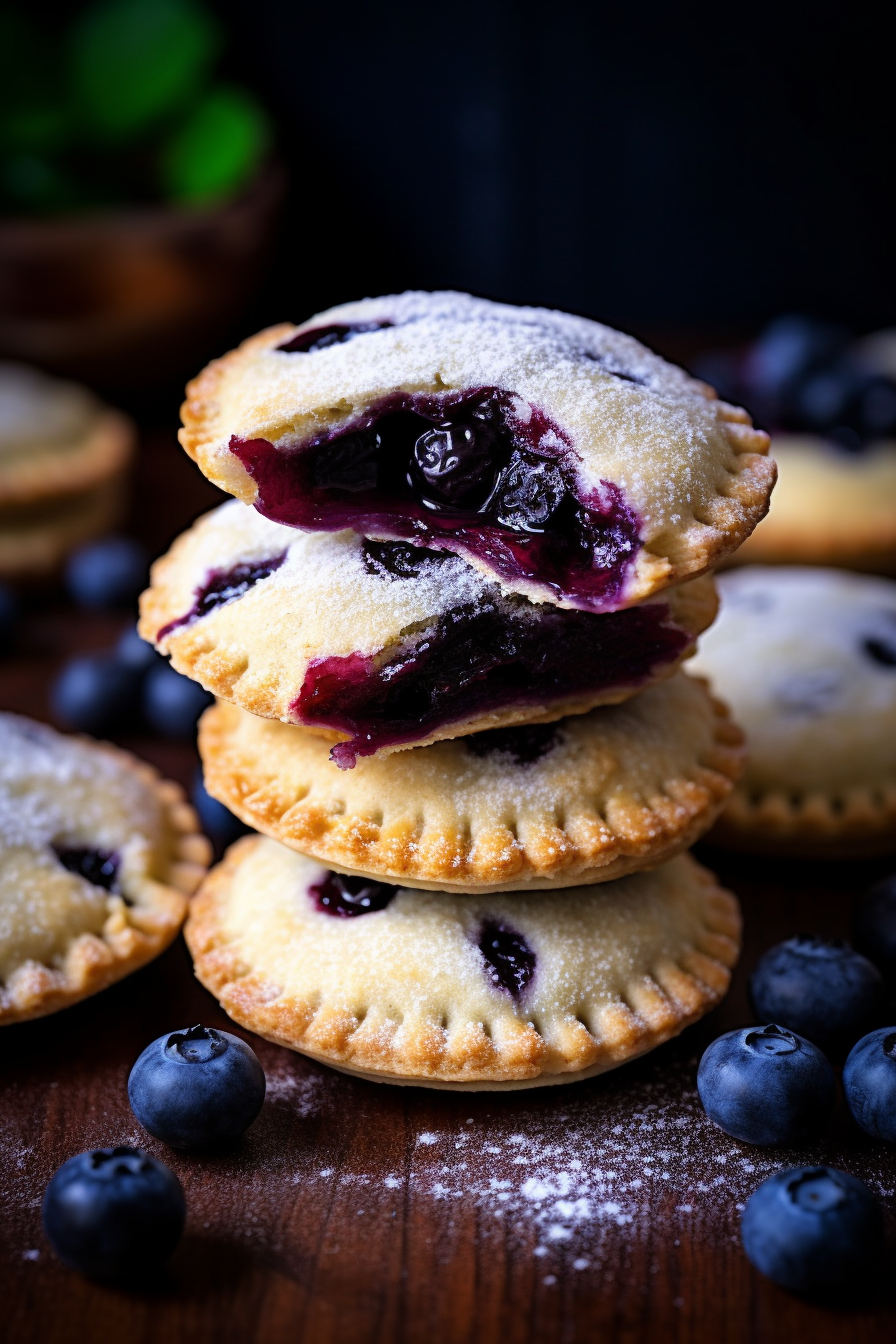 If there's one thing I remember from my childhood summer vacations, it's mom's blueberry pie. The way our kitchen smelled of sweet, simmering blueberries was undeniably mesmerizing. Years passed, and as I moved to a bustling city, away from those relaxed summer afternoons, I found myself yearning for that nostalgia. One day, amidst the daily rush, a thought struck me – why not encapsulate that aroma, taste, and nostalgia in something bite-sized, something I can grab 'n go? The result? These mini-wonders: Blueberry Pie Cookies! Now every time I take a bite, it's like a mini-journey back to those lazy, sunny days.
Why You'll Love Blueberry Pie Cookies:
Okay, cookie-monsters and pie-aficionados, here's the delectable lowdown. Why should you fall head over heels for these Blueberry Pie Cookies?
Two-in-One: They combine the heartwarming richness of a pie and the convenient munchability of a cookie.
Fresh Ingredients: No canned fillings here! Just pure, fresh blueberries creating a genuine burst of flavor.
Portable Pies: These are perfect for picnics, lunchboxes, or sneaky midnight snacks. Who said you need a fork to eat a pie?
Nostalgia in Every Bite: Each cookie is a throwback to those homemade blueberry pies we all know and love.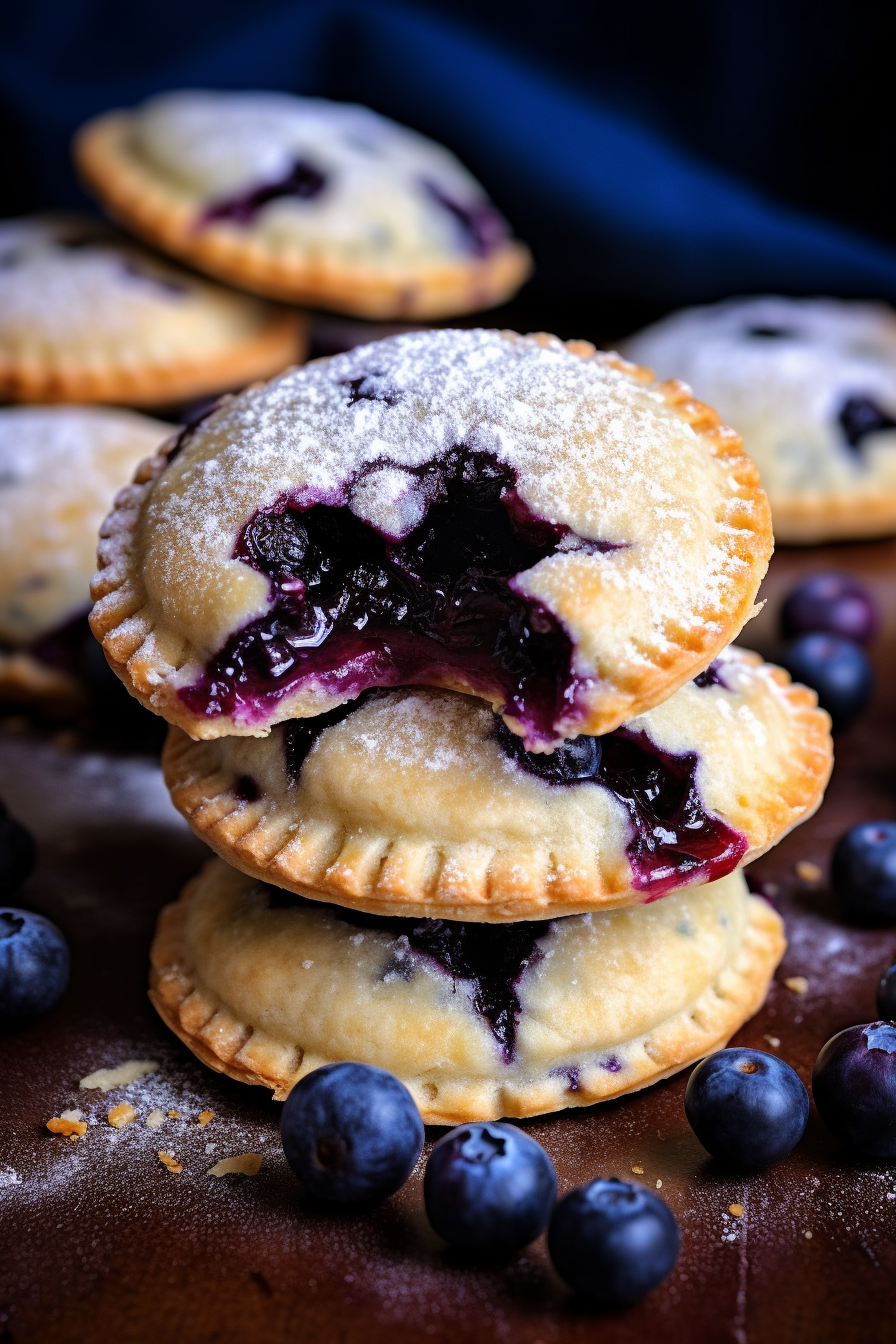 Ingredients Notes For Blueberry Pie Cookies:
Blueberries: Fresh is best. However, if you're in a pinch (or if it's off-season), frozen blueberries can be thawed and used, but ensure you drain any excess water.
Pie Crust: Store-bought saves time, but if you're feeling fancy, go for a homemade crust for an added touch of love.
Sanding Sugar: This is the magical sprinkle that gives your cookies that bakery-level sparkle. Can't find it? Regular granulated sugar will do the trick.
SCROLL DOWN FOR THE FULL RECIPE CARD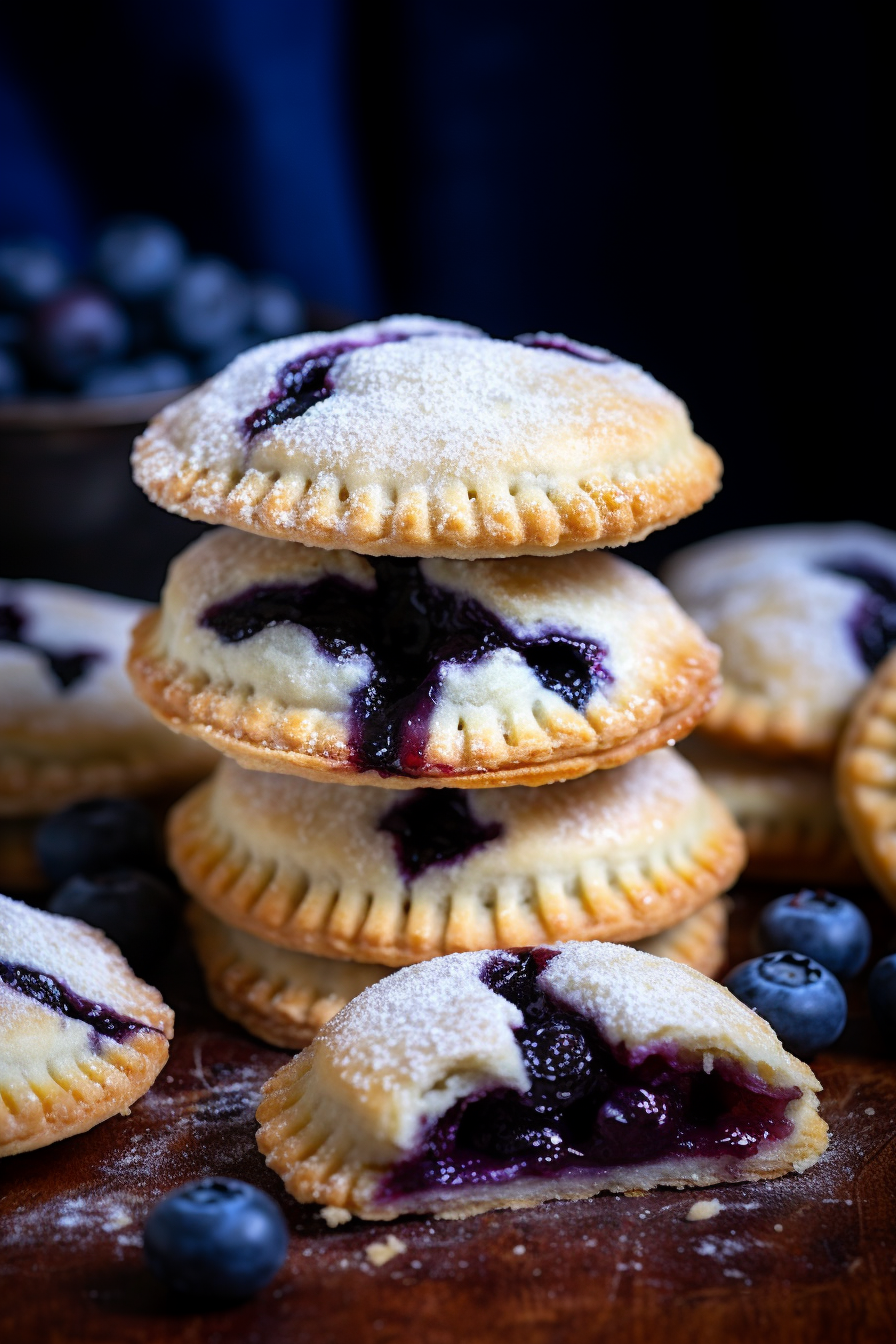 How To Make Blueberry Pie Cookies:
Blueberry Pie Filling: Start by melting that glorious butter over medium heat. Then, pour in the blueberries, water, sugar, cornstarch, lemon juice, cinnamon, and salt. Mix these until they've bonded like old pals. Aim for a gentle boil; we want them bubbling but not angrily. Turn down the heat and let this fruity mixture simmer till thick. Imagine the consistency of a juicy gossip story; that's what you're aiming for.
Assembling the Cookie: Now, channel your inner artist. Roll out your pie crust and go wild with your cookie cutter. Place half of these on a baking sheet, and give their edges a gentle brush with water. Spoon your blueberry magic onto these crusts, but remember: too much filling and they'll spill their secrets! Top them up with the remaining pie rounds and seal their edges with your fingers. For an extra-fancy touch, crimp these edges with a fork. The egg wash is what gives these cookies their sun-kissed glow. Don't forget the sugar sprinkle, and finally, give each one a couple of slits on top.
Baking: In they go into your oven, set at 350℉. Keep an eye out; once they're golden, they're ready. Let them cool on a wire rack, if you can resist gobbling them all up immediately, that is.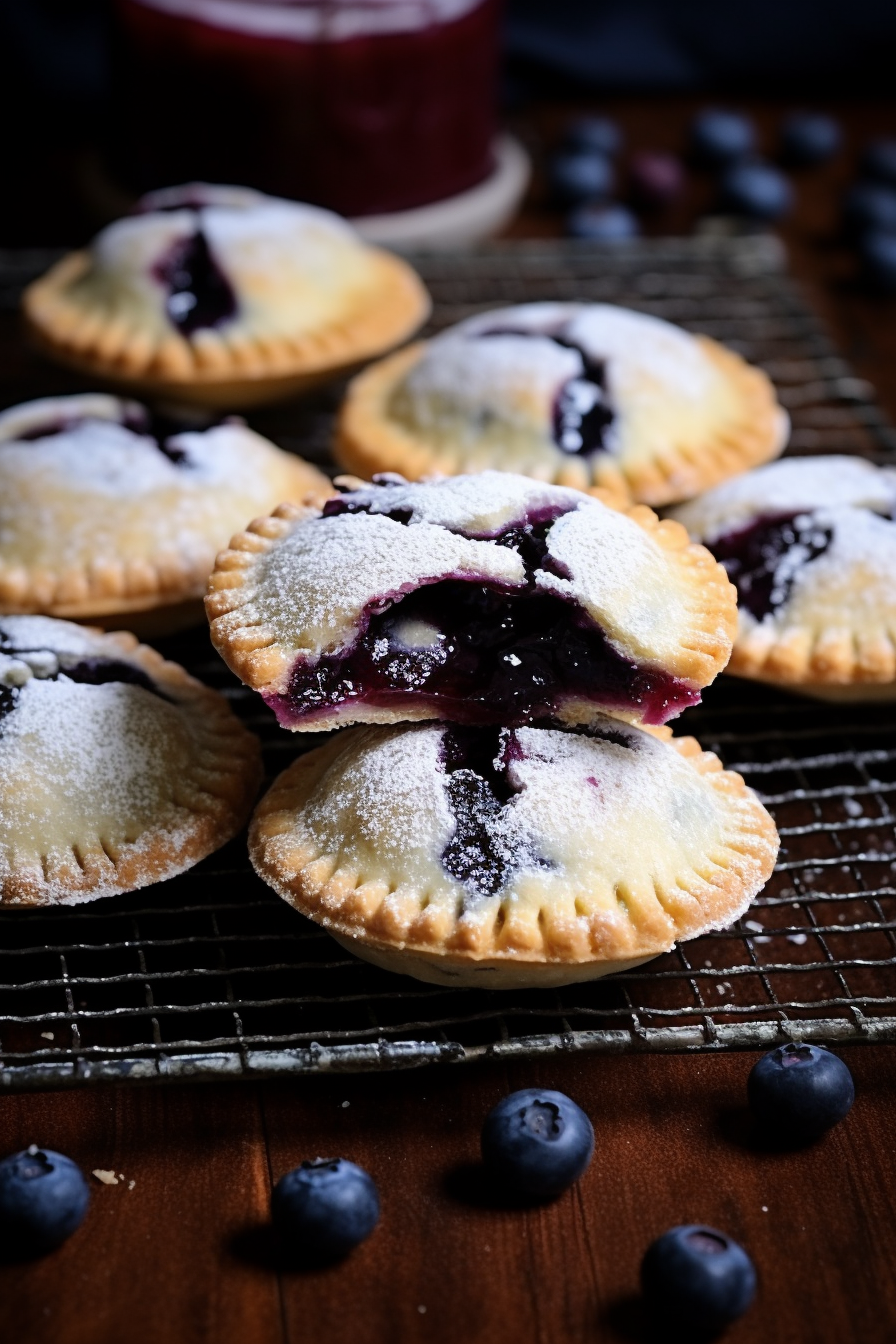 Storage Options:
If by some miracle you have leftovers, place these tiny treasures in an airtight container. They'll be good for 3-4 days at room temperature. You can also freeze them, ensuring they're layered between parchment paper. Just defrost at room temperature when the craving strikes.
Variations and Substitutions:
Blueberries not your jam (pun intended)? Swap them out for raspberries or cherries. Feeling tropical? Pineapple or mango fillings would be divine! If you're avoiding sugar, honey or agave syrup can be a sweet substitute. And for my gluten-sensitive pals, opt for a gluten-free pie crust. The world is your oyster, or in this case, your cookie!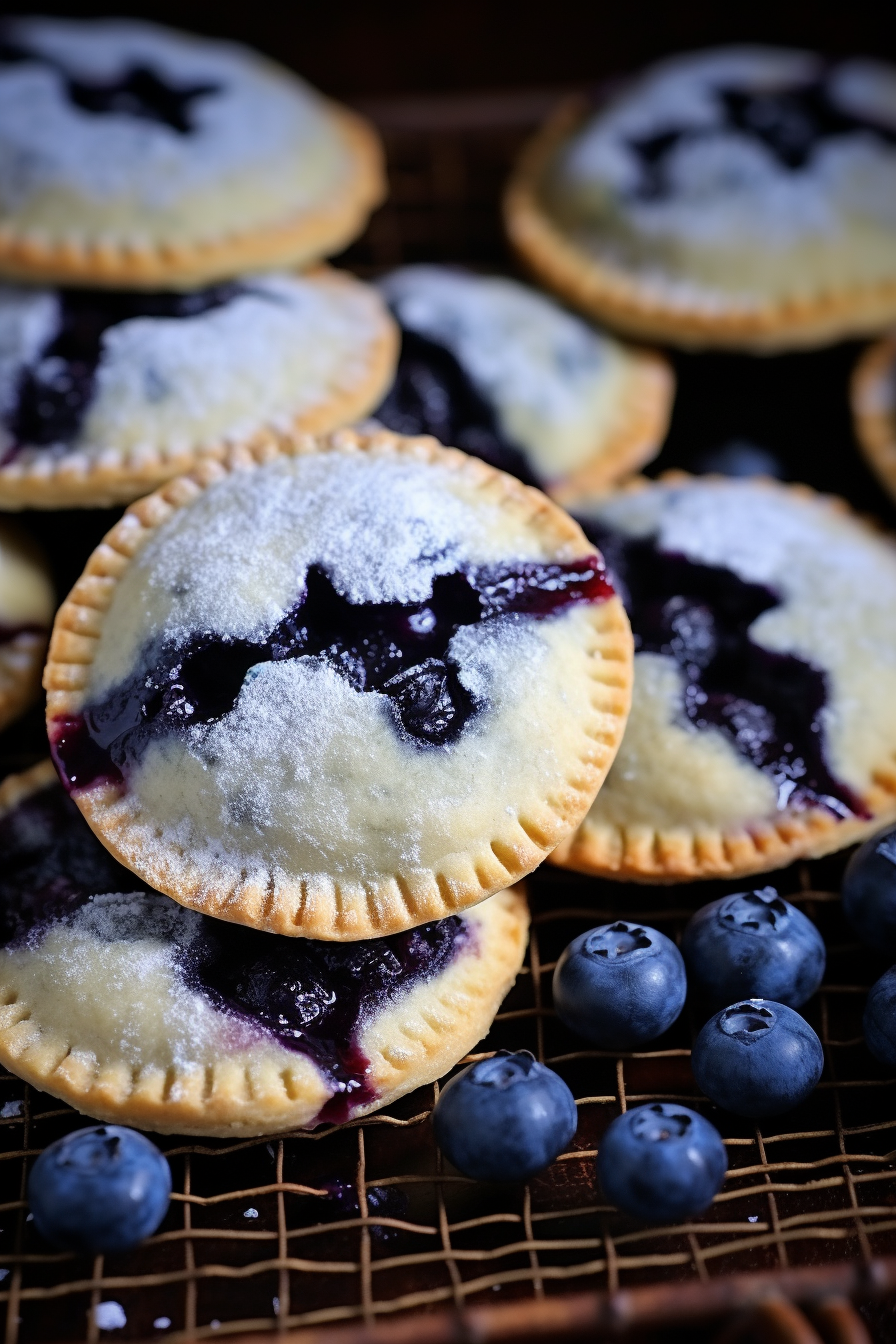 Remember, baking is half skill and half heart. Put on your apron, play your favorite tunes, and let's create some scrumptious memories! 🍪🥧🤤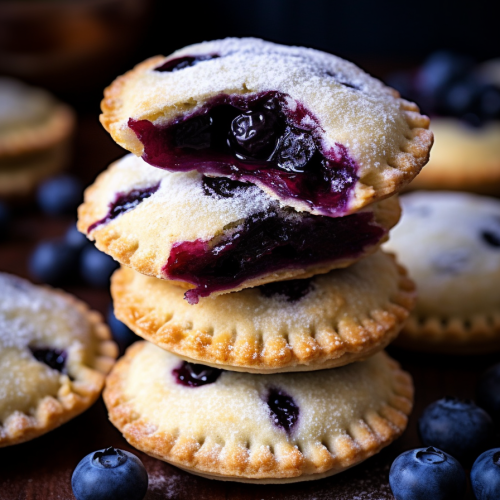 Blueberry Pie Cookies
Dive into bite-sized heaven with these Blueberry Pie Cookies, oozing with fresh blueberries, buttery pie crust, and a sprinkle of sugar. It's pie and cookie all in one!
Print
Pin
Rate
Ingredients
For the Blueberry Pie Filling:
1

tablespoon

butter

1

pint

fresh blueberries

approximately 1 1/2 cups

1/4

cup

water

1/2

cup

granulated sugar

1

tablespoon

cornstarch

1

teaspoon

lemon juice

A pinch of ground cinnamon

A pinch of salt
For the Cookie Assembly:
Prepared pie crust sufficient for a two-crust pie

either commercially procured or prepared using a preferred homemade recipe

1

large egg

1/4

teaspoon

water

Optional: Sanding sugar or granulated sugar for surface garnish
Instructions
Preparation of the Blueberry Pie Filling:
In a saucepan, melt the butter over medium heat.

Incorporate the blueberries, water, granulated sugar, cornstarch, lemon juice, ground cinnamon, and salt. Stir until well combined.

Elevate to a moderate boil using medium to medium-high heat settings. Following this, reduce the heat and allow the mixture to simmer for approximately one minute, or until the consistency is notably thick.

Remove from heat and allow it to cool for a brief period.
Procedure for Cookie Assembly:
On a floured surface, roll out the prepared pie crust to a thickness between 1/8 and 1/4 inch. Utilize a round cutter, measuring 2.5 to 3 inches, to excise as many circular segments as the dough allows (taking into account that two segments are required for one cookie).

Relocate half of the excised rounds to a baking sheet. Lightly moisten their perimeters with water to aid in sealing post filling.

Carefully place approximately 1 and 1/2 teaspoons of the blueberry filling at the center of each round, ensuring not to overextend the capacity. Overlay each with one of the reserved rounds. Seal the edges by applying pressure with a fingertip, followed by crimping with the tines of a fork for added security.

For the egg wash, whisk together the egg and the 1/4 teaspoon of water.

Generously brush the surface of each assembled cookie with the prepared egg wash to ensure an even hue post baking. If desired, garnish the surface with either sanding sugar or granulated sugar.

With precision, make incisions atop each cookie using a sharp knife.
Baking Process:
Bake in a preheated oven set at 350℉ for a duration of 15 to 20 minutes, or until the crust adopts a golden-brown appearance.

Upon completion, transfer the cookies to a cooling rack and allow them to come to room temperature.