When looking for inspiration at the grocery store, there is always one section that I tend to skip over. I closely scan the beef, seafood, and chicken counters, but have never really stopped to look at pork. This past week, the butcher was organizing large pork butts (shoulder) and I thought, why not? An 8 pound pork butt was about $15, which would feed us for days. So I tossed it into the cart and starting collecting my ingredients for carnitas.
I only used half of the pork butt in these carnitas and will save the other half for another dish (hint: it's Korean).
No one said that you have to use the entire thing for one recipe!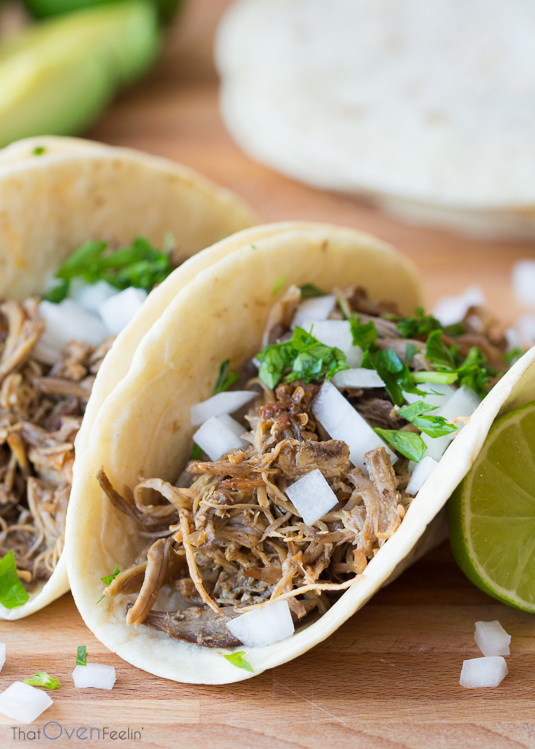 There is something about simple dishes that I just love. These tortillas are topped with shredded pork, white onion, and chopped cilantro. It's a meaty, protein-packed taco that doesn't need a lot of extra toppings.
However, if you want to make a little sauce to drizzle over the top, pull a few chipotle peppers out of the slow cooker while the pork is under the broiler. Add the peppers to a blender with about half a cup of sour cream and a pinch of salt. Then, just blend the peppers and sour cream until smooth. For a spicier sauce, you can add a few more chipotle peppers. Chipotle peppers that have been cooked in the slow cooker are much milder than the ones straight from the can. It's a great little sauce that I make often, but honestly these carnitas don't need it.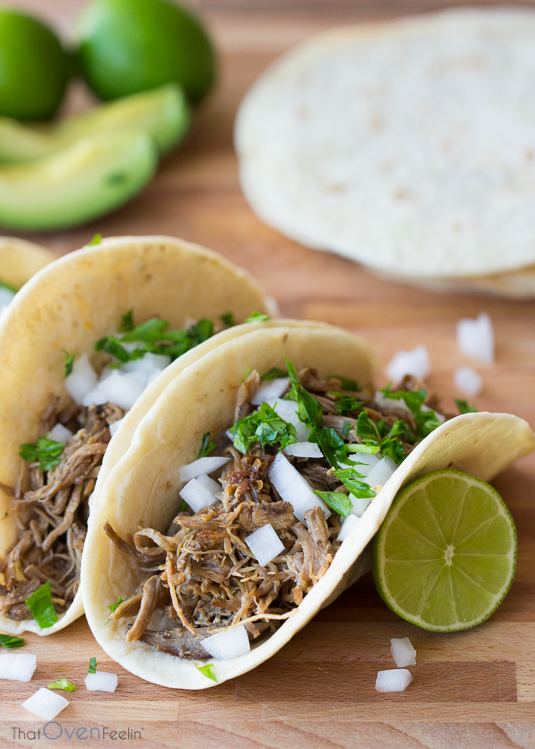 After the pork has been simmering away in the slow cooker for up to 8 hours, I like to shred the pork and put it under a hot broiler. This will almost caramelize the pork, making the edges nice and crisp.
After removing the pork from the oven, I'll quickly toss it in a little of the reduced cooking liquid immediately before serving. The cooking liquid is packed with a spicy chipotle flavor, so I think it's a pity to just dump it out.
If you don't want to bother with the reduction or broiling the meat, you can leave these two steps out. However, the consistency of your carnitas will be much softer. In my opinion, it's worth the extra time and effort.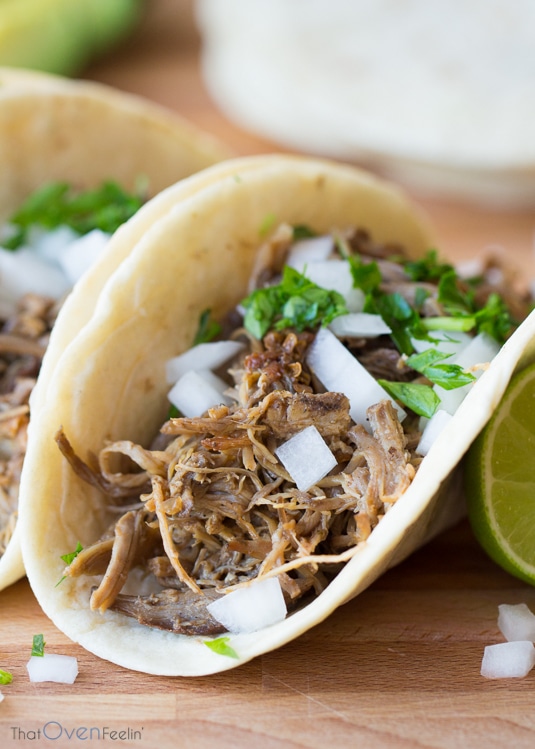 Stay tuned for Pork Butt Part II.
It's a good one.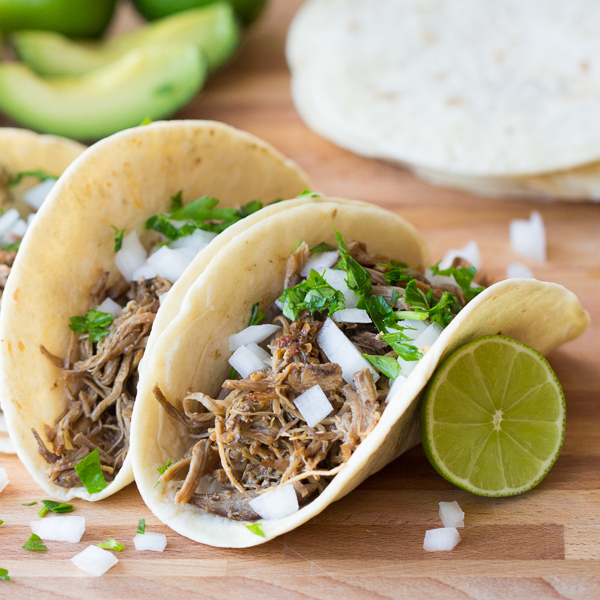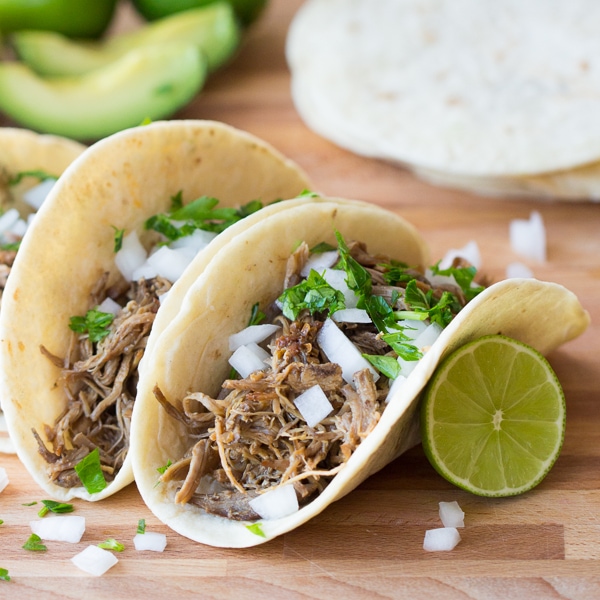 Slow Cooker Carnitas
hese tortillas are topped with shredded pork, white onion, and chopped cilantro. It's a meaty, protein-packed taco that doesn't need a lot of extra toppings.
Print
Pin
Rate
Ingredients
5

lb

pork butt

1

yellow onion, quartered

4

garlic cloves, minced

1 (7 oz)

can

chipotle peppers in adobo sauce

2

tsp

ground cumin

1

tbsp

dried oregano

1

bay leaf

2

quarts

low-sodium chicken broth

2

tsp

kosher salt, more to taste

1

tbsp

vegetable oil

1

tsp

cornstarch in 1 tbsp water (optional)
Serve with:
12

warm flour or corn tortillas

½

white onion, diced

chopped cilantro, for garnish
Instructions
Add the pork butt, onion, garlic, chipotle peppers, cumin, oregano, bay leaf, chicken broth, and kosher salt to a large 5 or 6 quart slow cooker. Cook on low for 7 to 8 hours, until the pork is tender and falling part.

About 30 minutes prior to serving, preheat a deep skillet over medium-high heat. Remove 5 to 6 cups of the liquid from the slow cooker and add to the hot skillet. Bring the mixture to a rolling boil and cook uncovered until reduced, stirring occasionally (about 25 minutes). If needed, whisk in the cornstarch mixture to thicken the sauce.

While the liquid is reducing, remove the pork from the slow cooker and shred using two forks. Place the shredded pork on a baking sheet and toss with the vegetable oil to coat. Broil on high for 8 to 10 minutes, until the pork starts to get crispy.

Remove the pork from the oven and toss with the reduced liquid. Serve on warm tortillas with diced onions and cilantro.