This Indian-style spicy cashew rice is an incredible side dish. Who knew so much flavor could be packed into a rice dish?
Plus, it has cashews.
And we're a bit obsessed with cashews. The plan was to make this spicy rice last week, but we ended up eating the entire can of cashews before I had a chance to make it. It's impossible to have just one (handful).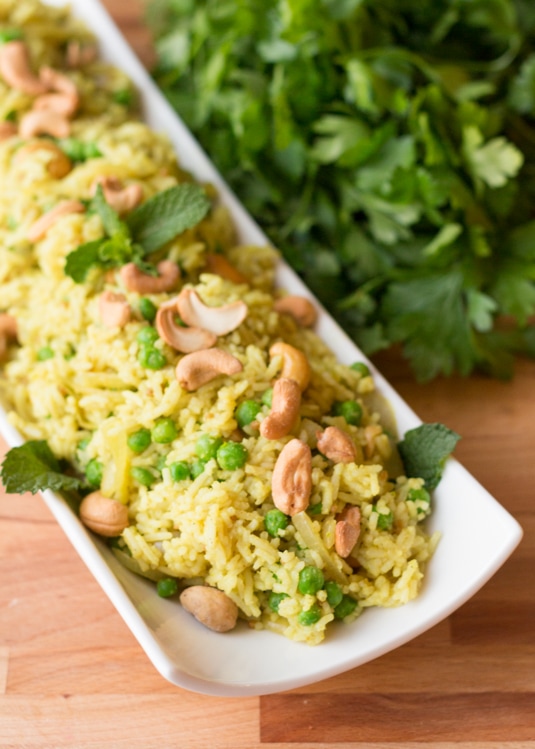 You can convert this side dish into a complete meal by adding bite-sized pieces of chicken or turkey. That was actually my original plan. I knew that Elliott was bringing home smoked turkey, so I thought that I would mix some pieces in after taking pictures for this recipe.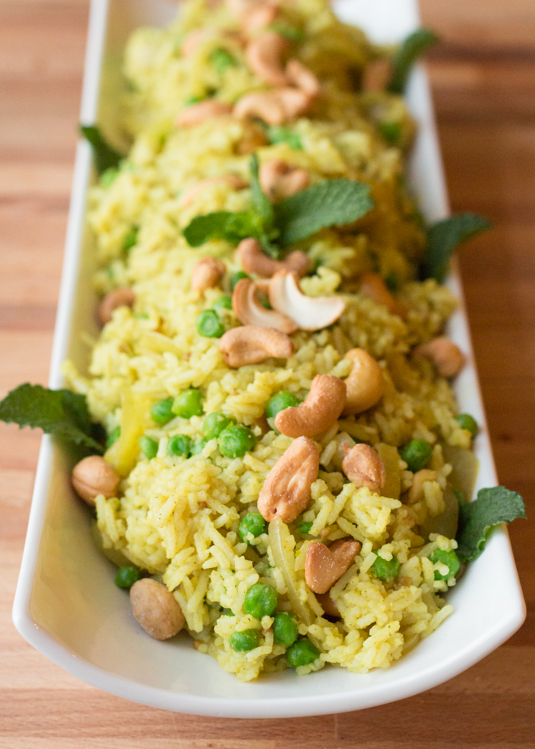 However, I didn't plan on the turkey having a thick brown sugar crust. We improvised by serving the sweet turkey with my homemade cranberry sauce (coming soon!) alongside this spicy rice. Separate, the two dishes were absolutely delicious.
Together, not so much. It was a weird combo.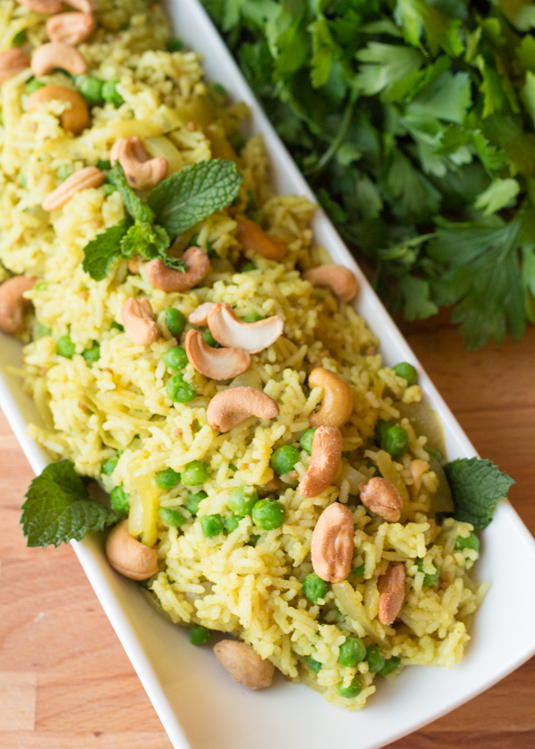 Sometimes you just have to go with the flow. I have about a dozen containers of leftovers in the fridge, so I didn't want to add to it by pulling roasted turkey out of the freezer.
Plus, this recipe makes about 6 or 7 servings of rice, so I knew I was anyway going to add to the leftover stockpile.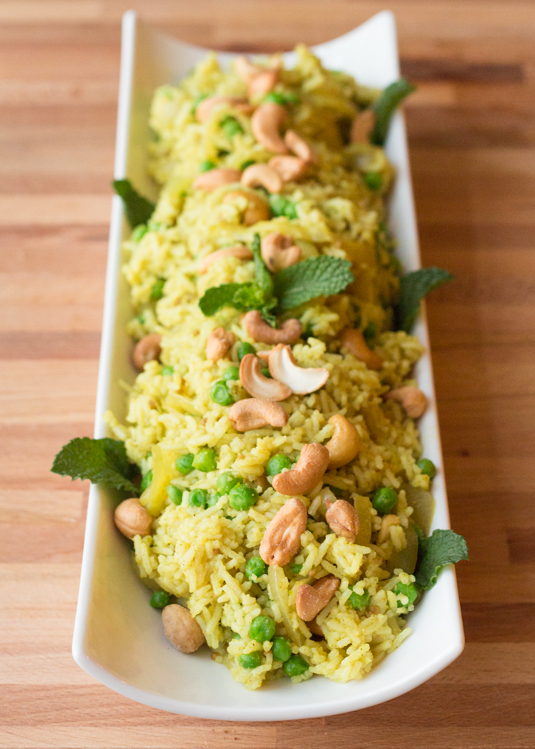 This is a great recipe to try and get your toes wet if you're a bit intimidated by Indian food. Lots of Indian-style dishes have a list of ingredients that seems twice as long as the recipe itself. This spicy cashew rice is made with ingredients that can be found in pretty much any grocery store.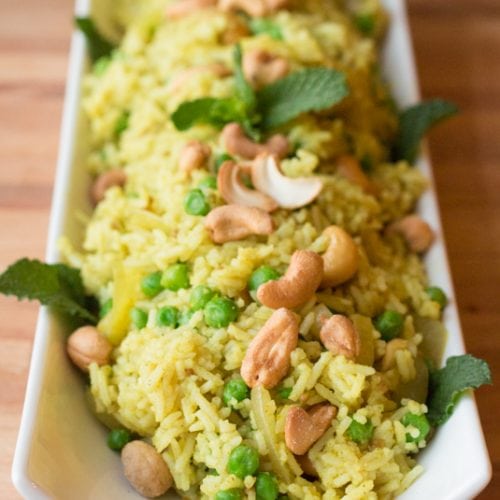 Ingredients
½

cup

cashews

2

tbsp

butter

1

tsp

yellow mustard seeds

1

tsp

cumin, ground

1

yellow onion, sliced

1

cup

frozen peas

6

cup

basmati rice, cooked

mint leaves, for garnish
For the Spice Paste:
3

green chillies, seeds removed

1

tbsp

mint leaves, chopped

4

cloves garlic

3

tbsp

water

1

tbsp

curry powder

1

tbsp

fresh ginger, grated

1

tsp

salt, or more to taste
Instructions
Preheat the oven to 350 degrees Fahrenheit. Evenly spread the cashews out over a baking sheet. Bake in the preheated oven for about 10 to 15 minutes, until golden brown. Stir the cashews once or twice for even cooking. Once golden brown, set aside.

While the cashews are roasting, prepare the spice paste by adding all of the ingredients (except the salt) to a blender. Pulse until smooth, then stir in the salt. Set aside.

Melt the butter in a large wok or saucepan over medium heat. Once melted, add the mustard seeds and cook until the mustard seeds stop sputtering. Add the cumin and sliced onions. Cook until the onion is soft and light brown.

Add the prepared spice paste to the sliced onions and bring the mixture to a simmer. Simmer for 3 to 4 minutes, stirring often.

Add the peas and cook until tender, about 2 minutes.Then, add the rice and toss until well coated. Once the rice is warm, remove from the heat and add the cashews. Stir and garnish with mint leaves. Serve while hot.