I'm usually not too creative with my side dishes. As I've mentioned before, I focus on the main dish and completely forget about any sides. About five minutes before serving, I suddenly realize that I'm missing half my dinner and throw some veggies into a skillet.
Today, I decided to focus on the side dish.
This German potato salad is tangy from the white wine vinegar and savory from the coarse grain mustard. It's a great alternative to the mayo-covered potatoes that come to mind when someone mentions potato salad.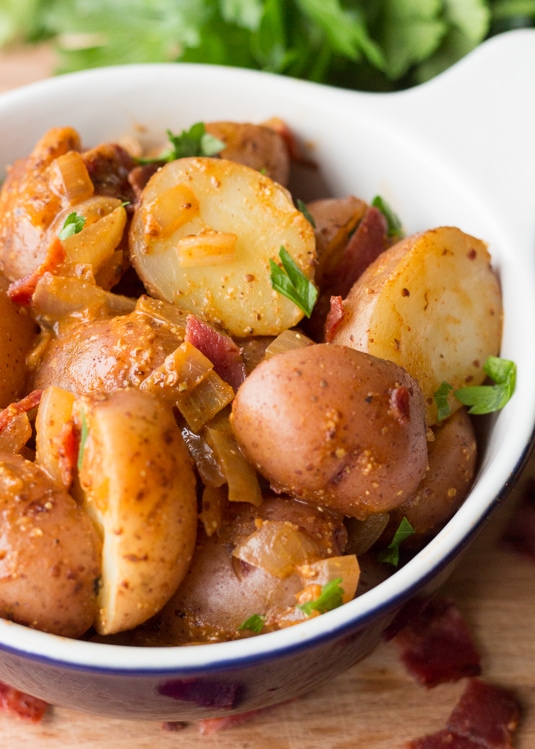 I would let the potatoes marinate in the dressing for as long as possible for the best flavor. The potatoes really do a great job of soaking up the liquid.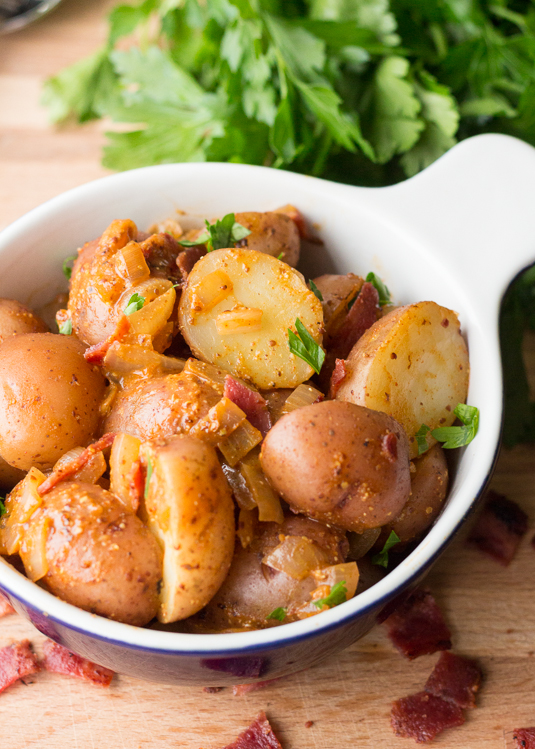 This is another great recipe for leftovers. The stronger flavors are able to mellow and meld together while sitting in the fridge overnight. Just reheat the German potato salad in a saucepan or microwave to serve it hot.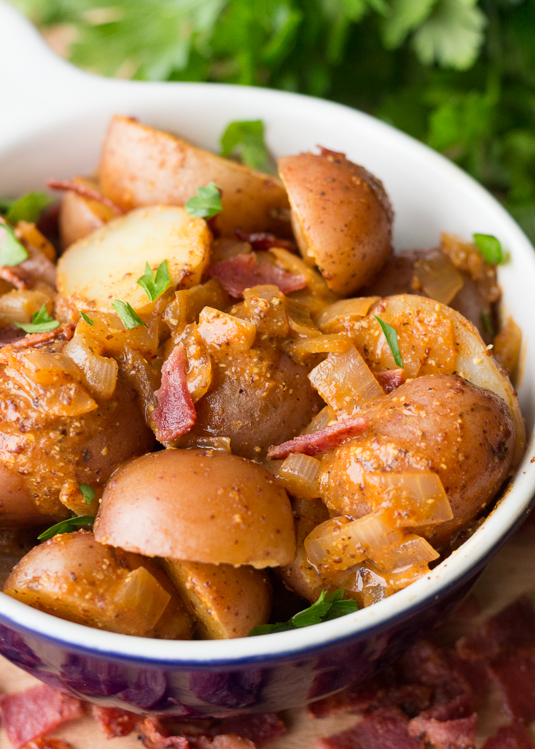 You may use either regular or turkey bacon in this recipe. I chose to use turkey bacon in order to make this dish a tad more healthy.
Okay, I'll be honest.
I used turkey bacon so I wouldn't feel too guilty about having dessert.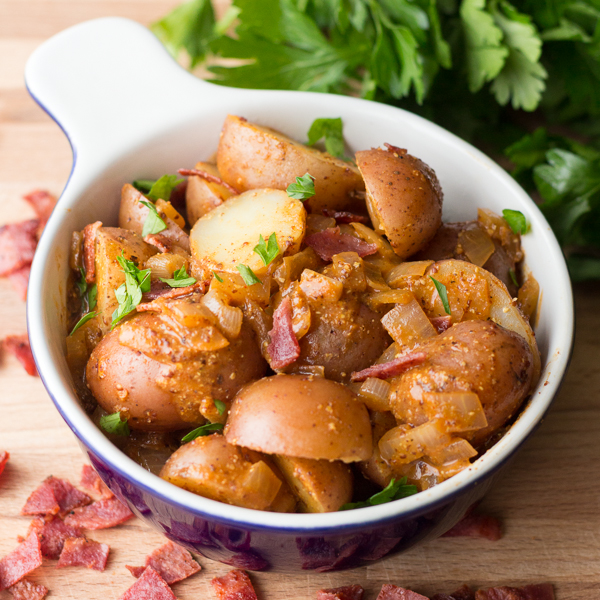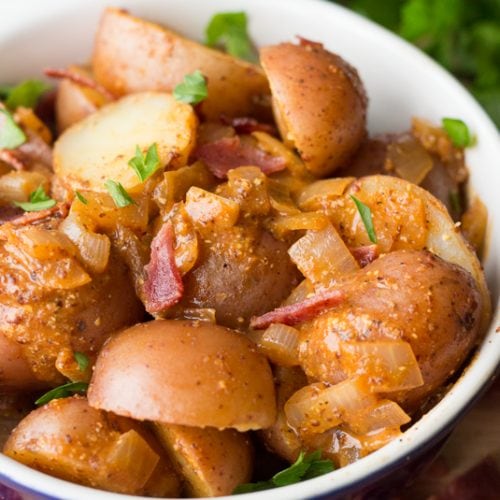 Ingredients
28

oz

small red potatoes, halved

salt, to taste

6

slices

bacon (regular or turkey)

1

tbsp

olive oil

½

yellow onion, chopped

⅓

cup

reduced-sodium chicken broth

2

tbsp

white wine vinegar

1

tsp

sugar

1

tsp

paprika

¼

tsp

mustard powder

1

tbsp

coarse ground mustard

1

tbsp

flat leaf parsley, chopped
Instructions
Place the potatoes into a large pot and add enough water to completely cover the potatoes. Salt to taste. Bring the water to a boil, then reduce the heat and cover. Cook the potatoes until tender, about 10 to 15 minutes. Once cooked, drain and set aside.

While the potatoes are cooking, heat a large skillet over medium-high heat. Add the bacon and cook until crispy. Place the bacon strips on a paper towel to drain. Cut or crumble the bacon into small pieces.

In the same skillet, heat the tablespoon of olive oil over medium heat. Add the chopped onion and cook until translucent, about 3 minutes. Add the chicken broth, vinegar, sugar, paprika, mustard powder, and coarse ground mustard. Bring the mixture to a simmer and reduce slightly.

Pour the dressing over the potatoes and sprinkle with chopped parsley. Allow the potatoes to marinate for at least a few minutes before serving.